In a cash emergency, you need a loan that's not only safe and reliable but also quick, convenient, and affordable. You want a lending platform you can easily turn to for any kind of financial need, whether planned or unplanned.
Blend PH can be that company for you. Its quick and easy online personal loan application process can be very helpful in emergencies. Since it's a trusted peer-to-peer online funding platform, you can rest assured that you're dealing with a reputable company.
Did that pique your interest? Find out more about Blend Philippines in this Blend PH loan review.
What is Blend PH?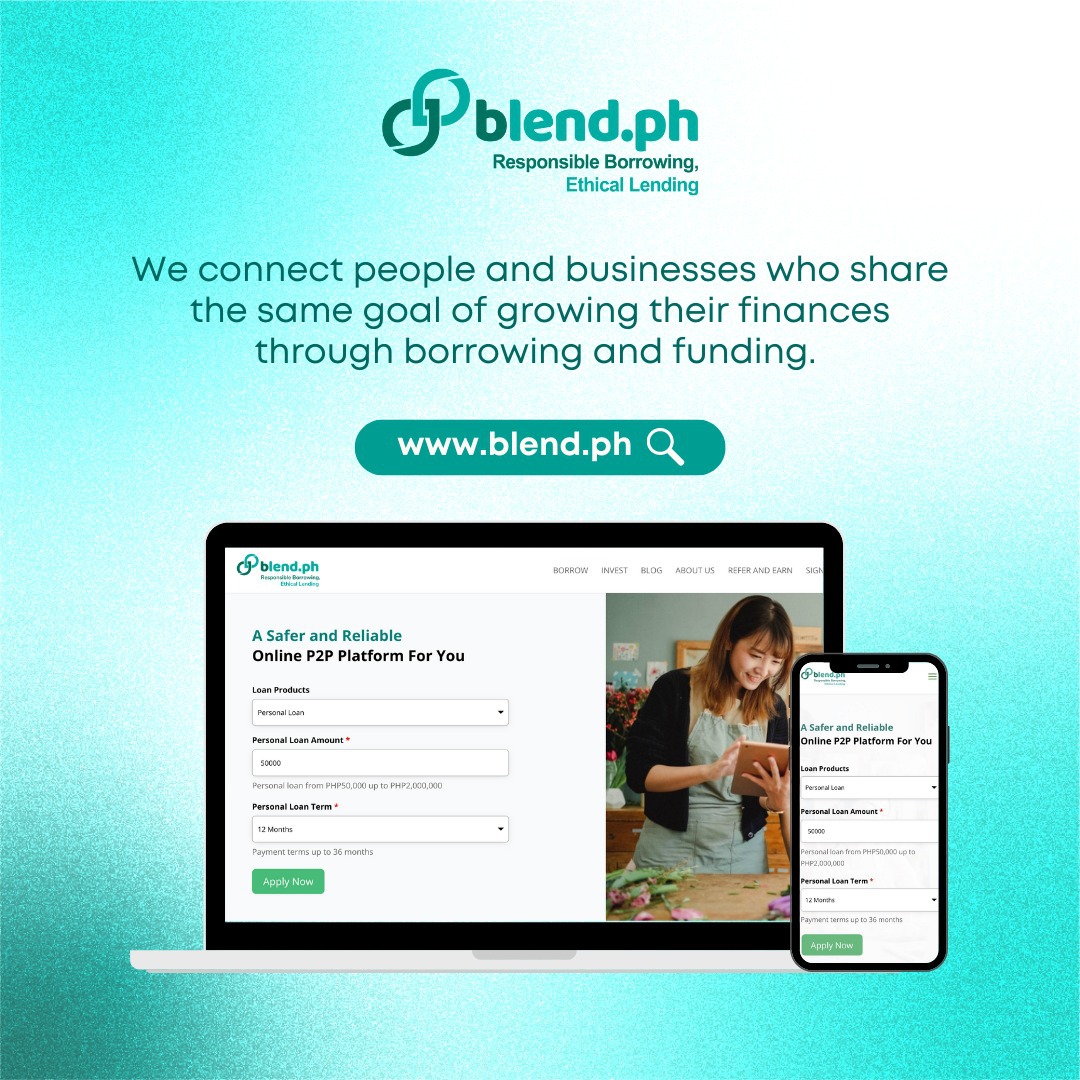 Blend PH is one of the pioneers of peer-to-peer lending in the Philippines. Developed and managed by Inclusive Financial Technologies Inc., Blend PH connects borrowers to financial institutions that can fund their goals and lenders who want to earn through investing and financing short-term loans.
Blend PH's partners include Netbank, Forbes Lending Solutions Corporation, Welcome Finance Inc., and Right Choice Finance. They allow Blend PH to match loan applications with investors' funds, which facilitates quick and easy application and processing.
Is Blend PH Legit?
Yes, Blend PH is a legitimate company registered with the Securities and Exchange Commission with SEC Registration Number CS201908028.
Blend PH Loan Review
If you look up Blend PH loan reviews online, you'll see that borrowers like its quick loan approval and processing. Plus points also for its accommodating loan officers who answer all your questions about the different loan products, too.
Why Should I Apply for a Blend PH Loan?
With so many loan providers in the Philippines, why should you apply for a Blend PH personal loan? Here are some good reasons:
1. It's a Multi-Purpose Loan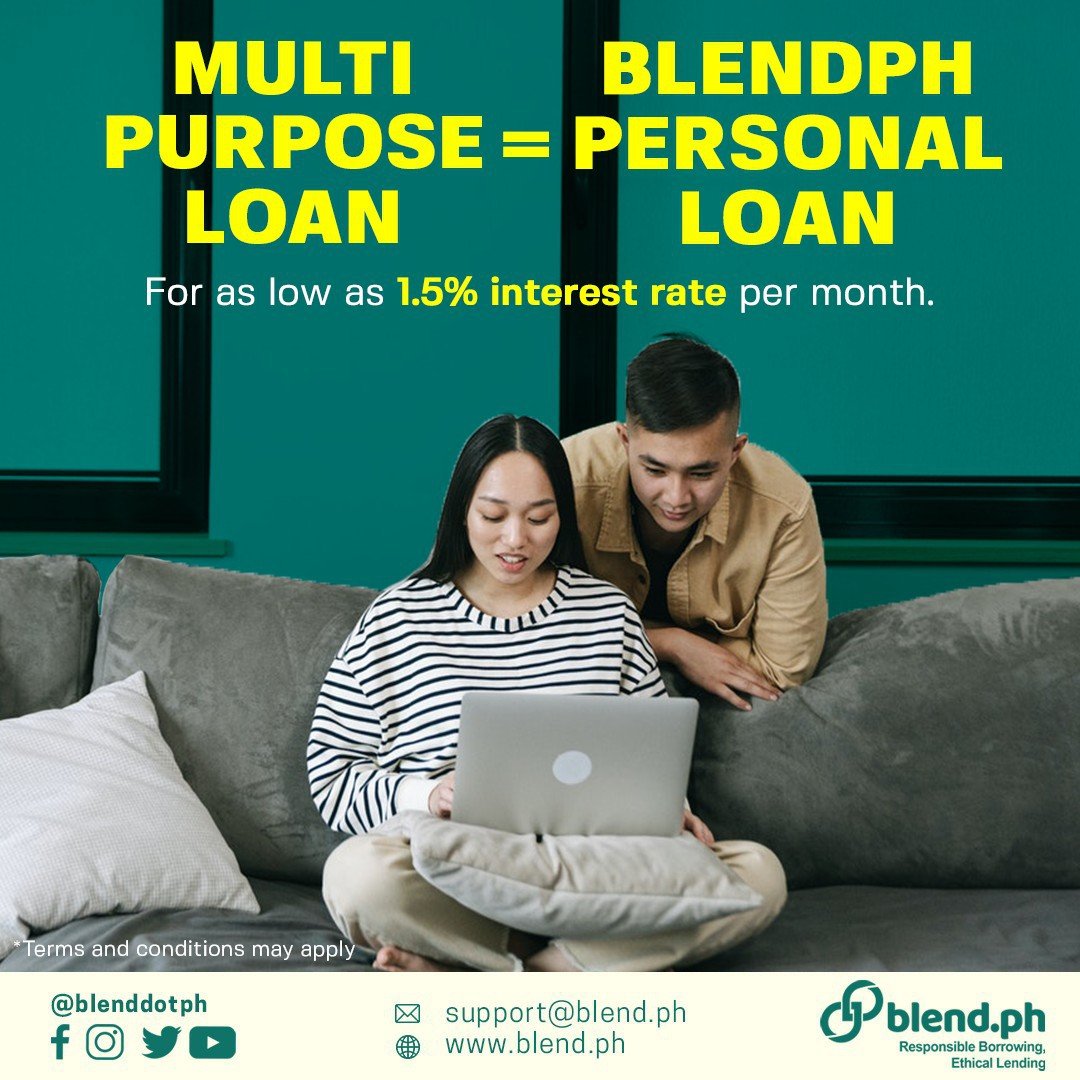 You can use it for different financial purposes. Use a Blend PH Loan to pay for tuition, start your own business, or renovate your home. You can also use it for debt consolidation, car down payment, or a travel fund. Jumpstart any financial goal with just a few clicks!
2. It Has Flexible Terms and Rates
A personal loan from Blend PH has low interest rates. Depending on the result of the credit assessment, you can enjoy interest rates between 1.5 to 3% per month.
3. It Offers a High Loan Amount
The amount you can borrow ranges from ₱50,000 to ₱2 million. And there's no need for collateral to apply for this loan.
4. It's Fast and Convenient
Don't have the time to go out due to work and family obligations? Just log on to the Blend PH website, fill out an application form, and submit your bank loan requirements.
Blend Personal Loan'sapplication and processing are both done completely online. It's less tiring and time-consuming for borrowers because you can do it at home via your mobile device or computer. You can skip the long queues and borrow money without the hassle.
5. Its Application Process is Easy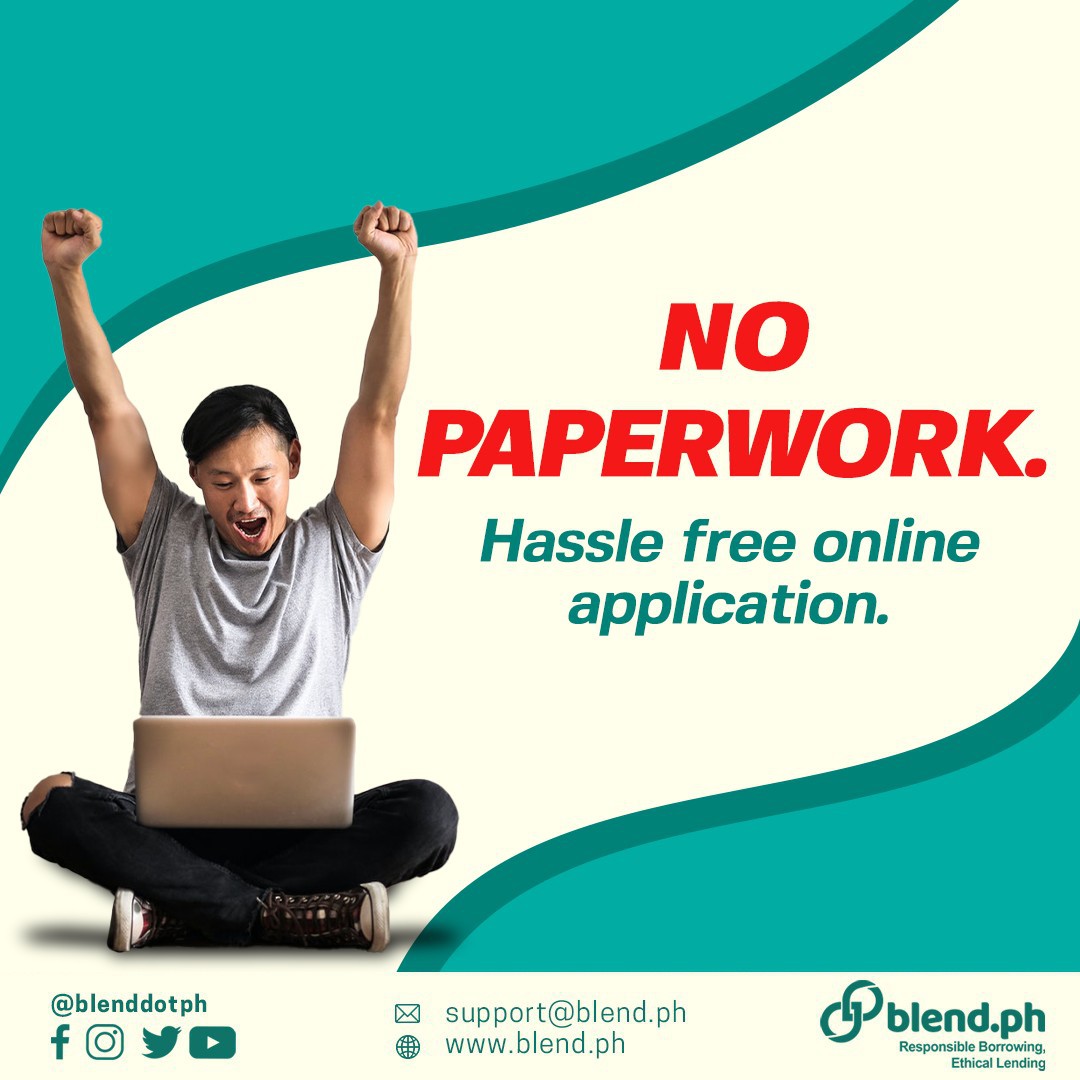 Applying for a Blend PH personal loan is easy. Just sign up for a Blend PH account as a borrower. Next, answer the questions about your employment, loan purpose, loan amount, and loan repayment period to check your loan eligibility. Submit the required documents for verification and wait for the loan disbursement. That's it!
What is a Blend PH Personal Loan?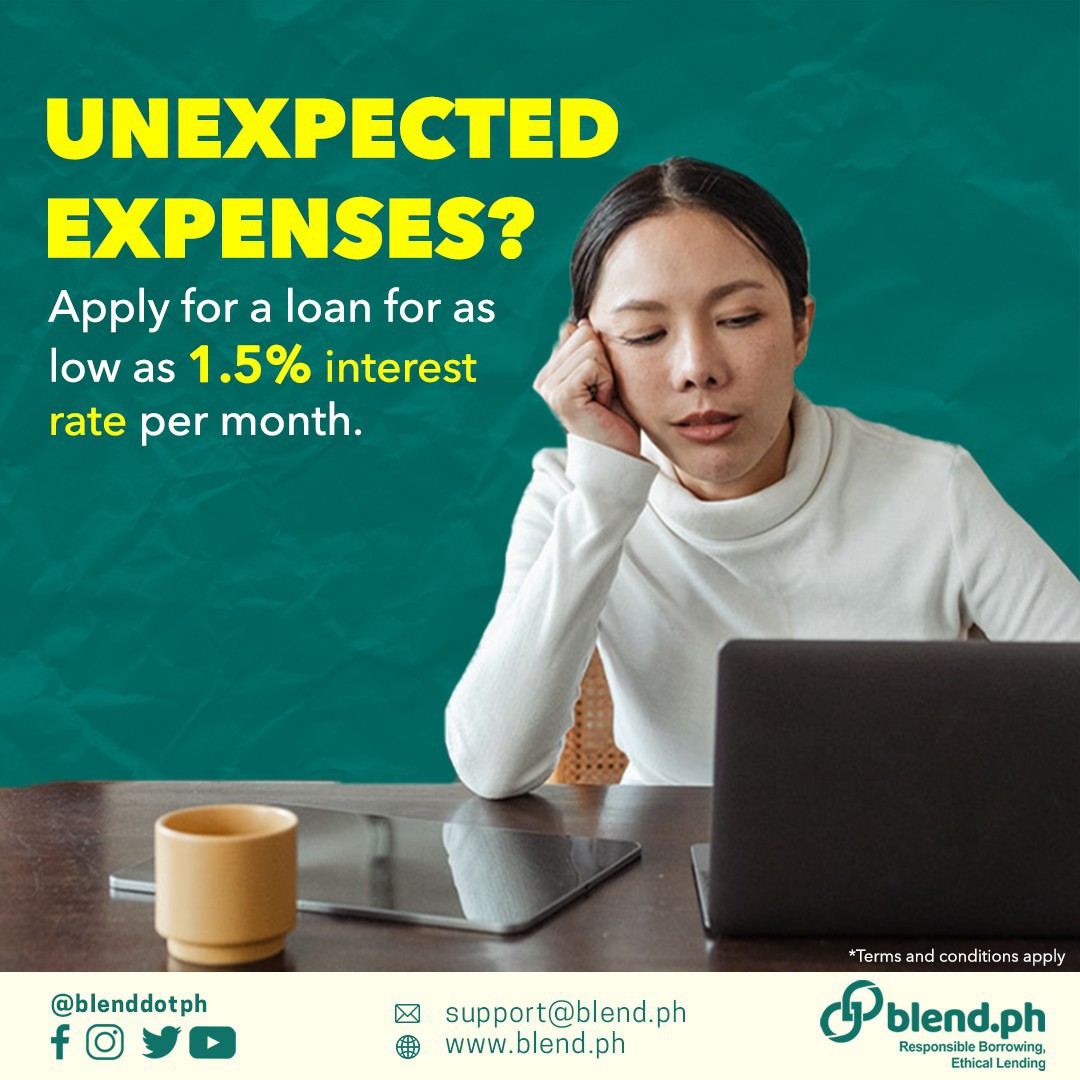 The Blend Personal Loan is a non-collateral loan for qualified individuals who need extra cash. It offers flexible payment terms to fund different loan purposes, such as education, business, travel, and more.
The loan amount ranges from ₱50,000 to ₱2 million, and you can pay for 12, 18, 24, and 36 months. Interest rates vary depending on the risk category you fall under, so you can get a monthly 1.5%, 2%, or 3% interest rate. Moreover, loan processing usually takes just 24 to 48 hours.
Find more personal loan options:

What Other Types of Loans Can I Get from Blend PH?
Aside from personal loans, here are other Blend PH loan options to consider.
Franchise Loan
Avail of the Franchise Loan to buy a franchise from any of BlendPH's partner brands. Pay for the franchise license fee and all other franchise-related expenses with your franchise loan proceeds. From pizza, coffee, lugaw, fries, milk tea, noodles, to shawarma, you can find the perfect food franchise option from BlendPH's franchise partners.
Loanable amount: ₱50,000 to ₱2 million
Interest rate: 2%
Term: 12 to 36 months
Processing: One to three days
Auto Sangla (ORCR Loan)
Are you a car owner? You can also avail of the Auto Sangla. Just present your vehicle's original Certificate of Registration and Official Receipt (ORCR) to get a loan. With this loan, you can still use your car even with your ORCR as collateral.
Loanable amount: ₱10,000 to ₱3 million
Interest rate: 1.5%
Term: Six to 24 months
Processing: One to two days
Business Loan
If you own a business that's been operating for at least a year, you can apply for a business loan with Blend PH. Whether it's for opening another branch, securing stocks, purchasing new equipment, or expanding your business, a Blend PH business loan can help you get additional capital.
Loanable amount: ₱100,000 to ₱2 million
Interest rate: 1.5% to%
Term: Six to 36 months
Processing: One to two days
Seafarer Loan
Heads up, onboarding seafarers! Apply for a Blend PH Seafarer Loan online anywhere you are in the Philippines. Get additional cash to fund your departure or your family's needs.
Don't worry, you won't have to submit too many requirements. It's a quick and convenient process too–in as fast as 48 hours, you can get approved and receive your loan proceeds.
Loanable amount: ₱50,000 to ₱500,000
Interest rate: 3.5%
Term: 2/3 of Contract Period
Processing: One to two days
Fast Loan
Ever had one of those days when you don't have enough cash for the seemingly never-ending pile of bills? If you need a quick cash boost, you can apply for a Blend PH Fast Loan.
It's a short-term loan to quickly help you fund minor expenses. Like Blend's other loan offerings, it's fast and easy to apply for since it needs fewer requirements, making it perfect for cash emergencies.
Loanable amount: ₱10,000 to ₱40,000
Interest rate: 8%
Term: Three to six months
Processing: One to two days
Educational Loan
The educational loan is funding assistance for students enrolled in Blend PH's partner training centers and schools. Students and working professionals can avail of this loan to pay for tuition and other learning-related expenses.
Blend PH will forward the proceeds of the educational loan, which can pay for school fees and miscellaneous expenses, to the partner school or training center.
Loanable amount: ₱20,000 to ₱25,000
Interest rate: 3%
Term: One to six months
Processing: One to two days
Salary Loan
If you're an employee of any Blend PH partner company anywhere in the Philippines, you can avail of the salary loan as well. The credit line can be activated anytime. After you apply for a salary loan online, processing takes only 24 to 48 hours.
Loanable amount: Equivalent to one month's salary
Interest rate: 3%
Term: One to six months
Processing: One to two days
Who Can Apply for a Blend PH Personal Loan?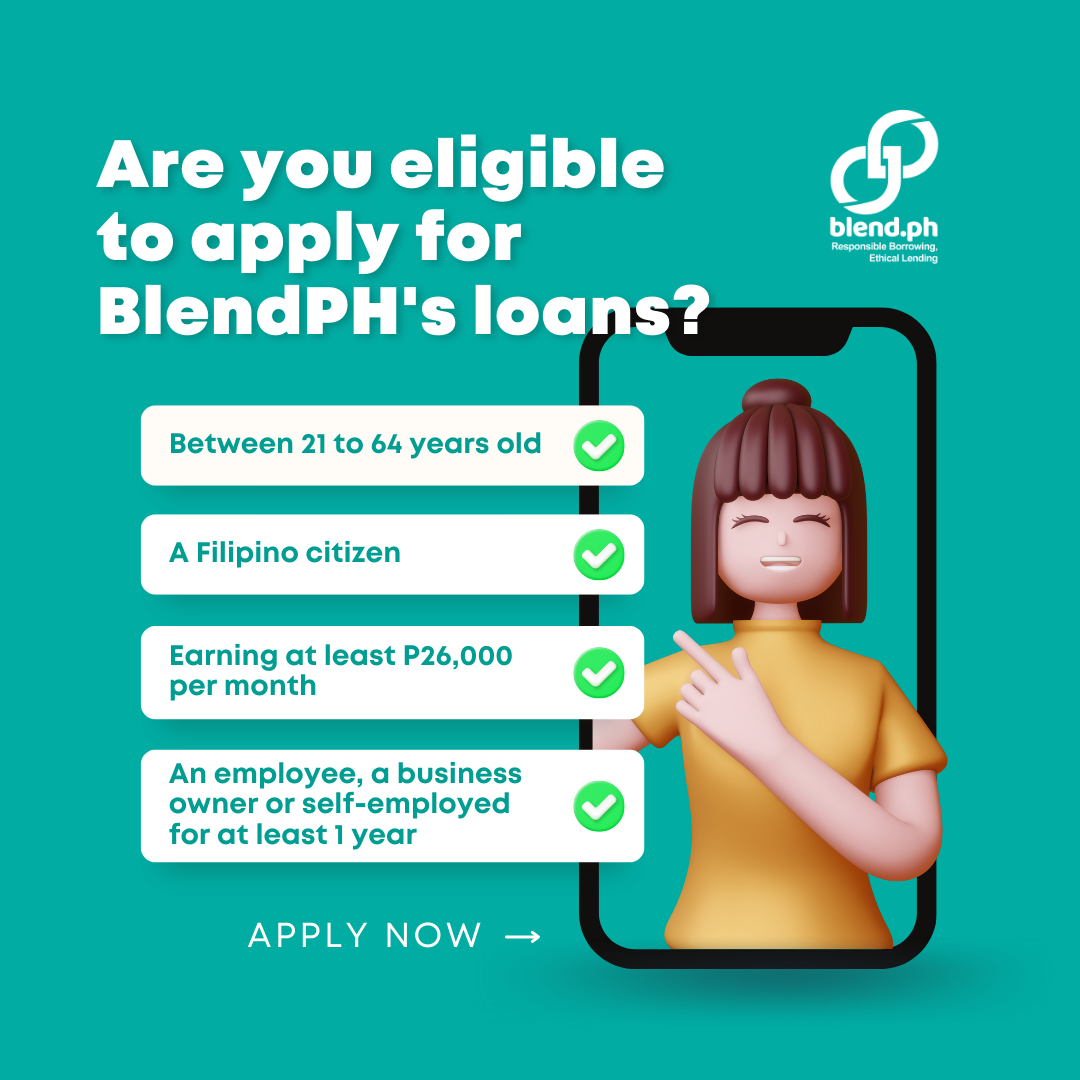 Borrowers should meet the following eligibility requirements to qualify for this loan:
21 to 64 years old
Filipino citizen
Employed for at least a year and earning at least ₱26,000
For business owners: must be operating a business for at least a year
What Documents are Required for a Blend PH Loan?
Prepare the following requirements to submit with your Blend.PH personal loan application:
For employed borrowers:
Valid government-issued ID
Company ID
Three months' payslips
Certificate of Employment
Proof of billing
Selfie with ID
For self-employed borrowers:
Valid government-issued ID
Selfie with ID
Proof of billing
Bank Certificate with Average Daily Balance
Last two months' bank statements
Business or Mayor's Permit
Latest Income Tax Return and Audited Financial Statements
How to Apply for a Blend Personal Loan
Ready to apply for a Blend loan? Follow the steps below:
1. Check Your Eligibility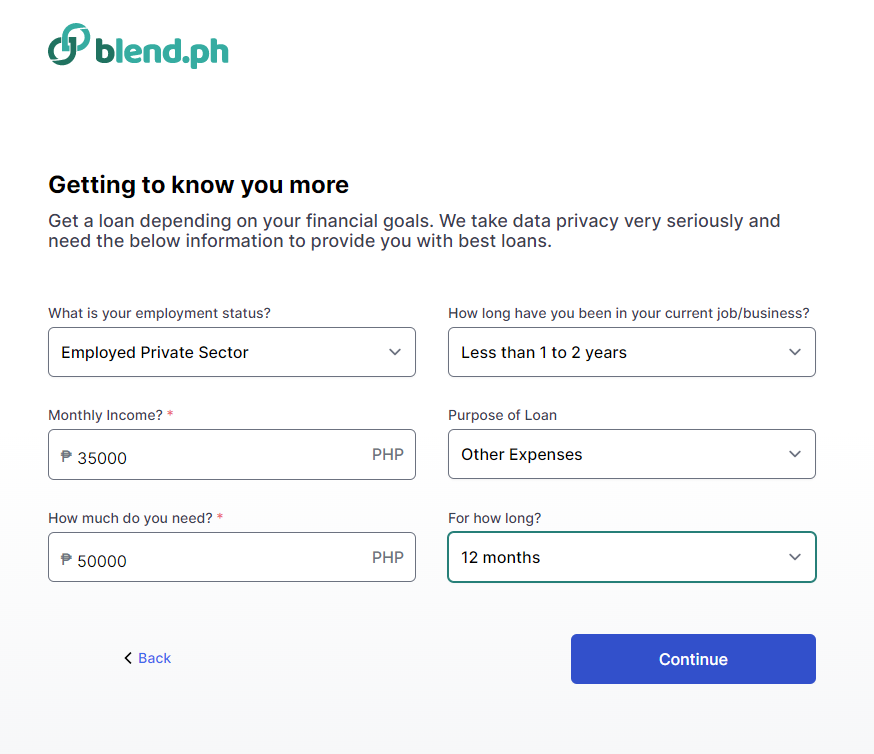 Before applying for a personal loan, click the Loan Calculator[1] to determine your eligibility. Fill out your employment status, monthly income, job tenure, loan purpose, loan amount, and preferred loan repayment period.
2. Compare Loans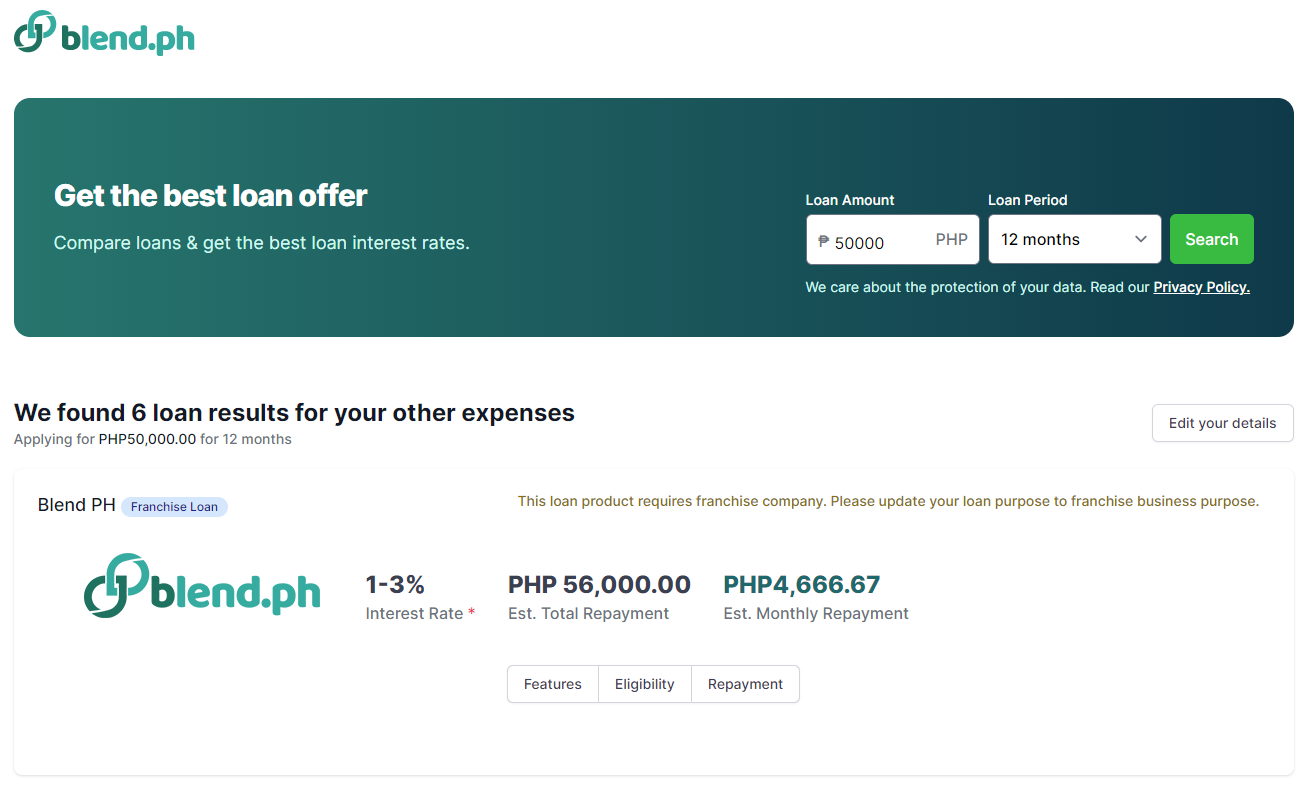 You'll see a list of loan results you can apply for based on your answers. You can find information on the loan provider and interest rates, as well as your monthly repayment and estimated total repayment.
3. Apply for the Loan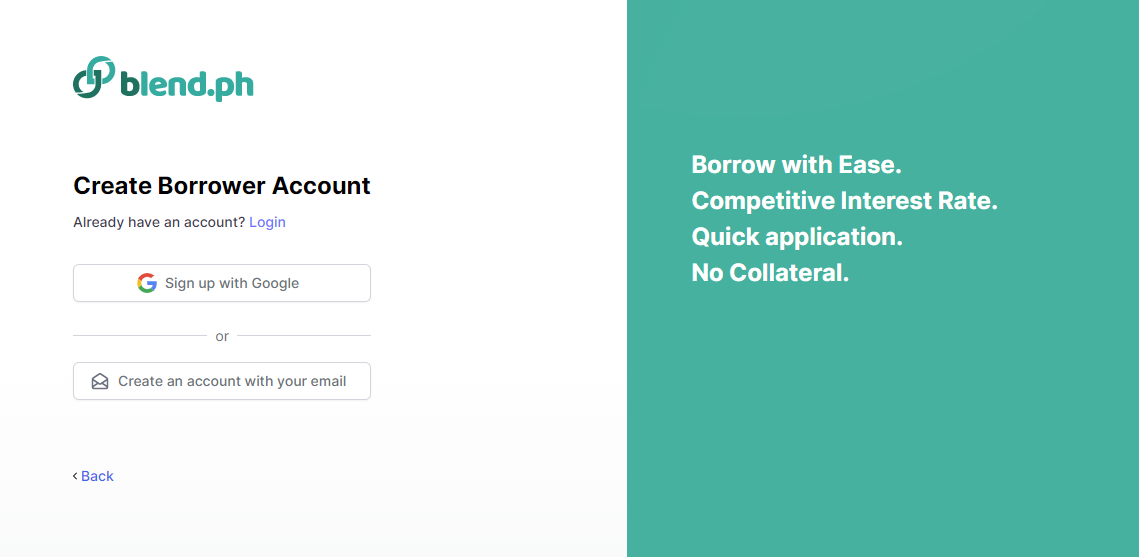 Click Apply on the loan product that you prefer. Complete the loan application by creating a Borrower Account and providing the required information and documents. Make sure to finish this step ASAP for your loan application to be tagged as complete. Incomplete applications will be automatically rejected by the system after two weeks.
4. Undergo Credit Evaluation and Endorsement
Blend.ph will then verify your information and documents. After validation and evaluation, it will be endorsed to Blend PH's partner lenders for approval and funding.
5. Wait for Loan Disbursement
If your loan application is successful, expect a call from Blend PH's partner investor. You'll get notified when the funds are ready for disbursement.
Final Thoughts
If you're the kind of person who checks reviews online before buying or applying for anything, you'll be glad to know that most BlendPH loan reviews are positive. You can find different Blend PH Personal Loan reviews on its website and official Facebook page.[2]
Most borrowers like this personal loan because of its quick and hassle-free application process and helpful loan officers.
Of course, you'll also see Blend PH reviews talking about delays in loan processing and disbursement. These are unavoidable, especially if there are problems with the borrower's information or requirements.
As for the personal loan itself, it offers competitive rates, high loan amounts, and long repayment periods. The loan requirements are also easy, so you can finish your application quickly. Most importantly, you can get a loan approval in less than 48 hours.
Consider these Personal Loan Options Too
Looking for more options? Check out this list of trusted personal loan companies and their loan features. Compare and apply through Moneymax today!
Personal Loan Provider

Minimum Loan Amount

Maximum Loan Amount

Minimum Annual Income

Approval Time

Metrobank

₱20,000

₱1 million

₱350,000

7 days

BPI



₱

20,000

₱2 million

₱

300,000

5 to 7 banking days

EasyRFC

₱

10,000

₱150,000

₱

120,000

As fast as 24 hours

Maybank



₱

50,000

₱1 million

₱

300,000

Apply online in just a few clicks

RCBC



₱

50,000

₱1 million

₱

360,000

5 to 7 banking days

SB Finance




₱30,000

₱2 million

₱180,000

5 banking days

CIMB



₱

30,000

₱1 million

₱

180,000

24 hours

HSBC



₱

30,000

₱500,000 or 3x gross monthly salary, whichever is lower

₱

168,000

5 to 7 banking days

CTBC



₱2

0,000

₱1 million

₱

180,000

3 to 5 banking days
Sources: