Three years after countless and fast-changing COVID-19-related restrictions, many travelers are raring for a comeback. Revenge travel is real!
What better way to satiate your hunger for wandering than planning it this summer? Just the prospect of it will send excitement throughout your body. After all, our country has more than 7,600 islands waiting to be visited, explored, and marveled at. From Luzon to Mindanao, you'll always find not only domestic tourist hotspots but also underrated gems.
But you can't just pack your luggage without a destination. In case you're still undecided on where to go, let this list of tourist destinations in the Philippines spark your imagination and help you choose the places to visit.
Top 5 Famous Tourist Spots in the Philippines
This list of the country's most popular tourist destinations is an assortment of beaches, road trips, and adventures.
📍 Boracay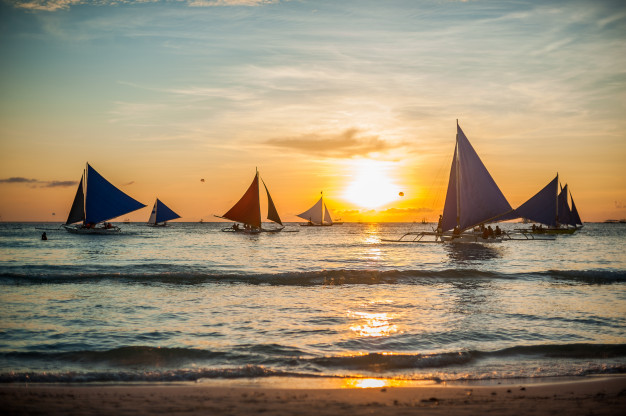 Boracay wouldn't be world-famous for having the most beautiful beaches in the world for nothing. There's certainly a good reason people keep coming back to this island.
No wonder, Boracay was recently recognized as the top island in Asia.[1] If you haven't been there yet, now's the best time to fly!
Top Destinations and Activities in Boracay
Boracay has a lot of picturesque beaches to choose from. For those who simply want to enjoy the island's beauty, your best choice is White Beach. It's aptly named for its powder-soft white sand. This beach is also divided into three sections.
Station 1 is where you'll find high-end resorts and restaurants. Next, Station 2 offers a lot of great shopping and dining options. Last but not the least, Station 3 is Boracay's most secluded area where you can enjoy peace and quiet.
You can also explore other Boracay beaches like Bulabog Beach, a paradise for kitesurfers. After that, make your way to Puka Shell Beach, which is known for its privacy. Feeling a bit adventurous? Try Ariel's Point.
Read more: Boracay Travel Guide: Top Activities on the Island
📍 Coron, Palawan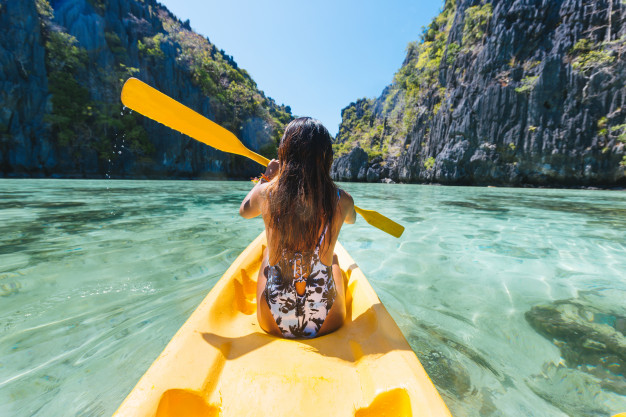 Still can't get enough of Philippine beaches? Then head to Coron! Wanderlust Magazine, one of the UK's oldest travel magazines, even ranked Palawan (which includes Coron) the first among the top 10 most desirable islands in the world.[2] Apparently, it's one of the most popular tourist destinations in the Philippines.
Top Destinations and Activities in Coron
Coron has a wealth of beaches. Atwayan Beach is a famous spot for picnics and lunches. In addition, Banana Island features a stunning crescent-shaped lagoon and cream-white sand. Sangat Island, on the other hand, is a great spot for diving enthusiasts.
For freshwater adventures, check out Kayangan Lake. It's touted as the cleanest lake in the Philippines. Kayangan Lake is also popular with photographers and tourists because of its underwater rock formations. Snorkel, dive, and swim. You can also hike the nearby mountain to enjoy the majestic views.
📍 Siargao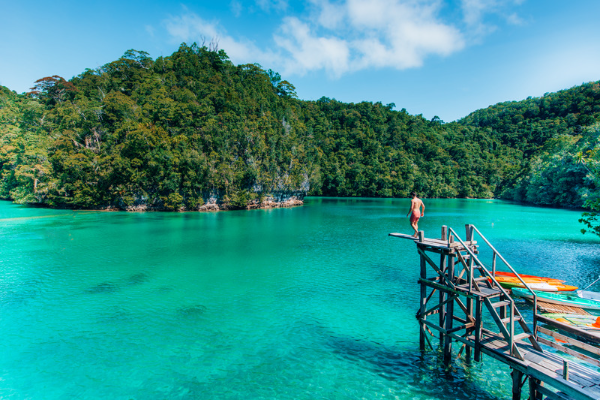 You can't talk about Siargao without mentioning the words "surfing," "beach," and "beautiful." However, these words aren't enough to perfectly capture the essence of this paradise. It's hard to explain the allure of the island, though. You need to personally experience what this place has to offer!
Top Destinations and Activities in Siargao
If you're a big fan of surfing, Siargao will definitely be your heaven on earth. Siargao is known for its gigantic waves that will give you the ultimate adrenaline rush. Getting wiped out by the waves will be something you'll enjoy, too.
Thinking of where to go next? Visit the Sugba Lagoon, a spectacular lagoon surrounded by the greens of towering mountains. Dive, swim, and take life at a leisurely pace in one of the best tourist destinations in the Philippines.
If island hopping's your thing, head to Siargao's three popular islands. Guyam, Daku, and Naked Islands all have breathtaking beaches.
Related: Best Siargao Resorts for Every Budget
📍 Baguio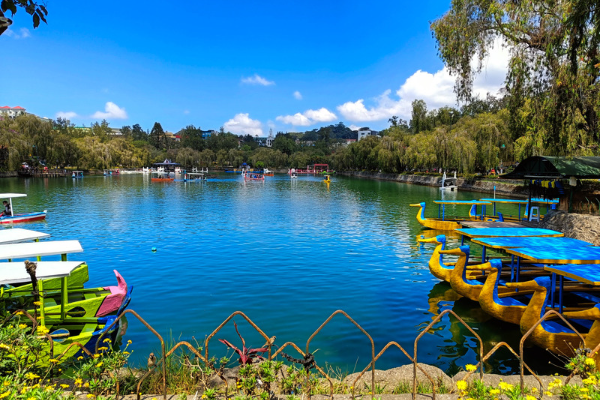 Want to enjoy cool weather but don't have the budget to fly to Japan or South Korea? The City of Pines can tide you over. Baguio City is perfectly built upon the mountains. With its cool weather, it's easily a top-of-mind summer escape for the people from the lowlands.
Top Destinations and Activities in Baguio
The Botanical Garden, Camp John Hay, Mines View Park, Burnham Park, and the Lion's Head are popular places for first-timers in the summer capital of the Philippines. But if you've been to Baguio many times now, seek out hidden gems that will make for new and memorable experiences.
Why not dip your toes into the warm waters of Asin Hot Spring? Also, support Philippine contemporary art by visiting the BenCab museum. Here, you can find masterpieces by National Artist Ben Cabrera.
Want to try ghost-hunting? The Diplomat Hotel and the Laperal White House are popular destinations in the Philippines for such activities.
See also: Cold Places in the Philippines: Where to Chill with Your Loved Ones
📍 Tagaytay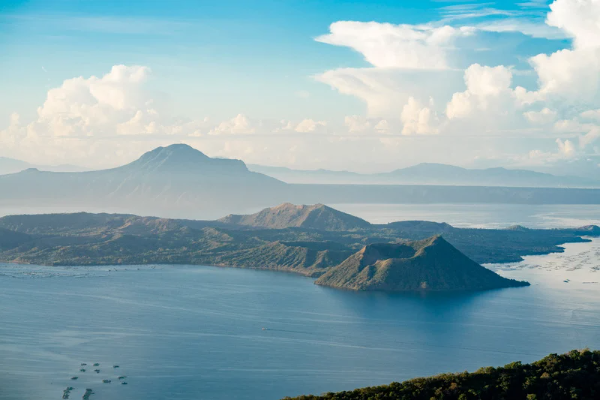 Need a quick remedy for your work-from-home fatigue? A whiff of cold air will do you some good. Where else can you have that than in Tagaytay?
Top Destinations and Activities in Tagaytay
Tagaytay is just an hour away from Metro Manila. Aside from its vibrant nature, Tagaytay's warm hospitality also makes it a great travel destination.
Marvel at the sight of Taal Lake from the Picnic Grove and Twin Lakes. Go up to the People's Park in the Sky for a 360-degree view of the highlands and the city's neighboring towns.
One of the top food destinations in the Philippines, Tagaytay is known for its culinary delights. Dine at top-rated restaurants like Breakfast at Antonio's and Sonya's Garden. You can also find many coffee shops and dessert places along the highway.
For a grittier food adventure, stop by the eateries at the Mahogany Market. Warm yourself up with a generous serving of bulalo. Enjoy the fried crispy goodness of tawilis and chicharong bulaklak.
In short, have a little bit of everything in this market. Make sure to come with an appetite because you'll want to try everything!
Top 7 Underrated Tourist Destinations in the Philippines
Looking for less crowded and less touristy places to visit? Consider these off-the-radar domestic destinations.
📍 Ilocos Sur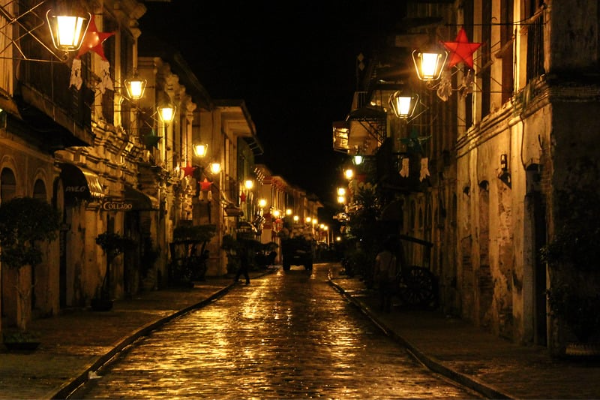 History buffs and culture vultures will surely have fun in Ilocos Sur. It's home to one of the UNESCO Heritage sites in the Philippines, which is the city of Vigan.[3] From Manila, you can reach the province via an almost 12-hour drive or a one-hour flight.
Top Destinations and Activities in Ilocos Sur
One of the main attractions in the province is Calle Crisologo. The cobbled streets and well-preserved heritage houses will make you feel like you're traveling back in time. Everything looks like a postcard, and the place is teeming with history.
Ride the calesa to tour around the vicinity or visit the shops for some souvenirs. Wait until nighttime to see the place in its full glory. It elegantly transforms under the warm street lamps.
Furthermore, explore the Bantay Belfry, more commonly known as the Bantay Watch Tower. It's truly an architectural marvel to behold.
Saint Augustine Parish Church is another architectural treasure of the province. It was built in 1590 and boasts of the beauty of Neo-Gothic and Romanesque styles.
Love food? Ilocos Sur is also known for its tasty and iconic dishes. Don't ever leave without feasting on empanada, bagnet, and Vigan longganisa.
📍 Pangasinan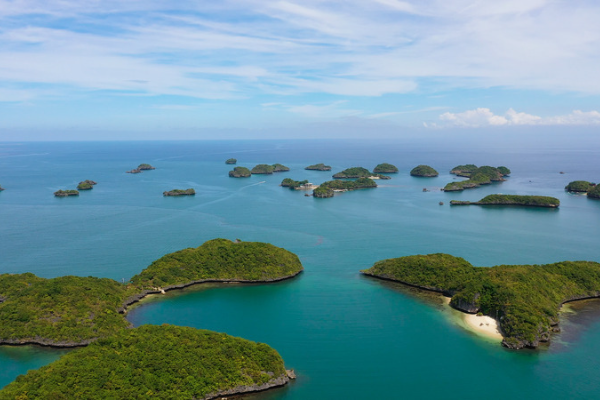 Pangasinan is not just a pass-through location before you reach Baguio or Vigan. What many don't realize is that the province has a wealth of beautiful spots, making it a great quick escape from the city.
Top Destinations and Activities in Pangasinan
First on the list is the Hundred Islands in Alaminos. Here, you can enjoy sightseeing, island hopping, and water activities such as kayaking, snorkeling, and canoeing.
Another beach to visit is Patar Beach, also known as the Boracay of Pangasinan. Located in Bolinao, Patar Beach features a long stretch of pristine white sand beach and a magnificent sunset view to boot.
In case you want a pensive trip with lots of room for reflection, the Minor Basilica of Our Lady of the Most Holy Rosary of Manaoag is the ideal venue.
Allied Botanical Corporation's Sunflower Maze in Tayug is also worth a visit. Lastly, don't ever leave the province without bringing home the famous puto Calasiao.
📍 Dumaguete and Siquijor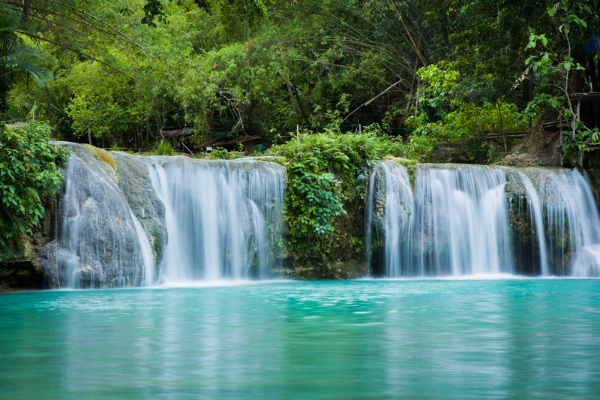 Beaches within close proximity and warm people are among the things that cemented Dumaguete's reputation as a laidback city. The Negros Oriental capital makes a good destination if you're looking for an alternative to more popular tourist destinations in Visayas, such as Cebu and Bohol.
While you're at it, include Siquijor in your itinerary. As small as it seems, this island is packed with big surprises!
Top Destinations and Activities in Dumaguete and Siquijor
Dumaguete City is known for being a divers' paradise because it's close to stunning diving spots. So, if you want to get a diver's certificate, head to this city. Plus, the cost of diving training here is much more affordable than prices in other locations.
Around 45 minutes from the south of Dumaguete is Apo Island. This is also a perfect diving spot since it's a sanctuary for hundreds of sea turtles. You may walk along the white coast or hike to the view deck to see the panorama of the crystal-clear sea.
Back in the city, you may want to go downtown and explore Silliman University, one of the most beautiful universities in the Philippines. Come sunset, stroll along Rizal Boulevard and go people-watching.
The tiny island of Siquijor, on the other hand, is about 1.5 hours from Dumaguete City. Once on the island, you may ride a tricycle or rent a scooter to visit different destinations.
Popular beaches in Siquijor include Salagdaang, Paliton, and Tubod Marine Sanctuary. But if you booked a hotel or hostel by the beach and you don't feel like touring, you may opt to just laze around there. This is because that beach will surely be stunning in its own right.
Make it a point to swim at Cambugahay Falls. These waterfalls are actually composed of three separate falls located on different levels. If you have a drone camera, use it to capture the entirety of the falls from above.
📍 Tibiao, Antique
Panay Island is full of hidden wonders that'll make you fall in love with the Philippines even more. Tibiao, which is located in Antique, should be among the first places you must visit.
Often called the Eco-Adventure Capital of Panay Island, Tibiao lets you immerse in the unspoilt beauty of nature. Lots of activities in this town will make your stay worthwhile and memorable.
Top Destinations and Activities in Tibiao
The 30-kilometer Tibiao River makes a good spot for adventure. You can either swim or kayak here while admiring the greenery around you.
If you're feeling a bit brave, why not go tubing? Just ride a flotation device and let the river current take you away. Don't worry, as there are guides keeping an eye on you. They'll help you in case you get stuck between rocks or if you start floating away from them.
Visit Bugtong Bato Falls if you're in the mood for trekking. You can go here for picnics or for a refreshing dip in its cool waters.
If you want a unique bathtub experience, a kawa hot bath will give you that. The giant wok is heated for 30 minutes. The spring water used for the bath's usually infused with flowers, herbal leaves, salt, wine, and even coffee. What amplifies this experience is the uninterrupted views of the green mountains around you.
Got more time to explore this side of Antique? If you want to get a taste of the local life, you may try pottery making and lambaklad fishing.
If you're looking for a tropical beach experience, you'll find it at Seco Island, which is about three hours away from Tibiao. The powdery white sand and the crystal-clear waters are easily worthy of a spot or two on your Instagram page.
📍 Camiguin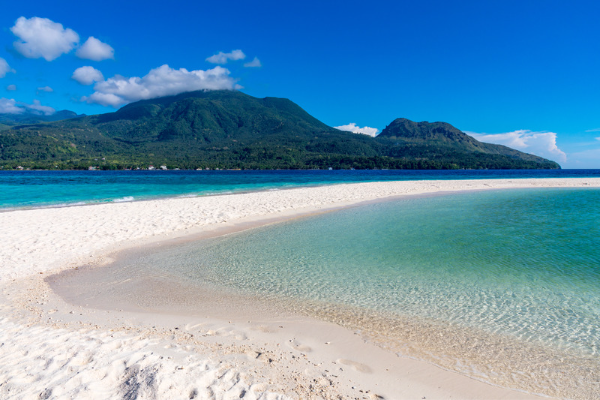 Mindanao has a wealth of underrated tourist destinations in the Philippines. The small island of Camiguin, which is famous for its sweet lanzones, will wow you with gigantic fun.
Top Destinations and Activities in Camiguin
Being surrounded by water, you'll easily find a lot of picturesque beaches in Camiguin. Among those must-visit coastal destinations are Mantigue Island and White Island. Activities at Mantigue Island include swimming and strolling through its dense forest.
White Island, on the other hand, is a white sandbar located about 1.4 kilometers from Mambajao, Camiguin's capital. It's a great venue for sunbathing and swimming. But if you're into nature photography, you can get a good view of Mount Hibok-Hibok, an active volcano in Camiguin.
Still can't get enough of marine adventures? Dive into the shoals of Jicdup and Burias and swim with tunas and even barracudas. For an otherworldly swim, try exploring the Sunken Cemetery. This is a real cemetery submerged underwater when Mount Vulcan (also called Old Volcano) erupted in the 1940s and 1950s.
After a day or two on the beach, you may want to conquer Mount Hibok-Hibok. The climb is quite challenging, but you'll be rewarded with a breathtaking view when you reach the summit.
📍 Bukidnon
Bukidnon is a landlocked province in North Central Mindanao. Its elevation is quite high, so expect cool temperatures and refreshing air. The province is blessed with natural features that draw in tourists not only from Mindanao but also from other parts of the Philippines.
Top Destinations and Activities in Bukidnon
If you simply want to chill and experience a bit of adventure, visit the Dahilayan Forest Park and the Dahilayan Adventure Park.
The Dahilayan Forest Park will make you feel like you're in a temperate forest somewhere in Europe. Surrounded by towering pine trees, the park is a great picnic spot for families and groups of friends.
Feeling a bit adventurous? The Dahilayan Adventure Park[4] has two 840-meter ziplines with a drop of 100 meters. Razorback coaster, on the other hand, will remind you of the alpine coasters of Switzerland.
Still on the adventurous side, Mount Kitanglad Range Nature Park lets you explore Bukidnon's enchanted side. Mossy forests and wild flora, such as the Rafflesia, are all found here.
Bukidnon is also home to large pineapple plantations. So while you're in the province, visit Camp Philips, a community in the town of Manolo Fortich that houses Del Monte's pineapple plantation. Dine at Del Monte Clubhouse and get a taste of steaks that are sourced from pineapple-fed cattle.
📍 Samal Island, Davao del Norte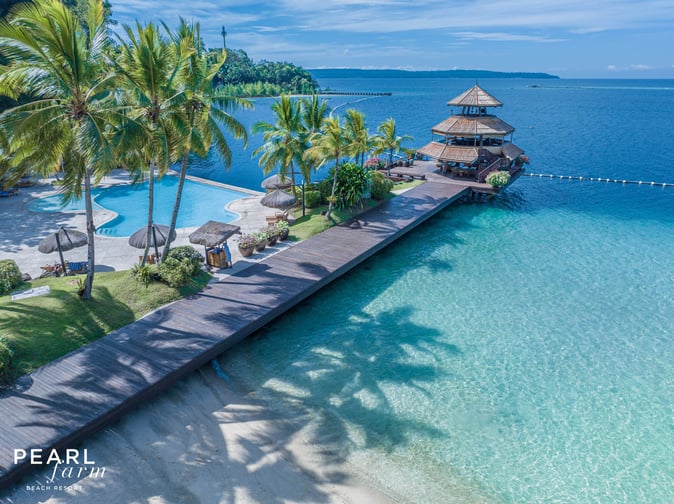 The phrase "Island Garden" is always incorporated into the name of Samal City for a reason. This Davao del Norte city is home to some of the country's most majestic beaches. This is a must-visit tourist destination in the Philippines for beach lovers.
Top Destinations and Activities at Samal Island
There are a lot of nature activities to partake in on the island. Among the very first things that you may want to do is visit Pearl Farm Beach Resort. While it's a luxurious spot, it offers tourists a day tour. Nevertheless, you can simply chill and enjoy the resort's white sand and turquoise waters.
Samal Island also has a lot of diving spots where you can explore the region's rich marine biodiversity. Include the following local tourist destinations in your list: Coral Garden and Marine Reservation Park, Giant Clam Sanctuary, and Aundanao Fish Sanctuary. In one of your dives, you may even spot sunken World War II ships.
Other destinations and activities on the island are obviously intended for adventurers. Nevertheless, non-adventurers can try them, too. You can explore the Monfort Bat Cave and Hagimit Falls.
Looking for more? Check out other popular tourist destinations and activities in the Philippines:
Final Thoughts
Revenge travel is real, indeed! Travelers can now soak in the beauty and have fun in different tourist destinations in the Philippines. Enjoy your travels but not at the expense of safety.
And while you're planning your domestic trips, don't forget to add a layer of protection: get a travel insurance plan that covers inconveniences and other untoward incidents you might experience.

Sources: