Did you miss travelling during these past few years? Nothing could ever top the joy of hitting the road, meeting new faces, and exploring hidden gems.
But in case you can't take a full-fledged vacation and can only afford to take weekend road trips, you can always go on a quick road trip. Below, check out a curated list of top road trip destinations near Manila.
24 Road Trip Destinations Near Manila in 2023
Where to go near Manila? Just for a change, this list doesn't Baguio, Tagaytay, or Subic. Nevertheless, you can enjoy a good time at each of these road trip destinations near Manila.
📍 Seven Lakes of San Pablo (San Pablo, Laguna)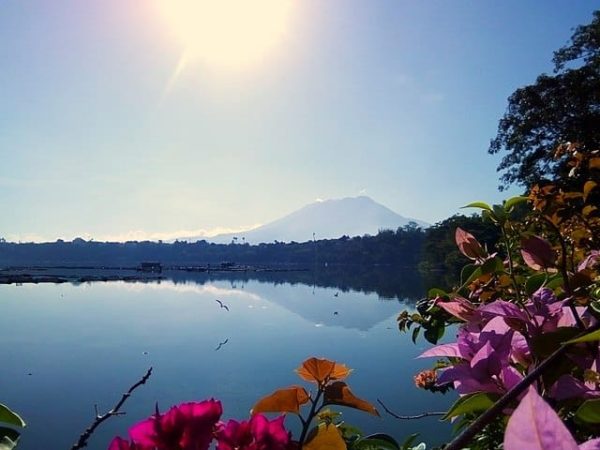 The city of San Pablo in Laguna is famous for its seven crater lakes,[1] namely Bunot, Calibato, Mohicap, Palakpakin, Pandin, Sampaloc, and Yambo. These enchanting lakes are in San Pablo Volcanic Field, located between Mt. Banahaw and Mt. Makiling.
Just a two-hour drive from Manila (via SLEX Calamba Exit), the Seven Lakes of San Pablo is one of the must-visit summer destinations for people who love nature and adventure. You can go sightseeing, biking, swimming, rafting, trekking, and more. Take Insta-worthy shots as well!
📍 Liwliwa Beach (San Felipe, Zambales)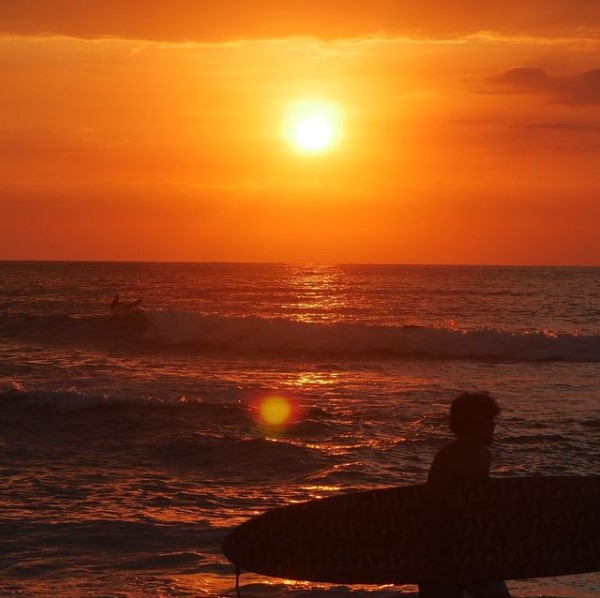 There's a hidden getaway near Manila that's accessible in three to four hours (via NLEX and SCTEX): the captivating beach in Liwliwa, Zambales. It's got waves powerful enough for surfing. When the water's tranquil, you can either swim or take a long walk and marvel at the stunning sunrise or sunset. Don't forget to try the local food and drinks as well!
📍 Katungkulan Beach Resort (Ternate, Cavite)
Traveled to Tagaytay a gazillion times already? Time to explore other exciting summer destinations in Cavite!
In just two to three hours, you can get to Katungkulan Beach Resort, formerly called Boracay de Cavite because of its white sand beach. The Katungkulan Beach Resort location is at General Gregorio Lim Marine Base, Sitio Calumpang, Sapang 1, Ternate, Cavite (via CAVITEX).
Because it's inside a military base, the resort implements quite a lot of restrictions (no bonfire, no littering, and no overnight stay). But it's perfect if you just want to quickly visit a road trip destination near Manila.
There are also nearby tourist attractions for your side trips, such as the Maragondon Church and Aguinaldo Shrine in Kawit.
📍 Isla Verde (Batangas)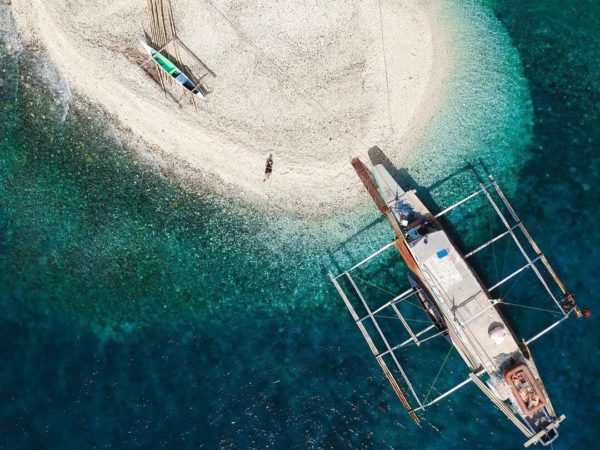 When it comes to Batangas beaches, what easily comes to mind are crowded resorts. Well, that's the case for the more popular beach destinations like Anilao, Nasugbu, and Laiya.
But there are lesser-known beach resorts in Batangas worth visiting. Many of them can be found in Isla Verde (also called Verde Island), a secluded island known for its diverse marine life.[2] The island is perfect if you want to explore the depths of the sea through diving or snorkeling.
📍 Hilltop View Deck (Norzagaray, Bulacan)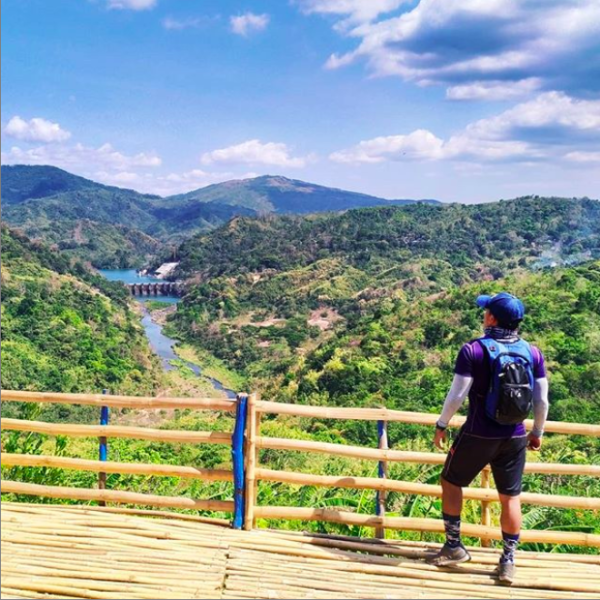 As a tourist destination, Bulacan is famous for its historical sites, old churches, and crispy chicharon. But unknown to many travelers, this province near Manila is also home to some stunning natural wonders.
The "Baguio of Bulacan," locally known as Hilltop, is among the lesser-known summer destinations in Norzagaray. No need to drive for six hours to Baguio, as you can drive for just a few hours from Manila to Barangay San Lorenzo, Norzagaray via NLEX. Revel in the chilly weather and cool, fresh air with a picturesque view of the Sierra Madre mountain range, Angat Dam, and Ipo Dam.
Drive a bit further to get to the Bitbit Bridge, where you can take a short trail to Bitbit River. Go for a quick, refreshing swim in the river before driving back home.
Alternatively, explore the Angat Rainforest and Eco Park, located just across the Bitbit Bridge.
📍 Governor's Rapids (Maddela, Quirino)
Governor's Rapids, which forms part of the Cagayan River, is being developed by the Quirino provincial government as one of its primary tourist attractions.
Because of its crystal-clear waters and towering limestone formations, Governor's Rapids is comparable to El Nido and Coron in Palawan, as well as Halong Bay in Vietnam.
Activities include swimming, kayaking, boating, and river tubing, which is the most recommended way to enjoy the rapids. For adventure junkies, the place is also great for white water rafting and cliff jumping.
Governor's Rapids is one of the cheap summer destinations in Luzon, with an entrance fee of ₱10 and a boat ride/river tubing fee of ₱80 per person. It's a long seven-hour drive via NLEX and SCTEX, but it's worth it.
📍 Anawangin Cove (San Antonio, Zambales)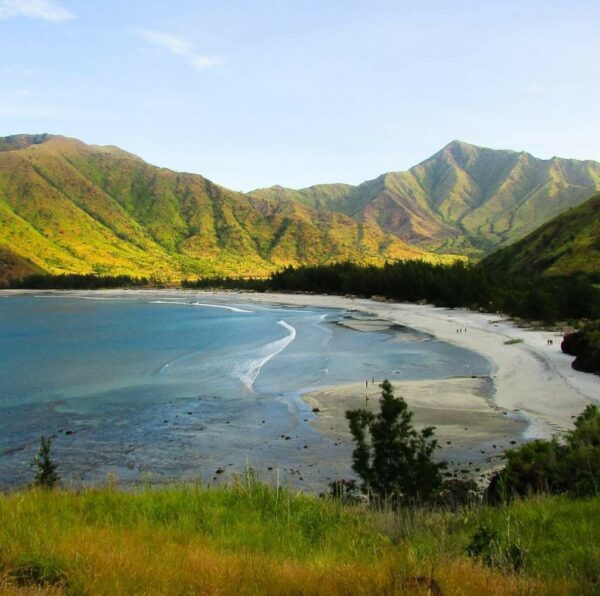 A different kind of beach experience awaits in San Antonio, Zambales, specifically at Anawangin. The sands on this beach are actually volcanic ash from Mount Pinatubo.
Bask in the cool and clear waters while appreciating the scenic views of the green mountains surrounding you. Or wait for the magnificent sunset at dusk.
Anawangin is actually part of the mainland, but to get there by land, you'll need to hike and trek. The fastest way to reach the cove is via boat rental (which may cost around ₱1,200 and above). If you have the time, explore other destinations nearby, such as Nagsasa Cove, Talisayen Cove, and Capones Island.
Just a reminder: there are no hotels or homestays in Anawangin. You may choose to go on a day trip or an overnight stay, provided that you have a tent (there are some rentals, though).

📍 Cagbalete Island (Mauban, Quezon)
About 40 minutes from the port town of Mauban, Quezon lies Cagbalete Island, a place with pristine and cream-colored beaches. Through this quiet getaway, you'll realize that you don't need to fly just to find a beautiful beach. Cagbalete Island is as rural as it gets, as there are no loud bars and over-the-top nightlife here.
Other than swimming, beach hopping, and snorkeling, you can enjoy activities such as bird watching and horseback riding. Visit Bonsai Island, an islet that only appears during low tide—and when it does, you'll see small mangroves and dead corals.
Cagbalete Island is among the beaches near Manila that you can reach via car. Drive to Mauban, find a pay park area near the port, and then ride an island-bound boat.
📍 Paete (Laguna)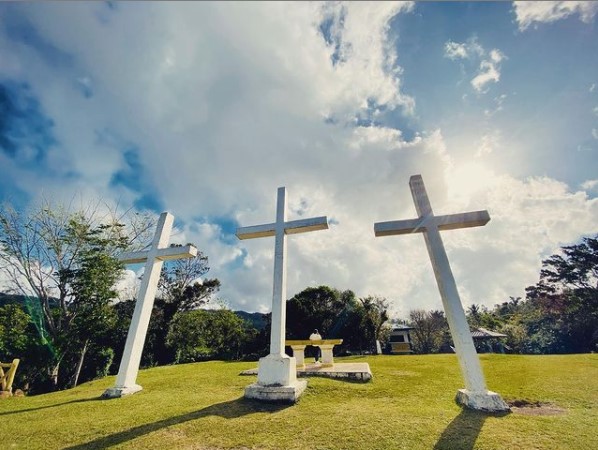 If you're after a road trip near Manila, Laguna has a wealth of destinations waiting for you. Paete is worth visiting if you're looking for a change of pace. In this quaint, under-the-radar town, you'll definitely find interesting spots that will excite culture vultures and artists.
As this town is often dubbed the Woodcarving Capital of the Philippines, you'll find artisanal shops that sell wood carvings and sculptures. There are also some stores that offer finely crafted hammocks, straw hats, and rocking chairs.
Complete your culture trip by visiting the Saint James the Apostle Parish, a 300-year-old architectural marvel that houses century-old paintings and wooden depictions of saints.
If you're up for some trekking, visit Tatlong Krus. After 500 steps uphill, you'll be treated to a scenic view of the town and Laguna Lake. Not far from Tatlong Krus is Matabungca Falls, where you can refresh yourself with some cool and clean water.
📍 Pansol (Calamba, Laguna)
A hot spring vacation in summer? That may sound counterintuitive, but you'll be surprised by the number of people flocking to Pansol during the sunny season. Relax your muscles and let the thermal waters in the Resort Capital of the Country take your stress away.
But if you're looking for a cold pool, you'll still find it here. Resorts and vacation houses actually offer hot and cold pool options. You can make arrangements with the owner before going there.
📍 UP Los Baños (Laguna)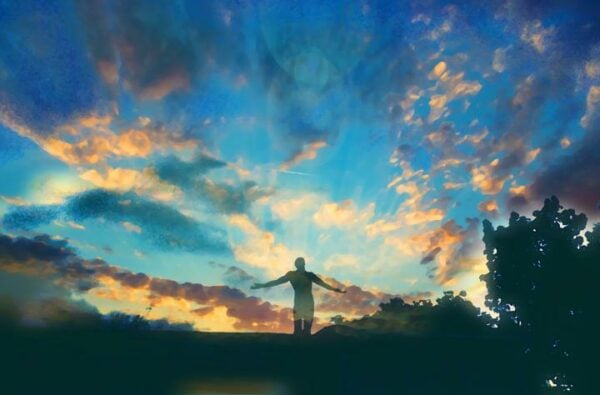 You can't deny that UP campuses are treasure troves of Instagrammable spots. If you want to commune with nature, UP Los Baños or UPLB is the perfect spot for you!
Once you get there, you'll immediately get the impression that the university is housed within a massive park. Every nook and cranny is filled with lush foliage, towering trees, and pretty flowers.
Visit the university's most iconic spots, such as Oblation Park and Carabao Park. Don't miss Freedom Park (it's not hard to miss anyway!), where you can watch people jog or simply take their idle time on the grass.
While you're here, spot the Fertility Tree, the university's biggest acacia tree. Adjacent to it is the Carillon Tower, the tallest building on the campus, which seriously gives off a Tower of Sauron vibe.
You can also visit the upper campus and enjoy the company of super-tall trees. If you have all day for your tour, spend some time at the Makiling Botanic Gardens or visit the National Arts Center. Don't forget to pick up some freshly baked buko pies or cassava cakes on your way home!
📍 Villa Escudero Plantation (Tiaong, Quezon)
Do you dream of being a haciendero or haciendera? Well, it's not too late to live that dream at Villa Escudero Plantation in Quezon Province.
This lavish plantation has not only a resort, but also a museum and a chapel. Treat yourself to an enchanting view of the pristine river flowing from Mount Banahaw. You can also enjoy a wide range of activities, such as watching cultural shows, biking, carabao cart riding, rafting, and swimming.
The plantation is also made for foodies. Enjoy the iconic lunch buffet at the foot of the man-made waterfalls. After a filling meal, spend the rest of the afternoon at a leisurely pace by riding a bamboo raft at Labasin Lake or strolling around the coconut farm.
During the summer months (March to May), the plantation's day tour package costs ₱1,450 (Monday to Wednesday) or ₱1,600 (Thursday to Sunday and holidays). This already includes the following: museum tour, carabao car ride, waterfall lunch, and other outdoor recreational activities.
📍 Corregidor Island (Cavite)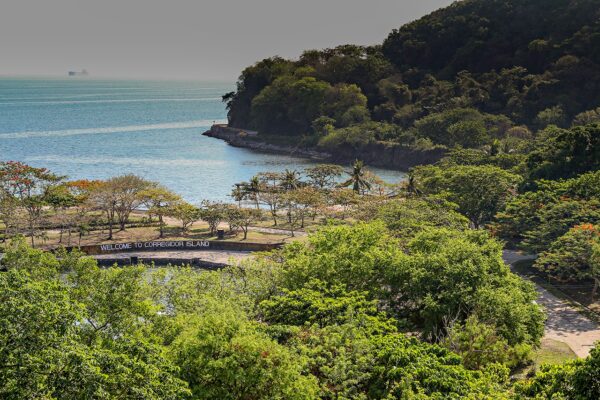 In the southern of Bataan lies a historic island named Corregidor (note that this is part of Cavite City). This island played an important role during the Second World War; the remnants will show you that. History buffs or those who want to escape the metro's hustle and bustle will get to marvel at the bare ruins of the military barracks and the eeriness of tunnels.
Because the attractions rest at an elevated point, you'll get to view the serene sea and some parts of the island. Don't forget to take pictures of the Corregidor sunset (in case you decide to book an overnight package)!
Day tour packages may range from ₱2,500 to ₱2,700 depending on the day of the week. The package includes ferry transfers, a buffet lunch, an island tour, and guide fees. You may need to leave home a little earlier than usual, as the ferry departs from Manila at 7 a.m.
📍 Taal Heritage Town, Batangas
When it comes to old houses and Spanish aesthetics, is Vigan the first place that pops into your mind? But you don't have to endure a 12-hour car ride just to enjoy such sights. A similar road trip destination near Manila is Taal Heritage Town.
The ancestral houses in this picturesque town are well-preserved. Look at them and imagine the town's opulence during the Spanish era. Some houses can be toured for a fee, so you can pretend to be a Don or Doña for a day at Casa Villavicencio or Casa V.
If you have spare time, visit the Villavicencio Wedding Gift House, which is just a few steps from Casa V. Walk around the casa to appreciate the ingenious marriage of European aesthetics and Pinoy sensibilities.
One of the main attractions in the town is the Minor Basilica of Saint Martin of Tours,[3] also known as the Taal Basilica. Built in 1572, it's said to be the largest Catholic church in the Philippines and in Asia. Its architecture is simply stunning—plus, the interiors will remind you of the ornate churches in the Vatican.
While you're in town, go on a mini food adventure and try tapang Taal and tawilis for lunch. End the meal on a sweet note with suman con tsokolate, which is rice cake served with chocolate sauce.
📍 Las Casas Filipinas de Acuzar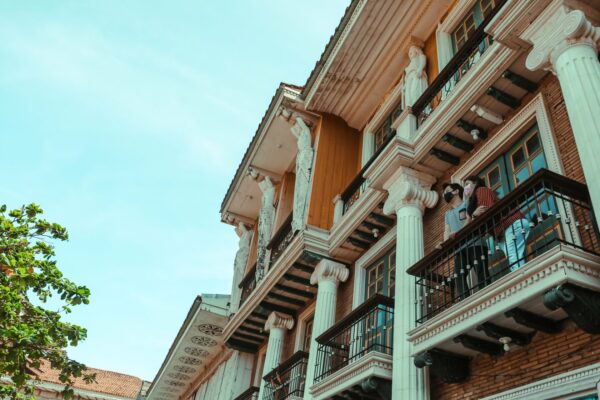 Since the past few destinations in this list are steeped in history, let's go all the way with Las Casas Filipinas de Acuzar.[4] Step into this sprawling estate, and you'll feel like you've either transported back in time or stepped inside a larger-than-life museum.
Las Casas is actually a hotel complex that features heritage houses. All the ancestral houses here are restored Spanish-Filipino houses that showcase architectural geniuses from different parts of the country. Historical structures, such as Hotel de Oriente and Casa Bizantina, were either transferred or resurrected here.
But Las Casas is not just about sightseeing. Here, you can watch cultural shows, play heritage games, dine, shop, swim, go wakeboarding, and take a banana boat ride. You can also schedule a photo shoot, during which you'll wear traditional costumes, with the hotel's in-house photographer.
📍 Pinto Art Museum (Antipolo, Rizal)
If you're in the mood for contemporary art, there's no better place than Pinto Art Museum. Located in Antipolo, this museum houses the works of veteran and emerging artists.
Pinto doesn't look like your typical museum. Walking in feels like wandering in the mansion of an opulent art collector―which is accurate since it's founded by Dr. Joven Cuanang, a Harvard-trained neurologist.
The pieces at Pinto are stunning, intriguing, and unorthodox. From "The Hollow Man" by Alab Pagarigan to Costantino Zicarelli's typographical iconic art that says "We are the kids that your parents warned you about," it's easy to see why the museum remains popular among millennials and Gen Zers.
📍 Mount Daraitan (Tanay, Rizal)
Whether you're planning to take hiking seriously or just trying it out for the first time, Mount Daraitan in Tanay, Rizal makes a good road trip destination near Manila. After the hike, you can proudly tell your friends that you've climbed Sierra Madre―well, technically, since Mount Daraitan is part of the said mountain range.
The adventure doesn't stop at the summit. On your way down, stop over at the Tinipak River. With its almost emerald-green waters and surrounding rock formations, the river's nothing short of photogenic.
📍 Pililla Wind Farm (Pililla, Rizal)
You don't have to fly to Ilocos Norte to see the gigantic windmills of Bangui. Still in Rizal, you'll find the wind farm of Pililla. Perched atop the verdant sloping hill are towering wind turbines that capture strong gusts of wind. Make it a point to visit this place if you want a good view of the Laguna de Bay.
The Pililla Wind Farm is also a must-visit destination if you're a cyclist. The road leading to the spot offers an uninterrupted view of grasslands, rolling hills, and the lake.
📍 Baler (Aurora)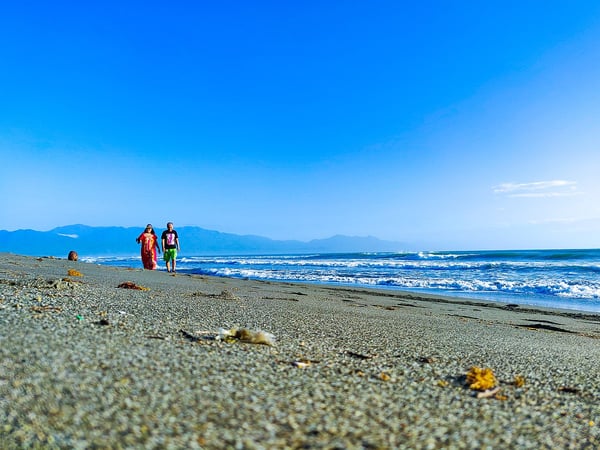 The untamed waves of the Pacific are a roller coaster ride for surfers. If you want to experience these wild waters, come to Baler! This humble town welcomes not only surfers but also holidaymakers who want to escape the heat of the city.
If you're not into surfing, you can simply bathe in the sea or take a stroll along the boardwalk. Want to hike? A small trek to Ditumabo or Mother Falls will satisfy your craving for an adventure.
In case you're interested in local history, head over to the town center and visit Museo de Baler. Not far from it are other historical landmarks, such as Doña Aurora House and Baler Church.
📍 San Juan (La Union)
Consider San Juan, La Union as Baler's archrival when it comes to its reputation as a surf town. But if you've been to these two places, you'll easily see that each of them has its own charm. For San Juan, it's the laid-back yet party-driven attitude of the place.
Want an invigorating barkada trip near Manila? At San Juan, you can surf all you want and drink beer by the beach. Come late in the afternoon―the sunset turns the West Philippines Sea into an otherworldly spectacle as it paints the sky orange.
San Juan's nightlife is also very much alive. Just go to Flotsam and Jetsam to get a taste.
📍 Mount Pinatubo (Zambales)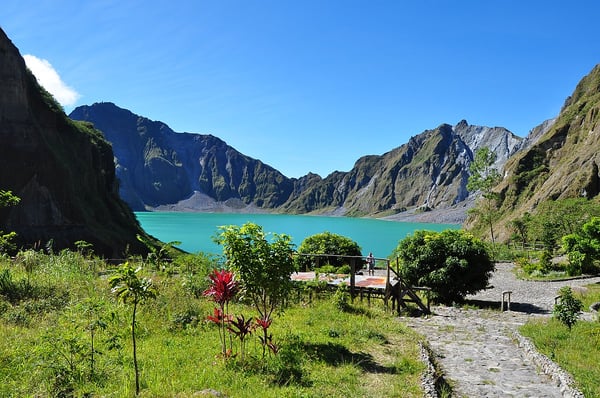 Just three hours away from Manila, the majestic Mount Pinatubo sits proudly in Zambales. After its eruption in 1991, the volcano remained calm. Its beauty then flourished, attracting tourists from different places.
Summer is the best time to go to Mount Pinatubo, as hiking is safer during this season. While the volcano looks imposing, it's actually a relatively easy climb. If you're a newbie, you'll definitely find it enjoyable.
When you reach the crater, you'll be rewarded with a fjord-like view comprised of the turquoise water and the lush, surrounding walls of rock.
An exciting part of the trip is the 4x4 ride to the hike's jump-off point. You'll take the rocky and dusty trail full of lahar.
📍 Minalungao National Park (General Tinio, Nueva Ecija)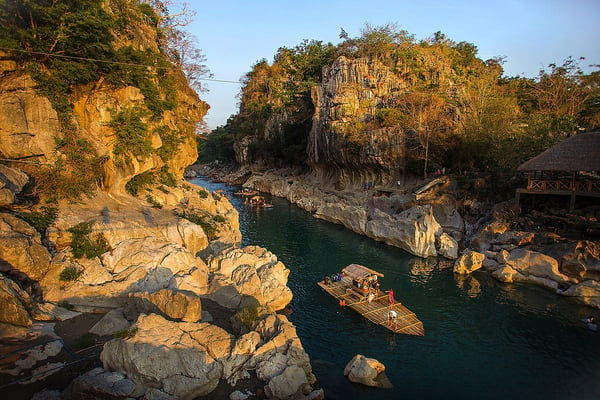 Nueva Ecija is more than just rice fields! If you're a nature lover on the lookout for underrated tourist spots in the Philippines, drive to this province and you'll find the Minalungao National Park. This paradise has turquoise-colored water bounded by walls of limestone.
You can ride a raft and swim in your chosen spot on the river. You can also go on a picnic or try cliff diving. Get up to the hanging bridge if you want a better view of the river and the rock formations.
📍 Silang (Cavite)
Silang is often overshadowed by Tagaytay. But it's just as refreshing and cool as its sibling city, so make sure to consider this for your road trip destination near Manila.
It has an assortment of farms, giving visitors a peek at how vegetables and fruits are cultivated. Some of them even double as groceries with fresh produce.
The most popular ones are Gourmet Farms, Ilog Maria, and Teofely Nature Farm. For those IG-worthy posts, drop by quaint cafés and restaurants such as Café Agapita, Concha's Garden Café, and Balinsasayaw Restaurant.
You can also visit two iconic churches in Silang. If you're interested in 16th-century artworks and sculpture, go to Our Lady of Candelaria Parish Church, which houses 300-year-old pieces. The other must-visit church is San Antonio de Padua, a popular wedding church.
Silang is also a shopping haven. At the Acienda Designer Outlet, you can score designer items with huge discounts.
📍 Pagsanjan and Lumban (Laguna)
Pagsanjan is known for its falls (although they're located in Cavinti), but there are other interesting things to do in this town. Take selfies at the Arco Real, the town's welcoming arch. This structure was completed in 1880, as evidenced by its rustic appearance.
You can also visit the historic Our Lady of Guadalupe Church. If you're going here for a weekend getaway near Manila in 2023, you'll find lavish villas with great views of the Pagsanjan River.
Since you're in Pagsanjan, why not visit its neighboring town? Jump to Lumban in case you're in need of a Barong Tagalog.
If you're a cyclist, pedal your way to Lake Caliraya. You may also find your zen at the Japanese Garden. Tip: Go to the hilltop to get a good view of Lake Caliraya.
Health and Safety Reminders Before Your Road Trip Near Manila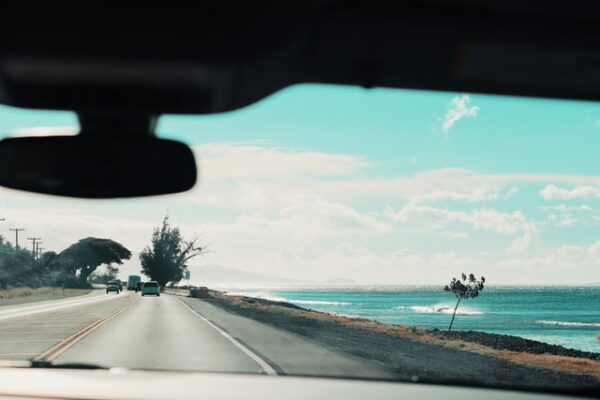 While travel restrictions aren't as stringent as they used to be, you still need to continue being careful. Here are some reminders:
Before driving to your road trip destination near manila, check for possible health requirements, if any.
To be safe, bring your vaccination card or your vaccination certificate.[5] The mask mandate may have been lifted, but it won't hurt to bring a face mask, alcohol, sanitizer, and disinfectant, too.
Stay updated on changes in travel rules and restrictions as they may change without prior notice.
Final Thoughts
As you can see, there are more road trip destinations near Manila aside from Manileños' usual go-tos such as Baguio, Tagaytay, and Subic. Our country has so many natural wonders to offer.
Plenty of marvelous road trip places await tourists who crave new experiences and adventures with their loved ones. Consider these underrated destinations in the Philippines when you plan your next road trip!
| | | | | | |
| --- | --- | --- | --- | --- | --- |
| Car Insurance Company | Maximum Total Sum Insured | CTPL Coverage | Own Damage & Theft Coverage | Acts of Nature Coverage | Death or Disablement Coverage |
| FPG Insurance | ₱4 million | ✔️ | ✔️ | ✔️ | |
| Malayan Insurance | ₱7.5 million | ✔️ | ✔️ | ✔️ | |
| The Mercantile Insurance Corporation | ₱5 million | | ✔️ | ✔️ | |
| OONA Insurance (formerly MAPFRE) | ₱5 million | ✔️ | ✔️ | ✔️ | ✔️ |
| PGA Insurance | ₱3 million | | | | ✔️ |
| SGI Philippines | ₱5 million | ✔️ | | ✔️ | ✔️ |
| Standard Insurance | ₱5 million | ✔️ | ✔️ | ✔️ | ✔️ |
| Stronghold Insurance | ₱3 million | | ✔️ | | |
Sources: