Batangas offers something that Boracay, Siargao, Palawan, and Bohol can't—quicker access to the Philippines' stunning beaches. No need to book flights and plan long leaves because you can drive to Batangas on a whim. Just two to four hours of travel from Manila, you can already spend a quick weekend getaway in one of its many beautiful beach resorts.
Cost-wise, Batangas beach resorts vary. Whether you're on a tight budget or having an unplanned trip, there's surely a beach resort that won't cost you a lot.
15 Affordable Batangas Beach Resorts
Here are 15 affordable Batangas beach resorts for budget-conscious families, backpackers, soon-to-weds, honeymooners, and companies looking for team-building venues. Your budget options are mostly camping sites and beach resorts with dormitory-type and standard accommodations.
Manuel Uy Beach Resort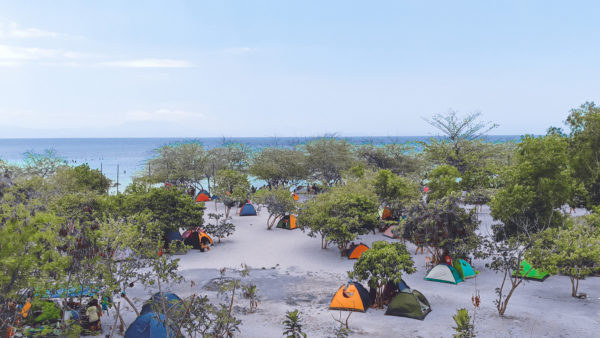 Manuel Uy Accommodation Rates
Environmental fee: ₱30 per visit
Entrance fee: ₱50 for day tour / ₱250 for an overnight tour (free entrance for children six years old and below)
Tent rental: ₱500 for two to three persons
Campsite fee (for those bringing their own tents): ₱200 to ₱900, depending on tent size
Important note: The resort won't be accepting guests for April 2022. Hopefully, the resort will start accommodating holidaymakers in May. Get updates by following Manuel Uy Beach Resort on Facebook and Instagram.
Manuel Uy Beach Resort location: Brgy. Sta. Ana, Calatagan, Batangas
If beach camping is your thing and you're traveling on a low budget, Manuel Uy Beach Resort[1] is the best Batangas beach resort for you. This popular beach campsite in Batangas offers only camping accommodations, so don't expect to find any room or cottage there.
Typically, accommodations at Calatagan beach resorts cost at least ₱3,000. But Manuel Uy allows you to save money with its affordable rates, whether you rent a tent or bring your own.
You can save more by bringing your own cookware and buying fresh veggies and seafood at the Calatagan public market. The campsite has more than 30 grilling stations where campers can cook their own food.
Read more: Sand, Sun, and Sea: 12 Travel Destinations in the Philippines for Your Revenge Travel
One Laiya Beach Resort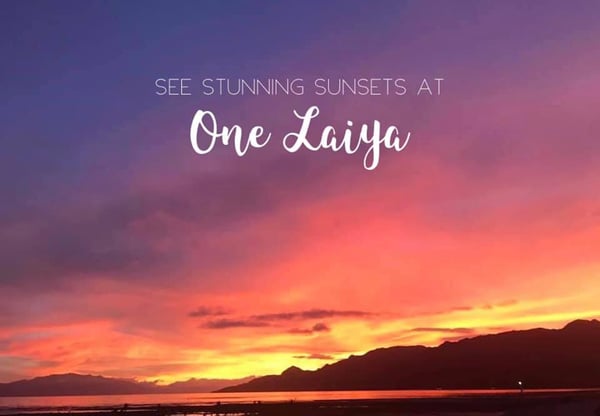 One Laiya Accommodation Rates
Entrance fee: ₱100 per person (free entrance for children below 12 years old)
Overnight accommodation: Starts at ₱2,500 per night for two persons
Day tour cottage: Starts at ₱1,500 for seven to nine persons
Overnight cottage: Additional ₱1,000
One Laiya Beach Resort location: Brgy. Laiya Ibabao, San Juan, Batangas
One Laiya Beach Resort (formerly Tayabas Bay Beach Resort) is a budget-friendly resort with one of the best beaches in Batangas. It boasts a breathtaking, picture-perfect view of the sunset with purple, red, orange, and yellow hues.
This affordable Laiya beach resort is great for families out for a quick weekend getaway. It offers plenty of activities for the young and old: snorkeling, underwater cave tour, island hopping, banana boat, jet ski, parasailing, basketball, volleyball, videoke, and more. Its water is shallow, making it a kid-friendly resort, too.
Guests can also hold a barbecue party using one of the common grilling stations at the beach resort.
Read more: Compare the Best Travel Insurance in the Philippines!
Bubblemaker Dive and Beach Resort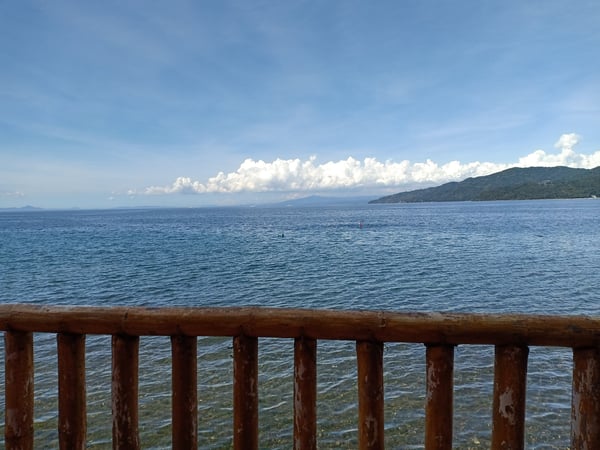 Bubblemaker Accommodation Rates
Being one of the most affordable Batangas beach resorts in the list, Bubblemaker has rates starting at ₱1,000 (dorm room per bed).
Bubblemaker Dive and Beach Resort location: 081 San Jose, Mabini, Anilao, Batangas
Diving enthusiasts who need just a cheap place to stay in Batangas will find Bubblemaker Dive and Beach Resort an ideal location for satisfying their adventure craving.
Want to learn diving? You can sign up for scuba and freediving courses at Bubblemaker. After a tiring day of exploring the biodiversity of Anilao, Batangas, you can relax in the air-conditioned, Wi-Fi room at the resort.
Buceo Anilao Beach Resort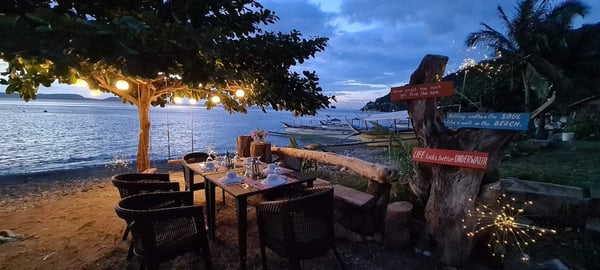 Buceo Anilao Accommodation Rates
This Anilao beach resort has three accommodation types to choose from, the cheapest of which is the standard double room that costs $31 per person (approximately ₱1,624).
Buceo Anilao Beach Resort location: San Teodoro, Mabini, Anilao, Batangas
Buceo Anilao[2] caters to divers, as well as underwater photographers, as it's surrounded by reefs with rich marine creatures. It offers a variety of diving packages and courses for both new and advanced divers.
IslaVerde Tropical Friendly Resort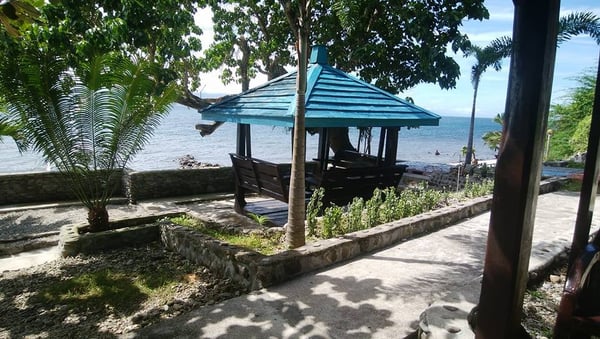 IslaVerde Accommodation Rates
Environmental fee: ₱30 per person
Entrance fee: ₱100 per person
Tent rental: Starts at ₱500 for two persons and ₱800 for four persons
Tent pitching (for those bringing their own tents): ₱300 (small tent) / ₱500 (big tent)
Room: Starts at ₱2,000 per night for four persons
IslaVerde Tropical Friendly Resort location: Sampalukan, Brgy. San Agustin Kanluran, Isla Verde, Batangas City
One of the most relaxing and affordable Batangas beach resorts in this guide, IslaVerde Tropical Friendly Resort boasts a stunning view of the beach. While not completely detached from the urban creature comforts, the place will immerse you in rustic and humble living.
The area relies heavily on solar energy for power, so don't expect Wi-Fi, air-conditioned rooms, and even electrical outlets. So if you want a quick escape from your toxic work life, then this Batangas beach resort is perfect for that much-needed digital detox and relaxation.
Commune with nature by enjoying the different activities that IslaVerde Tropical Friendly Resort has to offer. You can dive the reefs with diverse marine life, trek to Mt. Dagit Dagit and Liponpon, and tour the island while riding a boat. Or if you just need peace and quiet, indulge in a relaxing ofuro (Japanese hot tub).
Read more: It's Going to be a Sizzling Summer with These Summer Outfits for Ladies
Engracio's Beach Huts Rental

Engracio's Beach Huts Rental Accommodation Rates
Economy price for 2 days/1 Night: ₱3,000 per eight persons
Regular price for 2 days/1 night: ₱4,300 per eight persons
Engracio's Beach Huts Rental location: Aplaya, Sampalukan, San Agustin West, Verde Island, Batangas City
Also known as Isla Verde Cottages, Engracio's Beach Huts Rental is another great, budget-friendly option for those who want to experience the laid-back beach life in Isla Verde, Batangas. This place is perfect for those who are into rustic living since it has cottage-style accommodations. You can save a lot of money if you're traveling with your family or barkada with you since a lot of the huts here are mainly designed for groups.
What to enjoy during your visit? You can go beach hopping, boating, snorkeling at the Sampalukan Fish Sanctuary, and hiking to Mt. Dagit Dagit.
This Batangas beach resort requires a reservation and doesn't accommodate walk-in guests.

Surface Interval Resort
Surface Interval Accommodation Rates
Entrance fee: ₱100
Tent pitching: ₱300 for an overnight stay per person
Room: ₱1,500 for two persons (plus ₱500 per additional guest)
Open cottage: ₱300 per person (minimum of 10 persons per group)
Surface Interval Resort location: San Agapito, Verde Island, Batangas
Visiting Isla Verde in Batangas soon? This cheap Batangas beach resort is worth a try. Surface Interval offers cottages, rooms for small groups, and also allows tent pitching for when you're traveling on a tight budget.
White and Yellow Castle Hotel and Resort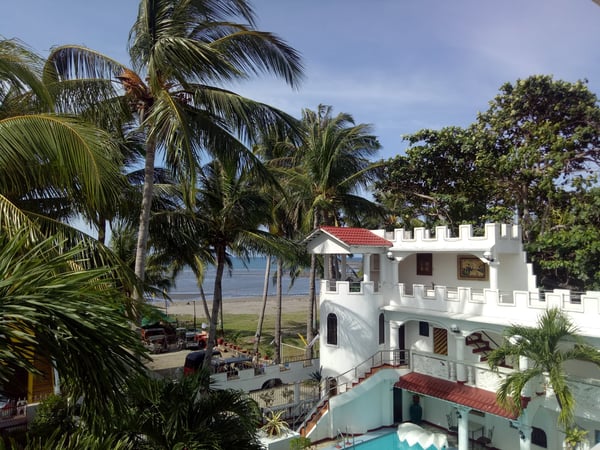 White Castle Accommodation Rates
This Calatagan beach resort has six different room types with prices starting at ₱2,750 per night for two persons (standard room with a land view).
White and Yellow Castle Hotel and Resort location: Balibago, Calatagan, Batangas City
Luxury meets affordability at this seaside resort in Calatagan, Batangas, with its colorful rooms and Instagram-worthy castle-themed hotel.
Take a refreshing swim in the sea or go on a breezy stroll along the length of the beach. Come afternoon, enjoy the setting sun with a beer in your hand. If you don't feel like bathing in seawater, you can have a dip in the resort's swimming pool.
Seeking some thrills? There are water activities that you can partake in, such as snorkeling and kayaking. If you have enough time, go for island hopping.
Nanay Rosie Kubo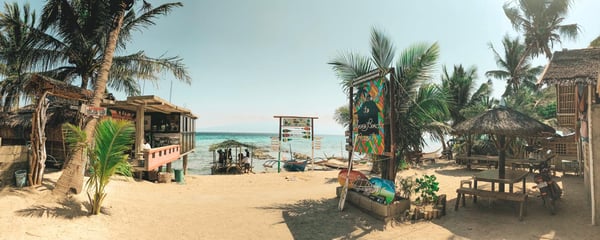 Nanay Rosie Accommodation Rates
Kubo accommodation: ₱400 to ₱800 per person
Couple room: Starts at ₱1,500
Nanay Rosie Kubo location: Masasa, Tingloy, Batangas
Situated between a lagoon and white sand beach, Nanay Rosie Kubo isn't your ordinary cheap beachfront accommodation in Batangas. You can enjoy peace and quiet, without getting connected, as electricity goes off at 6 p.m. until 6 a.m. Enjoy stargazing, and you might be able to see dinoflagellates or see fireflies at night.
If you want to take part in exciting activities, you can go snorkeling and free diving. Get your complete gear from the resort for only ₱100. Aside from swimming in the lagoon, other free nature activities include exploring different rock formations and selfie galore at Hagdang Bato.
As of this writing, Nanay Rosie is closed until further notice. However, this affordable Batangas beach resort is active on Facebook and still answering people's queries. In one of its replies to its followers, Nanay Rosie said that hopefully, the beach will open after the elections.
Read more: Best Picks: Surfing Destinations in the Philippines
La Luz Beach Resort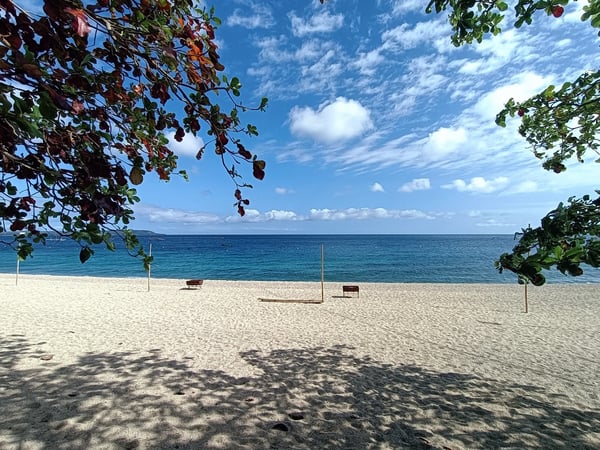 La Luz Accommodation Rates
This Laiya beach resort offers seven different room types (standard, dorm-type, and loft-type), with prices ranging from ₱10,500 for three to five persons to ₱12,000 for six persons. But if you're just going on a day tour, you'll only pay ₱800.
La Luz Beach Resort location: Brgy. Hugom, Laiya, San Juan, Batangas
One of the most popular Batangas beach resorts in Laiya, La Luz Beach Resort[3] provides value for money with its luxurious amenities at affordable rates. Its beautiful cabanas are perfect for relaxation while browsing the internet with the resort's strong Wi-Fi connection.
Adventure-seekers have lots of activities to choose from apart from swimming: mountain biking, snorkeling, jet ski, kayaking, diving, boating, volleyball, badminton, and more.
Sunrise Cove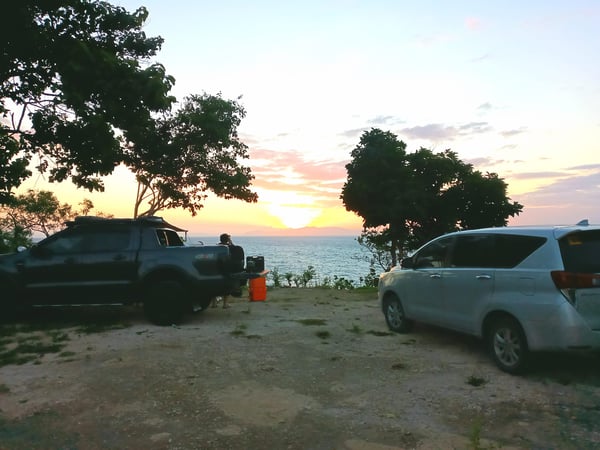 Sunrise Cove Accommodation Rates
Car camp: ₱500 per person and ₱1,000 per vehicle
Cottage: Starts at ₱3,600 for two persons (max of three persons with additional fee)
Sunrise Cove location: Bagong Silang, Calatagan, Batangas
Tucked away in the quaint town of Calatagan, Sunrise Cove provides you with a much-needed respite from the stress of the city. The surrounding hills and woods make you feel at home while the waves offer you a natural ASMR.
While the resort has swanky amenities, you have the liberty of leaving your comfort zone in favor of something adventurous. You can drive up to the beach hilltop and camp in your car. This spot treats you to an uninterrupted view of Pagapas Bay. You'll never stress over the lack of toilet or shower facilities, as these are actually present on the camping grounds.
Coral Beach Club
Coral Beach Club Accommodation Rates
If you're willing to spend a bit more, a deluxe cottage for two persons costs ₱5,600 a night. However, Coral Beach Club has an ongoing promo until June 14, 2022. If you book Monday night, you'll get Tuesday night for free. Or if you book Tuesday night, you'll get Wednesday night for free.
Coral Beach Club location: Matabungkay, Lian, Batangas
If ultimate comfort is what you're after, bask in the tropical warmth of the Batangas sun at the Coral Beach Club. The club has been around since the '80s, and yet it has maintained its amenities and features to a high standard.
Other than the natural beauty surrounding the place, what draws people in to this resort is its sophisticated facilities, such as the restaurant and the clubhouse bar. The latter boasts more than 40 wines from around the world. It also has a full-size pool table, a foosball table, and lots of board games for kids and kids at heart.
Read more: Stunning White Sand Beaches in the Philippines That Aren't Boracay
Blue Ribbon Dive Resort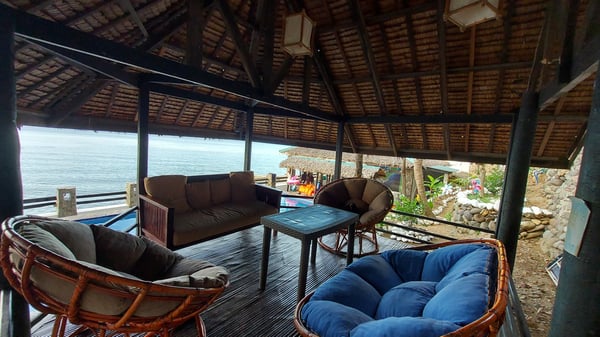 Blue Ribbon Dive Resort Accommodation Rates
Single room: ₱3,750 per night
Standard room: ₱4,750 per night
Blue Ribbon Dive Resort location: Ligaya Mabini, Batangas
If you want to get away from crowded summer destinations, Blue Ribbon Diver Resort may be the best place for you. Whether you're completing a diving course or you just need a break from the realities of life, the sea breeze and the orange sunset will surely comfort you. If you're a foodie, give the resort's restaurant a spin, as it serves a diverse menu, ranging from Pinoy fares to Tex-Mex goodies.
Meeting new friends at this resort is just so easy. Blue Ribbon welcomes a lot of diving students, both local and international, on a regular basis.
Stardust Beach Hotel
Stardust Beach Hotel Accommodation Rates
Standard: ₱2,800 per night
Twin Double: ₱3,300 per night
Family: ₱4,500 per night
Stardust Beach Hotel location: Matabungkay, Lian, Batangas
Looking for an accommodation with a homey feel? Check out Stardust Beach Hotel. This resort has well-appointed rooms that can accommodate backpackers, groups of friends, and families. It also has a restaurant, a bar, a kubo, a swimming pool, veranda seating, and free parking. If you're planning to work remotely from here, the resort can arrange weekly and monthly rates for you.
The beach is just a few minutes' walk from the hotel. Nevertheless, you can rent a Stardust-owned cottage on the beach if you're planning to stay on there for the whole day.
CML Beach Resort and Water Park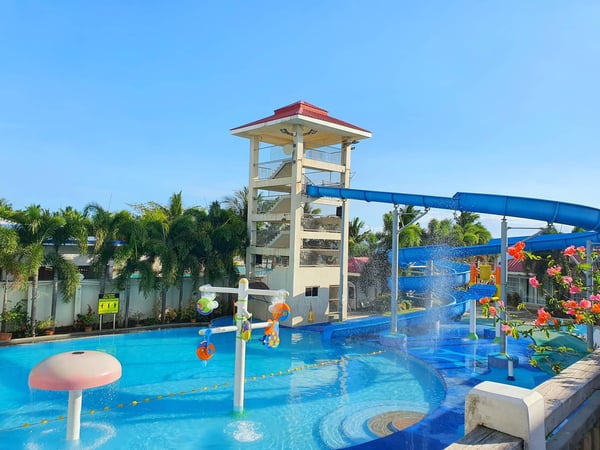 CML Beach Resort and Water Park Accommodation Rates
Entrance fee (day pass): ₱200
Room: Starts at ₱5,900 for two persons
CML Beach Resort and Water Park location: Nonong Casto, Lemery, Batangas
Some vacationers are into traditional outings, such as trips to a pool resort. Upgrade that experience by booking your stay at CML Beach Resort and Water Park. What makes this Batangas beach resort unique is that it gives you the best of both worlds: a sophisticated water park and a long stretch of beach just in front of the resort.
Guests booking an overnight stay have complimentary access to the water park. But if you just want a quick trip, CML Beach Resort and Water Park also offers a day pass.
Final Thoughts
Is it okay to travel now to Batangas? According to the official Philippine travel website, the whole province of Batangas is placed under Alert Level 1 until April 30, 2022.[4] This means that intrazonal and interzonal travel is allowed regardless of age and comorbidities. Establishments are also allowed to operate at full provided that they comply with minimum public health standards.
Despite that, keep in mind that some beach resorts in Batangas aren't operating yet. So, before making your way to the province, contact the resort first. And while you're at it, you may also want to get in touch with the local government to see if you're required to present travel documents and bring any other travel essentials.

Sources:
(Photos from the website and Facebook pages of the respective Batangas beach resorts, unless otherwise stated)