Batangas offers something that Boracay, Palawan, Bohol, and Siargao can't—quicker access to the Philippines' stunning beaches. No need to book flights and plan long leaves because you can drive to Batangas on a whim. After just two to four hours of travel from Manila, you can already spend a quick weekend getaway in one of the beautiful and affordable Batangas beach resorts.
Cost-wise, Batangas beach resorts vary. Whether you're on a tight budget or having an unplanned trip, there's surely a resort that won't cost you a lot.
14 Affordable Batangas Beach Resorts: Where to Go If You're on a Budget
Here are the best Batangas beach resorts for budget-conscious families, backpackers, soon-to-weds, honeymooners, and company outings. Your budget options are mostly camping sites and beach resorts with dormitory-type and standard accommodations.
Affordable Beach Resorts in Laiya, Batangas
🏖️ One Laiya Beach Resort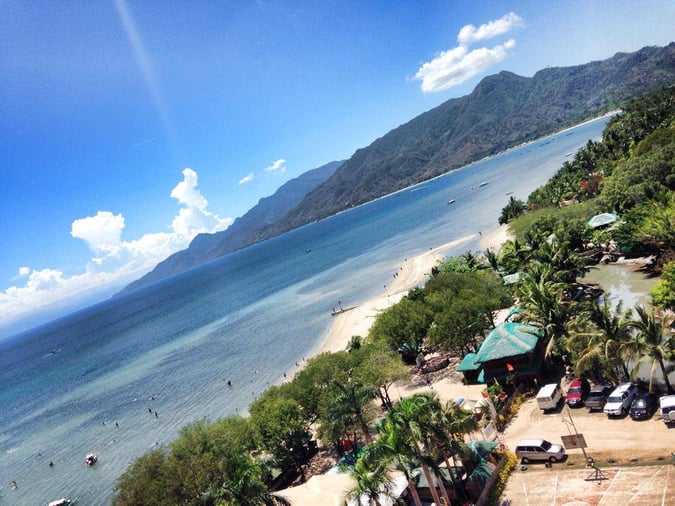 Location: Brgy. Laiya Ibabao, San Juan
Rates:
Entrance fee:

₱100 per person
Free entrance for children below 12 years old, senior citizens, and one driver per vehicle

Day tour cottage: Starts at ₱1,500 for seven to nine persons
Overnight accommodation: Starts at ₱2,500 per night for two persons
Overnight cottage: Additional ₱1,000
Ecological fee: ₱20 per person
One Laiya Beach Resort (formerly Tayabas Bay Beach Resort) is a budget-friendly resort with one of the best beaches in Batangas. It boasts a breathtaking, picture-perfect view of the sunset with purple, red, orange, and yellow hues.
This affordable Laiya beach resort is great for families out for a quick weekend getaway. It offers plenty of outdoor activities for the young and old: snorkeling, underwater cave tour, island hopping, banana boat, jet ski, parasailing, basketball, volleyball, videoke, and more. Its water is shallow, making it a kid-friendly resort, too.
Guests can hold a barbecue party using one of the common grilling stations at the beach resort for free. One Laiya doesn't charge corkage fees, so you can also bring your own food and drinks.
🏖️ La Luz Beach Resort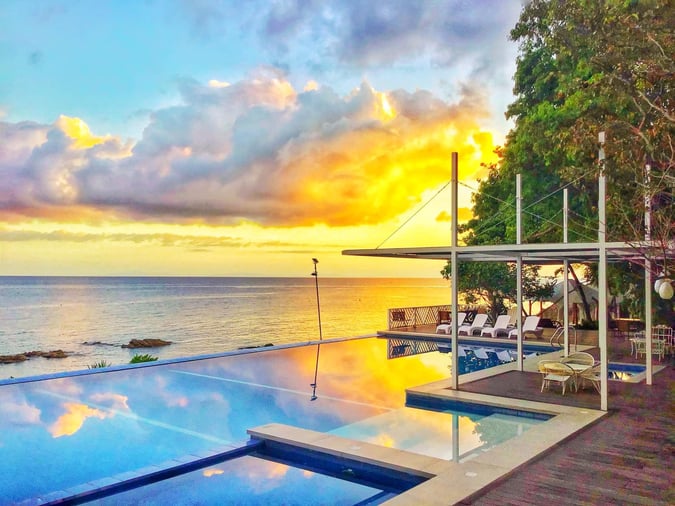 Location: Brgy. Hugom, Laiya, San Juan
Rates: La Luz Beach Resort offers eight room types (standard, dorm-type, and loft-type), with prices ranging from ₱8,100 for two persons to ₱25,730 for 14 persons. But if you're just going on a day tour, you'll only pay ₱800.
One of the most popular Batangas beach resorts in Laiya, La Luz[1] provides value for money with its luxurious amenities at affordable rates. Its beautiful cabanas are perfect for relaxation while browsing the internet with the resort's strong Wi-Fi connection.
Adventure-seekers have lots of activities to choose from apart from swimming: mountain biking, snorkeling, jet skiing, kayaking, diving, boating, volleyball, badminton, and more.
Affordable Batangas Beach Resorts in Calatagan
🏖️ Manuel Uy Beach Resort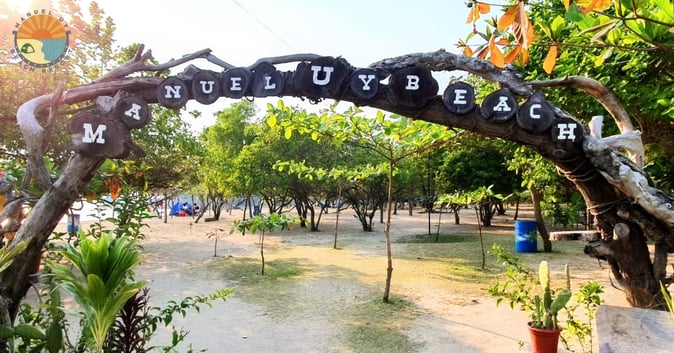 Location: Brgy. Sta. Ana, Calatagan
Rates:
Environmental fee: ₱30 per person
Entrance fee:

Free entrance for children 6 years old and below
₱250 (day tour) / ₱350 (overnight tour) for adults
₱178 (day tour) / ₱250 (overnight tour) for senior citizens

Tent rental: ₱500 for two to three persons
Campsite fee (for those bringing their own tents): ₱250 to ₱1,000, depending on tent size
Parking fee:


₱30 for motorcycles
₱150 for cars and vans
₱400 for buses, cargo vans, and large vehicles
If beach camping is your thing and you're traveling on a low budget, Manuel Uy Beach Resort[2] is the best Batangas beach resort for you. This popular beach campsite in Batangas offers only camping accommodations, so don't expect to find any room or cottage there.
Typically, accommodations at Calatagan beach resorts cost at least ₱3,000. But Manuel Uy allows you to save money with its affordable rates, whether you rent a tent or bring your own.
You can save more by bringing your own cookware and buying fresh veggies and seafood at the Calatagan public market. Manuel Uy Beach Resort allows bringing outside food, drinks, and liquor.
The campsite has more than 30 grilling stations where campers can cook their own food. Using a grilling station is free of charge.
Read more: 12 Famous and Underrated Tourist Destinations in the Philippines
🏖️ White and Yellow Castle Hotel and Resort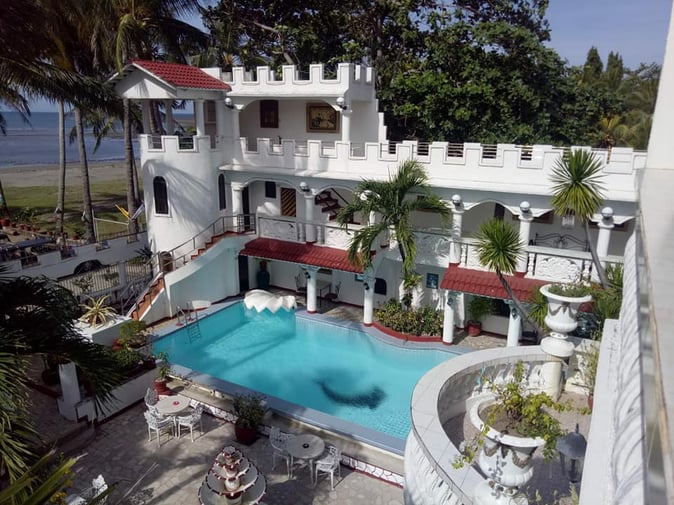 Location: Balibago, Calatagan
Rates:
Room: Starts at ₱2,750 per night for two persons (standard room with a land view)
Day tour: ₱250 per head (with access to pool area, beach area, and umbrella)
Day tour corkage: ₱700
Kubo: ₱1,500
Luxury meets affordability at this seaside resort in Calatagan, Batangas, with its colorful rooms and Instagram-worthy castle-themed hotel.
Take a refreshing swim in the sea or go on a breezy stroll along the length of the beach. Come afternoon, enjoy the setting sun with a beer in your hand. If you don't feel like bathing in seawater, you can have a dip in the resort's swimming pool.
Seeking some thrills? This affordable beach resort in Calatagan offers water activities that you can partake in, such as snorkeling and kayaking. If you have enough time, go for island hopping!
🏖️ Sunrise Cove
Location: Brgy. Bagong Silang, Calatagan
Rates:
Barangay ecological fee: ₱30 per person
No entrance fee
Car camp: ₱500 per person and ₱1,000 per vehicle
Cottage (includes three full meals with dessert):

₱2,500 per adult
₱1,250 per children aged 5 to 12
Free for kids 4 years old and below
Additional ₱250 per pet dog or cat
Tucked away in the quaint town of Calatagan, Sunrise Cove offers a much-needed respite from the stress of the city. The surrounding hills and woods make you feel at home while the waves offer you a natural ASMR.
While the resort has swanky amenities, you have the liberty of leaving your comfort zone in favor of something adventurous. You can drive up to the beach hilltop and camp in your car. This spot treats you to an uninterrupted view of Pagapas Bay. You'll never stress over the lack of toilet or shower facilities, as these are actually present on the camping grounds.

Affordable Batangas Beach Resorts in Anilao
🏖️ Bubblemaker Dive and Beach Resort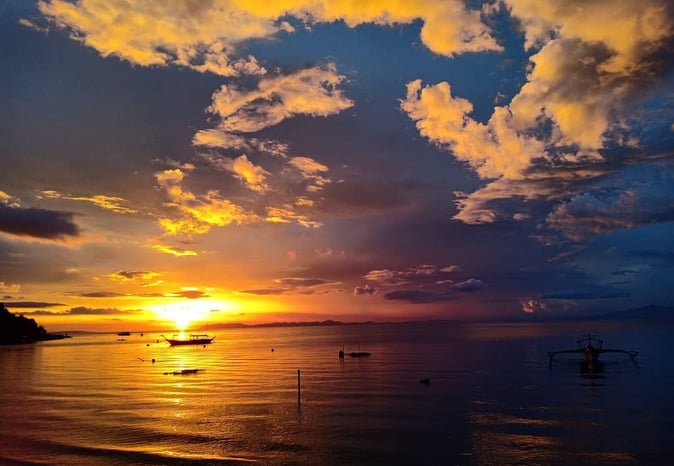 Location: 081 San Jose, Mabini, Anilao
Rates: Being one of the most affordable Batangas beach resorts on this list, Bubblemaker charges fees starting at only ₱1,000 (dorm room per bed).
Diving enthusiasts who need just a cheap place to stay in Batangas will find Bubblemaker Dive and Beach Resort an ideal location for satisfying their adventure cravings.
Want to learn diving? You can sign up for scuba and freediving courses at Bubblemaker. After a tiring day of exploring the biodiversity of Anilao, Batangas, you can relax in the air-conditioned, Wi-Fi room at the resort.
🏖️ Buceo Anilao Beach & Dive Resort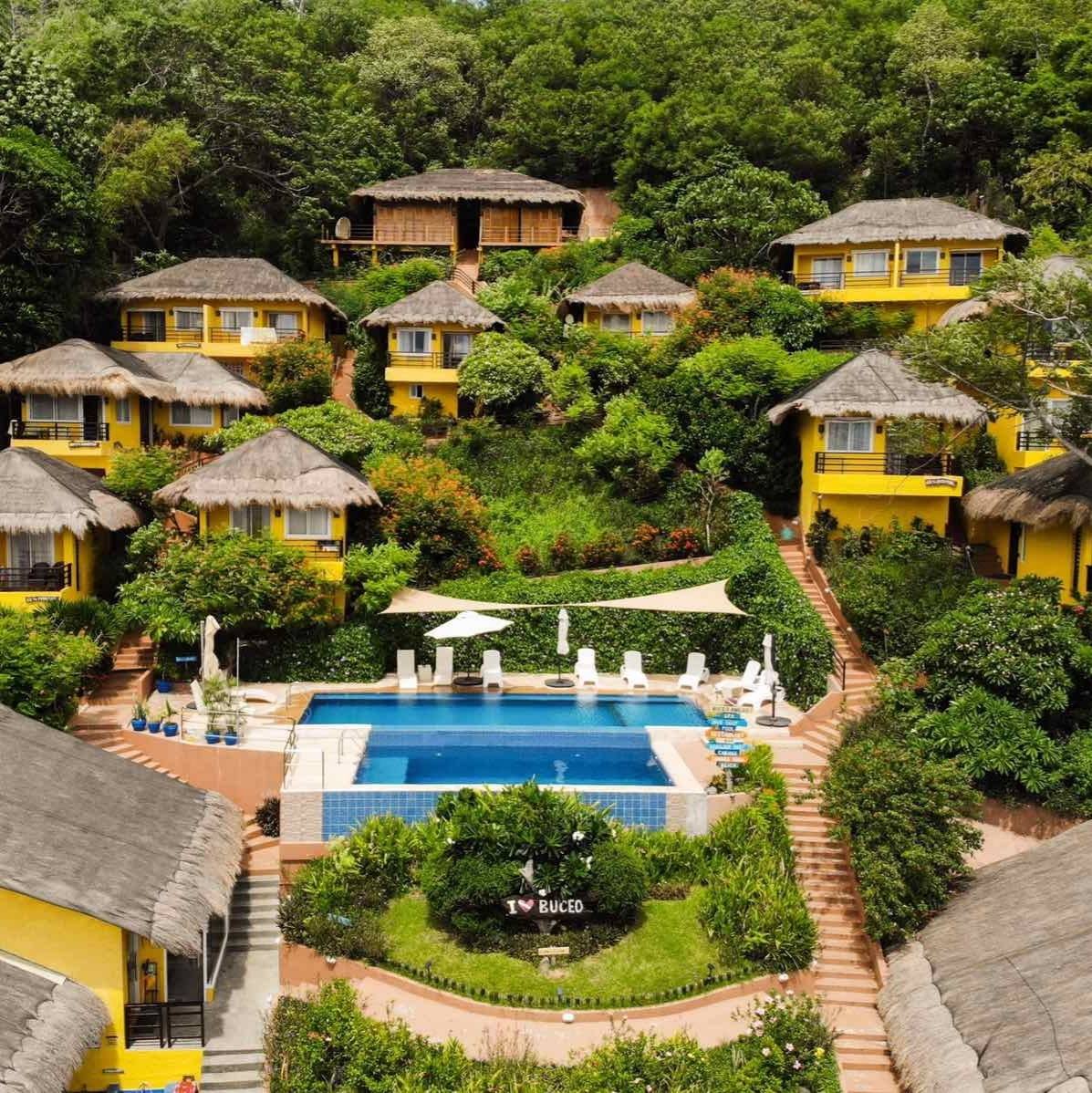 Location: San Teodoro, Mabini, Anilao
Rates: This Anilao beach resort's rates vary depending on the season. For instance, the cheapest room rate is US$31 for a standard double room until June 30, 2023. Check Buceo Anilao's website[3] for its full list of package rates for 2023 to 2024.
Buceo Anilao caters to divers, as well as underwater photographers, as it's surrounded by reefs with rich marine creatures. It offers a variety of diving packages and courses for both new and advanced divers.
Related articles:
🏖️ Blue Ribbon Dive Resort
Location: National Road, Ligaya Mabini, Anilao
Rates:
Accommodation (includes free breakfast for two):

₱4,000 (single room)
₱5,000 (standard room)
₱5,750 (premium room with sea view)

Diving: Ranges from ₱50 per dive to ₱2,500 per person
Scuba course: Starts at ₱2,750 for four persons
See Sunrise Cove's full accommodation and diving price list for 2023 on its website[4]
If you want to get away from crowded summer destinations, Blue Ribbon Dive Resort in Anilao may be the best place for you.
Whether you're completing a diving course or you just need a break from the realities of life, the sea breeze and the orange sunset will surely comfort you. If you're a foodie, give the resort's restaurant a spin, as it serves a diverse menu, ranging from Pinoy fares to Tex-Mex goodies.
Meeting new friends at this resort is just so easy. Blue Ribbon welcomes a lot of diving students, both local and international, on a regular basis.
Affordable Batangas Beach Resorts at Verde Island
🏖️ IslaVerde Tropical Friendly Resort
Location: Sampalukan, Brgy. San Agustin Kanluran, Isla Verde
Rates:
Environmental fee: ₱100 per person
Entrance fee: ₱100 per person
Room: Starts at ₱2,000 per night for two to four persons
Tent rental: ₱350 per night (small tent) / ₱500 per night (big tent)
One of the most relaxing and affordable Batangas beach resorts, IslaVerde Tropical Friendly Resort[5] boasts a stunning view of the beach. While not completely detached from the urban creature comforts, the place will immerse you in rustic and humble living.
The area relies heavily on solar energy for power, so don't expect Wi-Fi, air-conditioned rooms, and even electrical outlets. So if you want a quick escape from your toxic work life, then this Batangas beach resort is perfect for that much-needed digital detox and relaxation.
Commune with nature by enjoying the different activities that IslaVerde Tropical Friendly Resort has to offer. You can dive into the reefs with diverse marine life, trek to Mt. Dagit Dagit and Liponpon, and tour the island while riding a boat. Or if you just need peace and quiet, indulge in a relaxing ofuro (Japanese hot tub).
🏖️ Surface Interval Resort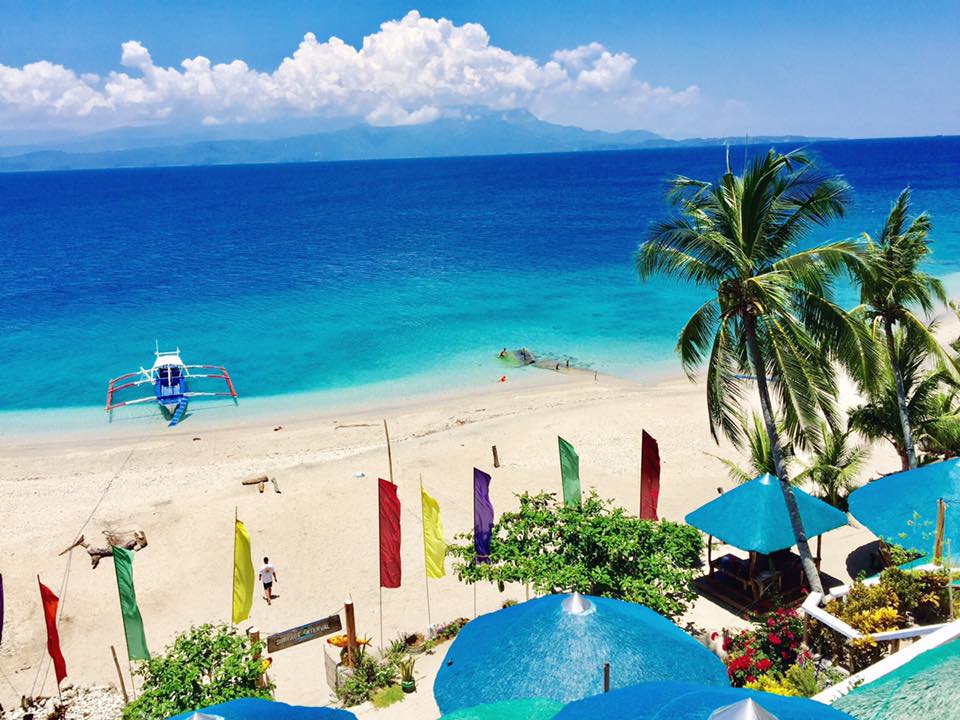 Photo: Isabel Cane Buncab-Montoya (Facebook)
Location: San Agapito, Verde Island
Rates:
Barangay entrance fee: ₱100 per person
Open cottage: ₱300 per person (minimum of 10 persons per group)
Tent pitching: ₱300 for an overnight stay per person
Room: ₱1,500 for two persons (plus ₱500 per additional guest for groups with eight or more people)
Visiting Isla Verde in Batangas soon? This low-cost Batangas beach resort is worth a try. Surface Interval offers cottages, and rooms for small groups. It also allows tent pitching for when you're traveling on a tight budget.
Affordable Batangas Resorts in Matabungkay Beach
🏖️ Coral Beach Club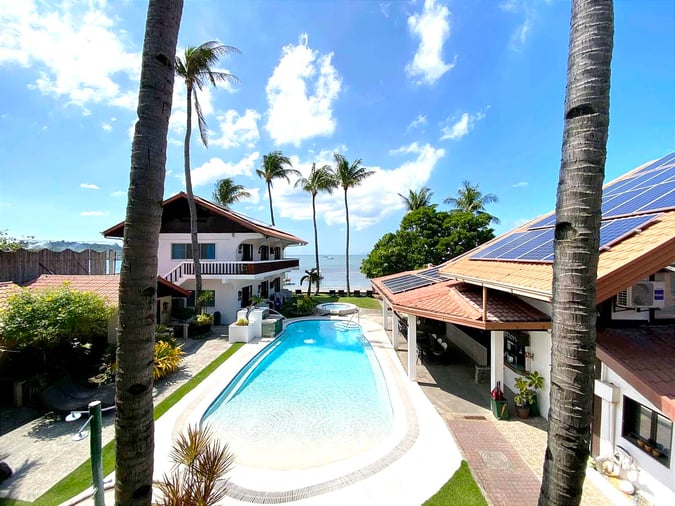 Location: Matabungkay, Lian
Rates:
Accommodation (includes free breakfast for two): Starts at ₱3,500 for a premium room on weekdays + 10% service charge on all room rates
Free parking
If ultimate comfort is what you're after, bask in the tropical warmth of the Batangas sun at the Coral Beach Club. The club has been around since the '80s, and yet it has maintained its amenities and features to a high standard.
Other than its romantic atmosphere and white sand beach, what draws people into this family-friendly resort is its sophisticated facilities, such as the restaurant and the clubhouse bar. The latter boasts more than 40 wines from around the world. It also has a full-size pool table, a foosball table, and lots of board games for kids and kids at heart.
This affordable Batangas beach resort ideal for family outings changes its prices every two months, offering deals such as discounts on weekday accommodations. So watch out for Coral Beach Club's posts about its latest rates on its Facebook page.[6]
🏖️ Stardust Beach Hotel
Location: Matabungkay, Lian
Rates:
Environmental tax: ₱25 per person
Accommodations:

Standard: ₱2,800 (low season) / ₱3,500 (peak season) per night for two guests
Twin Double: ₱3,300 (low season) / ₱4,500 (peak season) per night for four guests
Family: ₱4,500 per night (low season) / ₱6,000 (peak season) per night for six guests
Cottage: ₱6,500 per night (low season) / ₱8,500 (peak season) per night for six to eight guests
Extra bed: ₱500
Looking for accommodation with a homey feel? Check out Stardust Beach Hotel. This resort has well-appointed rooms that can accommodate backpackers, groups of friends, and families.
It also has a restaurant, a bar, a kubo, a swimming pool, veranda seating, and free parking. If you're planning to work remotely from here, the resort can arrange weekly and monthly rates for you.
The beach is just a few minutes walk from the hotel. Nevertheless, you can rent a Stardust-owned cottage on the beach if you're planning to stay there for the whole day.
Affordable Beach Resorts in Other Batangas Towns
🏖️ Nanay Rosie Kubo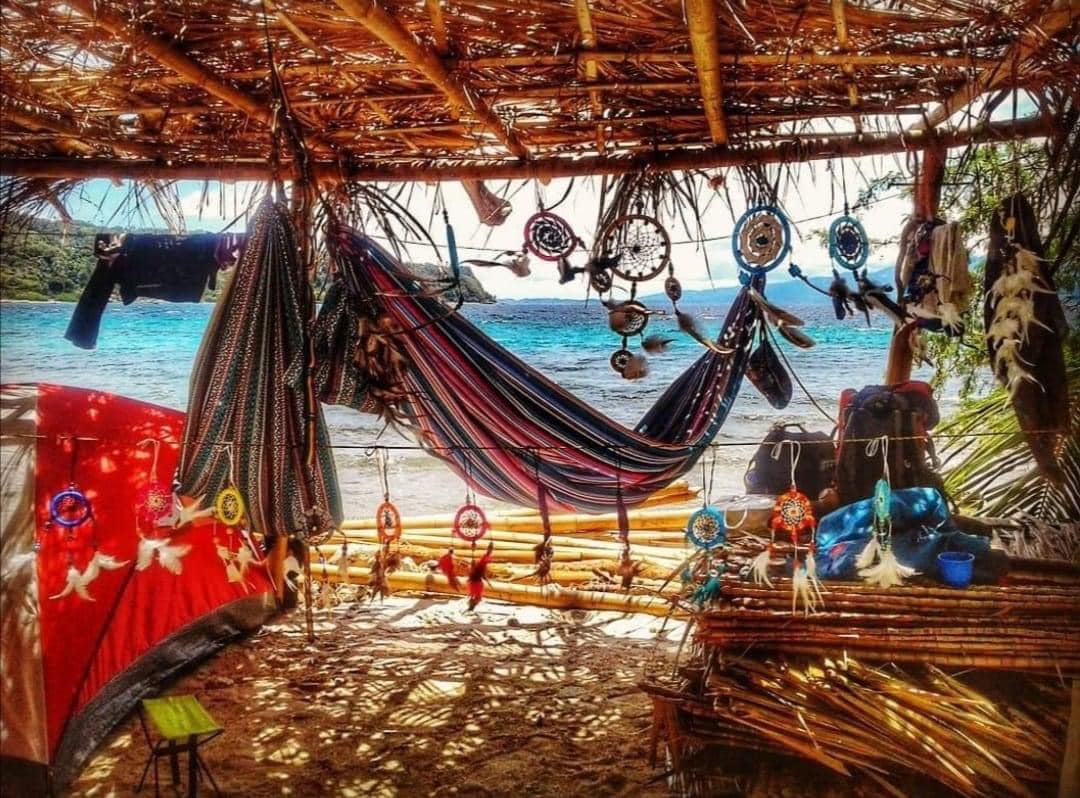 Location: Masasa, Tingloy
Rates: Follow Nanay Rosie Kubo's Facebook page[7] for updated information on its prices
Situated between a lagoon and a white sand beach, Nanay Rosie Kubo isn't your ordinary budget-friendly beachfront accommodation in Batangas.
You can enjoy peace and quiet, without getting connected, as the electricity goes off from 6 p.m. until 6 a.m. Enjoy stargazing, and you might be able to see dinoflagellates or see fireflies at night.
If you want to take part in exciting activities, you can go snorkeling and free diving. Aside from swimming in the lagoon, other free nature activities include exploring different rock formations and selfies galore at Hagdang Bato.
After being closed for three years during the pandemic, Nanay Rosie Kubo recently announced that it officially reopened on April 15, 2023 and is now accepting reservations.
🏖️ CML Beach Resort & Water Park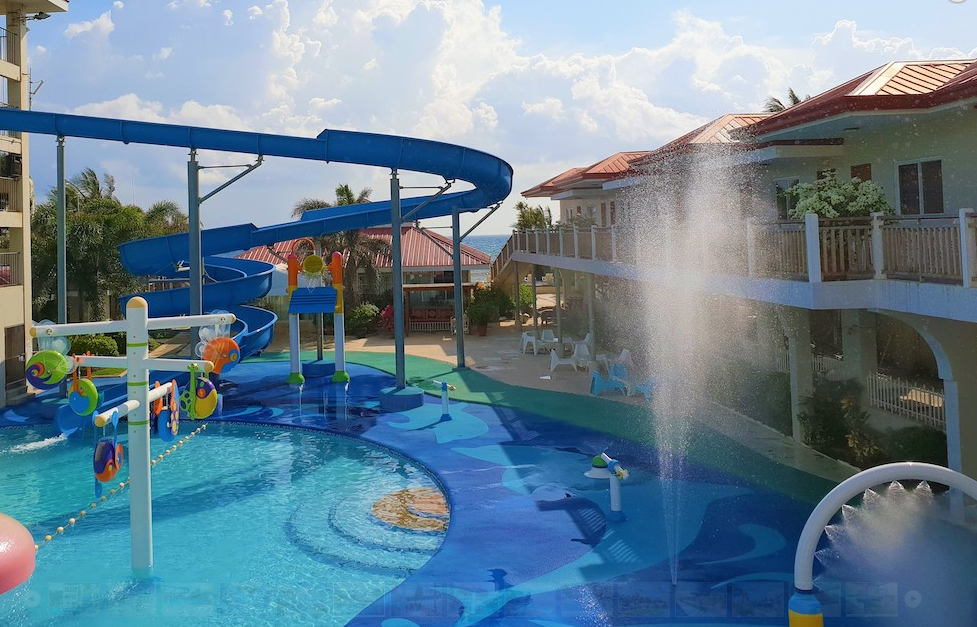 Location: Brgy. Nonong Casto, Lemery
Rates:
Entrance fee (for day tours and night tours):

₱350 for adults and children 11 years old and above
₱300 for senior citizens and PWDs
₱250 for children from 2 to 10 years old
No entrance fee for babies below 2 years old

Room (no entrance fee and with free plated breakfast): Starts at ₱5,900 per night for two guests
Cottage rental: Starts at ₱1,800 for a small cottage for three to six guests
Some Filipinos are into traditional family or company outings, such as trips to a pool resort. Upgrade that experience by booking your stay at CML Beach Resort & Water Park.
What makes this Batangas beach resort unique is that it gives you the best of both worlds: a sophisticated water park and a long stretch of beach just in front of the resort.
Guests booking an overnight stay have complimentary access to the water park. But if you just want a quick trip, CML Beach Resort & Water Park also offers day tour and night tour packages.
Final Thoughts
Now that tourism in Batangas has been revived, thanks to the easing of domestic travel restrictions in the Philippines, you'll worry less about booking that much-awaited beach vacation this summer. More so because there are a lot of affordable Batangas beach resorts to choose from!

Sources: