Even if it's world-famous as the surfing capital of the Philippines, Siargao appeals not just to surfers but also to every type of traveler all year round.
Because of this, Siargao resorts cater to different budgets as well, with accommodations ranging from cheap hostels with bunk beds to luxurious villas in five-star hotels. Whatever you can afford, you can absolutely find a beach resort in Siargao that fits your budget and preference.
Check out these top-rated Siargao resorts (all coincidentally located in the vibrant beach town of General Luna) that suit every budget.
Best Cheap Accommodations in Siargao Under P1,000
Paglaom Hostel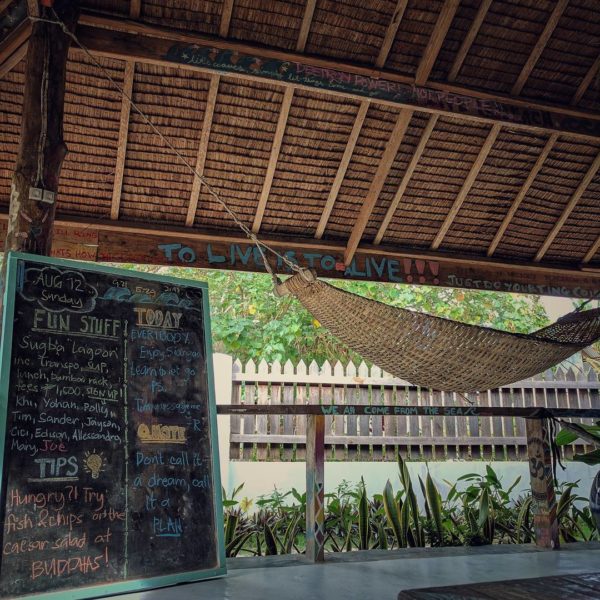 Paglaom Hostel Rate: PHP 450 per person
This budget Siargao hostel is a back-to-basics accommodation for solo backpackers and pairs of friends who'd love to make new friends while on vacation. It's just a 5-minute walk from the beach and a quick motorcycle ride from Cloud 9[1], the famous surfing wave on Siargao.
Instead of private rooms, Paglaom offers single bunk beds at less than PHP 500 per night (for a minimum stay of five nights) in mixed dormitory rooms. Guests can cook their own food in Paglaom's large kitchen.
Fun activities such as surfing lessons, cooking lessons, and island hopping are organized for people to bond with other guests. Environment advocates may even join an hour of beach cleanup or recycling project for free.
Families with kids will have to look elsewhere, as the hostel accepts only guests 18 years old and above.
Visit Pagloam Hostel's website[2].
Avocado Tree Hostel

Avocado Tree Hostel Rates: Starting at PHP 600 per person
Opened in September 2018, Avocado Tree Hostel is one of the newest budget accommodations in Siargao. It offers comfy single bunk beds in fan and air-conditioned dormitory rooms.
The value-for-money Siargao hostel is just a 7-minute walk from Guyam Island. It's also within walking distance of the city center where shops, restaurants, and bars abound.
Tourists who have been to Avocado Tree Hostel love the chill vibe of the place and friendliness of its staff.
Visit Avocado Tree Hostel's Facebook page[3].
Best Mid-Range Siargao Resorts for P1,000-P3,000
Kermit Siargao Surf Resort

Kermit Siargao room rates: Starting at PHP 1,800 for two persons
Looking for the best surfing experience? Kermit Siargao is among the most popular Siargao resorts for this. It's also a pioneer beach resort in Siargao, having existed before the tourism boom in the island.
The resort offers air-conditioned bungalows and deluxe rooms for couples and families spending a vacation in Siargao. It's accessible by foot to General Luna lagoon, as well as shops, markets, restaurants, and bars. Cloud 9 is just a 5-minute motorbike ride away.
Aside from its budget-friendly, cozy rooms, Kermit Siargao is also well-loved for its delicious Italian food. If you'll stay in the resort, you've got to try the brick-oven pizza! Good thing, Kermit Restaurant is open not just for guests but also walk-in customers.
For the convenience of its guests (as access to cash via ATMs in Siargao is challenging), Kermit Siargao accepts payments made through Mastercard and Visa credit cards.
Visit Kermit Siargao's website[4].
Read more: 10 Beach Resorts That Accept Credit Cards
Bravo Beach Resort Siargao

Bravo Siargao room rates: Starting at PHP 1,200 per person
Enjoy a romantic tropical view of the Pacific Ocean while taking a relaxing dip in the pool right at Bravo Beach Resort in Siargao.
Bravo Siargao has two types of air-conditioned accommodations (with a mix of traditional and contemporary Filipino design): bunk beds and private rooms that accommodate three or five people. Solo travelers who are looking for a cheap accommodation in Siargao can choose Bravo Beach Resort's Surf Bunk that costs a little more than PHP 1,000 per person. For families and groups of friends, the garden rooms provide bang for the buck at PHP 5,100 good for up to five people.
Visit Bravo Siargao's website[5].

Best Mid-Range Siargao Resorts for P3,000-P6,000
Siargao Inn Beach Resort

Siargao inn room rates: PHP 3,900 (for two guests) to PHP 6,000 (for up to four guests)
A family-friendly and surfer-friendly beach resort in the town of General Luna, Siargao Inn has that charming tranquility and awesome views overlooking the beach and crashing waves.
This three-star hotel provides easy access to the airport and Siargao's prime tourist attractions. For foodies, some seafood restaurants are nearby, such as Kermit Siargao and Bravo Restaurant. Guests may also try the in-house restobar that serves Filipino and international dishes.
For visiting families with kids, there's a babysitting service available at the resort.
Visit Siargao Inn's website[6].
Greenhouse Siargao

Greenhouse Siargao room rate: PHP 5,500 for two guests
Tourists who have stayed in Greenhouse Siargao rave about its homey ambiance—it feels more like a private guesthouse than a hotel or resort. Hammocks can be found everywhere, and the lush tropical gardens offer a welcome respite from the stress of city living.
Also known as Greenhouse Eco Resort, Greenhouse Siargao adopts sustainable practices such as providing organic, market-fresh meals.
Visit Greenhouse Siargao's website[7].
Best Luxury Siargao Resorts
Isla Cabana Siargao

Isla Cabana Siargao room rates: Starting at PHP 9,800 for two guests
Serene paradise in the heart of General Luna—that's what Isla Cabana Resort is all about for travelers who just need a relaxing place to stay in Siargao.
Couples on a honeymoon or just a quick holiday trip will love this luxury resort's laidback vibe, scenic beachfront view, and sleek Asian contemporary design. These features make Isla Cabana the ultimate beach wedding destination in Siargao.
There's a lot of ways to indulge yourself in Isla Cabana. Soak in the infinity pool and take lots of selfies with the gorgeous sunrise or sunset as your backdrop. Have a one-of-a-kind Western and Asian dining experience at the in-house restobar.
Visit Isla Cabana's website[8].
Siargao Bleu Resort & Spa

Siargao Blue Resort room rates: PHP 8,500 for regular rooms / PHP 18,000 for a private cottage
Being the only Triple-A resort in the island, Siargao Bleu Resort prides itself as the "grandest and only spa resort in Siargao." Rightfully so, everything screams luxury in this beach resort—from the minimalist Balinese-inspired design to the indulgent spa experience. Not to mention that its 1,600-sqm. swimming pool is the largest in Siargao.
Suitable for couples and small groups of family or friends, Siargao Bleu's cottages and rooms have their own veranda for an unobstructed view of the resort's beauty. If you're willing to splurge for a special occasion, book a floating villa by the pool for a luxurious stay that's worth more than what you pay for.
Siargao Bleu is accessible from the airport and pier. It's also just a 2-minute walk from Cloud 9. Credit card payments (Visa, Mastercard, and American Express) are accepted in the resort.
Visit Siargao Bleu Resort's website[9].
Final Thoughts
Whether you'll visit Siargao to catch some waves or simply bond with your loved ones, you can enjoy plenty of natural attractions, fun activities, and sumptuous food in this tropical island. Compare the different Siargao resorts within your target price range and choose the one that can provide the best value for money.
(Photos from the respective website or Facebook page of the featured Siargao resorts)

Sources: