With more than 7,600 islands, the Philippines definitely has a wealth of beaches.[1] These tropical destinations are ideal for leisurely swimming, sunbathing, or simply taking things slow. But for those looking for action, you can easily find beaches whose gigantic waves will come crashing down on you.
If the waves are calling you, don't hesitate to heed them. Pack your weekender, call your friends, and head to the best surfing spots in the Philippines.
The Best Surfing Spots in the Philippines
If you're still debating where to surf in the Philippines, let this article help you decide:
San Juan, La Union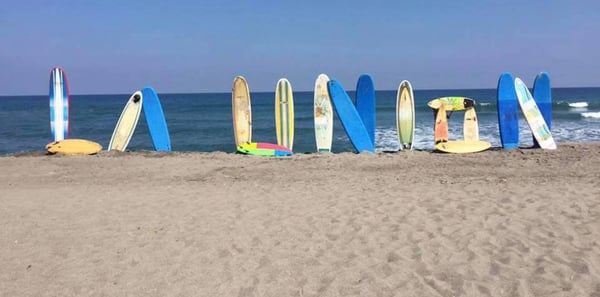 Also called the surfing Surfing Capital of the Northern Philippines, San Juan is known for its consistent quality surf that's perfect for longboarders. It's home to the Billabong San Juan Surf School of Luke Landrigan.
In terms of food and accommodation, there are a lot of restaurants and resorts in San Juan which are budget-friendly. Most surfers choose The Circle Hostel which is just 200 meters away from the beach. If you want to stay in an upscale boutique resort, Kahuna Beach Resort and Spa is the top choice of most tourists.
Want a low-key party where you can meet people after a full day of San Juan surfing? Book your accommodation at Flotsam and Jetsam Artist Beach Hostel. If you're staying elsewhere, you can drop by at night for a bite or a drink.
Bacnotan, La Union
For many introverted surfers and holidaymakers, San Juan may feel like a big party scene. If you're in La Union, you'll find a quiet haven in the neighboring town of Bacnotan. And if you prefer sand breaks over reef breaks, the beaches in this town can offer those.
Although resorts are not yet prominent in the area, you can see surfing students and their instructors catching waves near the Holcim Cement Factory.[2] After beach surfing in the afternoon, you can lounge on the sand and wait for the sunset.
Experienced surfers recommend visiting the town between October and April.
Read more: Sand, Sun, and Sea: 12 Travel Destinations in the Philippines for Your Revenge Travel
Pagudpud, Ilocos Norte
While Pagudpud is popular for its rolling hills and sunny beaches, it's a lesser-known surfing spot in the Philippines. With that, you can expect fewer surfers, making for more serene sessions with the waves.
Surfers usually go to Vista, an area that's ideal for newbies because of its sandiness. But if you're after A-frame waves, head to a place called Heartbreak. As the waves are fast and more challenging to ride, this spot is ideal for advanced surfers. For the best waves, you may want to come to Pagudpud between July and September.
Other than surfing, there are a lot of other things to do in this quaint coastal town. If nature walks are your thing, going to Kaibigan Falls should be in your list. At the end of your trek, you'll find yourself marveling at a majestic and towering fall with water that's ice-cold and refreshing.
Of course, your trip to Pagudpud won't be complete without a snap or two at the Patapat Viaduct, a coastal bridge that gives you an impressive view of Pasaleng Bay.
Read more: 15 Affordable Batangas Beach Resorts for Your Summer Getaway
Sabang Beach and Charlie's Point in Baler, Aurora
Baler is one of the most popular surf spots in the country. Just six to seven hours away from Manila, most surfers travel in groups and rent a van to minimize expenses.
Sabang Beach has a soft and shallow ocean bed, gray sandy shoreline, and waves coming from the Pacific Ocean which makes it a perfect spot for beginners. If you're an experienced surfer, you can rent a banca going to Charlie's Point which breaks both left and right and is a sand bottom.
San Antonio and San Narciso in Zambales
If you're looking for a great surfing spot in the Philippines without having to fly on a plane, Zambales is the place. It's recognized for its consistent waves since it's bordered to the west by the West Philippine Sea. However, the swells in Zambales aren't usually large compared with the other beaches in the North. But there are times when the swell size hits overhead.
One of the most outstanding surf spots in the municipality of San Antonio is Pundaquit because it receives swells from the north and west quadrants. In San Narciso, you can find the Quiksilver Surf School at the Crystal Beach Resort where most beginners and intermediate surfers gather for a ride.
Doot Poktoy in Lanuza Bay, Surigao del Sur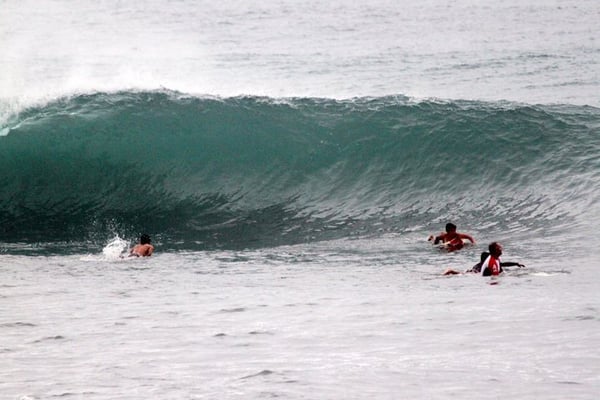 Located in the quaint town of Lanuza, Doot Poktoy is a surf spot that's renowned for having some of the best waves in the world. Local and international surfers claim that the waves at Doot Poktoy are at par with the quality of waves in Hawaii and our very own Siargao.
According to the Surf Report Magazine, "Lanuza is a place with a flawless river mouth. Its waves spin long perfect rights on a big swell at low tide. There is a hollow tube section at take-off and there are long section walls up to 200 meters."
The best time to surf at Doot Poktoy is between the months of October and February.
Puraran Beach in Baras, Catanduanes
In the Bicol region, surfers will find an emerging attraction called Puraran Bay which is home to the Majestics reef break. The term Majestics reef break was coined by The pristine water and the fine and clean white sand makes it the best hangout place in Catanduanes. The picturesque backdrop and the long-barrel waves make every ride cover-worthy.
Daet, Camarines Norte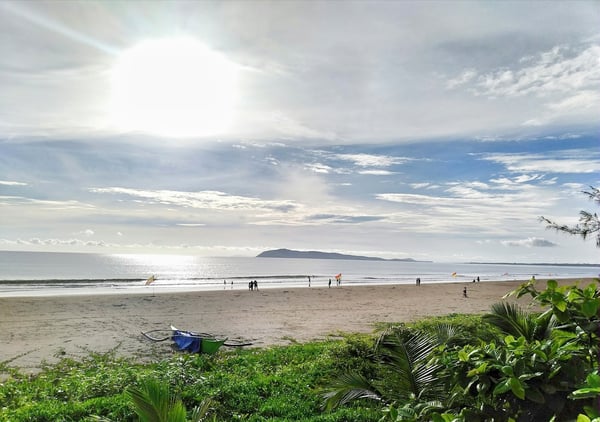 As Camarines Norte faces the Pacific Ocean, it's easy to see why this province is popular among surfers. Daet's Bagasbas Beach is a great surfing spot in the Philippines because of its sandy break, offering both newbies and veterans a safe wipeout. Its long, uninterrupted shoreline is somehow reminiscent of Baler's Sabang Beach, sans the droves of tourists.
Don't let its relaxed setting fool you, as the waves can be strong and challenging at times. Nevertheless, you won't have to wait long for the waves, as they don't stop coming. This is good news for advanced surfers who just want to keep riding the waves. To make the most of your time in Daet, come here between July and January.
Cloud Nine in Siargao, Surigao del Norte
If you haven't been to Siargao, then you haven't been to Cloud Nine. The Surfing Capital of the Philippines is a special mention in the world surfing community and is in the top 10 surf spots of the world.
CNN described Siargao as "a dramatic and powerful reef break, which crashes onto shallow razor-sharp coral, offers right and left death rides" where "fearless surfers will experience a slice of paradise or hallucinations as waves wrap over them like a liquid cocoon. Skin and sometimes bone are often ripped to shreds by the ocean bed."
Related reading: Traveling on a Budget? Try These Travel Hacks for a More Practical and Meaningful Trip
Nagtabon Beach, Palawan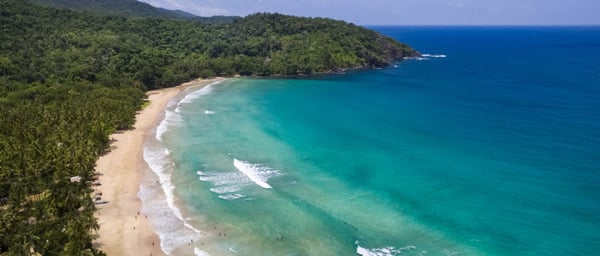 When you think of Palawan, you automatically picture the paradise-like beaches of El Nido or the crystal-clear waters of Coron. It's all about tropical tranquility, which is everyone's refuge from their bustling lives.
However, Palawan is a big island. This fact will make you realize that some underrated beaches are just waiting to be explored. One of them happens to be an unspoilt haven for surfers. Enter Nagtabon Beach.
Lying in the northwestern part of Puerto Princesa City, Nagtabon Beach has waves that can rival those of other popular surfing spots in the Philippines, such as Baler and Siargao. But what makes it stand out from the competition is its powdery white sand.
After surfing, you can revert to your beach bum mode. Lie on the sand or walk amidst the towering coconut trees while feeling the sea breeze. And because sea urchins and corals aren't common at this beach, you can swim to your heart's content. However, be extra cautious, as the waves are big and strong.
Real, Quezon
This is another surfing spot in the Philippines that will appeal to city folks because of its proximity. About three hours away from Metro Manila, this municipality boasts tall waves that will excite surfers. The huge swells make for an adrenaline rush while the quaint beaches offer rustic comfort.
Tignoan and Malapad are just some of the barangays in the town that accommodate surfers. If you want to save money while communing with nature, you'll easily find camping grounds along the coast. One of the most popular resorts that offer tent pitching is Real Coast & Surf.
If you're up for a nature trip, you can trek you way to Balagbag Falls. This two-tiered waterfalls are accessible via tricycle as long as you're within town. On the other hand, Nonok Falls, which is a kilometer away from Balagbag Falls, will appeal to those who want to take things slow. After a 15-minute trek, you'll be treated to a cold pool surrounded by trees.
Mati, Davao Oriental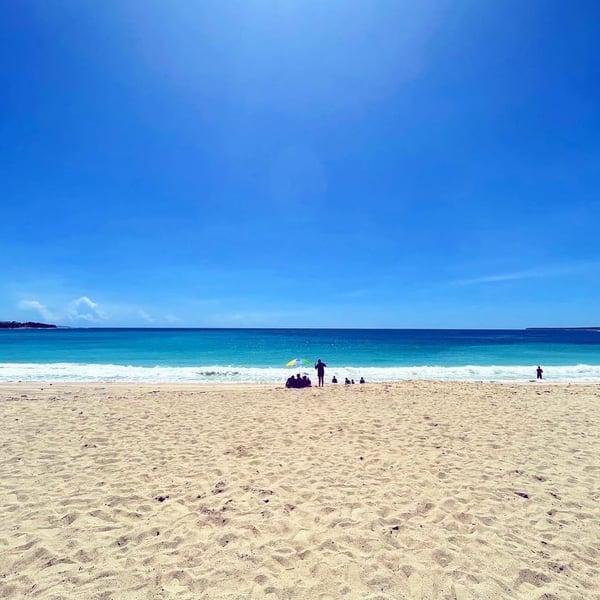 The Davao region is more than just Davao City or Samal Island. It also offers pristine beaches and of course, a thrilling surfing spot in the Philippines.
Dahican Beach, which is found in Mati, Davao Oriental, is worthy of any tourist's visit. This seven-kilometer beach not only boasts white sand that's reminiscent of Boracay. But unlike Boracay, the waves here aren't tamed, which are perfect for your board sport. Surfing is guaranteed fun and challenging granted that the beach is facing the Pacific Ocean.
If you have a camera drone,[3] you may want to capture the beach's full beauty during daytime. From above, your camera will show a you an Eden-like scenery that is the long stretch of white beach bordered by crystal blue waters on one side and a forest of coconut trees on the other.
Read more: Stunning White Sand Beaches in the Philippines That Aren't Boracay
Useful Tips for Surfing Beginners
Surfing newbie? Manage your expectations and keep yourself safe all the time. Here are some things that will help you:
1. Pick a Beginner-Friendly Spot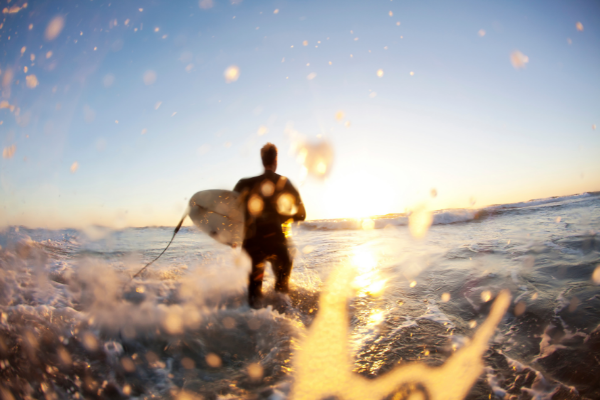 Choosing a great surfing spot in the Philippines is one thing. But choosing a newbie-friendly site is another. Usually, your instructor will pick the location for you. But if you're somehow equipped with intermediate knowledge and are working without an instructor, scout for small and manageable waves. Never attempt to go after the big ones that are ridden by advanced surfers.
2. Designate a Personal Landmark
When you get up from wipeouts, you may feel disoriented. You'll certainly drift across random spots, depending on the current. As such, you need to pick a landmark that you can use as a reference in case you get wiped out. It could be a hut, a palm tree, or anything that's easily recognizable.
3. Stay Safe
Slipping from the board is just normal. But you can avoid unnecessary slips when your feet have a good grip of the board.
To make your session with the waves much safer, wax your board thoroughly. Before you head for the waves, don't forget to wear your leash. Not only will it keep you from drifting away from the board. It will also prevent your board from hurting other surfers.
4. Listen to Your Instructor
Your instructor will give you persistent reminders, which you may find annoying. But you've got to take note of them! They have years of experience, and their advice will not only help you acquire new skills; it will also spare you from injuries.
Is it Safe to Travel?
It's important to note that key cities and provinces across the country are placed under Alert Level 1 until May 15, 2022. This means that intrazonal and interzonal travel is allowed regardless of age and comorbidities. Business establishments are also operational in full capacity as long as they comply with public health standards.
On the other hand, the rest of the country is under Alert Level 2 until May 15, 2022. With that, intrazonal and interzonal movements will be allowed, albeit with some restrictions from the local government. Depending on the establishments or activities, businesses will be allowed to operate up to a maximum of 50% indoor capacity or 70% outdoor capacity. Proof of vaccination will also be required.[4]
For a complete list of cities and provinces placed under Alert Level 1 and 2, visit the official website of It's More Fun in the Philippines.[5] It would be also wise to contact the local government of your destination before your trip.
Read more: Travel Essentials in the New Normal: What to Pack for Your Next Trip
Final Thoughts
Summer or not, the Philippines will always be a paradise not only for beachgoers but also for surfers. This list isn't complete yet, as there are still a lot of hidden and unspoilt gems across the country. Nevertheless, these great surfing spots in the Philippines are considered some of the best and will definitely give you a good time. Hang loose!

Sources: