"Tropical paradise" is just another hackneyed phrase until you experience Boracay firsthand and realize there's a reason for the repetition.
Boracay has been wowing foreign tourists for generations. Lately, it has also drawn in a surge of local tourists from all over the country.[1] Decades after it was discovered, it still continues to stun and amaze. "Tropical paradise" has never ceased to be a fitting description—because how else would you describe this little island that's popular for its powdery white sand, crystal clear waters, vibrant food scene, and breathtaking sunsets?
There's no doubt that Boracay still lives up to its reputation as one of the best travel destinations in the Philippines and the world. In fact, in 2022, renowned media company Condé Nast named Boracay as the top island in Asia.[2]
If you're planning to visit this tropical paradise for the first time, make sure you're fully prepared so you can make the most of your trip. Create your itinerary based on the most interesting things to do in Boracay in 2023.
Setting a Budget for Your Boracay Trip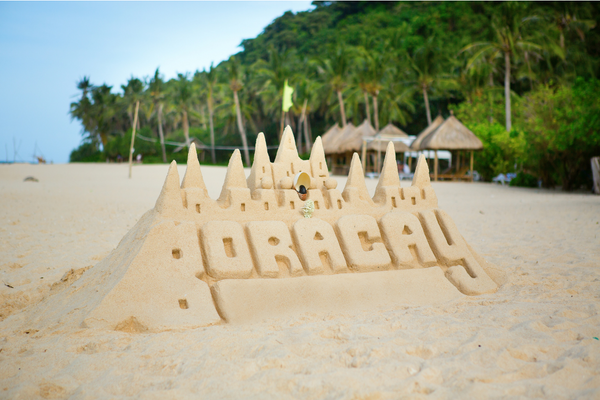 When planning for your trip, one of the first things you should consider is your budget. Allot a realistic amount for each of the following:
Airfare
Accommodation
Food
Land transport (e.g., motorbike rental, e-trike, etc.)
Activities
Beach trip essentials (e.g., sunblock, hat, beach attire, etc.)
Pasalubong
Miscellaneous expenses (e.g., environmental fees, boat fees, terminal fees, etc.)
Pocket money (e.g., for hair braid, pearl or seashell necklaces, henna tattoo, etc.)
Emergency fund for other unexpected expenses
Traveling to Boracay can be costly. While you can find cheaper versions of everything, most goods and services offered on the island are generally pricier than average.
Fund Your Boracay Trip with a Citi Personal Loan

You have to create a travel fund to cover your expenses—or if that takes too much time and effort for your liking, you can also take out a personal loan to help you with travel costs. With the Citi Personal Loan, you can borrow up to ₱2 million at low interest rates. Repayment terms are also flexible, with the maximum being five years.
Note: This product is sold by Union Bank of the Philippines, using certain trademarks temporarily under license from Citigroup Inc. and related group entities.
Getting Around Boracay Island
Despite COVID-19 still being a global health emergency,[3] tourist spots around the world—Boracay included—are already teeming with life. This is due to the reduced pandemic restrictions imposed by the authorities.
👉 Requirements Upon Entry
Tourists can now enter Boracay with little to no fuss, thanks to Executive Order No. 47, which lifts the implementation of the quick response (QR) code requirement for tourists entering Aklan. This means that online registration and submission of travel documents are no longer required when visiting the province.[4]
So, what are the requirements to go to Boracay? As a tourist, you just have to present the following upon entry at the Caticlan and/or Tabon Port.
Filled-out tourist arrival form
Hotel booking
Valid IDs (birth certificate for infants and passport for foreign tourists)
👉 How to Get to the Main Tourist Hub
As a first-timer in Boracay, you might not immediately know how to get around the island. But that's fine—there are travel authorities and helpful locals everywhere that you can ask for directions. Just for good measure, here's a rundown of what you should do after getting off the plane at Caticlan Airport.
From the Caticlan Airport, ride a tricycle or van to get to the Caticlan Jetty Port. Travel time takes roughly 10-15 minutes.
At Caticlan Jetty Port, go to any of the registration booths to accomplish the required forms.
Proceed to the verification area to present your proof of accommodation. This is non-negotiable. If you're planning to stay in Boracay for at least one night, you must have a ready place to stay.
Pay the required fees (i.e., environmental fee, boat fee, terminal fee). The total amount you'll have to shell out will range between ₱200 and ₱300, depending on the type of boat.
Board your designated boat headed for Boracay Island. Travel time is 10-15 minutes.
Upon arrival at the Cagban Port in Boracay, you can take an e-trike or multicab to your hotel or place of accommodation.
After leaving your baggage at the hotel, you're ready to get to where all the action happens—which, for many people traveling to Boracay, is the famed White Beach, one of the finest white sand beaches in the Philippines. Depending on where your hotel is, you can either walk to this famous stretch of fine sand or take another e-trike or multicab to get there.
👉 Exploring White Beach: The Heart of Boracay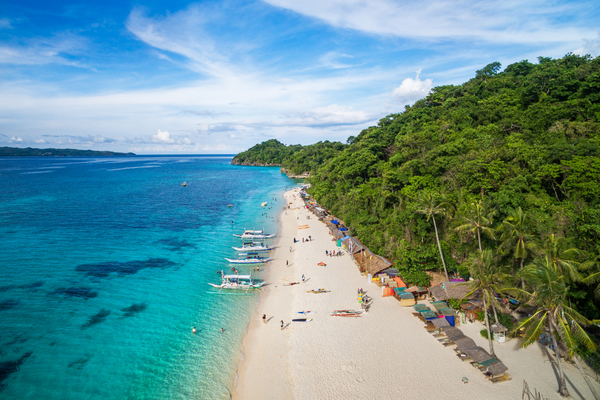 The real fun begins when you get to White Beach, which is divided into three stations, each with its own charm.
📍 Station 1
Located in the north-western part of White Beach, this station is where the island's most photographed landmark—Willy's Rock—can be found. As its beach area is wider than those of the other two stations, Station 1 is the perfect place to play beach volleyball and soccer. This station is also home to some of the more upscale hotels and resorts in Boracay, giving this area an air of exclusivity.
📍 Station 2
Station 2 is the epicenter of activity in Boracay. It's where the crowds get thicker and the music gets louder, so it's where you'll find things to do in Boracay at night. D'Mall, the island's main open-air mall, is located smack dab in the middle of it. Mid-range and budget hotels, as well as all types of food hubs, abound in this area.
📍 Station 3
This station is the most peaceful of the three stations in White Beach. It also has the most verdant greenery—so it's perfect for rest and relaxation if you want a break from the dynamic vibe of its neighboring station. Station 3 has its own share of budget and high-end hotels and resorts, so you're sure to find something here that fits your budget.
Where to Stay in Boracay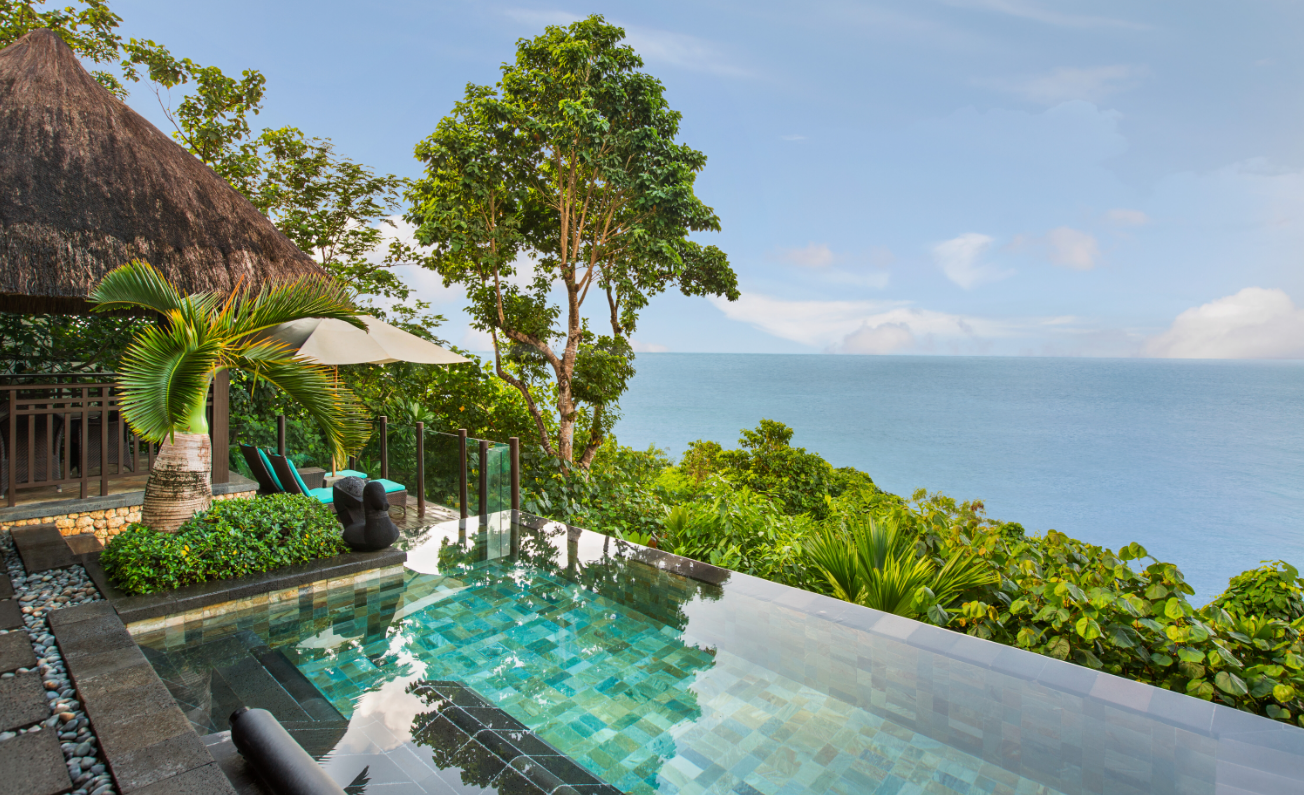 Photo: shangri-la.com/boracay
When choosing where to stay in Boracay, make sure to factor in the following:
Your budget
Number of guests
Proximity to White Beach (or to your beach of choice)
Level of exclusivity (if you want peace and quiet)
Access to commercial establishments (if you're after convenience)
Activities you'll engage in (so you can get a place closer to where those activities are held)
Reviews from past guests
🏨 High-End Hotels
Ambassador in Paradise Resort
Aqua Boracay
Astoria Boracay
Astoria Current
Asya Premier Suites
Coast
Crimson Resort and Spa
Discovery Shores
Feliz Hotel
Henann Crystal Sands Resort
Henann Regency Resort and Spa
Movenpick Resort and Spa
Shangri-La Boracay Spa and Resort
The Auhana
The Lind
Two Seasons Boracay
🏨 Mid-Range Hotels
7Stones
Altabriza Resort
Alta Vista de Boracay
Belmont Hotel
Boracay Summer Palace Resort
Boracay Uptown Hotel
Chateau de Boracay
Estacio Uno Lifestyle Resort
Fairways and Bluewater
Hennan Garden Resort
Henann Lagoon Resort
Hennan Palm Beach Resort
Henann Park Resort
Henann Prime Beach Resort
Hue Hotels
Jony's Beach Resort
Nigi Nigi Nu Boos
Savoy Hotel Boracay Newcoast
Seaworthy
Sur Beach Resort
The Tides Hotel
Zuzuni Boutique Hostel
🏨 Budget Hotels
Alice in Wonderland Beach Hotel
Aloha Boracay
Bamboo Beach Resort
Banana Bay
Boracay Backpackers
Boracay Holiday Resort
Crown Regency Beach Resort
Diamond Water Edge Resort
Eurotel
Fat Jimmy's Resort
Golden Phoenix Hotel
GT Hotel
Hannah Hotel
Hotel Soffia
La Carmela De Boracay Resort
La Isla Bonita Resort and Spa
Lazy Dog Bed and Breakfast
Levantin Boracay Resort
Lime Hotel
Luxx Boutique
Paradise Garden Hotel
Piccolo Hotel
Seabird International Resort
Surfside Boracay Resort and Spa
Tonglen Eco Resort
Turtle Inn Resort
Urban Boutique Hotel
Stunning Spots to Visit in Boracay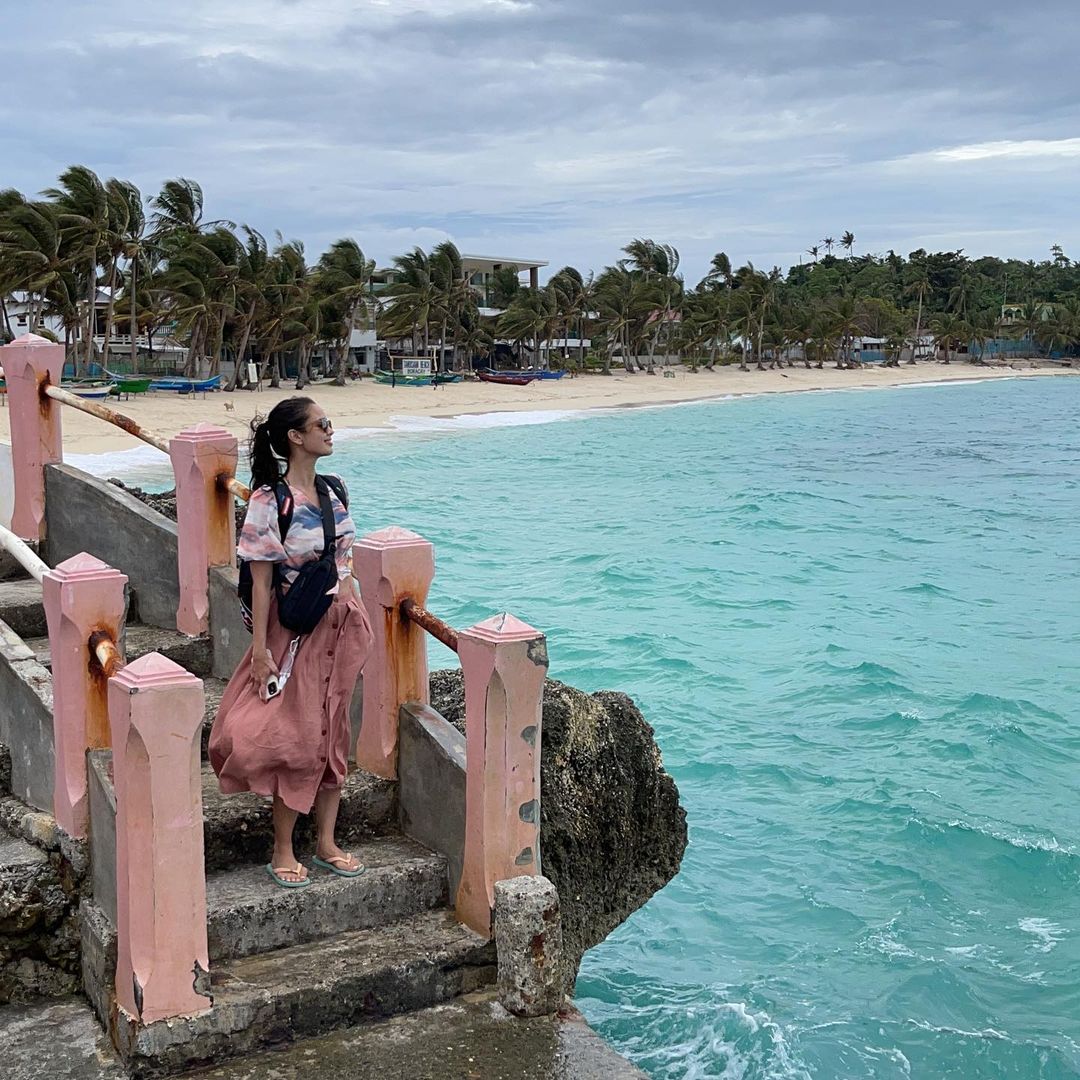 Photo: @mikaeldaez (Instagram)
Apart from the famous White Beach, there are other picturesque spots in Boracay that you can check out. Below are some of them.
🏖️ Puka Shell Beach
Not sure what to do in Boracay for three days? There are plenty of spots to visit on the island! One of them is Puka Shell Beach, originally known as Yapak Beach. The sand here is a little on the coarser side as it's mixed with crushed puka shells (hence the name).
The area around the beach is also not as commercialized, making this spot appealing to tourists who want to enjoy a place with pure, unsullied beauty.
🏖️ Diniwid Beach
Just a few minutes' walk away from Station 1, Diniwid Beach is one of the best Boracay tourist spots to go to if you want to enjoy Boracay's white sand minus the big crowd. Diniwid Beach is a smaller and more serene version of White Beach.
🏖️ Bulabog Beach
Bulabog is on the eastern side of Boracay, opposite White Beach, which is on the west. The sand here is not as powdery, but tourists seek it out anyway because of its strong, surging winds. Bulabog Beach is the place to go if you're into kiteboarding and windsurfing.
🏖️ Ilig-Iligan Beach
Not a lot of tourists have heard of Ilig-Iligan Beach, which is a secluded spot a little farther away from the main tourist hub. It's not as easily accessible as other beaches—getting there will set you back a few hundred pesos by e-trike and take you 20 minutes or so by foot if you're coming from Puka Shell Beach.
But its fine white sand and clear azure waters make the extra costs and extra effort worthwhile. There aren't a lot of establishments in the area, so make sure to bring provisions like beach mats, snacks, and drinks to make your stay more comfortable.
🏖️ Cujo's Keyhole
Looking for another iconic and beautiful place in Boracay to serve as your backdrop in photos? Cujo's Keyhole in Lapus Lapus Beach is the newest go-to photo spot for tourists who want to take stunning snaps for social media.
🏖️ Crocodile Island
Crocodile Island is an uninhabited island about 15 minutes away from White Beach. It is named so because it looks like a crocodile head from afar.
This island is a popular dive spot for tourists. It's also perfect for snorkeling as the water is crystal clear, making for great underwater visibility.
🏖️ Crystal Cove Island
Crystal Cove Island is a popular stop when you go island-hopping. Here, you can do various activities like swimming, snorkeling, trekking along the coast, and exploring the two caves on the island.
🏖️ Magic Island
Magic Island is another standard stop when you go on an island-hopping tour. This small island is a popular cliff diving spot that has various jumping platforms ranging from 3 to 10 meters high. Apart from cliff diving, you can also go snorkeling and fishing around the area.
Other spots you can explore in Boracay include Ariel's Point, Balinghai Beach, Punta Bunga Beach, and Tambisaan Beach, among a few others.
Things to Do in Boracay in 2023: Activities You Shouldn't Miss Out On
You won't run out of things to do in Boracay in 2023. The island offers many kinds of adventures and recreational activities to satisfy all types of travelers. Here are some of the top activities to do in Boracay to make your vacation as exhilarating or relaxing as you want it to be.
Water Sports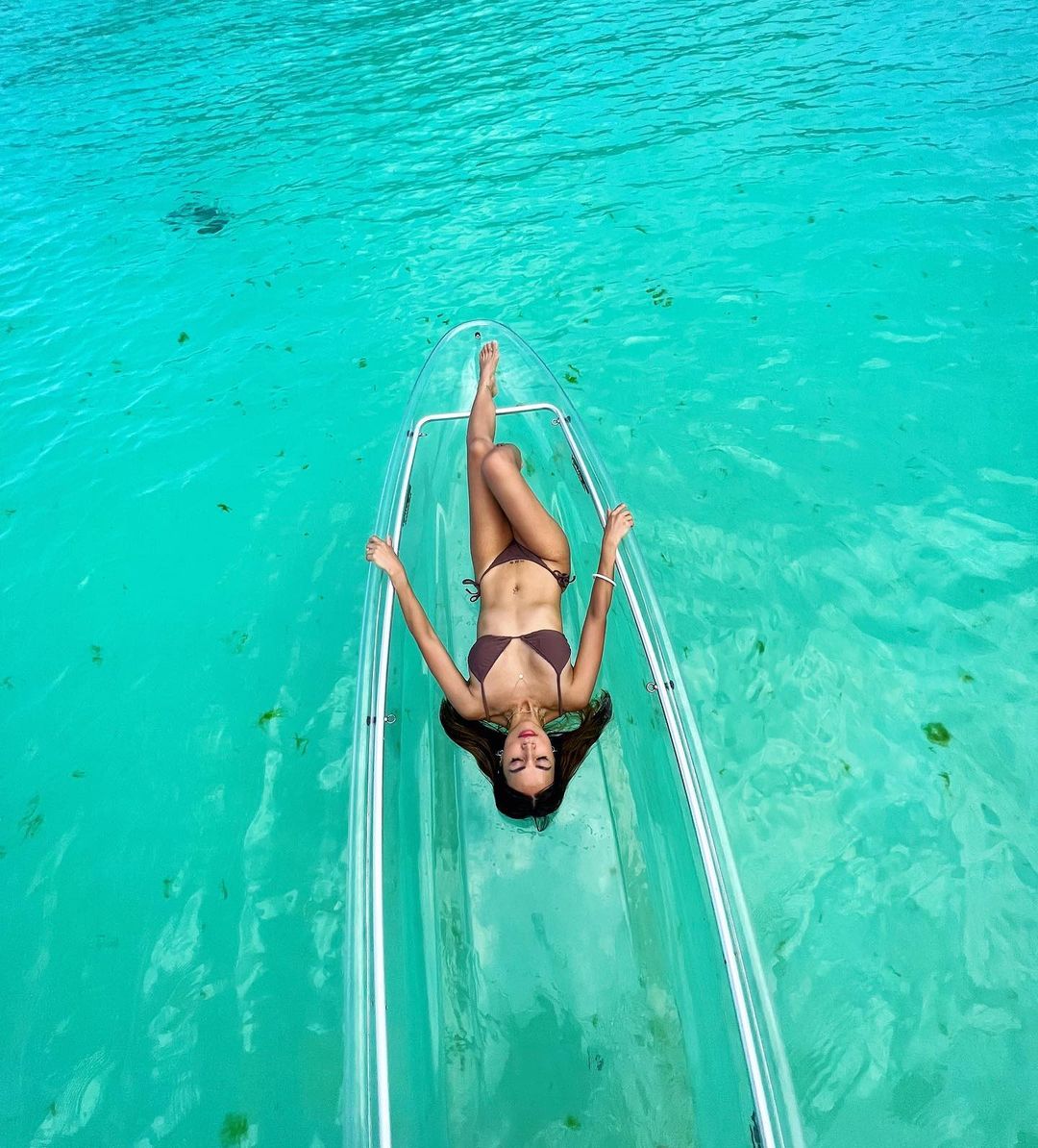 Photo: @milesaubrey (Instagram)
Paraw Sailing – Paraw sailing is undoubtedly one of the top things to do in Boracay. You can't leave the island without going on a short cruise aboard a paraw, i.e., Boracay's signature wooden boat with iconic white-and-blue sails. Paraw sailing is perfect late in the afternoon, when the sun is about to set and the splendid skies above Boracay are bursting with colors.
Parasailing – Don't mistake parasailing with paraw sailing. While the latter keeps you close to the water, the former takes you farther and farther away from it. Parasailing is one of the best things to do in Boracay as far as thrill and adventure are concerned. Parasailing takes you high up in the air while attached to a parasail wing, allowing you to glide with the wind as you're being towed by a motorboat.
Island Hopping – If you're wondering what to do in Boracay with family, look no further than the classic island hopping activity. Explore other tourist spots apart from White Beach and take in the beauty of the whole Boracay Island.
Cliff Diving – Cliff diving is one of the most exciting outdoor activities in the Philippines. If you're a thrill-seeker who wants a little rush of adrenaline while in Boracay, you're in luck as there are great cliff diving spots on the island to satisfy your hankering for fun.
Scuba Diving – This is another one of your top 10 things to do in Boracay, whether as a first-timer or a returning guest. Being a non-licensed diver won't be a problem as you can take a short course onsite before exploring the island's majestic underwater world.
Snorkeling – Want to spend more time underwater? Why not go snorkeling with friends and family to discover Boracay's underwater treasures? Snorkeling is one of the top things to do in Boracay Island that will surely not leave you disappointed.
Helmet Diving – Not confident about your swimming skills yet? Go for a quick helmet dive! It's one of the new things to do in Boracay that's quickly gaining popularity among tourists. Helmet diving takes you to the ocean floor while being guided by a divemaster.
UFO – You can't say there aren't enough fun things to do in Boracay—not when there's this exhilarating watersports activity, which lets you rip through the waves while riding an inflatable spaceship that's being pulled by a speedboat!
Crystal Kayak – This activity has taken over social media lately. It's one of the top things to do in Boracay if you're looking to take breathtaking snaps for Instagram.
There are other water sports activities you can try, like standup paddleboarding, riding a banana boat, and going on a jet ski adventure. This list proves that there are always interesting things to do in Boracay, Philippines!
Land-Based Activities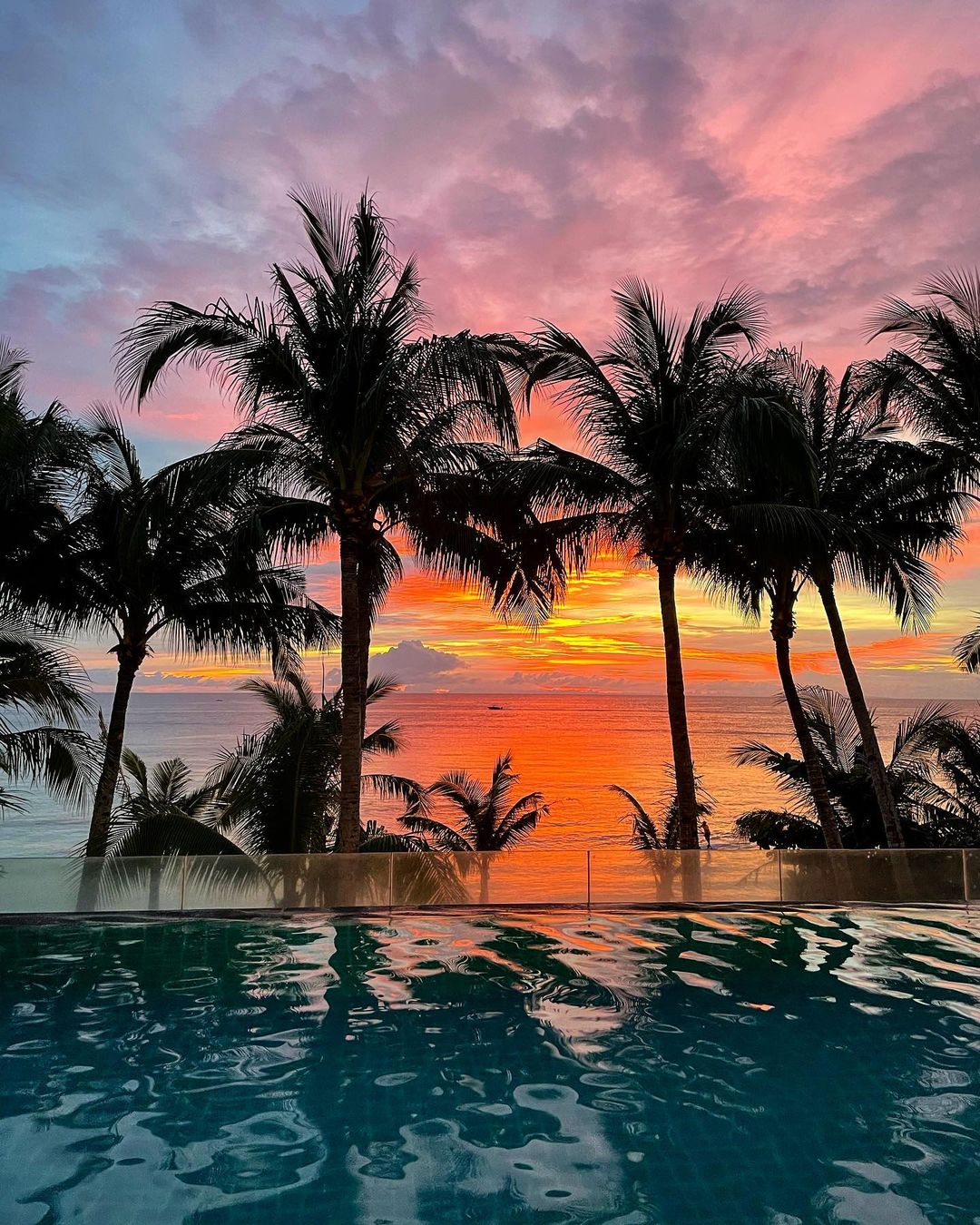 Photo: @chefchelegonzalez (Instagram)

Land Tour – What would be best for a day trip in Boracay? Surely, a land tour is the standard answer. It takes only a couple of hours, and it gives you a unique, sweeping view of the whole island. You can also go for a biking tour or a helicopter tour for a more dynamic experience!
Mountain Trekking – Boracay is synonymous with beaches, so when you throw hiking into the mix, it doesn't always make sense. But if you want to trek up a mountain while in Boracay, you can definitely do so! Sign up for a quick hike to Mt. Luho, the tallest peak on the island, rising 330 feet above sea level. Soak in the beauty of Boracay at the viewing deck on top!
Spa – Wondering what things to do in Boracay when you're all alone? Why not treat yourself to a spa treatment or massage? Take a much-needed break and allow yourself to relax and rejuvenate. After all, isn't that what you're in a tropical paradise for?
Sunset Watching – Looking for free things to do in Boracay? Watching the sunset should be at the top of your list. This activity will give you a priceless experience while costing you absolutely nothing!
If you're looking for other things to do in Boracay, check out more land-based activities like going on an ATV adventure, zip lining, and indoor shooting. Going on a food trip is also a worthwhile activity as Boracay is known for its rich and elaborate food scene.
Boracay Food Trip to Excite Your Palate
Boracay is heaven on earth not just for beach lovers but also for foodies. Whether you're spending a month or three days in Boracay, you won't grow weary of the wide selection of food on the island. There are a lot of exciting cuisines you can try—from your typical Asian and American favorites to beloved European specials. There's something to suit all tastes!
🍽️ Sumptuous Buffets
Below is a list of restaurants in Boracay that offer buffets.
Bamboo Boracay Resort and Restaurant
Cha Cha's Beach Cafe at COAST Boracay
Chambery Pool Bar at Savoy Hotel
Don Vito Ristorante Italiano at the Boracay Mandarin Island Hotel
La-Ud Restuarant at Hue Hotels
Nalka Seafood Restaurant
Parasol at Astoria Current
Saffron Cafe at Crimson Boracay
Sands Restaurant at Discovery Shores
Sapphire at Hennan Crystal Sands
Sea Breeze Cafe at Hennan Regency Resort and Spa
Sea Salt Restaurant at Hennan Prime Beach Resort
Sunset View Resto Bar at Paradise Garden Resort Hotel
Tartine at The Lind
The Market at Movenpick Boracay
Vintana at Shangri-La's Boracay Resort and Spa
White Cafe at Astoria Boracay
🍽️ Beach and Poolside Bars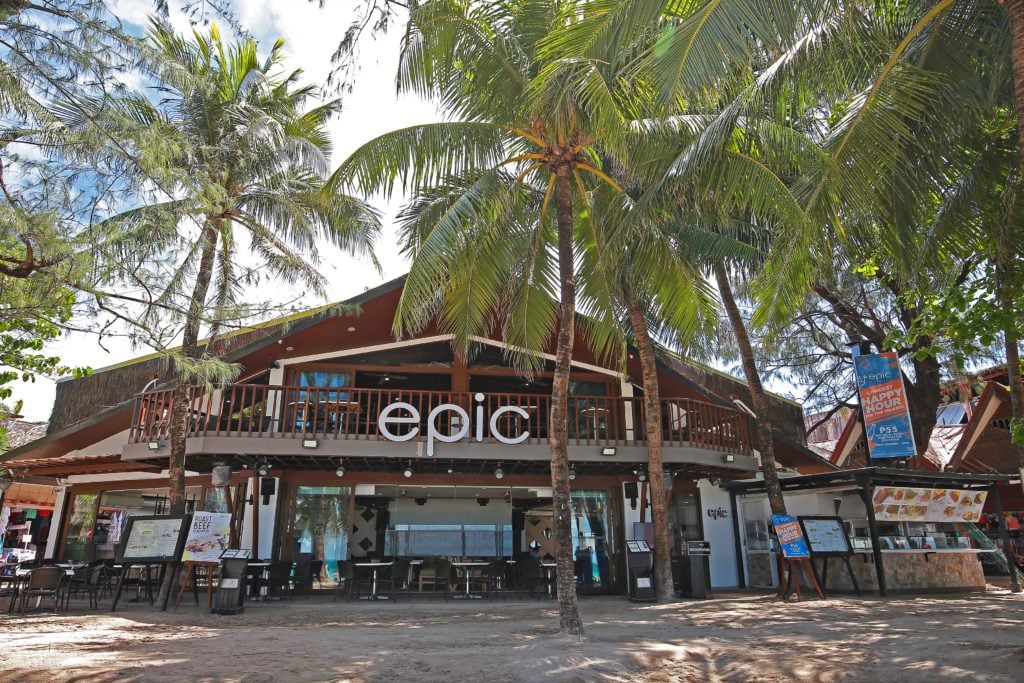 Photo: epicboracay.com
Check out these bars and pubs if you want a taste of the nightlife in Boracay.
Aplaya Beach Bar
Chambery Pool Bar at Savoy Hotel
Club Galaxy Boracay
Epic Boracay
Exit Bar
OM Bar
Paraw Beach Club
Prisma at Hue Hotels
Wave Bar and Lounge at Henann Regency Resort and Spa
🍽️ Popular Food and Drinks
Here are some trendy food and drinks you must try when in Boracay.
Bacon and Mango Grilled Cheese Sandwich from The Sunny Side Cafe
Banana Choco Peanut Shake from Jonah's Fruit Shake
Beef Kebab from Meze Wrap
Blackfish Coffee from Blackfish Coffee Bar
Bulasing from Kolai Mangyan
Calamansi Muffin from Real Coffee
Chicken Inasal from Island Chicken Inasal
Chori Burger from Merly's Barbecue
Death Cream Coffee from Little Wave Cafe
Dino Ribs from Los Indios Bravos at White House Beach Resort
Gelato from Aria Cucina Italiana
Grilled Piri-Piri Chicken from Spicebird
Iced Caramel Macchiato from Cafe Del Sol
Lobster Thermidor from Charl's Seafood Grill and Restaurant
Mango Ice Cup at Halomango
Mixed Berry Acai Bowl from Cafe Maruja
Oyster Sisig from barLO Restaurant at Two Seasons Resort
Porchetta Bagnet from Salsa Fusion Restaurant at Serene La Playa
Salpicao de Vaca from Don Mestizos
Seafood Bilao from Sugba de Boracay
Signature Cakes from Lemoni Cafe
Sizzling Bulalo Steak from Bama Grill
Tempeh Kare-Kare at Nonie's
Thai Curry Crab from Percy's Seafood
Vegan-Friendly Coconut Ice Cream at Coco Mama
Winner Winner Fried Chicken from Cha Cha's Beach Cafe
Extra Tips to Make the Most of Your Boracay Trip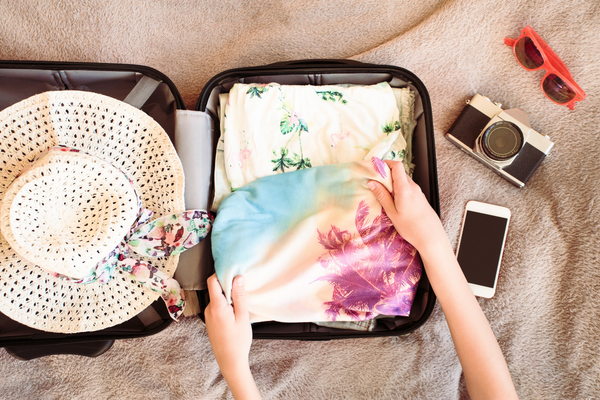 Here are some pieces of travel advice to help you better prepare for your trip and enjoy your beach vacation.
✔️ Create a Flexible Travel Itinerary
Plan your trip to Boracay carefully by creating a travel itinerary. That way, you get to prioritize activities that you know you'll enjoy. But make sure not to fixate on any plans you make.
Be flexible in adjusting your schedule. You'll never know when the weather will refuse to cooperate, so always be agile. That way, you wouldn't have to fuss about what to do in Boracay when it rains because you already have a backup plan especially designed for such a scenario.
✔️ Look for Promos and Packages
There are vendors online and onsite that offer packaged deals to tourists. Look for the best ones so you can save more money while getting the same value you'd get if you pay full price. Just make sure that you're dealing with legit providers before you part with your hard-earned cash.
✔️ Bring Your Own Travel Essentials
If you want to save a few extra bucks, buy everything you need before your trip. Products bought in Boracay, especially along White Beach, can be quite expensive. Bring your own sunblock and other beach must-haves to avoid shelling out a lot more cash than necessary. If you really need to purchase products or replenish your supply while on the island, try to buy from locals or small-time vendors instead of big stores.
Related reading:
Final Thoughts
Is Boracay worth visiting still or is it now just a shadow of its former glorious self? The answer to that is more nuanced than a firm yes or no.
Sure, Boracay has changed over the years—how can it not when change is the only constant? But that doesn't mean it no longer possesses an irresistible beauty that attracts new tourists and keeps loyal patrons coming back over and over.
Regardless of your background or preferences, you are sure to find interesting things to do in Boracay in 2023 that will make your trip worthwhile. Boracay never stops evolving—that's why it holds a timeless appeal.
This island grows together with the locals that protect it and the tourists that patronize it. It will remain an iconic destination for a long time—a place that travel enthusiasts around the world will be compelled to visit at least once in their life.

Sources: