In 2018, then-President Rodrigo Duterte ordered the closure of Boracay in an effort to "rehabilitate" the island.[1] With the country's top tourist destination closed for six months, travelers were left clueless as to where to spend their summer vacation.
Some tourists who were forced to rebook their flights didn't find it too easy to look for alternative destinations. That shouldn't have been the case as the Philippines is rich in beaches and crystal-clear waters.
If you don't have any plans yet for this summer, consider these seven stunning white sand beaches in the Philippines for a one-of-a-kind summer vacation.
7 White Sand Beaches in the Philippines
Below are some of the best white sand beaches in the Philippines that rival the white sands of Boracay. But before heading out to these destinations, make sure to bring new normal travel essentials that'll make your trip safer. When you're all set, check out this list:
1. Calaguas Island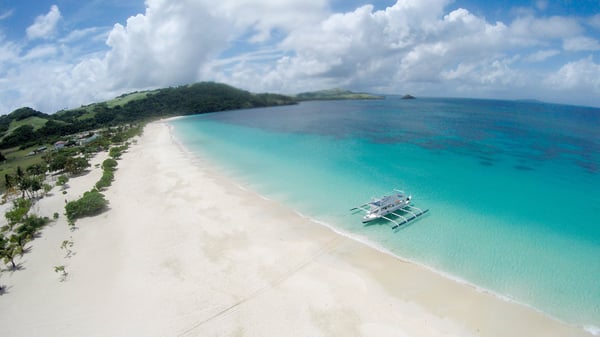 If you're going to visit just one white beach this summer, we recommend spending your money and vacation leaves in Calaguas Island, which is now open to fully vaccinated tourists.[2] Located in Vinzons, Camarines Norte, Calaguas' unspoiled beaches are akin to—or even better than—the white sand beaches of Boracay.
The island's long stretch of fine white sand comes with a view of Camarines Norte's lush mountains. Calaguas may be a bit far if you're coming from the metro, but it's definitely worth the trip. There are also many places of accommodation in the area, one of which is the Calaguas White Sand Resort, which offers tropical-themed rooms to guests.
Costs to Expect upon Arrival
Boat ride: ₱2,500 to ₱5,000 (biggest boat can seat up to 20 individuals)
Environmental fee: At least ₱20 per person (fee may recur depending on spots visited)
Camping fee: ₱120 to ₱200 entrance fee per person (plus ₱100 to ₱150 for tent pitching)
Cottage: ₱300 for day trips, ₱500 for overnight stays
Trekking guide: ₱50 per person
How to Get to Calaguas Island
Take a bus from Manila to Daet, then ride a jeepney or tricycle to Vinzons. From there, ride a tricycle going to the port, then charter a boat going to Mahabang Buhangin beach in Calaguas.
If you prefer flying, book a flight to Naga and travel to Daet via van. From Daet, take a jeepney to Minaogan Port. Then from the port, take a two-hour boat ride to Calaguas.
2. Cagbalete Island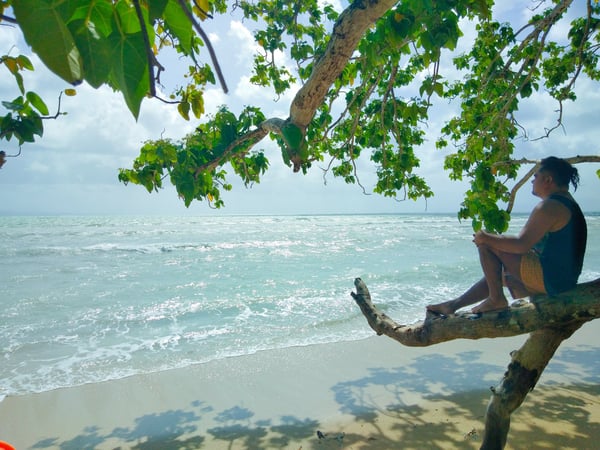 If you're not a fan of long bus rides and multiple boat transfers, Cagbalete Island is the perfect white sand beach in Luzon for you. Situated in the quiet town of Mauban, Quezon, Cagbalete boasts a white sand beach that glistens in the sun during low tide.
Snorkeling and beach hopping are two of the top activities to do here. You can also play beach volleyball, visit the nearby Bonsai Island, and simply watch the sunrise during your stay.
Costs to Expect upon Arrival
Boat ride: ₱100 per person
Environmental fee: ₱50 per person
Accommodation: ₱1,500 to ₱2,500 per night for two individuals (cheaper for larger groups renting out fan rooms)
Camping fee: Starts at ₱50 to ₱250 per person (entrance fee only, not inclusive of tent)
How to Get to Cagbalete Island
Take a bus to Lucena from Cubao, Alabang, or Buendia, then catch a van or local bus to Mauban from the Lucena Grand Terminal. If you prefer air-conditioned buses or vans with a faster travel time, ride a Mauban-bound one from SM City Lucena. From there, walk to the port, then charter a boat to Cagbalete Island. Trips are scheduled at 10 a.m. to 3 p.m. daily to Cagbalete, and 7 a.m. to 1 p.m. daily back to the mainland.
3. Bolod Beach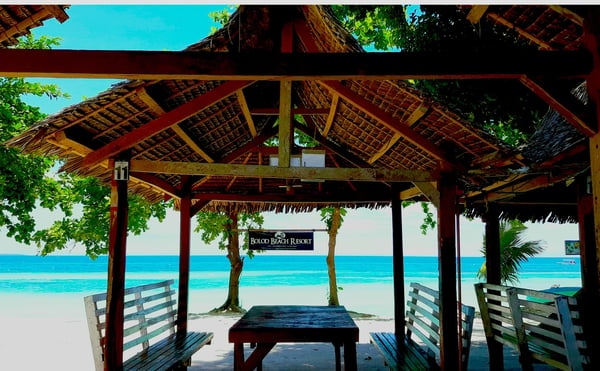 Panglao in Bohol is one of the best islands to visit if you're looking for white sand beaches in the Philippines. Most tourists would probably book a resort near Alona Beach because of its popularity and charm. But one you should also consider for your summer getaway is the neighboring Bolod Beach.
Found in the southern part of the island, Bolod covers over one and a half kilometers of white sand and is quieter compared to other well-known Bohol beaches. Marine life is abundant here, so expect starfishes and mini coral gardens.
Costs to Expect upon Arrival
Cottage: ₱150 per day
Tent pitching: ₱350 for two individuals
Accommodation: ₱2,000 to ₱3,000 per night
How to Get to Bolod Beach
Book a flight to Tagbilaran, then ride a jeepney or tricycle to Panglao. From there, you can take a boat going to Bolod Beach.
4. Caramoan Islands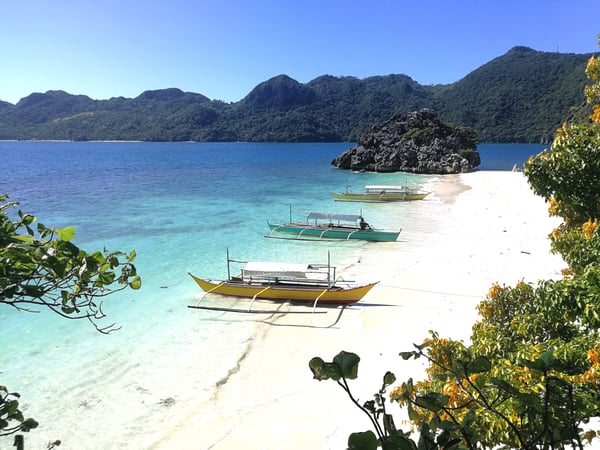 You've probably heard of Caramoan because of the reality show Survivor.[3] That show propelled Caramoan into becoming one of the top travel destinations in the Philippines—and deservedly so. This group of islands boasts not just white sand beaches but also lagoons, caves, and limestone cliffs, so there's something for everyone.
Caramoan is rich in beauty and history, making it one of the best beach destinations in Bicolandia. Go here if you're looking for a tropical island adventure!
Costs to Expect upon Arrival
Boat ride: ₱120 per person
Island hopping: ₱1,500 to ₱4,000 (each boat can accommodate up to six individuals; price depends on the length of trip and inclusions)
Accommodation: ₱750 to ₱1,500
How to Get to Caramoan
Book a flight or ride a bus to Naga, then catch a jeep, van, or bus to Sabang Port. From the port, ride a boat to Caramoan Islands. You can also take a public jeepney or bus to Caramoan if you're on a budget and aren't conscious of time. Just remember that the land travel option is only available when the weather's good.
5. Cagwait Beach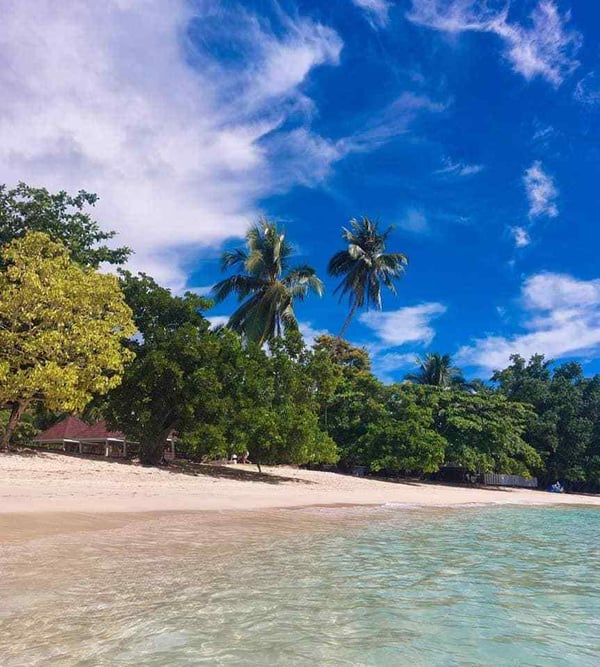 The Cagwait White Beach is a crowd favorite in Surigao del Sur. It was formerly dubbed as the "Waikiki Beach of the Philippines" but is now better known as the "Little Boracay of Caraga," thanks to its fine, powdery sand.
The C-shaped beach is lined with thick trees that provide shelter from the sun. Compared to other more popular summer destinations, Cagwait Beach is still relatively tranquil as it doesn't have a lot of commercial establishments within the vicinity. This is partly what gives it its charm and what makes it an ideal location for a beach getaway.
Costs to Expect upon Arrival
Cottage: Starts at ₱500
Accommodation: Starts at ₱700
How to Get to Cagwait Beach
From Manila, book a flight to Davao, then ride a bus to Tandag. And then from Tandag, ride a jeepney to Aras-asan, Cagwait, and tell the driver to drop you off at Cagwait junction. From the junction, take a tricycle to Cagwait Beach.
6. Canigao Island
If you're looking for a white sand beach in Leyte, Canigao Island won't let you down. This small paradise located in the municipality of Matalom has a fisherman's sanctuary, sandbar, and forest trees that provide shade to tourists.
One of the activities you can do on the island is snorkeling. If you're more of a beach bum, there are also plenty of spots on the island where you can pitch a tent and just hang out with your companions.
Costs to Expect upon Arrival
Boat fee: ₱55 per person
Camping fee: ₱100 if with own tent, ₱250 if renting a tent
Cottage: Starts at ₱700
How to Get to Canigao Island
From Manila, ride a plane to Tacloban, then take a van to Maasin, Southern Leyte. Get off at the Matalom town center. From there, you can walk or take a tricycle to the pier, then ride a boat going to Canigao.
7. Salagdoong Beach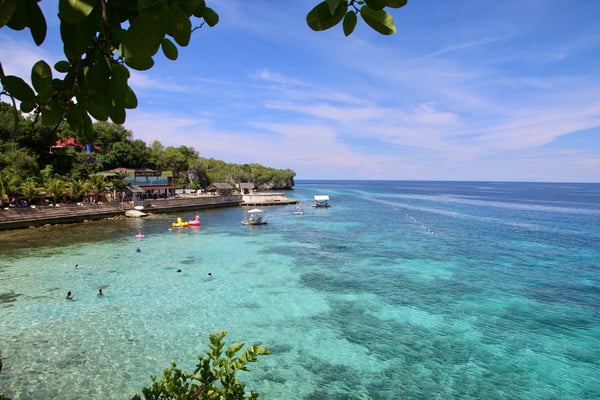 The Salagdoong Beach is an exotic beach in the eastern side of Siquijor, which is known as the "Mystic Island of Central Visayas." A short stretch of forest leads to the beach, which offers plenty of exciting activities like cliff diving, snorkeling, and kayaking. It also has an iconic blue slide leading straight to the ocean for those who crave adventure but are not fond of jumping off cliffs.[4]
Adjacent to the beach is Hotel Agripino, a white sand beach resort that offers the main accommodation options in the area. There's also a small restaurant in the vicinity to entertain hungry guests.
Costs to Expect upon Arrival
Entrance fee: ₱10 to ₱75 per person
Environmental fee: ₱10 to ₱20
Scooter rent: ₱250 to ₱500 per day
Parking fee: ₱20 to ₱40 per bike or scooter
Cottage: ₱200 per day
Accommodation: Starts at ₱900
How to Get to Salagdoong Beach
From Manila, book a flight to Dumaguete City, then take a tricycle to the Dumaguete Port. From the port, take a boat or ferry to Siquijor. You can also get to Siquijor from Cebu and Bohol, but you'll have to take a ferry either way.
Once you're in Siquijor, the easiest way to get around is by renting a motorbike or scooter. However, if you prefer taking public transport, you can ride a tricycle or jeepney to Salagdoong Beach from the Siquijor Circumferential Road. Just take note that this may cost you more in the long run.
Related reading:
Final Thoughts
Now that you have more options for your next summer getaway, try exploring other white sand beaches in the Philippines even after Boracay has reopened. As evidenced above, these beaches also deserve recognition for their pristine surroundings and wonderful scenery.
Also, before traveling, make sure to thoroughly prepare for your beach trip so that you can iron out your itinerary. While all beaches mentioned above are now open to tourists, always check local travel guidelines to make sure that you're updated on the latest news.
Finally, don't forget to travel responsibly. Always put your health and safety first when traveling in the new normal.

Sources: