Sun's out, so everybody should be out! Before the country ushers in the rainy season, you should make the most of these bright, warm days. And what better way to do that than organizing your gala with the people who matter?
However, it's just right to acknowledge that budget is a concern. Skimp on it, and you won't be able to go anywhere fun. Spend too much, and you'll run the risk of putting a dent in your wallet. In short, you need to find your happy middle. Don't worry, as you can still cut some corners, depending on your destination and activities.
We've listed down some of the best outdoor activities in the Philippines that you can enjoy with your fam or pals for ₱3,000 or less. Included are the approximate breakdowns of expenses to guide you with your planning.
Best Outdoor Activities in the Philippines This Summer
The costs below are just approximations. Total expenses may change, depending on your purchases or modifications in prices of certain services. Gather the family or barkada, pack your bags, and have a great, unforgettable summer with these outdoor activities in the Philippines.
Overnight Outing in San Felipe, Zambales
Just three hours away from Manila, San Felipe, Zambales offers you that much-needed nautical break from the city's hurried pace. Liwliwa Beach, perhaps the town's most popular beach, boasts a long stretch of shoreline where you can sunbathe and strong waves that are perfect for surfing. Somewhere in the village, there's a narrow alley lined by tall trees whose imposing appearance gives the place an almost otherworldly appeal.
There are a lot of BnBs and cozy huts to choose from in the area, too. But if you're operating on a small budget, you'll find camping grounds that will let you pitch your tent for a small fee. So go ahead and do your favorite camping recreational activities when you were a kid!
Transportation: ₱800+ per person (round trip)
Accommodation (fan room for two to four persons): ₱2,000+ per night (₱1,000+ each for two persons /₱500+ each for four persons)
Food: ₱700 to ₱1,000 per person
Camping in Calatagan, Batangas
Laiya, Nasugubu, or Anilao are among the first places that come to mind when one talks about beach getaways in Batangas. But if you're looking for a much quainter and more laidback town, then head over to Calatagan, which is about three hours away from Manila.
Swim in Calatagan's crystal clear waters to your heart's content. Wait for the sunset and then go on a contemplative walk along the sandy coast. If you're willing to spend, you may want to go on a boat tour that will take you to Starfish Island and Little Boracay, which are actually sand bars that appear during low tide.
But if you're in for a bit of history, don't forget to visit the Cape Santiago Lighthouse, one of the oldest lighthouses in the Philippines.
Save on accommodation and enjoy camp activities by pitching a tent on the beach grounds for a fee. Among the most popular in town is Manuel Uy Beach Resort.
Transportation: ₱600+ per person (back and forth)
Accommodation (including entrance fee and tent rental for four pax): ₱500+ per person a night
Boat Tour: ₱300+ per person
Food: ₱1,000 per person
Read more: Everything You Need to Know About Boracay's Reopening
Leisurely Swimming and Thrilling Water Activities at Aqua Planet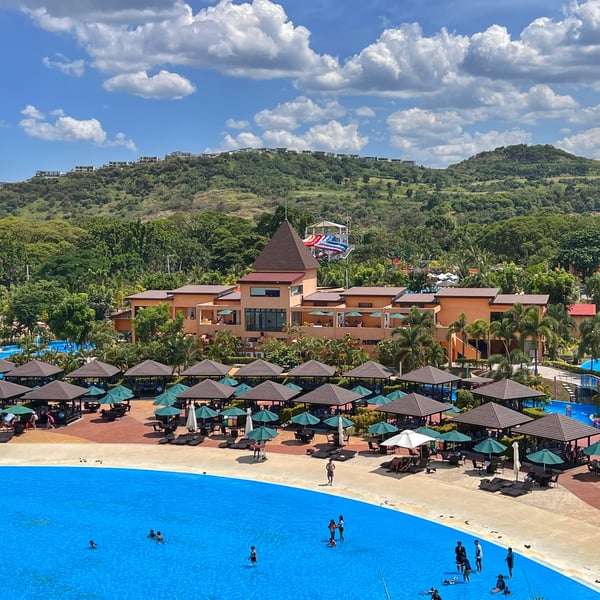 Remember when you were a kid and your family would organize summer outings at a resort with your relatives? #Nostalgia, right? Make it happen again. But this time, upgrade the fun by going to Aqua Planet.
Located inside the Clark Freeport and Special Economic Zone in Pampanga, Aqua Planet is a massive water park with lots of slides and wave pools. It offers the perfect day tour for the family, especially if you have kids.
Have fun at the park's most popular slides, such as the Hurricane, the Sky Shuttle, the Superbowl, and Octopus Racers. After your fun swim, you can go on a delicious food trip at the park's quick-service and themed restaurants.
Transportation: ₱800+ per person (back and forth)
Entrance: Weekdays: ₱980 for adults and ₱780 for kids below four feet / Weekends and Holidays: ₱1,180 for adults and ₱980 for kids below four feet[1]
Food: ₱1,000 per person
Walking Tour Around Intramuros and Environs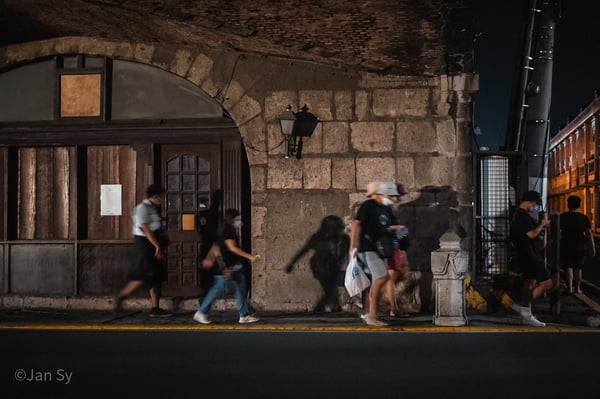 If you're living within the metro or in a nearby province, Intramuros and its immediate neighborhoods always offer some of the best outdoor activities in the Philippines. And by activities, we mean walking tours.
The iconic wall city has a wealth of interesting and historic spots to enjoy. These include the Manila Cathedral, San Agustin Church, Fort Santiago, Baluarte de San Diego, Casa Manila, and Museo de Intramuros.
Got lots of time in your hands but running out of ideas on things to do in the summer? Take in the beauty of different art pieces and marvel at the relics of the past at the National Museum. Entrance is free, so you have one less thing to worry about. In the afternoon, you may want to stroll around Rizal Park and wait for the sunset. The city is even more dazzling and magnificent at night.
Transportation: ₱500+ per person (back and forth)
Food: ₱1,000 per person

Food Trip and Shopping in Binondo and Nearby Neighborhoods
Still can't get enough of Manila's classic beauty? Discover more about this city by visiting Binondo, the oldest Chinatown in the world.[2] Since this district is teeming with restaurants, going on a food trip will be your default activity.
If you're new to Binondo, don't miss the iconic eateries here, such as Wai Ying Fast Food, Ying Ying Tea House, Masuki, Sincerity Restaurant, among others. Drop by the Eng Bee Tin Mall for your pasalubong haul.
If you enjoy walking tours, you can get lost in the many streets and alleys of Binondo where you can take snaps of old buildings. You may also choose to stroll your way to Escolta and catch your breath by the Pasig River.
Is shopping your favorite sport? Close by are popular shopping places, such as Lucky Chinatown, 168 Shopping Mall, 999 Shopping Mall, and Tutuban Commercial Center.
Transportation: ₱500+ per person (back and forth)
Food: ₱1,000 per person
Shopping Budget: ₱1,000+
Trekking at Masungi Georeserve in Rizal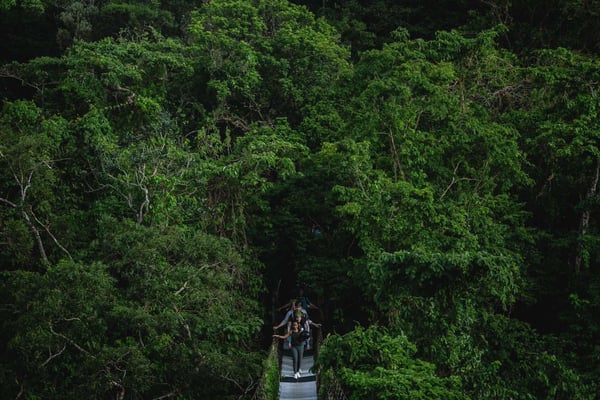 Whether you're new to trekking or already an expert, a trip to Masungi Georeserve is definitely one of the most engaging outdoor activities in the Philippines. With its winding trails, fresh air, and peace, this park will give you a renewed appreciation for nature.
Inside Masungi, there are many activities that you can enjoy, depending on your interests. If you simply want to commune with nature, relax at the Garden Picnic, which allows you to explore different trees via a 20-minute stroll.
The georeserve's Discovery Trail, on the other hand, lets you discover the conservation area and see the karst terrain up close. Normally, the trek lasts for three to four hours. Don't forget to have your picture taken at Sapot ni Ric, which is a web-like mesh of tough wires suspended over a rocky terrain.
Transportation: ₱500+ per person (back and forth)
Entrance: Weekdays: ₱1,500 per person / Weekends: ₱1,800 per person
Food: ₱700+ per person
Read more: Different Kinds of Friends You Love and Hate Traveling With
ATV Tours in Rizal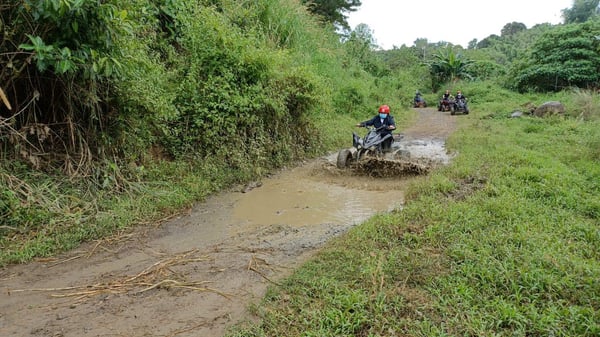 If you want to up the ante of your outdoor activities in the Philippines, try embarking on an off-road adventure in Rizal. Ride an all-terrain vehicle or ATV and enjoy the breathtaking views of the lush landscapes all around you.
ATV Adventures Rizal, a trusted and popular ATV tour operator in the province, can help you go on an exciting quest. In case you're a newbie, you can go for the short trail, which runs from 1.5 to two hours. You can revel in the beauty of Sierra Madre while navigating a variety of trails, from concrete roads to beaten paths, and even a creek crossing.
Transportation: ₱500+ per person (back and forth)
ATV Short Trail Fee: ₱1,500 per person
Food: ₱700+ per person
Embark on a Road Trip Around Tagaytay
A list of exciting outdoor activities in the Philippines won't be complete without a road trip to Tagaytay. This family- and wallet-friendly activity lets you escape the scorching heat of the city while giving you a chance to reconnect with Mother Nature.
For budget-conscious travelers, the Picnic Grove and the People's Palace in the Sky offer you a stunning view of the Taal Volcano. If you're traveling with kids, take them to Sky Ranch where they can enjoy theme park rides and horseback riding. And don't leave the city without getting your bulalo or pasalubong haul at the Mahogany Market.
Transportation: ₱500+ per person (round trip)
Park Entrance (Picnic Grove, People's Palace in the Sky, and Sky Ranch with two rides): ₱500+ per person
Food and Pasalubong: ₱1,500 per person
Read more: The 5 Coldest Places in the Philippines to Go and Chill
Try the Exhilarating Rides at Enchanted Kingdom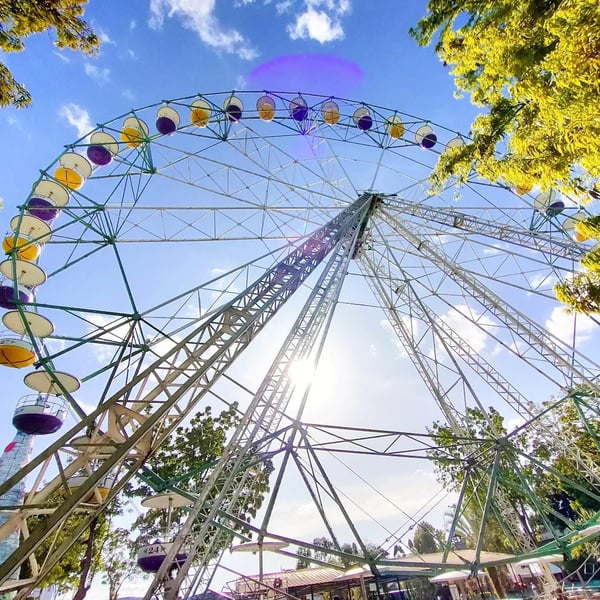 Who says that summer activities in the Philippines can't be magical? Enchanted Kingdom proves you wrong! Located in Santa Rosa City, Laguna this amusement park, otherwise known as EK, offers world-class rides and attractions that will bring out the kid in you.
Among the most popular are its roller coaster called Space Shuttle, its Ferris wheel romantically called the Wheel of Fate, and the Rio Grande Rapids.
Getting to the park shouldn't be a problem since there are a lot of buses going to Santa Rosa City. Upgrade your ticket if you want a roundtrip shuttle transfer for your convenience.
Transportation: ₱300+ per person (scrap if availing ticket with round trip transfers)
Entrance: Regular: ₱999 / With Shuttle Service: ₱1,200
Food and Souvenir: ₱1,500
Take a Nature Trip to Twin Lakes in San Pablo City
Laguna's San Pablo City is famed for its seven lakes. But two of them are considered the most beautiful: the Twin Lakes of Yambo and Pandin. A narrow strip of land separates the two lakes. Between the two, Pandin Lake is considered the more popular one.
Activities in Pandin Lake include swimming in its refreshing waters, lounging in your rented raft, and enjoying the locals' homemade lunch. A short trek will also give you a view of the Yambo Lake. A trip to this destination is also among the most popular summer activities in Laguna and its nearby provinces, such as Quezon and Batangas.
Transportation: ₱600+ per person (round trip)
Raft with Food: ₱1,200 for three persons or ₱400 per person / ₱360 per person minimum of four pax
Related reading: Sand, Sun, and Sea: 12 Travel Destinations in the Philippines for Your Revenge Travel
Final Thoughts
You'll never run out of outdoor activities in the Philippines this summer given that the country has a lot of beaches and interesting destinations. Make your trip one for the books by planning carefully while allowing a bit of spontaneity. And before you hit the road, check the current alert level of the city or town you're going to visit.

Sources: