When it comes to vacations, your chosen accommodation makes up almost half of the experience. It can make or break the vibe of the trip, so planners should tread carefully. Hotels are a safe choice, but if you're looking to add some flavor to your stay, you can always check out the listings on Airbnb.
Since Airbnb has a wealth of options, there's definitely something for everyone. A modern loft for your trendy barkada? Check! A secluded cove for a chill vacay with your significant other? Check! How about a cottage floating on a lagoon for your adventure-seeking family? Check!
If you've been assigned the lovely task of finding accommodation, you're in the right place. This article lists some of the best Airbnbs in the Philippines.
10 Best Airbnbs in the Philippines
Wondering where to stay for your next travel destination? Check out these top 10 Airbnbs in the Philippines.
Alto Retro Loft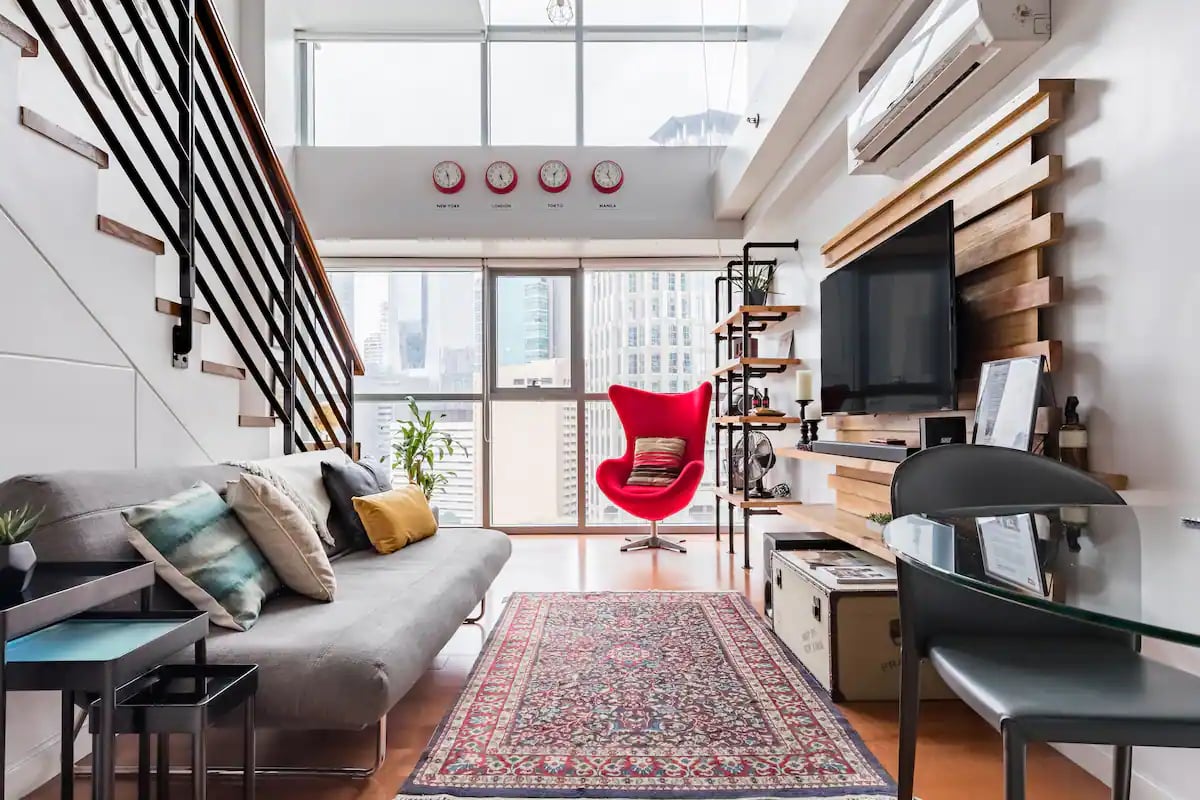 Location: Makati
Price: ₱2,286 per night
Staycations in the city are popular among young urbanites who want a quick break from the monotony of life. If you're looking for the best Airbnb in Manila in terms of price and aesthetics, the Alto Retro Loft[1] is worth checking out.
One of the best Airbnbs in Makati, the Alto Retro Loft looks like an apartment taken right out of an interior design magazine. With a high ceiling and large windows, the interiors are filled with natural light. The design features a lot of wood and white walls.
However, pops of color are everywhere, making for a very eclectic and Instagrammable space. At the top of the stairs, you'll find a well-appointed bedroom featuring a hint of industrial design,[1] as evidenced by the bare concrete walls.
The Alto Retro Loft is close to the Greenbelt mall complex, an advantage if shopping and dining are your sports. If you're after Makati's vibrant nightlife, Poblacion is just a 10 to 15-minute drive from this spot.
Read more: 13 Affordable Staycation Hotels in Manila That Will Give You Bang for Your Buck
Batalang Bato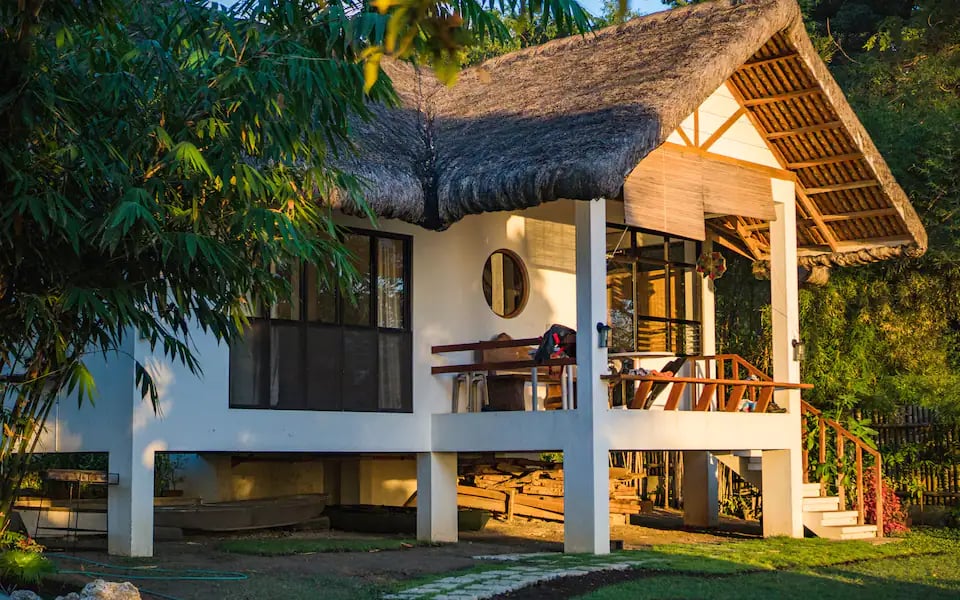 Location: San Jose, Batangas
Price: ₱8,500 per night
Batalang Bato[2] is the ideal vacation spot if you and your group want a seaside retreat without boarding a plane. This top Airbnb in Batangas features a large garden where you can host a barbecue picnic in the morning or a stargazing party at night. Beyond this greenery is a pristine beach that becomes more stunning as the sun sets.
This retreat is located within a marine sanctuary, offering water babies an opportunity to explore the area's underwater world filled with life and colors. If you want to spend the day lazing around, do so by taking a refreshing dip in the pool.
Read more: 15 Affordable Batangas Beach Resorts for Your Summer Getaway
Secluded Beachfront Cottage
Location: San Vicente, Palawan
Price: ₱14,289 per night
Privacy is a big deal for many holidaymakers. This secluded cottage in Palawan, one of the best beachfront Airbnbs in the Philippines, is definitely worthy of consideration.
The cottage[3] itself is a thing of beauty. It's made of hardwood, giving the space a tropical aesthetic. Its modern creature comforts include a refrigerator, a coffee maker, a bathtub, and an outdoor shower.
While located on a hill, the cottage house gives you easy access to the white sand beach. There's also a luxurious cabana by the seaside, a perfect spot for watching the sunset.
Paolyn Bamboo Houseboat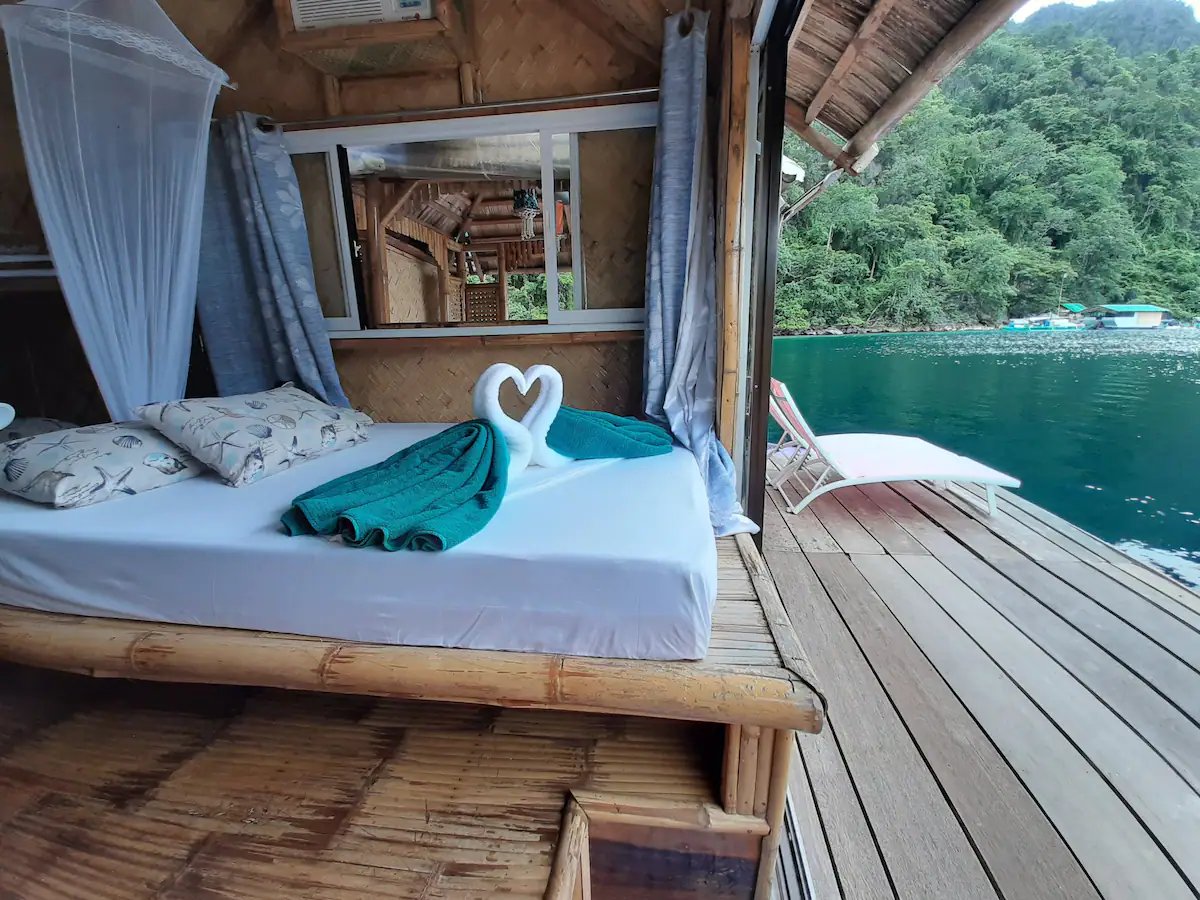 Location: Coron, Palawan
Price: ₱22,229 per night
Imagine waking up to crystal-clear waters right outside your doorstep. Marvelous, right? You don't have to imagine it when you book your stay at Paolyn Bamboo Houseboat[4] in Coron, Palawan.
This unique and beautiful Airbnb in the Philippines floats over a private lagoon, meaning you can go for a swim or ride the kayak whenever you want. If you want to take things at your own pace, just lounge on the balcony and marvel at the limestone formations surrounding you.
Got an assistance animal? You can bring it here!
Camiguin Volcano Houses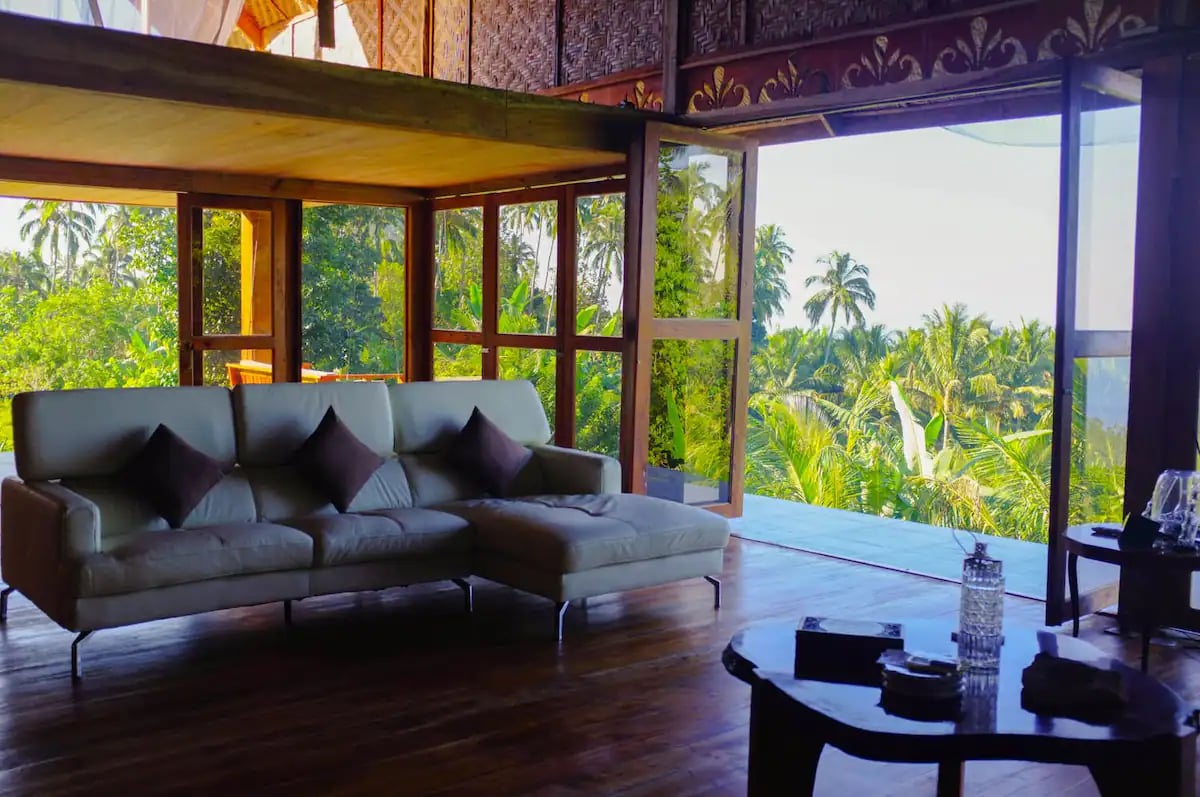 Location: Mambajao, Camiguin
Price: ₱12,000 per night
The volcanic island of Camiguin has a lot of beautiful things to offer, from its stunning beaches to sweet and succulent lanzones. But perhaps the best thing that you'll experience here is the quietude. While already a bona fide tropical destination in the country, Camiguin doesn't have a Boracay-like tourist density.
Camiguin Volcano Houses,[5] one of the best Airbnbs in the Philippines, will remind you of the tiny, cozy cabins in Switzerland. It has high ceilings and large windows that treat guests to relaxing views of the lush rainforest.
Just to manage your expectations, Camiguin Volcano Houses is located on Mount Hibok. As such, you'll need a 20-minute to one-hour car ride to reach some of the island's most popular beaches.
The Bamboo House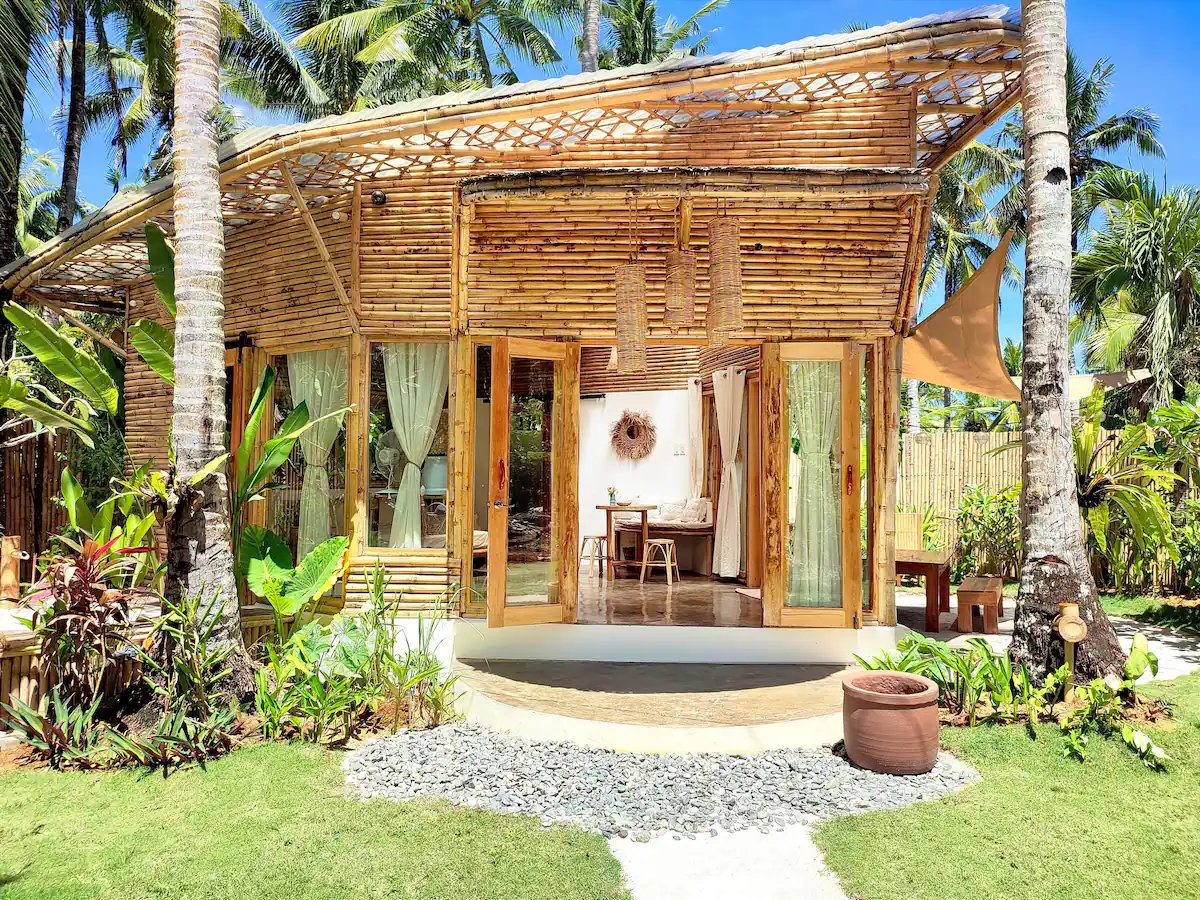 Location: Santa Fe, Siargao
Price: ₱5,214 per night
The Bamboo House[6] is a quiet haven within Siargao. Its close proximity to a white sand beach and Cloud 9, a popular surfing spot on the island, makes it one of the best Airbnbs in the Philippines.
As the name suggests, The Bamboo House is made of bamboo for an all-natural atmosphere. All sides of the house have opening panels, allowing wind and daylight to flood the interior. Right outside the cottage is a manicured tropical garden that offers a tranquil view, especially during the day.
Planning to catch up on work while on a vacation? The Bamboo House has WiFI and a dedicated workspace for such purposes.
Read more: Best Siargao Resorts: Where to Stay in Siargao Based on Your Budget
The Apricity Mountain Villa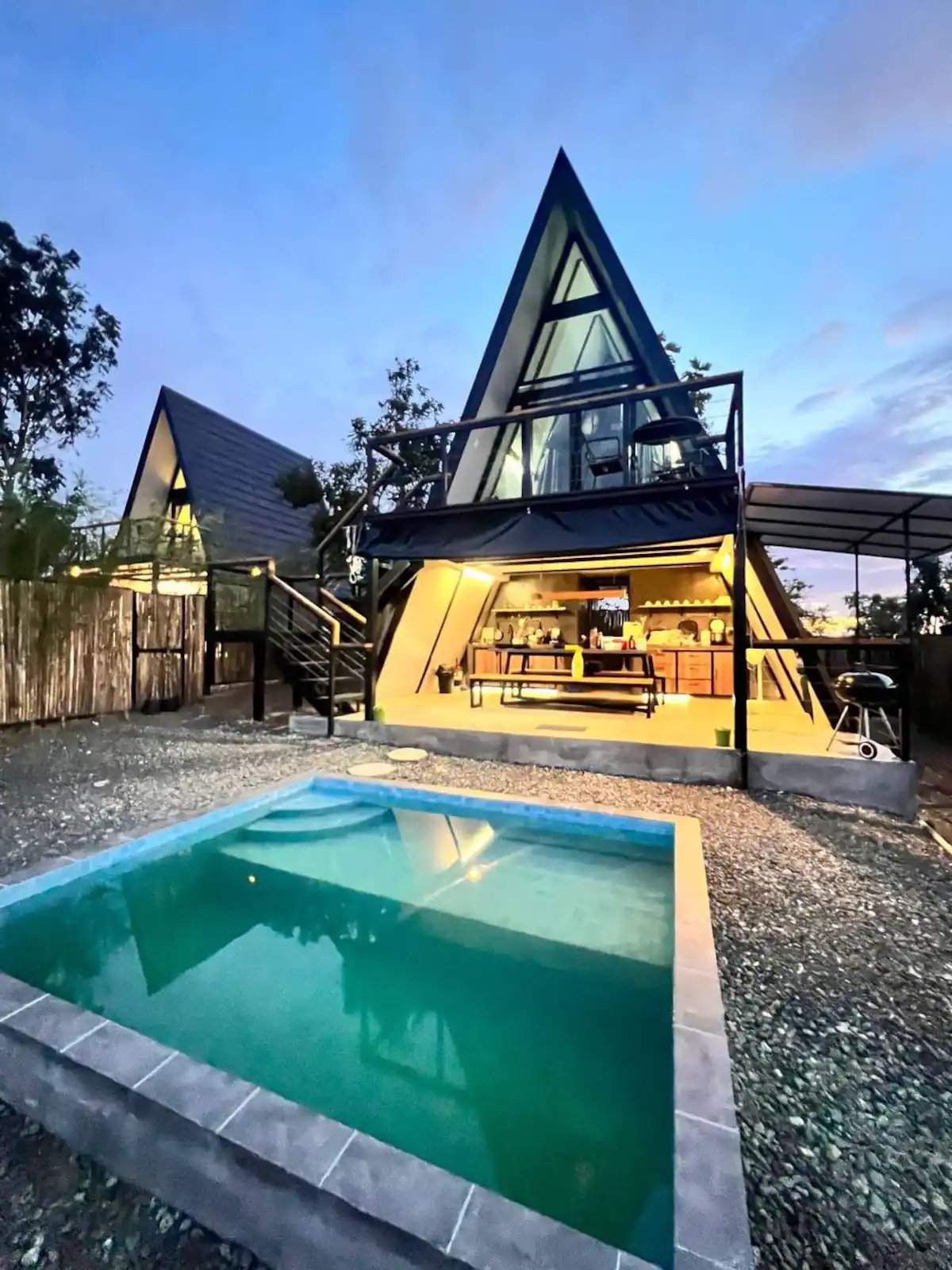 Location: Doña Remedios Trinidad, Bulacan
Price: ₱4,429 per night
Located in Bulacan's mountainous area that's yet to be disturbed by mass tourism, The Apricity[7] offers visitors an opportunity to commune with nature. It's one of the best Airbnbs for families and barkadas in the Philippines. It has an A-frame cabin that features a fusion of minimalist and industrial designs. There's also a two-person tent in case you want an immersive camping experience.
The villa has a swimming pool where you can take a dip in case it's hot and humid. There's a fire pit where everyone can gather around and toast marshmallows while sharing stories. Small pets are also allowed inside the villa as long as they're wearing diapers and are in their carriers.
NYU Dorm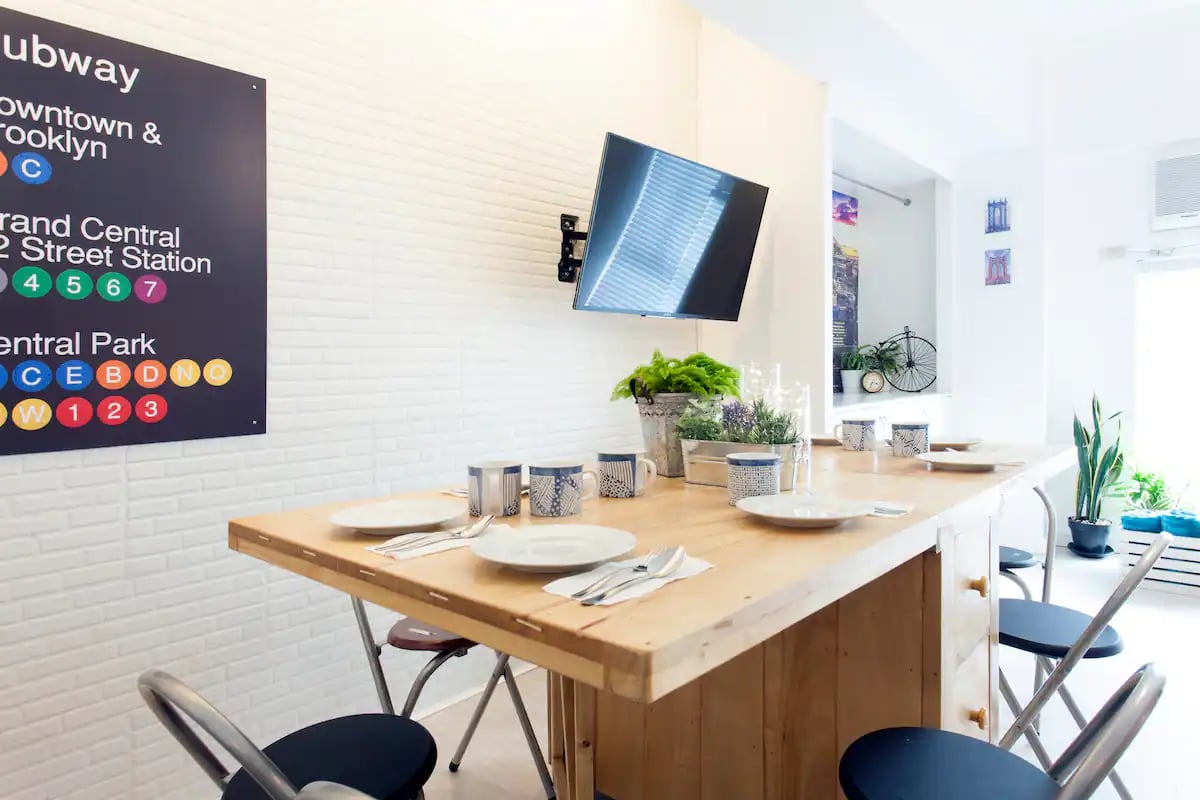 Location: Tagaytay City, Cavite
Price: ₱3,651 per night
New York City in Tagaytay? Close enough with the NYU Dorm![8] Inspired by minimalist dorms in New York, this stay is one of the best Airbnbs in the Philippines for groups who want a quick escape from the heat of Metro Manila.
This top Airbnb in Tagaytay has a private balcony, so you can enjoy the cool breeze of Tagaytay anytime. There's also a public rooftop that gives you uninterrupted views of Taal Lake. Meanwhile, the interiors feel like a high-end college dormitory, complete with wooden bunk beds, a dainty dining table, and a Netflix-ready flatscreen TV.
The NYU Dorm is also one of the best Airbnbs near Manila with a pool. And if you have a car, you'll be happy to find that this unit comes with a free parking garage.
The Dune House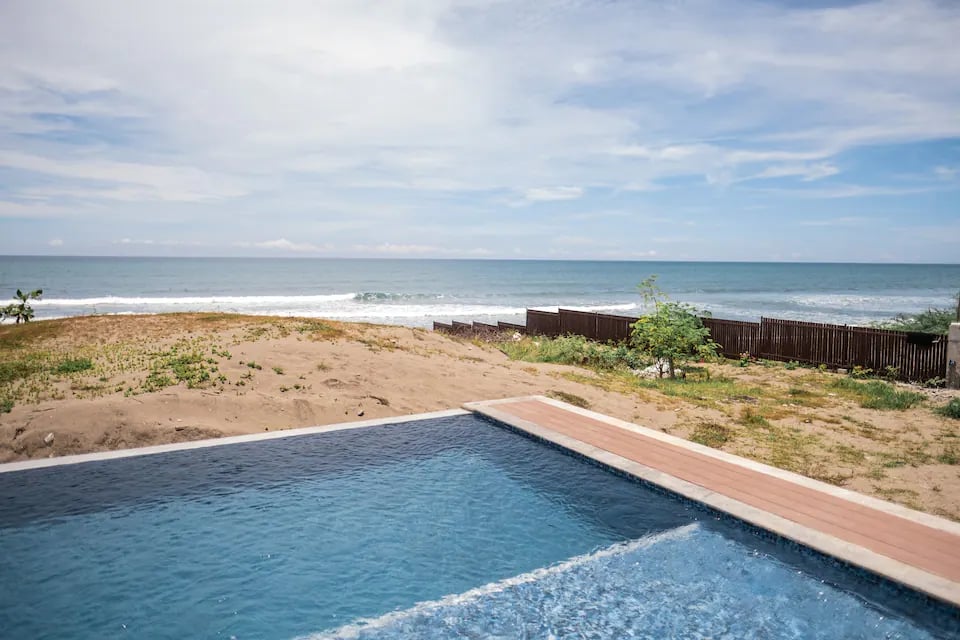 Location: San Juan, La Union
Price: ₱30,000 per night
Surf shacks are often rustic and homey. But such stays can also be posh—just look at The Dune House.[9]
Located in San Juan, La Union, The Dune House lets you enjoy a panoramic view of La Union's wild surf waters. Its fresh, clean, and modern interiors will remind you of the spaces found on Apartment Therapy's Instagram page.
Right outside the house, there's a fully functional RV where you can chill with your friends. It also serves as an extra bedroom in case you have a large group.
Penelope House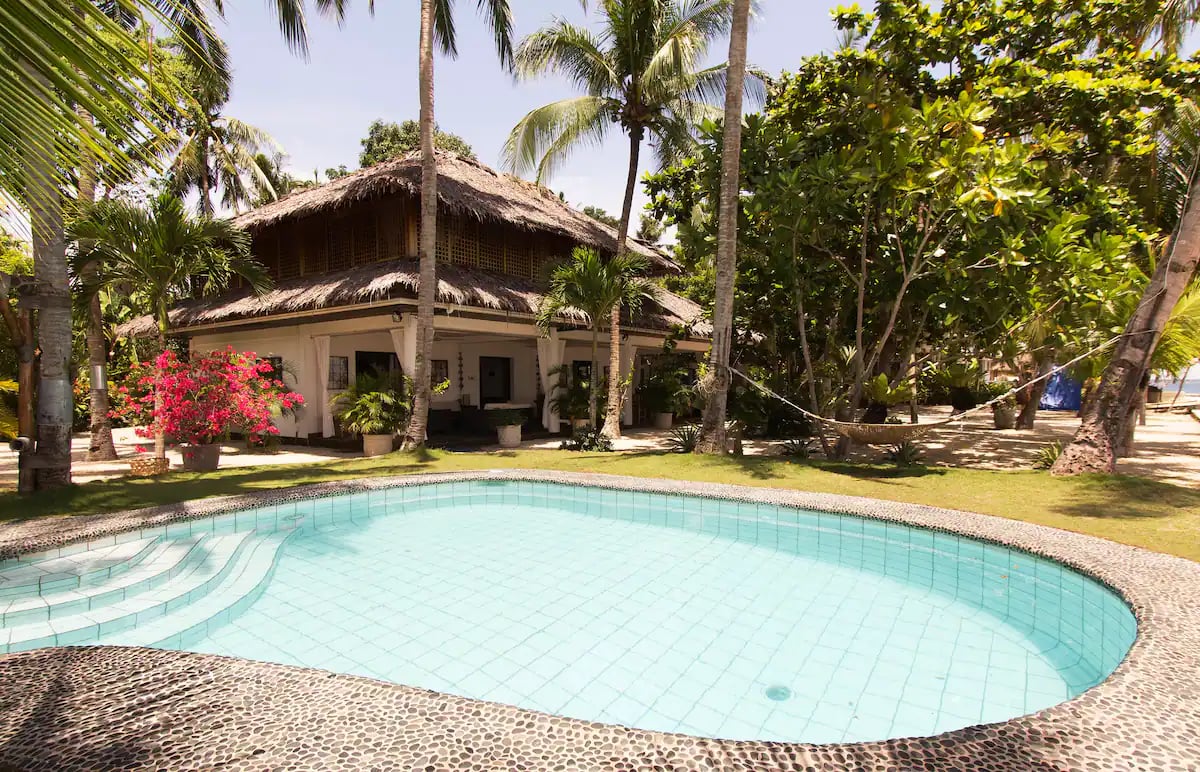 Location: Ronda, Cebu
Price: ₱15,000 per night
The Penelope House[10] is the best Airbnb in Cebu for those who want a rustic holiday with modern comforts. Located in Ronda, Cebu, this villa offers a relaxing sea view and a large garden with a pool. Step inside and you'll be treated to polished and well-appointed interiors.
The Penelope House will appeal to environmentally conscious tourists[3] since the property is close to a marine sanctuary. The owner of the home works with the local government to protect the breeding grounds for fish and sea cucumber shells.
Final Thoughts
This list of the best Airbnbs in the Phillippines offers you options that are both stylish and comfortable. Which one are you looking forward to booking one day? Start working through your travel plans by bookmarking the stays that tickle your fancy. Always check out the amenities and read other tourists' reviews to manage your expectations.

Sources: