Tired of the four corners of your home but don't want to travel that far? A good option is to find an affordable staycation in Manila.
As of March 2022, COVID-19 cases in the National Capital Region (NCR) have dwindled,[1] and restrictive measures have eased. Metro Manila's currently under Alert Level 1, which allows all accommodation establishments to open their doors to guests and operate at full capacity.[2] That means you and your loved ones can finally take a short vacation and enjoy amenities you don't have at home.
And there's no need to break the bank to do exactly that. We compiled some options for a cheap staycation in the metro under ₱3,000 so you won't have to. Now go plan that long-awaited break before these rooms get booked out.
COVID-19 Reminders Before Booking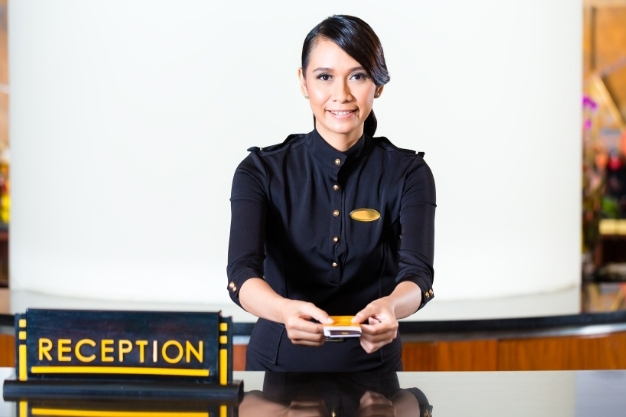 While all accommodation establishments are now fully open to the public, that doesn't give you the green light to be reckless about COVID-19 safety. Take note of these COVID-19 protocols when planning a weekend outing with family and friends.
Book only hotels that are DOT-accredited. Make sure you're booking a hotel with accreditation from the Department of Tourism (DOT) to ensure that your place of stay fully complies with minimum operational standards. You can check out the list of accredited hotels on the DOT website.[3]
Pay your bookings through cashless methods. It's not ideal to pay for anything using cold cash. Always opt for cashless options for any financial transaction—that includes your hotel and resort bookings.
Pack COVID-19 must-haves before your stay. You should always bring your pandemic defense kit wherever you go. Make sure you have your face mask, rubbing alcohol, hand sanitizer, vaccination cards, and other travel essentials when you're out in public.
Read more: Sand, Sun, and Sea: 12 Travel Destinations in the Philippines for Your Revenge Travel
Affordable Staycation in Manila Under ₱3,000
1. RedDoorz Plus @ EDSA Congressional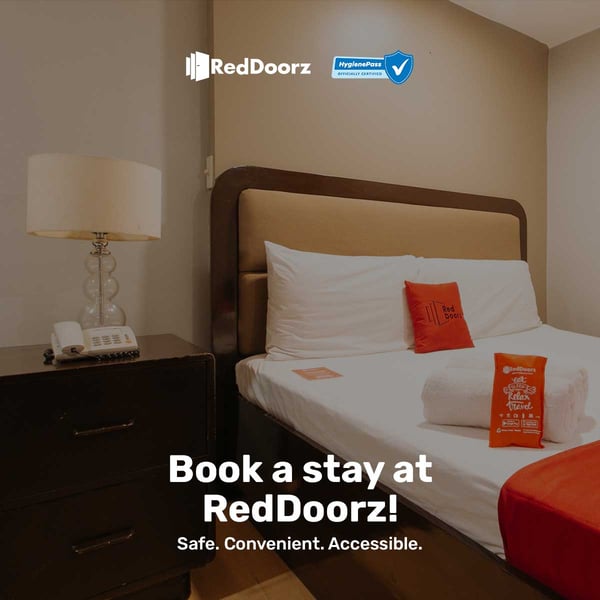 Where: No. 2 Congressional Ave. cor. EDSA, Brgy. Ramon Magsaysay, Quezon City
Price: Starts at ₱849 per night
RedDoorz is known for providing great services at affordable price points. If you're interested in giving this hotel a try, head straight to its EDSA Congressional branch in Quezon City. Aside from comfortable rooms, you'll be met with good in-house dining and room services. If you're feeling adventurous, you can always head out and see what the City of Stars has in store for you.
2. Selah Pods Hotel Pasay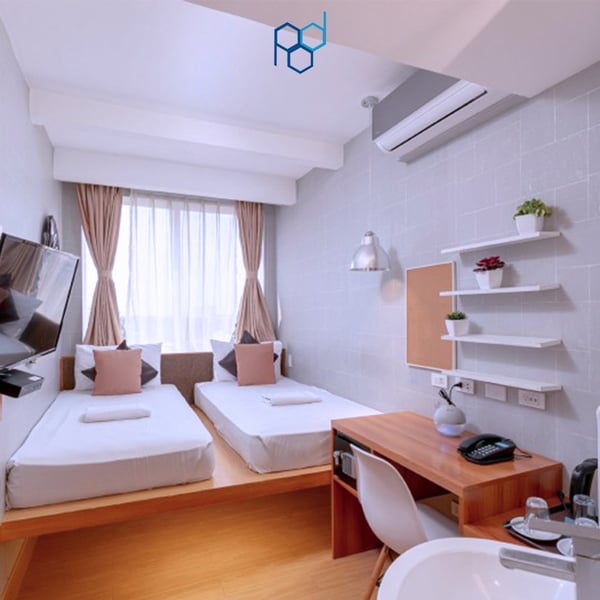 Where: 2004-224 David St., cor. FB Harrison, Pasay City
Price: Starts at ₱1,500 per night
Who doesn't want a budget-friendly staycation in Manila and enjoy splendid views? At Selah Pods Hotel in Pasay, you'll get to see both the Makati skyline and the Manila Bay.
Even the unique architecture of the hotel itself, with its sky pods and modern rooms, is a sight to behold. The hotel's also close to important landmarks like the World Trade Center and Star City, so you'll really feel like you're at the heart of the action.
3. MySpace Hotel and Dormitory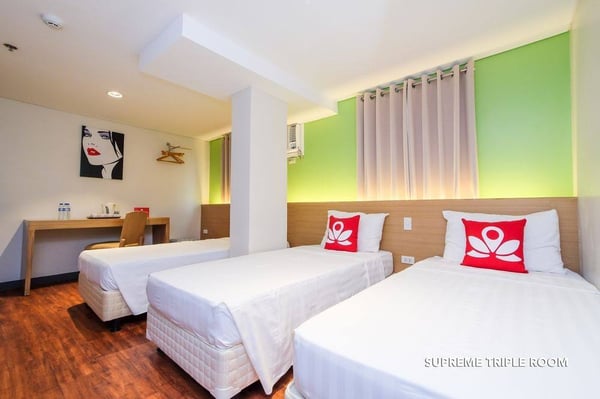 Where: University Parkway/38th St., 38th Drive, 21 Saddle St., Bonifacio Global City
Price: Starts at ₱1,680 per night
You don't need to rent an expensive hotel to experience what BGC's all about. You can always book at MySpace Hotel and Dormitory and save a ton of money with rates starting at around ₱1,680 per night. Its standard rooms may not look as grand, but that means you can freely explore BGC and experience living in one of the Philippine's top business centers. Sometimes, the bells and whistles aren't necessary.
4. Privato Ortigas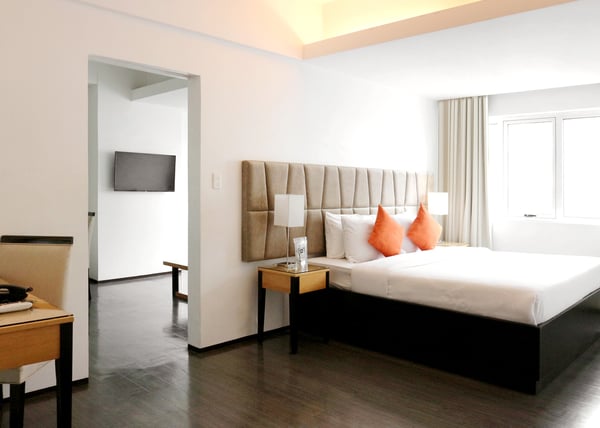 Where: 706 Shaw Boulevard, Pasig City
Price: Starts at ₱2,129 per night
Looking for a grand staycation around Shaw Boulevard? Experience a weekend in Ortigas by booking with Privato Hotel. This establishment features cozy rooms and premium amenities without breaking the bank. You'll also get a good view of the bustling city from the comfort of your room. On top of that, it's near places like Greenfield District and SM Megamall.
5. BSA Twin Towers Hotel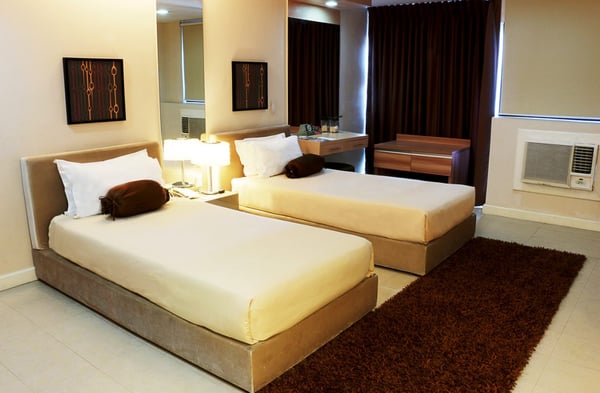 Where: Julia Vargas cor. Bank Drive, Ortigas Center, Mandaluyong City
Price: Starts at ₱2,500 per night
Want to experience what it's like to have your own condo? Book a night or two at BSA Twin Towers Ortigas and find out for yourself. Aside from the modern-looking deluxe rooms, you can also try out the indoor and outdoor pools, as well as the fitness center during your stay. It's just a stone's throw away from SM Megamall and The Podium, so you can truly enjoy living the city life.
6. Berjaya Makati Hotel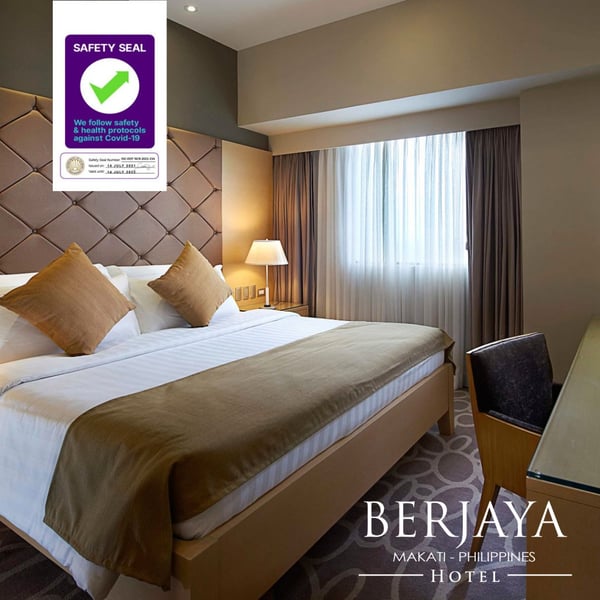 Where: 7835 Makati Avenue cor. Eduque St., Makati City
Price: Starts at ₱2,520 per night
Berjaya Makati Hotel has a higher price tag compared to a few other hotels in this list, but it's all justified. Thanks to its gorgeous rooms at price points that won't make your wallet cry.
It's located a few streets away from the center of Ayala. But there's still a lot to explore if you like going out. However, if you're the type who would rather stay in, you can check out the bar, restaurant, fitness center, and swimming pool.
7. Herald Suites Polaris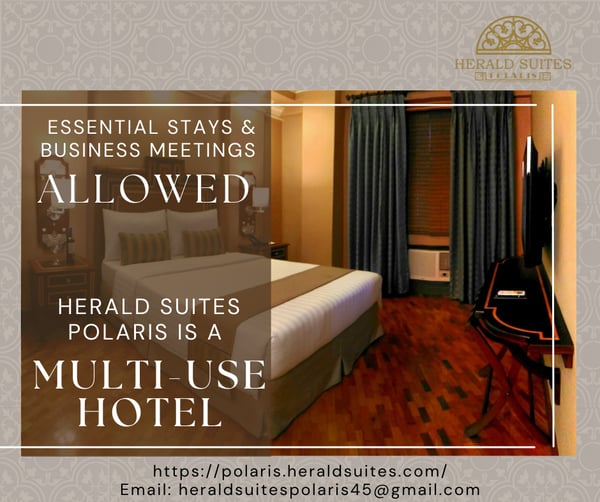 Where: 45 Polaris St., Bel-Air, Makati City
Price: Starts at ₱2,550 per night
At Herald Suites Polaris, you can get a taste of royalty without stretching yourself too thin. The grandiose rooms and overall regal vibe will surely give an elegant twist to your stay. Plus, the hotel's right next to the busy streets of Ayala and the Greenbelt Commercial Center, where there's surely something for everyone.
8. Go Hotels Manila Airport Road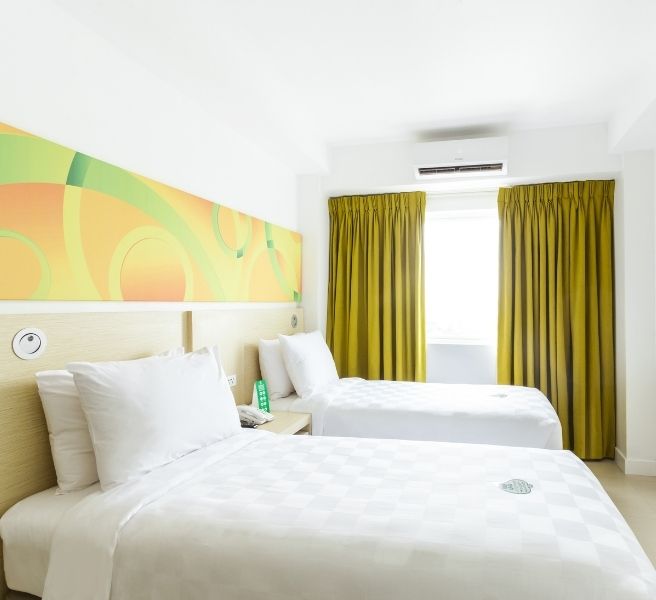 Where: 608 Quirino Ave., Tambo, Parañaque City
Price: Starts at ₱2,645 per night
If you're traveling long-distance and are on your way south to explore different cheap Batangas beach resorts, you might want to stop over at an affordable staycation near Manila to get some much-needed shut-eye. Go Hotels in Parañaque is a good bet since it's practical, budget-friendly, and refreshing. You can't go wrong with this clean and straightforward hotel option.
9. Bayview Park Hotel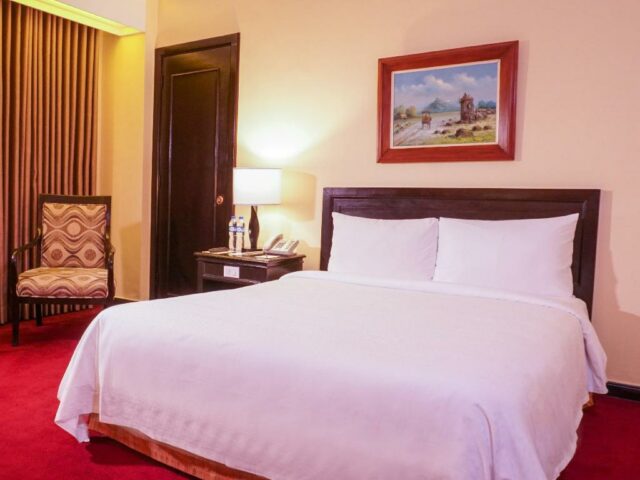 Where: 1118 Roxas Boulevard cor. United Nations Ave., Manila City
Price: Starts at ₱2,700 per night
Wondering how the dolomite sand in Manila Bay's doing? Book a cheap staycation in Manila at Bayview Park Hotel, which is minutes away from the viral destination. Come for this hotel's convenient location right next to the Mall of Asia. Stay for its fancy architecture and sizable rooms. You can't miss booking a stay at the historical epicenter of the Philippines. Churches, museums, malls—they got it all here.
Read more: Religious Tourism in the Philippines: These Places Will Nourish Your Body, Mind, and Spirit
10. Regency Grand Suites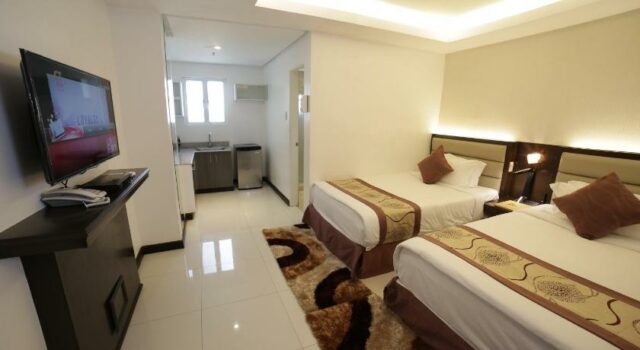 Where: Birch Tower 1622 Jorge Bocobo St., Malate, Manila City
Price: Starts at ₱2,748 per night
Another solid choice for a budget-friendly staycation in Manila is the Regency Grand Suites in Malate. If you're looking for a three-star level of hotel service, then add this to your long list. It's an affordable staycation spot in Manila with pools and a world-class fitness center. Plus, it's located at the heart of Manila. It ticks so many boxes, making it a no-brainer choice for staycationers.
11. The Linden Suites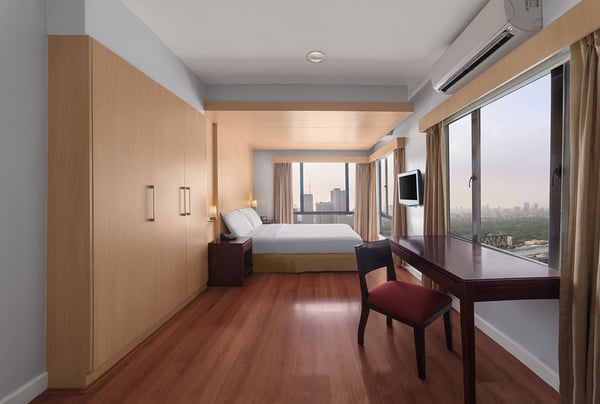 Where: 37 San Miguel Ave., Ortigas Center, Pasig City
Price: Starts at ₱2,851 per night
If you're after functional elegance, book your stay with the Linden Suites. The rooms are spacious and cozy, and the dining experience is great. This hotel truly offers an affordable staycation in Manila with a pool, jacuzzi, and sauna. You'll also find yourself surrounded with shopping complexes since it's at the heart of Ortigas. You'll never run out of things to enjoy.
12. Maxx Hotel Makati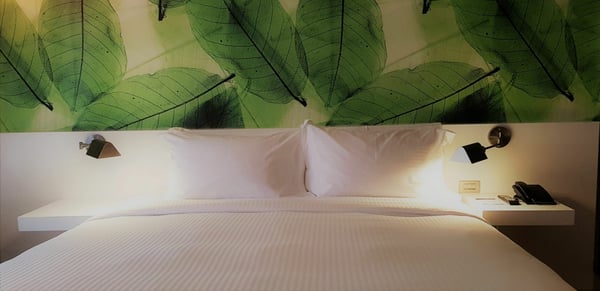 Where: 7817 Makati Ave., cor. Singian St., Poblacion, Makati City
Price: Starts at ₱2,900 per night
If you want to make the most of your staycation, stay at a place that offers comfort and convenience. Maxx Hotel gives you both at a relatively low cost. The hotel's contemporary design is perfect whether you just want to relax or are looking to be productive. You also get easy access to commercial centers and entertainment hubs as the hotel's located at the central artery of Makati.
13. Eastwood Richmonde Hotel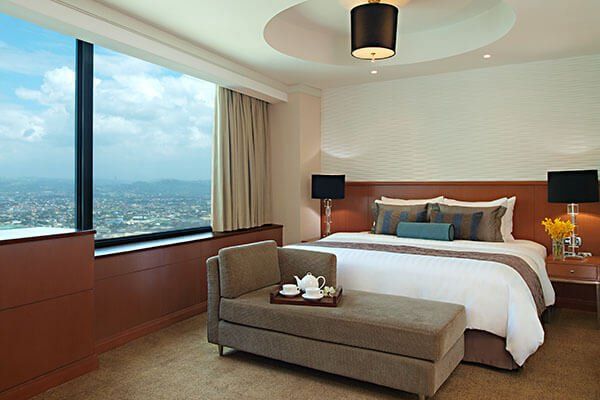 Where: 17 Orchard Road, Eastwood City, Bagumbayan, Quezon City
Price: Starts at ₱3,000 per night
It's okay to pamper yourself every now and then if you can afford it. And what better way to do that than to revel in the lavish comforts offered by the Eastwood Richmonde Hotel? If your budget doesn't permit this luxury, that's fine. Learn some budget secrets from Pinoy travelers so that you can increase your travel budget next time and give yourself the occasional material delights.
Final Thoughts
It's okay to take a little staycation every once in a while. If you can afford it, there's no reason not to go for it. As proven by this list, you can always find an affordable staycation in Manila—you just need to know where to look.
Just don't forget to follow COVID-19 protocols wherever you go. That way, there won't be anything weighing on your mind, and you can fully enjoy your staycation in the new normal.

Sources: