Any serene place can be a perfect place to do some self-reflection. You can do it right in your own home where you feel most at peace or comfortable. Or you can also go to a place you've never visited to be one with nature and enjoy its natural beauty, quiet, and calm.
Thankfully, there's no shortage of breathtaking and relaxing places in the Philippines that are conducive for meditation, contemplation, and self-reflection, and maybe even a little bit of adventure.
If the words "road trip," "adventure," "self-reflection," and "me time" are part of your vocabulary, then you should definitely consider religious tourism in the Philippines. Here's a list of pilgrimage places and some ideas for religious activities in the Philippines.
Religious Tourism in the Philippines: Where to Go and What to Do
Although there are many religions in the Philippines, it's a predominantly Catholic country. So naturally, there are lots of religious rituals, practices, and events in the Philippines.
The great thing about this is that there are many breathtaking destinations for sightseeing, reflection, and learning more about the Philippines' religion culture. From famous historical churches to amazing cave systems and natural wonders, they're all just waiting to be visited and explored!
Underground River Boat and Cave Exploration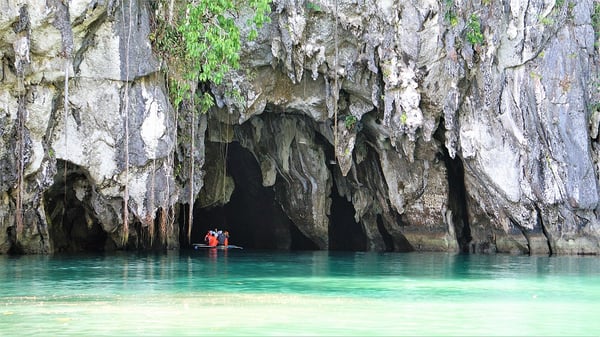 How does a boat ride through a cave system sound? The Puerto Princesa Subterranean River National Park in Palawan[1] is the longest underground river in the country and the third deepest cave. It can be an adrenalin-filled or a soul-soothing experience for you, maybe even both.
You can also head to Sagada, Mountain Province, to swim in the cold pools and explore the Sumaguing Cave. It's the deepest cave in the country, connected by a network of entrances and tunnels. There are also a lot of interesting formations formed by the rush of water throughout this cave. That's your cue for some introspection and soul-searching.
Or explore the Jackpot Cave in Penablanca, Cagayan and experience heaven on earth. It's the second deepest cave in the Philippines at an impressive 115-meter depth. This network of caves gets its name from the fact that it appears to be golden when light shines on the stalactites and stalagmites.
Read more: Stunning White Sand Beaches in the Philippines That Aren't Boracay
Most Famous Churches in the Philippines
When you say religious tourism in the Philippines, the first thing that comes to mind is visiting famous churches in the Philippines. The challenge is that there are so many beautiful churches in the country. But it's a good problem to have because this means there will be more churches for you to visit in the coming months.
Paoay Church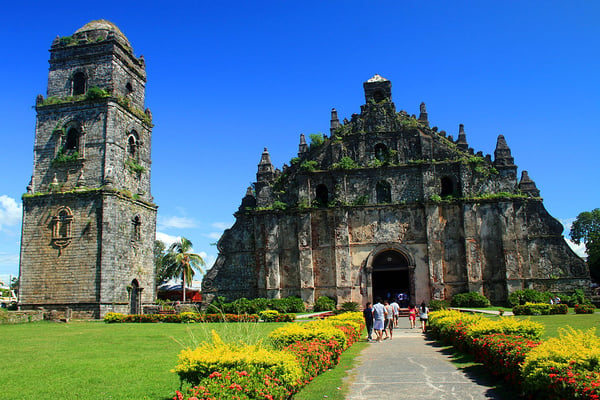 There's a reason why the Paoay Church always makes it to the list of the most famous or most beautiful churches in the Philippines. Its timeless beauty and rich history make it a must-visit for everyone. Include this UNESCO World Heritage site to your list of churches to visit this year to make your religious pilgrimage more unforgettable.
Callao Cave Chapel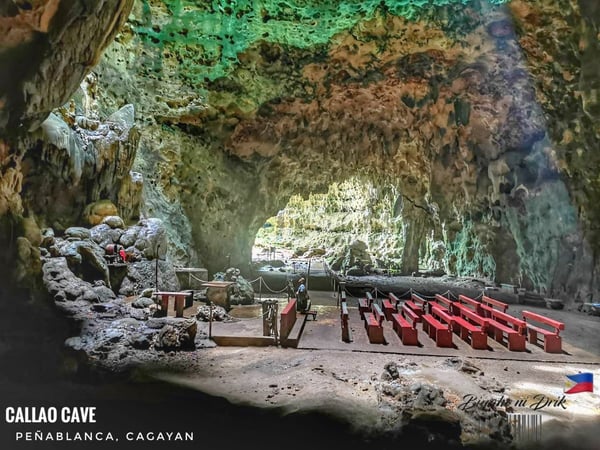 If you want a unique church visit experience, then add the Callao Cave Chapel in Penablanca, Cagayan, to your list. Yes, you read it right―it's a church right inside a cave. There are pews for churchgoers to sit on and a platform in the cavern where natural light gets through. And all around, you can see amazing natural rock formations.
Read more: Save as Much as P30,000 with These 8 Travel Hacks
Daraga Church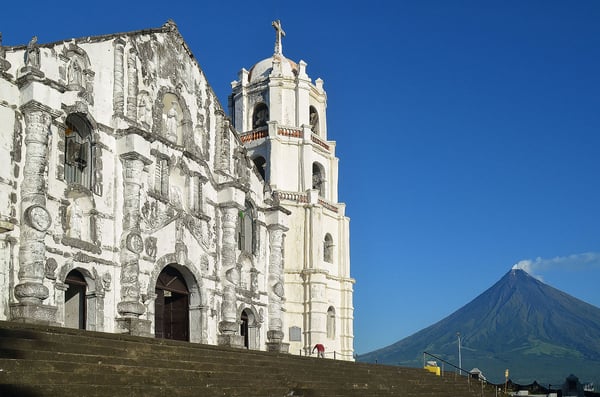 This famous church in Bicol is another church that you should visit at least once in your life. With a stunning view of the Mayon Volcano, you can't help but admire this church's religious and architectural history. Its facade, after all, is built from blocks of volcanic rock.
Baclayon Church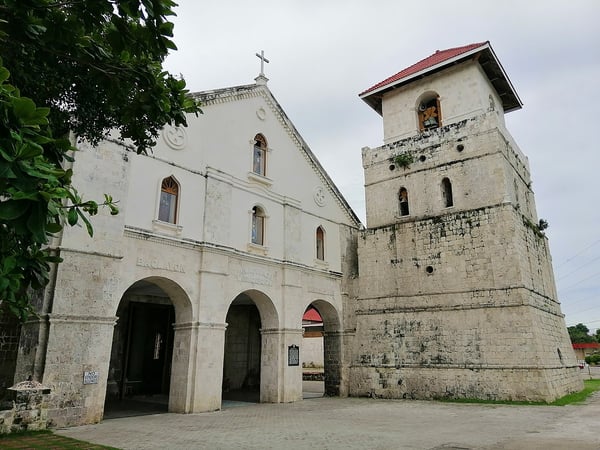 Just six kilometers from Tagbilaran City, the Baclayon Church stands tall and proud after undergoing a four-year rebuilding and restoration. The portico and bell tower of this church collapsed in the 2013 earthquake. But now, you can experience the beauty of Baclayon Church when you visit this historical church in the Philippines.
Minor Basilica of Our Lady of Charity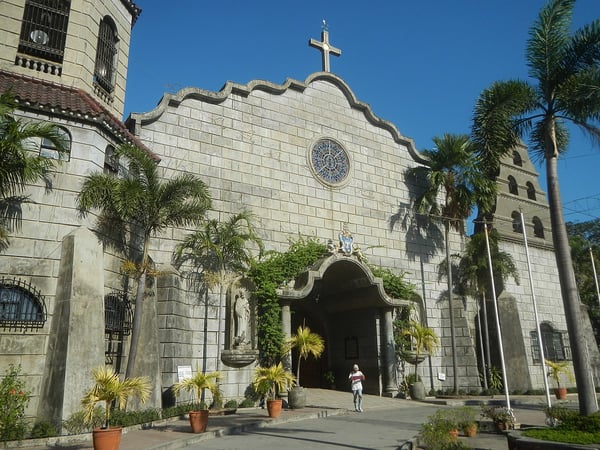 If you're looking for a basilica in the Philippines that you can visit, head up north to Agoo, La Union. This is where you'll find the Basilica Minore of Our Lady of Charity, or the Agoo Basilica.
Its Mexican-Baroque architectural features are not only beautiful in photos. You have to see this basilica in real life to better appreciate its beauty and grandeur.
And don't go just yet after your church visit. To the left of the basilica is the Santa Monica Museum. Here you can find the 1815 Bell of Santa Monica Parish and other memorabilia.
Visita Iglesia in Metro Manila
You don't really need to travel far to experience what religious tourism in the Philippines offers. In fact, there are many modern churches and impressive cathedrals that are located right here in Metro Manila.
Monasterio de Sta. Clara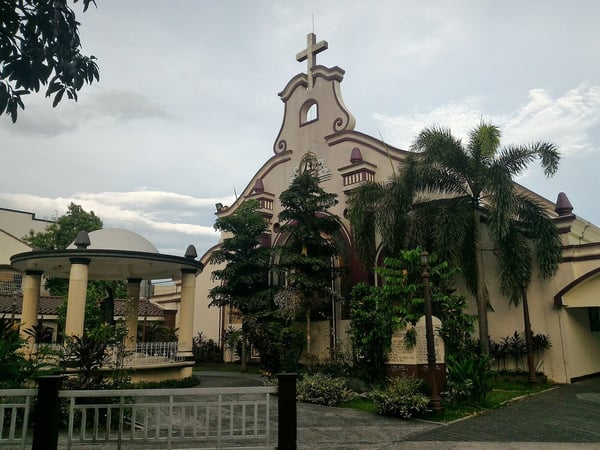 With a history dating back to 1620, the Monasterio de Santa Clara in Katipunan Avenue, Quezon City is the first women's monastery in Asia. Moreover, it's where the faithful Catholics usually go to offer prayer intentions and eggs, which symbolize clarity and purity. If you have a special prayer intention, you can always make the trip to this old church right in the middle of the city.
Binondo Church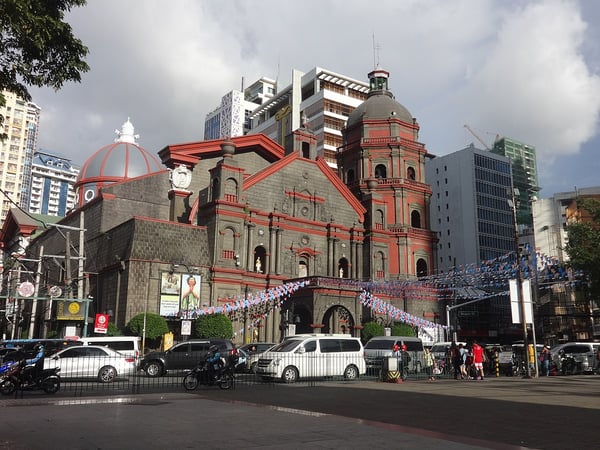 Located in the busy Chinatown district of Manila, the Binondo Church continues to attract the devout and the faithful. And you won't miss it, even if it's your first time to visit. It's just right on the corner of Quintin Paredo Road and Ongpin Street.
It may look out of place in a crowded and busy place like Chinatown. But it's one of the most famous churches in the Philippines for a reason. Aside from its European Baroque architectural style, it's also been around for centuries. It was founded in 1596 by Dominican priests, so just imagine all that history.
Read more: 13 Affordable Staycation Hotels in Manila That Will Give You More Bang for Your Buck
Manila Cathedral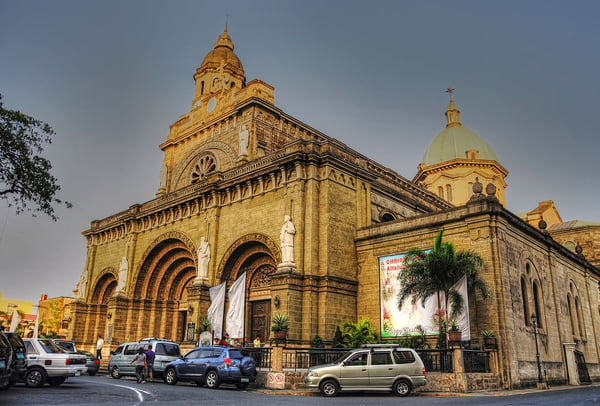 This Neo-Romanesque cathedral in Manila has survived fires, earthquakes, and wars. It was rebuilt in 1954 and remains one of the most beautiful churches in Manila, if not the country. Boasting classic Spanish architectural elements, gorgeous marble floors, and beautiful brickwork, the Manila Cathedral is truly a must-visit religious landmark any time of the year.
Malate Church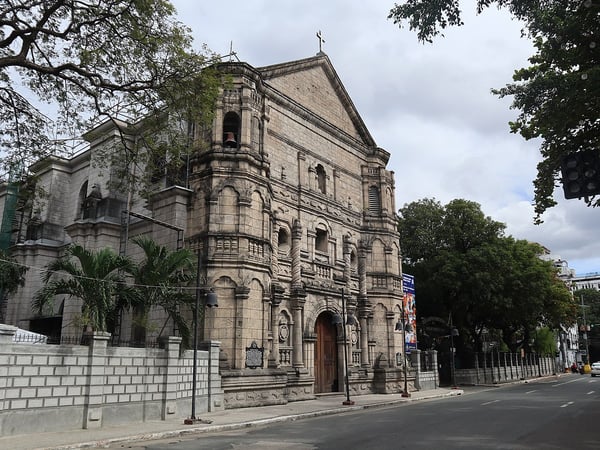 Like the other old churches in this list, the Malate Church is another iconic church in Manila. Built in 1588, it's been destroyed and built again so many times over the years.
It sits right across the Plaza Rajah Sulayman, with a view of the Manila Bay, which means it can be loud and busy. But once you step inside, the atmosphere is solemn and peaceful―perfect for prayer and quiet musings.
San Agustin Church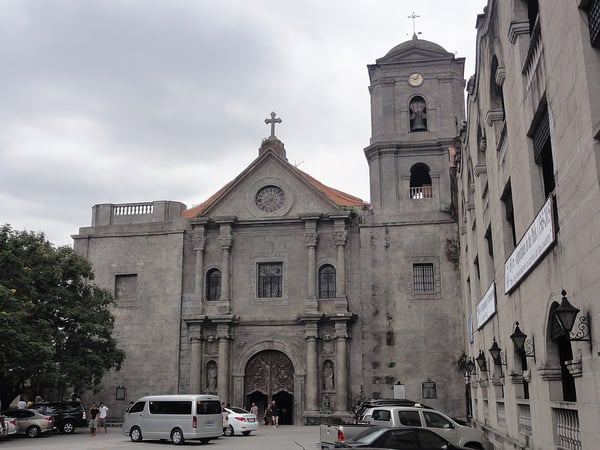 Aside from being a UNESCO World Heritage site, the San Agustin Church was also named a National Historical Landmark in 1976. Standing outside this church, you can't help but be awed by its beautiful facade. Its interiors are equally impressive, thanks to the many renovations the church has gone through over the years. This is why it's always a favorite Visita Iglesia destination for Catholics.
Baclaran Church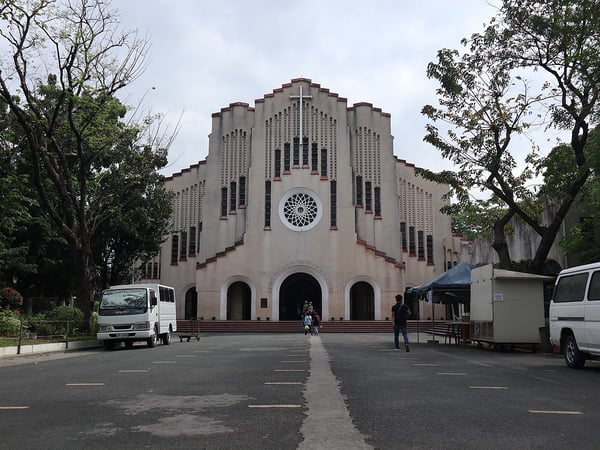 Another old and beautiful church is the Baclaran Church, also known as the National Shrine of Our Mother of Perpetual Help or the Redemptorist Church. You can't miss this along Roxas Boulevard, especially on Wednesdays when throngs of people make their way for the church for 'Baclaran Day'. But you can also visit Baclaran Church for your Station of the Cross for Holy Week, or basically anytime you need to pray or hear mass.
Santa Ana Church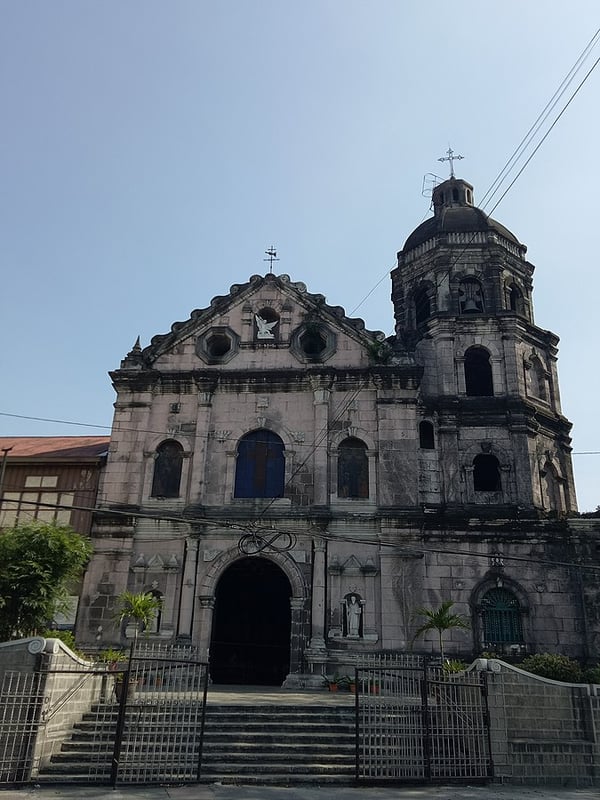 The Franciscans originally found the Santa Ana Church in 1578, but the stone church that we see now was constructed around 1720 to 1725. The adobe blocks of the church's facade add to its timeless historical appeal, attracting lots of visitors each year.
But more treasures can be found within its walls, like the Santa Ana Site Museum and the Camarin de la Virgen, a chapel room with the image of the Virgin. So don't skip this church when you're in Manila.
Final Thoughts
Time passes by so quickly, and life is usually very hectic. Everyone needs to slow down and take a breather. Perhaps a visit to these natural wonders and religious places will help you reset, recharge, and refocus to better appreciate life. So what are you waiting for?

Source: [1] Puerto-Princesa Subterranean River National Park