Hong Kong is many Filipinos' very first out-of-the-country destination. Its proximity to our islands makes it a perfect international getaway.
Even if you come back for a second or third visit, you'll feel like it's your first time. You'll never run out of things to do with a zillion attractions and delights in Hong Kong!
Go crazy over the number of shops at Mong Kok. Feast on legit dim sums and duck noodles at the mom-and-pop shop right at the corner of the street. If you're a culture vulture, you'll feel amazed by how this city seamlessly combines the modern and the traditional.
Planning a vacay in HK? Let this article be your guide. Covered below are all the important things you need to know, from Hong Kong travel requirements to some destination recommendations.
Before You Fly: Important Things to Remember
Planning that Hong Kong travel itinerary? Not so fast! Take note of the following first:
👉

Does Hong Kong Require a Tourist Visa?
Hong Kong doesn't require tourists to provide a visa. Philippine passport holders can stay in the city for up to 14 days. The same rule applies to Filipino travelers visiting Hong Kong for transit and business purposes.[1]
👉

Does Hong Kong Travel Have Quarantine Rules?
Hong Kong doesn't ask for proof of vaccination. But keep in mind that the city still has a couple of Hong Kong arrival requirements:
Travelers aged four and above will have to undergo a rapid antigen test (RAT) within 24 hours. This test can be self-administered. You may also undergo a PCR-based nucleic acid test within 48 hours before your flight departure or the scheduled time of arrival (if entering Hong Kong via other boundary points).
Travelers are required to present a negative test result. You also need to keep a picture of the said test result for 90 days in case government personnel requests an inspection. Nevertheless, you can send your test result via the Department of Health's Electronic Declaration Form.[2]
It's easy to fulfill Hong Kong travel requirements on health-related matters, right? Here's more—starting March 1, 2023, visitors are no longer required to wear face masks whether indoors or outdoors.
👉

When is the Best Time to Visit Hong Kong?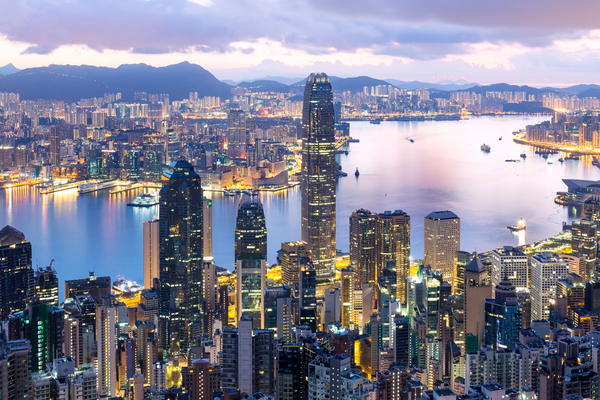 You can visit Hong Kong all year round. But if you want to fully enjoy your stay, you may choose to align your travel plans with the city's seasons:
Spring – Starts in March and ends around May. Considered a low season, this is the best period for those who want to avoid tourists. The city's typically warm, with light drizzles on some days.
Summer – Starts in July and ends around September. The weather in the city is hot and humid. Expect thunderstorms.
Autumn – Starts in October and ends in November. Lots of sunny days and blue skies ahead. The temperatures are pleasant, making it easy for you to tour around.
Winter – Starts in December and ends in February. Temperatures are cold, similar to Baguio. Some of the biggest holidays happen during this period, resulting in countless shopping bargains and deals.
👉

How to Get to Hong Kong
Many air carriers operate flights to Hong Kong, so planning your trip should be easy. These include Cebu Pacific, Philippine Airlines, Air Asia, Scoot, and even Hong Kong-based airlines, such as Cathay Pacific and Hong Kong Airlines.
Want to Fly to Hong Kong for Free? Check This Out!
Speaking of flights, the Hong Kong government is giving away 500,000 free airline tickets to attract travelers and rejuvenate its tourism industry. The tickets will be divided among the city's leading airlines: Cathay Pacific, Hong Kong Airlines, and HK Express.
Winners will be determined by different criteria. Filipino travelers who want to fly with Cathay Pacific will have to take a quiz from March 17 to 23, 2023. Meanwhile, Hong Kong Airlines is giving away free tickets on a first-come-first-served basis until March 15, 2023.
Check Cathay Pacific[3] and Hong Kong Airlines[4] websites for more details.
👉

How to Get Around Hong Kong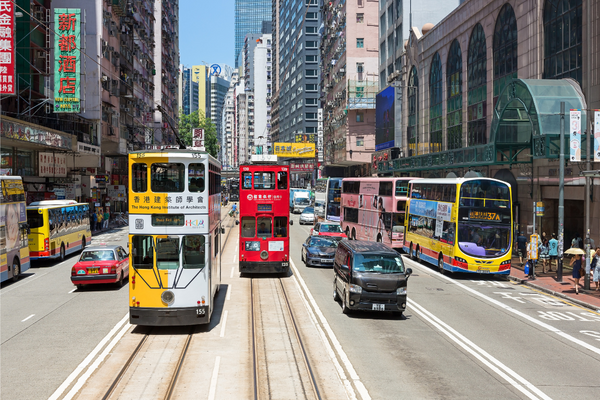 Hong Kong boasts a reliable transportation system. It's safe and efficient—and it accepts various types of payments, too.
From the airport, the high-speed Mass Transit Railway (MTR) can take you to Hong Kong Island, where you can find some of the most popular tourist attractions. You can get around easily with the MTR since it covers the city's major districts.
Complementing the modern railway system are taxis and buses (including mini-buses and double-deckers). If you happen to visit Hong Kong's busiest districts, you can also find trams. These double-decker trolleys have been operating in the city since 1904.
👉

How to Communicate in Hong Kong
Hong Kong has two official languages: English and Chinese. However, don't expect all locals to speak English fluently.
The locals' fluency may depend on your location. For instance, those living in rural areas may speak little to no English. If you're downtown or in a highly urbanized area, communicating with the locals should be easy.
👉

How Much Does a Hong Kong Trip Cost?
To get things into perspective, let's take a look at the city's currency, Hong Kong Dollar (HKD). As of writing, HK$1 is equivalent to ₱7.05.
So how much does a Hong Kong trip cost? It'll mainly depend on how many days you'll spend in the city and how many activities you're partaking in.
The cost of a usual three-day, two-night trip may range from ₱15,000 to ₱20,000. This travel budget already includes airfare, accommodation, transportation, and pasalubong.
Still Budgeting for Your Trip? Get a Citi Personal Loan

A realistic budget is one of the most important Hong Kong travel requirements. If you need some help to make your vacay a reality, check out Citibank's personal loan.
Apply for a Citi Personal Loan and borrow up to ₱2 million. On top of that, you can enjoy low interest rates and flexible payment terms. Ready to apply? Click the banner to learn more!
Note: This product is sold by Union Bank of the Philippines, using certain trademarks temporarily under license from Citigroup Inc. and related group entities.
Read more: Travel Insurance in the Philippines: What is It and Where to Get One
Top Hong Kong Destinations
If you're planning your Hong Kong travel itinerary, you're in for a treat. This electric city has something for everyone!
📍

Hong Kong Disneyland
Location: Sunny Bay, Lantau Island
How to get there: Ride the MTR and alight at Sunny Bay Station. From there, take the Disneyland Resort Line and alight at Disneyland Resort Station.
Whether you're a parent with Elsa- and Moana-obsessed kids or a lifelong fan of Mickey Mouse yourself, Hong Kong Disneyland should be at the top of your list. With seven theme parks based on iconic Disney stories and icons, this destination houses lots of thrilling rides and entertaining shows.
Pose for a photo op at the Castle of Magical Dreams. Come nighttime, this palatial structure gets more magical with lights and fireworks.
Experience roller coasters like never before at Hyperspace Mountain. Located in Tomorrowland, this ride is made for thrill-seekers with its unexpected drops, high speed, and sharp turns.
If you just want to take your sweet time, visit the "It's a Small World"-themed indoor boat ride. Marvel at tiny moving dolls dressed in traditional costumes while the song "It's a Small World" plays in the background.
Ticket prices range from HK$639 to HK$904 or around ₱4,505 to ₱6,370.
📍

Ocean Park Hong Kong
Location: Ocean Park Road, Aberdeen, Hong Kong Island
How to get there: Take the MTR's South Island Line and alight at Ocean Park Station.
For many locals and frequent tourists in Hong Kong, Ocean Park Hong Kong will always be a special place. It's the city's longest-running theme park, and there are solid reasons for its staying power.
For one, it has various animal exhibitions, from sharks and penguins to otters and koalas. If you're a history geek, visit Old Hong Kong. This vintage area shows you what Hong Kong was like from the '50s until the '70s.
Ocean Park Hong Kong doesn't only cater to wildlife lovers. It's also for thrill-seekers. Get a good view of the sea, sky, and surrounding verdant hills as you ride the Cable Car. Enjoy the winter-themed roller coaster at Arctic Blast.
Still down for another roller coaster ride? Try Hair Riser, a floorless roller coaster that'll give you a funny feeling in your stomach.
General admission for kids costs HK$249 or around ₱1,700 and HK$498 for adults or around ₱3,500.
📍

Ngong Ping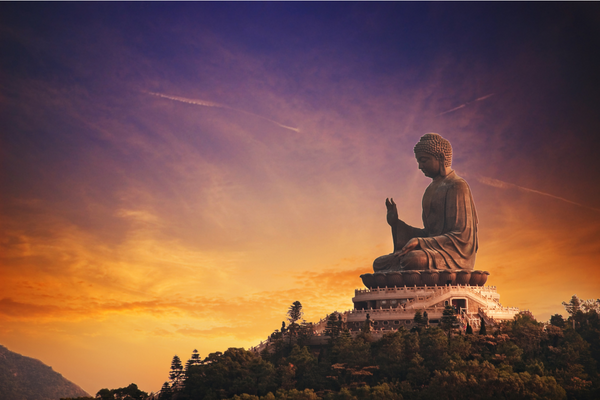 Location: Ngong Ping, Lantau Island
How to get there: Outside Tung Chung MTR Station, take the Ngong Ping Cable Car. You can also take Bus No. 23 at the bus station outside the same MTR station.
Located in the western part of Lantau Island, Ngong Ping is an elevated region that boasts a host of tourist attractions. These attractions sit close to each other, so it's a must-add to your Hong Kong travel itinerary.
The best way to reach Ngong Ping is via Ngong Ping 360, a cable car system offering a great view of the mountainous landscape of Lantau Island. If you're brave enough, hop aboard the Crystal cable car, a glass-bottomed cabin.
Once you reach Ngong Ping, take a stroll through these places:
Ngong Ping Village – This artificial village mainly features Chinese aesthetics. This neighborhood teems with shops, tea houses, and restaurants. From this spot, you'll get a good view of the Tian Tan Buddha statue.
Po Lin Monastery – Not too far from Ngong Ping Village is the Po Lin Monastery. Built in 1906, this Buddhist monastery offers a moment of stillness despite the droves of tourists around. Prepare to be stunned by the temple's intricate interiors or enjoy its delicious vegetarian meals.
Tian Tan Buddha – Situated near the Po Lin Monastery, Tian Tan Buddha or The Big Buddha is one of Lantau Island's most popular icons. With a height of 34 meters, this Buddha statue isn't hard to miss. You can even see it while riding the cable car.
📍

Victoria Harbor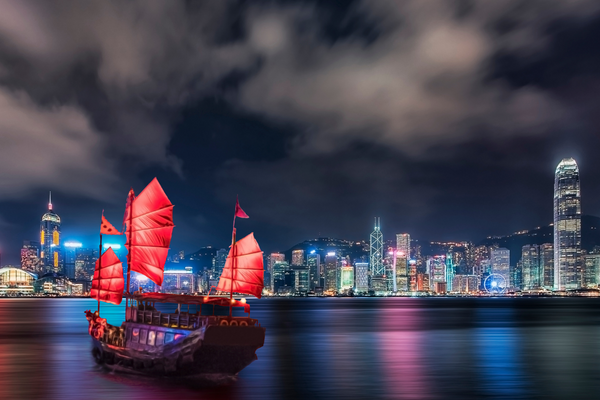 Location: Ports or promenades of Hong Kong Island or the Kowloon Peninsula
How to get there: If you're in the Kowloon Peninsula, take the MTR and alight at Tsim Sha Tsui Station. If you're on Hong Kong Island, take the MTR and alight at Wan Chai Station.
This Hong Kong travel guide won't be complete without Victoria Harbor. Victoria Harbor refers to the waters between the Kowloon Peninsula and Hong Kong Island. Within the harbor's coverage area, you'll find a lot of interesting places to visit. Here are some of them:
Tsim Sha Tsui Waterfront – From this waterfront, you can see the iconic Hong Kong skyline formed by buildings on the other side of the water. Wait until evening to see the skyscrapers come to life with their colorful lights.
Avenue of Stars – Adjacent to the Tsim Sha Tsui Waterfront is the Avenue of Stars, a promenade that features the statues and handprints of Hong Kong's biggest stars, such as Bruce Lee, Anita Mui, and Tony Leung Chiu-wai, among others.
Sky100 Observation Deck – Located in Kowloon, this observation deck is found on the 100th floor of the International Commerce Centre, Hong Kong's tallest building. From here, you'll get a bird's eye view of the Hong Kong skyline.
Hong Kong Observation Wheel – Located on the northern shore of Hong Kong Island, this 60-meter Ferris Wheel treats you to panoramic views of the harbor. While you're at it, visit Tamar Park and Golden Bauhinia Square.
Star Ferry – Founded more than 135 years ago, Star Ferry hauls passengers across Victoria Harbor. While you can cross the harbor via train or highway tunnel, riding the ferry offers you an opportunity to enjoy the Hong Kong skyline.
📍

The Peak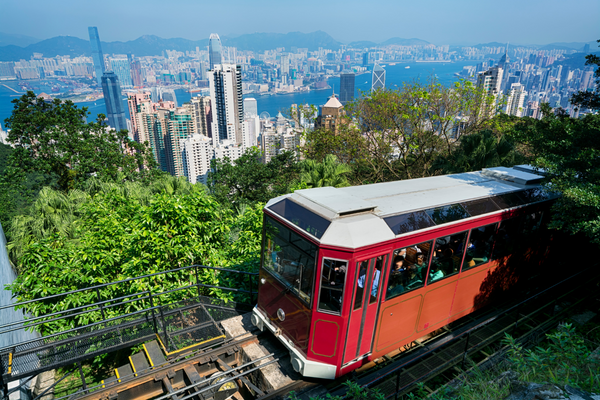 Location: 128 Peak Road, The Peak, Hong Kong Island
How to get there: From Central, take Bus 15 and alight at the terminus at Peak Galleria. You can also take Minibus 1 from MTR Hong Kong Station Exit F to Peak Galleria. For a unique experience, take the Peak Tram from Garden Road and alight at the Peak Tower.
As Hong Kong Island's highest point, The Peak offers a panoramic view of Central (the central business district), Victoria Harbor, and the Kowloon Peninsula. Visit late in the afternoon to witness the sunset. At night, the city lights appear like sparkling jewelry against a satin canvas.
Ride The Peak Tram for a more unique journey to The Peak. You'll feel like you're flying past the towering skyscrapers.
Get more stunning views of Victoria Harbor at The Peak Tower. While you're here, you may want to visit Madame Tussauds, home to more than 100 life-like wax statues of famous stars—including our very own Pia Wurtzbach!
📍

Mong Kok
Location: Yau Tsim Mong District, Kowloon
How to get there: Take the MTR and alight at Mong Kok Station
If you've been to Binondo or Divisoria, you may find that Mong Kok has a similar vibe. However, Mong Kok is bigger and more visually overwhelming.
Mong Kok is a shopper's paradise. One of its most popular landmarks is the Ladies' Market, which accommodates stalls that sell women's clothes, bags, shoes, and accessories.
If you're a sneakerhead, you'll fall in love with Fa Yuen Street, also known as Sneakers Street. True to its moniker, this street is filled with various shoe shops where you may find that limited-edition pair you've been looking for.
Mong Kok is also a hunting field for gastronomic adventurers. Feast on local favorites, such as stinky tofu, cow intestines, noodles, and seafood, among others.
📍

Causeway Bay
Location: Hong Kong Island
How to get there: Take the MTR and alight at Admiralty Station or the succeeding stations.
If Kowloon has Mong Kok, Hong Kong Island has Causeway Bay. While both Mong Kok and Causeway Bay are both shopping havens, you may notice key differences. For one, Mong Kok is all about local life. Causeway Bay, on the other hand, captures urban consumerism, as evidenced by its big malls and high-end shops.
However, shopping isn't the only thing you can do at Causeway Bay. Visit Houston Street if you want to enjoy posh al fresco dining. Bookworms will have the time of their lives at the Hong Kong Central Library, a massive library housing 12 floors of more than two million books.
In case you want to tour Causeway Bay the retro way, ride the Hong Kong tram, which is fondly called Ding Ding. It may not be faster than a bus, but it'll let you appreciate your surroundings.
📍

Macau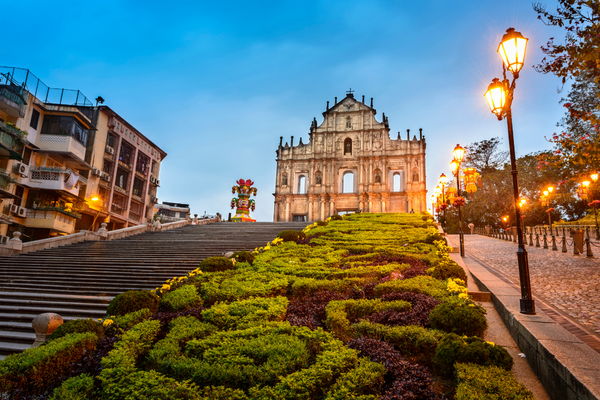 Location: Macau Special Administrative Region (SAR)
How to get there: Take a ferry from the Kowloon China Terminal in Tsim Sha Tsui or the Hong Kong Macau Ferry Terminal in Sheung Wan. Alternatively, you can take the Hong Kong-Zhuai-Macai Bridge (HZMB) shuttle bus.
Macau may be a separate territory, but you'll likely find it in any Hong Kong travel guide due to its proximity. Depending on your mode of transportation, Macau is a 45-minute to one-hour trip from Hong Kong.
While Hong Kong was a British colony, Macau was once a Portuguese territory. Today, it's known as the Las Vegas of the East for its countless casinos and gambling establishments. Here are some of the most interesting spots to check out:
Ruins of Saint Paul's – This is perhaps the most photographed spot in the region. The ruins are all that remain of Saint Paul's Cathedral, which was built in the 1630s. The said church was destroyed in the 1830s, leaving only its ornate facade.
Senado Square – Portuguese Macau is still well and alive at Senado Square. Testament to that is the old Senate Building, which was built in the 1780s.
Taipa Village – Located on Taipa Island, south of Macau, Taipa Village is a collection of temples, churches, and shops, among others. Walk around and see how Portuguese and Chinese traditions blend seamlessly.
The Venetian Macao – The Venetian Macao is the world's second-largest casino. Here, you can ride a gondola while enjoying the gondolier's serenade.
Dos and Don'ts to Remember When Visiting Hong Kong
Aside from the Hong Kong travel requirements, you also need to learn the city's customs and traditions to avoid offending the locals.
Here's a list of Hong Kong travel guidelines:
👍

Dos in Hong Kong
Always check the weather before heading out, especially in summer. During this season, the weather can be very unpredictable.
Get an Octopus card. Similar to our beepTM card, this contactless card is used to pay for MTR rides. You can also use it to pay for bus, mini-bus, and ferry fares.
Check activities beyond shopping. Hong Kong has many islands, and each of them offers something unique and exciting. You can climb mountains and even swim on beaches.
Be careful when you talk about China, especially if you don't know the politics of the Hong Konger you're engaging with. Be mindful of your words to keep conflicts at bay.
Practice basic Chinese words and phrases to communicate easily with the waitstaff or shop owners.
Wear proper attire, especially when visiting temples and important functions.
When riding escalators, stand on the right side. Offer the left side to people rushing to their destinations.
👎

Don'ts in Hong Kong
Don't walk slowly in high-traffic areas. Hong Kongers are fast walkers, and you may end up inconveniencing them if you take things at a leisurely pace.
Don't assume that Hong Kong's and mainland China's cultures are the same. There are actually some differences and nuances between the two. To stay on the safe side, don't mention them.
Don't smoke in restricted areas. Otherwise, you'll be fined HK$1,500 or around ₱10,500.
Don't shop over the weekends. Shopping centers and malls get unbearably crowded during this time.
Related reading:
Final Thoughts
Hong Kong is a fantastic city to visit, as it offers a lot of exciting things—from the stunning views of Victoria Harbor to the crazy vibe of Mong Kok. But other than its cosmopolitan appeal, the city is also home to understated and relaxing spots.
If you're raring to go, make sure to complete all the Hong Kong travel requirements. And as you draft your itinerary, don't forget our recommendations!

Sources: