Perhaps you've been to Singapore many times now. After all, it's just about a three-hour flight from Manila. It's one of visa-free destinations for Filipino travelers, too.
Still, this island nation never fails to captivate you every time you're there. Or maybe, you first realized how wondrous this country is when you navigated it with Rachel Chu in "Crazy Rich Asians." Either way, Singapore is definitely a must-visit destination in Asia.
Measuring more than 720 km2, Singapore, also fondly called SG, is easily a tiny country. The Philippines' National Capital Region (NCR) is almost as big as it. But what it lacks in size, it makes up for incredible sights, flavors, and experiences. It's also the textbook definition of a cosmopolitan city, as it brings together different peoples and cultures, making for an interesting and nuanced society.
Ideally, four to five days are enough for you to see a lot of popular places in SG. If you're planning your revenge travel soon, here are the top Singapore tourist spots you need to visit.
15 Famous Singapore Tourist Spots to Add to Your Travel Itinerary
Marina Bay Sands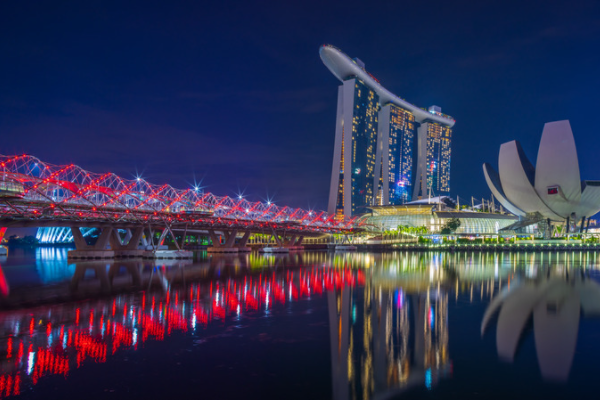 Marina Bay Sands has long been Singapore's beacon of progress, modernity, and sophistication. Its iconic architecture is a sight to behold and always worthy of a snap or two. You can go inside the hotel to marvel at the elegance of the interiors while dining at one of the posh restaurants. You may also splurge and indulge in high-end items at The Shoppes.
Time your visit in the late afternoon, so you can immensely enjoy the Skypark Observation Deck,[1] which is located 57 floors from the ground. You can get a good view of some of SG's iconic landmarks and sights, such as the Merlion statue, the Singapore Flyer, the shophouses lining the Singapore River, and the Singapore Strait.
Ready your camera's night mode because you're in for a treat right after sunset. The city lights from above make a good photograph subject and surely deserve a spot on your Instagram page.
Bonus tip: Get a good view of the Marina Bay Sands from the intricately designed Double Helix Bridge.
From this bridge, you can walk your way to The Float @ Marina Bay where you'll find a floating football field, which doubles as an event venue. You may find vendors of ice cream sandwich here.
Gardens by the Bay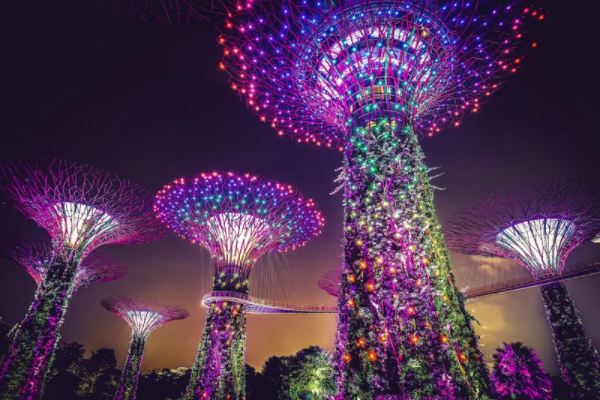 A few minutes' walk from the Marina Bay Sands will take you to the otherworldly garden that is the Gardens by the Bay.
While you can actually view this Singapore tourist destination from the Skypark Observation Deck, nothing beats seeing this futuristic greenery in person. Have your pictures taken with the Supertree Grove in your background. This is actually a group of tall structures adorned with plants.
Within the park is the Cloud Forest Dome, which houses a tall indoor waterfall. The said dome actually features a variety of plants native to forests that are typically found at 2,000 meters above sea level. Close to this garden is the Flower Dome, which is actually a giant greenhouse sheltering a vast assortment of flowers.
Read more: Trip to Asia 2022: Cheapest Country to Travel from the Philippines
ArtScience Museum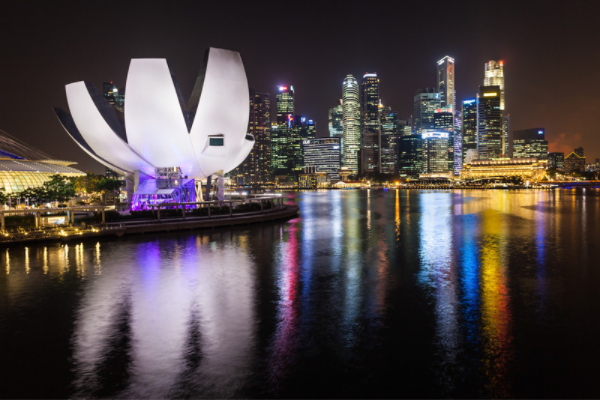 Still lying within the Marina Bay Sands resort complex is an interactive museum that will thrill both kids and adults: the ArtScience Museum. The architecture of this gallery is emblematic in its own right; just look for a UFO-looking building, and you're on the right track.
Inside the museum, you'll see how artists and technical experts have blurred the line between arts and science through interactive installations. A lot of these pieces are created by the Japanese art collective teamLab.
Among the most popular attractions is the Crystal Universe, which features strings of more than 170,000 LED lights attached to the ceiling inside a mirrored room. The blinking of the lights plus their changing colors will give you an illusion that you're inside the infinite cosmos.
See also:
Sentosa Island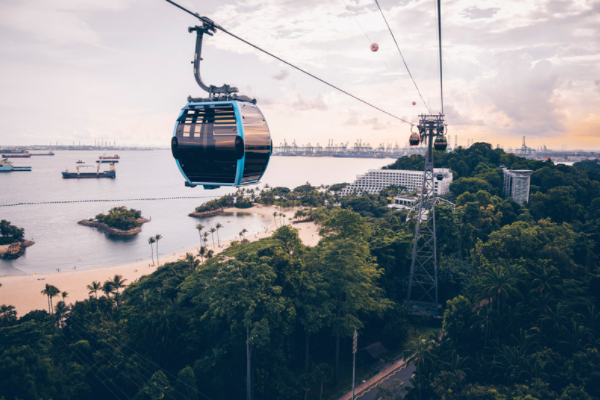 If tropical fun mixed with some relaxation is what you're after, make sure that Sentosa Island is part of your list. Kick off your tour around this tiny island by heading to the shops at Resorts World. Within this hotel-casino complex lies the Universal Studios where you can enjoy thrilling rides and frolic under the sun with beloved and iconic movie characters.
Come afternoon, you may choose to take things slowly by strolling on the beach or enjoying the breeze with a view at Fort Siloso Skywalk. Wait for the sunset as its crimson light washes over the moored ships in the bay.
Bonus tip: Get to Sentosa on a cable car to get a panoramic view of the island.
National Museum of Singapore
Art fanatics, history buffs, and culture vultures will have a good time at the National Museum of Singapore. Opened in 1849, it's Singapore's oldest museum.
Inside, you'll get a glimpse of how the progressive country came to be and how its people greatly value art and culture. From artifacts and memorabilia of the country's past to digital installations and musical performances, there are certainly a lot of things going on in this museum.[2]
Chinatown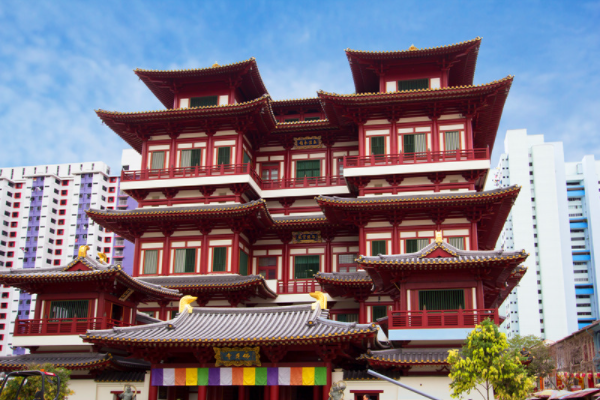 A large bulk of the Singaporean population is of Chinese heritage, so a Chinatown in this country shouldn't come as a surprise. This neighborhood is popular for its quaint shophouses with distinct facades. Visit during daytime to capture their charm in full color.
The immense Buddha Tooth Relic Temple is not hard to miss in the district, as the traditional Chinese aesthetics is strong in this one. This sanctuary houses what the Buddhists regard as the left canine tooth of Buddha.[3] More than that, it keeps various sacred relics.
Hawker centers, or food courts that are truly Singaporean, are worthy of your visit. If you're in the area and you're craving Hainanese chicken rice or laksa, the Maxwell Food Centre is literally just facing the Buddha Tooth Relic Temple. Alternatively, a three-minute walk from Buddha Tooth Relic Temple will take you to Pagoda Street where you can shop and dine.
Bonus tip: If you're heading to Chinatown via the South Bridge Road, you may want to drop by PARKROYAL COLLECTION at Pickering Street. Take a lot of snaps of the hotel's façade, which is adorned by massive sky gardens and geometric ceilings.
Little India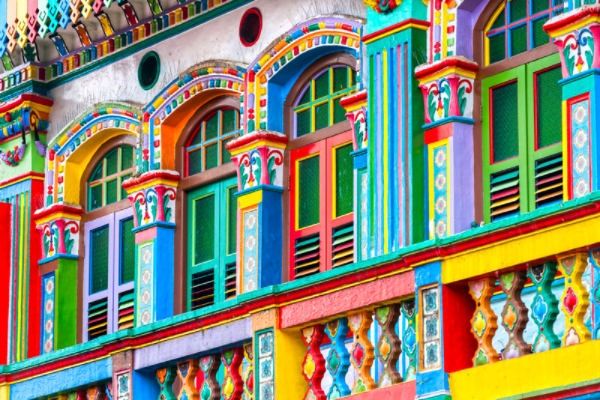 Little India is a vibrant enclave that proudly showcases the colorful Indian culture and the warmth of Indians. First in your list should be the Sri Veeramakaliamman Temple, which boasts a façade layered with ornate sculptures. Alternatively, you can head to the equally iconic Sri Srinivasa Peruma Temple, which was built in the late 1800s.
Don't miss the House of Tan Teng Niah, which is a villa built in 1900 by a businessman named—you guessed it—Tan Teng Niah. With its kaleidoscopic exteriors, the colorful house looks and feels like it's taken straight from a children's storybook. Today, this house is used as a commercial space.
While you're in the area, you may want to visit Haji Lane. This narrow alley is lined with vividly colored shops that will tempt you to do your shopping there. At night, the alley transforms into a party zone teeming with food, booze, and fun. This will certainly remind you of the nightlife in Makati's Poblacion.

Lau Pa Sat
Because of Singapore's diverse cultures, expect that its culinary scene will also offer a wide variety of flavors and even fusions. Discover all of these at Lau Pa Sat, a massive and legendary food court located at the city center. Built at its current location in 1894, the historic building used to be a market. Now, it's one of the most popular Singapore tourist spots among foodies.
The giant hawker center serves both office workers and sightseers. From Halal seafood barbecue and biryani to chow mein and Pinoy tapa, there's definitely something for everyone at Lau Pa Sat. You'll also find Thai dishes, Korean fares, and Turkish cuisine here.
Read more: 8 Ways to Save Money on Food Abroad
Orchard Road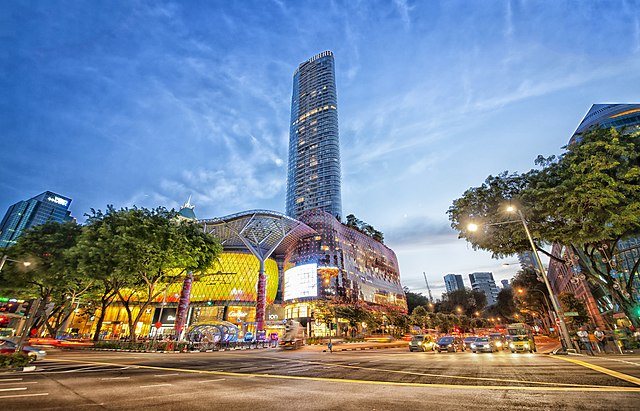 If Orchard Road is in the Philippines, it would have earned the nickname the country's "Mall Capital." After all, it's home to some of the SG's biggest malls and names in retail.
Walk leisurely along the road or visit various malls to spoil yourself with finds from both mainstream and upscale brands. In case you're with your significant other, take them on a romantic dinner date at the top of ION Orchard, one of the most distinguishable landmarks at Orchard Road. Aptly called ION Sky, the 56th floor of the mall-residential condo complex offers you sweeping 360-degree views of the city.
Orchard Road isn't only for shopaholics but also for bookworms. If you're the latter, you can find your haven at library@Orchard. This government-managed library perfectly captures SG's love of modernity, knowledge, design, and applied arts. It features a collection of about 100,000 titles spread across different zones.
You'll find students, professionals, and big readers quietly going about their business. Ready your camera (and mute the shutter sound if possible) once you're here because the interiors are just so lovely.
Merlion Park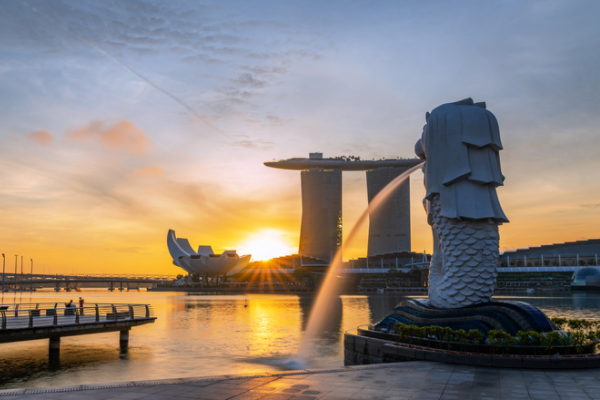 Any list of Singapore tourist spots won't be complete without the Merlion Park. The park's mythical figure, which is half-lion and half-fish, represents the country's humble origins as a fishing village and its original name Singapura, which means lion city in Sanskrit.
The park sits along the Singapore River and faces the Marina Bay Sands. Visit in the afternoon to catch the sunset colors glistening over the hotel complex.
You can also see other landmarks from this spot, such as the Esplanade and the Singapore Flyer. At night, these views become much more stellar and overwhelming. You can simply chill on the river steps or enjoy a splendid dinner at The Fullerton Hotel, which is just right behind the park.
Singapore Botanic Gardens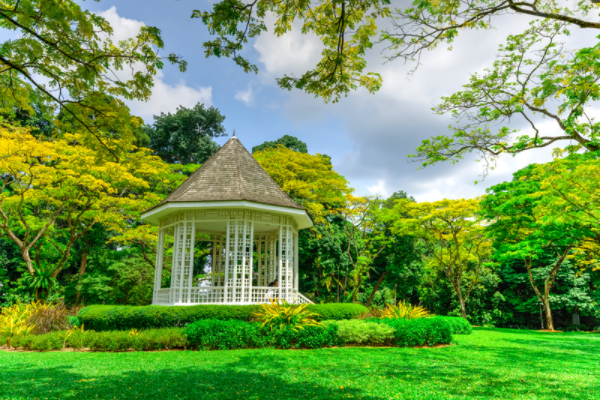 Nestled at the center of towering concrete jungles is an oasis that is the Singapore Botanic Gardens. This spot, which is the country's first UNESCO Heritage Site, offers you the respite that you need from the city's bustling beat with its heritage trees, exotic blooms, and even a garden dedicated to children. Don't forget to visit the Swan Lake, which actually serves as a shelter for mute swans.
There are a lot of other things to do within the 82-hectare plot. You can trek within the rainforest or even have a picnic on the verdant grounds of Symphony Lake. Never leave the park without taking a snap of the Bandstand, which is an octagonal gazebo built in 1930.
Fort Canning
Another oasis in the city, Fort Canning Park merges both history and nature in one spot. Sitting on a hill, the 18-hectare park quietly chronicles the splendor of Malay royalties during the medieval times and the downfall of the British forces when they surrendered to the Japanese during World War II.
History buffs can check out some important spots, such as the Fort Gate, the Gothic Gates, and the nine-pound cannon. If you simply want to commune with nature, visit the different themed gardens within the park, such as Spice Garden, Artisan's Garden, Raffles Garden, and more.
Get a like-worthy picture for the 'gram at the Fort Canning Tree Tunnel. This is an underground channel with a spiral staircase leading up to the gardens. Look above from the base of the staircase to see the massive tree branches and the foliage covering the circular walls of the stairs.
Bonus tip: Not too far from Fort Canning are other points of interest. One of them is CHIJMES, which used to be a convent and now a commercial complex. This former church served as the venue for Colin and Araminta's memorable wedding scene in "Crazy Rich Asians." Drop by the colorful Old Hill Street Police Station, which is reminiscent of Wes Anderson Aesthetics.
Singapore Flyer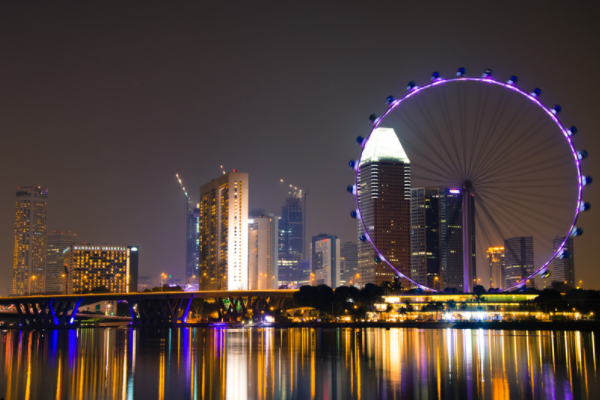 The UK may have the London Eye, but Singapore has the Singapore Flyer. This towering Ferris wheel is actually Asia's largest giant observation wheel. Hop aboard one of its airconditioned capsules and enjoy the magnificent views of the city as it spins around from the ground.
The Singapore Flyer offers a vantage point that will allow you to see iconic landmarks, such as the Marina Bay Sands, the Gardens by the Bay, and the Merlion Park. The city lights at night will surely make a romantic treat for traveling couples.
Clarke Quay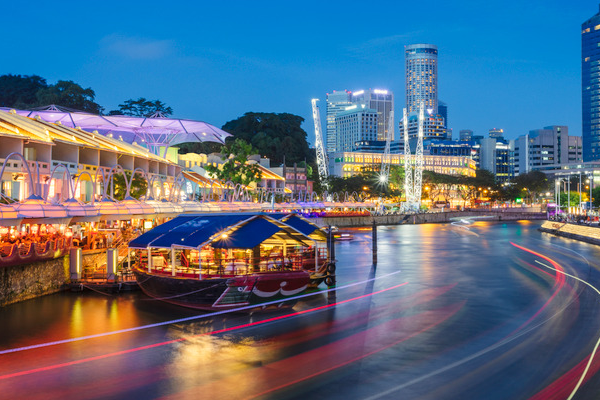 In Singapore, the night is always young, especially at Clarke Quay. This bustling cosmopolitan neighborhood has a wealth of restaurants, bars, and stores where you can shop 'til you drop.
You can walk around and marvel at its neon-lit beauty or go on a relaxing river cruise that will take you from this spot to Marina Bay where you can see iconic Singapore tourist spots such as the Marina Bay Sands, the Merlion Park, the Esplanade, and the Singapore Flyer from a different perspective.
If you want a much more relaxed night out with your friends, Boat Quay is just a stone's throw away from Clarke Quay. Here, you'll also find a selection of alfresco restaurants and bars just sitting beside the river.
Jewel Changi Airport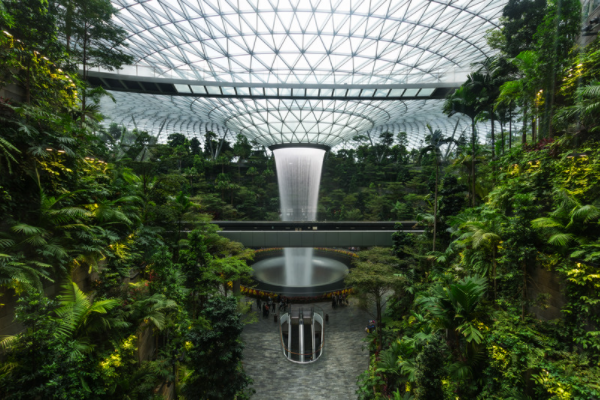 Who would have thought that an airport will be one of the most memorable Singapore tourist spots? If you've just landed in the country, you'll realize that Changi Airport is a great spectacle. It won't be touted as one of the best airports (or the best airport) in the world for nothing.
Enter Jewel Changi, a lifestyle and entertainment complex within the airport. Here, you'll realize just how much Singaporeans love nature. Stop by the Shiseido Forest Valley, which houses thousands of trees and shrubs. At the heart of Jewel is the HSBC Rain Vortex, which is the tallest indoor waterfall. Running perpendicular to it is the track of the Changi Airport Skytrains, which carry passengers from one terminal to the other.
At the topmost level of Jewel Changi, there's another nature spot called Canopy Park. This 14,000 m2 area is a creative garden that offers peace for adults and fun for kids. Of course, you must go on a shopping marathon while you're at Jewel Changi.
Read more: Travel in Asia for ₱16,000 or Less
Singapore Travel Restrictions to Keep in Mind
Thankfully, Singapore has already opened its doors to fully vaccinated travelers since April 1, 2022. The country won't require fully vaccinated guests to undergo quarantine anymore.
But before you get excited for Singapore tourist spots, here are the things that you need to have during your visit.
Requirements for Fully Vaccinated Travelers in Singapore
Proof of vaccination
Proof of recovery for those who have recently recovered from COVID-19.
Flight tickets to Singapore
A downloaded TraceTogether app
SG Arrival Card and e-health declaration form. You must submit them via the official and free e-service on the Immigration & Checkpoints Authority (ICA) website three days before your departure.
A negative COVID-19 test result through Polymerase Chain Reaction (PCR) or professionally administered Antigen Rapid Test (ART). You must submit it two days before departure.
Note that non-fully vaccinated short-term visitors aren't allowed entry into Singapore. The exception to the rule is the visitors with valid entry approval. If you fall under this, you'll have to provide a different set of requirements.[4]
Don't forget to observe health and safety measures while you're out and about. Always wear your face mask and bring a hand sanitizer. And as much as possible, distance yourself from large crowds.
Final Thoughts
A modern-day utopia, Singapore offers a lot of sights, tastes, and experiences that will surely delight your senses. With its sunny shores and vibrant cultures, it'll always be close to Filipinos' hearts that are always yearning for warmth and color. Ready for your new adventure? The beautiful Singapore tourist spots are waiting for you!

Sources: