Bali is undeniably one of Asia's—if not the world's—brightest tourism gems. Its pristine beaches, lush jungles, sublime temples, lavish villas, and warm people all make for a memorable vacation.
Both seasoned holidaymakers and first-time visitors always find themselves in awe of Bali's incredible wealth of destinations and experiences. To make the most of your stay here, you need to draft a comprehensive yet easy-to-follow itinerary.
Don't know where to start? We've put together a handy Bali, Indonesia travel guide to help you out. Let's dive right into it!
Things to Remember Before Your Bali Trip
Knowing your destination well will help you avoid certain travel mishaps. Here's everything you need to know about Bali, from documentary to budget requirements.
👉 Where is Bali?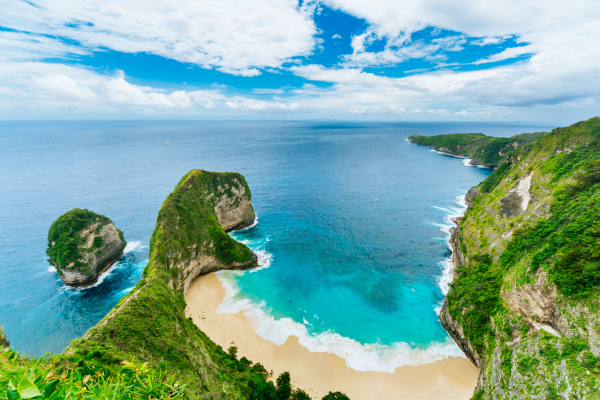 Bali is an island province located in Indonesia's Lesser Sunda Islands, which sit east of Java Island where Jakarta is. Measuring more than 5,700 square kilometers, it has a population of over four million people.
Together with the Philippines, Malaysia, Papua New Guinea, Timor Leste, and the rest of Indonesia, Bali is part of the Coral Triangle.[1] This ecoregion is home to almost 600 reef-building coral species, various sea turtle species, and the world's largest mangrove forest.
👉 Does Bali Require a Visa?
Yes and no. But the final answer will depend on your travel plans and the length of your trip. Here are the visa requirements to take note of:
Exempt from visa – Philippine passport holders can enter Indonesia without a visa and stay for up to 30 days. The catch, however, is that your entry is not extendable.
Visa on Arrival (VOA) – You can apply for a VOA to enter Indonesia. This means that you'll be granted an Indonesian visa once you arrive in the country. This scheme allows you to stay in Indonesia for 30 days. And if you want to explore more of the country, you can apply for a 30-day extension, effectively giving you a total 60-day stay.
B211A visa – This single-entry visa automatically allows you to stay in Indonesia for 60 days. But you have the option to apply for an extension twice. Each extension comes with 60 days, giving you a total of 180 days of stay.
If you're applying for visa exemption or VOA, you'll only need to provide the following:
Philippine passport valid for a minimum of six months
Return or onward tickets (no later than 30 days from your arrival)
Proof of hotel booking
Other pertinent documents requested by Indonesia's COVID-19 Task Force
On the other hand, if you're applying for a B211A visa, you'll need to present the following:
Visa application form[2]
Curriculum vitae form[3]
Original passport with at least six months of validity and a minimum of three blank pages
Copy of passport ID page printed on A4-sized paper
One 3 x 4 cm colored photograph with white background
Sponsor or invitation letter from a sponsor in Indonesia addressed to the Indonesian embassy in Manila
Copy of the sponsor's national ID (KTP) or copy of the passport and copy of the Limited/Permanent Stay Permit card (KITAS/KITAP) printed on A4-size paper (in case of foreign sponsor)
Roundtrip tickets or booking confirmation
Bank statement with a minimum balance of $1,500 or around ₱84,000 (as of this writing)
Manager's check for visa payment
Immigration Permit/Telex Visa (if necessary)
For the complete list of travel requirements to Bali, Indonesia, visit the official website of the Indonesian embassy.[4]
Related reading: Europe, Here I Come: Schengen Visa Requirements in the Philippines
👉 What are Bali's Travel Restrictions?
Most of Bali's COVID-19-related travel restrictions have already been lifted, including tests, masks, and insurance. However, travelers must comply with the following vaccination requirements:
Fully vaccinated – If you're fully vaccinated, you can enter Indonesia without undergoing a PCR test and quarantine. Fully vaccinated status means having two or more doses.
One-dose vaccine – If you only have one dose due to recovering from COVID-19, you're required to present a recovery certificate that explains you're not actively transmitting the virus. Otherwise, you won't be allowed to enter Indonesia.
Unvaccinated – Unvaccinated travelers can enter Bali only if they have a medical exemption letter. If you're unvaccinated for personal reasons, you won't be allowed to enter Indonesia.
👉 What's the Best Time to Visit Bali, Indonesia?
Since it's located in the tropics, Bali has two seasons: wet and dry. The best time to visit the island will depend on your travel objectives.
Here's a quick guide:
April to October – Since it's the island's dry season, you have lots of opportunities to enjoy the beaches and explore the underwater wonders. These months are also perfect for hiking and trekking. However, this is a touristy period, resulting in the high prices of accommodations and activities.
November to March – This is Bali's rainy season. You can score big discounts on hotels and activities since there are fewer tourists to compete with.
June and July – If you're a big art fan, go on a Bali, Indonesia tour during these months to join the Bali Arts Festival, which runs from mid-June to mid-July. This celebration showcases the island's various art forms, from handicrafts and paintings to music recitals and documentary film screenings.
👉 How to Go to Bali, Indonesia from the Philippines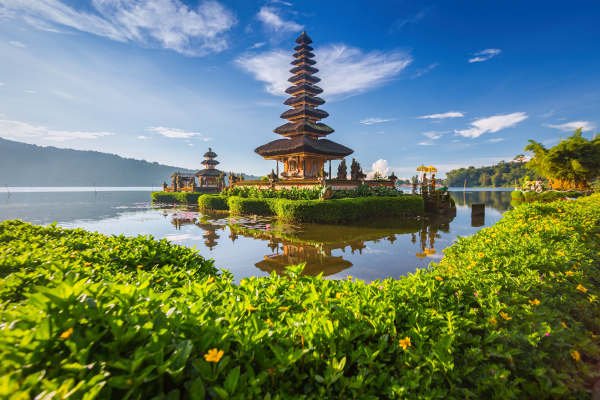 Various local air carriers can take you to Bali from Manila. Philippine Airlines, Cebu Pacific, and Philippines AirAsia operate flights to Denpasar, which is Bali's capital. Other regional low-cost airlines, such as Jetstar and Scoot, also have Manila-Denpasar flights. The Manila to Bali travel time is a little over four hours.
If your travel plans include Jakarta, you can fly from this city to Bali via Lion Air, Batik Air Indonesia, or Indonesia AirAsia. The Jakarta to Bali travel time is one hour and 50 minutes.
👉 How to Get Around Bali
To get from one Bali, Indonesia tourist spot to the other, you have a few transportation options:
Buses – Local buses can take you to some of Bali's key destinations, such as Seminyak and Ubud.
Taxis – Both tourists and locals recommend Bluebird taxis. Generally, taxis in Bali are blue in color. If you want to ride a Bluebird taxi, make sure that the car bears a Bluebird branding. Keep in mind that some drivers take advantage of the color association to rip off tourists.
Ride-hailing apps – Grab and Gojek are the top mobile apps for booking a car in Bali.
Scooter – You can rent a motorcycle to visit your intended Bali, Indonesia tourist spot. Remember that an International Driving Permit is required to drive a scooter.
👉 How to Communicate in Bali
Bali has two official languages: Bahasa Indonesia or Indonesian, which is spoken across Indonesia, and Balinese, which is the language of the locals.
The good news is, most Balinese can understand and speak some English, enough to communicate with tourists about basic things. This language is widely spoken in areas with lots of foreigners, such as Seminyak, Ubud, Kuta, and Nusa Dua.
Outside the said areas, many Balinese, especially older denizens, may not speak English at all.
👉 How Much Does a Bali Trip Cost?
The rupiah (Rp) is Indonesia's official currency. As of this writing, Rp1 is equivalent to ₱0.0038.
The budget for this trip is relatively cheap. For instance, a Bali 4-day itinerary may cost you around ₱12,000. If you're backpacking and staying only for three days and two nights, you may shell out around ₱8,000.
Both budgets are based on the assumption that you're traveling with a friend. If you're traveling in a group of four to five persons, expect significant savings. Excluded from this budget are roundtrip flight tickets, travel tax, pasalubong, shopping expenses, and tips.
Bali, Indonesia Travel Guide 2023: Top Destinations to Visit
Excited to draft your itinerary? Here are the top Bali, Indonesia tourist spots that should be on your list. We've also indicated a few ideas on what to do in Bali, Indonesia:
🏝️ Kuta Beach
Location: Kuta Village, Kuta District, Badung Regency
How to get there: Ride a taxi from Denpasar International Airport to reach the village within 15 minutes.
Any Bali, Indonesia travel guide won't be complete without Kuta Beach, one of the nearest destinations from Denpasar International Airport. Given that, this 2.5-kilometer stretch of fine sand is always full of tourists.
Kuta Beach may be packed with holidaymakers, but you can always find a few spots where you can relax and enjoy the slow pace of life. If you're up for some water action, take part in beginner surfing lessons.
Don't miss the sunset, as it's one of the most majestic that you'll see in Bali. Right after your day under the sun, head over to Kuta Beachwalk, an aesthetically pleasing shopping complex that houses a wide range of retailers and dining places.
🏝️ Uluwatu Temple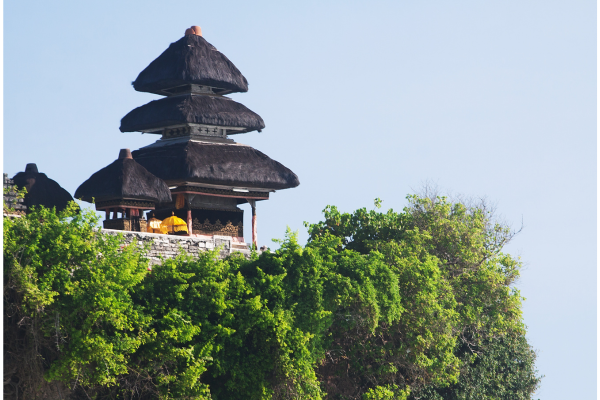 Location: South Kuta, Badung Regency, Central Bali
How to get there: From Kuta, Canggu, or Sanur, ride a taxi or hire a private driver. You may also book a day tour.
If you're looking for some piece of history while enjoying serene views, this Bali, Indonesia travel guide lists Uluwatu Temple. This 11th-century marvel is located on the edge of a tall cliff overlooking the infinitely vast Indian Ocean.
Ready your camera, as the complex has various vantage points where you can see breathtaking views of the coastline. Into architecture? Take a good look at various shrines that boast exquisite Balinese artistry. You'll also find monkeys hanging about or following tourists.
Uluwatu Temple charges an entrance fee of Rp50,000 or over ₱180. This fee is inclusive of a Balinese sarong that you'll have to wear once inside the complex.
🏝️ Nusa Dua
Location: South Kuta, Badung Regency, Central Bali
How to get there: Ride a taxi from Denpasar International Airport to reach the location in around 25 minutes.
Compared with tourist-laden spots in Bali, Nusa Dua is rather slow and quiet. For those who put a premium on their vacation, this is the place for you, as it's home to luxury accommodations.
Take a dip in the cool waters of Nusa Dua Beach and Geger Beach. Loosen up and take pleasure in hot stone massages or cream baths at one of the lavish spas in the area.
There's a unique way to explore Nusa Dua's beaches—camels! Yes, you've heard it right. There are camels in Bali. You can choose from various camel safaris, with some already including lunch, hotel transfer, and even insurance. Prices range from Rp400,000 to Rp2 million or from ₱1,500 to ₱7,500.
🏝️ Nusa Islands
Location: Southeastern coast of Bali
How to get there: From Sanur in Southeast Bali, ride a ferry going to Nusa Islands
Nusa Islands include three beautiful islands called Nusa Penida, Nusa Lembongan, and Nusa Ceningan. Aside from their pristine beaches and aquamarine waters, these islands are famous for various rock formations and breathtaking cliffs.
One of Nusa Islands' popular spots is Kelingking Beach located in Nusa Penida. From the steep viewpoint of the beach, you'll see the iconic limestone headland covered in greenery. View it from a certain angle and you'll see a giant T-Rex head. Down below, you'll find a secluded beach that welcomes the waves from the Indian Ocean.
In Nusa Lembongan, you'll find the Devil's Tears, which is a stretch of limestone cliffs that proudly stand against the crashing waves. For a rush of adrenaline, you may want to try cliff jumping at Nusa Ceningan's Blue Lagoon. Just be careful, as the waves can be strong.
🏝️ Lempuyang Temple Complex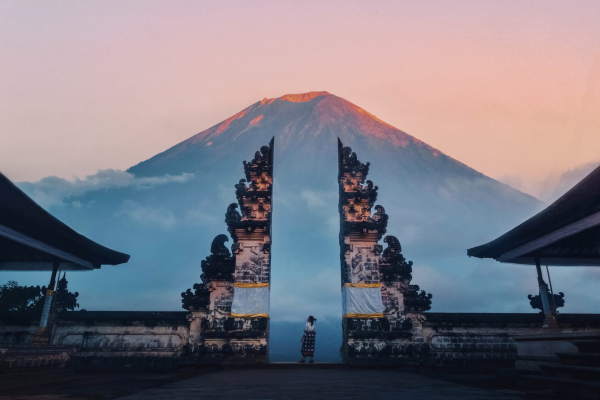 Location: Tribuana Village, Abang Subdistrict, Karangasem Regency, Eastern Bali
How to get there: From Denpasar International Airport, Kuta, Seminyak, or Nusa Dua, hire a private car to reach the location in two to three hours.
Your friend or officemate who went to Bali might have posted a picture of them standing in the middle of two towering ornate pillars. That's in Lempuyang Temple.
The Lempuyang Temple complex is composed of seven sanctuaries that offer great views of Mount Agung and the skies. Many travelers recommend visiting the temple during sunrise or before sunset to see how the light splendidly illuminates the surroundings.
The Lempuyang Temple doesn't charge an entrance fee. However, a representative may ask for a donation for maintaining the complex.
For a hassle-free trip, you may get a Lempuyang Temple tour package. This costs almost Rp150,000 or a little over ₱500.
🏝️ Seminyak
Location: West coast of Bali
How to get there: Ride a taxi from Denpasar International Airport to reach the location within 30 minutes.
Any Bali, Indonesia travel guide that caters to discerning travelers will always recommend Seminyak. This destination goes beyond beaches and sunsets.
With a wide variety of fancy restaurants and cozy cafés, Seminyak easily appeals to foodies and coffeeholics. Those who want to stimulate their minds and senses with art can visit galleries. Some of the most popular in the area are Pupa Art Gallery and Nyaman Gallery.
If shopping is your kind of marathon, head to Seminyak Village, which houses high street and local brands.
🏝️ Ubud Monkey Forest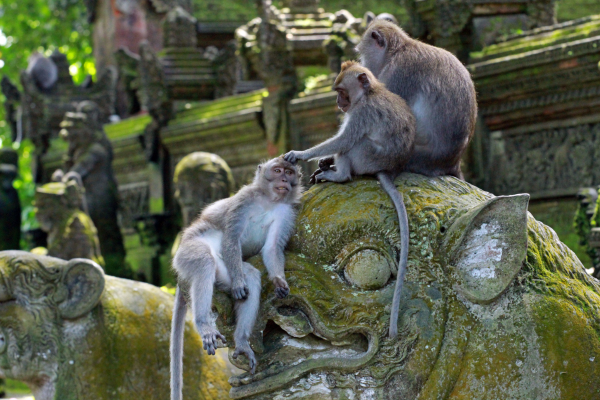 Location: Padangtegal Village, Gianyar Regency, Central Bali
How to get there: From Ubud town center, ride a shuttle bus for free or take a 15-minute walk.
Get in touch with Bali's wildlife at Ubud Monkey Forest, a sanctuary for Balinese Long-Tailed Monkeys. Just a reminder, the monkeys here are not pets; they're wild animals. They'll approach you, but that doesn't mean you can treat them like your fur babies.
At this Bali, Indonesia tourist spot, you'll also find more than 180 species of trees. There are also 14th-century temples worth exploring deep inside the forest.
The entrance fees to Ubud Monkey Forest are Rp80,000 or around ₱300 during weekdays and Rp100,000 or ₱370 during weekends.
🏝️ Mount Batur
Location: Kintamani Highlands, Northeastern Bali
How to get there: From Ubud, hire a private driver to reach your destination within 1.5 hours. If you're coming from Seminyak, the trip takes from two to 2.5 hours.
For those who want to sprinkle some adventure on their Bali, Indonesia tour, Mount Batur is the place to go. One of the coolest things about hiking on Mount Batur is that you're actually traversing the surface of an active volcano. You may also see wild monkeys along the way.
Time your trek before sunrise to catch stunning views of the sea of clouds. Trek difficulty is considered moderate, with a hike duration of two to four hours, including the return.
🏝️ Tegalalang Rice Terraces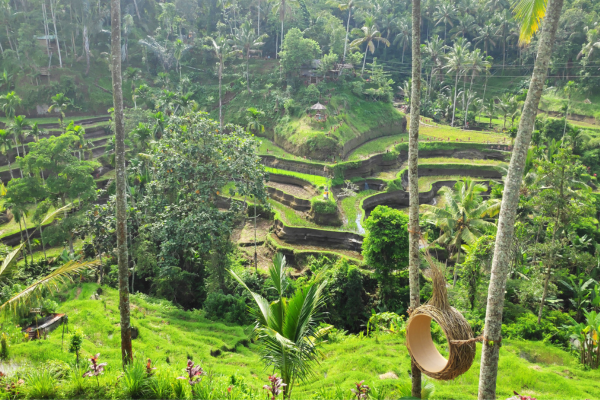 Location: Tegalalang Village, Gianyar Regency, Central Bali
How to get there: From Ubud town center, ride a motorbike or hire a private driver to reach your destination within 30 minutes.
The Tegalalang Rice Terraces are perfect for those who want to enjoy a slice of local life. This Bali, Indonesia tourist spot offers jaw-dropping views of the verdant rice paddies, which are built to resemble giant steps.
A donation of Rp10,000 or almost ₱40 is basically the entrance fee to the terraces. Keep in mind that some rice fields have fences around them, meaning they're closed to the public. However, some farmers may charge a fee if you want to take a picture of their cordoned-off fields.
There are also a few activities in the area. For one, you can ride a Bali swing for up Rp100,000 to Rp150,000 or ₱370 to ₱560.
🏝️ Sekumpul Waterfall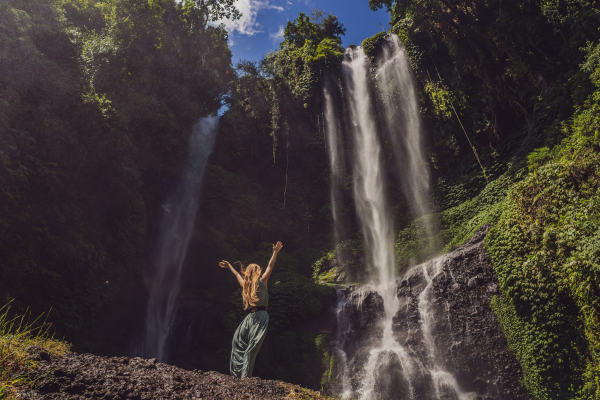 Location: Sekumpul Village, Sawan District, Buleleng Regency, Northern Bali
How to get there: From Seminyak, Kuta, or Canggu, hire a private driver to reach your destination within two and a half to three hours.
While Bali is famed for its beach activities, chasing waterfalls on the island is also a worthwhile excursion. If you include this in your itinerary, make sure to visit Sekumpul Waterfall.
This Bali, Indonesia tourist spot is the island's tallest waterfall. Tucked away from the hustle and bustle of the touristy areas, Sekumpul Waterfall features around seven cascades that all make an invigorating roar. Surrounding the waterfall is the lush forest that enjoys endless sprays of mist.
This destination suits those who love long walks and treks. Keep in mind that there are entrance fees to the fall. If you choose to view the waterfall from afar, you'll need to pay Rp20,000 or ₱75. A short trek costs Rp125,000 or ₱470, which already includes a local guide, safety equipment, and bottled water.
If you're seeking more adventure, avail of the long trek package that costs Rp, 200,000 or around ₱750. This already includes a guide, donation, bottled water, and trips to more falls within the vicinity.
Wait, There's More: Top Bali Travel Tips
Make your holiday comfortable and free of social faux pas with these handy Bali travel tips:
Pick your home base carefully. Tourist spots are spread across the island, so choose an accommodation that provides easy access to them.
Public transportation in Bali is erratic, especially in secluded areas. If you don't want to waste time hailing buses or taxis, book your ride even before you come to the island. Rent a scooter or book a private car with a driver via online booking sites, such as Klook and KKday.
Most days, you'll be out and about. To stay online, make sure that you have a portable Wi-Fi device. You can rent one via Klook and KKday.
Mind your clothing. When visiting temples, always wear a sarong (required for both men and women). Also, make sure that your back and shoulders are covered.
Be quiet whenever passing by areas of worship. Do not enter temples that are closed to the public.
Avoid touching someone's head while socializing. The locals consider this rude.
Check the waters before swimming. Waves can get strong at times.
Related reading:
Final Thoughts
Many tourists keep coming back to Bali not only for its beautiful destinations but also for its laid-back atmosphere. Nevertheless, the island is also known for its nightlife, especially in Kuta, Canggu, and Seminyak.
There's something for everyone on this island! May this Bali, Indonesia travel guide help you create an exciting itinerary.
However, note that taking part in activities, such as hiking, often come with risks. Protect yourself and your finances from uncertainties by getting a travel insurance package.
If you need help finding the best policy for your trip, click the banner below to compare insurance products from various companies. You can also apply for your chosen package through Moneymax right away.

Sources: