Vietnam Travel Guide 2023: Top Must-Visit Spots in Vietnam
At this point in your Vietnam travel guide, you'll see the most popular and interesting parts of the country. Check out the following:
📍 Hanoi
Location:

Northern Vietnam

How to get there:

Book a flight to Noi Bai International Airport.
Start your Vietnamese sojourn in Hanoi, the country's capital. Founded more than 1,000 years ago, this city is nothing short of culturally rich. If you want evidence, just go on a stroll around the Old Quarter, a neighborhood filled with quaint shops and structures. Keep wandering to find secret cafés and pagodas.
If you want to see France's imprint on Vietnamese culture, just visit the Hanoi Opera House. This majestic building features French aesthetics, which will surely fascinate those who are into architecture.
The Ho Chi Minh Mausoleum is an ideal place for those interested in Vietnam's history. This sprawling estate is home to the remains and memorabilia of Ho Chi Minh, the country's former prime minister and president.
Every Hanoi Vietnam travel guide will surely recommend visiting Hoan Kiem Lake. It's the perfect spot for observing the locals' way of life.
📍 Ho Chi Minh City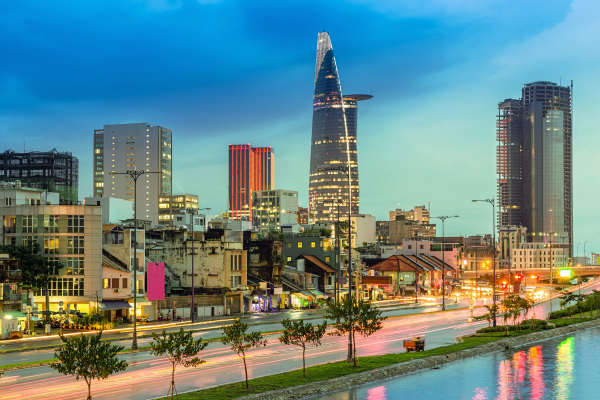 Location:

Southern Vietnam

How to get there:

Book a flight bound for Tan Son Nhat International Airport.
Locally known as Saigon, Ho Chi Minh is Vietnam's largest city. It served as French Indochina's capital starting in 1887.
As such, you can expect to see a lot of French influences on the city's identity. Check out the ornate architecture of the Notre Dame Cathedral, Saigon Opera House, People's Committee Building, Central Post Office, and Hotel Continental Saigon.
One of the most fun Ho Chi Minh City travel tips is to visit the Ben Thanh Market. You'll definitely love it here if you're into shopping and haggling.
Looking for artistic inspiration? Pay the Museum of Fine Art a visit. This opulent structure, which was originally a mansion of the wealthy Hua Family, features the marriage of Chinese and French aesthetic sensibilities. Inside the museum, you'll find Vietnamese treasures in the form of sculptures and period pieces.
📍 Hoi An
Location:

Quang Nam Province, Central Vietnam

How to get there:

Book a flight to Da Nang International Airport and arrange for a private transfer bound for Hoi An. You may also ride a train from Hanoi or Ho Chi Minh bound for Da Nang station. From there, catch a bus or taxi bound for Hoi An.
A coastal city in Vietnam, Hoi An was a historic trading port that attracted traders and settlers from China, Portugal, Japan, and Netherlands. The vibe of the city is undeniably laid-back, but there are a lot of things to do here.
The first spot to visit is Hoi An Ancient Town. Designated as a UNESCO World Heritage Site, this 30-hectare neighborhood is home to picturesque buildings seemingly taken out of a postcard. Dating back to the 15th through the 18th century, a lot of these well-preserved structures are built with timber and bricks. The best way to explore Hoi An Ancient Town is by joining a bicycle tour.
Other popular places in Hoi An are Cua Dai Beach, which boasts fine white sand; Fujian Assembly Hall, a 17th-century building complex adorned with dragon, fish, and turtle sculptures; and Thanh Ha Pottery Village, where you can learn how to make your own pots.
📍 Da Nang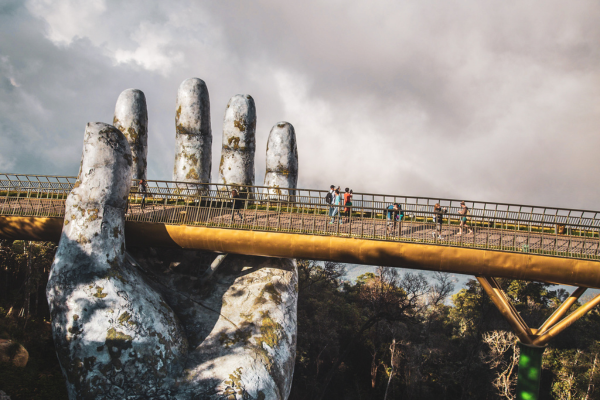 Location:

South Central Region

How to get there:

Book a flight to Da Nang International Airport. You may ride a train from Hanoi or Ho Chi Minh bound for Da Nang station. If you're on a budget, a bus in Hanoi or Ho Chi Minh can take you to Da Nang.
About an hour's drive away from Hoi An, Da Nang is another coastal city in Central Vietnam usually used as a transit stop by travelers. But look closely and you'll find a mix of exhilarating and relaxing delights.
Get your muscles worked out by exploring one of the summits of the Marble Mountains. Laze around on the beaches of Cham Island. While you're at it, go snorkeling to discover what's underneath the clear waters of the beach.
Want to go on a road trip? Make sure that the Hai Van Pass is at the top of your list. One of the most famous roads in Vietnam, the Hai Van Pass curves around the slopes of a mountain and gives motorists fabulous views of the sea far ahead.
📍 Sapa
Location:

Northwestern Vietnam

How to get there:

Ride an overnight train bound for Lao Cai. From there, ride a van that will take you to the mountains.
Northwestern Vietnam is a treasure trove of destinations that will let you enjoy a slower pace of life. One of them is Sapa.
A remote town that's home to ethnic minorities, Sapa primarily offers sweeping views of magnificent rice terraces. To see picturesque sceneries, ride the cable car to Fansipan Mountain. If you just want to stay in your lodge, relish the cool temperature while warming your hands around a hot cup of tea.
Seeking some thrills? Visit the villages of Ta Phin and Cat Cat for a trekking sesh. You may also explore the town on a mountain bike for a workout.
Indulge your inner Anthony Bourdain by going on an adventurous culinary trip. For your hotpot, try some horse meat!
📍 Halong Bay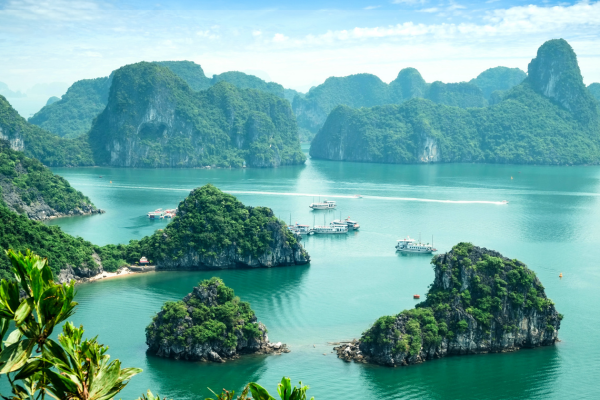 Location:

Quang Ninh Province, Northeastern Vietnam

How to get there:

From Hanoi, ride a bus or a van bound for Halong City.
No Vietnam travel guide will be complete without Halong Bay. Located in the northeastern part of Vietnam, this destination has a collection of about 2,000 islands dotting the calm waters of the Gulf of Tonkin.
Halong Bay offers some of the most spectacular sceneries in Vietnam. If you want to experience them up close, go kayaking over the emerald waters, marvel at the limestone cliffs, and explore a couple of caves.
If you want to see local life in the region, try visiting a pearl farm. You may also visit one of the many colorful villages where fishermen and their families live.
📍 Mekong Delta
Location:

Southwest Vietnam (near Ho Chi Minh)

How to get there:

From Ho Chi Minh, ride a bus bound for your intended destination in the delta.
Mekong Delta is a region located in Southern Vietnam where the Mekong River, the third longest in Asia, empties into the sea. Here, you'll find a lot of activities that will make you appreciate nature more.
Go on a boat tour and get carried away down the brown river amidst the lush tropical plants. If your budget permits, go on a luxury river cruise where you'll spend a few days drifting through the waters.
Explore the Mekong region on land by going on a motorbike road trip. You'll stumble upon roads that offer scenic views of rice paddies. And since Vietnam is known for its coffee culture, you'll definitely find a few cafés that double as pitstops.
📍 Phu Quoc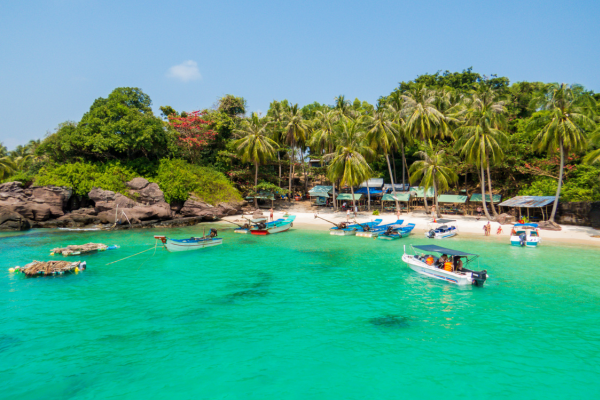 Location:

Southwest Vietnam

How to get there:

From mainland Vietnam, book a flight bound for Phu Quoc International Airport. You may also take an almost eight-hour bus + ferry trip from Ho Chi Minh.
Beach lovers will definitely fall in love with Phu Quoc. Located in the southwest region of the country, Phu Quoc is famed for its white sand beaches, crystal clear waters, and a pace of life devoid of urban stress.
Make the most of your stay by going on an island hopping tour. Popular islands include Mong Tay, An Thoi, and Gam Ghi. Include some exciting water activities, such as snorkeling.
You can also enjoy the beauty of the Phu Quoc from above by riding a cable car. Discover more of the region by joining a day tour. This will take you to interesting destinations, such as the Sun World Hon Thom Nature Park and the Ho Quoc Pagoda.
After a day of touring, satisfy your tummy at Phu Quoc Night Market. From fresh salads and grilled seafood to succulent fruits and invigorating coffee, you'll definitely find something that tickles your fancy.
📍 Cu Chi Tunnels
Location:

Cu Chi District, Ho Chi Minh

How to get there:

Ride a bus at Ho Chi Minh station bound for Cu Chi Station.
History buffs will be more than thrilled to visit Cu Chi Tunnels. Located two hours away from Ho Chi Minh City, you'll find this network of tunnels that Viet Cong members, or communist guerrilla troops, used to hide from the Americans during the Vietnam War.
Cu Chi Tunnels are fascinating, with a length of more than 250 kilometers which runs from Saigon to the Cambodian border![3] Other than serving as hiding spots, the tunnels were used as hospitals, communication channels, and repositories of food and weapons. There were also booby traps intended to hurt or kill enemies.
Here, you have a chance to go into one of the tunnels. Just note that these underground pathways are narrow and extremely humid.
📍 Mui Ne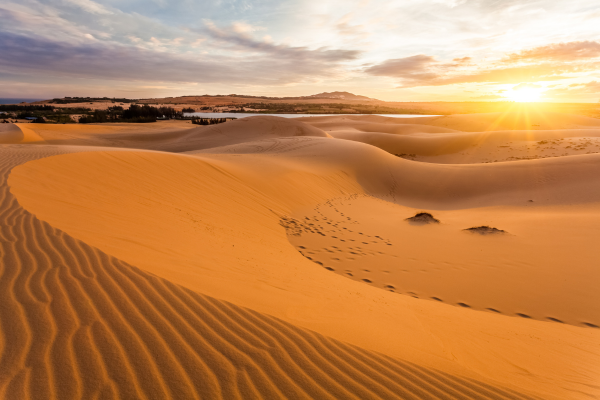 Location:

Southeast Vietnam

How to get there:

From Ho Chi Minh, ride a bus going to Mui Ne.
Mui Ne used to be a quiet and sleepy fishing village. But it eventually went on to become one of the most popular destinations for backpackers in Vietnam.
Beaches are among Mui Ne's biggest draws. You'll find that some parts of the coastline aren't overcrowded, allowing you to relax. But if you're looking for an adventure, try wind or kite surfing. Come afternoon, wait for Mui Ne's iconic sunset.
Mui Ne is also popular for its sand dunes. You can try various activities here, such as ATV riding and sledding.
Should you wish to see the local life, visit the Mui Ne fishing harbor and fish market. Other touristy places include the Cham Tower, Ke Ga Lighthouse, and the Reclining Buddha.
Read more:
Fund Your Vietnam Trip with a Citi Personal Loan

Vietnam may be an affordable country to visit. But if you want to deal with more financially demanding aspects of your travel such as flights and hotels, or you simply want to boost your budget, a Citi Personal Loan is always ready to lend a helping hand.
With a Citi Personal Loan, you can borrow up to ₱2 million, get low interest rates, and enjoy flexible repayment terms of up to five years. Ready to learn more? Click the banner for details.
Note: This product is sold by Union Bank of the Philippines, using certain trademarks temporarily under license from Citigroup Inc. and related group entities.
Dos and Don'ts When Visiting Vietnam
To make your Vietnam holiday memorable, comfortable, and free of faux pas, here's a list of dos and don'ts you need to remember.
✔️ Dos in Vietnam
Dress modestly, especially when you're visiting temples, memorials, and museums.

Explore outside Hanoi and Ho Chi Minh. The country is more than its biggest cities. In this Vietnam travel guide alone, you've already seen that it has quaint villages and stunning beaches.

Scout for shops that sell overruns. Since Vietnam is home to many manufacturers of big clothing brands, you'll find shops that sell seemingly legitimate items at cheaper prices. Those probably did not pass the brand's quality control, so shop at your own risk.

Always bring bottled water. Depending on where you are, it may get hot and humid. If you have a sensitive tummy, avoid drinking tap water from stalls or restaurants.

Explore Vietnamese cuisines. It's considered one of the best in the world, as per Taste Atlas.

Remove your shoes when someone invites you to their home.

Ask for permission before you take pictures of Vietnamese people. This especially applies to rural denizens.
❌ Don'ts in Vietnam
Avoid talking about politics and the Vietnam War. Spare yourself from arguments and conflicts.

Avoid displaying overt affection with your significant other while in public. Vietnam is quite a conservative country.

Don't panic when crossing the road. Big cities, such as Hanoi and Ho Chi Minh, are notorious for fast-moving traffic. If you're afraid, cross the road with a local.

Unless you're familiar with Vietnam's road culture, don't drive a motorcycle. Otherwise, you'll end up stressed and confused. You may even get caught in an accident.

Never stick your chopsticks upright into the contents of your bowl. This imagery resembles the joss sticks used in funerals.
Read more: On a Budget? Travel Tips and Hacks to Try for a More Meaningful Trip
Final Thoughts
Now that Vietnam travel restrictions from the Philippines have eased, it's time to explore the wonders of this beautiful country. From bustling cities to relaxed rural towns, there's definitely something for every type of traveler.
Plan your vacation accordingly with the help of this Vietnam travel guide. Better yet, ask those who've been there for insider tips. Have fun!

Sources: