There's a lot to love about Taiwan. Its modernity, top-notch transportation system, rich culture, delicious cuisine, and majestic natural sceneries all make it a tourism powerhouse. If you're looking for a new country to explore, this island nation won't only exceed your expectations—it will wow you!
Don't know which Taiwan tourist spots to include in your itinerary? We've got you covered! We've curated some of the most popular destinations that will make you fall in love with the country.
Before You Fly: Important Things to Keep in Mind
The key to a memorable trip is proper planning. Before you book your flight, accommodation, or Taiwan tour package, take note of the following:
✔️ Is Taiwan Still Visa-Free for the Philippines?
Does Taiwan accept tourists now? Can Filipinos travel to Taiwan without a visa? Yes! According to Taiwan's travel advisory for the Philippines in 2023, Filipinos can enjoy visa-free entry starting September 29, 2022 until July 31, 2023. The said privilege allows you to stay in Taiwan for up to 14 days.
The rule isn't applicable to Filipinos with diplomatic or official/service passports.
Read more: Traveling Abroad? Here's a List of Visa-Free Countries for Filipino Tourists
✔️ Taiwan Tourist Requirements
Wondering "What documents do I need to travel to Taiwan?" The Taiwan tourist requirements are straightforward. You just need to provide the following:
Passport valid for at least six months

Proof of booked accommodation

Travel funds for the entire trip

Contact information of the host or sponsor

Online immigration card completed on the official website of Taiwan's National Immigration Agency

[1]
✔️ Taiwan Travel Quarantine Rules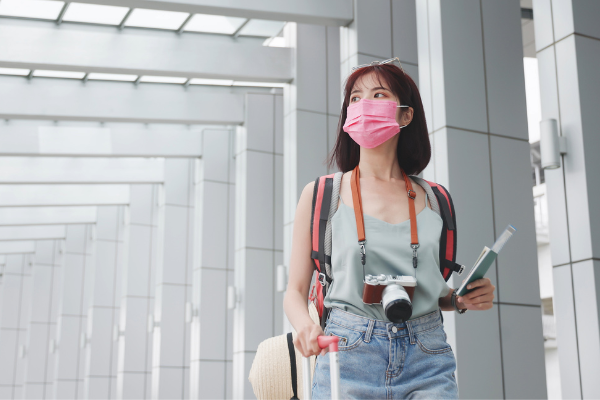 The country's Central Epidemic Command Center (CECC) updated its COVID-19 quarantine rules effective January 1, 2023, easing up Taiwan's travel restrictions.[2] For your clearance upon arrival, you'll need to do the following:
Get one box of rapid antigen test (RAT) kit per person (for passengers over 2 years old).

Carry out the following self-initiated prevention measures:



Follow the one-person-per-room rule for seven days.

Test yourself using the RAT kit on your day of entry or the first day of your self-initiated prevention period, especially if you're symptomatic. You can go out only if you have a negative result within two days.
Taiwan's travel restrictions for those arriving from China are quite different. Those flying in from the said country must undergo a saliva-based PCR test.
Here's the procedure if you'll travel to Taiwan from China:
Wait for a text message from the authorities.

Present your health declaration certificate.

Collect a deep-throat saliva sample for the PCR test. Place the saliva into the specimen tube.

Remember to avoid eating or drinking for one hour before collection.
✔️ Getting to and Around Taiwan
Wondering how to travel to Taiwan from the Philippines? You can fly to Taiwan through popular air carriers, such as Cebu Pacific, AirAsia, and Philippine Airlines.
If you're visiting Taipei and other Northern Taiwan tourist spots, choose the Taoyuan International Airport as your destination airport. If you're visiting Kaohsiung and some attractions in Southern Taiwan, book a flight to Kaohsiung International Airport.
Transportation is modern, clean, and reliable in Taiwan. If you're in Taipei, you can go around via the metro (MRT). Likewise, Kaohsiung has its own efficient metro system.
Got a long-distance trip from one city to the other? Ride the Taiwan High Speed Rail (THSR), which runs from Taipei to Kaohsiung. This train system is based on Japan's shinkansen or bullet train.
Furthermore, buses and taxis abound in key cities. And since scooters are big on the island, you may rent one for a more personalized trip. Just make sure you have a valid license. You can also get an international driving permit.
✔️ How Much to Budget for Your Taiwan Trip
The budget for your Taiwan tour in 2023 will largely depend on the number of Taiwan tourist attractions you're planning to visit and the number of days you're in the country. That said, a five-day and four-night vacation may cost between ₱16,000 and ₱20,000. Excluded from the budget are the round-trip airfare, food, and pasalubong.
The New Taiwan Dollar is Taiwan's currency. As of this writing, one NT$ is equivalent to ₱1.81.
Finance Your Trip with a Citi Personal Loan

Still figuring out your Taiwan travel budget? Apply for a personal loan from Citi through Moneymax to get a boost. You can borrow up to ₱2 million, get low interest rates, and enjoy flexible repayment terms of up to five years.
Note: This product is sold by Union Bank of the Philippines, using certain trademarks temporarily under license from Citigroup Inc. and related group entities.
Read more: Travel Loan in the Philippines: When and Where to Apply for One
✔️ Communicating in Taiwan
Mandarin or Traditional Chinese is the language in Taiwan. Younger people and those living in the capital can understand English. However, keep in mind English isn't a widely spoken language in many rural areas.
Top 10 Taiwan Tourist Spots to Visit
There's something for everyone on the island. From bustling downtowns to chill nature parks, we've listed the top 10 Taiwan tourist spots to visit. Check out our Taiwan travel guide for 2023 below.
Taipei 101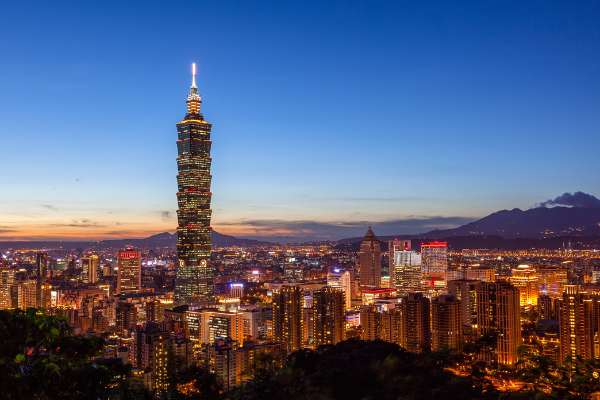 Location: No. 45, Shifu Road, Xinyi District, Taipei City
How to get there: Take the Taipei Metro Red Line and alight at 101 World Trade Center Station.
With 101 floors above ground, Taipei 101 was once the world's tallest building from 2004 to 2009. Aside from being a commercial space, the building is one of the most popular Taiwan tourist spots. It has observation decks on the 89th and 91st floors.
For the first time ever, the outdoor floor on the building's 101st level has been opened to the public. Called the Skyline460,[3] this facility gives you an unobstructed and 360-degree view of Taipei City.
Shopaholics and foodies will be smitten with Taipei 101, as it's home to many high-end shops and restaurants. It's also close to other points of interest, such as the Sun Yat-Sen Memorial Hall and Elephant Mountain, which gives you a good view of the iconic building.
Chiang Kai-shek Memorial Hall
Location: No. 21, Zhongshan South Road, Zhongzheng District, Taipei City
How to get there: Take the Taipei Metro Green Line and alight at Chiang Kai-shek Memorial Hall Station.
Chiang Kai-shek Memorial Hall, one of the most popular Taiwan tourist attractions, is a national monument built for Chiang Kai-shek, the former President of the Republic of China. The massive hall stands on a sprawling estate together with two equally majestic structures, the National Theater and the National Concert Hall.
Explore the various gardens in the estate. Don't forget to take a picture or two of the park's towering front gate. The Chiang Kai-shek Memorial Station, meanwhile, is a treat itself, as it houses public art pieces.
Ximending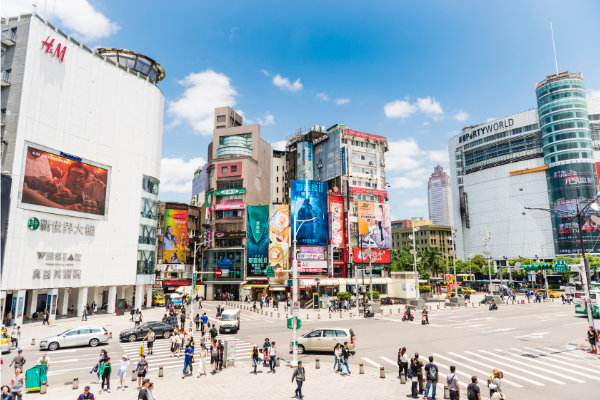 Location: Wanhua District
How to get there: Take the Taipei Metro Green Line or the Blue Line and alight at Ximen Station.
Once you step into Ximending, you'll feel like you're in Japan. The appeal of this neighborhood is very much like Tokyo's Harajuku or Shibuya district, as its history can be traced back to the Japanese colonial era.
Ximending is a shoppers' paradise. There are big brands here and there, and winding roads will take you to quaint shops. This Taiwan tourist destination also has a wealth of cafés, milk tea shops, and restaurants. While you're here, don't miss the Hot-Star Large Fried Chicken for that—you guessed it—large Taiwanese fried chicken.
Shifen and Jiufen
Location: Shifen: Pingxi District, New Taipei City | Jiufen: Ruifang District, New Taipei City
How to get there: To go to Shifen, take the Taiwan Railways Administration (TRA) train from Taipei Main Station and alight at Rufiang Station. Then transfer to the Pingxi Line and alight at Shifen Station. To go to Jiufen, just take a bus from Rufiang Station.
Leave the city for a while and explore Taiwan's rural side in Shifen and Jiufen. While located in separate districts, you can visit both in one day.
Shifen is famed for two spots: Shifen Old Street and Shifen Waterfalls. Shifen Old Street brings you back to Shifen's old railroad town days. A lot of small restaurants, cafés, and souvenir shops make this area lively and colorful.
Releasing a sky lantern while in the middle of the railroad is a popular activity among tourists. See more of Shifen's natural beauty by visiting the Shifen Waterfalls, which is just a 20-minute walk from the old town.
If you're a big fan of the award-winning anime film "Spirited Away," you'll surely love Jiufen, a quaint village located in New Taipei's Rufiang District. The location resembles the bathhouse village in "Spirited Away" because of its winding alleyways and red lanterns.
Dining and souvenir shopping are the main events here. Don't forget to bundle up, as Jiufen is located in the mountains.
Yangminshan National Park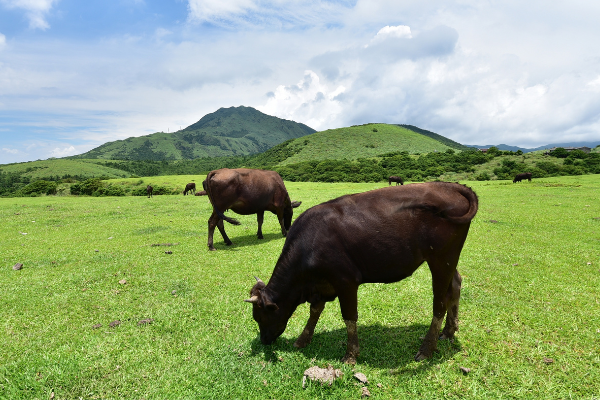 Location: Taipei and New Taipei City
How to get there: Take the Taipei Metro Red line and alight at Jiantan Station. Then take Bus S15 or S17 and alight at Yangminshan National Park.
Yangminshan National Park is a Taiwan tourist attraction known for its natural beauty. With a size of more than 113 square kilometers, this sprawling park is home to several hiking trails, grasslands, flower farms, and hot springs.
One day is not enough to tour the whole park. If you have limited time, visit Qingtiangang Grassland, which will make you feel like you're in New Zealand; Xiaoyoukeng, a geological park teeming with vents and sulfur deposits; and Yangmin Park, a flower park boasting a Chinese-style garden and elegant ponds.
Tamsui District
Location: Tamsui District, New Taipei City
How to get there: Take the Taipei Metro Red Line and alight at Tamsui Station, Red Line's northern end.
A cool sea breeze awaits at Tamsui, a district located in New Taipei City. Many tourists flock to this Taiwan tourist destination for its relaxed vibe and beautiful promenades.
Head over to Tamsui Old Street if you want to munch on some local street food. Explore Taiwan's ties with the Spanish Empire by visiting Fort Santo Domingo, a fortress built in the 17th century. Get aboard the ferry to enjoy some waterfront views.
If you simply want to chill and watch people go about their business, visit Lover's Bridge or take a seat at the Fisherman's Wharf as you wait for the sunset.
Shilin Night Market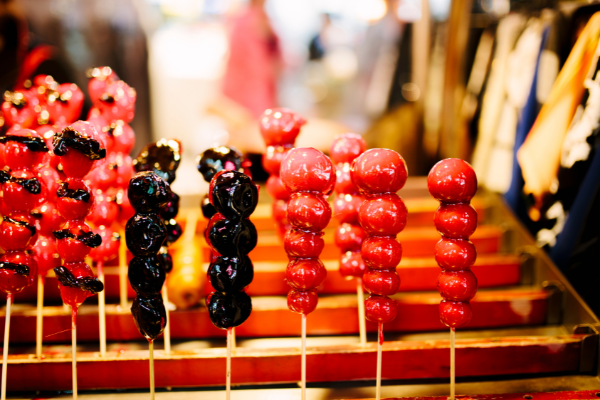 Location: No. 101, Jihe Rd, Shilin District, Taipei City
How to get there: Take the Taipei Metro Red Line and alight at Jiantan Station.
Night markets are quintessential Taiwan tourist spots. They offer everything, from food to souvenirs. One of Taiwan's most popular is the Shilin Night Market.
Conveniently located close to Taipei Metro's Jiantan Station, Shilin Night Market has two major sections. The first one is an old market building that houses both restaurants and non-food shops. The other section is dedicated to food stalls and restaurants.
If gastronomy is your sport, you'll definitely love it here. Below are some of the must-try dishes at the Shilin Night Market for your Taiwan food tour:
Fish balls –

With a spongy texture, these fish balls are similar to the squid balls and chicken balls in the Philippines. These are fried and can be dusted with pepper, depending on your preference.

Pork buns –

These are buns topped with sesame seeds and filled with tasty pork and green onions.

Stinky tofu –

One shouldn't leave Taiwan without tasting stinky tofu, which actually stinks. This is made tasty with sauces and some pickled veggies.

Fried sausages –

These goodies are dusted with spices, such as garlic, pepper, and more.

Oyster omelette –

Chewy and delicious oysters are cooked with eggs and starch to perfection.

Tanghulu –

These are candied fruits on skewers perfect for capping off your food festivities.

Milk Tea –

Shop around while sipping on some refreshing milk tea.
Taichung City
Location: Central Taiwan
How to get there: Take the Taiwan High Speed Rail and alight at Taichung Station.
Taichung City is Taiwan's second-largest city. While known for being an industrial and commercial hub, it's also a popular tourist spot because of its natural and cultural treasures. Taichung is more than 160 kilometers from Taipei, but you can reach it within an hour if you take the high-speed train.
Below are some of the most visited attractions in Taichung City:
National Museum of Natural Science –

One of Taiwan's top museums, the National Museum of Natural Science has more than 30 permanent exhibit areas for the following subjects: ecology, minerals, space science, astronomy, and paleontology.

Miyahara –

Just a short walk from Taichung Station, Miyahara is an ice cream shop with Hogwarts-inspired interiors.

Rainbow Village –

This neighborhood is famous for its houses painted with loud colors and quirky subjects.

Zhongshe Flower Market –

Located in Houli District, this flower market is actually six hectares of vivid colors. Marvel at an assortment of flowers, such as tulips, cosmos, roses, lilies, and more.
Sun Moon Lake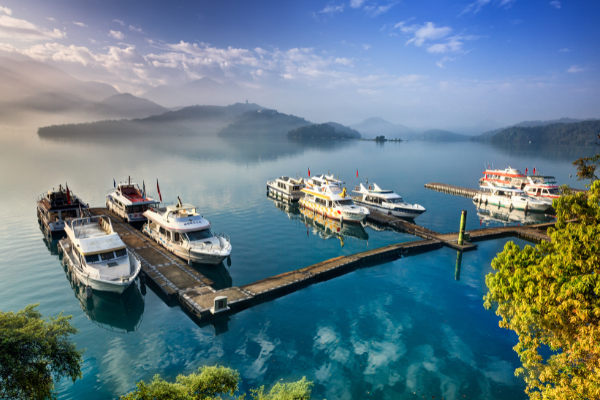 Location: Yuchi Township, Nantou County
How to get there: Take the Taiwan High Speed Rail and alight at Taichung Station. Then take the Taiwan Tourist Shuttle Bus to Sun Moon Lake.
One of the most popular Taiwan tourist spots among nature lovers, Sun Moon Lake boasts stunning hiking trails and beautiful bike paths. This place is your breather from the hustle and bustle of urban life. If you're staying in Taichung, it's just an hour and a half from the city.
Measuring almost eight square kilometers, Sun Moon Lake is Taiwan's largest lake. It's surrounded by verdant sceneries reminiscent of the Swiss Alps during spring. Aside from hiking and biking, you can visit temples and go on a food trip here.
Kaohsiung City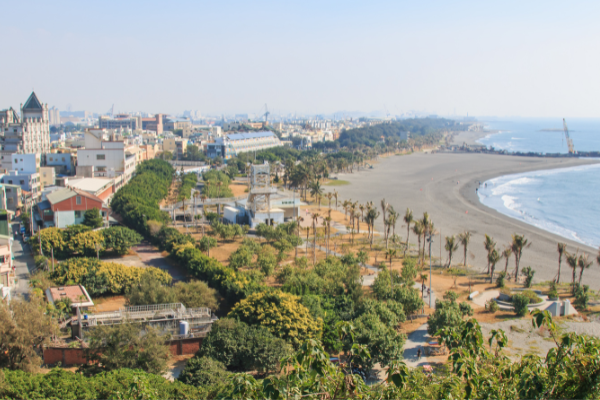 Location: Southern Taiwan
How to get there: Book a flight to Kaohsiung International Airport or take the Taiwan High Speed Rail from Taipei.
Kaohsiung City is easily Southern Taiwan's crowning glory. It's the country's largest port city and third-largest metropolitan area.
Staying here for a couple of days? Here are some of the destinations you shouldn't miss:
Cijin Island –

Just a 15-minute ferry ride away from the mainland, this district is popular for its black beaches. You can also enjoy fresh seafood here.

Pier-2 Art Center –

If you're into contemporary and street art, head to Basin No. 3 of Kaohsiung Port.

85 Sky Tower – With 85 floors, 85 Sky Tower is Taiwan's second tallest skyscraper. You can spot it from almost anywhere in the city. Get a good view of Kaohsiung from

the building's observation deck.

Fo Guang Shan –

This massive complex has several towering pagodas and a giant Buddha statue measuring 108 meters.

Liuhe Night Market –

Feast on seafood and shop until you drop at this night market. Don't miss the popular papaya milk!
Related reading: G for SG! Top Singapore Tourist Spots You Have to Visit
Final Thoughts
Hailed as Asia's Happiest Country in 2022,[4] Taiwan continues to share happiness with its guests by treating them to a never-ending variety of sights and experiences. However, the true charm of the country lies in the warmth of its people.
Include the above-mentioned Taiwan tourist spots in your itinerary for a wonderful and memorable trip with your family or friends. You can also go outside this list and check other people's recommendations.

Sources: