There's much to be said about traveling to enjoy new things, bask in exciting cultures, and soak up stunning views. But arguably, the best part of exploring the globe is experiencing a myriad of new flavors and textures—a rich, piping-hot bowl of Thai tom yum, a crunchy-on-the-outside-but-soft-on-the-inside French baguette, and tender Japanese nigiri dipped in soy sauce and dabbed with a bit of wasabi, just to name a few.
But even if you pick the cheapest countries to visit, food—along with visa fees, airfare, airport fees, and accommodation—can get expensive abroad. Fortunately, you can still enjoy your holiday. You just need to know how to save money on food while traveling.
How to Save Money on Food When Traveling Abroad
Before you even get to your destination, however, you need to survive your flight. Since airports tend to charge exorbitant rates for snacks, consider packing your own food for long-haul flights.
But don't scrimp on nutrition. Protein-packed snacks,[1] such as seeded bread sandwiches, nuts, trail mix, and granola bars, are the perfect long-lasting food for long-distance travel.
Remember to check the TSA requirements[2] before choosing which food to carry for the long journey ahead. Generally, you need to stay within the 100ml limit for liquid or gel food items in your carry-on. If possible, try to avoid liquids such as sauces and salsa altogether.
Once you get to your destination, follow these tips on how to save money on food when traveling abroad:
🍽️ DIY Your Own Meals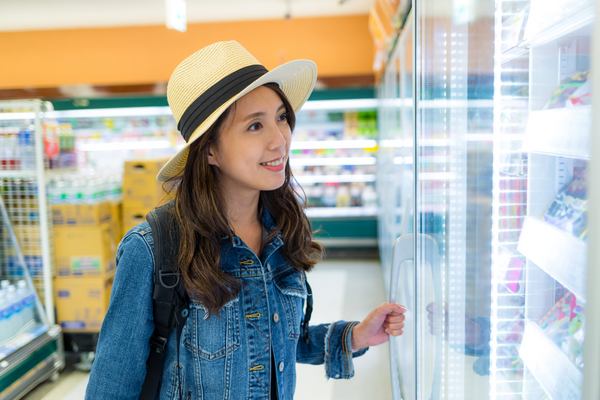 Plenty of hostels, hotels, and bed-and-breakfasts offer complimentary breakfasts and afternoon snacks, so take advantage of that. If you want to try your hand at cooking instead, pick accommodations that offer access to a kitchen, especially a microwave and a refrigerator.
Check out the foreign produce at the local grocery store or market and cook your own meals—you don't eat out three times a day back home, after all!
Here are a few other tips on how to save money on food when traveling:
Go for easy-to-cook meals that don't require any special expertise, such as scrambled eggs, stir-fried noodles, pizza, salad, pasta and tomatoes, and grilled sandwiches.
If you're in a hurry or don't trust yourself anywhere near a stove, you can also try local canned goods, ready-to-eat meals, and snacks. Convenience stores in Japan are particularly known for their ubiquity and remarkable range of snacks and microwave meals.
Don't forget to bring a bite to eat during long, exhausting tours or excursions.
🍽️ Skip the Fancy Restaurants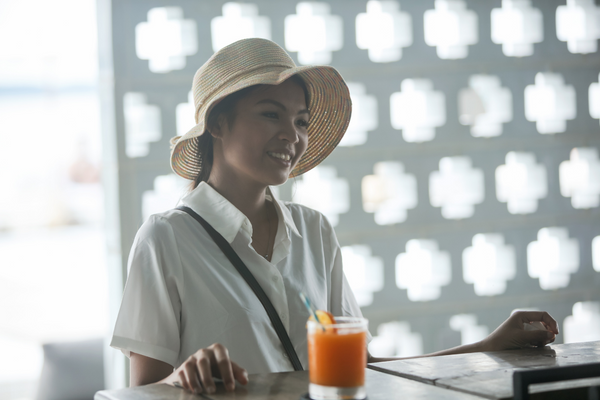 If you really want to book a special night out in a restaurant, look outside the touristy areas, where prices are ridiculously jacked-up. That said, you don't need to visit a fancy restaurant to get a taste of authentic local cuisines.
You also have plenty of other alternatives if you're looking for options on how to save money on food when traveling.
Here are some of them:
Cafe rates are often cheaper, especially when they offer special deals during lunchtime. You can't go wrong with well-loved mom-and-pop joints in the area as well. They're a classic for a reason!
On your way back home in the evening, drop by a bakery to buy baked goods at a reduced price. This practice of selling day-old bread is particularly common in

Europe, which prides itself on its pastries.

Try street food or check out food trucks. It's one of the best and cheapest ways to fully immerse yourself in a foreign country. For instance, the vibrant street food scene is part of Singapore's lifeblood—it's even recognized by UNESCO.[3] Ask locals for their recommendations, or just pick a busy stall with long lines so you can ensure they serve fresh food. You don't want to spend the rest of your vacation lying in bed with a stomach flu!
Want to avoid tipping? Go on a picnic. Take your blanket, aperitif, and your picnic basket. Enjoy the fresh air, your loved ones' company, and the calming lake scenery at

Villa Borghese in Rome, or the breathtaking view of the Eiffel Tower at Champ de Mars in Paris.
🍽️ Drink Responsibly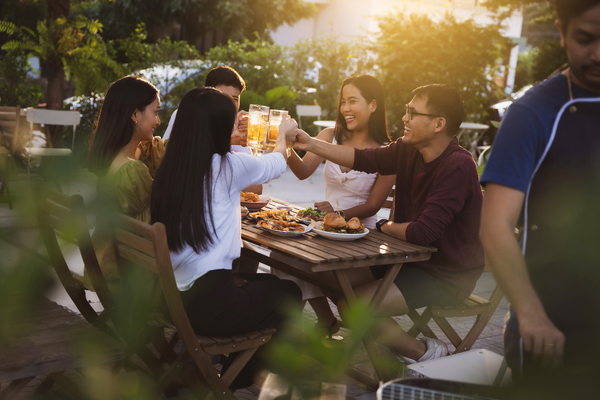 And by that, we mean don't splurge on overpriced drinks. You can still enjoy yourself abroad without blowing all your cash. Here's how:
Buy drinks at the supermarket or convenience store, where they're sold at cheaper prices than at restaurants or bars. Take note that countries such as Thailand ban small retailers from selling alcohol, while others such as Finland and Ireland impose heavy taxes on beer.[4] Remember to drink in moderation.
Skip the pricier sodas, juice, and shakes in favor of water. These sugary drinks can leave dehydrating effects on the body. Keep yourself hydrated with plenty of water, especially if you're traveling in a humid country or going backpacking.
No matter the country, bottled water can get expensive. You can survive drinking tap water in places like Japan and Singapore, but you can't exactly say the same for others. Bring a water flask and refill as needed at water dispensers in mall food courts.
Related reading:
Final Thoughts
When traveling abroad, trying out local cuisine is non-negotiable. The trick is to learn how to save money on food when traveling. You need a little extra cash for souvenirs to remember your holiday by, after all.
To navigate the local dining scene, don't rely too much on the Instagram-famous spots as these tend to be tourist traps. Eat like a local, as they say.

Sources: