Thailand is one of the most popular destinations in the Asian tropics, thanks to its pristine beaches, splendid temples, vibrant cultures, and warm people. For many Filipinos, it's an ideal destination for quick getaways, as flights and accommodations are relatively inexpensive.
Thailand has an overwhelming number of experiences to offer, so much so that planning your vacay may get stressful and confusing. But with this article, you can easily draft your itinerary.
From requirements to travel destinations, this Thailand travel guide covers essentials to make your trip fun and memorable. Let's roll!
Before You Fly: Important Thailand Travel Tips to Remember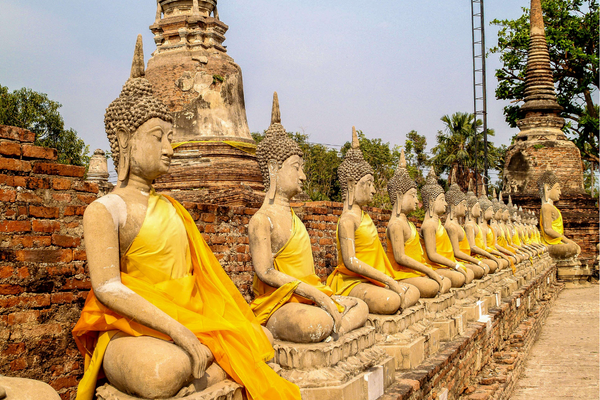 The thought of feasting on authentic pad thai or riding the tuk-tuk is surely pumping you up. But hold your horses! It's important that you know the following:
👉 Does Thailand Require a Tourist Visa?
Thailand doesn't require Filipinos to provide a tourist visa, so it's easy to access the country. Through Thailand's Visa Exemption Program, you can stay in the country for up to 30 days. And if 30 days aren't enough, you can extend your stay for another 30 days by applying at any local immigration office.
Note: Thailand's Center of COVID-19 Situation Administration (CCSA) announced that the stay period under the Visa Exemption Program will be extended from 30 days to 45 days until March 31, 2023.
👉 Does Thailand Have Quarantine Rules in Place?
Rest easy, as Thailand has lifted quarantine rules. Those entering the country aren't required to show proof of vaccination or COVID-19 test results anymore. Furthermore, travelers aren't required to get a Thailand Pass or Certificate of Entry (COE) or download relevant apps.
Despite the removal of major quarantine rules, the Thai government highly recommends getting travel insurance. The same requirement is mandatory for those coming from and going to countries that require RT-PCR Covid tests for incoming travelers, such as China and India.
👉 When is the Best Time to Visit Thailand?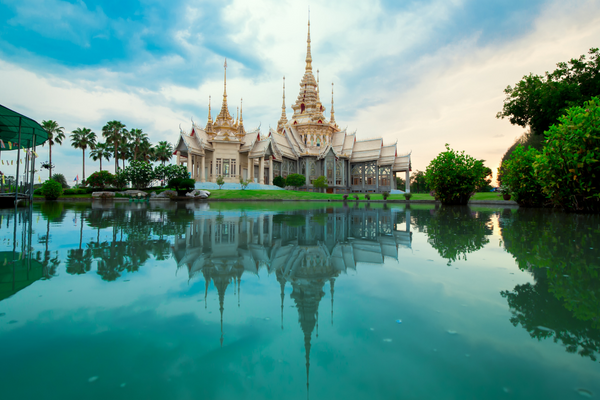 Since Thailand has a lot of beaches, one may think that summer, which runs from March to July, is the best time to visit. But the months of April and May tend to be the hottest while July and the following three months are the rainiest. If it's any consolation, you can score cheap flights and accommodations since the demand isn't strong.
On the other hand, the months of November to February are cool, dry, and generally pleasant. This is an ideal time to visit since you won't sweat buckets while touring around.
The only downside is that this is peak season, which means pricey flights and accommodations. Add to that the throngs of crowds at popular destinations.
👉 How to Get to Thailand
Major air carriers in the Philippines fly passengers to Thailand regularly. Cebu Pacific and Philippine Airlines have direct flights to Bangkok.
Air Asia, meanwhile, has direct flights to other Thai cities, such as Chiang Mai and Phuket. Other air carriers, such as Scoot and Thai Airways, can also take you to Thailand.
👉 How to Get Around Thailand
You can visit different destinations in Thailand through various modes of transport, such as the following:
Domestic planes – Budget airlines, such as Air Asia and Nok Air, can bring you to key Thai cities.
Trains – If you prefer a more scenic route, you can get aboard a train. Thailand's railway network has a length of more than 4,300 kilometers, even giving you access to hidden gems and lesser-known areas of the country.
Metropolitan Rapid Transit (MRT) and Bangkok Mass Transit System (BTS) Skytrain – If you're in Bangkok, you can get around the city via MRT and BTS Skytrain trains. They're fast, efficient, and cheaper compared to taxis, buses, and even tuk-tuks.
Buses – This is a good option for budget-conscious travelers traveling across the country. Buses come in varying levels of luxury, from second-class haulers with limited legroom to VIP coaches outfitted with small TV screens.
Tuk-tuks – These three-wheeled rides are among Thailand's most iconic symbols. You can find them in cities, especially in touristy areas.
Grab vehicle – Already got a Grab app? Use it to book a car, a taxi, a motorcycle, and even a tuk-tuk.[1]
Motorcycle – If you want to navigate a town or city at your own pace, you can rent a motorcycle. Keep in mind that you must have an international or Thai motorcycle license.
Ferries and boats – Many of Thailand's popular beaches are located on islands. You can reach them via ferries and boats. If you're in Bangkok, visit some popular destinations by taking a boat on the Chao Phraya River.
👉 How to Communicate in Thailand
Thailand has around 70 languages, with Central Thai or Thai as the official one.[2] English may appear as the unofficial second language due to the volume of foreign tourists visiting to the country. Note, however, that the level of fluency varies, and some Thais' vocabulary is very limited.
Locals in areas, such as Bangkok, Pattaya, and Phuket, can communicate in basic English. To quickly get your point across, you may resort to pointing and gesturing. Expect those living in rural areas to have little to no knowledge of the English language.
👉 How Much Does a Thailand Trip Cost?
Thai Baht (฿) is Thailand's currency. As of this writing, ฿1 is equivalent to ₱1.58.
The recommended stay duration is usually four to five days. Assuming that you're traveling with one to two persons, a budget between ₱12,000 and ₱15,000 should be enough. If you're gunning for a 5-day Thailand itinerary, just add at least ₱2,000.
Note that flights and pasalubong are excluded from the said budget. Of course, this Thailand travel budget may change, depending on the city or town you're visiting, your desired level of comfort, and the number of activities.
---
🎁 Get a Free Gift with Your Successful Metrobank Personal Loan Application

Need cash for a medical emergency, starting a business, consolidating your debt, dream vacation, or home renovation? Get a Metrobank Personal Loan and enjoy low interest rates, flexible payment terms, and easy online application.
On top of these, you'll receive a reward upon successful loan disbursement! If you apply through Moneymax and get approved subsequently, you can choose between two welcome gifts: ₱5,000 GCash or a Marshall Willen wireless speaker worth ₱6,590.

Terms and conditions apply. Promo runs until June 30, 2023 only, so hurry and apply now!
---
Read more: On a Budget? Travel Tips and Hacks to Try for a More Meaningful Trip
Thailand Travel Guide: Top Must-Visit Spots
You've reached the most exciting part of this guide—the destinations! Here are some of the most popular spots in Thailand:
📍 The Grand Palace
Location: Na Phra Lan Road, Grand Palace, Phranakorn, Bangkok
How to get there: At Sathorn Pier, ride an orange flag express boat that will take you to Tha Chang Pier. From the pier, walk for five to seven minutes to reach the palace entrance.
Any Bangkok Thailand travel guide will surely recommend visiting The Grand Palace, a complex of buildings at the heart of the capital. This palace has been the official residence of Thailand's kings since 1872.[3]
Covering an area of more than 200,000 square meters, The Grand Palace complex features ornate buildings that embody the grandiose aesthetics of the country. Aside from the throne halls, the estate houses the Temple of the Emerald Buddha and important government offices.
Entrance is free for Thais and ฿500 for foreigners or around ₱790.
📍 Wat Pho
Location: 2 Sanam Chai Road, Phra Borom Maha Ratchawang, Phra Nakhon, Bangkok
How to get there: Take the boat cruising down the Chao Phraya River and disembark at the Tha Tien Express Boat Pier. From there, walk for five minutes until you reach one of the temple's entrances.
Wat Pho is another quintessential icon that you'll find in any Bangkok tour guide. Also known as the Temple of the Reclining Buddha, Wat Pho is one of the six temples in Thailand categorized as first-class royal temples. And it's easy to see why.
Once you enter the temple, you'll be greeted by its magnificent interiors. The highlight of your visit here is the Reclining Buddha statue. Measuring 15 meters tall and 46 meters long, this statue represents Buddha's entry into Nirvana.
Wat Pho is one of Thailand's oldest temples, existing even before Bangkok was established as the capital by King Rama I. It received a Memory of the World award from the United Nations Educational, Scientific and Cultural Organization (UNESCO). Moreover, it's the birthplace of Thai massage.
This temple complex sits just next to The Royal Grand Palace, so you can visit both spots in one day.
The entrance fee is ฿100 or around ₱150+.
📍 Pattaya
Location: Chonburi Province, Eastern Thailand
How to get there: Take a bus going to Pattaya at Bangkok Eastern Bus Terminal.
About a two-hour drive from Bangkok, Pattaya is a seaside city known for its nightlife. It used to have a quite mature reputation years ago. Now, it's marketed as a family-friendly destination with lots of wholesome attractions and activities.
A Pattaya travel guide usually includes the following places of interest:
Jomtien Beach – This six-kilometer stretch of sand is the perfect venue for tanning or relaxation. You can also enjoy kitesurfing, parasailing, and jet-skiing.
Koh Larn – Also known as Coral Island, this destination is just a 45-minute ferry ride from Pattaya. It has white-sand beaches and lots of activities for water lovers.
Nong Nooch Tropical Garden – This sprawling estate features a French-inspired garden. There are also shows at the Thai Cultural Hall for those interested in artistic performances.
The Sanctuary of Truth – Featuring Thai carpentry, the Sanctuary of Truth is the largest wooden building in Thailand. It houses wood statues and carved pieces depicting the cycle of life.
📍 Damnoen Saduak Floating Market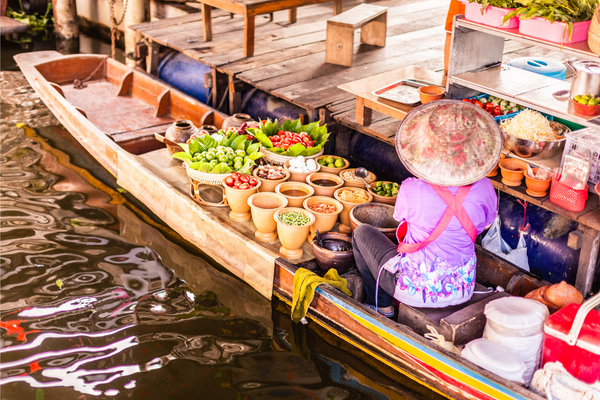 Location: Damnoen Saduak, Ratchaburi
How to get there: At Bangkok Southern Bus Terminal, take bus no. 78 to Damnoen Saduak.
Thailand's floating market culture is well and alive. If you want to experience it, one of the best places to go is Damnoen Saduak, located in Ratchaburi.
Attracting both local and foreign tourists, the Damnoen Saduak Floating Market is arguably the most popular floating market in the country. You'll find numerous merchants and entrepreneurs wading the waters on their boats while selling their wares. Ready your camera, as the interactions among vendors and customers make a good photographic subject.
Partake in the colorful chaos by riding a boat and haggling. If you prefer to watch the action from the sidelines, you can do so while shopping along the dockside area.
📍 Khao Sok National Park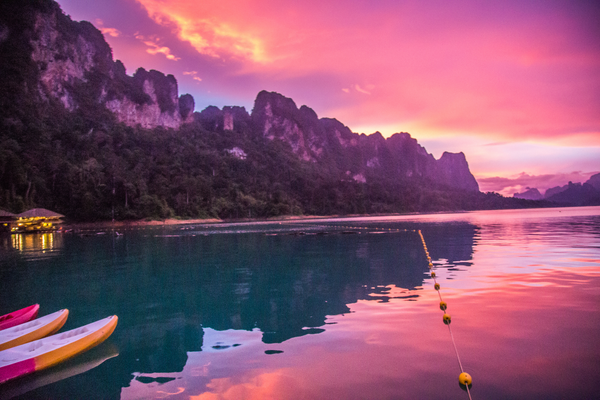 Location: 34 M.6 Phanom Sarakham, Surat Thani
How to get there: Take a domestic plane bound for Surat Thani Airport or Phuket Airport. Via train, take the overnight express from Bangkok to Surat Thani Station. You may also take a bus that stops in Khao Sok from Bangkok's southern station.
Escape the heat and crowd by visiting Khao Sok National Park, a rainforest located in Southern Thailand. This national park is home to a wide range of plant species and diverse wildlife, such as sun bears, mouse-deers, marbled cats, and wild boars, among others.
There's a lot to do within this sprawling rainforest. Hike, check out waterfalls, and enjoy the panoramic views of the park from different vantage points.
For those who are into water activities, you can swim in some ponds along the Sok River, ride a bamboo raft, or paddle a canoe. But perhaps the most recommended water-related activity is visiting Cheow Lan Lake.
The entrance fees are ฿200 for adults or around ₱300+ and ฿100 or around ₱150+ for kids ages 3-14.
📍 Chiang Mai
Location: Chiang Mai Province, Northern Thailand
How to get there: Take a plane bound for Chiang Mai Airport. You may take a train bound for Chiang Mai Station at Hua Lamphong Station. You may also ride a bus bound for Chiang Mai at Bangkok's Mo Chit Bus Terminal.
Chiang Mai is a major tourist magnet for its laid-back ambiance, great weather, beautiful landscapes, and colorful culture. If you're a freelancer who brings their work anywhere, this city is the place for you. It has plenty of cafés, co-working places, and affordable accommodations, making it a perfect destination for digital nomads.
But if you're visiting the city as a 100% tourist, check out the following destinations, which are mainstays in any Chiang Mai travel guide:
Wat Phra Doi Suthep – Immerse yourself in Buddhism by visiting this temple, which enshrines Buddhist relics. This elevated complex also offers uninterrupted views of Chiang Mai.
Elephant Nature Park – Love elephants? This sanctuary is home to elephants rescued from various parts of Thailand. You may also volunteer here.
Highland People Discovery Museum – This tribal museum introduces you to the country's minority hill tribes. Housed here are traditional handiworks, costumes, and jewelry.
Chiang Mai Gate Market – This night market offers gastronomic delights, from kra pow and grilled meats to mango sticky rice and smoothies.
📍 Ayutthaya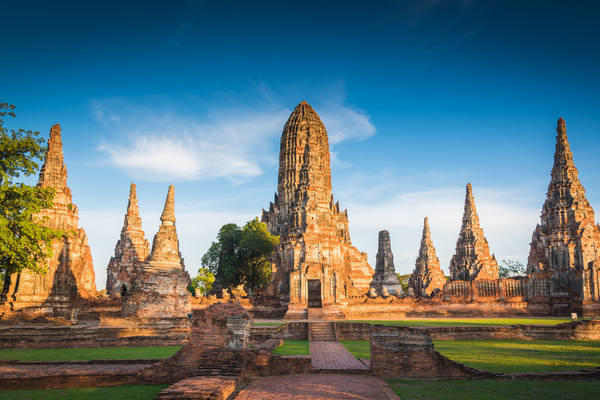 Location: Phra Nakhon Si Ayutthaya District, Phra Nakhon Si Ayutthaya Province
How to get there: Take a train bound for Ayutthaya at Hua Lamphong Station. You may also take a bus bound for Ayutthaya at Mo Chit Bus Terminal.
According to UNESCO, Ayutthaya used to be one of the largest cities in the world and a center of commerce and global diplomacy. Today, it is a collection of historic and beautiful ruins.
If you've been to Cambodia's Angkor Wat, you'll definitely fall in love with Ayutthaya. Here are some of the most notable and beautiful spots on this side of Thailand:
Wat Yai Chai Mongkhon – This features historic Buddha statues and a Chedi or pagoda. Visit the King Naresuan Monument to see thousands of statues of fighting cocks and roosters.
Wat Lokayasutharam – Here, you'll find a giant reclining Buddha, measuring 42 by 8 meters.
Wat Chaiwatthanaram – Resting on the bank of the Chao Phraya River, this temple features aesthetics that was definitely influenced by Cambodia's Angkor temples. Time your visit during sunset to see its beauty in a dramatic light.
Wat Mahathat – Considered one of the most significant temples in Ayutthaya's history, Wat Mahathat features a collection of old buildings, such as the royal hall, small temples, and octagonal pagodas.
📍 Phuket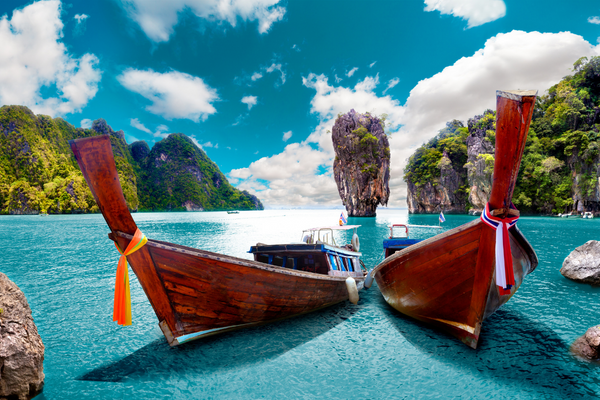 Location: Phuket Province, Southern Thailand
How to get there: Take a domestic plane bound for Phuket Airport. You may also take a train going to Surat Thani. From there, ride a bus bound for Phuket.
A Thailand travel guide won't be complete without Phuket. With its crystal-clear waters, fine white sands, and limestone formations, this island is very well a slice of heaven on earth. You can easily access Phuket since it's just a one-hour flight away from Bangkok.
Ready to explore the island? A Phuket travel guide usually includes the following spots:
Patong Beach – Phuket's longest beach is also the busiest, as it has a lot of tourists. If you prefer a pulsating tropical vibe, you'll love this place.
Karon Beach – Not as busy as Patong Beach, Karon Beach provides a retreat for tourists who want to lounge under the sun and contemplate life.
Kata Beach – With its still, aquamarine waters, Kata Beach is a great place for snorkeling or swimming with kids.
Phuket Town – Go on a local immersion by visiting Phuket Town, where you'll find mansions and shophouses whose styles are influenced by Chinese and Portuguese aesthetics.
Phuket Markets – After a day of swimming, visit some of the markets in Phuket to get some grub and meet the locals. Don't miss the Sunday Walking Market, which is only open on Sundays.
Dos and Dont's to Remember When Visiting Thailand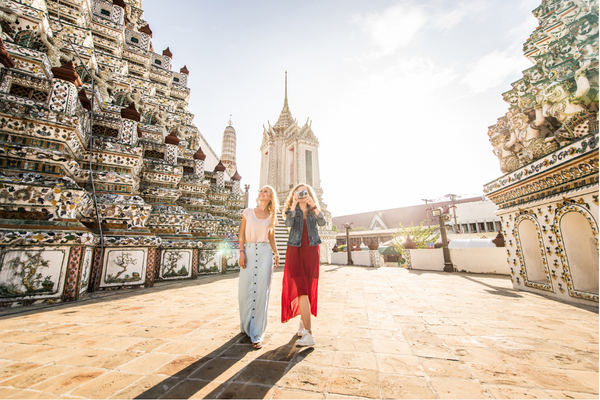 Thailand is one of the most tourist-friendly countries in the world. Show the same courtesy by being an affable guest who shows respect for the country's customs.
Here's a list of dos and don'ts in Thailand:
👍 Dos in Thailand
Remove your shoes when entering a Thai home, palace, or temple.
Dress appropriately when visiting a temple or palace. While Thailand isn't conservative when it comes to clothing, people are expected to dress modestly when visiting sacred places. The bare minimum is covering your shoulders and knees.
Bring an umbrella since it's always sunny in Thailand. This will also come in handy if you visit during the monsoon season.
Be conscious and careful when taking pictures. This rule especially applies when you visit temples. Always read the temple rules to see if taking pictures is allowed.
Return a wai greeting. The wai is a gesture where you put your hands together as though you're praying, followed by the lowering of your head. Not returning this greeting is considered impolite.
👎 Don'ts in Thailand
Don't touch the monks. This rule especially applies to women, as physical interaction with women goes against the Buddhist rules.
Don't point. Just like in other cultures, this gesture is considered rude in Thailand.
Don't take a Buddha image out of the country as a souvenir. It's illegal unless you have special permission to do so.
Don't collect coral shells as souvenirs. It's illegal.
Don't forget to smile. Smiles are a big social asset in Thailand. Use them in various interactions, such as negotiations.
Fund Your Thailand Trip with a Citi Personal Loan

For any out-of-the-country trip, budget is a top priority. This shouldn't be a problem with a Citi Personal Loan. You can borrow up to ₱2 million, get low interest rates, and enjoy flexible repayment terms of up to five years.
Ready to make your dream vacay happen? Click the banner to learn more!
Note: This product is sold by Union Bank of the Philippines, using certain trademarks temporarily under license from Citigroup Inc. and related group entities.
Avoiding Scams in Thailand
While Thais are sunny, polite, and honest, you may encounter some locals who scam tourists. In this Thailand travel guide, you'll learn how to avoid them:
✔️ Be Careful When Dealing With a Tuk-Tuk Driver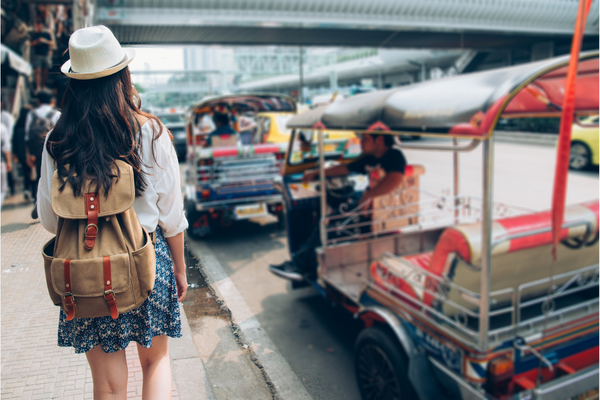 Some drivers will insist on touring you around the city and making a stop at some shops where you'll be forced to buy something. If you end up buying from these shops, the tuk-tuk driver will get a small cut of the profit.
If you really want to ride a tuk-tuk for a cultural experience, book one on Grab. If you're hailing a tuk-tuk, agree on a price before boarding. Otherwise, your driver will charge you a high price at the end of the trip.
✔️ Don't Buy Jewelry or a Suit From Some Random Shop
If your tuk-tuk driver takes you to a jewelry store, chances are the gems or pieces it sells are fake. Don't be enticed by the shop's so-called certificate of authenticity.
Similarly, a friendly local may approach you, offering tailor-made suits cheaper than those in malls. In reality, this suit is substandard. Sometimes, this trick is part of the tuk-tuk scam.
✔️ Make Sure That Your Taxi is Using the Meter
Avoid being ripped off by seeing to it that the taxi you're riding uses the meter. As you sit in the car, the driver should turn on the device. Otherwise, the driver will charge you an exorbitant price at the end of the journey.
✔️ Look Up the Opening Hours of Attractions
If you don't know the opening hours of the attractions you intend to visit, you'll fall prey to scammers. A friendly local standing right outside an attraction may approach you to tell you that the said attraction is closed. Then they'll tell you that their friend who happens to be a tuk-tuk driver can take you to other attractions.
Steer clear of this scam by researching the operating hours of the attractions beforehand.
✔️ Think Twice Before Renting a Jet Ski or Scooter
The scam goes like this: after you use the equipment, the vendor will complain that it has a dent or scratch. The vendor will then ask for compensation.
If you manage to rent a jet ski or scooter from a seemingly trustworthy vendor, take a picture of the vehicle. This will protect you from scams and unwarranted claims.
Related reading:
Final Thoughts
Thailand should be part of any traveler's bucket list. It's a country full of sunshine, smiles, and warm people. With a size of more than 500,000 square kilometers, Thailand surely has a lot of beautiful places to visit—from bustling capitals and historic temples to quiet jungles and pristine beaches.
With this Thailand travel guide, you can draft an itinerary that will make for a memorable trip. Moreover, you'll be able to avoid scams that will put a dent in your budget.

Sources: