There's more to South Korea than catchy K-pop tunes, addictive K-Dramas, talented idols, and good-looking oppas. From the bustling urbanscapes of Seoul to the calming sceneries of Jeju Island, this country is full of natural and cultural wonders that will keep you coming back for more.
Being a first-time tourist in South Korea means having your hands full. That's why proper planning is a must. We've got you on that one!
Here's a comprehensive guide to a hassle-free and memorable holiday in the Land of the Morning Calm. Let's go!
South Korea Travel Guide: Everything to Know Before You Go
Before you plan that 7-day Korea itinerary, you need to cover the essentials first. Take note of the following travel tips:
👉 Can I Travel to Korea Now From the Philippines This 2023?
Yes. The borders of South Korea have been open to foreign tourists since June 1, 2022.[1] You can fly into the country as long as you submit and present the necessary travel requirements to South Korea from the Philippines in 2023.
Related reading: Travel Essentials in the New Normal: What to Pack for Your Next Trip
👉 Does South Korea Require a Tourist Visa?
Yes. You'll need to apply for a short-term stay visa, otherwise known as the C-3 visa. This document allows you to stay in South Korea for up to 90 days.
How to travel to South Korea from the Philippines visa-free? Is it even possible? Yes, you can do so by entering via Jeju, Yangyang, or Jeolla.
For more information, read this comprehensive South Korea tourist visa guide.
👉 Does South Korea Have Quarantine Rules?
South Korea has already lifted its COVID-19 restrictions. You're no longer required to undergo a PCR test or comply with quarantine requirements. This rule also applies to unvaccinated tourists.
However, keep in mind that you may be subject to a seven-day quarantine or restriction of movement if you are diagnosed with COVID-19 during your stay in South Korea.
The authorities also recommend the use of the Q-Code system for faster entry to the country. This is a special QR code in South Korea that contains your health-related details.
Here's a simple Q-Code Korea tutorial:
Visit the Q-Code website at https://cov19ent.kdca.go.kr/.
Agree to the Terms and Conditions.
Enter your email address and passport number.
Enter the required passport information.
Enter your entry- and stay-related information.
Enter your health condition.
Confirm the information you've entered.
Get the QR code.
The QR code will then be scanned once you arrive at the Korean airport. Note that once the QR code is issued, you're only allowed to modify the health status.
👉 What's the Best Time to Visit Korea?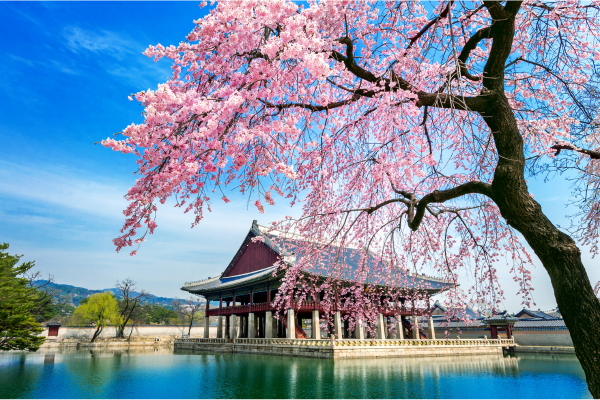 This will depend on your travel plans. But generally, you can visit this country all year round. South Korea has a temperate climate, which means it experiences four seasons: spring, summer, fall, and winter.
Here's a quick guide to help you choose the best time to visit South Korea:
March to May (Spring) – The spring season means that there are clear skies ahead, pretty chill temperatures, and of course, cherry blossoms! Jeju is one of the best places to visit, as it has a wealth of flower parks and lush forests.
June to August (Summer) – Summer in Korea can be unforgiving due to its heat and humidity. There are also a lot of rainy days, so make sure you always have an umbrella with you. Locals and tourists alike flock to Busan and Yangyang to frolic on the beaches, relish the sea sprays, and watch the sunset. Since it's an off-peak season, you can enjoy great deals on flights and hotels.
September to November (Fall) – There are lots of clear skies ahead, stunning fall colors everywhere, and pleasant temperatures. Nami Island is one of the most popular spots to visit for its mesmerizing fall foliage.
December to January (Winter) – Winter is bitter and very cold, something that tropical denizens may have difficulty getting used to. Nevertheless, this is the best time to visit Korea if you want to try and indulge in various spicy dishes.
👉 How to Travel to South Korea from the Philippines
Major air carriers in the Philippines operate flights from Manila to Seoul. These include Philippine Airlines, Cebu Pacific, and Philippines AirAsia. The same airlines also operate flights from Clark, Cebu, and Davao to Seoul (with AirAsia hosting flights from other air carriers).
The Philippines to Korea ticket price will depend on your air carrier. If you're flying via low-cost airlines like Cebu Pacific, prepare to shell out between ₱6,000 to ₱10,000 one way. Nevertheless, you can save a lot if you book early and avail of seat sales.
👉 How to Get Around South Korea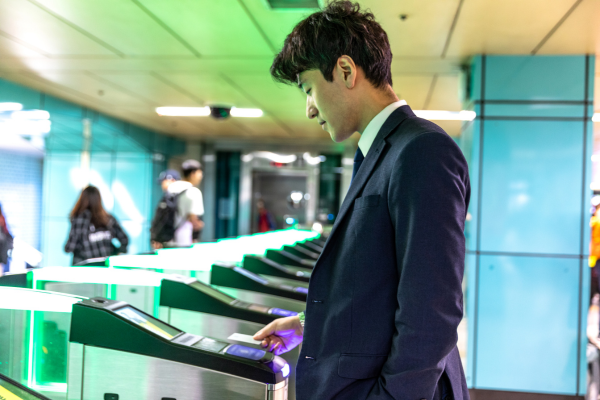 As an ultra-modern country, South Korea boasts an efficient and reliable transportation system. Here's how you can navigate the peninsula.
Train – Similar to Japan, South Korea has an extensive railway network. Major metropolitan areas, such as Seoul-Incheon, Busan-Gyeongnam, Daegu-Gyeongbuk, Gwangju, and Daejeon have metro rapid transit or subway systems. If you're traveling from one province to the other, you can ride the KTX (Korean Train eXpress) train, which is the country's high-speed rail system (the Korean equivalent of Japan's bullet train).
Bus – City buses are ideal for getting around the metropolitan area. The country also has long-distance buses that haul people to other cities and provinces.
Taxi – Taxi rides are surprisingly affordable. They're your best bet if you are traveling by group and want to get to your destination quickly.
Ferry – South Korea is surrounded by smaller islands. You can reach them via this mode of transportation.
Plane – While South Korea is a relatively small and compact country, it has an extensive domestic flight system that links major cities. Some of the most popular air carriers operating domestic routes are Korean Air, Asiana Airlines, and Jeju Air, among others.
👉 How to Communicate in South Korea
Korean is North Korea and South Korea's official and national language. As of 2020, the Korean language is spoken by more than 80 million people.
English is not widely spoken in the country, although people in major and tourist-centric cities can understand the language and communicate at a basic level. To get by and break the ice with the locals, you may want to learn some useful phrases (your K-drama exposure may have prepared you for this!):
Annyeong! / Annyeong haseyo – Hello!
Yeoboseyo – Hello! (on the phone)
Ye or ne – Yes
Aniyo – No
Gwanechanayo – Okay
Sillyehamnida – Excuse me
Jamsimanyo – Please hold on.
Kamsahamnida – Thank you!
Cheonmaneyo – You're welcome!
Mianhaeyo – Sorry
Mollayo – I don't know
Juseyo – Please
Geonbae – Cheers!
Daebak – Amazing!
Hwaiting – Good luck!
Bangapseubnida – Nice to meet you
Je Ileum-eun - My name is __
👉 How Much Does a South Korea Trip Cost?
The South Korean Won (₩) is South Korea's official currency. As of this writing, the Korean won to Philippine peso exchange is ₩1 = ₱0.043.
Budget accommodations may range from ₩25,000 to ₩80,000 or ₱1,065 to ₱3,194 per night, depending on the number of people you're traveling with and your preferred creature comforts. But you can always find cheaper options, especially in the outskirts of heavily touristy areas.
Food, on the other hand, may cost somewhere between ₩6,000 and ₩20,000 or (₱256 and ₱852. Keep in mind that Western fares are usually more expensive.
Your budget per day may range from ₩70,000 to ₩140,000 or ₱2,982 to ₱5,750. So if you have a 5-day-4-night South Korea itinerary, you'll need to shell out between ₩350,000 and ₩700,000 or over ₱14,900 and almost ₱30,000.
Of course, this budget will depend on the number of attractions you're visiting and activities you're taking part in. You can significantly reduce it if you travel with friends and choose more affordable alternatives to accommodations and food.
The budget is exclusive of your airfare and Korea pasalubong. If you're factoring in the latter, here are the top things to buy in Korea:
K-pop merch – If you're a K-pop fanatic, you'll go crazy over the multitude of photo cards, posters, stationery, and lightsticks.
Skincare essentials – As you know, South Korea is big on skincare. Take home face masks, moisturizers, facial washes, face mists, etc.
Cosmetics – While you're at it, grab some makeup and perfumes.
Clothing – South Koreans take fashion seriously. Add oversize shirts and jackets, cute socks, shoes, boots, and more to your haul.
Phone accessories – Quirky phone accessories, such as cases, trinkets, and even power banks, are all the rage in various shopping areas.
Food – Stock up on instant ramyeon, boxes of Pepero, dried seaweeds, flavored almonds, and more!
---
To pay for flights, accommodations, activities, and pasalubong, use the best credit cards for traveling below:
2x reward points for international purchases
Exclusive access to airport deals via Mastercard Airport Experiences
---
🎁

Free Gift from Moneymax:

₱2,500 eGift, Xiaomi Soundbar, or Mi Band 7 Smartwatch

Eligible cards: Metrobank World Mastercard®, Platinum Mastercard®, and Titanium Mastercard®
Promo period: Until October 31, 2023
How do you get an awesome Metrobank credit card welcome gift? Simple! Just apply and get approved for any eligible card through the Moneymax website. Choose from a ₱2,500 eGift voucher via Giftaway, Xiaomi Redmi Soundbar (worth ₱2,499), or a Xiaomi Mi Band 7 smartwatch (worth ₱2,499) as your free special gift!
Per DTI Fair Trade Permit No. FTEB-175599 Series of 2023. Terms and conditions apply. This Moneymax Metrobank eGift/Xiaomi promo runs until October 31, 2023 only. So hurry and apply now!
Note: Applicant must be an existing credit cardholder from any bank excluding Metrobank for at least 9 months.
---

5% rebate on travel transactions
Exclusive deals at travel merchants in 160 countries worldwide
---
🎁

Free Gift from Moneymax:

₱2,500 eGift, ₱2,500 SM Gift Pass, or Dolce Gusto Coffee Machine

Eligible cards: HSBC Red Mastercard, Gold Visa Cash Back, and Platinum Visa Rebate

Promo period: Until October 31, 2023

Not an HSBC credit cardholder yet? Apply for an HSBC card through Moneymax during the promo period (and get approved subsequently) to receive an exciting free welcome gift! Choose from a free eGift voucher worth ₱2,500, an SM Gift Pass worth ₱2,500, or a Nescafé Dolce Gusto Piccolo XS coffee machine (worth ₱5,199).
Per DTI Fair Trade Permit No. FTEB-173270 Series of 2023. Terms and conditions apply. This Moneymax HSBC Giftaway/SM Gift Pass/Dolce Gusto promo runs until October 31 only. So hurry and apply now!
---
💳 Security Bank World Mastercard
Membership to more than 1,000 lounges in over 500 airports worldwide
Free travel insurance coverage up to ₱10 million
Dining, spa, and retail offers from select exclusive airport merchants
---
🎁

Free Gift from Moneymax:

₱2,500 eGift, Sony Wireless Headphones, or De'Longhi Blade Coffee Grinder

Eligible cards: Select Security Bank credit cards
Promo period: Until November 11, 2023
Want a credit card from Security Bank? You're in for a treat if you apply and get approved for an eligible card through Moneymax and meet the minimum spend requirement. Pick your free Security Bank welcome gift: a ₱2,500 Giftaway eGift voucher, Sony WH-CH520 wireless headphones (worth ₱3,299), or a De'Longhi Blade Coffee Grinder (worth ₱3,800).
Per DTI Fair Trade Permit No. FTEB-175575 Series of 2023. Terms and conditions apply. This Moneymax Security Bank Giftaway/De'Longhi credit card promo runs until November 11, 2023 only. Apply now!
---

Low forex conversion rate of just 1.85%
50% discount on hotels, resorts, and more all year round
---
South Korea Travel Guide 2023: Top Must-Visit Places in South Korea
Here comes the exciting part of this South Korea travel guide—the most popular tourist spots you shouldn't miss. Plan your itinerary with the following recommendations:
📍 Gyeongbokgung Palace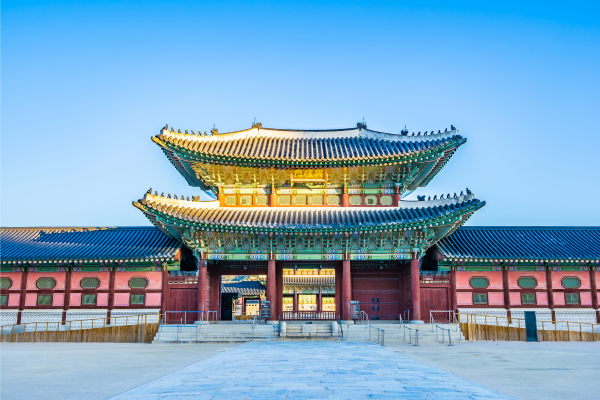 Location: 161, Sajik-ro, Jongno-gu, Seoul
How to get there: Take the Seoul Subway Line 3 train and alight at Gyeongbokgung Station.
First on this South Korea travel guide is the iconic Gyeongbokgung Palace, one of the most splendid palaces in the country. It's the largest of the Five Grand Palaces erected by the Joseon Dynasty. Its 40-hectare complex houses around 500 buildings showcasing Ancient Korea's architectural aesthetics and sensibilities.
One of the most awaited events in the palace is the changing of the royal guards, which has been performed since the 14th century. Rent a hanbok and roam the grounds like you're in a sageuk or historical drama. Don't forget to take a picture of the iconic Gwanghwamun Gate.
Admission costs ₩3,000 or ₱127 for tourists ages 19 to 64. If you are in a group of 10 or more, you'll only need to pay ₩2,400 or ₱102. Tourists under 18 or above 65 enjoy free admission.
📍 N Seoul Tower
Location: 105, Namsangongwon-gil, Yongsan-gu, Seoul
How to get there: Ride the Namsan Sunhwan Shuttle Bus No.1 at Chungmoro Station (Line 3 and 4) or Dongguk University Station (Line 3).
Built in 1969, the Namsan Tower or N Seoul Tower (officially named YTN Seoul Tower) is one of the most popular South Korea travel spots. It is the country's first general radio wave tower, beaming broadcast signals across the metropolitan area.
Standing tall on Mount Namsan, the N Seoul Tower also doubles as a sightseeing observatory. From its top floor, you can see an uninterrupted view of the city. Inside the tower, there are shops and restaurants that cater to visitors.
Admission to the observatory is ₩21,000 or around ₱890. Children up to 12 years old and elderly over 65 years old have a discounted pass of ₩16,000 or around ₱680.
📍 Bukchon Hanok Village
Location: 37, Gyedong-gil, Jongno-gu, Seoul
How to get there: Take the Seoul Subway Line 3 train and alight at Anguk Station. From there, walk for around 10 to 15 minutes to get to the village.
Where to go in Seoul if you're a history buff? The city has a wealth of historic landmarks, but if you want to know what villages looked like during the Joseon era, the Bukchon Hanok Village is the place to be.
Similar to the Vigan's Calle Crisologo or Kyoto's Gion, The Bukchon Hanok Village is home to traditional houses and structures. There are lots of alleys that let you see the old residences up close. If you're tired from all the walking, take refuge at one of the cozy cafés or restaurants in the area.
📍 Gwangjang Market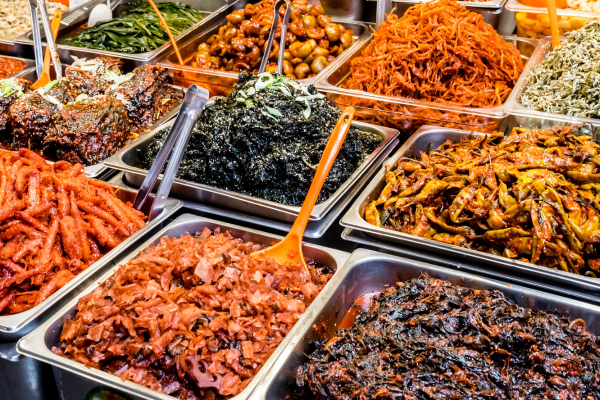 Location: 88, Changgyeonggung-ro, Jongno-gu, Seoul
How to get there: Take the Seoul Subway train and alight at Jongno-5 Station.
A trip to Korea won't be complete without tasty dishes. If this is your objective, there's no better place for you than the Gwangjang Market. Take note, though, that this is always packed with locals and tourists alike.
The food here is relatively affordable. Forget samgyup for a while (you've already got a fair share of it here in the Philippines, anyway) and try the following dishes at this legendary market:
Kalguksu – This knife-cut noodle dish is flavored with scallions, spicy sauce, kimchi, and other veggies.
Tteokbokki – The texture of these small rice cakes may remind you of bilo-bilo, albeit a bit firmer and soaked in a sweet and spicy sauce.
Mandu – Also known as Korean dumplings, these goodies are made of minced or ground meat with vegetables and kimchi wrapped in a thin flour wrapper. You can add them to your noodles.
Gimbap – This seaweed-wrapped rice roll is similar to sushi except that it doesn't use raw fish. Its usual fillings are tuna, pork cutlet, grilled bulgogi, or ham and cheese.
Bibimpab – This hearty meal is composed of rice topped with seasonal vegetables, kimchi, meat, and a fried egg. To enjoy that medley of flavors, you'll have to mix it well before eating.
Bindaetteok – This savory pancake is made of mung beans, kimchi, and various spices.
Corn dogs – This popular Korean snack is made of a hotdog covered in batter and bread crumbs and then deep-fried to perfection.
Hotteok – If you want to finish your gastronomic adventure with something sweet, hotteok or pancake will certainly hit the spot.
Read more: Going Abroad? Try These Hacks to Save Money on Food While Traveling
📍 Myeongdong
Location: 66, Eulji-ro, Jung-gu, Seoul
How to get there: Take the Seoul Subway Line 4 train and alight at Myeongdong Station. Alternatively, you can take the Seoul Subway Line 2 train and alight at Euljiro 1-ga Station. From there, walk until you reach Myeongdon's main shopping area.
Myeongdong is one of the most popular South Korea travel spots among retail therapy junkies. This shopping district has a zillion shops selling trendy clothing, shoes, accessories, and fashion items. The chaos of this destination may remind you of Hong Kong's Mongkok or Taiwan's Ximending.
If you're a Korean skincare enthusiast, Myeongdong will be your paradise, as it also houses a lot of skincare shops. Popular brands include Nature Republic, Innisfree, and Missha.
There are many shopping locations in Myeongdong, such as Lotte Young Plaza and Lotte Department Store. But if you want a unique experience, head to the sprawling Myeongdong Underground Shopping Center, which is literally located underground.
📍 Nami Island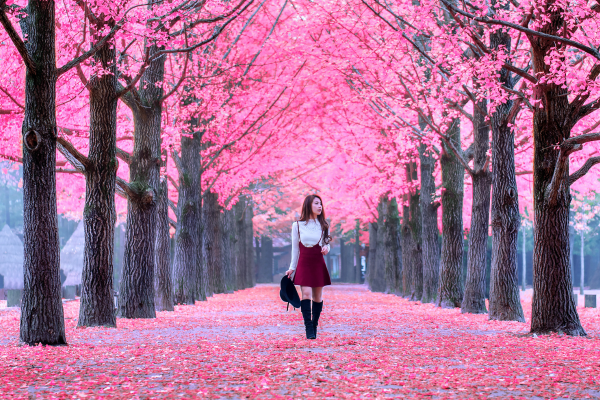 Location: 1, Namiseom-gil, Chuncheon-si, Gangwon-do
How to get there: Catch the Nami Island Shuttle Bus in Myeongdong, Namdaemun, or Insadung.
If you're looking to get away from Seoul's hustle and bustle for a while, Nami Island will make a memorable day trip. Sitting in the middle of the Han River, this half-moon-shaped island is full of natural wonders that will provide you with that much-needed respite.
Nami Island is popular for its roads lined with towering trees. The island gets more beautiful during fall as the trees and plants change their foliage's shade. If you have the guts to brave the bitter cold, visit this island in winter to fully enjoy that "Winter Sonata feel" (trivia: this K-drama popularized the island).
📍 Demilitarized Zone (DMZ)
Location: 148-40, Imjingak-ro, Paju-si, Gyeonggi-do
How to get there: You can only access this destination when you book a guided tour. Operators like Klook and KKday offer this tour.
Make your trip to Korea more thrilling with a visit to the demilitarized zone or DMZ. The DMZ is a region on the Korean peninsula that separates North Korea from South Korea.[2]
The DMZ measures 250 kilometers long, so you need to pick a specific area of interest for your trip. Some of the most popular spots along the DMZ are the following:
Joint Security Area (JSA) – The only portion along the DMZ where North Korean and South Korean military forces see each other face-to-face.
Dora Observatory – Here, you can view Kijong-dong, a fake or propaganda town built by North Korea, via binoculars.
Odusan Observatory – With binoculars, you can see North Korea on the other side of Han River. You may even see North Korean civilians.
Third Infiltration Tunnel – You can also visit the Third Tunnel of Aggression which is one of the four tunnels built by North Koreans to infiltrate South Korea.
Keep in mind that there are some rules in place, such as the following:
Do not wear shorts, skirts, ripped pants, and military-themed clothing (camouflage).
Do not just take pictures willy-nilly. Follow certain instructions on photography.
Avoid waving and pointing.
You can access the DMZ if you book a tour. Klook's offers start at around ₱1,500. You must also book your tour at least one week ahead.
📍 Jeju Island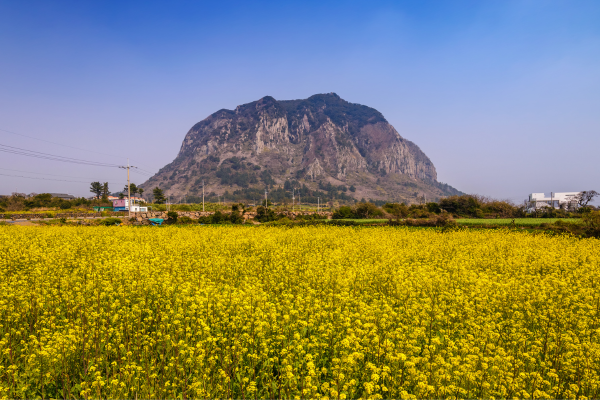 Location: South of the Korean Peninsula
How to get there: From the Korean mainland, travel via a plane bound for Jeju Airport.
Touted as the Hawaii of Korea, Jeju Island is a popular summer trip among Koreans and foreign tourists. You can reach this destination via a direct flight from Seoul
If you're into exploration, the Yongmeori Coast has a lot of cliffs and mountains to check out. You may also want to explore Seongsan Ilchulbong Tuff Cone, an island formed by magma flowing out of the sea more than 5,000 years ago. At the summit, you can take in the cool breeze while marveling at uninterrupted sea views.
Visiting Jeju during spring? During this season, certain roads are lined with cherry blossom trees and flowering plants all in full bloom.
Don't miss Mount Sanbangsan in Southern Jeju. The yellow carpet of canola flowers with the backdrop of the mountain will make you feel like you're in a postcard.
📍 Jeonju
Location: North Jeolla Province
How to get there: From Seoul, take the KTX train bound for Jeonju.
Jeonju is one of the crowning glories of Southwest Korea. As one of the cultural epicenters of the Joseon Dynasty, this city has preserved a lot of historical treasures, ranging from splendid shrines to hanok villages.
Rent a hanbok and explore the streets of Jeonju Hanok Village filled with ancient homes, a lot of which have been converted into restaurants and cafés. You may also spend the night at one of the hanoks.
Don't forget to sample the city's bibimbap. After all, Jeonju is the birthplace of this famous rice dish.
📍 Busan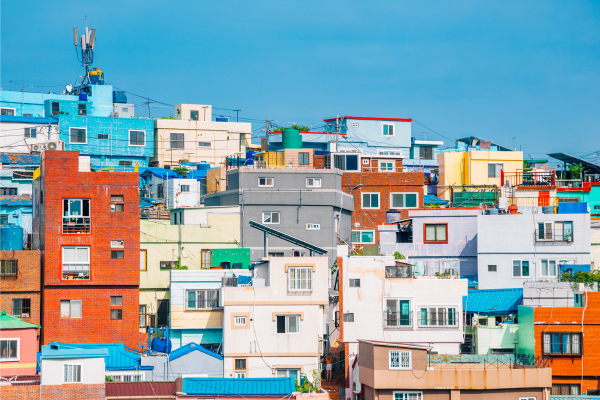 Location: Yeongnam Region
How to get there: Take the KTX train bound for Busan. Alternatively, you can book a flight from Gimpo Airport bound for Busan.
After Seoul, Busan is South Korea's second-largest city. It's also the educational, cultural, and economic center in the country's southeast region.
As a massive metropolis, Busan has a lot of places worth visiting, such as the following:
Nampo Neighborhood – Here, you can visit the Busan International Film Festival Square (or BIFF Square) and Busan Tower, where you can enjoy 360-degree views of the city.
Jagalchi Fish Market – Get your favorite seafood and have it prepared at one of the restaurants there.
Gamcheon Culture Village – This colorful village, which was originally built for Korean War refugees, deserves a spot or two on your Instagram feed. There are also a lot of quaint coffee shops where you can comfortably view the colorful houses or people-watch.
Gwangalli Beach – Time your visit late in the afternoon to witness the sun setting over Gwangan Bridge.
Haeundae Beach – This is a popular spot during summer because its shallow bay lets swimmers enjoy the refreshing waters.
📍 Other Places to Go in Seoul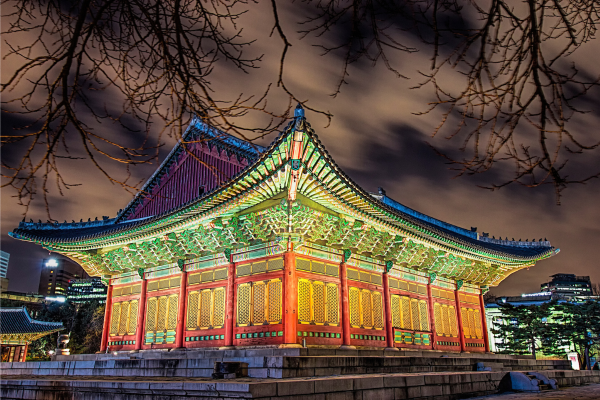 Location: Seoul
How to get there: To get around, just use the Seoul Subway Line.
Where to go in Seoul this 2023? If you plan to stay in the capital all throughout your trip, here are the other top Seoul tourist attractions:
Cheonggyecheon Stream – This stream used to be covered with concrete and an elevated highway. It was then transformed into an ecological park, accommodating pedestrians and those who want to take a breather from the city's hustle and bustle.
Deoksugung Palace – One of Seoul's Grand Five Palaces, Deoksugung Palace is known for its stonewall road. It sits in the middle of towering modern buildings, giving it a unique vibe. Trivia: the palace's picturesque stonewall road has been featured in a lot of K-dramas, such as "Goblin" and "Extraordinary Attorney Woo." There's also a superstition that couples who walk together on this road are doomed to break up.
Ehwa Womans University – One of South Korea's most prestigious universities, Ehwa Womans University attracts tourists for its beautiful Western-style architecture. While here, don't miss the iconic staircase and passageway lined with glass buildings on both sides.
Dongdaemun Design Plaza – Also known as DDP, the Dongdaemun Design Plaza draws in visitors due to its futuristic architecture. Take a lot of snaps of the building's exteriors or attend an exhibition if it happens to have one that tickles your fancy.
Lotte World – Lotte World is a massive indoor theme park that has also served as a location for many K-drams, such as "Stairway to Heaven," "Love Alarm," "True Beauty," and "Business Proposal."
Gangnam – Yes, that's the Gangnam PSY was singing about in his 2012 viral hit "Gangnam Style." This posh neighborhood is the perfect spot for those who want to go clubbing and shopping.
Itaewon – Similar to Makati's Poblacion, Itaewon is a commercial area hosting foreigners. Bar hopping and gastronomy are the main activities here. You may also visit some of the spots featured in the 2020 hit K-drama "Itaewon Class."
Leeum Samsung Museum of Art – Located in Itaewon, Leeum Samsung Museum of Art is a must-visit for those who are into art and design. It houses traditional artifacts and contemporary pieces. A ticket costs ₩12,000 or around ₱500. Admission for university students, adolescents, and senior citizens is ₩6,000 or around ₱250. Meanwhile, admission is free for veterans (plus one companion), veterans, and preschoolers.[3]
War Memorial of Korea – Opened in 1994, this museum houses more than 33,000 pieces related to the Korean War. This museum is also located in Itaewon.
Read more:
Sample Itinerary: Places to Go and Things to Do
If you want a DIY travel guide, here's a sample itinerary for a 5-day-4-night South Korea itinerary. Note that this is intended for those staying only in Seoul. This itinerary also assumes that you arrived in Seoul the night before Day 1 and that Day 5 will be your trip back to the Philippines.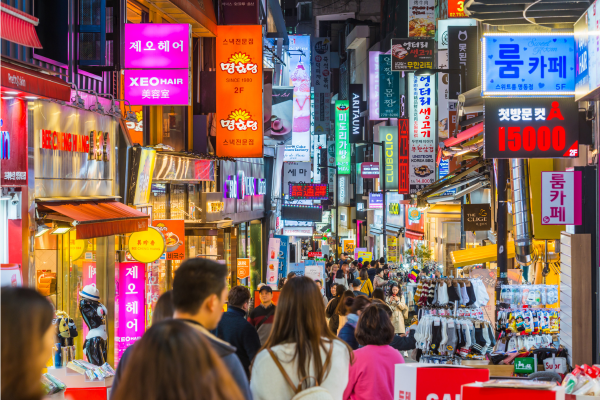 ☀️ Day 1
8:00 a.m. - Wake up
9:00 a.m. - Gyeongbokgung Palace
11:30 a.m. - Lunch
2:00 p.m. - Cheonggyecheon Stream
2:30 p.m. - Bukchon Hanok Village
5:00 p.m. - Dongdaemun Design Plaza
7:00 p.m. - Gwangjang Market (including dinner)
9:00 p.m. - Home
☀️ Day 2
8:00 a.m. - Wake up
9:00 a.m. - Deoksugung Palace
11:30 a.m. - Lunch
2:00 p.m. - Ehwa Womans University
5:00 p.m. - Gangnam (up to dinner time)
8:00 p.m. - Home
☀️ Day 3
6:00 a.m. - Wake up
9:00 a.m. - Nami Island
12:00 a.m. - Lunch
6:00 p.m. - Myeongdong (including dinner)
9:00 p.m. - Home
☀️ Day 4
8:00 a.m. - Wake up
9:00 a.m. - War Memorial of Korea
12:00 a.m. - Lunch
2:00 p.m. - Leeum Samsung Museum of Art
4:00 p.m. - N Seoul Tower
7:00 p.m. - Itaewon (including dinner)
9:00 p.m. - Home
Read more: Being Your Own Tour Operator: Guide to DIY Travel Planning
Final Thoughts
South Korea is one of the world's cultural powerhouses, as evidenced by the popularity of K-pop, K-drama, K-skincare, and more. For many Korean culture aficionados, visiting this country is a dream come true.
However, planning can be overwhelming. There are just so many places to visit and activities to try that prioritizing becomes a challenge. But we hope that this South Korea travel guide helps you organize your trip. Hwaiting!

Sources: