With the new variant of coronavirus plaguing the country, the national government has once again put Metro Manila under the enhanced community quarantine (ECQ) in August 2021. Some towns and cities outside Manila have done the same. This means that only essential establishments and industries, such as hospitals, groceries, and courier services are fully operational. [1]
Likewise, manufacturing and business process outsourcing firms continue to operate as usual. On the other hand, banks, telecommunication companies, certain legal firms, and some medical clinics operate with a skeletal workforce.
The most painful part of the lockdown, however, is the fact that public transportation has been limited. Moving around the metro is still challenging.
There's an alternative, though, and it comes in the form of GrabCar Philippines. But you need to remember that riding the GrabCar is not the same as before. There have been a lot of changes, knowing that the ride-hailing company needs to adapt to the times to keep both drivers and passengers safe.
Refer to this comprehensive primer for using GrabCar Philippines during the ECQ or other forms of community quarantines.
Read more: How to be a TNVS Driver or Operator in the Philippines
What is GrabCar Philippines?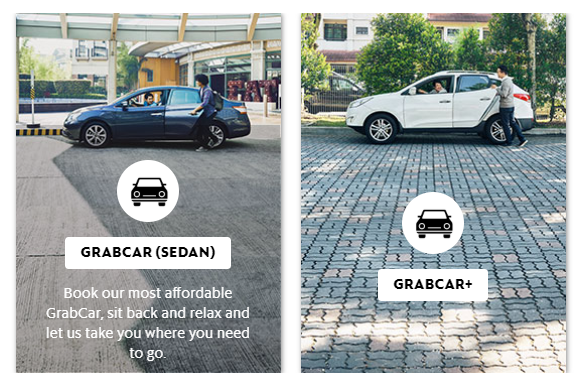 GrabCar Philippines[2] is a ride-hailing service that lets passengers book a chauffeured ride for a fee. Grab only allows vehicles and drivers with appropriate commercial licenses to register as GrabCar service providers.
Passengers can book either a standard GrabCar ride or a GrabCar+ ride. GrabCar includes sedan vehicles such as Toyota Vios, Hyundai Accent, and Honda City, while GrabCar+ offers premium vehicles like Toyota Fortuner, Hummer, and Mitsubishi Montero. Furthermore, GrabCar+ fares are more expensive compared to standard GrabCar rates, but both services provide fixed fares you can see upfront.
How to Book GrabCar
Set where you're going. Enter your pick-up and drop-off points.
Book a driver. Grab will find the nearest available driver to pick you up.
Track your GrabCar ride. Once an available driver accepts your ride, you can track your driver's location, details, and estimated arrival time.
Sit back and relax. Enjoy your GrabCar ride.
Share your ride details. You can share your ride with your family and friends, so they can track your destination. This is one of Grab's safety in-app features.
Grab also offers another ride-hailing service called GrabTaxi that allows passengers to book a taxi using the Grab app. Unlike GrabCar, the fare for this service is metered. You also have to pay a booking fee and surge charges. Getting a GrabTaxi is the same as booking a GrabCar. Just choose GrabTaxi in the available ride options and confirm your ride.
For safety reasons, GrabCar Philippines no longer operates GrabShare, which allowed passengers to share a ride before the pandemic happened.
What are GrabCar Philippines' Operating Hours During the Lockdown?
While GrabCar is operational during the ECQ, it has reduced its service areas for the time being. It also shortened its operating hours to provide its drivers enough time to drop off their last passengers before the curfew.
Here are GrabCar's service areas and operating hours.
| Transportation Available | Territory | Service Areas | Operating Hours |
| --- | --- | --- | --- |
| GrabCar (2-seater and 4-seater) | Metro Manila | Metro Manila | 24/7 |
| GrabCar (4-seater) | Outside Metro Manila | Cavite, Laguna, Bulacan, and Rizal | 24/7 |
| GrabCar (2-seater) | Pampanga | Angeles, Mabalacat, and San Fernando | 24/7 |
| GrabCar (2-Seater) | Cebu | Cebu City | 24/7 |
| GrabCar (2-seater and 4-seater) | Bacolod | Bacolod City | 24/7 |
If you're planning to use GrabTaxi, here are the service areas and operating hours to take note of:
| Territory | Service Areas | Operating Hours |
| --- | --- | --- |
| Metro Manila and surrounding areas | Metro Manila | 24/7 |
| Benguet | Baguio City | 24/7 |
| Camarines Sur | Naga City | 24/7 |
| Pampanga | Most parts of Angeles | 24/7 |
| Cebu | Cebu City | 24/7 |
| Negros Occidental | Bacolod City | 24/7 |
| Iloilo | Iloilo City | 24/7 |
| Davao | Davao City proper | 24/7 |
| Misamis Oriental | Cagayan de Oro City | 24/7 |
| Zamboanga | Zamboanga City proper | 5 a.m. to 11 p.m. |
Read more: How Safe is it to Ride with Grab in the New Normal?
GrabCar Guidelines for Drivers and Passengers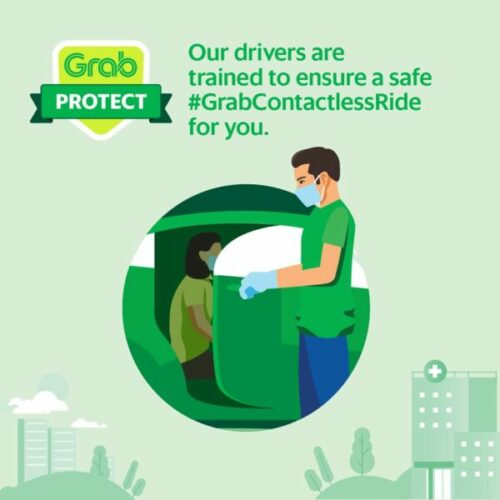 To better protect passengers and drivers, GrabCar Philippines is implementing a set of policies that aligns with the government's health and safety guidelines.
Here are GrabCar's policies[3] under the new normal:
In line with the government's mandate for cashless payments on all public transportation, GrabCar accepts payment only via GrabPay or credit/debit card.
Only two passengers are allowed for each GrabCar ride. Both of whom sit close to the windows at the back of the vehicle.
Drivers open the trunk for passengers with bulky items. However, drivers cannot touch the passenger's belongings. Passengers should put their items in the trunk of the car.
GrabCar cannot transport COVID-19 positive individuals. Only public health vehicles can do so.
Drivers and passengers should wear a face mask at all times. Both drivers and passengers can cancel a booking without penalty before the ride commences by selecting "driver/passenger did not wear a mask" as a reason for cancellation.
GrabCar drivers must keep their vehicles disinfected at all times, especially at the end of every trip. Vehicles are required to undergo deep-disinfection every other day. Once cleaned, driver-partners are required to allow for the chemicals to dissipate before boarding any passenger.
Grab encourages drivers to carry hand sanitizer and disinfectant sprays with them at all times so that they can keep surfaces and hands clean after every booking.
Each vehicle must have a non-permeable acetate barrier installed between the passengers and the driver.
Passengers cannot book for others to allow proper contact tracing when needed. Passengers are also required to show their booking code to their driver before entering the assigned vehicles.
Drivers are required to open and close the doors for passengers, and passengers cannot touch the doors themselves.
Eating and/or drinking is not allowed inside the car. Passengers are also required to clean after themselves.
Every time a passenger books a ride, they'll receive a notification via GrabChat reminding them of the proper safety and hygiene protocol during the ride.
The ride-hailing service also launched GrabProtect, featuring an online health and hygiene checklist, a mask selfie verification tool, safety, and hygiene certification, hygiene kits, and mandatory deep disinfection of vehicles[4].
Read more:

GrabCar Philippines FAQs
1. Can my driver refuse my booking?
Yes. Your driver can refuse your booked ride for the following reasons:
You're not wearing a mask.
Someone else booked for you.
There are more than two people booking a ride.
Your luggage and bags don't fit inside the vehicle.
The driver has been waiting at the pick-up point for more than five minutes.
2. Can I cancel my booking if the driver isn't wearing a mask?
Due to the ongoing pandemic, Grab has mandated every driver to wear a face mask during service. If you see that the driver is not wearing a mask when he/she arrives at the pick-up point, you're allowed to cancel the ride. Grab encourages passengers to inform the driver that wearing a mask is a must during the pandemic.
When canceling the ride, you'll just need to select the reason "Driver not wearing a mask."
3. What is the GrabCar Strike System?
GrabCar Philippines also introduced a new strike system for anyone caught violating the new safety protocols:
Safety protocol violations for drivers: No safety kit or plastic barrier, lying about daily health and temperature checks, not wearing a face mask.
Safety protocol violations for passengers: Booking a ride above the allowed passenger limit, not wearing a face mask, passengers who tested positive for COVID-19+.
Drivers can use Grab's Help Center to report passenger violations. If a passenger gets three reports, he or she will be shadow banned for 14 days. Meanwhile, passengers can report driver violations through the Help Center, before-trip cancellations, and feedback after the trip.
Read more: Grab Insurance Guide for TNVS Operators in the Philippines
4. What are the GrabCar payment options?
Upon GrabCar's relaunch, two payment options are now available for passengers: GrabCar via GrabPay and GrabCar via your personal credit/debit card. Both only accept cashless payments.
1. GrabCar via GrabPay

This service only accepts GrabPay credits, but passengers can enjoy Grab Rewards and lower fares with each trip. You can pay your fare via the following steps:
Set up your GrabPay Wallet. Activate your GrabPay by supplying the necessary details such as your legal name as shown on your ID, nationality, date of birth, and country of birth. You also have to select your ID type and number. Additionally, you have to provide your current address.
Cash in. Once activated, you can cash-in using your debit or credit card or through partner stores.
Book and pay. When paying for your GrabCar ride, select GrabPay balance as your payment method. Then tap on "Book" and you're ready to go!
2. GrabCar via credit/debit card
You can pay for your GrabCar ride using your credit or debit card. However, with this payment method, you will not accumulate Grab points. Follow these steps to pay for your ride:
Set up your payment option. Open the Grab app and tap on the gear icon to access your payment options page. Then, tap on "Add Payment Methods" and enter your card details. Authenticate your card using your bank's token or method.
GrabCar payment. When paying for your ride, simply choose your card as the payment option.
5. Can my pet ride with me?
A government-issued memorandum actually allows your pet to ride with you via public utility vehicle (PUV). This means that your fur babies (or other pets) can ride a Grab with you. This is possible through Grab's service called GrabPet.
Here are the animals that are allowed in GrabPet:
| Type of Pet | Method of Handling |
| --- | --- |
| Dogs | Leashed or crated; must have a muzzle |
| Cats, rabbits, guinea pigs, and hamsters | Crated |
| Fish | Sealed bag or closed fish tank |
| Turtles | Closed container |
The service areas for GrabPet include the following:
Cubao
Ugong Norte
San Juan
White Plains
Fort Bonifacio
Mandaluyong
Ortigas CBD
Makati
Pasay
Pateros
Pandacan
Malate
Baclaran
NAIA
Newport
According to Grab, GrabPet is currently unavailable. However, pets can still be accepted in regular GrabCar service.
But before you get your pet aboard the car, take note of the following reminders:
It's required that all pets are accompanied by human passengers.
Pets with fleas and other parasites will not be allowed to use the GrabPet service.
Pets must be put inside carriers/cages and placed at the designated compartment of the vehicle.
Bring a newspaper or plastic sheet to cover the seat or floor just in case your pet leaves a mess.
Should there be damage caused by the pet, the pet owner will be responsible for it. If there's a mess, the cleaning and sanitation of the vehicle shall be carried out by the passenger.
Grab vehicles are only allowed to carry a maximum of two passengers. Therefore, the pet will be counted as a passenger, too.
6. What is GrabCar Bayanihan?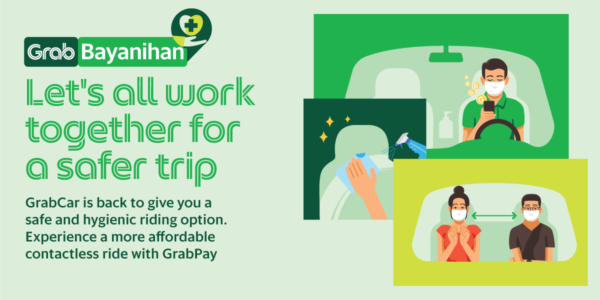 Vaccination is in full swing these days. The government and the private sector are doing what they can to encourage more people to get vaccinated. And Grab's fair share of commitment has been manifested in its new service called GrabCar Bayanihan.
GrabCar Bayanihan is a 2-seater service that will ferry passengers from and to vaccination centers. To give passengers peace of mind, the services will be driven by vaccinated drivers. According to Grab, this service is much cheaper than the GrabCar two-seater. Fares are priced 15% lower than the regular rides.
Currently, GrabCar Bayanihan takes passengers to the vaccination centers within the following cities:
Quezon City
Manila
Makati
Taguig
Las Piñas
Pasig
Pasay
Mandaluyong
Caloocan
Here's how you can book your GrabCar Bayanihan service.
Select your pick-up location on your Grab app.
From the options of Grab services, select Grab Bayanihan To
Select the number of passengers who will use the service. Remember that GrabCar Bayanihan To will only allow a maximum of two passengers per ride.
Once you've chosen the passenger count, the system will then look for available drivers near you. The wait time may depend on the number of vaccinated drivers within the area.
Note: Keep in mind that the GrabCar Bayanihan service is still in its Beta phase. At present, the service is limited to specific cities and vaccination sites, so there may be a chance that this will not be available in your location. Rest assured, Grab is continuously adding more service areas. Make it a habit to check the announcements on your app to see the updated list of service areas.
Read more:
Final Thoughts
Living in the new normal requires us to adapt and overcome new challenges, especially when it comes to commuting and ordering our necessities through pabili service apps. While the government allows essential trips, finding a safe mode of transportation can be quite challenging.
Thankfully, GrabCar Philippines offers a safe option to take you to your destination. Make sure to follow their guidelines—wear a face mask, don't book a ride for more than two people, and pay using cashless methods. If your driver isn't following safety protocols, report them via Grab's Help Center.
Planning to get a motor vehicle insurance? Find the right one for you at Moneymax!

Sources: