Saying that driving around the metro is an arduous task is like saying that the sun is hot. It's impossible to go out without getting stuck in a sea of cars. As such, plan your trips wisely. One of the most important things to check before you hit the road is whether your ride is coded or not.
Confused about the latest number coding rules? Can't clearly remember the coding schedule or window hours? We got you! Here's your quick refresher on number coding in Metro Manila.
What is Number Coding in Metro Manila?
The number coding scheme (also called the Modified Unified Vehicular Volume Reduction Program or UVVRP) is a traffic management strategy for reducing the number of cars—and ultimately easing congestion—on the road.
The Metro Manila Development Authority (MMDA) implements the number coding implementation in Metro Manila. Through this program, traffic volume is expected to be reduced by 20% during morning and afternoon/evening peak hours.
What Time is Coding in Metro Manila for 2023?
The expanded number coding in the National Capital Region (NCR) is implemented during rush hours in the morning (7 a.m. to 10 a.m.) and afternoon to evening (5 p.m. to 8 p.m.) from Monday to Friday. Holidays and weekends, however, are exempted.
The MMDA's number coding scheme primarily covers private vehicles. The last digit of your vehicle's plate number will determine the day of the week when you're not allowed to hit the roads in Metro Manila.
Check out this handy guide so that you can plan your trip accordingly.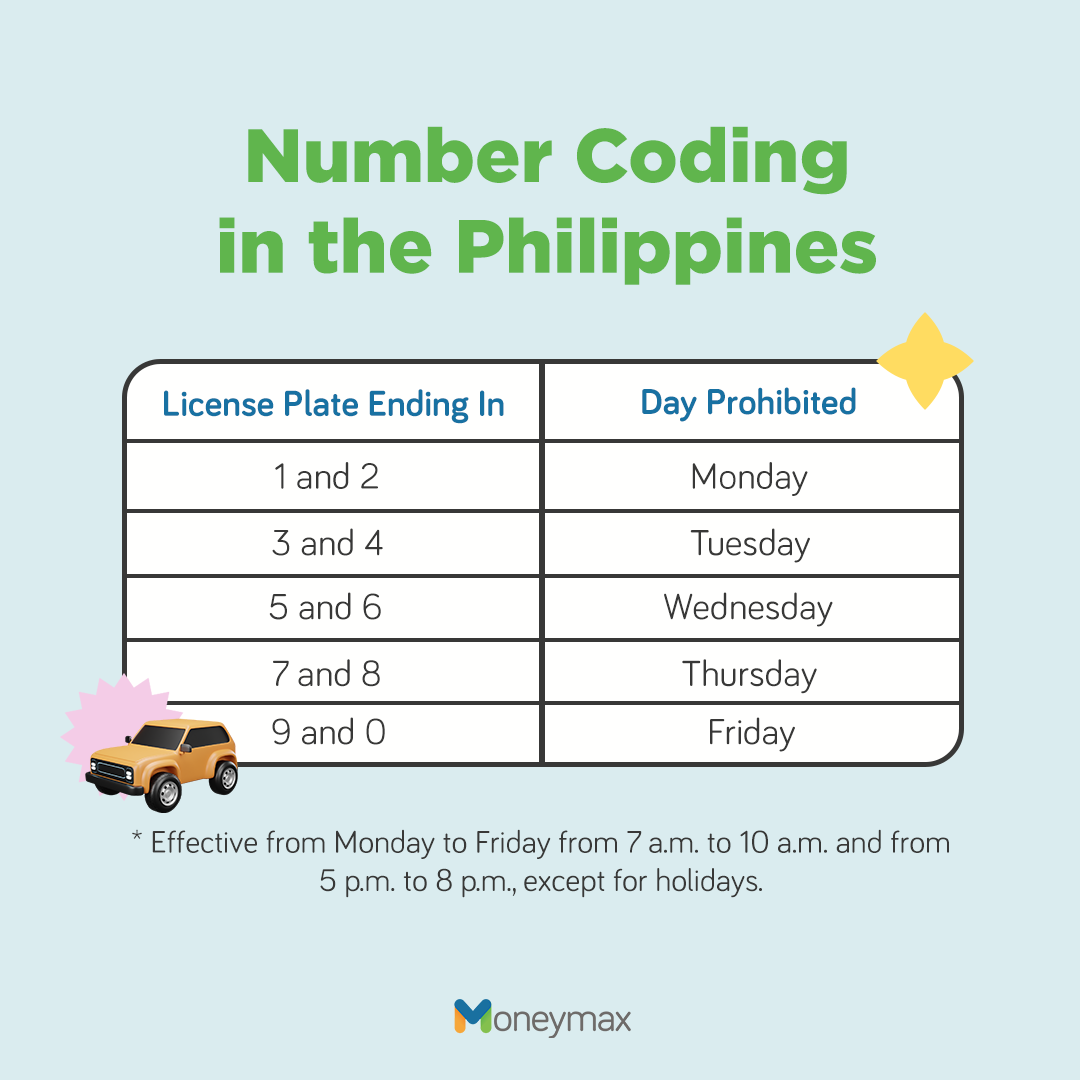 For example, if your license plate number ends in 0, you can't drive your vehicle on Fridays along EDSA and other major roads in Metro Manila where the coding scheme is enforced. Otherwise, you'll be apprehended, ticketed, and required to pay the penalty fee for UVVRP violation.
Where Does Number Coding Apply in the Philippines?
According to the MMDA, number coding in the Philippines covers all cities and towns within Metro Manila.
However, Makati City is excluded from the program since it has its own traffic code. Makati implements its number coding scheme from 7 a.m. to 7 p.m.
All the following major roads in cities under the jurisdiction of the MMDA shall follow the number coding scheme:
EDSA
C5
Recto Avenue
Quirino Avenue
Araneta Avenue
C6
Roxas Boulevard
Taft Avenue
South Luzon Expressway (SLEX)
Shaw Boulevard
Ortigas Avenue
Bonifacio Avenue
Rizal Avenue
Quezon Avenue
Marcos Highway
Del Pan
Magsaysay Boulevard
Aurora Boulevard
Each city may have its own traffic rules and number coding ordinances on secondary roads in NCR. Before you drive, check with your local government about your city's number coding scheme and related traffic rules.
📍 Manila
Do you frequently travel to Manila? Manila is one of the most densely populated cities and has one of the busiest roads in the Philippines. Most roads here follow the number coding hours of 7 a.m. to 10 a.m. and 5 p.m. to 8 p.m. Some roads, though, don't have window hours.
📍 Makati
Number coding in Makati applies from 7 a.m. to 7 p.m. There are no window hours if you travel in your coded vehicle. Violators will be slapped with a ₱300 fine.
The only exemptions are vehicles transporting drivers or passengers who are senior citizen Blu Card holders or those involved in medical emergencies and official duties.
📍 Pasig
Is your office in Pasig, or will you be running errands there? The number coding in Pasig follows MMDA's coding scheme. It means number coding applies from 7 a.m. to 10 a.m. and 5 p.m. to 8 p.m.
📍 Pasay
There's also number coding in Pasay, which starts from 7 a.m. to 10 a.m. and 5 p.m. to 8 p.m. However, some major roads are exempted from the number coding scheme, including Sales Road, MIA Road, Ninoy Aquino Avenue, and Domestic Road. It also includes some areas of Airport Road and Gil Puyat.
📍 Taguig
Is there number coding in Taguig? It's not implemented in BGC if that's what you're asking. But number coding is implemented in certain areas, particularly national roads, like the East Service Road and Manuel L. Quezon Avenue.
📍 Quezon City
Quezon City also follows the MMDA number coding schedule: 7 a.m. to 10 a.m. and 5 p.m. to 8 p.m. This means you can still travel in Quezon City on your coded vehicle in the window hours of 10:01 a.m. to 4:59 p.m.
📍 Marikina
There's no number coding in Marikina. But there's a portion of Marcos Highway near Sta. Lucia East Mall and Ayala Malls Feliz that's covered by the number coding scheme. If you have a coded vehicle, avoid the route from 7 a.m. to 10 a.m. and 5 p.m. to 8 p.m.
📍 Muntinlupa
The number coding scheme in Muntinlupa applies only to Alabang-Zapote Road from 7 a.m. to 10 a.m. and 5 p.m. to 8 p.m. Number coding is not implemented along Commerce Avenue.
📍 Mandaluyong
Heading to Mandaluyong? Check your coding day first, as the city implements the MMDA's number coding scheme. To avoid the fines, travel only during the window hours of 10:01 a.m. to 4:49 p.m.
📍 Caloocan
The city of Caloocan also follows the number coding system from 7 a.m. to 10 a.m. and 5 p.m. to 8 p.m., except for Samson Road, which has no window hours.
📌 Get a Free Car Insurance Quote!
Make sure you're protected with comprehensive car insurance coverage. Here are your options for the top car insurance companies and their features. Compare your options, get a free quote in minutes, and apply directly via Moneymax!
| | | | | |
| --- | --- | --- | --- | --- |
| Car Insurance Company | Maximum Total Sum Insured | Overnight Accommodation | Towing Services | Vehicle Removal Crane Services |
| SGI Philippines | ₱5 million | Up to ₱2,000 | Up to ₱5,000 | ₱10,000 |
| Malayan Insurance | ₱7.5 million | Up to ₱1,000 | Up to ₱4,000 | Up to ₱8,000 |
| Mercantile Insurance | ₱5 million | Up to ₱2,000 | Up to ₱5,000 | Up to ₱10,000 |
| OONA Insurance (formerly MAPFRE) | ₱5 million | Up to ₱3,000 | Up to ₱5,000 | Up to ₱10,000 |
| Stronghold Insurance | ₱3 million | N/A | N/A | N/A |
| Prudential Guarantee | ₱3 million | Up to ₱2,000 | Up to ₱5,500 | Up to ₱15,000 |
FAQs on Number Coding in the Philippines
Let's be honest. The number coding in Metro Manila is confusing. Naturally, you might have a lot of questions and concerns about it. This section seeks to answer some of your queries.
1. What is window hour in number coding?
The window hour refers to any time within the seven hours when coded vehicles (those covered by number coding on a particular day) are allowed to use public roads.
2. What kinds of vehicles are exempted from the number coding scheme?
According to the MMDA, the vehicles exempted from the number coding scheme include the following:
Public utility vehicles or PUVs (including tricycles)
Transport network vehicle services (TNVS)
Motorcycles
Garbage trucks
Fuel trucks
Ambulances
Fire trucks
Marked government vehicles
Marked media vehicles
Motor vehicles that carry essential and/or perishable goods
Take note that this number coding exemption doesn't apply to Makati City, according to the MMDA.
Number Coding and the Electric Vehicle Law in the Philippines
All electrified vehicles (EVs) or battery electric vehicles (fully electric), hybrid vehicles, and plug-in hybrid electric vehicles will also not be apprehended by the MMDA during number coding days. This is according to the implementing rules and regulations (IRR) of the newly passed Republic Act 11697 or the Electric Vehicle Industry Development Act (EVIDA) law.[1]
Read more: Vehicle Coding Exemptions in the Philippines That Motorists Should Know
3. What is Makati's traffic reduction program?
Makati City's coding scheme is different from the rest of Metro Manila's. In Makati, drivers can't drive coded vehicles around the city from 7 a.m. to 7 p.m.[2] As mentioned, there are no window hours.
Meanwhile, the Makati City Government says that the coding scheme is automatically lifted on holidays.
Also, the only exemptions to Makati's number coding scheme are cars with Senior Citizen Blu Card holders as drivers or passengers, plus motorists under official functions and medical emergencies (as stated in the Makati Traffic Code). All the previous vehicle coding exemptions are removed.
Read more: [INFOGRAPHIC] A Guide to Driving in Makati
4. Are healthcare and medical workers part of the coding exemption in the Philippines?
No. Medical and healthcare workers are not exempted from number coding in Metro Manila, which means they still need to travel using their coded vehicles during the number coding window hours.
This doesn't include healthcare and medical workers under medical emergencies in Makati City.
5. Are senior citizens exempted from number coding in Metro Manila?
There are no more coding exemptions for senior citizens under the expanded number coding scheme.
However, senior citizens are exempted from number coding in Makati as long as they are a resident, have a senior citizen card, or are registered Makati voters.
6. Can I apply for a number coding exemption?
No. The MMDA doesn't issue a number coding exemption. Only the vehicles in the exempted list will be exempted from number coding in Metro Manila. You may check with your local government unit for number coding exemptions and requirements in your area.
7. Is the truck ban on major roads in Metro Manila still suspended?
Yes. The total truck ban on Metro Manila roads remains suspended until further notice except in EDSA from Magallanes, Makati to North Avenue, Quezon City[3] and the following areas:
Makati Business District
Ortigas Business District, Pasig City
Bonifacio Global City, Taguig City
Like the number coding scheme, truck ban exemptions include garbage trucks, fuel trucks, and trucks carrying essential and/or perishable goods.
If you violate the total truck ban policy, you'll have to pay a ₱2,000 fine. If you get apprehended three times for truck ban violations, the MMDA will recommend a one-year suspension of your driver's license to the Land Transportation Office (LTO).
8. When is the number coding usually lifted?
Coding days in Metro Manila and nearby cities are usually suspended during public holidays and weekends. The MMDA also announces the number coding suspensions during calamities (typhoons, volcanic eruptions, etc.). It may even lift number coding during public transport failures, like nationwide transport strikes or temporary closures of MRT/LRT lines.
9. What is the penalty for number coding violations?
In case you get caught violating the number coding scheme, you'll need to pay a ₱500 fine,[4] according to the single ticketing system provision of the Metro Manila Traffic Code.
The proposed single ticketing system is expected to be fully implemented within the first quarter of 2023.[5]
10. Where can I pay the fine for my number coding violation?
If you're wondering how you're supposed to settle the fine for your number coding scheme violation, the MMDA has a list of payment channels to choose from, including the following:
MMDA Traffic Management Division
Landbank Link Biz Portal
Bayad Center
SM Bills Payment
PayMaya
GCash
GrabPay
How to Survive Number Coding in Metro Manila
Truth be told, the number coding system is a hassle for a lot of vehicle owners, especially if they travel long distances from, to, and within the metro. Here are some handy tips that will help you survive coding days.
1. Leave Earlier
Since the reimplementation of the number coding scheme targets afternoon and evening hours, you can still use your vehicle in the morning. If you have a trip in the afternoon, leave the house earlier than usual.
Make sure you have a buffer for traffic jams so you won't be caught within the targeted times. On the other hand, if you're leaving in the evening, hit the road a few minutes after 8 p.m.
2. Book Your Ride Using a Ride-Hailing App
Since TNVS vehicles are exempted from the number coding scheme, you can simply book your ride. One upside is that you can enjoy a private and comfortable ride without driving.
However, you must anticipate the competition, especially if you live in or travel within central business districts. Allot some time to book your ride so you won't be late for your appointments.
3. Consider Carpooling
Sometimes, joining a carpool is a more sensible choice than booking a TNVS ride. You can save money, especially if the vehicle owner doesn't charge that much. You can even join Facebook groups where you can find a car owner who schedules carpools near your location.
If you don't feel like joining strangers, you can ask a family member, neighbor, close friend, or colleague to initiate this. In turn, offer your ride when the number coding scheme covers their vehicle.
Related reading: Carpooling in the Philippines: Weighing the Pros and Cons
4. Consider Other Modes of Transportation
There are other options that will take you from point A to point B. Why not walk or ride your bike if the destination is not that far? Your trip will also double as an exercise.
You may also choose to use your e-bike or e-scooter. However, remember that e-bikes and e-scooters are not allowed in major thoroughfares. If you use them, you'll need to wear protective equipment, such as a helmet.
Final Thoughts
Now that most Filipinos are back in the office on a hybrid work set-up, EDSA and other major roads in the metro are starting to get congested again. Now's the perfect time to review the number coding in Metro Manila.
You may think this is a band-aid solution, which, in great part, it is. But knowing the rules will spare you the headache, stress, and money due to being caught and fined by the authorities.
📌 Get Fuel Rebates, Discounts, and More with a Credit Card!
Save money on your car-related expenses like fuel when you charge them to a credit card. Check out these top recommendations to maximize your benefits with every swipe!
Credit Card
Features and Benefits

Shell Citi Card

5% on Shell fuel purchases
₱300 Shell fuel rebate on your first Shell fuel purchase
5% rebate on Autosweep and Easy Trip load purchase
5% rebate on car accessories, repairs, and services in the Philippines
Up to ₱10,000 savings per year / ₱15,000 for Shell Citi Platinum
10% discount on Shell Helix Oil Change packages
10% cashback on Booking.com
24/7 emergency roadside assistance for Shell Citi Platinum

Note: This product is sold by Union Bank of the Philippines, using certain trademarks temporarily under license from Citigroup Inc. and related group entities.

Citi Cash Back Card

Monthly income requirement: ₱15,000
0.20% rebate on fuel and other purchases
Up to 6% rebate on groceries and 2% on Meralco bill payments
Maximum rebate of ₱1,250 per month
Non-expiring cashback

Note: This product is sold by Union Bank of the Philippines, using certain trademarks temporarily under license from Citigroup Inc. and related group entities.

Petron-BPI Mastercard

Minimum monthly income requirement: ₱15,000
3% fuel rebate at participating Petron stations nationwide
Free ₱200 fuel voucher for first-time cardholders

HSBC Gold Visa Cash Back

Monthly income requirement: ₱16,667
5% cash back on dining transactions
3% cash back on fuel spend
0.50% cash back on all other purchases
6% rebate on first Caltex fuel spend and 3% rebate year-round

Metrobank Toyota Mastercard

Monthly income requirement: ₱15,000
2x rewards points for every ₱20 spend at Toyota
3% rebate on fuel purchases at participating Petron stations
10% discount on accessories, parts, and labor at all Toyota dealers

RCBC Phoenix Mastercard

Monthly income requirement: ₱15,000
Instant welcome gift of ₱500 worth of fuel
5% rebate on Phoenix fuel purchases
Up to 3 free towing and emergency assistance per year
Sources: