If you're someone who often has to be on the road, you know how much of a hassle it can be to travel across cities, provinces, and even regions. With traffic being a constant problem in the Philippines, expressways are almost heaven-sent. Almost—because even they get clogged at toll plazas.
Enter the radio-frequency identification or RFID. This technology facilitates cashless transactions at toll gates, significantly reducing your time spent queueing and paying for expressway toll fees.
Here's a quick guide that will answer questions such as "What is Autosweep RFID?" and "How do you install and use it?"
What is Autosweep RFID, and Which Tollways Does It Cover?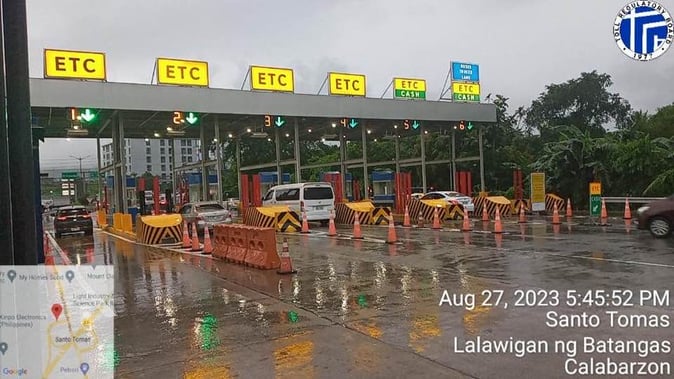 Photo: Toll Regulatory Board (Facebook)
Autosweep RFID is one of the primary RFID systems used in major expressways in the Philippines. Here's where to use Autosweep RFID:
South Luzon Expressway (SLEX)
Metro Manila Skyway System
NAIA Expressway (NAIAX)
Southern Tagalog Arterial Road (STAR) Tollway
Tarlac-Pangasinan-La Union Expressway (TPLEX)
Muntinlupa-Cavite Expressway (MCX)
Are Autosweep and Easytrip the Same?
Autosweep and Easytrip are similar, but not the same. Both RFID systems provide contactless and cashless payments in major tollways in the Philippines.
However, Autosweep is for tollways managed by the San Miguel Corporation (SMC), while Easytrip is for those under the Metro Pacific Tollways Corporation (MPTC).
To better visualize which RFID system is accepted where, see the table below:
| Expressway | Accepted RFID |
| --- | --- |
| South Luzon Expressway (SLEX) | Autosweep |
| Metro Manila Skyway System | Autosweep |
| NAIA Expressway (NAIAX) | Autosweep |
| Southern Tagalog Arterial Roads (STAR) Tollway | Autosweep |
| Tarlac-Pangasinan-La Union Expressway (TPLEX) | Autosweep |
| Muntinlupa-Cavite Expressway (MCX) | Autosweep |
| North Luzon Expressway (NLEX) | Easytrip |
| Subic-Clark-Tarlac Expressway (SCTEX) | Easytrip |
| Manila-Cavite Toll Expressway (CAVITEX) | Easytrip |
| Cavite-Laguna Expressway (CALAX) | Easytrip |
| C5-Link Flyover | Easytrip |
👉 Can I Merge Autosweep and Easytrip?

"Can I use Autosweep RFID in NLEX?" Yes—effective January 15, 2023, you can enroll Easytrip stickers to Autosweep. This means you can now use Easytrip at SMC Tollways such as SLEX, Skyway, Star, TPLEX, and NAIAX.
However, note that only the new Easytrip stickers with Neology tags can be scanned/read by the Autosweep system, so make sure to update your sticker first. Next, take the following steps to register your Easytrip RFID to Autosweep:
Download and fill out the Autosweep application form on the Autosweep RFID website.[1]
Print the form and bring your vehicle with the Easytrip sticker and a valid ID to any Autosweep kiosk or customer service center.
Your Autosweep account will be activated after RFID testing.
Meanwhile, here's how to register your Autosweep RFID to Easytrip:
Bring your vehicle with an Autosweep RFID to any designated Easytrip registration site.[2]
Pay for the initial Easytrip RFID load of ₱200.
Wait for your Easytrip wallet to be activated within 24 hours.
Your Easytrip card will be released in around seven days.
Where Can I Get Autosweep RFID?
There are many Autosweep RFID installations in and out of the metro. Here are some of them:
📍 SLEX
Southwoods RFID Center SB
Sta. Rosa RFID Center SB
Ayala Greenfield RFID Center SB
Eton Northbound
Petron KM 44
Calamba RFID Center NB
Calamba Bravo
Petron San Pedro
Shell Mamplasan
Shell Putatan
Caltex MCX
Mamplasan Northbound and Southbound (after entry)
Susana Heights
Soldier Hills Skyway Extension
📍 Skyway
Nichols Alpha NB Exit Toll Gate
Runway NB Toll Plaza
Robinsons Galleria Ortigas
C5 RFID Center SB
Petron Diego Silang (C5 NB)
Petron Boni Serrano
Petron Square La Vista (Katipunan)
Petron Commerce Avenue
Petron Dasmarinas Village (Arnaiz Makati)
Shell Magallanes
Buendia NB Entry Plaza
Quirino NB Exit Plaza
Nagtahan NB Entry and NB/SB Exit Toll Plaza
Plaza Dilao SB Entry Plaza
Quezon Avenue NB Entry/Exit and SB Entry Plaza
G. Araneta NB Entry Plaza
Del Monte NB/SB Plaza A and B
📍 NAIAX
NAIAX Main Bravo Northbound Exit Toll Plaza
NAIAX Main Alpha
📍 STAR
Star Toll Lipa RFID Center
Batangas Toll Plaza Entry Drive Thru
Petron Lipa STAR
Petron Ibaan
Petron Malvar
Lipa NB Toll Plaza (before entry)
Sto. Tomas NB Toll Plaza (after exit)
📍 TPLEX
Urdaneta Toll Gate
TPLEX RFID Center
Pura Toll Gate
Petron Pura NB/SB
Rosario Toll Gate
Tarlac Main Toll Gate
Victoria Toll Gate
Carmen Toll Gate
How to Apply for Autosweep RFID
The Autosweep registration process is fast and easy. Since Autosweep RFID stickers are free, you don't need to shell out extra money for registration. There's just an initial load requirement depending on your vehicle type, but that's consumable.
How much is an Autosweep RFID? Class 1 vehicles (i.e., cars, jeepneys, vans, pick-ups, and motorcycles) must have a minimum initial load of ₱200. Class 2 vehicles (i.e., buses and light trucks) and Class 3 vehicles (i.e., large trucks with or without trailers) must load up at least ₱1,000.
As for the Autosweep RFID toll rates, you can refer to the Toll Regulatory Board's toll rate matrix.[3]
There are two types of Autosweep RFID cards: Autosweep To Go (ATG) and Autosweep Premium.
👉 How to Apply for an Autosweep To Go Card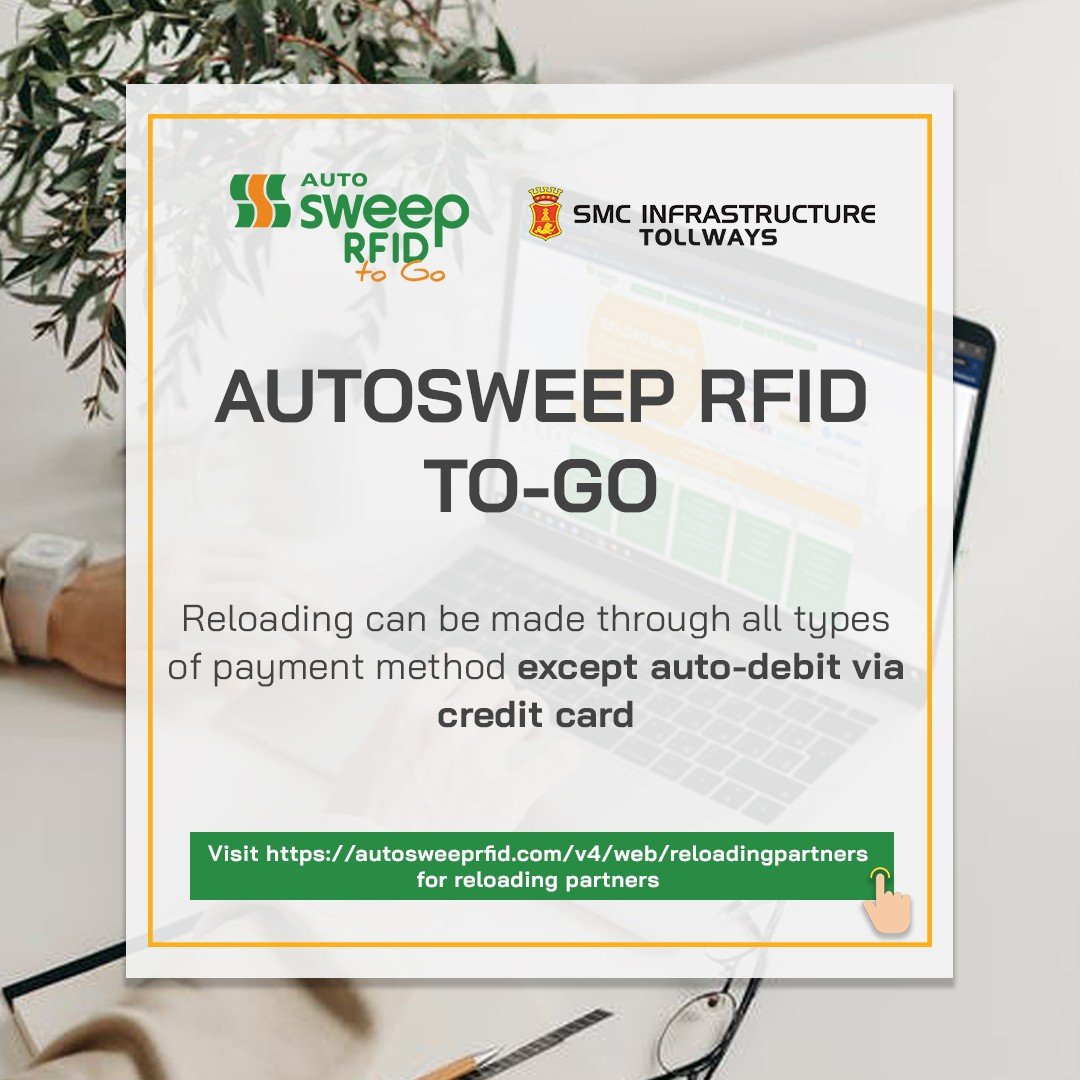 You can get an Autosweep To Go card at Autosweep RFID installation sites in just five minutes. Note that you can enroll only one vehicle per ATG card number or account.
Follow these steps to complete your application:
Download and print the ATG subscription form from the Autosweep RFID website.
Fill out the form with the following details:

Date of enrollment
Subscriber's full name
Mobile number
Email address
Vehicle make and model
Vehicle color and year
Plate number or conduction number
Subscriber's signature

Submit the filled-out form at any Autosweep RFID station.
To top up your Autosweep balance, use the different payment methods outlined below, except for auto-debit options via credit card.
👉 How to Apply for an Autosweep Premium Card
Autosweep Premium cards are available only at Autosweep RFID customer service centers. Getting one can take up to 15 minutes.
The perk of an Autosweep Premium account is that you can enroll multiple vehicles under one account. Also, unlike the ATG card application that requires only a filled-out subscription form, there are Autosweep RFID requirements for premium accounts.
Get familiar with the steps below before heading to your nearest Autosweep RFID locations:
Prepare the Land Transportation Office (LTO) Official Receipt (OR) for your vehicle, as well as the Certification of Registration (CR). Bring both the original and photocopies to be sure.
Prepare a valid identification card bearing your photo and signature. Bring photocopies as well.
If you're not the vehicle's registered owner, prepare an authorization letter from the registered owner or a notarized copy of the deed of sale of the vehicle. Also, prepare a photocopy of the registered owner's valid ID.
Download and print the Autosweep Premium subscription agreement for personal[4] or business[5] use from the Autosweep RFID website.
Submit the filled-out form at any Autosweep RFID customer service center.
You're probably wondering, "Can I get an Autosweep RFID online?"
All the forms you need to create an account with Autosweep can be found online. The Autosweep website has a specific page for downloadable forms.[6] However, there's no Autosweep online registration yet, so you must go on-site to process your application.
What are the Autosweep RFID Requirements?
Here's a quick list of the requirements for an Autosweep RFID.
📌 Autosweep To Go Account
Filled-out Autosweep To Go Subscription Form
📌 Autosweep Premium Personal Account
Filled-out Autosweep RFID subscription agreement for personal account
Photocopy of:

One valid ID bearing the photo and signature of the subscriber
Vehicle's official receipt (OR) from LTO and certificate of registration (CR)
📌 Autosweep Premium Business Account
Filled-out Autosweep RFID subscription agreement for business account
Photocopy of:

One valid ID bearing the photo and signature of the authorized representative
Business permit or DTI/SEC registration documents
BIR registration (BIR 2303)

Secretary's Certificate stating the authorized signatories for the Autosweep RFID transaction
Authorization letter from the authorized signatory
Photocopy of the vehicle's official receipt (OR) from LTO and certificate of registration (CR)
If the vehicle is not under the name of the subscriber, prepare the following documents:
Authorization letter from the registered owner or copy of the notarized deed of sale of the vehicle
Photocopy of one valid ID of the registered owner
How Do I Use the Autosweep Sticker and Card?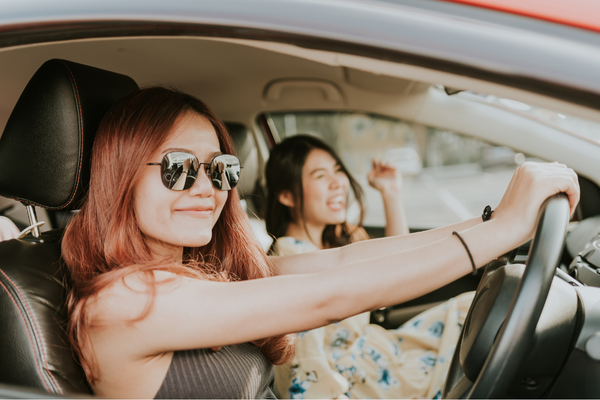 Simply breeze through the toll gates of expressways, and the scanner will read your RFID sticker. If the scanner can't read the sticker, present your Autosweep card to the teller in the toll booth. You may also report the incident to the Autosweep hotline at (02) 5-318-8655(TOLL) or email customercare@autosweeprfid.com.
For other comments and/or suggestions, submit a customer care form through the website.[7]
How Do I Reload My Autosweep RFID?
What's great about Autosweep RFID load is that it has no expiration. Also, when you reload from partner merchants, you may ask for official receipts, which will be sent to your registered email within a day or two. Contact the Autosweep hotline for support if you fail to receive your receipt.
Wondering where to load your Autosweep RFID? There are three primary ways to complete your Autosweep RFID reload: over-the-counter, online channels, and kiosks.
👉 How to Load Autosweep RFID Over the Counter
Topping up your Autosweep account is a straightforward process. Just present your RFID card to any reloading site located in select gas stations and bills payment centers and pay for your load:
Petron gas stations and Treats convenience stores
Savemore Market
SM Bills Payment Centers, Business Service Centers, and Hypermarkets
WalterMart
Bayad Center
Direct Agent 5 (DA5)
7-Eleven
ExpressPay
Robinsons Department Store, Supermarket, and Easymart
The Marketplace
Shopwise
Ministop
Landmark
FamilyMart
Tambunting Pawnshop
RD Pawnshop
Villarica Pawnshop
Smart Padala
POSIBLE outlets
Philippine Postal Corporation (PHLPost)
eBusiness Services (eBIZ) outlets
Light Rail Manila Corporation
Isetann Department Store
Go Beyond Expectation Remittance Company
U Super Service Center
Raquel Pawnshop
CVM Pawnshop and Money Changer
Sinag Pawnshop
Cebuana Lhuillier
Saint Nicolas de Tolentino (SNDT) Express
👉 How to Load Autosweep RFID Online
You can add balance to your Autosweep account via the following online banking channels and e-wallets:
Bank of Commerce
UnionBank
EON Bank
Maybank
GCash
Maya
JustPayto
Coins.ph
Rizal Commercial Banking Corporation (RCBC)
Bayad Online
Bank of the Philippine Islands (BPI)
China Bank
GrabPay
Shopee
SquidPay
Robinsons Bank
JuanCash
Asia United Bank (AUB)
HelloMoney by AUB
Banco de Oro (BDO)
Security Bank
DiskarTech
Home Credit
Glyph
👉 How to Load Autosweep RFID Through Kiosks
You can also use the following kiosks to top up your account:
TouchPay partner merchants
ECPay outlets
Pay & Go outlets
👉 How to Load Autosweep RFID via GCash
For Autosweep RFID reload via GCash, just follow these simple steps:
Open your GCash app.
From the dashboard, go to Bills.
Select Transportation among the biller categories.
Select Autosweep RFID.
Fill out the required fields and click Next.
Review your payment details. Once done, click Confirm.
You'll receive a payment confirmation via SMS and an in-app receipt. You'll also receive an email confirmation if you entered your email upon payment.
👉 How to Load Autosweep RFID at 7-Eleven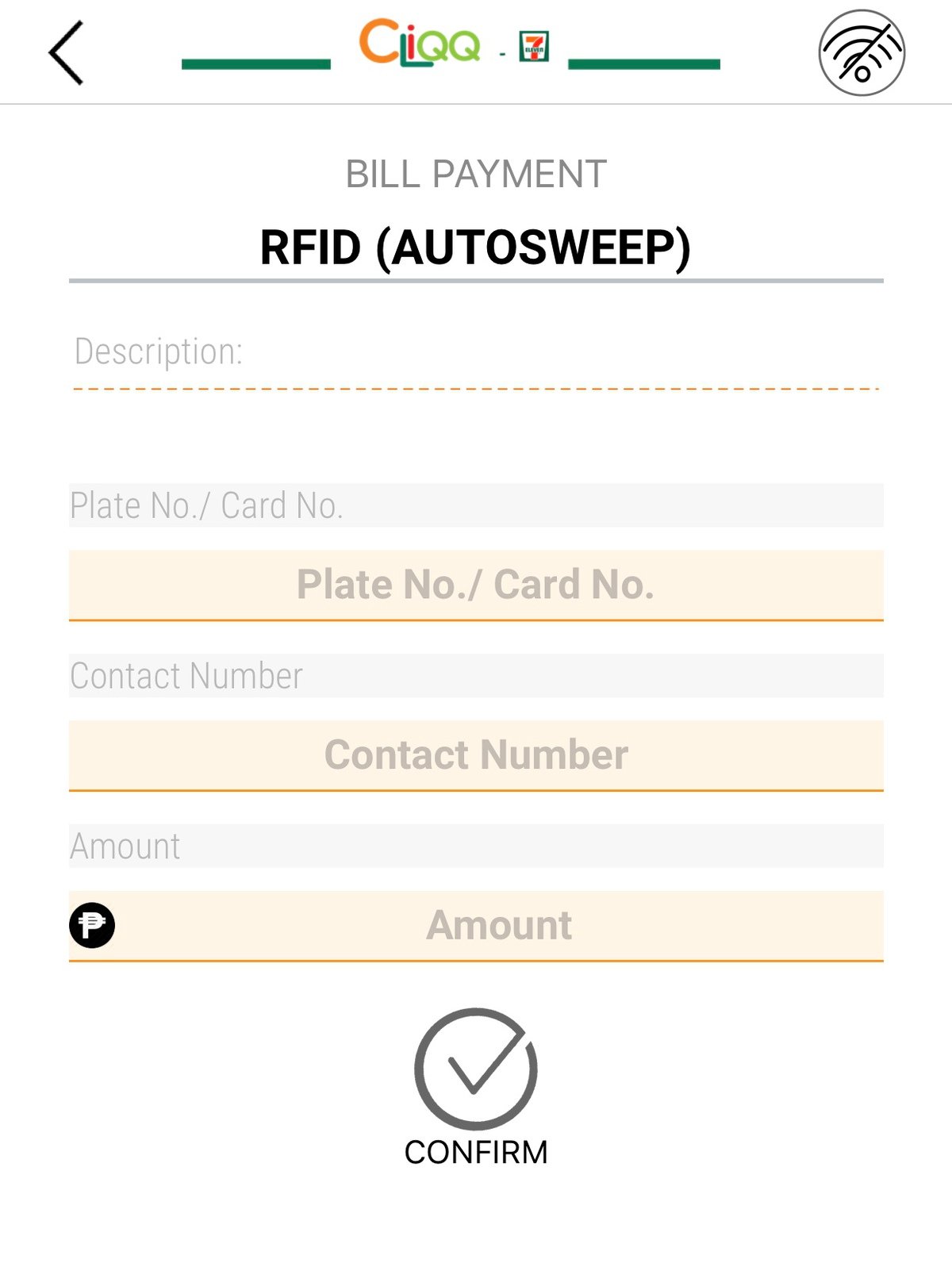 To load your RFID at 7-Eleven, follow the steps below:
If you have the CLiQQ mobile app, open it and go to Pay Bills.
Click on Transpo/Toll.
From the options, select RFID.
Enter your plate or card number, contact number, and the amount you wish to add to your account.
You'll see a 7-Connect barcode when you submit all the necessary information.
Save the barcode and present it at any 7-Eleven branch before the transaction request expires.
Pay a transaction fee of ₱10 on top of your RFID reload amount.
Wait for your transaction receipt.
If you don't have the CLiQQ app, fret not. Just proceed to any 7-Eleven store with a working CLiQQ kiosk and follow the steps above.
👉 How to Load Autosweep RFID with a Credit Card
To make reloading more convenient, you can use Autosweep's auto-debit arrangement (ADA) to connect your credit card to your account. Fill out and submit the Authorization to Use and Charge Credit Card Form,[8] along with photocopies of your credit card and valid IDs, to any Autosweep RFID station.
With ADA, you can set the automatic replenishment amount and the threshold amount. You can choose the minimum, which is ₱500, or specify a different amount.
Here's a list of credit cards you can use for Autosweep RFID reload via credit card:
Credit Card
Features and Benefits

HSBC Red Mastercard

6% rebate on first Caltex fuel spend and 3% rebate year-round
1 bonus point for every ₱20 spend
4x bonus points on online, shopping, dining, and overseas transactions

HSBC Gold Visa Cash Back




6% rebate on first Caltex fuel spend and 3% rebate year-round
5% cash back on dining transactions
0.50% cash back on all other purchases

Security Bank Complete Cashback Mastercard

4% cashback on gas purchases
5% grocery rebate, 3% utility rebate, 2% dining rebate, and 1% shopping rebate
Up to ₱12,000 cashback per year

Petron BPI Card

3% fuel rebate at Petron
Free ₱200 fuel voucher welcome gift

RCBC Flex Gold Visa

2x rewards points in your three preferred categories, including gas
Rewards points for all your other spending
Free Purchase Protection, travel insurance coverage, and airport lounge access
How Do I Make an Autosweep RFID Balance Inquiry?
Always check your Autosweep RFID load balance. Motorists entering electronic toll collection (ETC) gates are advised to have at least ₱100 in their account after toll fee deduction to adhere to the ₱100 Autosweep maintaining balance.
There are three ways on how to check your Autosweep balance:
👉 How to Check Autosweep Balance via SMS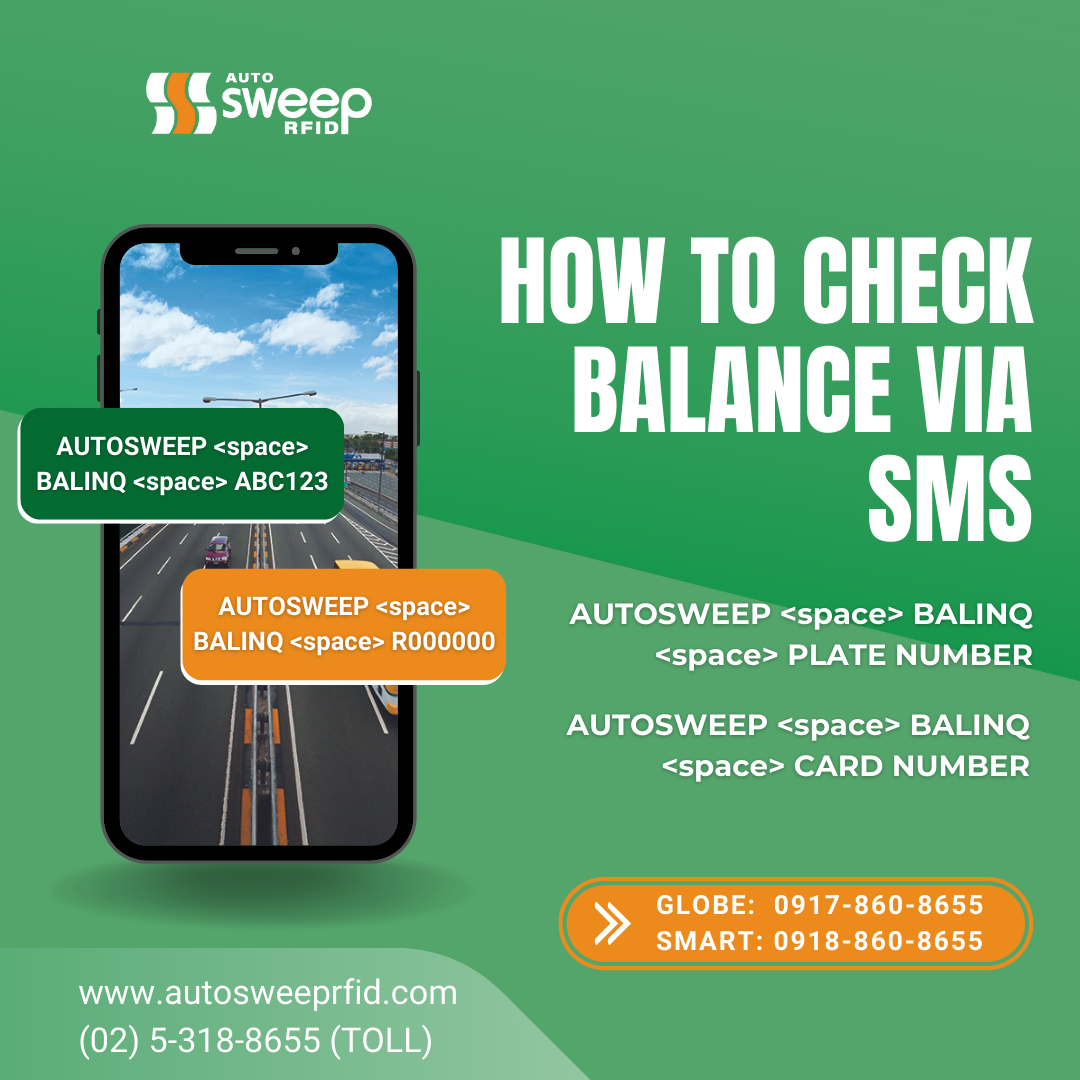 Simply send a text message using your Autosweep registered mobile number and plate number.
Type the SMS in either of these formats:

Autosweep<space>BALINQ<space>Plate Number
Autosweep<space>BALINQ<space>Card Number

Send to 0917 860 8655 (for Globe) and 0918 860 8655 (for Smart)
👉 How to Check Autosweep Balance via the Mobile App
You can also view your balance through the Autosweep RFID mobile app.
Download the Autosweep RFID app to your mobile device from the Google Play Store.
Register your email or use your existing Autosweep web portal account details to log in to the app.
If you're wondering about the Autosweep RFID app for iPhones, note that the app is currently available only for Android users.
👉 How to Check Autosweep Balance Online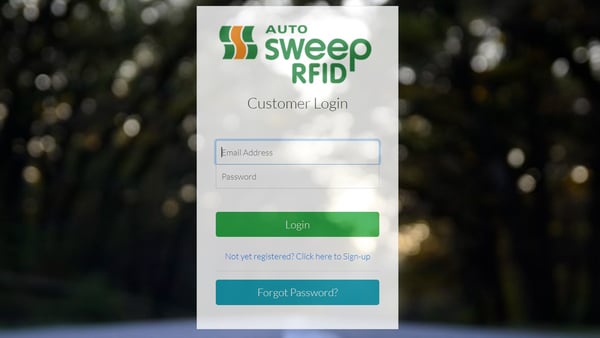 Another way on how to check your Autosweep balance is through the Autosweep RFID website.
Click the Balance Inquiry tab and go to the Customer Web Portal.
If you haven't registered for an online account, just click the link to sign up and fill out the required fields.
Provide your account number and plate number.
Click Verify Account.
To check your Autosweep RFID SOA, log in to the Customer Web Portal to generate and download your Statement of Account.
Further reading:
What is Autosweep RFID: FAQs
1. What are the participating Autosweep toll plazas in the Toll Regulatory Board (TRB)'s cashless dry run?
TRB's two-month dry run of cashless toll collection is currently in effect, so make sure you have enough in your balance.
Here are the participating Autosweep toll plazas:[9]
NAIAX - All toll plazas
Skyway 1 and 2 - Skyway Elevated Alpha and Bravo, C5 Exit and Entry, Nichols Entry, Nichols Exit, Merville Exit, Bicutan Entry SB and NB, Sucat Exit SB and NB, Alabang SB Exit
SLEX - Filinvest Exit and Entry, Alabang NB and SB, Mamplasan NB, Sta. Rosa NB, ABI SB and NB, Cabuyao SB, Silangan SB, Batino SB Exit, Calamba-Turbina SB Exit, Calamba NB Exit, Canlubang SB Entry, Calamba SB Entry, Calamba-Real NB Entry, Calamba-Turbina A NB Entry
MCX - All toll plazas
Skyway 3 - Buendia NB Entry, Buendia SB Exit, Plaza Dilao SB Entry, G. Araneta NB Entry, Quezon Ave. NB Entry, Quezon Ave. NB Exit, Quezon Ave. SB Entry, Del Monte NB Alpha
TPLEX - Victoria Toll Plaza, Pura Toll Plaza, Anao Toll Plaza, Pozorrubio Toll Plaza, Rosario Toll Plaza
STAR - Sto. Tomas SB Entry, Sto. Tomas NB Entry, Tanauan NB Entry
2. Can I borrow another person's Autosweep RFID?
How to transfer Autosweep load to another account? You can't—because an RFID card contains the owner's vehicle plate number and account number. You can't borrow another user's card or lend your card to others to pass through toll plazas.
If you're selling your vehicle or handing it down to someone else, remove your Autosweep RFID sticker and surrender your Autosweep RFID card to any Autosweep RFID station.
3. How to replace a lost Autosweep RFID?
If you lose your card or if the sticker gets damaged or becomes unreadable, you can get an Autosweep RFID replacement. Go to any Autosweep RFID station, fill out the RFID Sticker Replacement form, and pay ₱200 as a sticker replacement fee.
4. How to deactivate Autosweep RFID?
Fill out a customer request form asking for the termination of the sticker and card. Download the customer request form from the Autosweep RFID website or visit any Autosweep RFID station to get a printed copy.
Final Thoughts
Now that you know what Autosweep RFID is, don't you think it's a must-have if you use your vehicle to commute to work and go on road trips? With the continuous surge of contactless payments, you shouldn't miss out on the safety and convenience that the Autosweep RFID offers.
Having the right insurance coverage for your car is just as important! Looking to renew your policy or switch to a different provider? Save time and money: Get a free quote from us!
| | | | | | |
| --- | --- | --- | --- | --- | --- |
| Car Insurance Company | Maximum Total Sum Insured | CTPL Coverage | Own Damage & Theft Coverage | Acts of Nature Coverage | Death or Disablement Coverage |
| FPG Insurance | ₱4 million | ✔️ | ✔️ | ✔️ | |
| Malayan Insurance | ₱7.5 million | ✔️ | ✔️ | ✔️ | |
| The Mercantile Insurance Corporation | ₱5 million | | ✔️ | ✔️ | |
| OONA Insurance (formerly MAPFRE) | ₱5 million | ✔️ | ✔️ | ✔️ | ✔️ |
| PGA Insurance | ₱3 million | | | | ✔️ |
| SGI Philippines | ₱5 million | ✔️ | | ✔️ | ✔️ |
| Standard Insurance | ₱5 million | ✔️ | ✔️ | ✔️ | ✔️ |
| Stronghold Insurance | ₱3 million | | ✔️ | | |
Sources: