Using tollways is a major convenience for motorists. But you can enjoy an even smoother trip when you use the Easytrip RFID. There's no need to stop at the toll booth for a long time to settle your transaction with cash. All it takes is one quick scan of your RFID, and you're good to go.
If it's your first time using an Easytrip ID, you probably have a lot of questions. You may be wondering where to get one, how to install it, and how to reload it. We've put together a comprehensive guide to answer all these questions and more. Let's roll!
What is Easytrip RFID?
The Easytrip RFID is a government-recommended radio frequency identification sticker attached to a vehicle's windshield or headlight for use in contactless and cashless toll fees.
When you approach the Easytrip RFID lane at the toll plaza, a unique sensor will read your sticker, automatically lifting the toll barrier.[1] There's no need to queue at the cash lane and rummage through your wallet or coin holder to get money.
Easytrip RFID Coverage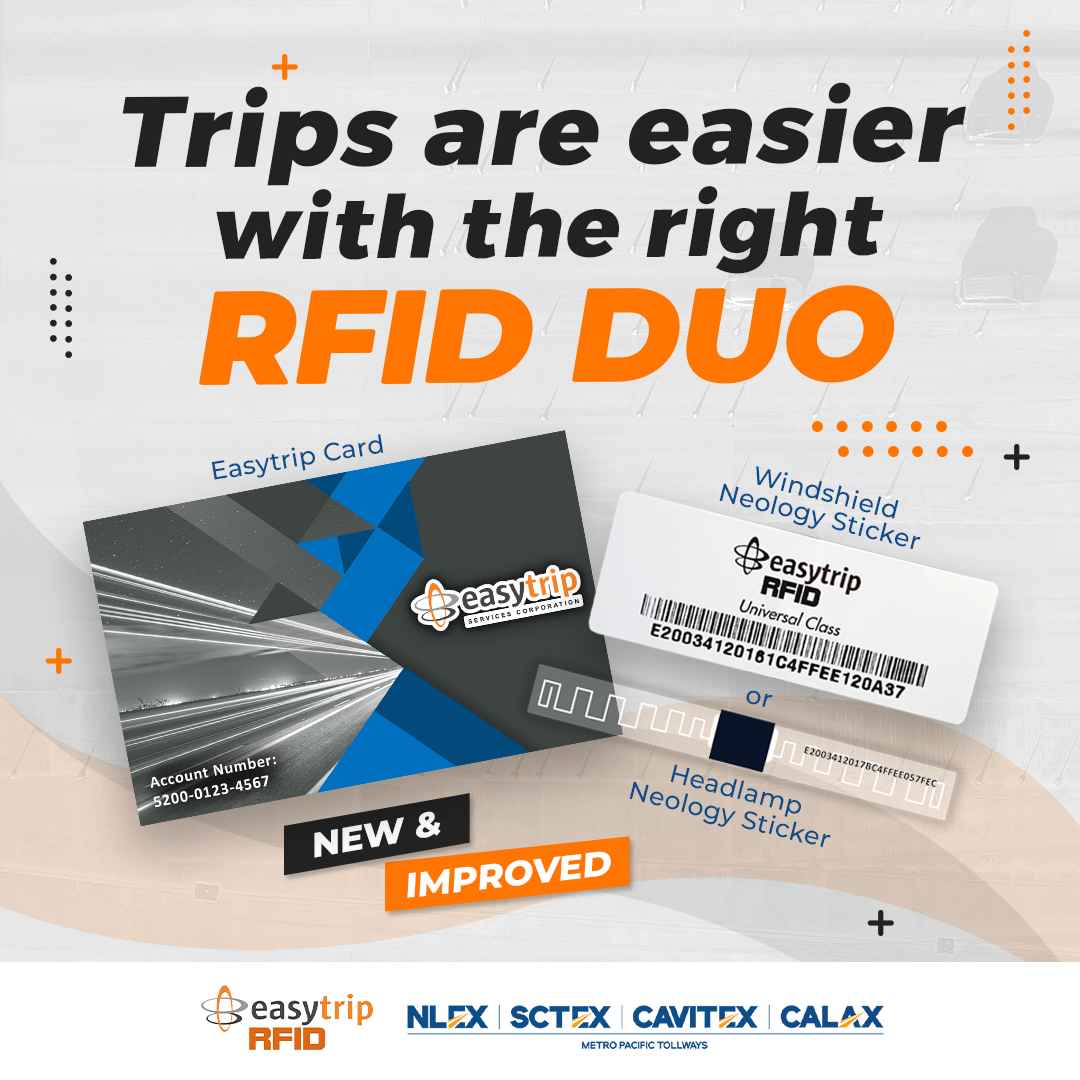 Two tollway operators operate the different expressways in Luzon: the Metro Pacific Tollways Corporation (MPTC) and San Miguel Corporation (SMC) Infrastructure.
The MPTC manages NLEX, SCTEX, CAVITEX, C5-Link Flyover, and CALAX, while SMC Infrastructure is in charge of SLEX, Skyway, NAIAX, STAR Tollway, MCX, and TPLEX.
Each of these tollway corporations implements its own RFID system. MPTC uses Easytrip, while SMC uses Autosweep. This means Easytrip RFID is for expressways managed by MPTC. Likewise, the Autosweep RFID is for SMC Infrastructure-operated tollways.
See the table below for a better comparison of Easytrip coverage:
| Expressway | Accepted RFID |
| --- | --- |
| South Luzon Expressway (SLEX) | Autosweep |
| Metro Manila Skyway System | Autosweep |
| NAIA Expressway (NAIAX) | Autosweep |
| Southern Tagalog Arterial Roads (STAR) Tollway | Autosweep |
| Tarlac-Pangasinan-La Union Expressway (TPLEX) | Autosweep |
| Muntinlupa-Cavite Expressway (MCX) | Autosweep |
| North Luzon Expressway (NLEX) | Easytrip |
| Subic-Clark-Tarlac Expressway (SCTEX) | Easytrip |
| Manila-Cavite Toll Expressway (CAVITEX) | Easytrip |
| Cavite-Laguna Expressway (CALAX) | Easytrip |
| C5-Link Flyover | Easytrip |
However, if you enroll your Easytrip RFID to Autosweep, you can use it at SMC tollgates. This is made possible by the toll interoperability project implemented by the Toll Regulatory Board (TRB).
Easytrip RFIDs with the Neology stickers (RFID Duo) can be read by the Autosweep System. This means you can use SLEX, NAIAX, STAR Tollway, and TPLEX and pay using your Easytrip RFID.[2]
Enroll your Easytrip RFID to Autosweep at the following sites. Make sure to bring your car and a valid ID.
Skyway
SLEX
STAR
TPLEX
C5 Office
Petron Commerce
Petron Dasmariñas
Petron La Vista
Shell Magallanes
Calamba CSC
SLEX Greenfields
Southwoods NB
Sta. Rosa NB
Petron KM 44 NB
Petron San Pedro
Mamplasan SB Exit
Star Toll Lipa CSC
Petron Lipa
Petron Malvar
RFID TPLEX Office
Petron Pura SB/NB
Where Can I Get an Easytrip RFID?
You can get an Easytrip RFID through walk-in and drive-thru installation sites for free. Just head over to any of the Easytrip stations found along NLEX, SCTEX, CAVITEX, C5 Link, and CALAX. This is a convenient option, as you don't need to submit any complicated documents and you can use your Easytrip RFID right away.
👉 How to Get Your Free Easytrip RFID
To get your free Easytrip RFID, you need to follow a few quick steps:
Download and fill out the registration form found at the official Easytrip website: www.easytrip.ph.
After filling out the form, drive to the nearest Easytrip station. Again, stations are found along NLEX, SCTEX, CAVITEX, C-5 Link, and CALAX.
At the station, pay the initial load.* Remember that the amount may vary, depending on the station. If you get an Easytrip RFID at a South station, you'll need to pay ₱200. For Easytrip RFIDs installed at North stations, a ₱500 fee is required.
Have the sticker installed onto your car.** Wait for your car to be tested.
*The Easytrip load is consumable and has no expiry.
**Easytrip implements a "No Vehicle, No Installation" policy. Bring your car to avail of the free installation service.
Easytrip Balance Inquiry Guide
There are three easy ways to check your Easytrip account balance: through the Easytrip website, the MPT DriveHub mobile app, or via SMS.
👉 How to Check Easytrip Balance via Website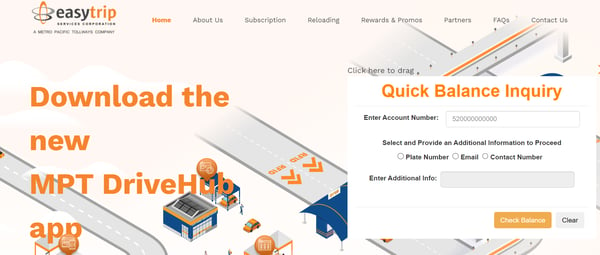 You don't need to log in to your account on the Easytrip website to check your balance. Here's what you need to do:
Go to www.easytrip.ph.
A hovering Quick Balance Inquiry Card will prompt you to key in the following: account number and additional information (plate number, email, or contact number).
Click the Check Balance button.
👉 How to Check Easytrip Balance via the MPT DriveHub App
The MPT DriveHub is branded by the MPTC as the all-in-one travel companion app for motorists. Through this app, you can check your balance and even reload your Easytrip RFID account.
Here's how to check your Easytrip RFID balance on the MPT DriveHub app:
Download the MPT DriveHub app from Google Play or the App Store. Skip this step if you already have the app.
Sign in to your MPT DriveHub account. You can also log in to your Google or Apple account to automatically create a DriveHub account.
Tap the RFID icon and add your Easytrip account to check your load and other details.
👉 How to Check Easytrip Balance via SMS
In case you don't have an internet connection, you can still check your Easytrip RFID balance via SMS. Just text BAL<space>12-digit Easytrip account number and send it to 09191601553.
This service is open to all networks and to both prepaid and postpaid users.
Easytrip Online Reloading Guide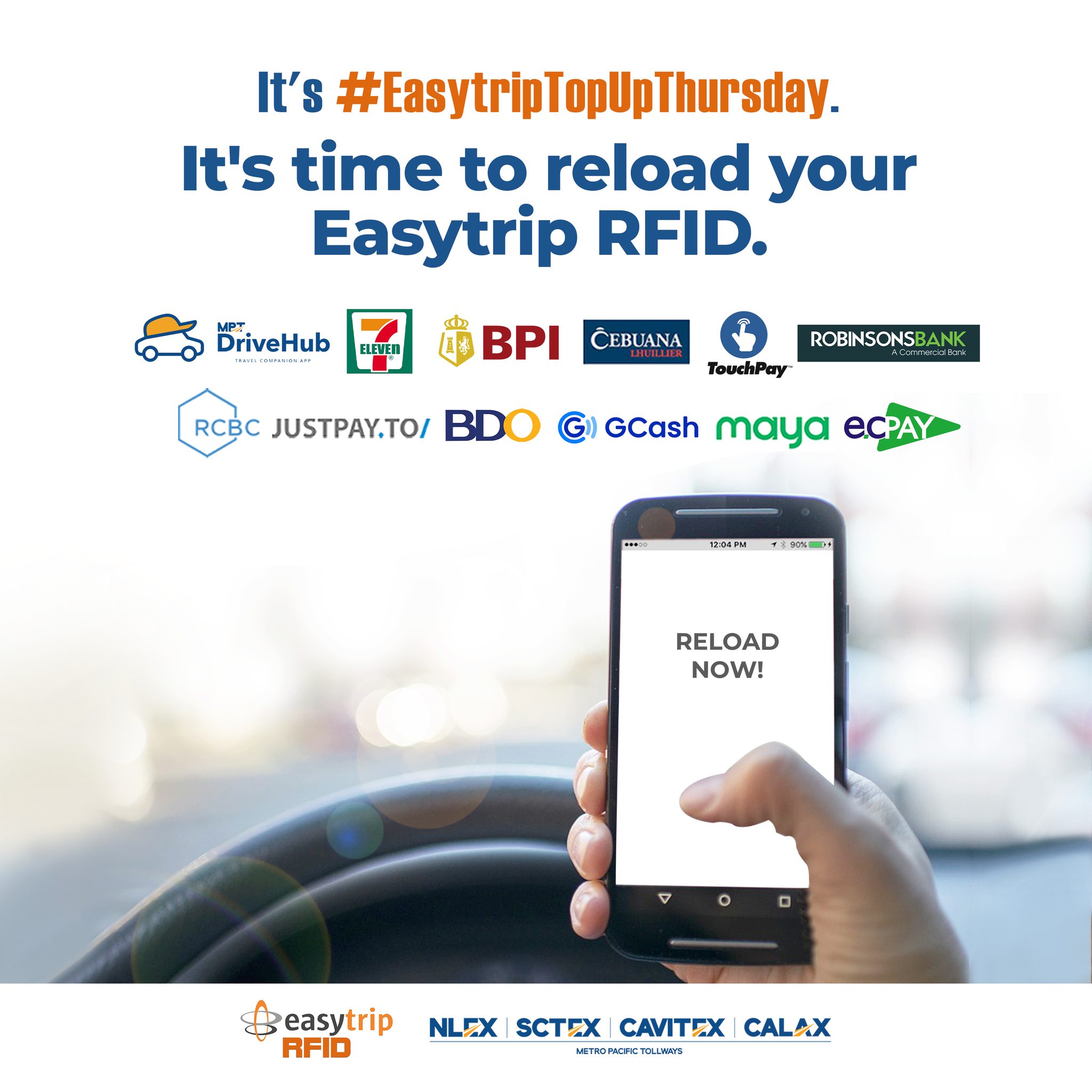 To avoid any hassles when traveling through the expressway, make sure you have sufficient balance in your Easytrip account. Easytrip's payment partners, such as banks and e-wallet providers, enable motorists to top up online even while on the road.
👉 How to Load Easytrip via the MPT DriveHub App
Add your Easytrip account to the app.
Under the RFID tab, tap the top-up button.
Choose the Easytrip account you want to load.
Input the amount.
Choose your payment method from the available partner merchants. For quicker payments, add your card.
👉 How to Load Easytrip via Online Banking or E-Wallet
Here's how to reload your Easytrip account through GCash, Maya, Bayad, Metrobank Online, or UnionBank:
Log in to your online banking or e-wallet account.
Click on Pay Bills or Bills Payment.
Choose Easytrip as your biller.
For the Subscriber/Account Number, enter your Easytrip RFID account number.
Enter the amount to load.
Confirm your bills payment.
👉 How to Load Easytrip via BPI
Log in to your BPI mobile app.
Go to Payments/Load, and choose Load e-wallet.
Supply the required details and choose an e-wallet.
Click Confirm to finish the transaction.
👉 How to Load Easytrip via 7-Eleven
On the screen of the CLiQQ kiosk, tap Bills Payment then Easytrip.
Enter your Easytrip RFID account number, mobile number, and reload amount.
The machine will issue a receipt. Take the receipt to the cashier and pay.
👉 How to Load Easytrip via Text
If you're a TNT subscriber, you can reload your Easytrip RFID account via text. You may load denominations of ₱100, ₱300, ₱500, or ₱1,000.
Just text EASY[DENOM][12-digit RFID account number] and then send it to 3279.
You'll receive an SMS for each successful transaction. Expect your Easytrip RFID account to be reloaded immediately after.
Reloading your Easytrip RFID account is now quicker and more convenient, whether online or onsite. Check out the complete list of Easytrip reloading partners[3] for more information.
---
📌 Pay for Your Road Trip Expenses with a Credit Card
Save on your fuel and other car-related expenses with rebates, discounts, and other perks from a credit card! Check out some of your best options below:
Credit Card
Features and Benefits

HSBC Gold Visa Cash Back

3% cash back on fuel spend
6% rebate on first Caltex fuel spend and 3% rebate year-round
5% cash back on dining transactions
0.50% cash back on all other purchases

HSBC Red Mastercard

6% rebate on first Caltex fuel spend and 3% rebate year-round
1 bonus point for every ₱20 spend
4x bonus points on online, shopping, dining, and overseas transactions

Security Bank Complete Cashback Mastercard

4% cashback on gas purchases
5% grocery rebate, 3% utility rebate, 2% dining rebate, and 1% shopping rebate
Up to ₱12,000 cashback per year

Petron-BPI Mastercard

3% fuel rebate at Petron
Free ₱200 fuel voucher welcome gift

RCBC Flex Visa Gold

2x rewards points in your three preferred categories, including gas
Rewards points for all your other spending
Free Purchase Protection, travel insurance coverage, and airport lounge access
---
Easytrip FAQs
Got some questions on Easytrip that weren't covered above? You may find the answers here.
1. Can I use my old Easytrip RFID sticker to enjoy interoperability with Autosweep?
Note that only the latest RFID Duo (Neology RFID) can be enrolled to Autosweep. Get your old RFID replaced at any Easytrip station.
2. What are the participating Easytrip toll plazas in TRB's cashless dry run?
For two months starting September 1, 2023, cash lanes will be removed at participating toll plazas for TRB's cashless dry run. If you frequently go through these Easytrip toll plazas,[4] make sure you always have enough load in your balance:
North Luzon Expressway - All toll plazas
Subic Clark Tarlac Expressway - All toll plazas
Cavite-Laguna Expressway - All toll plazas
Manila-Cavite Toll Expressway-C5 Southlink - Taguig Toll Plaza and Merville Toll Plaza
More plazas will be added eventually, so keep your eyes peeled.
3. What if I don't have an Easytrip RFID sticker during the cashless dry run?
Cash lanes are still available in certain areas. However, motorists will be encouraged to install RFID stickers to ease the flow of traffic.
Related reading:
Final Thoughts
Getting an Easytrip RFID may sound like a hassle, but it's actually not. Registration is free and doesn't require complicated documents. The benefit clearly outweighs the hurdle–you get to enjoy faster trips! Register now if you have the time, so you can enjoy a smooth and fun trip with your loved ones.
🚗 Get a Free Car Insurance Quote
Have peace of mind knowing you're prepared financially for any untoward incident on the road. Find the best coverage when you compare car insurance quotes on Moneymax!
| | | | | | |
| --- | --- | --- | --- | --- | --- |
| Car Insurance Company | Maximum Total Sum Insured | CTPL Coverage | Own Damage & Theft Coverage | Acts of Nature Coverage | Death or Disablement Coverage |
| FPG Insurance | ₱4 million | ✔️ | ✔️ | ✔️ | |
| Malayan Insurance | ₱7.5 million | ✔️ | ✔️ | ✔️ | |
| The Mercantile Insurance Corporation | ₱5 million | | ✔️ | ✔️ | |
| OONA Insurance (formerly MAPFRE) | ₱5 million | ✔️ | ✔️ | ✔️ | ✔️ |
| PGA Insurance | ₱3 million | | | | ✔️ |
| SGI Philippines | ₱5 million | ✔️ | | ✔️ | ✔️ |
| Standard Insurance | ₱5 million | ✔️ | ✔️ | ✔️ | ✔️ |
| Stronghold Insurance | ₱3 million | | ✔️ | | |
Sources: