Using tollways is a major convenience for motorists. But you can enjoy an even smoother trip when you use the Easytrip RFID. There's no need to stop at the toll booth for a long time to settle your transaction with cash. All it takes is one quick scan of your RFID, and you're good to go.
If it's your first time using an Easytrip ID, you probably have a lot of questions. You may be wondering where to get one, how to install it, and how to reload it. We've put together a comprehensive guide to answer all these questions and more. Let's roll!
What is Easytrip RFID?
The Easytrip RFID is a government-recommended radio frequency identification sticker attached to a vehicle's windshield or headlight for use in contactless and cashless toll fees.
When you approach the Easytrip RFID lane at the toll plaza, a unique sensor will read your sticker, automatically lifting the toll barrier.[1] There's no need to queue at the cash lane and rummage through your wallet or coin holder to get money.
Easytrip RFID Coverage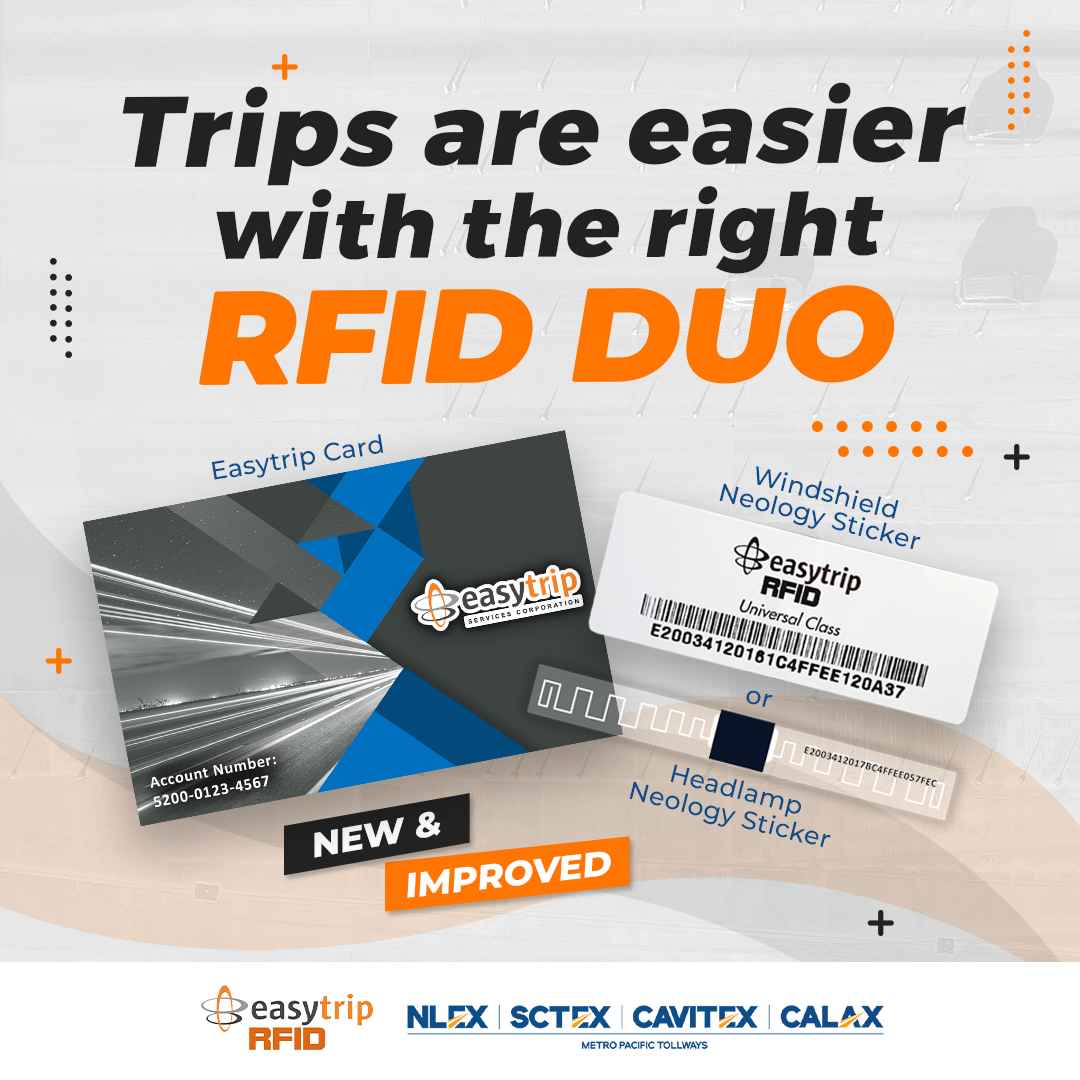 Two tollway operators operate the different expressways in Luzon: the Metro Pacific Tollways Corporation (MPTC) and San Miguel Corporation (SMC) Infrastructure.
The MPTC manages NLEX, SCTEX, CAVITEX, C5-Link Flyover, and CALAX, while SMC Infrastructure is in charge of SLEX, Skyway, NAIAX, STAR Tollway, MCX, and TPLEX.
Each of these tollway corporations implements its own RFID system. MPTC uses Easytrip, while SMC uses Autosweep. This means Easytrip RFID can be used only on expressways managed by MPTC. Likewise, the Autosweep RFID works only at SMC Infrastructure-operated tollways.
For example, an Easytrip RFID cannot be accepted at SLEX since it requires an Autosweep RFID. The same goes for when you pass through NLEX and have only an Autosweep RFID.
If you use the expressways both managed by MPTC and SMC, you have to install two RFID stickers on your vehicle: one from Easytrip and another from Autosweep.
See the table below for a better comparison of Easytrip coverage:
| Expressway | Accepted RFID |
| --- | --- |
| South Luzon Expressway (SLEX) | Autosweep |
| Metro Manila Skyway System | Autosweep |
| NAIA Expressway (NAIAX) | Autosweep |
| Southern Tagalog Arterial Roads (STAR) Tollway | Autosweep |
| Tarlac-Pangasinan-La Union Expressway (TPLEX) | Autosweep |
| Muntinlupa-Cavite Expressway (MCX) | Autosweep |
| North Luzon Expressway (NLEX) | Easytrip |
| Subic-Clark-Tarlac Expressway (SCTEX) | Easytrip |
| Manila-Cavite Toll Expressway (CAVITEX) | Easytrip |
| Cavite-Laguna Expressway (CALAX) | Easytrip |
| C5-Link Flyover | Easytrip |
Read more: 7 Cheap Barkada Destinations Around Metro Manila (Updated)
Where Can I Get an Easytrip RFID?
You can get an Easytrip RFID through walk-in and drive-thru installation sites for free. Just head over to any of the Easytrip stations found along NLEX, SCTEX, C5 Link, and CALAX. This is a convenient option, as you don't need to submit any complicated documents and you can use your Easytrip RFID right away.
How to Get Your Free Easytrip RFID
To get your free Easytrip RFID, you need to follow a few quick steps:
Download and fill out the registration form found at the official Easytrip website: www.easytrip.ph.
After filling out the form, drive to the nearest Easytrip station. Again, stations are found along NLEX, SCTEX, CAVITEX, C-5 Link, and CALAX.
At the station, pay the initial load.* Remember that the amount may vary, depending on the station. If you get an Easytrip RFID at a South station, you'll need to pay ₱200. For Easytrip RFIDs installed at North stations, a ₱500 fee is required.
Have the sticker installed onto your car.** Wait for your car to be tested.
*The Easytrip load is consumable and has no expiry.
**Easytrip implements a "No Vehicle, No Installation" policy. Bring your car to avail of the free installation service.
Easytrip Balance Inquiry Guide
There are three easy ways to check your Easytrip account balance: through the Easytrip website, the MPT DriveHub mobile app, or via SMS.
👉 How to Check Easytrip Balance via Website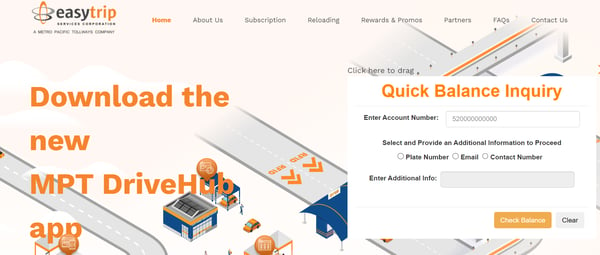 You don't need to log in to your account on the Easytrip website to check your balance. Here's what you need to do:
Go to www.easytrip.ph.
A hovering Quick Balance Inquiry Card will prompt you to key in the following: account number and additional information (plate number, email, or contact number).
Click the Check Balance button.
👉 How to Check Easytrip Balance via the MPT DriveHub App
The MPT DriveHub is branded by the MPTC as the all-in-one travel companion app for motorists. Through this app, you can check your balance and even reload your Easytrip RFID account.
Here's how to check your Easytrip RFID balance on the MPT DriveHub app:
Download the MPT DriveHub app from Google Play or the App Store. Skip this step if you already have the app.
Sign in to your MPT DriveHub account. You can also log in to your Google or Apple account to automatically create a DriveHub account.
Tap the RFID icon and add your Easytrip account to check your load and other details.
👉 How to Check Easytrip Balance via SMS
In case you don't have an internet connection, you can still check your Easytrip RFID balance via SMS. Just text BAL<space>12-digit Easytrip account number and send it to 09191601553.
This service is open to all networks and to both prepaid and postpaid users.
Easytrip Online Reloading Guide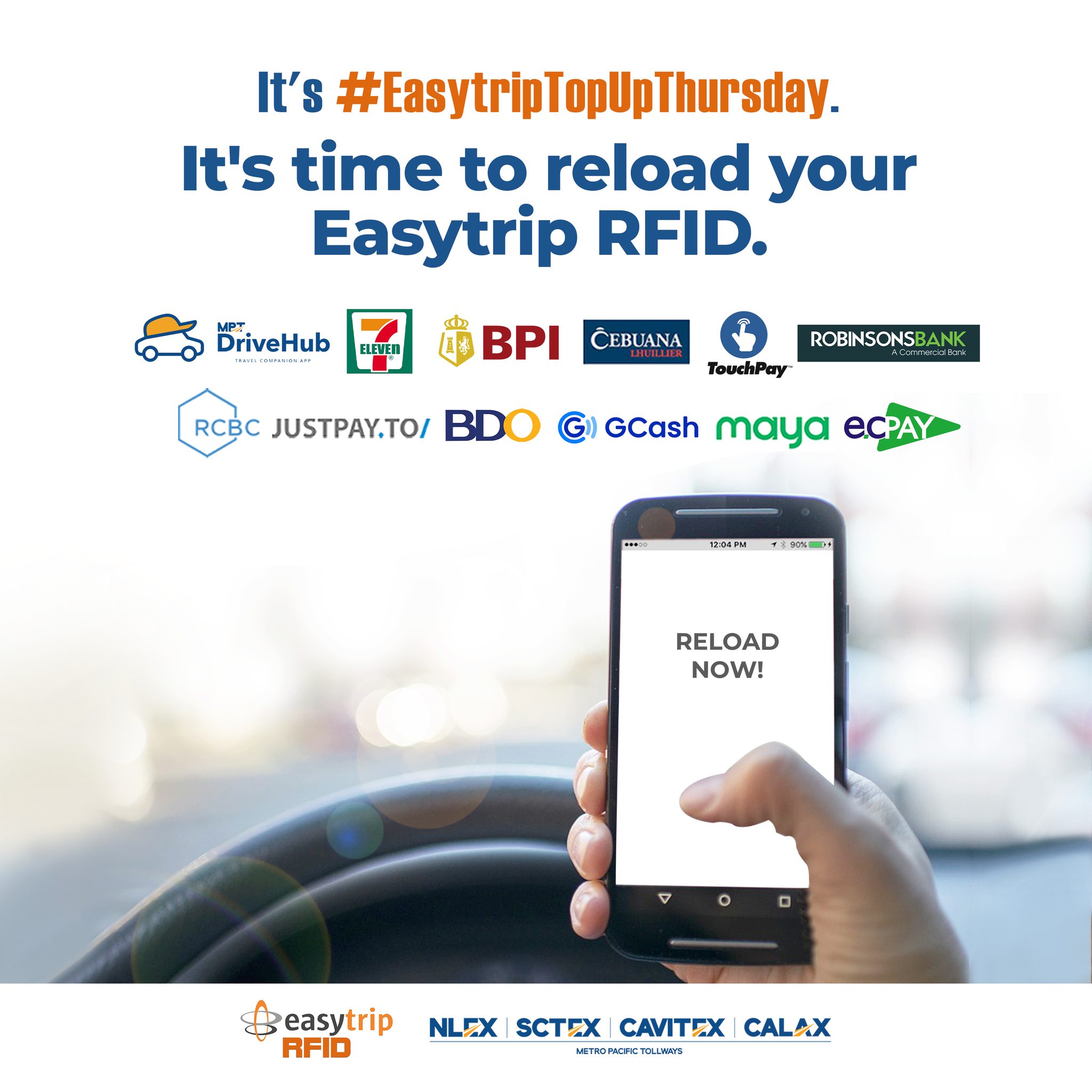 To avoid any hassles when traveling through the expressway, make sure you have sufficient balance in your Easytrip account. Easytrip's payment partners, such as banks and e-wallet providers, enable motorists to top up online even while on the road.
👉 How to Load Easytrip via the MPT DriveHub App
Add your Easytrip account to the app.
Under the RFID tab, tap the top-up button.
Choose the Easytrip account you want to load.
Input the amount.
Choose your payment method from the available partner merchants. For quicker payments, add your card.
👉 How to Load Easytrip via Online Banking or E-Wallet
Here's how to reload your Easytrip account through GCash, Maya, Bayad, Metrobank Online, or UnionBank:
Log in to your online banking or e-wallet account.
Click on Pay Bills or Bills Payment.
Choose Easytrip as your biller.
For the Subscriber/Account Number, enter your Easytrip RFID account number.
Enter the amount to load.
Confirm your bills payment.
👉 How to Load Easytrip via BPI
Log in to your BPI mobile app.
Go to Payments/Load, and choose Load e-wallet.
Supply the required details and choose an e-wallet.
Click Confirm to finish the transaction.
👉 How to Load Easytrip via 7-Eleven
On the screen of the CLiQQ kiosk, tap Bills Payment then Easytrip.
Enter your Easytrip RFID account number, mobile number, and reload amount.
The machine will issue a receipt. Take the receipt to the cashier and pay.
👉 How to Load Easytrip via Text
If you're a TNT subscriber, you can reload your Easytrip RFID account via text. You may load denominations of ₱100, ₱300, ₱500, or ₱1,000.
Just text EASY[DENOM][12-digit RFID account number] and then send it to 3279.
You'll receive an SMS for each successful transaction. Expect your Easytrip RFID account to be reloaded immediately after.
Reloading your Easytrip RFID account is now quicker and more convenient, whether online or onsite. Check out the complete list of Easytrip reloading partners[2] for more information.
Going on a Road Trip? Make it Happen with a Citi Personal Loan!

Road trips are fun. But they sometimes require a sizable budget, especially if you're traveling with a large group. Good thing you can borrow up to ₱2 million with a Citi Personal Loan! The beauty of this loan is you can enjoy flexible repayment terms of up to five years and low interest rates.
Apply now through Moneymax to fast-track that dream road trip with your family or friends and get a free welcome gift! Click the banner to get started.
Note: This product is sold by Union Bank of the Philippines, using certain trademarks temporarily under license from Citigroup Inc. and related group entities.
Read more: 24 Must-Visit Destinations for Your Road Trip Near Manila
Easytrip FAQs
Got some questions on Easytrip that aren't covered above? You may find the answers here.
1. I've heard that I will soon be able to use my Easytrip RFID at SMC expressways. Is this true?
Yes! According to reports, Easytrip RFIDs may soon be readable at SMC tollgates. This is made possible by the second phase of the toll interoperability project implemented by the Toll Regulatory Board (TRB).
Under the said phase, Easytrip RFIDs can be read by the Autosweep System. This means you can use SLEX, NAIAX, STAR Tollway, and TPLEX and pay using your Easytrip RFID. The announcement for this program is tentatively set for December 12, 2022 to January 15, 2023. The tentative date of the rollout, on the other hand, is January 16, 2023.[3]
2. The registration queues at toll plazas are long. Where else can I register?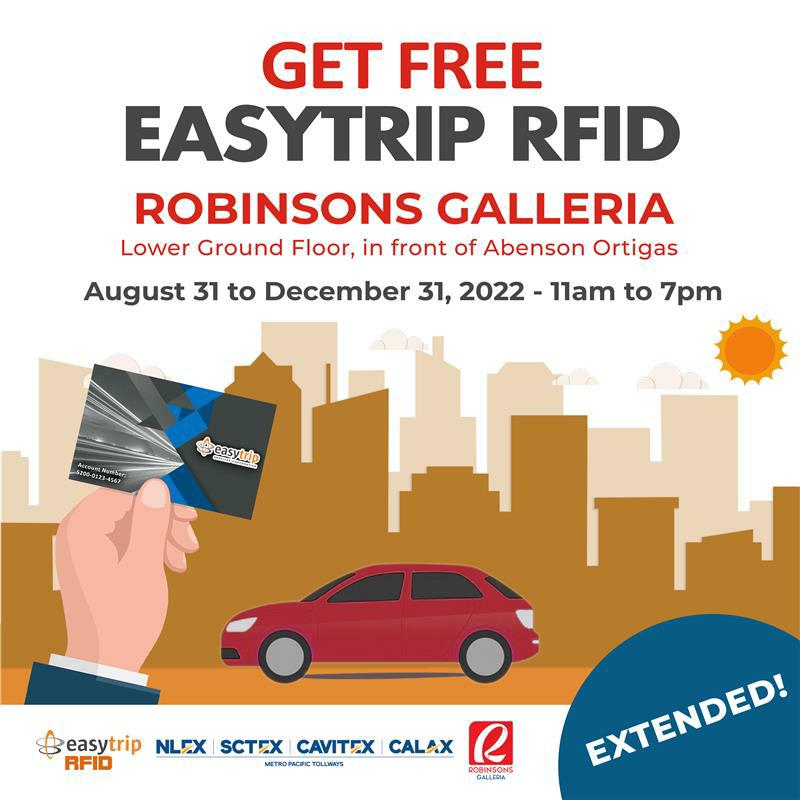 You can get your free Easytrip RFID at Robinsons Galleria in Ortigas. Just visit the Easytrip booth in front of Abenson on the lower ground floor. Make sure to bring your car and old Easytrip card (if applicable).
This program runs until December 31, 2022. Operating hours are from 11 a.m. to 7 p.m.
Final Thoughts
Getting an Easytrip RFID may sound like a hassle, but it's actually not. Registration is free and doesn't require complicated documents. The benefit clearly outweighs the hurdle–you get to enjoy faster trips! Register now if you have the time, so you can enjoy a smooth and fun trip with your loved ones.

Sources: