Last year, the Department of Transportation ordered the full adoption of an RFID system in all tollways by November 2020 to help reduce COVID-19 transmission.[1] With the RFID system, contact between motorists and toll booth operators will be reduced and eliminate the need for using cash for paying toll fees.
Which means you should be familiar with the Easytrip RFID by now. Perhaps you've also tried different methods to top it up aside from driving to the nearest RFID installation site, which can be time-consuming.
Still, the the easier and safer alternative is to make your Easytrip transactions online. So here's a quick guide to ordering, installing, and reloading Easytrip RFID online.
What is Easytrip RFID?
The Easytrip RFID is a government-recommended radio frequency identification sticker attached to a vehicle's windshield or headlight for use in contactless and cashless toll payments. It's a more efficient and safer alternative to cash for paying toll fees.
Easytrip RFID Coverage

Two tollway operators operate the different expressways in Luzon: the Metro Pacific Tollways Corporation (MPTC) and San Miguel Corporation (SMC) Infrastructure.
The MPTC manages NLEX, SCTEX, CAVITEX, C5-Link Flyover, and CALAX, while SMC Infrastructure is in charge of SLEX, Skyway, NAIAX, STAR Tollway, MCX, and TPLEX.
Each of these tollway corporations implements its own RFID system. MPTC uses Easytrip, while SMC uses Autosweep. This means Easytrip RFID can be used only on expressways managed by MPTC. Likewise, the Autosweep RFID works only at SMC Infrastructure-operated tollways.
For example, an Easytrip RFID cannot be accepted at SLEX since it requires an Autosweep RFID. The same goes for when you pass through NLEX and you have only an Autosweep RFID.
If you use the expressways both managed by MPTC and SMC, you have to install on your vehicle two RFID stickers: one from Easytrip and another from Autosweep.
See the table below for a better comparison of Easytrip coverage:
| Expressway | Accepted RFID |
| --- | --- |
| South Luzon Expressway (SLEX) | Autosweep |
| Metro Manila Skyway System | Autosweep |
| NAIA Expressway (NAIAX) | Autosweep |
| Southern Tagalog Arterial Roads (STAR) Tollway | Autosweep |
| Tarlac-Pangasinan-La Union Expressway (TPLEX) | Autosweep |
| Muntinlupa-Cavite Expressway (MCX) | Autosweep |
| North Luzon Expressway (NLEX) | Easytrip |
| Subic-Clark-Tarlac Expressway (SCTEX) | Easytrip |
| Manila-Cavite Toll Expressway (CAVITEX) | Easytrip |
| Cavite-Laguna Expressway (CALAX) | Easytrip |
| C5-Link Flyover | Easytrip |
Read more: Autosweep RFID Guide: Hassle-Free, Quicker Travel for Expressway Motorists
Where Can I Buy an Easytrip Device?
The easiest way to get an Easytrip RFID sticker is to order the Stick-It-Yourself kit through Lazada or Shopee. Once you have it, register the RFID online and perform a DIY installation. No need to drive to an RFID station because you can easily install the RFID right where your car is.
The Easytrip RFID box comes with a tag positioning guide, a user manual, and an Easytrip card for convenient reloading.
Note: Only motorists using Class 1 vehicles (cars, motorcycles, vans, pick-ups, and jeepneys) can get an Easytrip Stick-It-Yourself RFID online. The product itself is free, but you'll have to pay PHP 500 for the initial load plus the shipping fee when ordering online.
Read more: Get Your Holy Week Vacation Off to a Good Start with These Tips to Beat Traffic
How to Order and Register a Stick-It-Yourself Easytrip RFID Online
Open the Lazada app or Shopee app.
Search for "Easytrip" and click on the RFID product image in the results.
Place your order as you normally would when buying at Lazada or Shopee.
Take note of the provided order number or checkout code upon checkout. You'll use this number for your Easytrip RFID online registration.
Next, your Easytrip online application. Go to www.easytrip.ph/rfid-registration and then select Easytrip Stick-It-Yourself RFID from the Availed RFID option.
Fill out the online form with the following information:
Salutation
Full name
Date of birth
Mobile number
Email address
Plate/conduction sticker number
Vehicle make/model
RFID location - headlamp or windshield
Checkout code from Shopee or Lazada
7. Tick the terms and conditions box and then click Submit.
How to Install Your Easytrip RFID
Using a dry cloth, wipe your windshield or headlight at the passenger side to clean it thoroughly.
Detach the plastic liner from the Easytrip tag.
Position the Tag Positioning Card (included in your Easytrip RFID box) on your headlight or windshield.

If installing on the headlight: The positioning card should be parallel to the headlight baseline and on the lower right corner near the edge of the headlight. Keep a 2-inch distance between the top and bottom edges of the headlight assembly and the edge of the Easytrip tag.
If installing on the windshield: Paste the positioning card on the lower right corner of the windshield.

Hold the tag by its edges and attach it to the headlight or windshield. Remove the positioning card. While doing this step, be careful not to put excessive force on the black chip at the center of the tag.
Smooth out the tag, making sure it sticks completely and has no air pockets.
Leave the tag's adhesion to cure for 24 hours. Don't touch, remove, or get the tag wet. Once damaged, the one-year warranty on the RFID sticker will become void.
Read more: Compare Online for Car Insurance Quotes in the Philippines
Easytrip Balance Inquiry Guide
There are two easy ways to check your Easytrip account balance: through the Easytrip website or the Easytrip mobile app.
How to Check Easytrip Balance via Website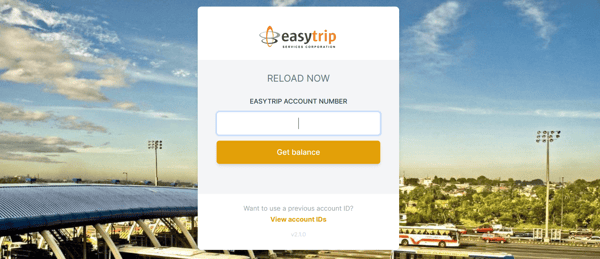 Open a browser tab and go to easytrip.reload.ninja.
Key in your 12-digit Easytrip account number and then click Get Balance.
You'll be taken to another page where you'll see your current Easytrip load balance.
How to Check Easytrip Balance via Mobile App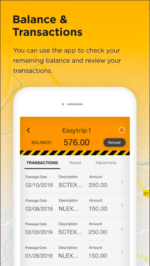 Download the Easytrip mobile app (myeasytrip) from the Apple App Store or Google Play Store.
Log in to your Easytrip account. If you haven't signed up yet, registration is easy. You can use your email or your Facebook account to register. If you prefer to use your Apple ID, you can also do so.
Next, enter your vehicle and personal information as required. Click Save.
You can now view your current Easytrip balance when you click on your account or vehicle. Aside from this, you'll also be able to check your reloads and transaction history.
Easytrip Online Reloading Guide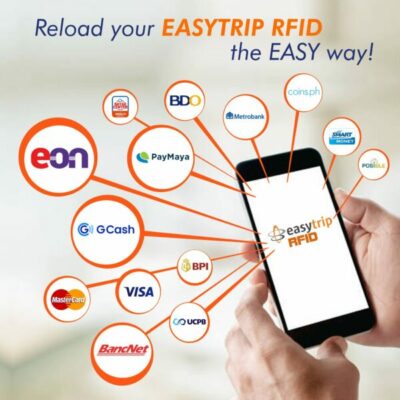 To avoid hassles when traveling through the expressway, make sure that you have sufficient balance in your Easytrip account. Good thing, Easytrip has payment partners such as banks and e-wallet providers that enable motorists to top up online even while on the road.
How to Load Easytrip via Online Banking or E-Wallet
Here are the steps to reload your Easytrip account through GCash, PayMaya, Bayad Center, BancNet, Metrobank Online, or the UCPB mobile app.
Log in to your online banking or e-wallet account.
Click on "Pay Bills" or "Bills Payment."
Choose Easytrip as your biller.
For the Subscriber/Account Number, enter your 12 or 16-digit Easytrip account number.
Enter the amount to load.
Confirm your bills payment.
How to Load Easytrip via UnionBank EON App
Log in to your EON account.
Select Top-ups > Transportation > Easytrip.
Select your load amount and tap Continue.
Enter your Easytrip account number and your name.
Select Check Out.
Proceed to checkout and pay using your EON account or any Visa/Mastercard debit/prepaid card.
How to Load Easytrip via Coins.ph App
Log in to your Coins.ph account.
Select Cash Out > Tollway Credits.
Enter your Easytrip account number and load amount.
Slide to pay.
How to Load Easytrip via BPI
Go to the Reload page on the Easytrip website (easytrip.reload.ninja).
Enter your Easytrip account number.
Select a load amount.
Enter your email address.
Select "BPI Online."
Enter the required billing information.
How to Load Easytrip via Easytrip Mobile App
Log in to your Easytrip account.
Tap the Reload button at the tab section.
Enter your Easytrip account number and amount to load.
Tap "Okay."
How to Load Easytrip via Text
If you're a Smart or TNT subscriber, you can reload your Easytrip RFID account via text. You may load denominations of PHP 100, PHP 300, PHP 500 or PHP 1,000.
Just text EASY[DENOM][12-digit RFID account number] and then send it to 3279.
You'll receive an SMS for each successful transaction. Expect your Easytrip RFID account to be reloaded immediately after.
Reloading your Easytrip RFID account is now quicker and more convenient, whether online or onsite. Check out the full list of Easytrip reloading partners[2] for more information.
Read more related articles:
Final Thoughts
Getting an Easytrip RFID may seem like a hassle, but it will help make your trips faster and safer. If you don't want to get an RFID sticker personally at an Easytrip RFID installation site, you can order one online and install the RFID on your vehicle on your own.

Sources: