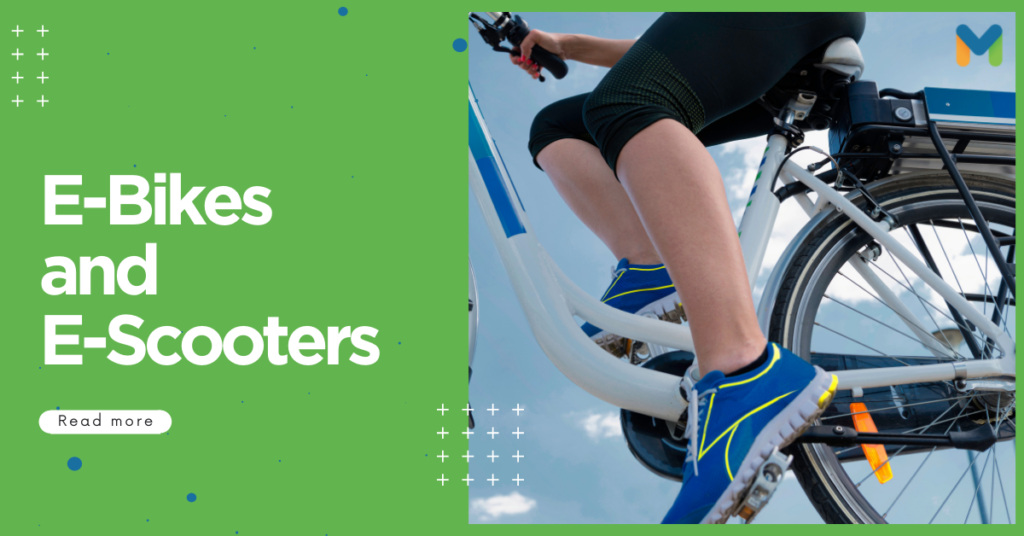 More and more people are turning to electric motorcycles and scooters these days, and you've probably seen them on streets everywhere. It comes as no surprise, given the traffic and parking problems that motorists in the Philippines have to contend with every day.
E-bikes and e-scooters are great alternative modes of transportation to get around the city. Compared to conventional gas-powered motorcycles, these light electric vehicles are more economical, environment-friendly, and convenient.
Should you ditch your car in favor of an electric bike or scooter? Think things through first. We've put together a handy guide that will help you come up with a wise decision.
E-Bike and E-Scooter: What's the Difference?
E-bikes and e-scooters are the same in the sense that they're both running on batteries and that used for personal mobility. Structurally speaking, however, there are obvious differences between the two.
An e-bike takes on the look of a traditional bicycle, or even a motorcycle, and may or may not come with a pedal. It also comes with a seat, which makes for a comfortable ride. Some varieties of e-bikes have three wheels and may look like a taxicle. E-bikes of this type allow you to carry passengers and loads, such as groceries.
An e-scooter, on the other hand, looks very much like its non-motorized counterpart. What makes it different, though, is that it's much larger. It has bigger wheels and a more spacious deck, which conveniently accommodates the rider. Riding it just requires you to stand on the deck as you let the electric motor move the wheels. Some e-scooters may also even come with a detachable seat to make the ride much more comfortable.
You may wonder if an e-scooter can be used manually when it runs out of battery. The answer will depend on the e-scooter model.
Dual models allow you to switch to manual mode if the battery gets drained. But if you own a purely electric scooter, using it manually isn't a wise move, especially if the manufacturer advises against it.
Is an E-Bike and E-Scooter Legal in the Philippines?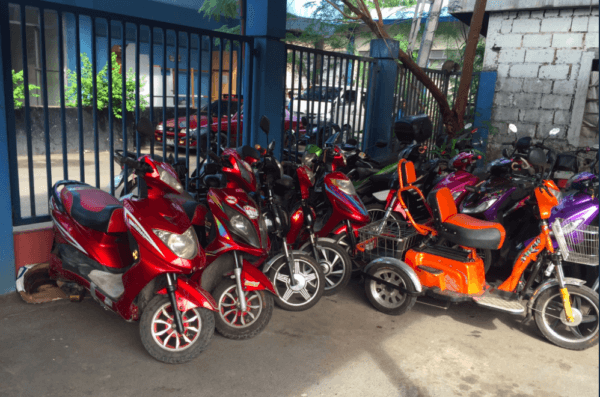 Technically, the sale of e-bikes and e-scooters is allowed, as attested by the many different brands available in online and physical stores in the Philippines. But when it comes to driving the electronic vehicle, there are some rules that users should follow.
According to the Land Transportation Office (LTO), electronic bikes and scooters are not required to be registered. This is because these personal mobility units lack the necessary accessories of a motor vehicle.[1]
Speed is also another factor considered in vehicle registration. The LTO explains that e-bikes and e-scooters that have a maximum speed of 25 kilometers per hour won't require registration papers. Furthermore, riders of these vehicles are exempted from licenses. However, LTO Chief Edgar Galvante says that e-bikes and e-scooters will be limited to barangay roads and bicycle lanes designated by authorities.[2]
But as far as safety is concerned, users of these electric vehicles are required to wear a bicycle or a motorcycle-style helmet.
Read more: 6 Traffic Laws to Remember When Driving in the Philippines
Where Can I Buy an E-Bike and E-Scooter?
It's not hard to look for e-bikes and e-scooters these days. You can visit your local bike shop and you're sure to find them there. You can also get your e-bike or e-scooter from e-commerce sites, such as Lazada and Shopee. But if you're looking for a secondhand unit, you can find it on marketplaces, such as Carousell.
7 Advantages of an E-Bike and E-Scooter
In general, getting an e-bike or an e-scooter will help you save money and time. But there are other benefits that may convince you to get one. Take a look at the following:
1. Faster Commutes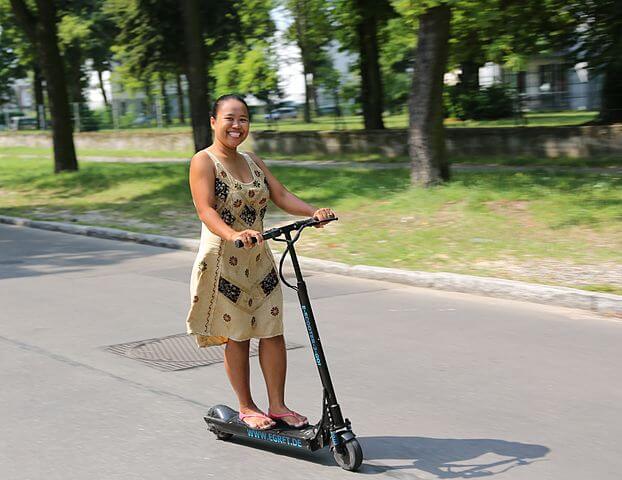 The biggest appeal of electric motorcycles and scooters is that they take you faster to your destination than driving a car. Traveling with an e-bike or e-scooter allows you to avoid traffic-congested areas, take shortcuts, and easily maneuver on narrow streets where four-wheeled vehicles can't fit.
For instance, French diplomat Yves Zoberman shared that he travels from Makati City to Quezon City using his electric kick scooter, cutting almost an hour from his travel time.[3]
2. Lower Operational Costs
With an electric motorcycle or scooter, you don't have to worry about fuel, parking, maintenance, and other costs of owning a car.
E-bikes and e-scooters don't use gas—they're battery powered. Your power bills get more expensive when you charge an electric vehicle, but the cost is nothing compared to gassing up a traditional bike.
Light electric vehicles are also cheaper to maintain. For one, you don't have to change the battery often as it can last for five years. Furthermore, brake pads on e-motorcycles and e-scooters don't easily give in to wear and tear.
Also, these vehicles don't have air filters, spark plugs, oil, timing belts, and clutches. The only parts you'll need to maintain and replace are the tires, brake pads, and brake fluid.
3. More Affordable Than Other Vehicles
Another reason electric motorcycles and scooters are selling like hotcakes in the Philippines is their lower price tags compared to conventional vehicles.
The cheapest brand-new, gas-powered motorcycles cost around PHP 40,000. Some models even range from hundreds of thousands to a million pesos.
E-bikes are sold at much lower prices, starting at around PHP 20,000. Electric scooters cost PHP 18,000 on average and can be purchased for less than PHP 10,000.
Read more: Why You Need Motorcycle Insurance and How to Get it
4. Eco-friendly Vehicles
Unlike gas motorcycles, e-motorcycles and e-scooters don't belch smoke into the air since they don't burn gas, making them ideal to use in the city. This means less pollution and reduced carbon footprint. According to a European Cyclists Federation study, e-bikes have less carbon footprint (2.6 to 5 grams of carbon dioxide per mile) than electric cars (150 grams).
5. Easier to Learn
Beginners—even senior citizens and kids—can easily learn how to operate an e-bike or e-scooter. No need to pedal and shift gears. You just sit on the electric bike or step on the electric scooter and twist the throttle to control its speed.
6. No Parking Problems with E-Scooters
Because electric scooters are compact, foldable, and lightweight (weighing about only 13 kg), they can be parked in small areas. You may even choose not to park your e-scooter when commuting to work. Simply fold it, carry it into your office, and stow it somewhere until you're ready to travel home. No need to worry about your e-scooter getting stolen.
7. Quiet Operation
E-bikes make less noise than gas motorcycles that produce rumbling sounds. When you ride around the neighborhood, you won't disturb anyone, and you can better enjoy listening to music, too.
Read more: Eyes on the Road, Hands on the Wheel: What to Know About the Anti-Distracted Driving Act
6 Disadvantages of an E-Bike and E-Scooter
Owning an e-bike or an e-scooter has its fair share of disadvantages. Let this section be your devil's advocate that will help you weigh your options and fine-tune your final decision.
1. Less Safe Than Cars
Generally speaking, two-wheeled vehicles, like an e-bike and e-scooter, are riskier on the road than four-wheeled ones. And because they're electronic, these vehicles also can't be used when it's raining or flooding. Slippery roads and poor visibility during bad weather makes an e-bike and e-scooter quite dangerous to use.
2. A Lot Slower Than Conventional Vehicles
E-bikes and e-scooters are not made for big highways since their engines are designed to churn out a decent speed. Moreover, the wheels of these electric vehicles are much smaller compared to a traditional motorcycle. Such a feature compromises their cruising speed.
3. Risk of Getting Stolen
Electric motorcycles and scooters are portable, making them prone to theft. When you store or park your e-bike in a public place, make sure to use a quality lock or anti-theft device.
4. Long Charging Time
It usually takes six to eight hours to fully charge an e-bike and e-scooter. This can be very inconvenient when your battery runs out of power and you don't have access to a charging station.
5. Limited Range
With a range averaging only at 50 to 70 km, electric motorcycles and scooters aren't designed for long trips. You can't travel far between charges. This is why e-bikes are ideal only for shorter trips like daily commutes to and from work.
6. Quick Depreciation
Just like other vehicles, an e-bike and e-scooter has a high depreciation value. In fact, it already loses some of its value the day you buy it and take it home with you.
Some estimate that these everyday electronic vehicles lose 15% to 20% of their value every year. However, the condition and the brand of the e-bike or e-scooter can potentially influence its depreciation rate.
If you're thinking of reselling your e-bike or e-scooter in the future, plan things carefully. Choose a reputable brand so you can justify the high resale price. On the other hand, if you're just buying an e-vehicle purely for utility, consider getting a second hand unit.
Read more: 3 Facts About the No-Contact Apprehension Policy
Some Popular Brands of E-Bikes and E-Scooters in the Philippines
There are already lots of brands of e-bikes and e-scooters in the market today. We've scouted for some of the most popular ones to make choosing much easier for you.
1. Mitsushi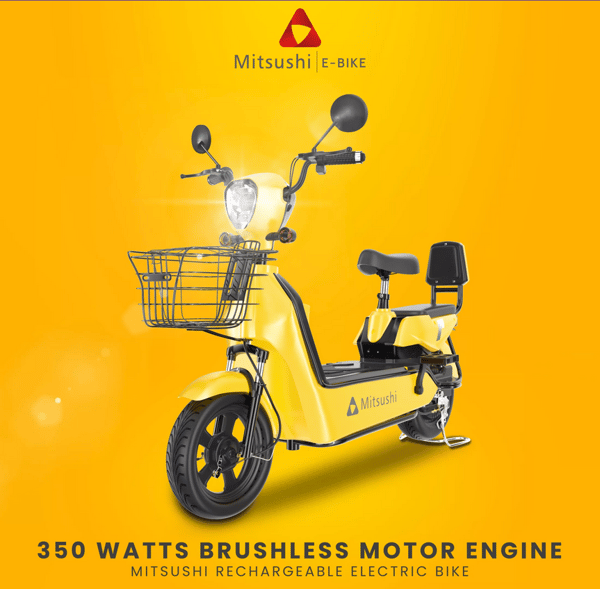 If you're looking for an all-around e-bike that you can ride around your village or to the grocery, Mitsushi makes a good choice. Its V series comes with a 350W brushless motor engine, a maximum speed of 40 km/h, a hydraulic shock absorption, and a 48212 lead-acid battery. It's also outfitted with water-resistant materials, so there should be no problem in case you're caught in the rain.
Each unit also comes with freebies, such as a charger, raincoat, lock, air pump, and helmet. Prices range from PHP 29,999 to PHP 35,999. Although it's nice to note that online prices may be slashed by 50% during promo and sale seasons.
2. Kuroma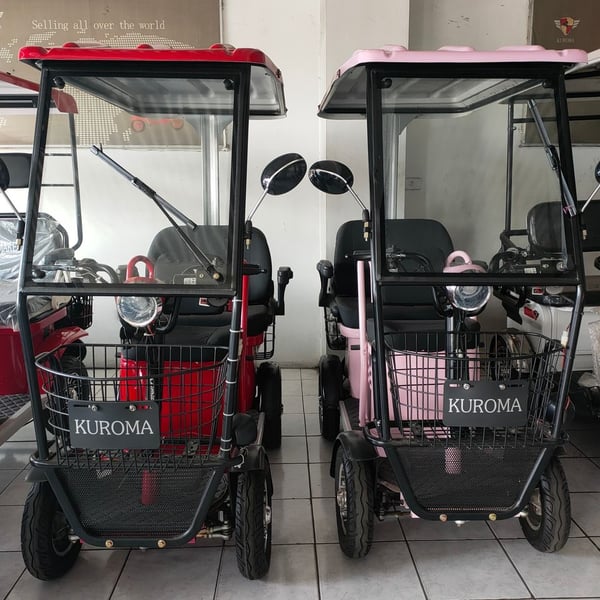 A lot of e-bikes from Kuroma are much bigger and designed to accommodate at least three passengers. They actually resemble a taxicle. But if you're looking for a much bigger unit, Kuroma also has a four-wheel e-bike that looks like a golf cart.
Kuroma's latest model, the K3308, has a 650-watt motor, a 60v32ah battery, and a speed range between 35 km/h and 50 km/h. It also comes with an anti-theft alarm, a Bluetooth speaker, a big compartment, a mini-fan, a cup holder, and a phone holder. This particular model is priced at PHP 65,000.
3. NWOW

NWOW has a variety of e-bikes that will suit different lifestyles. For those who are looking for a stylish unit, its CS and Turtle King+ models are worth checking out. Priced at PHP 43,800, the CS model is reminiscent of a sporty Honda or Yamaha motorcycle. It's even outfitted with a hydraulic back shock and a high-definition panel board.
If you're leaning towards Vespa-esque aesthetics, the Turtle King+ may be just the one for you. With a price tag of PHP 38,000, this e-bike also boasts a back shock for a comfortable ride and a powerful motor that's easy to handle.
If you have a family or a moving business, get an NWOW EPED. This bike is built with a sidecar, allowing you to carry passengers and other loads. It also has a reverse mode, which makes parking a breeze. The EPED costs PHP 31,800.
4. Segway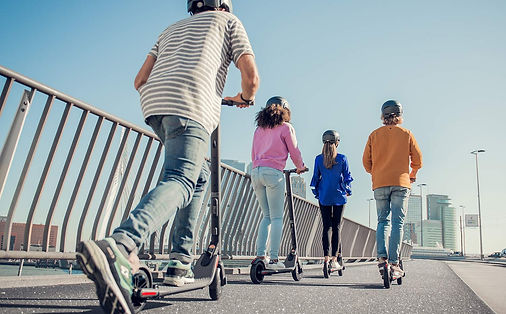 In the early 2000s, Segway took the word by storm with its self-balancing scooters. These self-balancing scooters are still used today in warehouse management and even tourism. But eventually, the company decided to expand its portfolio by offering a line of e-scooters―the Ninebot Kickscooter.
The Kickscooter ES2 is one of Segway's most popular e-scooter models. While it's built with aerospace-grade aluminum alloy, it's surprisingly lightweight. It's also portable, which makes it easy to carry in public transportation.
For a comfortable and smooth ride, the Kickscooter ES2 has a dual suspension system.[4] The motor has a power output of up to 700W. It can also reach up to 25 km/h. This model is priced around PHP 30,000, depending on the retailer.
5. VeroMan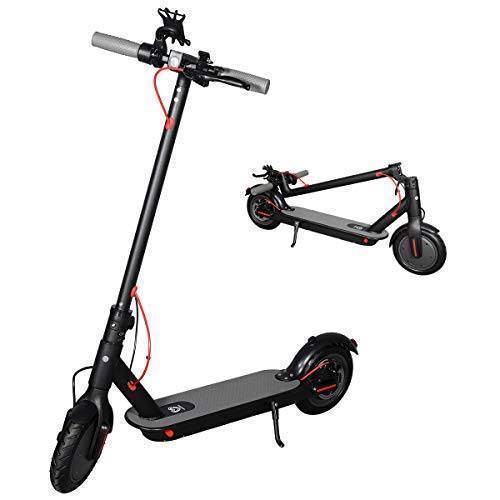 Filipino retailer VeroMan offers a wide variety of sporting products and even novelty goods, such as inflatable costumes. But it also offers its very own electric scooter that's shipped from Japan, giving you assurance when it comes to quality.
Primarily made of aluminum alloy, the VeroMan electric scooter is lightweight and easy to carry. One full charge allows you to ride it over 20 to 25 kilometers.
It comes with an LCD monitor that makes checking the mileage and battery much easier. Night rides should not be worrisome since it has lights in front and at the back. This scooter has a price tag of PHP 19,999.
6. Xiaomi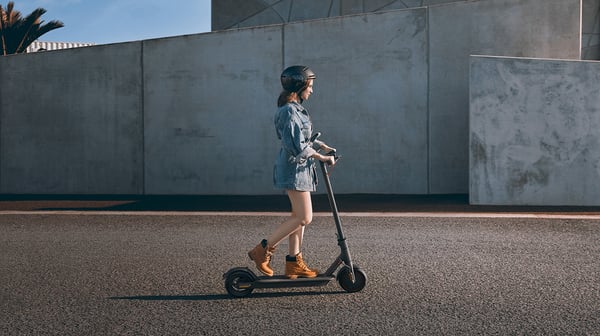 Xiaomi's technological marvels and gems don't stop with its advanced smartphones, smartwatches, and even home electronics. It has also forayed into the personal mobility space by offering e-scooters.
One of its most popular units is the Mi Electric Scooter. It's sleek and understatedly beautiful; it actually won the "Best of the Best" award at the prestigious Red Dot Design Award in 2017.
The Mi Electric Scooter is more than a thing of beauty. It's compact, foldable, and easy to carry. Its 18650mAh high-capacity batteries, which are supplied by LG, allow you to ride up to 30 km on a single charge.[5] Several mechanisms are in place to keep short circuit, overcurrent, and overcharging from happening.
You can also integrate your e-scooter into your smartphone via Bluetooth. This way, you can record your ride statistics and view the scooter's current speed and remaining power.
But what makes the Mi Electric Scooter a standout from this list is its capability to store and convert kinetic energy into electrical power during acceleration. Moreover, the scooter has a regenerative braking system that gives additional power. All these features help extend the unit's battery life.
If you're interested in purchasing one, this scooter is currently priced at PHP 19,990.
Final Thoughts
Even if they aren't mainstream in the Philippines yet, e-bikes and e-scooters show a lot of potential. As technology gets better over time, their advantages may outweigh the disadvantages.
Have you purchased an e-bike or e-scooter? How's your experience so far? Don't hesitate to share it with us!

Sources: