Have you ever been stopped at a police checkpoint in the Philippines? Do you know how to respond and protect your rights in such a situation?
Seeing uniformed personnel and marked cars on the road can be anxiety-inducing, even if you didn't commit a violation.
It's essential to keep your cool and observe proper checkpoint etiquette. It's also equally important to know the guidelines, requirements, and procedures when police conduct a checkpoint inspection.
What is a

Police Checkpoint in the Philippines

?
A checkpoint in the Philippines refers to where police check vehicular or pedestrian traffic to enforce circulation control measures and other laws, orders, and regulations.[1]
As such, the establishment of the checkpoint must be authorized by the head of the territorial PNP unit in the area.
The PNP Highway Patrol Group (PNP HPG) is the central operating unit in charge of traffic safety promotion on highways. They establish and conduct these checkpoints against carnapping, hijacking, and other highway crimes using motor vehicles.
The PNP HPG coordinates with local police units with territorial jurisdiction and the Philippine Ports Authority.
❓ What is the

Purpose of PNP Checkpoints?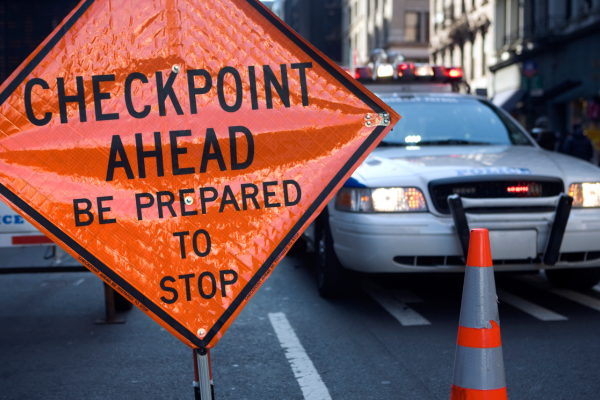 The importance of police checkpoints in the Philippines cannot be stressed enough. They are established to maintain public safety through spot checks that deter criminals on the streets.
The PNP usually sets up checkpoints during election season and other times that call for an increased police presence, such as blocking the escape of lawless elements from a crime scene or arresting a criminal or fugitive from justice.
PNP Checkpoint Composition
Police checkpoints in the Philippines should have a checkpoint team composed of the following:
Team Leader - Preferably a Police-Commissioned Officer (PCO) responsible for the checkpoint. If there's no PCO, the most senior Police Non-Commissioned Officer (PNCO) will act as a Team Leader.
One Spotter or Profiler - Responsible for pointing out or profiling a suspected vehicle for checkpoint
Two Verifiers - Will conduct document verification and search, as well as seizure, arrest, and initial custody of seized evidence if necessary
Search or Arresting Personnel - Responsible for searching, seizing illegal items, and arresting offenders
Two Forward and Two Rear Security - Responsible for providing security at the checkpoint and blocking or pursuing fleeing suspects or vehicles
PNP Checkpoint

Guidelines 2023
Police officers in the Philippines observe strict checkpoint rules and guidelines based on the PNP National Police Manual[2] so they won't abuse their authority and cause inconvenience to motorists and commuters.
Know what you should expect during checkpoint inspections by reading these checkpoint guidelines in the Philippines.
The PNP authorizes mobile checkpoints established with ongoing police operations only.
The Team Leader will designate the personnel at checkpoints—a minimum of eight team members, preferably including a female in case of involvement of a female suspect/s.
PNP personnel at checkpoints should have a presentable appearance and wear the prescribed uniform. Their names should also be visible.
The checkpoint should have the following PNP HPG checkpoint requirements:

Marked police vehicles
Signages (warning signs to slow down for the checkpoint, information signs with names and contact information)
Firearms with a basic load of ammunition
Ballistic vest
Flashlights
Megaphone
Body-worn cameras (BWC) or Alternative Recording Devices (ARD)

The checkpoint area should be well-lit. The signage must display the name and contact number of the PNP and the Team Leader.
Mobile checkpoints will use only marked vehicles with blinkers on.
Only the forward and rear security team members should display their rifles. They should stay in the best position to provide security to the checkpoint team.
If the checkpoint team seizes or recovers illegal drugs, they should immediately contact an elected public official, a National Prosecutor Service representative, or the media.
The Team Leader should submit a report right after the checkpoint operation.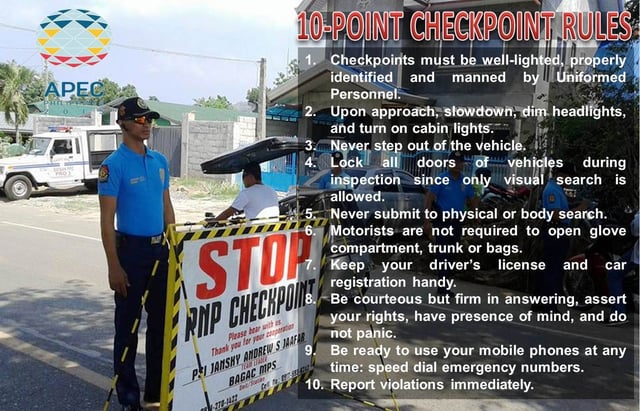 Photo: @pnpdpcr (Twitter)
🏍️ M

otorcycle Checkpoint Guidelines in the Philippines
Motorcycle checkpoints in the Philippines should not be at blind curves. The checkpoint should be well-lit and have proper and visible signages.
Uniformed officers must signal you to slow down and move to the side of the road. They should politely ask you to turn off your motorcycle engine, remove your helmet, and show your motorcycle's OR/CR.
Only a visual search is required. You should be issued a ticket at the checkpoint in case of a violation.
Your Rights at a

Police Checkpoint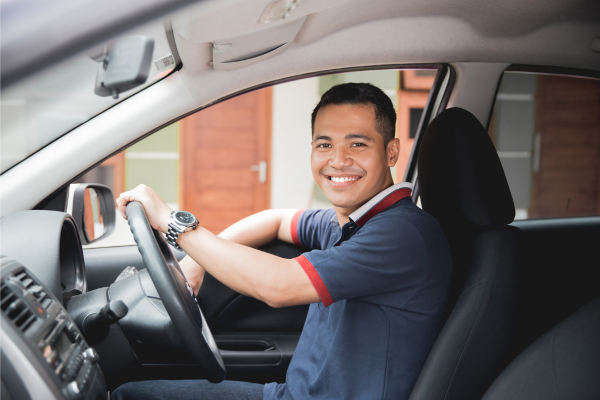 If you know what to expect at police checkpoints, you can stay calm and focused. You'll also know when to assert your rights if there are instances of abuse or illegal conduct.
👉 You Must Be Treated with Courtesy and Respect
The uniformed officers must signal you to slow down, request you to turn off your headlights, and ask you to turn on the hazard and cabin lights courteously.
They should greet you, apologize for the inconvenience, ask for understanding, explain the purpose of the checkpoint operation, and thank you once the search is completed.
PNP HPG officers should treat motorists fairly, regardless of their vehicle. For instance, they cannot discriminate against motorcycle riders.
👉 You Shouldn't Step Out of Your Car
Officers can do a visual inspection of a car only. If your windows are tinted, they will only ask you to lower them and turn on the lights so they can see what's inside. Police officers also can't force you to step out.
However, there are exceptions. The police can conduct a more thorough inspection even without a search warrant if:
You have just committed, are committing, or are about to commit a crime.
There's prior information or alarm reasonably corroborated by other attendant matters.
👉 You Are Not Required to Answer Any Questions
You have the right to refuse to respond to questions from the police personnel during a spot check. They can't force you to answer or arrest you for not answering.
However, if there are any violations or infractions of the law during the inspection at the checkpoint, the officers will immediately act following legal procedures. In case of arrest, the officers should inform you of your constitutional rights.
Read more: MMDA Violation Code and Penalty Fee List for Motorists in Metro Manila
👉 You Shouldn't Give Money When Being Extorted or Harassed
Uniformed officers at checkpoints should not intimidate, harass, and extort motorists at checkpoint operations.
While legitimate checkpoints are in place for security purposes, some are deliberately set up to harass and extort money from motorists. So beware of illegal checkpoints in the Philippines.
👉 You Can Report

PNP Checkpoint Violations
If your rights were violated at a police checkpoint, don't hesitate to report the incident by calling the 8888 hotline. You may also text 8888 or visit www.8888.gov.ph[3] to lodge a complaint.
Identify the erring law enforcer and provide the details of the incident and your contact information. Your complaint will be forwarded to the PNP and the Office of the President.
Related reading:
Final Thoughts
Police checkpoints in the Philippines are a polarizing subject for motorists. Some think they're essential to maintaining peace and order, while some think they should be eliminated because they're another way for police officers to harass and extort money.
Whether you drive a car or ride a motorcycle, it's crucial to know what happens at a police checkpoint. When you know your rights as a motorist, you can assert them and protect yourself when the police flag you down for an inspection.

Sources: