Thinking of cutting your car ownership costs? Carpooling is the way to go, especially now that your options for ride-hailing services in the Philippines have become limited.
When you carpool, you either gather or join a group of people living in your area to take a single car to a common destination or to several stops along the route.
A great transport option as it may be, carpooling is not for everyone. Before jumping on the carpool bandwagon, consider its pros and cons first.
6 Carpooling Benefits
Lower Car-Related Costs
Cutting down the costs of owning a car is the biggest motivation for Pinoys to try carpooling. Riders typically share the expenses and in some carpool groups, cars get rotated daily or weekly, so you don't have to drive your car every day. You'll save money on fuel, parking, maintenance (driving less often causes less wear and tear), and other expenses.
Saving on car expenses from carpooling is one thing; earning profit from it is another. If you are the designated driver in a carpool and accept payment from riders for your services, you'll need to get a franchise from the LTFRB[1]. Otherwise, you'll run the risk of paying hefty penalties for colorum or illegal operation.
Convenient and Comfortable Commutes
Compared to riding public transport or driving your own car, carpooling provides more convenience and comfort. No hulas and buwis-buhay moments unlike when riding the MRT or jeepney. As a passenger in a carpool, you can maximize your travel time by catching on some sleep, planning your day, or preparing for a business presentation.
Fewer Cars on the Road
You can help reduce the number of cars on the road with carpooling, as it maximizes a car's seating capacity. Rather than drive your car alone every day, carpooling with four people will free up space for four cars on traffic-congested Metro Manila roads. According to a Boston Consulting Group study, the horrible Metro Manila traffic will remain by 2022[2]. The study further notes that rush-hour traffic can be improved by 88% if more people share rides instead of driving their own cars.
To ease the traffic problems in the city, the government has been trying to encourage motorists to carpool. For instance, the Metropolitan Manila Development Authority (MMDA) assigned a carpool lane along EDSA in December 2017 where solo drivers weren't allowed to pass. But only a week after implementation, the MMDA canceled the carpool lane scheme due to difficulties in monitoring heavily tinted vehicles.
Pasig City is also implementing a similar carpool scheme[3]. If you often drive along Julia Vargas Avenue, you can use parts of it during peak hours only when you have four passengers with you.
Less Air Pollution
Did you know that the Philippines produces around 100 metric tons of carbon dioxide every year? About 4.6 metric tons of annual CO2 emissions come from a typical passenger vehicle. Fewer cars on the road mean less emission of toxic gases. You can do your share in keeping the air clean for future generations through carpooling.
Systematic and Organized Coordination
Thanks to social media and messaging apps, drivers and riders in carpools can easily coordinate with each other and ensure smooth travel every time. Information such as available seats, pick-up and drop-off points or meet-up time and place, departure times, routes, and contribution amount can be posted on a group chat on Viber or a Facebook group. A carpool group can also communicate etiquette guidelines online and ban anyone who's rude or always late at the pick-up or meeting points.
Socializing and Networking Opportunities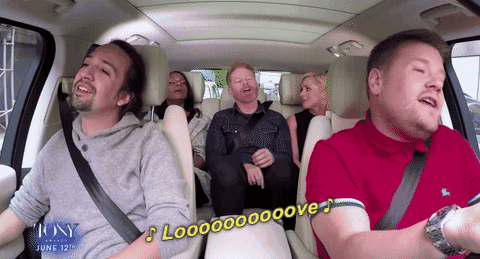 No, it isn't the "Open-minded ka ba?" kind of networking. In a carpool group, friendships and professional connections develop because riders share something in common, like the place of residence and work. Who knows, you might meet your future life partner through carpooling. And if you're an extrovert, you'll love the idea of having someone to talk to during those long hours stuck in traffic.
Read more:
4 Carpooling Disadvantages
Responsibility for Passenger Safety
You're responsible for the safety of all carpool riders if you're the designated driver. Apart from the pressure, there's also the cost to consider when your car figures in an accident. Under Philippine laws, the car owner is liable for any damage, injury, and death after a vehicle accident.
Thus, you need car insurance all the more when you use your vehicle for carpooling. Choose a car insurance plan that covers not just vehicle and property damage but also medical expenses, injury, death, and disability after an accident. Make sure your policy includes an Auto Personal Accident (Auto PA) or Unnamed Passenger Personal Accident insurance coverage.
Not Flexible
Carpooling works on a fixed schedule. It can be difficult to travel together with several passengers because you all have to leave at the same time. You can't run errands, grab a quick bite at the convenience store, or even get back home or in the office if you forgot something.
You can't leave when you're ready to leave. Because everyone departs at the same time, you'll have to wait when you finish work early. Sharing a ride isn't also ideal if you need to go home early due to a family emergency or you suddenly got ill or you need to work overtime.
Longer and Unpredictable Travel Time
When you join a carpool, expect that your commute will take quite longer than when you drive solo, especially if your destination is farthest. Some riders will come late to the meeting place. There will also be a few stops for picking up and dropping off other passengers. Always worried about running late for work? Then carpooling isn't an option for you.
No Privacy and Quiet Time
If carpooling is heaven-sent for social people, it's a hellish experience for introverts who value their privacy and quiet time. Getting a nap can be a challenge when you're with a handful of people chattering, talking on the phone, singing out of tune, and all sorts of irritating noise. Worse, a sleeping co-rider might lean on your shoulder and another might try to start a small talk with you.
Final Thoughts
Now, over to you. Care to share your own carpooling stories to help other people know its pros and cons?

Sources: