A vehicle owner in the Philippines can make money from being a ride-hailing service operator or driver. Whether you're looking for a part-time or full-time job, registering as a Grab Peer will add to your primary source of income.
If you're thinking of signing up as a GrabCar operator, check the step-by-step registration procedure here.
Aside from joining the Grab platform, ride-sharing service operators are required by the Land Transportation Franchising and Regulatory Board (LTFRB) to register their vehicles under the category of Transportation Network Vehicle Service (TNVS). This will grant them a Certificate of Public Convenience (CPC), which authorizes them to operate around Metro Manila and key cities nationwide. Operators without a CPC may be apprehended.
Once you've submitted your requirements for TNVS registration, you're required to apply for PAMI insurance (1) on top of your existing car insurance policy.
Keep reading to learn more about PAMI insurance, as well as Grab insurance for TNVS drivers and passengers in the Philippines.
How to Insure GrabCar Through PAMI Insurance
What is PAMI Insurance?
PAMI stands for Passenger Accident Management and Insurance Agency, Inc., a management company that implements the passenger personal accident insurance program. It's one of the LTFRB's partners (the other being SSCI Management and Insurance Agency Corp.) for the government-mandated personal accident insurance coverage for PUVs.
Since your GrabCar is registered under TNVS, you're responsible for keeping your riders safe on the road. This can be done with PAMI insurance that covers passengers of public utility vehicles (PUVs), including GrabCar, in the Philippines.
Read More: Your Guide to Using GrabCar Philippines in the New Normal
What Does PAMI Insurance Cover?
The PAMI insurance coverage for TNVS comes with the following benefits
| PAMI Insurance Benefits | Maximum Amount per Passenger |
| --- | --- |
| Accidental death and dismemberment | PHP 2,000 to PHP 400,000 (depending on the victim's extent of disability) |
| Death | PHP 400,000 |
| Medical reimbursement | PHP 100,000 |
How to Apply for PAMI Insurance
The Prima Building where the Grab TNVS Help Center is located | Photo from Grab PH WebsiteAfter filing your TNVS application at the LTFRB office, claim the receiving copy of your documents (with stamped case number) and bring it to the Grab TNVS Help Center (Unit 104-A & B and 404 Prima Building, 16 East Ave. cor. Magalang St., Pinyahan, Quezon City) for case number registration. Prima Building is just a short walking distance from the LTFRB office, so you can complete these steps on the same day.
When you're done reporting the case number, proceed to the PAMI office (Unit 205/206) on the 2nd floor of the same building and present the receiving copy of your TNVS application. Alternatively, you may get insurance from the SCCI that also holds office in the same unit as the Grab TNVS Help Center (Unit 104-A).
The PAMI insurance price depends on the type of your GrabCar. Prepare the following amount (inclusive of taxes) for the premium payment:
Sedan: PHP 2,639
AUV/Wagon: PHP 3,139
Upon payment of the fee, your PAMI insurance policy will be issued on the spot.
After 30 working days, set an appointment schedule (2) with the LTFRB for your Provisional Authority (PA) release. Prospective GrabCar operators are required to get a PA before their account gets activated on the Grab platform.
On your appointment date, go back to the LTFRB office and bring your SCCI or PAMI Insurance policy along with the other required documents for claiming your PA:
Printed copy of PA appointment confirmation email
Original verified application form with stamped case number and official receipt issued by the LTFRB
Proof of garage (e.g., location map, garage dimension, Transfer Certificate of Title, etc.)
Certificate of Conformity (3)
How to Claim PAMI Insurance
Making a PAMI insurance claim is the same as the process for CTPL or comprehensive car insurance.
PAMI Insurance Claim Requirements
When you need to make a Grab insurance claim, submit the following documents to the nearest PAMI office (See the list of PAMI branches here (4)):
Certificate of Cover (COC)/Certificate of Insurance (COI)
Any valid ID
Driver's license
Latest OR and CR
PAMI insurance claim form
Original police report
Proof of beneficiary
Read more:
Additional Requirements for Death Benefits Claim
Original/photocopy of death certificate
Birth certificate/marriage certificate of victims
Funeral contract & funeral receipts
Additional Requirements for Medical Reimbursement Claim
Medical certificate
Original statement of account issued by the hospital
Original ORs of hospital bill, medicines, and doctor's prescription

How to Insure GrabCar Through Grab Insurance
What is Grab Personal Accident Insurance?
This Grab insurance policy— the first of its kind in the TNVS industry—protects GrabCar drivers and passengers against the financial impact of injuries and/or deaths resulting from an accident involving a registered GrabCar. A third-party insurer, Chubb Philippines, serves as the Grab insurance provider.
GrabCar vehicles, including those without PA or CPC yet, are automatically enrolled to the Grab insurance without having to pay a premium and deductible. TNVS units with PA or CPC are also insured on top of PAMI insurance.
Read more:
What Does Grab Insurance Cover?
The Grab Personal Accident Insurance covers the entire trip, from when the driver confirms booking and the passenger boards the vehicle up to when they reach the drop-off point.
Grab's Group Personal Accident insurance applies to all GrabCar rides in the eight Southeast Asian countries where the ride-hailing company operates, including the Philippines, Singapore, Thailand, and Vietnam. This means Filipino travelers who book a GrabCar ride in Singapore are covered as well.
Grab insurance follows the no fault policy, which means passengers can receive full personal accident insurance benefits regardless of who's at fault during the road crash.
Here are the types of claims GrabCar drivers and passengers can make following an accident:
| Grab Insurance Benefits | Maximum Amount |
| --- | --- |
| Accidental death | PHP 200,000/USD 4,100 |
| Permanent disablement | PHP 200,000/USD 4,100 |
| Medical expenses | PHP 20,000/USD 410 |
How to Claim Grab Insurance for Personal Accident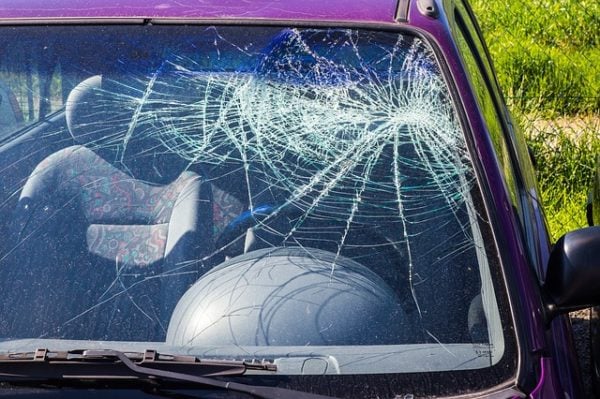 If you get into an accident while driving or riding a GrabCar, you may file a claim through either the driver's own car insurance or Grab insurance.
To report the incident, call the Grab hotline at (02) 883-7100 or contact Chubb Philippines via its hotline (02) 849-6000 or email: philippines.cs@chubb.com within 30 days since the accident occurred.
Also, fill out and submit the claim report form on the Grab Philippines website. A customer service representative will contact you and advise on the next steps of your claims processing.
Final Thoughts
For TNVS operators, there's no denying the benefits of being Grab Peers. It provides additional income-generating opportunities for Filipinos. Grab Philippines does this in such a way that it offers a safe and convenient means of transportation for the riding public.
Both PAMI and Grab insurance provide another level of protection alongside one's current insurance policy. If your vehicle doesn't have car insurance yet, you can check our comparison platform to compare car insurance rates.
Get a Free Car Insurance Quote!
Looking for car insurance with more features? Below is our partner companies and their features. Compare your options and get a free quote from Moneymax!
Car Insurance Company
Features
MAPFRE Insular



10 years of casa eligibility
366 accredited repair shops
PHP 5,000,000 maximum total sum insured
Overnight accommodation - Yes, up to PHP 3,000
Towing - Yes, up to PHP 5,000
Vehicle removal crane services - Yes, up to PHP 10,000

Malayan Insurance



3 years of casa eligibility
58 casa repair shops
PHP 7,500,000 maximum total sum insured
Overnight accommodation - Yes, up to PHP 1,000
Towing - Yes, up to PHP 4,000
Vehicle removal crane services - Yes, up to PHP 8,000

Prudential Guarantee



10 years of casa eligibility
PHP 3,000,000 maximum total sum insured
Overnight accommodation - Yes, up to PHP 2,000
Towing - Yes, up to PHP 5,500
Vehicle removal crane services - Yes, up to PHP 15,000

SGI Philippines



5 years of casa eligibility
36 accredited repair shops
PHP 5,000,000 maximum total sum insured
Overnight accommodation - Yes, up to PHP 2,000
Towing amount - Yes, up to PHP 5,000
Vehicle removal crane services - PHP 10,000

Stronghold Insurance



10 years of casa eligibility
167 accredited repair shops
PHP 3,000,000 maximum total sum insured

The Mercantile Insurance Corporation



10 years of casa eligibility
77 accredited repair shops
PHP 5,000,000 maximum total sum insured
Overnight accommodation - Yes, up to PHP 2,000
Towing - Yes, up to PHP 5,000
Vehicle removal crane services - Yes, up to PHP 10,000
Sources: