Whether you're looking for a part-time or a full-time job, registering as a Grab Partner can be a good source of income. After you register your vehicle under the Transportation Network Vehicle Service (TNVS) category as required by the Land Transportation Franchising and Regulatory Board (LTFRB), you'll get a Certificate of Public Convenience (CPC), which authorizes you to operate around Metro Manila and key cities nationwide.
But Philippine roads can be dangerous at times. With Grab insurance, you can protect yourself and your passengers against safety problems that may affect your livelihood.
Keep reading to learn more about Grab insurance products for Grab Partners and passengers in the Philippines.
Grab Insurance for Drivers and Passengers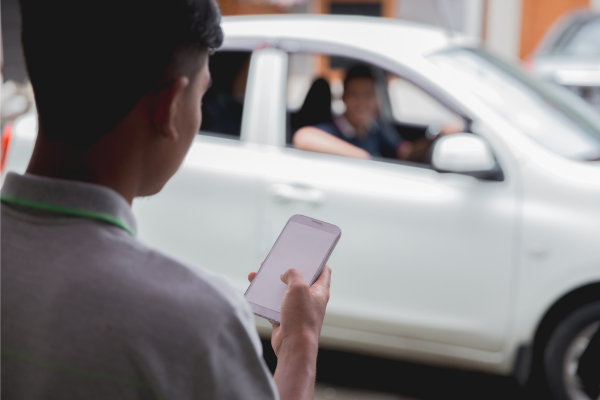 👉 What is Grab Personal Accident Insurance?
The Grab insurance policy—the first TNVS insurance of its kind—protects both GrabCar drivers and passengers against the financial impact of injuries and/or deaths resulting from an accident involving a registered GrabCar. Third-party insurers like BPI AIA and Chubb Philippines serve as the Grab insurance provider.
GrabCar vehicles, including those without Provisional Authority (PA) or CPC yet are automatically enrolled in Grab insurance without having to pay a premium and deductible.
👉 What Does Grab Personal Accident Insurance Cover?
Grab Personal Accident Insurance covers the entire trip, from when the driver confirms the booking and the passenger boards the vehicle until they reach the drop-off point.
Grab's Group Personal Accident insurance applies to all GrabCar rides in the eight Southeast Asian countries where the ride-hailing company operates, including the Philippines, Singapore, Thailand, and Vietnam. For example, Filipino travelers who book a GrabCar ride in Singapore are also covered.
Grab insurance follows the no-fault policy, which means passengers can receive full personal accident insurance benefits regardless of who's at fault during the road crash.
Here are the types of claims GrabCar drivers and passengers can make following an accident:
| Grab Insurance Benefits | Maximum Amount |
| --- | --- |
| Accidental death | Up to the limits as specified in the policy |
| Permanent disablement | Up to the limits as specified in the policy |
| Medical expenses | Up to the limits as specified in the policy |
👉 How to Claim Grab Insurance for Personal Accidents
If you get into an accident while driving or riding a GrabCar, seek medical treatment at the nearest hospital. Once you're medically fit to do so, do the following:
Report the accident to the police and to Grab Customer Service at (02) 883-7100. After which, you'll be advised on the next steps in the claims procedure.
Collect the required documents (hospital/medical bills, medical reports, police/accident reports, proof of Grab booking, etc.), including the claim report.
Submit the documents for verification.
Wait for the compensation to be released.
PAMI Insurance for Grab Passengers
After you submit your Grab COC requirements and complete your TNVS registration, apply for PAMI insurance coverage on top of your existing car insurance policy.
👉 What is PAMI Insurance?
Since your GrabCar is registered under TNVS, you're responsible for keeping your riders safe. You can do this with PAMI insurance coverage for passengers of public utility vehicles (PUVs), including GrabCar, in the Philippines.
For those who don't know the meaning of PAMI insurance, it stands for Passenger Accident Management and Insurance Agency, Inc., a management company that implements the passenger personal accident insurance program.
PAMI[1] is one of LTFRB's partners (the other being SSCI Management and Insurance Agency Corp.) for the government-mandated personal accident insurance coverage for PUVs.
How much is PAMI insurance? If you have a sedan or hatchback, you'll need to pay the PAMI insurance price of ₱2,639, while AUV or wagon owners need to pay the insurance premium of ₱3,139.
Read more: Updated List of Car Insurance Companies in the Philippines 2023
👉 What Does PAMI Insurance Cover?
The PAMI insurance coverage for TNVS comes with the following benefits:
| PAMI Insurance Benefits | Maximum Amount per Passenger |
| --- | --- |
| Accidental death | ₱400,000 |
| Permanent total disability | ₱200,000 |
| Loss of two or more limbs / Total and irrevocable loss of sight in both eyes | ₱200,000 |
| Dismemberment in one limb / Total and irrevocable loss of sight in one eye | ₱80,000 |
| Loss of arm at or above the elbow | ₱100,000 |
| Loss of both hands or all fingers and both thumbs | ₱150,000 |
| Loss of arm between elbow and wrist | ₱100,000 |
| Loss of hand | ₱80,000 |
| Loss of fingers | ₱12,000 to ₱60,000 |
| Loss of metacarpals | ₱6,000 |
| Loss of leg | ₱80,000 to ₱90,000 |
| Loss of toes | ₱2,000 to ₱24,000 |
| Loss of hearing | ₱30,000 to ₱80,000 |
| Burial assistance for enrolled driver/conductor | ₱15,000 |
| Casket | ₱10,000 |
| One-time educational assistance for one child of the deceased driver/conductor | ₱10,000 |
| Ambulance assistance | ₱7,500 |
| Accidental medical expense/reimbursement | ₱100,000 |
| Bail bond | ₱45,000 |
| Legal assistance services | ₱15,000 |
Death benefits include ₱400,000 per passenger and medical benefits of ₱100,000 per passenger.
👉 PAMI Insurance Requirements
To get your Passenger Personal Accident Insurance (PPAI) from PAMI, you need the following:
Latest LTFRB Decision
Vehicle Certificate of Registration (CR) and Official Receipt (OR)
Existing Certificate of Cover (for existing clients)
For Compulsory Third Party Liability Insurance (CTPL), here are the requirements:
Vehicle Certificate of Registration (CR) and Official Receipt (OR)
Certificate of Insurance (for existing clients)
👉 How to Apply for PAMI Insurance
After filing your TNVS application at the LTFRB office, claim the receiving copy of your documents (with the stamped case number).
Bring them for case number registration at the Grab TNVS Help Center at Unit 104-A & B, 404 Prima Building, 16 East Ave. cor. Magalang St., Pinyahan, Quezon City.
Next, proceed to the PAMI office (Unit 205/206) on the 2nd floor of the same building and present the receiving copy of your TNVS application.
Alternatively, you may get insurance from the SCCI, which also holds office in the same unit as the Grab TNVS Help Center (Unit 104-A).
Prepare the premium payment: ₱2,639 for sedans and ₱3,139 for AUVs/wagons.
Upon payment of the fee, your PAMI insurance policy will be issued on the spot.
👉 How to Get PAMI Insurance Online
To get your CTPL and Passenger Personal Accident Insurance for LTFRB online, just do the following steps:
Send an email to the branch where you'll get your PAMI Insurance with the following attachments (photos or scanned): Vehicle Certificate of Registration, (CR) and Official Receipt (OR), Latest LTFRB Decision, Certificate of Cover (for existing clients).
You'll receive an email with a code and the amount of the gross premium.
Pay the gross premium amount at the accredited bank and indicate the code. The bank account details will also be provided in the email.
Email a scanned copy of the deposit/payment slip to PAMI.
After payment verification and validation, you'll receive the photo/scanned copy of the passenger insurance policy and the authentication code for confirmation at the LTFRB office.
👉 How to Make a PAMI Insurance Claim
The process of making a PAMI insurance claim is similar to that of CTPL or comprehensive car insurance.
PAMI Insurance Claim Requirements
If you need to make a Grab car insurance claim, submit the following documents to the nearest PAMI office:[2]
Bank Certificate of Conformity (COC)/Certificate of Insurance (COI)
Driver's license
Any other valid ID
Latest OR and CR
PAMI insurance claim form
Original police report
Proof of beneficiary
Additional Requirements for Death Benefits Claim
Original/photocopy of the death certificate
Birth certificate/marriage certificate of victims
Funeral contract and funeral receipts
Other Requirements for Medical Reimbursement Claim
Medical certificate
Original statement of account issued by the hospital
Original ORs of the hospital bills, medicines, and doctor's prescriptions
Grab Ride Cover for Passengers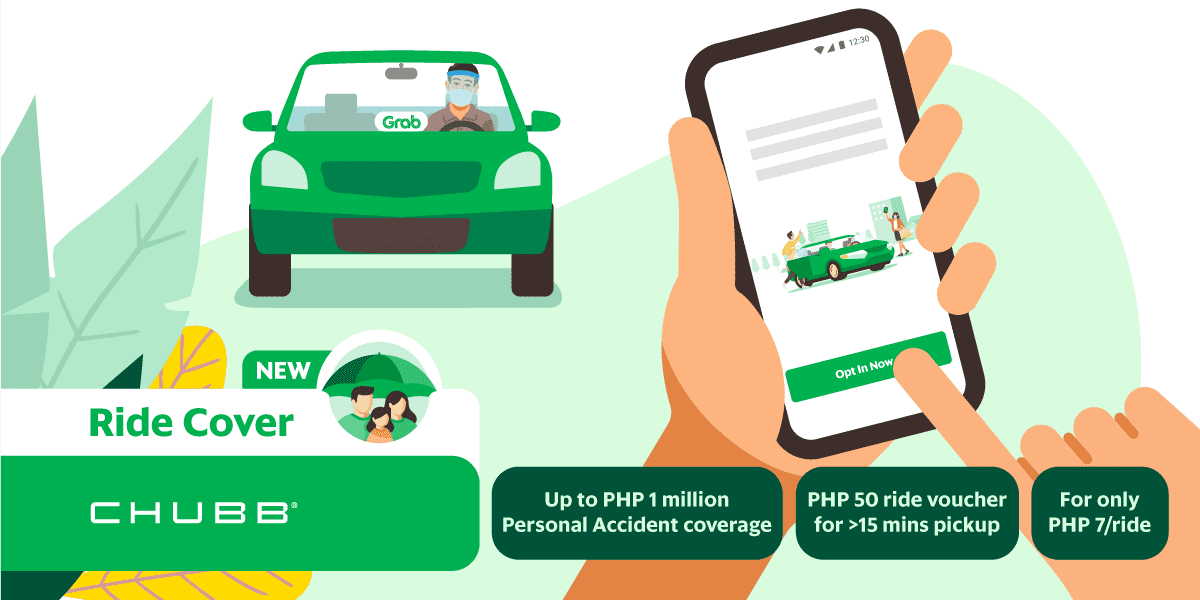 If you book a Grab ride and opt-in for Ride Cover for just ₱7 per trip, you'll receive a ₱50 Delay Voucher if your Grab driver arrives 15 minutes late. You'll also be covered by free Personal Accident Insurance of up to ₱1 million on top of Grab's existing coverage.
To avail of Ride Cover, book a Grab ride and opt in by toggling the Ride Cover button (tap the three dots on the lower right). To opt out, just toggle the Ride Cover button again when booking.
If you need to make a personal accident claim, you can do so via the Grab app. Claims assessment will take around five to seven days to process.
It may seem similar to passenger insurance in the Philippines, but note that the Ride Cover is technically only an enhanced service by Grab and not an insurance product.
Grab Partner Cover Plus for Drivers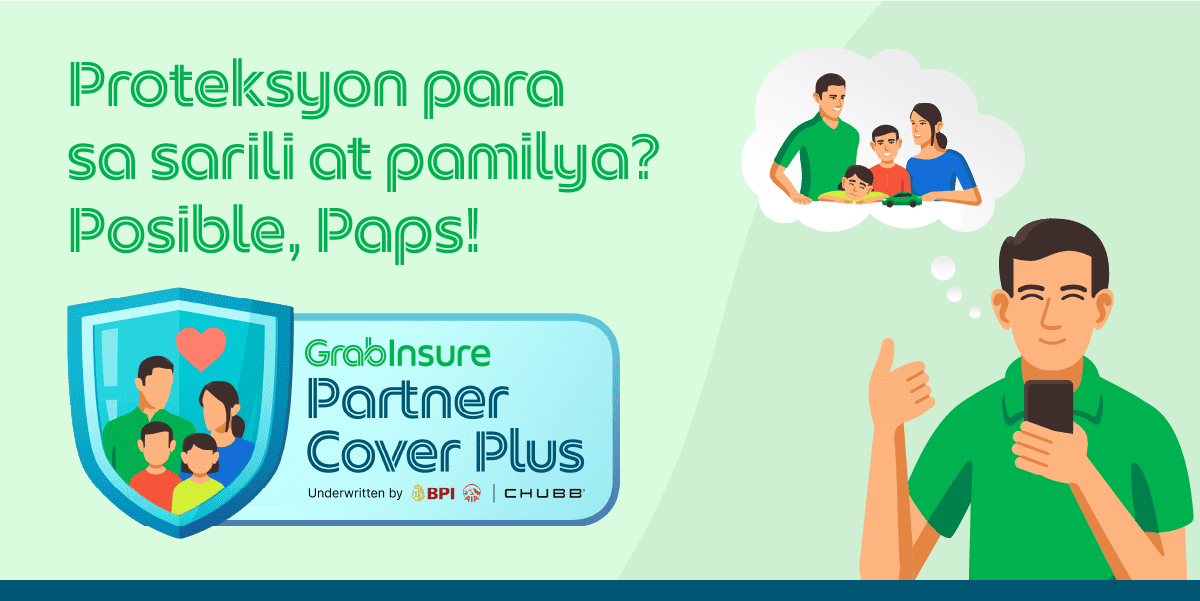 Partner Cover Plus[4] is an insurance product underwritten by BPI AIA and Chubb, offered exclusively to Grab partners and their loved ones. It's available only on the Grab Driver app.
Partner Cover Plus offers protection from accident-related injuries and medical expenses, payouts to beneficiaries in case of death, and daily payment in case of inability to work because of sickness or injury.
Grab Partners can enroll their immediate family members as beneficiaries with monthly premiums as low as ₱125, which can be deducted automatically from the partner's Grab Driver App Wallet.
Enrollment, endorsements, and claims are made via the app. Should you need to make a claim, you can receive the benefits via bank transfer or pick-up at a BPI branch.
Related reading:
Final Thoughts
There's no denying the additional income-generating opportunities that Grab offers to Filipinos. It also provides safe and convenient rides both for the riding public and drivers.
Grab provides another level of protection alongside your current policy through products such as Grab insurance and PAMI insurance in the Philippines. Every trip gives you peace of mind for you and your loved ones if the unexpected happens.
Get a Free Car Insurance Quote!
Looking for car insurance with more features? Compare coverage from different providers and get a free quote from Moneymax!
| | | | | | |
| --- | --- | --- | --- | --- | --- |
| Car Insurance Company | Maximum Total Sum Insured | CTPL Coverage | Own Damage & Theft Coverage | Acts of Nature Coverage | Death or Disablement Coverage |
| FPG Insurance | ₱4 million | ✔️ | ✔️ | ✔️ | |
| Malayan Insurance | ₱7.5 million | ✔️ | ✔️ | ✔️ | |
| The Mercantile Insurance Corporation | ₱5 million | | ✔️ | ✔️ | |
| OONA Insurance (formerly MAPFRE) | ₱5 million | ✔️ | ✔️ | ✔️ | ✔️ |
| PGA Insurance | ₱3 million | | | | ✔️ |
| SGI Philippines | ₱5 million | ✔️ | | ✔️ | ✔️ |
| Standard Insurance | ₱5 million | ✔️ | ✔️ | ✔️ | ✔️ |
| Stronghold Insurance | ₱3 million | | ✔️ | | |
Sources: