If there's one company that thrived during the pandemic, it's online shopping platforms like Lazada. In 2020 alone, their sales grew 2.5 times[1] thanks to the e-commerce boom caused by the year-long quarantine. If you're one their most loyal online shoppers, then you should definitely check out this UnionBank Lazada Credit Card review.
Because why scramble for spare change when the delivery person knocks on your gate when you can just use a credit card to pay for your purchases? And if you're in the market for a credit card, you might as well get one that is co-branded with your preferred online shopping app. Find out more about this UnionBank credit card in our latest installment of Moneymax Reviews.
UnionBank Lazada Credit Card Key Features
Before we start the UnionBank Lazada Credit Card review, it's only fair to check out the card's key features. When you're tasked to compare credit cards, never skip this step.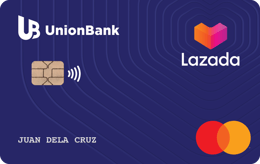 Annual fee: PHP 3,000 (free for the first year)
Interest rate: 2%
Minimum monthly income requirement: PHP 30,000
Cash advance fee: PHP 200 per cash advance and 1.96% finance charge per month until date of repayment
Late payment fee: PHP 750
Overlimit fee: PHP 500
Foreign currency fee: 3%
Card replacement fee: PHP 400

Why Should I Shop with the UnionBank Lazada Credit Card?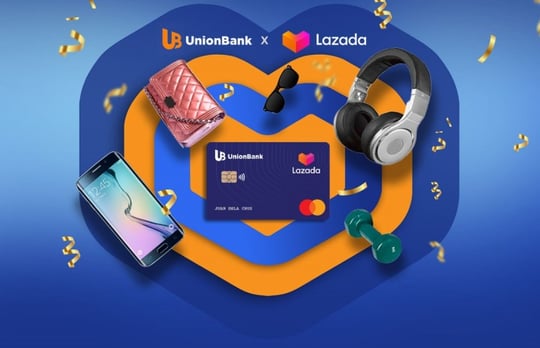 The main reason to apply for this credit card is to upgrade your online shopping experience. While this credit card has some perks for non-Lazada users, loyal Lazada customers are the ones who will benefit the most.
6x Lazada Credits for Every PHP 200 Spend on Lazada
The biggest incentive to apply for this credit card is the chance to earn Lazada credits in the quickest way possible. For every PHP 200 you spend on Lazada, you will be rewarded with 6x credits directly to your Lazada Wallet. And if you use your UnionBank Lazada credit card on other shops, you still earn PHP 1 credit for every PHP 200 spend.
PHP 5,000 Lazada Credits for New Cardholders
Speaking of Lazada credits, you'll instantly receive PHP 5,000 Lazada credits when you get approved for a UnionBank Lazada credit card. All you have to do is spend a total of PHP 20,000 using your new credit card and you'll receive your credits straight to your Lazada Wallet. You have to be quick though because this promo will run until June 30, 2021 only.
Read more: Looking for the Easiest Credit Card to Get? Check Out This List of Easy Approval Credit Cards
Free Lazada Vouchers All Year Round
Voucher hunters, make some noise! Your UnionBank Lazada credit card entitles you to a PHP 250 discount voucher during Lazada's mega sales (Mid-Year, Birthday Sale, 9.9, 11.11 and 12.12) for a minimum purchase of PHP 5,000. Plus, you'll also get free PHP 50 shipping vouchers every month for a minimum purchase of PHP 2,500 at Lazada.
Exclusive Perks from Lazada
And to wrap things up, your UnionBank Lazada credit card grants you access to exclusive discount deals from select LazMall merchants. You also get first-hand access to big Lazada sales, which means you get first dibs on exclusive flash deals from over 100 brands on the Lazada platform.
What Perks Can I Expect from My UnionBank Lazada Credit Card?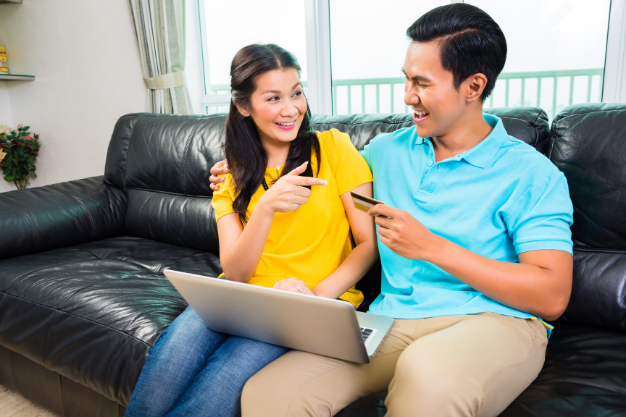 Aside from the Lazada-centric perks, you can also expect useful features from your UnionBank Lazada credit card that can help improve your online shopping experience.
Free Virtual Card
Your Lazada Credit Card comes with a free virtual credit card accessible via the UnionBank Online app. This means you can still shop and enjoy the perks of your credit card even when you don't have the physical card nearby. It also adds a new layer of protection when you're online shopping. And when you lose your physical card, you don't have to request for a new one immediately. Basically, just download the app and shop away!


Contactless Payment
Aside from using your credit card online, you can also safely use your UnionBank Lazada credit card in malls with contactless terminals because this card is contactless-enabled. You can now avoid further interactions with store cashiers because you don't need to swipe your card and sign anything to finish a transaction.
Read more: Need a Card? Here's a Guide to Credit Card Online Application
UnionBank Lazada Credit Card Alternatives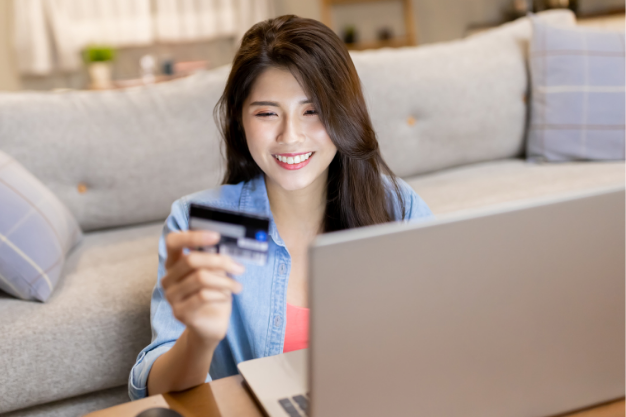 Not a loyal Lazada customer? If you still want to upgrade your online shopping experience, then check out these equally great alternatives—Lazada app not required.

If you don't want to stray away from UnionBank and you love gamifying your finances, consider applying for this credit card. Aside from motivating you to improve your finances, it also earns you one (1) reward point for every PHP 10 spend. Plus, this card has a cheaper annual fee.

If you're looking for a credit card that rewards you with points the more you shop online, then consider getting this credit card. You get 4x reward points on all your online, shopping, dining, and overseas purchases. Plus, it also earns you a 3% rebate on Caltex fuel purchases all year round.

If you're curios to try out a virtual credit card, then this is the perfect training ground. It has one of the lowest annual fees of any credit card out there and one of the quickest approval times at only 48 hours. Plus, it also earns you ) reward point for every PHP 20 spend.
Final Thoughts
And that does it for our UnionBank Lazada credit card review. Are you ready to step your online shopping game up a notch? Then start preparing your credit card requirements and apply today. But if you don't want to rush things, keep comparing credit cards and see what fits you best. Why not check out our other Moneymax Reviews?

Sources:
DISCLAIMER: Moneymax strives to keep its article information accurate and up to date. The information you read may be different from what you see when you visit a partner, provider, or financial institution's website. All information we publish is presented without warranty and may change overtime. If you find discrepancies or outdated information, please contact Moneymax directly.