You know when they say credit cards are as good as gold these days? Well, credit card providers like UnionBank took it a little too literally with its Gold line of credit cards: the UnionBank Gold Visa and the UnionBank Gold Mastercard. But how will you choose the right credit card between the two? That's what we're going to find out in this UnionBank Gold credit card review.
At first glance, these two credit cards are almost identical. As you'll soon find out, they have more similarities than differences. But what makes them different will probably interest you.
Do you prefer earning more rewards or earning more cashback? Let's get down to it in this edition of Moneymax Reviews!
UnionBank Gold Credit Card Key Features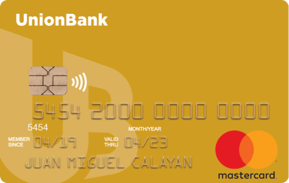 Whether you're getting the Visa or Mastercard variant, these are the key features you can expect. So what's the difference, you ask? We'll discuss them all later.
For now, check out if a UnionBank Gold card fits your budget and lifestyle before starting your UnionBank credit card application.
Annual fee: ₱2,500
Interest rate: 2%
Minimum monthly income requirement: ₱30,000
Cash advance fee: ₱200
Late payment fee: ₱1,000
Overlimit fee: ₱500
Foreign transaction fee: 3%
Card replacement fee: ₱400 (per lost or damaged card)
Why Choose UnionBank Gold Visa?
The difference between UnionBank Gold variants boils down to their main features. For instance, UnionBank Gold Visa is the perfect credit card for reward seekers because it earns you one reward point for every ₱35 spend.
Plus, your points will never expire, which means you can redeem them anytime you want. So feel free to hoard those points!
For frequent flyers out there, you can use your UnionBank Gold Visa to access the Marhaba Lounge at NAIA Terminals 1 and 3. From there, you can sit back, relax, and indulge in a buffet and an assortment of beverages, wines, and liquor—all while you're waiting for your flight.
Is the UnionBank Gold Visa the right card for you? Here's a quick reminder of its key features.

Why Choose UnionBank Gold Mastercard?
If travel isn't your cup of tea and you'd rather save money, you can choose the UnionBank Gold Mastercard. This credit card will earn you 1% cashback on all purchases. It may not be a lot, but the fact that this cashback applies to any spend category means your cashback will eventually pile up into more savings.
There's no limit to how much you can earn because unlike other cashback credit cards, the UnionBank Gold Mastercard has no rebate cap. Also, earned cashback doesn't expire, so you can redeem yours anytime.
Convinced? Here's a quick rundown of UnionBank Gold Mastercard's key features.

What Perks Can I Get from a UnionBank Gold Credit Card?
Enough about the differences—let's head down to that part of the UnionBank Gold credit card review where we talk about the perks. Admit it: you probably headed straight to this section of the article. Don't worry, we won't judge!
Earn 1 Rewards Point per ₱35 Spend
As mentioned earlier, your UnionBank Gold credit card earns you 1 rewards point for every ₱35 spend. The good news is that this perk isn't exclusive to the Visa variant. So whichever card you choose, expect to build your rewards one ₱35 spend at a time. And it's not like you'll run out of rewards to redeem—just check out Unionbank's extensive credit card rewards catalog.[1]
Enjoy 0% Interest Installment Plans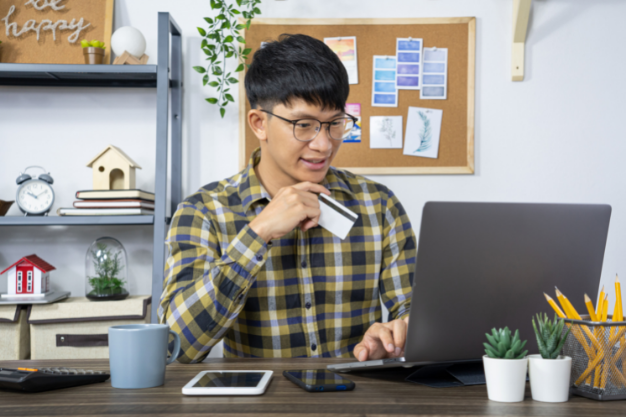 Are you the type of shopper who doesn't enjoy paying in full when shopping and instead wisely divides your expenses into monthly payments? Then a UnionBank Gold credit card is perfect for you. Each Gold variant comes with 0% interest installment plans for wais shoppers like you.
Free Life Insurance Coverage up to ₱400,000
Since your life is as valuable as gold, a UnionBank Gold credit card can help protect it financially with its free life insurance coverage of up to ₱400,000. Not only does it cover you from death due to illness or accident, this insurance also pays for your credit card balance of up to ₱400,000 for death (due to an illness or accident) or total permanent disability.
Access to UnionBank Online
Once you get your UnionBank Gold credit card, you can download the UnionBank Online app and manage all your credit card transactions from there. As an award-winning digital bank innovator in the Philippines,[2] UnionBank currently has one of the best online banking apps out there.


UnionBank Gold Credit Card Alternatives
Did neither of UnionBank's Gold credit cards impress you? Don't worry—we got some alternatives you can check out.
AUB Gold Mastercard

What edges out the AUB Gold Mastercard from its Gold counterparts is its no annual fees feature. That's pretty rare for premium credit cards in the Philippines. So if you want the same premium perks without paying every year, then you should try your luck applying for your first AUB credit card.
Citi PremierMiles Card

If you want more travel perks from your Mastercard and don't mind the annual fee, apply for a Citi PremierMiles Card. You don't want to miss out on its rewards program of 1 PremierMile for every ₱30 spend or the free travel insurance coverage of up to ₱1 million.
Read more: Citibank Credit Card Application Guide
Note: This product is sold by Union Bank of the Philippines, using certain trademarks temporarily under license from Citigroup Inc. and related group entities.
RCBC Flex Gold Visa

If you want to stay loyal to Visa and really want a Gold credit card, you can also consider the RCBC Flex Gold Visa. You'll earn twice the rewards in three spend categories: choose from grocery, gas, department store, household appliances, or travel spend.
HSBC Gold Visa Cash Back

Need more cashback with your credit card? Maybe HSBC's Gold Visa Cash Back's rebate rate of up to 5% will convince you. That's a pretty big case to apply for this HSBC credit card. Plus, your cashback credit goes straight to your account—no need for extra steps to redeem them.
Final Thoughts
That's another edition of Moneymax Reviews in the books! Did this UnionBank Gold credit card review convince you to pick one? Which Gold variant do you choose? Whether you get a Visa or Mastercard, just make sure it fits your budget and lifestyle. And as we always say, swipe responsibly!

Sources: