Having a full-time job is exhausting and time-consuming enough. What more if you have an online business and a baby to take care of?
Danica Fernando can certainly relate. This young first-time mom certainly wears many hats, and she makes it look so effortless! But while she may be enjoying the best of both worlds with a full-time job and her own business, it's not a walk in the park.
Read her full interview as she shares the perks, rewards, and challenges of running a business while working full-time and being a hands-on mom to her daughter.
Running a Business While Working Full-Time and Being a Supermom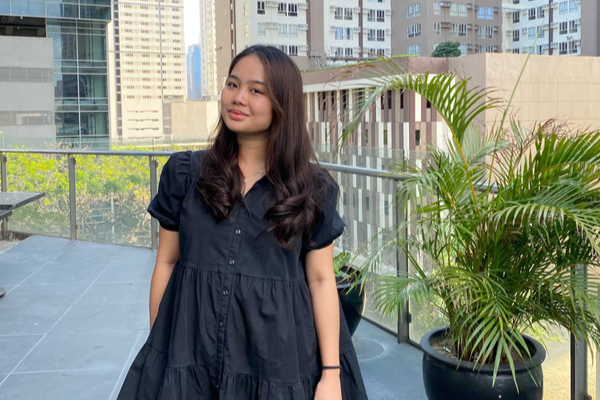 What's the story behind your online shop Dara Scents?
Dara is actually the nickname of our baby. Having our own small business has always been one of our goals, too. We just didn't know when or how we're going to do it.
And then the pandemic happened. Also, in 2021, my partner and I found out that we were going to have a baby, so we had to do some major planning for the future.
Since we both have full-time jobs, we were confident that we can manage the expenses of having a baby with our joint income. Aside from having full-time jobs, we also have our own life insurance policies, savings, and investments.
We realized that it's really the perfect time to start a business while at home, especially since it's an online business. My partner Raymart and I agreed to save all the income we'll generate from this business for baby Dara. Parang sariling income na niya 'yung profits.
So yeah, our baby girl was the main reason we started this business. It's nice to have our baby's name as the business name, so that as she grows, this business will also hopefully grow with her. They're really both our babies―the DaRas of Danica and Raymart!
Why did you start a fragrance business?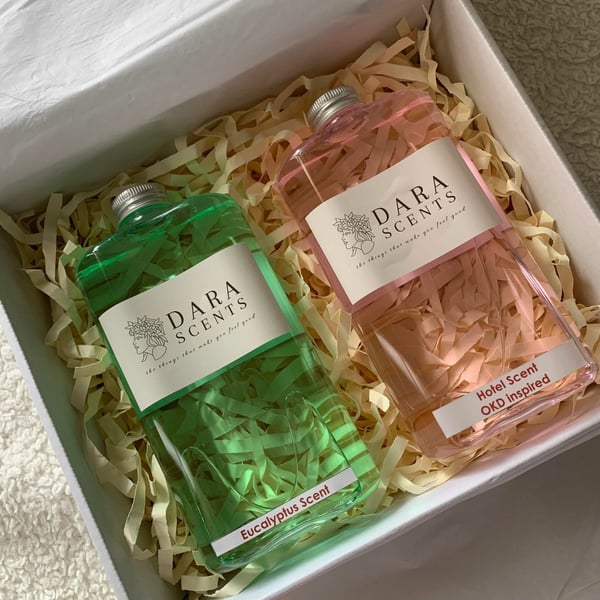 It's a personal thing because I really don't like anything that smells bad! For me, if something smells nice, it makes you feel good automatically. Like when you enter hotels, you immediately think "relaxing."
And the fact that in 2021, we couldn't go to hotels, we thought "why not bring the hotels" scents to people's homes, so they can feel relaxed while working or feel better after a whole day of working from home?'
Also, it's nice to sell something that you actually like using, especially if it's your own business. It's easier to start from zero, and you know exactly what to offer your customers.
Related article: Online Business Ideas You Can Start Even with Small Capital
How much was your capital? What were your preparations to get the business running?
We didn't really need a lot of money to start this business. Our capital was only ₱13,000. We spent ₱10,000 on the products and ₱3,000 on the packaging.
But more than the money, we needed a lot of time to work on branding materials such as logos, posters, and packaging designs, as well as setting up our Facebook and Instagram accounts.
I also made sure to watch different Shopee tutorial videos to help us set up our Shopee account and navigate the Shopee seller portal.
See also: Make Money Online: How to be a Shopee or Lazada Online Seller
What are the challenges of running Dara Scents while having a full-time job?
I count myself lucky because my job as a Social and PR Specialist is flexible, and running an online shop is easy with a work-from-home setup.
But when we were just starting out, we really didn't know how and where we'd get our sales because we were just at home. We were on our laptops working most of the time. We were so excited to be Shopee sellers, too, but we didn't know how to connect with couriers to pick up our packages.
But good thing, we received our first few orders from family members and some friends. Every order was an opportunity for a buyer recommendation and a chance to help us improve how we manage this business. Months passed and we finally got the hang of it. And then it was time for me to give birth.
As first-time parents, no matter how prepared we think we are, once the baby arrives, it will still make you feel like you don't know what you're doing. So we had to put our online shop on "vacation mode" the same time I was on my maternity leave. We just accepted special orders from close friends until we were able to adjust to the new set-up and take Dara Scents orders again.
Right now, the only challenge is making sure orders are packed before their scheduled pick-up. Because of our busy work schedules and taking care of our 6-month-old, we sometimes forget. So the phone reminder app is our best friend!
How do you manage your time, workload, and responsibilities?
I'm not gonna lie. Being a first-time mom and having a small business while working a full-time job can really be overwhelming. I had to make a lot of adjustments and work around my baby's nap and feeding times.
But having a solid to-do list and phone reminders works for me—I have notifications even for the simplest tasks that I need to do for the day, like responding to IG inquiries.
I also changed the way I prioritize things. If it's something I can do while I'm breastfeeding (meetings included), then I'll work on other tasks while my baby's sleeping.
It's not easy, especially because it's hard to stick to a routine. But it's possible. You just have to schedule your bath time either super early in the morning or super late at night.
But I believe the number one reason I'm able to do all these things is that I have a supportive partner. We really don't assign specific tasks to each other. Except for breastfeeding, of course! Whoever's available will just have to do whatever needs to be done at that moment.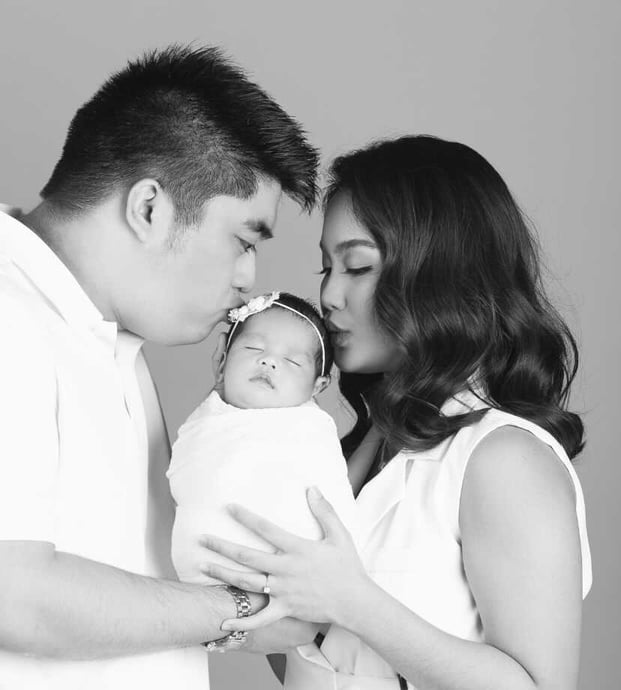 For example, when I'm catching up on work at night, Raymart will take charge of packing orders. When he's busy with work, I'll work on creating promotional posters for sales even while nursing Dara.
And of course, you really need to have a lot of patience, which I usually lack, so I'm thankful my partner has lots of it all the time.
What makes having your own business worth it?
For me, starting your own online business, no matter how small, is already a success. Because you started something from scratch—from deciding what kind of business to run, picking the name of your business, looking for suppliers, designing the logo, etc. It's already fulfilling even if you don't hit your target sales yet because you actually get things done.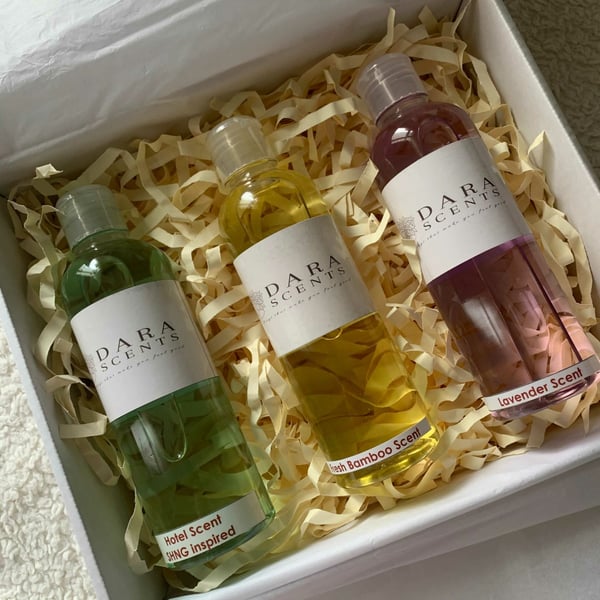 And unlike my full-time job where I'm only assigned one role, I get to play different roles in running my business.
But of course, having a business is still a risk. So we can really say our efforts are worth it whenever we see inquiries on Facebook and Instagram and when we get Shopee orders.
And it doesn't matter that much how many orders we're getting. Just the thought that there are people who are interested in our business is enough to keep us going.
What advice can you give other women who also want to open a side business while working a full-time job?
It's a good idea to have a business while working full-time. With the fixed income you get monthly, you can start on your new venture slowly and not put pressure on yourself to get high returns immediately. Just start small, set goals, and commit yourself to them.
But most importantly, set boundaries. Don't mix your personal projects with your work. Focus on one thing at a time, so you can deliver good results.
When it comes to managing your money, make sure you see how much you earn. Have a separate bank account for your salary, your own savings, your family's savings, expenses, and your business.
And tracking all transactions is key! In our case, having a designated credit card for each kind of transaction works. We have a card for paying bills, one for leisure, one for baby's needs, etc.
Lastly, if you're a mom like me, I want you to know that it's possible to raise your profits while raising your children. When you believe that you can and have a trusted support system, you can make anything happen no matter what the situation is.
Don't be scared! It may not always go as planned, but it will surely turn out fine. So whatever small business ideas you may have while working full-time, just go for it!
Read more articles about empowered women:
Final Thoughts
Danica's journey to motherhood and as a business owner is certainly an exciting one, albeit not without its share of ups and downs. Despite what many of you might be thinking, you can have your cake and eat it, too!
Running your own small business while working a full-time job and being a doting mom seems like a Herculean task—because it is—but it can be done. And with Danica's supermom tips and entrepreneurial diskarte, you can achieve the same, too!
Editor's note: This is the first in our Women's Month series featuring boss ladies who take charge of their finances. Stay tuned for more inspiring stories of financially empowered women here on the Moneymax blog!