Empowered women empower women. It's true. Whilst a woman alone has power, collectively they bring an impact to the world. And because of this, women, no matter what age and profession, can do whatever men can do--drive a car, start a business, hold an executive position.
Moneymax is inspired by such women--the leaders of our generation, the influencers, the groundbreakers. And so we asked them--fourteen kickass women--how they do it in a financial perspective. How do they save money? How do they invest? What are their dos and don'ts? Read on, get a tip or two, and be inspired. Because like them, you can do it too.
Anina Rubio
Visual Artist, Muralist
IG: @aninarubio | Website: www.aninarubio.com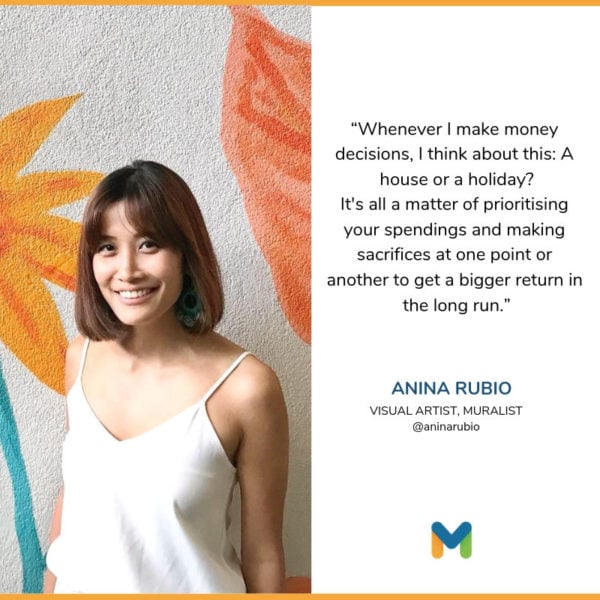 Before becoming a muralist, Anina worked for a telecommunications company which she describes as "very, very technical." Now, as a visual artist, Anina is able to see the world and do what she loves at the same time. Her financial tip focuses on prioritizing spendings and making sacrifices to get a bigger return.
"Whenever I make money decisions, I think about this: A house or a holiday? It's all a matter of prioritising your spendings and making sacrifices at one point or another to get a bigger return in the long run."
Samantha Valenciano
Photographer, Graphic Designer, Digital Influencer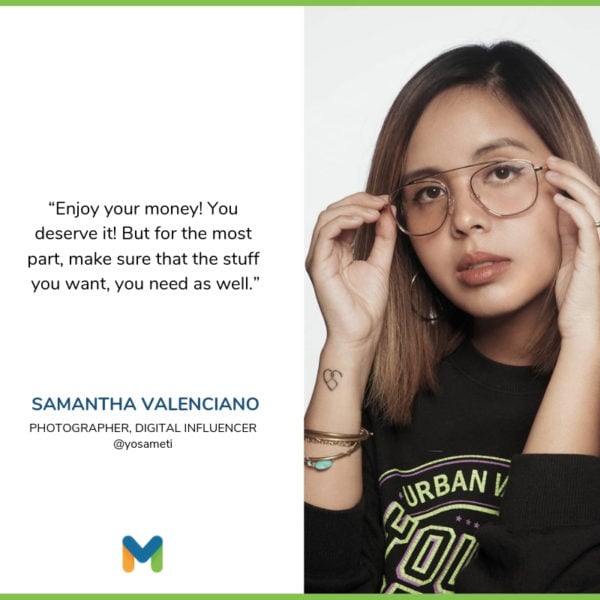 Photographer, graphic designer, and new mom to baby Nataleia Martine, Samantha gives us her favorite financial tips that are all based on experience.
Just because there's a SALE doesn't mean you will be saving more by going for that instead of the regular items. It's actually a trap. You'll end up spending more with the idea that it's cheaper than it used to be rather than it being something you actually need.
Quality over quantity. There's a reason why something is cheaper.
Don't do grocery on an empty stomach. Just don't. It will look like a glorious buffet of eat all you can.
Enjoy your money! You deserve it! But for the most part, make sure that the stuff you want, you need as well.
I know they say never work with friends but honestly I believe in working with friends because it makes going to work not work. You have to set your rules and regulations so you don't end up having to tiptoe around each other for touchy subjects. Set everything straight in the beginning and I think working [with] friends will be healthy and will keep you working happily and stress free longer.
Basically, aside from the technical side of accurate ways to save, these are my tips based on experience and really from someone who doesn't really spend for myself. I like saving my money but usually have a bad habit of buying gifts for people always. So maybe my advice to myself is, don't attend all Christmas parties so I don't have to literally buy every single guest a gift (especially when I barely know them.) P.S. I'm guilty of that. Hahaha, joke.
Nikki Tiu
Make Up Artist, Blogger
IG: @askmewhats | Website: www.askmewhats.com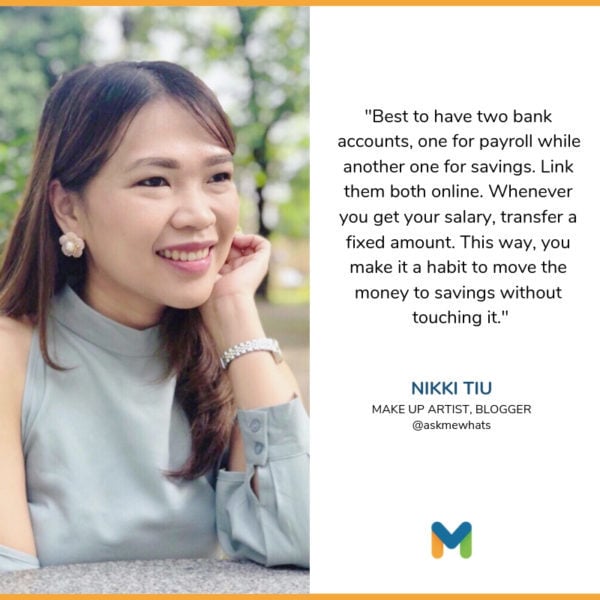 Apart from being a make up artist, Nikki is also an HR consultant for an executive firm. She spends her time doing make up reviews and of course, giving quality time to her 5-year-old son Kyle Nash. Nikki's financial strategy keeps her from spending too much and allows her to prioritize her savings.
"Best to have two bank accounts, one for payroll while another one for savings and best to link them both online. Whenever you get your salary, transfer a fixed amount per salary day (ex. PHP 3,000, PHP 5,000 or even higher). This account is said to be "NO TOUCH" account so you can't withdraw from it. This way, you make it a habit to move the money to savings without touching it. It is easier to save without [the] temptation of seeing the money on hand!"
Rose Fres Fausto
Writer, Speaker, Behavioral Economist
IG: @thefqmom | Website: www.fqmom.com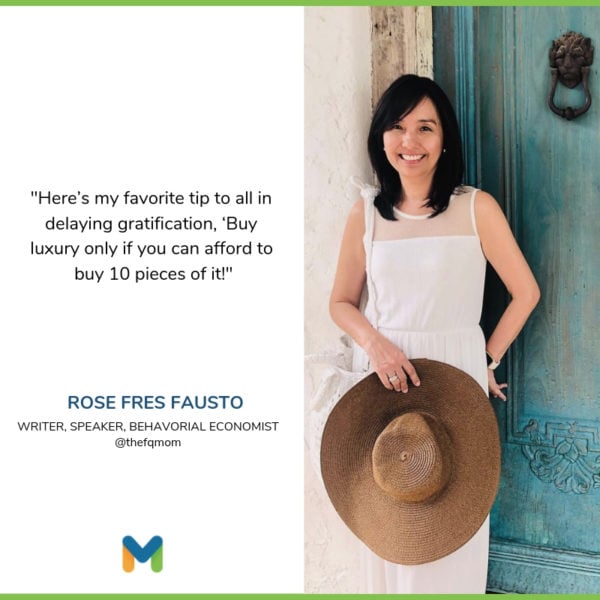 When it comes to financing we can say that Rose, also known as the FQ mom, is an expert. An investment banker turned full-time homemaker and now writer, speaker, and Behavioral Economist, Rose is all about preparing and tracking expenses both for business and personal.
"Prepare your Monthly Cashflows and quarterly Balance Sheet to keep track of your expenses and to monitor your progress in attaining your financial goals. And here's my favorite tip to all in delaying gratification, 'Buy luxury only if you can afford to buy 10 pieces of it!'"
Michele Bumgarner
Professional Race Car Driver, Mentor on History Channel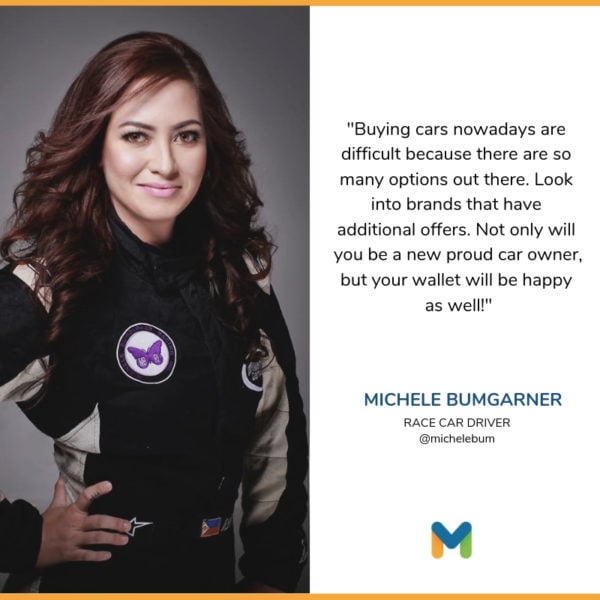 Michele may live her life in the fast lane but she definitely takes it slow when it comes to buying a car. The first female champion of Rock Island Grand Prix, Michele shares her top tip when purchasing a vehicle.
"Buying cars nowadays are difficult because there are so many options out there. I think that looking into brands that have additional offers such as free servicing/maintenance will be your best bet. Not only will you be a new proud car owner, but your wallet will be happy as well!"
Joanna Fulcher Co
Model, Brand Ambassador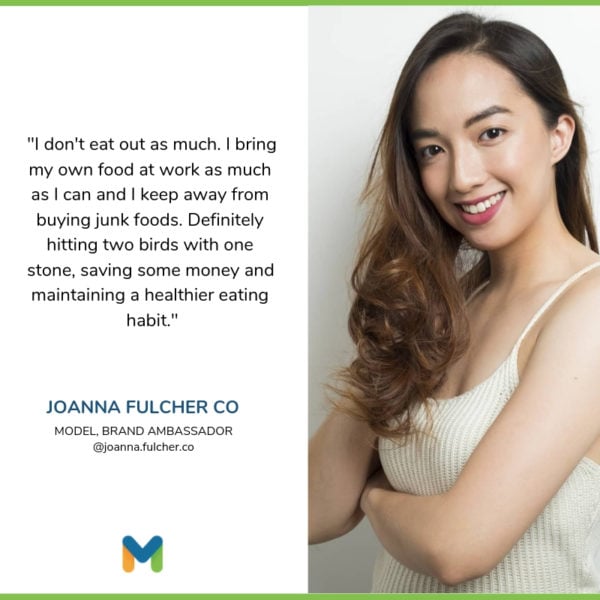 Joanna's favorite financial tip is a win-win not only for her wallet but also for her health. Employees who always experience petsa de peligro can definitely learn from her insight.
"I don't eat out as much. I bring my own food at work as much as I can and I keep away from buying junk foods. Definitely hitting two birds with one stone, saving some money and maintaining a healthier eating habit."
Related: Girls Just Wanna Have Fun: Best Women's Month Sales to Enjoy This Year
Wiji Lacsamana
Tattoo Artist, Author of Tiny Universe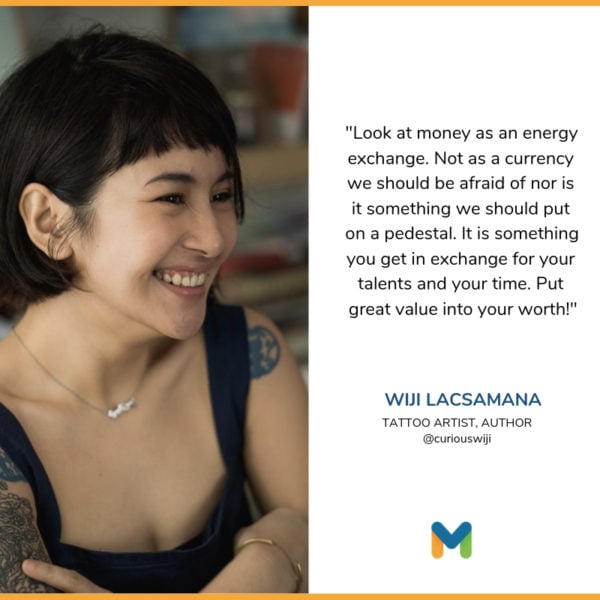 Wiji, an artist and mother to dinosaur-loving Rocco, proves that women can tattoo, too. Known for her dreamlike watercolor tattoos, Wiji believes in knowing your financial worth not only as an artist but also as an employee/entrepreneur. She shares: "The thing I've learned is to never depend on just one source of income. Try to create different sources of income for you--if you work in a traditional office setting, this is where most of your (frustrated) passions will come into play. That way you feed the soul, and boost your income too. Also, look at money as an energy exchange. Not as a currency we should be afraid of nor is it something we should put on a pedestal. It is something you get in exchange for your talents and your time. Put great value into your worth!"
Kaycee Enerva
Beauty and Lifestyle Blogger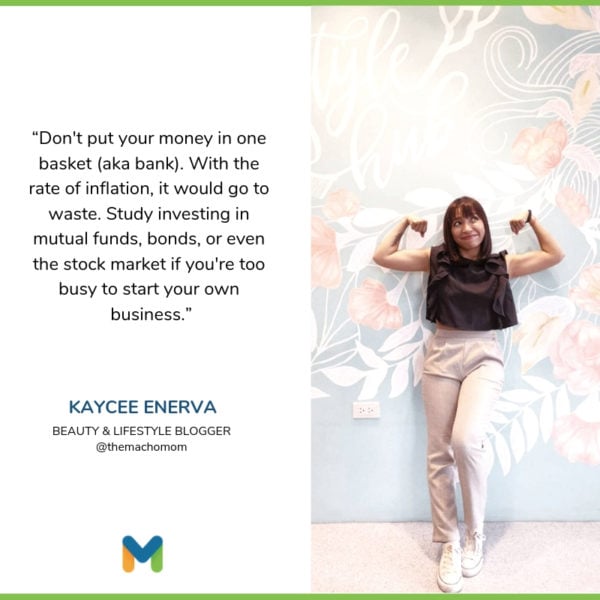 Beauty? Check. Fitness? Check. Mom to an adorable kid? Check! Kaycee, also known as Kikay si Kat, may spend her hard-earned money on beauty, fitness, and her son but she still knows the value of saving and investing. According to her: "Don't put your money in one basket (aka bank). With the rate of inflation, it would go to waste. Study investing in mutual funds, bonds, or even the stock market if you're too busy to start your own business."
Lissa Kahayon
Lifestyle Vlogger, Digital Influencer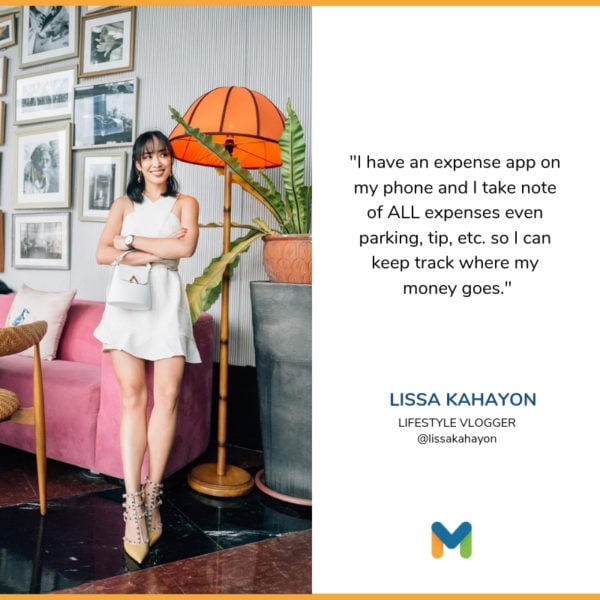 When not traveling, trying out a new restaurant, or hanging out with her blogger besties, Lissa stays on top of her finances with the help of an expense app. She shares the following tips for those who deal with several expenses in a day:
I always set aside money per day no matter how small and I put it in a money jar.
I have an expense app on my phone and I take note of ALL expenses even parking, tip, etc. so I can keep track where my money goes.
Martine de Luna
Personal Brand Strategist, Mindset Coach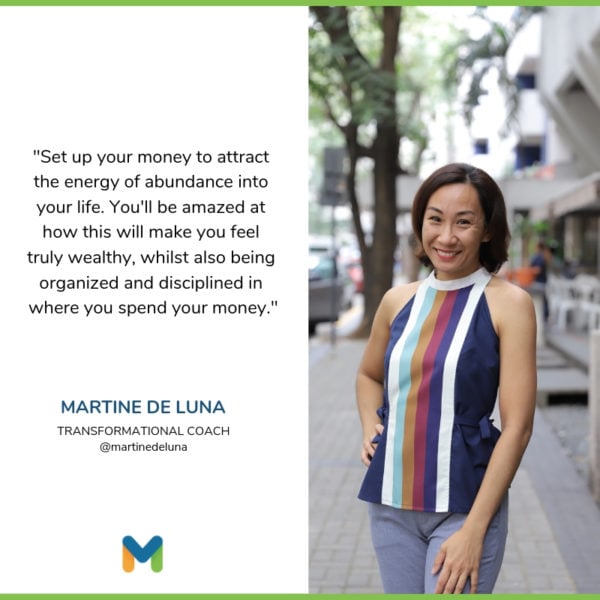 As a Transformational Coach, Martine helps women "create changes in their lives, so that they can be truly blissful, peaceful, and free." Her career lets her reinvent a person's self-image thus her hashtag #MakeItBlissful. When it comes to money, Martine has a similar perspective.
"Set up your money to attract the energy of abundance into your life. Divide your money into different bank accounts for savings, fun & travel, big purchases, charitable works, and investments/debt payments, and each month deposit a specific amount into each account. You'll be amazed at how this will make you feel truly wealthy, whilst also being organized and disciplined in where you spend your money."
Ginger Arboleda
Blogger, CEO of Manila Workshops, and COO of Taxumo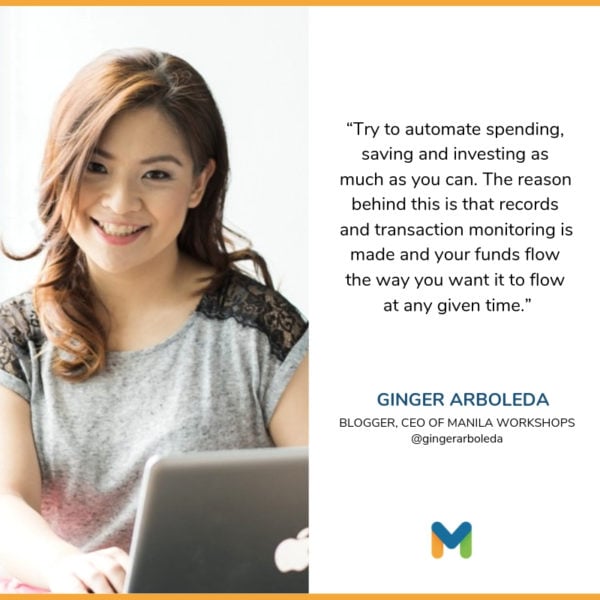 Ginger or Mommy Ginger to many is an expert when it comes to juggling time and finances. Apart from blogging, Ginger is also the head of Manila Workshops and Taxumo, a tax filing platform for freelancers, small business owners, and self-employed professionals. And oh, she's a mother, too. When asked about her favorite financial tip, Ginger shared: "Try to automate spending, saving, and investing as much as you can. The reason behind this is that records and transaction monitoring is made and your funds flow the way you want it to flow at any given time."
Gaby Dela Merced
Professional Race Car Driver, Model, and TV Personality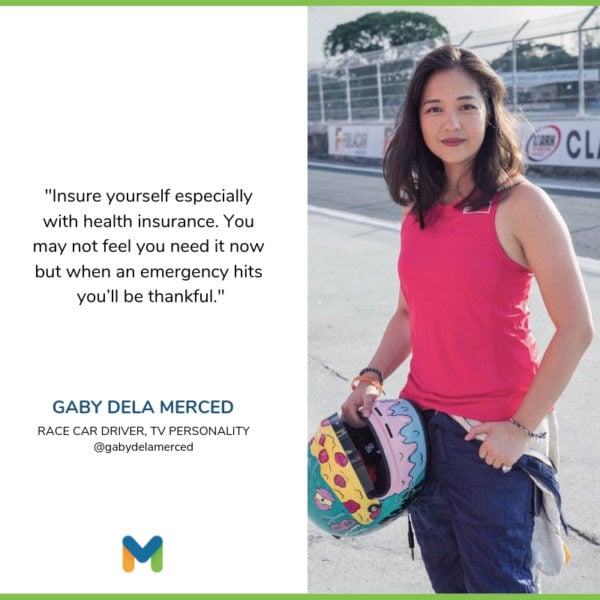 Gaby is no rookie when it comes to racing as she has won multiple awards both here and abroad. She is also a model, TV personality, and art enthusiast. Definitely a kickass woman. When it comes to money, Gaby highlights the importance of investing. "Invest early or when you have extra stats stored. But never put your eggs in one basket. The balance between high risk and low-risk investments. Ensure yourself especially with health insurance. You may not feel you need it now but when an emergency hits you'll be thankful."
Michelle Lim
Lifestyle Blogger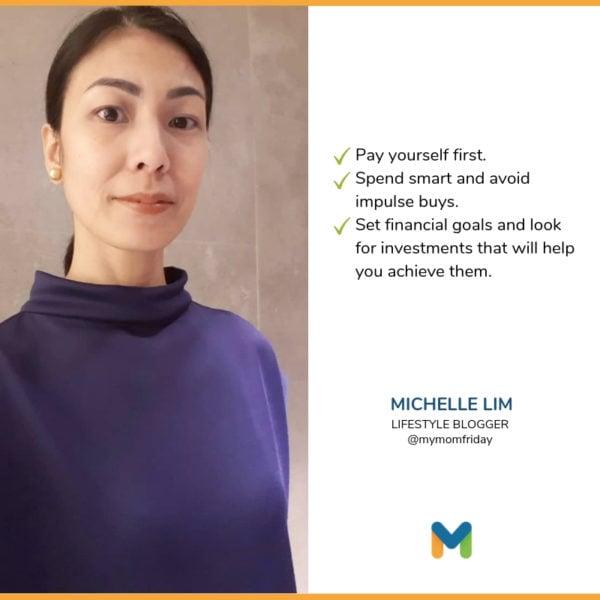 Michelle aka Mom-Friday learned about money management during her employee to entrepreneur transition. This stay-at-home mom to a "teen boy and a tween girl" spent 10 years in the advertising and PR industry before deciding to become an entrepreneur and full-time mom. Michelle shares these basic but helpful financial tips:
Pay yourself first.
Cash is king.
Save a portion of your earnings before spending.
Spend smart and avoid impulse buys.
Live within your means to avoid debts.
Pay credit card bills in full and on time.
Set financial goals and look for investments that will help you achieve them.
Michelle Aventajado
Country Director, Mommy Vlogger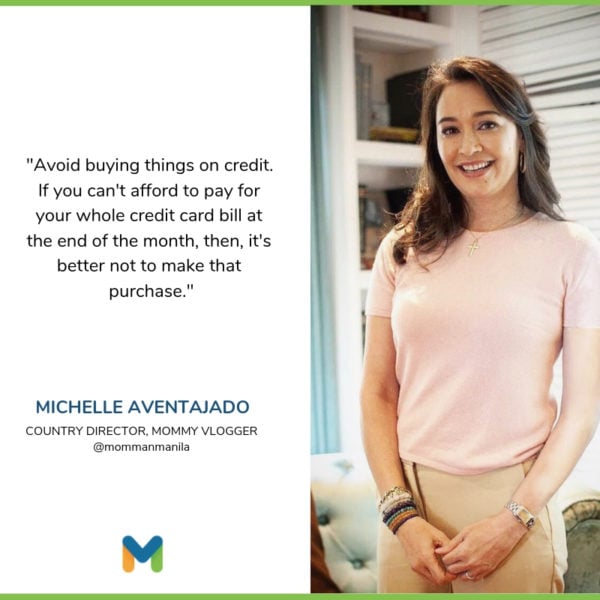 Mommy Vlogger Michelle is not a fan of credit cards but for good reason. Mom to four adorable kids, Michelle's YouTube channel is a great source of recipes and cute family musings. Her go-to financial tip is: "I think my best financial advice would be to avoid buying things on credit. In an age of consumerism, I have realized that credit cards are not friendly. Meaning, if you can't afford to pay for your whole credit card bill at the end of the month, then, it's better not to make that purchase. Very different than financing a car or a home. Especially with credit cards charging 20% interest!"
A big thank you to all these kickass women who shared their financial tips. Happy Women's Month from Moneymax!