Strong, beautiful, smart, loving, and empowered―hey, that's you, girl! All the wonderful qualities of women shouldn't only be recognized but also celebrated. Hence, the International Women's Month. And while you continue breaking barriers and achieving greater things, it would be nice to take a break for a while and admire the work that you've done.
Ladies, March is your month. So it only makes sense to reward yourself and indulge in little luxuries that will make you happy. Don't hold back; you deserve all these and more.
But if cost is your worry, it's possible to save money while you do all the splurging. To help you with that, we've come up with a Women's Month sale list. Check it out below.
Top Women's Month Sales This 2022
This March, a variety of sales and discounts await all women who enjoy different interests. There are deals for shopaholics, for fitness freaks, and for foodies! Let the list below do the talking.
Women's Wednesday Sale at SM Mall of Asia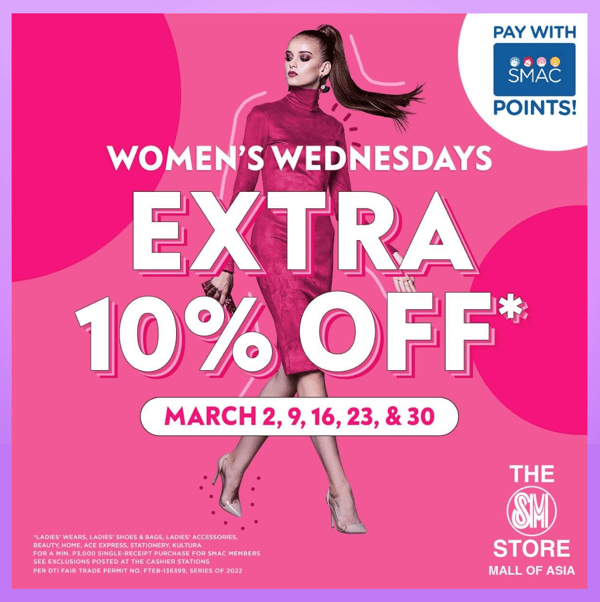 First in the list are the exclusive offers coming from one of the country's biggest retail brands, SM. Women can get exclusive deals on all Wednesdays of March at the SM Mall of Asia.
Extra 10% Off on Select Brands and Shops
If you love shopping at The SM Store, you can get extra 10% off on your purchases. This discount applies to ladies' wear, shoes, bags, accessories, beauty items, and home essentials. Participating brands include Ace Express, Stationery, and Kultura.
You can enjoy this perk if you're an SM Advantage Card (SMAC) holder with a minimum ₱3,000 single-receipt purchase.
15% Off on Select Avene Products at Watsons
Up your skincare game by elevating your essentials. This time, you may want to try Avene. Don't worry about the price, as you get a 15% discount on select Avene products when you shop at Watsons' participating branches and its online store.[1] Promo period is until March 15, 2022.
30% Off on Select Products and Discounted Facial Treatment at Iconique
Still on skincare talk, why not beef up your skincare arsenal by including devices from Iconique? Enjoy up to 30% discount on the following Iconique products:
Maxiclean Device: From ₱49,900 to ₱34,990
Iconeck Device: From ₱89,900 to ₱62,930
Germanium Touch: From ₱19,900 to ₱13,930
And if you want an expert to help with your reverse aging routine, go get Iconique's age-defying facial treatment with collagen booster at only ₱999 instead of ₱9,900. Get everyone to tell you, "Skincare reveal, please!"
Freebies from Ever Bilena
Slay the day in style with Ever Bilena's All-Day Items. If you get two of the same items, you'll get a free Hello Glow All-Natural Whitening Set, saving you ₱360. Promo period is until March 31, 2022. Glow, girl!
40% Off on All Women and Girls' Clothing at GAP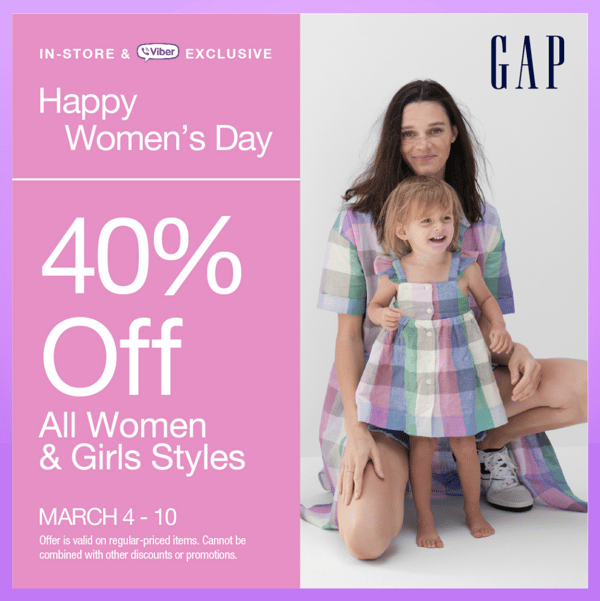 Another exciting SM Women's Month sale this 2022 comes from the iconic clothing brand GAP. Shop and save with your daughter and nieces because all items in the Women & Girls catalogue have a 40% discount. Just remember that this promo is valid on regular-priced items.
This women's month sale is available at the SM Mall of Asia or via Viber. Promo runs until March 10, 2022.
Read more: #DontTaxMyBeauty: What You Need to Know About the Vanity Tax
Credit Card Discounts Sales and Promos
Got a credit card? Make the most of it this March by availing of the exclusive discounts and promos of online stores and resorts. Here are some of them.
New Shopper Discounts at Shopee from HSBC
Shopping for summer? Sign up at Shopee and get the season's must-haves, from bikini to sunblock. Unlock special discounts using your HSBC credit card. New Shopee users can also get ₱100 off with a minimum spend of ₱200. Just use the code HSBCSHOPEENEW. Promo runs until May 31, 2022.
Women's Month Discounts at Mayani from HSBC
If you're all for helping people, you might as well shop your veggies at the agri-ecommerce platform Mayani.[2] Customers can enjoy Mayani's Women's Month Special as long as they use their HSBC credit card.
Enjoy an 18% discount on Salad & Fruit Bundles when you make a minimum purchase worth ₱1,500. Just use the code HSBC Women. Promo runs until March 31, 2022.
25% Off at Peculiar Eyewear from UnionBank
Protect your eyes while staying fashionable with Peculiar Eyewear. Use your UnionBank credit card to avail exclusive discounts and spend at least ₱1,000 to get 25% off. Just use the code UBPESUMMER. Promo period is until June 30, 2022.
30% Off on All Room Categories at Two Seasons Coron Island Resort & Spa from UnionBank
Maybe traveling's your way of rewarding yourself. If so, don't hesitate to fly to Palawan. Once there, let Two Seasons Coron Island Resort and Spa quench your thirst for some R&R.
You can even save as much as 30% on all room categories when you book using your UnionBank credit card. Just keep in mind that the resort requires a minimum stay of two nights.
Read more: Women Leaders on Leadership: 5 Lessons from Moneymax Co-General Managers
Fitness and Wellness Deals and Discounts
Fitness freaks and athletes, get ready to overhaul your equipment and apparel because the biggest names in sports are offering discounts of up to 50%. Here are some of the Women's Month sales you should keep an eye on.
40% Off at Nike Factory Store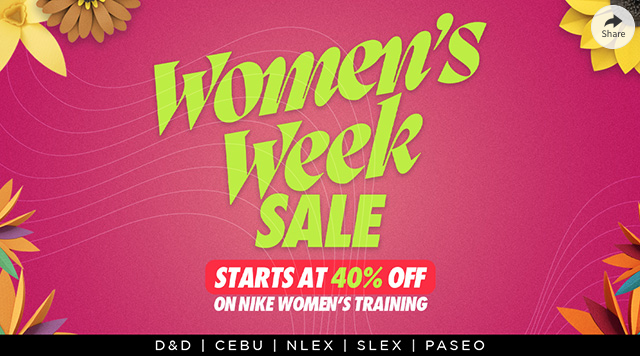 Score huge discounts on activewear and sneakers at Nike Factory Store. The brand is having a Women's Week Sale until March 12, 2022!
What's so enticing about this sale is that discounts start at 40%, so you'll definitely finds items that have bigger slashes on price. For instance, the sports bra is priced at ₱745 from PHP 1,295. A pair of sneakers is now at ₱2,995 from ₱3,895.
Get these deals at the following Nike Factory branches: Cebu, NLEX, SLEX, Paseo de Santa Rosa, and D&D.
50% on Select Women's Products at Adidas
Adidas also has exciting offers for women for their special month. You can get up to 50% discount on select women's products until March 13, 2022.
Adidas also has another promo where you can get one Bra Revolution Tote Bag when you buy an adidas Sports Bra at Adidas Concept Stores and/or Adidas women's items at Adidas Neighborhood Stores.
Free Passes at Anytime Fitness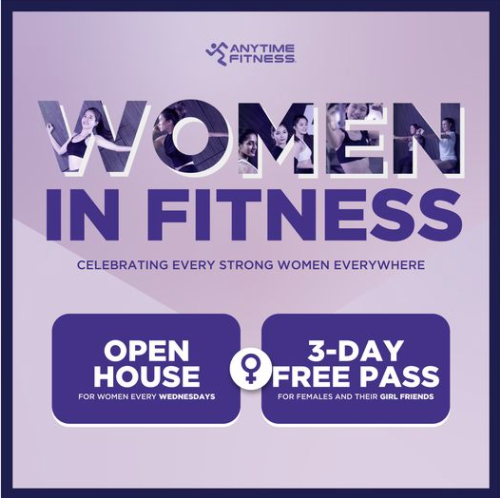 If staying in shape is your goal this year, consider going to the gym. But this time, elevate your experience by giving Anytime Fitness a try.
This International Women's Month, the fitness brand is offering a three-day free pass as part of its Open House promo for women every Wednesdays. The best thing about it? You can take your girlfriends with you!
50% Off on Select Items at Fisher Mall Malabon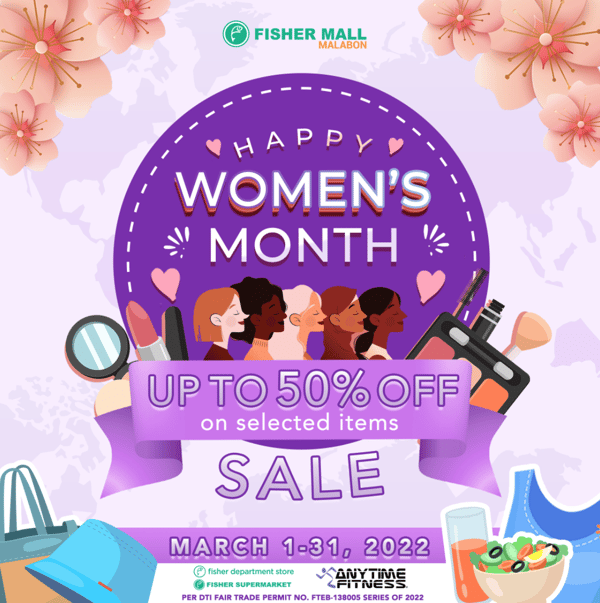 Women of Malabon, heads up! This International Women's Month, you can enjoy up to 50% off on selected items at Fisher Mall's stores and brands. Promo runs until March 31, 2022. Visit the mall's Facebook page for details and updates. [3]
Enchanted Kingdom's EKsemplary Women Promo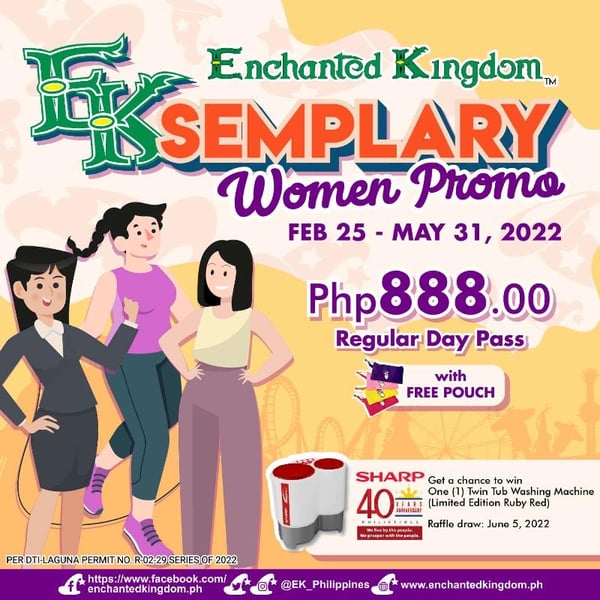 When was the last time you went to Enchanted Kingdom? If you can't even remember, well, it's been too long! Now's the time to spoil your inner kid again.
The amusement park's EKsemplary Women Promo entitles women to a discounted regular day pass worth ₱888. Plus, you get a free pouch and a chance to win a Twin Tub Washing Machine that will be raffled off on June 5, 2022.
Perhaps this is one of the most thrilling promos in this list of Women's Month sales since you get to enjoy the park's most iconic rides, such as the Space Shuttle and Wheel of Fate. Or if you're feeling romantic, you can simply ride The Grand Carousel or the mechanical swans at The Swan Lake.
This offer is valid until May 31, 2022.
Read more: 11 Empowered Pinays Who Prove That Success Knows No Gender
Women's Month Discounts at foodpanda
Maybe you just want to celebrate women's month with delicious dishes. But of course, you want to treat yourself like a queen. So as much as possible, no cooking! An extravagant feast on the cheap is still possible with foodpanda's delivery discounts.
Here are the discounts, the promo codes, and their validity:
₱80 discount: Use the code FREEDOM. Valid until March 10, 2022.
₱100 discount #1: Use the code NURTURE. Valid until March 15, 2022.
₱100 discount #2: Use the code ACTIVE. Valid until March 31, 2022.
Final Thoughts
Because it's International Women's Month, it's just right to reward yourself. After all, your dedication to make the world a much better place for everyone is truly inspiring. Give yourself a break. Only through it will your energy get replenished, which in turn will allow you to work better and promote philosophies that will benefit everyone.
Don't forget to share this list with the important women in your life. They, too, deserve these rewards. ABANTE, BABAE!

Sources: