The summer season has officially started in the Philippines. Have you booked that much-awaited summer vacation yet? More importantly, have you decided on the perfect summer outfits?
We all know just how stressful planning a trip can be. But planning your OOTD for summer trips is on a whole other level of stress, especially if you're just a jeans-and-shirt kind of person.
Don't worry because we've come up with a few great ideas for summer outfits in the Philippines that aren't only fashionable but also easy and comfy to wear.
Summer Outfits in the Philippines for Women
News flash: Bikinis and swimsuits aren't the only things you can wear this summer. In fact, there are plenty of summer attire for women that are very wearable and super stylish. Make sure to include these cool summer outfits in your wardrobe checklist for a fresh summer look.
👗 Bohemian Dress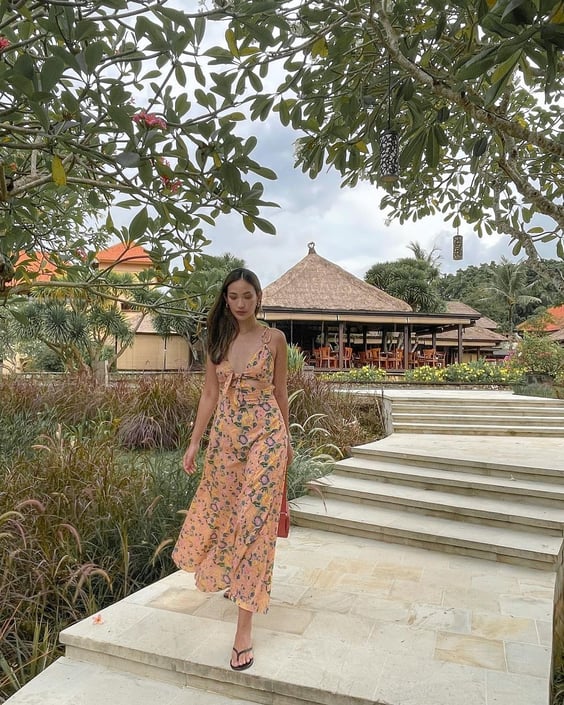 Photo: @karagozalimd (Instagram)
It's really no surprise that bohemian attire is synonymous with summer wear for ladies. After all, the bohemian style is all about feeling totally flowy and free while still looking chic and fashionable.
Summer travel outfits for ladies shouldn't be thick and body-hugging. It's time to bring out the soft, cool tops and romantic, billowing dresses―the kind that makes you think of rolling hills of vibrant flowers and golden hour sunsets.
To rock your summer bohemian attire, go for light and cool fabrics in pastel or earthy tones. Get the look down pat by wearing statement earrings, bangles, or necklaces. Last but not least, complete the look by wearing a hat or a pair of fashionable flip-flops.
👗 Athleisure Look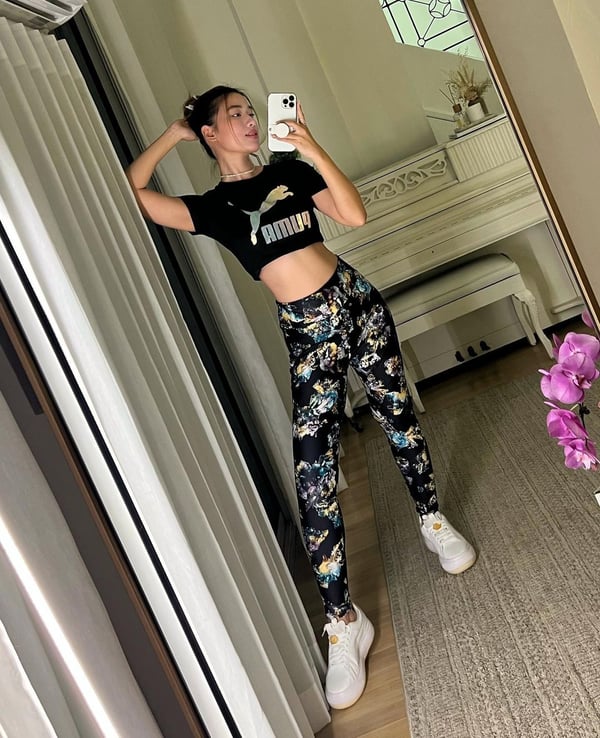 Photo: @janeenachan (Instagram)
Any outfit can look fashionable if you put a lot of effort and creativity into putting it together—even sporty outfits.
Two-piece tracksuits and jogging outfits are all the rage now, thanks to famous celebs wearing them while walking their dogs, getting their caffeine fix, or making a quick trip to the supermarket.
You can easily steal the look, too. Get them in your favorite colors online at Shopee or Lazada. Mix and match for a pop of color.
The athleisure look is perfect when you just want a lazy summer outfit for running errands or going on a quick coffee date with a friend. They're lightweight and can be easily dressed up or down, depending on your mood or the occasion.
Read more:
👗 Casual Biker Shorts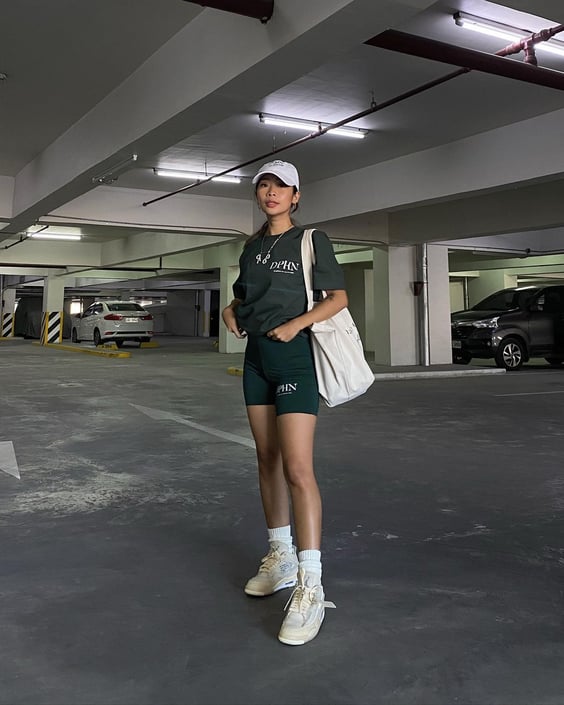 Photo: @iamrheabue (Instagram)
Who would've thought that biker shorts look amazing as a summer outfit in the Philippines? But indeed they are!
Because they're skin-tight and basically function as regular shorts, you can pretty much wear them with anything, like an oversized shirt or button-down. Finish the look with some cool sneakers and ankle socks. That's it!
You now have effortlessly cool summer wear attire. Now find a really cool backdrop and start learning how to pose like a model, pronto!
👗 Cute Picnic Outfit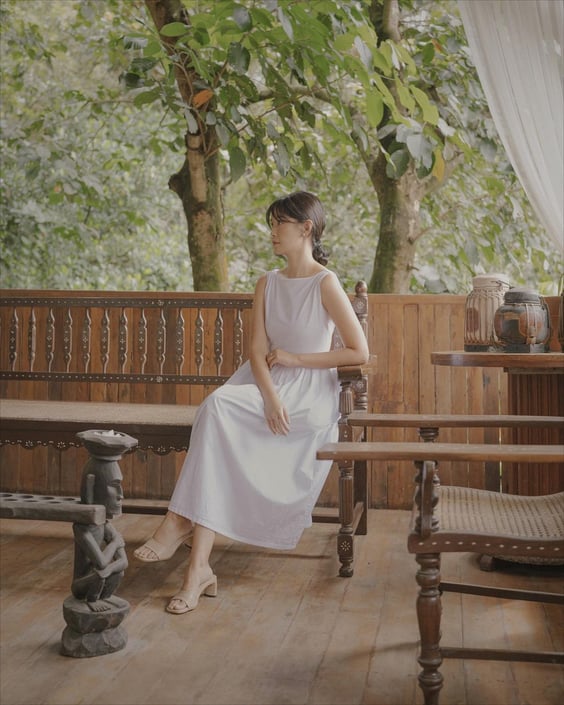 Photo: @tgosingtian (Instagram)
Summer days are best enjoyed outdoors. Whether you're at a park or an open field, you need a summer outfit in the Philippines that will look fantastic in your Instagram photos and TikTok videos. Admit it, a cute outfit instantly makes you feel good, too!
There are many picnic outfit ideas you can put together from your summer capsule wardrobe.[1] The key is to not overthink it and just go with whatever you feel most comfortable in.
Go for a pair of shorts and a dressy tank top if you want to feel cool yet fashionable. This summer outing outfit will also make it easier for you to move around.
If you're in the mood for something sweet and dainty, you can wear a sundress in a pastel color. Bring a shawl or a light jacket in case your picnic date stretches on to a toasty night under the stars or an alfresco dinner date.
👗 Baggy Jeans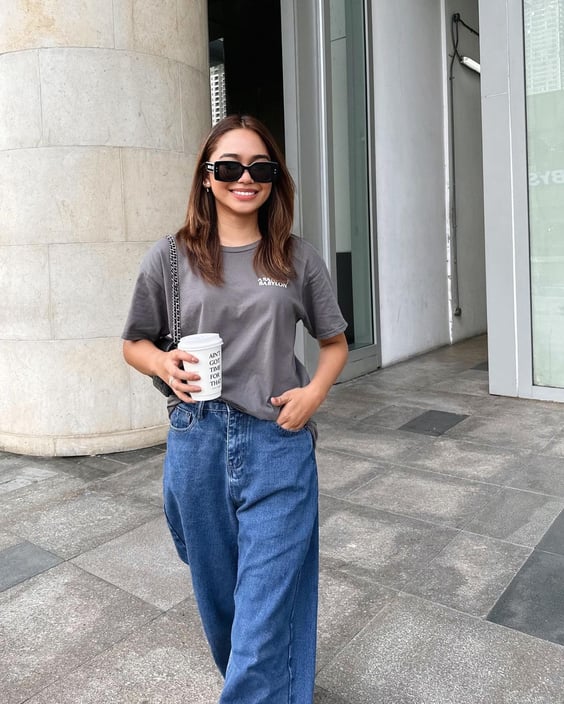 Photo: @thatsbellayt (Instagram)
Do you still have skinny jeans in your wardrobe? They're still fashionable, don't worry. But perhaps you want to give your legs room to breathe and try what the cool kids are wearing―baggy jeans.
They're cool in that slouchy and effortless kind of way. You can also wear them with practically anything to create a baggy summer outfit. Just do a quick Google search of baggy pants outfit ideas for lots of outfit inspo.
👗 High-Waist Wide-Leg Trousers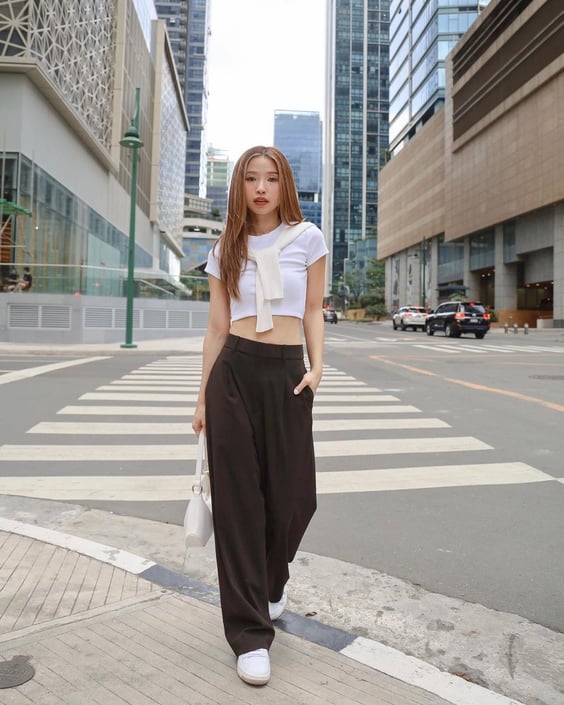 Photo: @farrahespina (Instagram)
Elevate your summer outfit in the Philippines this year with high-waist wide-leg trousers. This is perfect for summer afternoon dates at the mall or even dinner dates with friends or your significant other.
You can wear this outfit anywhere depending on how you accessorize. A rule of thumb is to wear a nice, tight-fitting top that will show off your trousers' high waist. You can tuck a nice, clean white shirt, or show off those abs you've worked so hard for by wearing a cute crop top.
This outfit is so versatile you can even wear it with a blouse when it's time to return to the office. It's really up to you how you rock this outfit.
---
Buy Your Summer OOTDs with the Best Credit Card for Fashion Shopping
Ready to overhaul your summer wardrobe? Instead of using cash to pay for your new clothes, go for credit cards as a payment method—you'll get to enjoy exclusive rewards, discounts, cashback, and plenty of other perks:
UnionBank Classic Visa Card

1 reward point for every ₱35 spend
Up to 36 monthly installment terms at 0% interest
---
🎁

Free Welcome Gift:

No Annual Fee for Life Plus Maximum Rewards for U!

Eligible card: UnionBank Rewards Credit Card
Promo period: Until September 30, 2023
Say goodbye to annual fees forever and hello to leveled-up rewards with your new UnionBank Rewards Card! Just apply via Moneymax and get approved within the promo period, and then meet the ₱20,000 spend requirement within 60 days from your card approval date.
This Moneymax UnionBank Rewards Credit Card No Annual Fee Promo runs until September 30, 2023 only. Per DTI Fair Trade Permit No. FTEB-172472 Series of 2023. Click the banner above to apply now!
Note: The promo is exclusive to applicants who do not have an existing principal credit card issued by UnionBank and/or Citi.
---
HSBC Red Mastercard

4x reward points on online and shopping spend

1 reward point for every ₱20 spend
RCBC Visa Infinite

Reward points for as low as ₱36 per spend
5% rebate at any local or international clothing shops
RCBC ZALORA Credit Card

Free ₱5,000 shopping credits with ₱30,000 single or accumulated purchase within 60 days from card issuance
Up to 6% cash back on online ZALORA purchases
Up to 2% on other online spend
1 reward point for every ₱50 spend
Unlimited free shipping via ZNOW
Free purchase protection up to ₱50,000
RCBC Mango Credit Card

Non-expiring points that can be exchanged for vouchers
0% installment of up to 6 months at Mango stores
Priority access to next season's catalog offers
Exclusive access to Mango VIP Sale events
---
Summer Outfits in the Philippines for Men
Is your default summer outfit the foolproof t-shirt-and-shorts combo? There are ways to spice things up when temperatures rise!
👕 Linen Co-Ords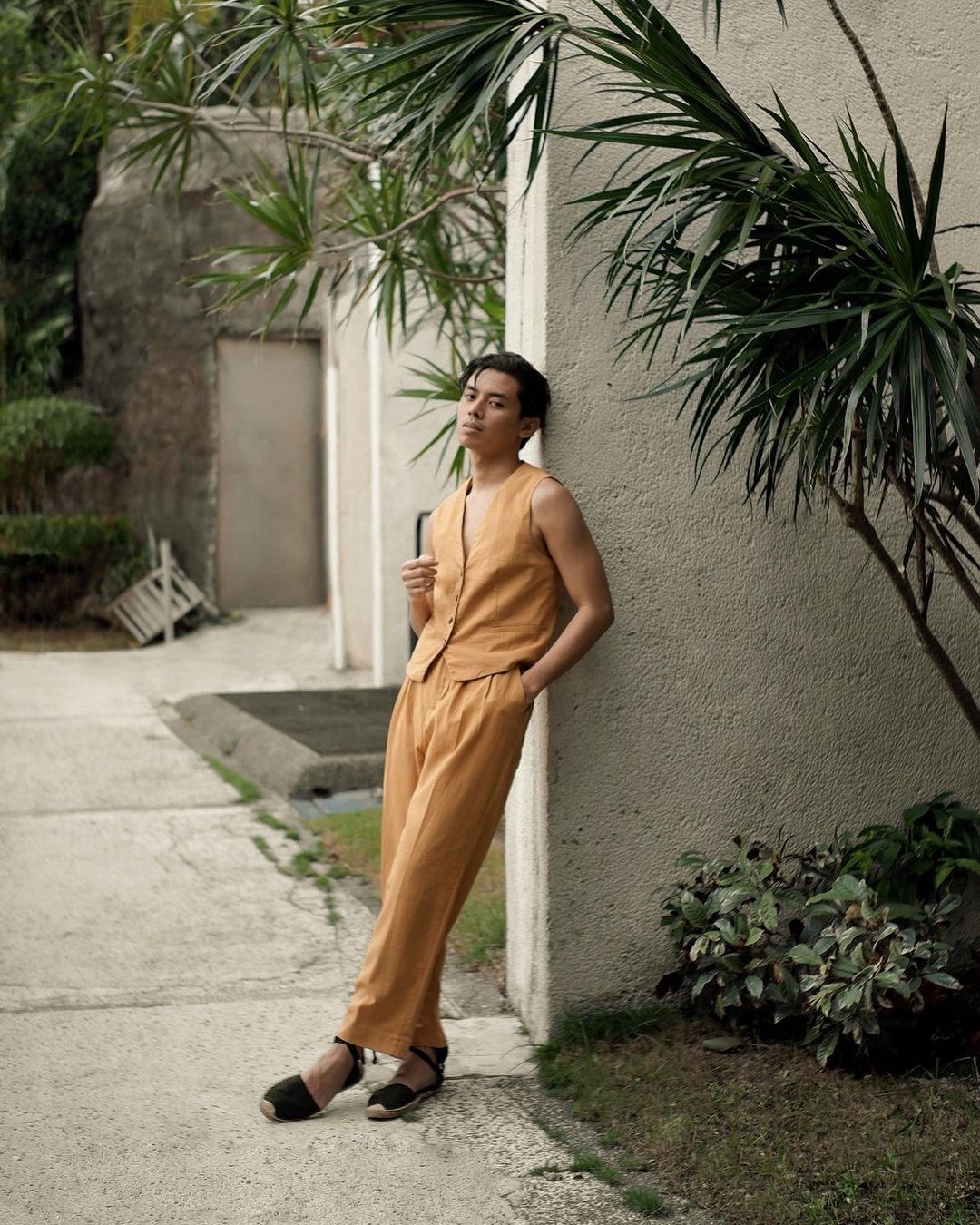 Photo: @mikewillfly (Instagram)
In this heat and humidity, linen should be your fabric of choice. Linen is loosely woven, meaning air passes easily through the fabric. It also wicks away moisture quickly, so you don't have to worry about sweating through your outfit.
This summer, stay cool and fresh in a breathable linen ensemble. Go for matching co-ords in neutral colors like navy or beige. Aside from the sweat-friendly fabric, it's a foolproof option for when you just don't have the time or energy to think about matching your top and bottom pieces.
👕 Floral Shirt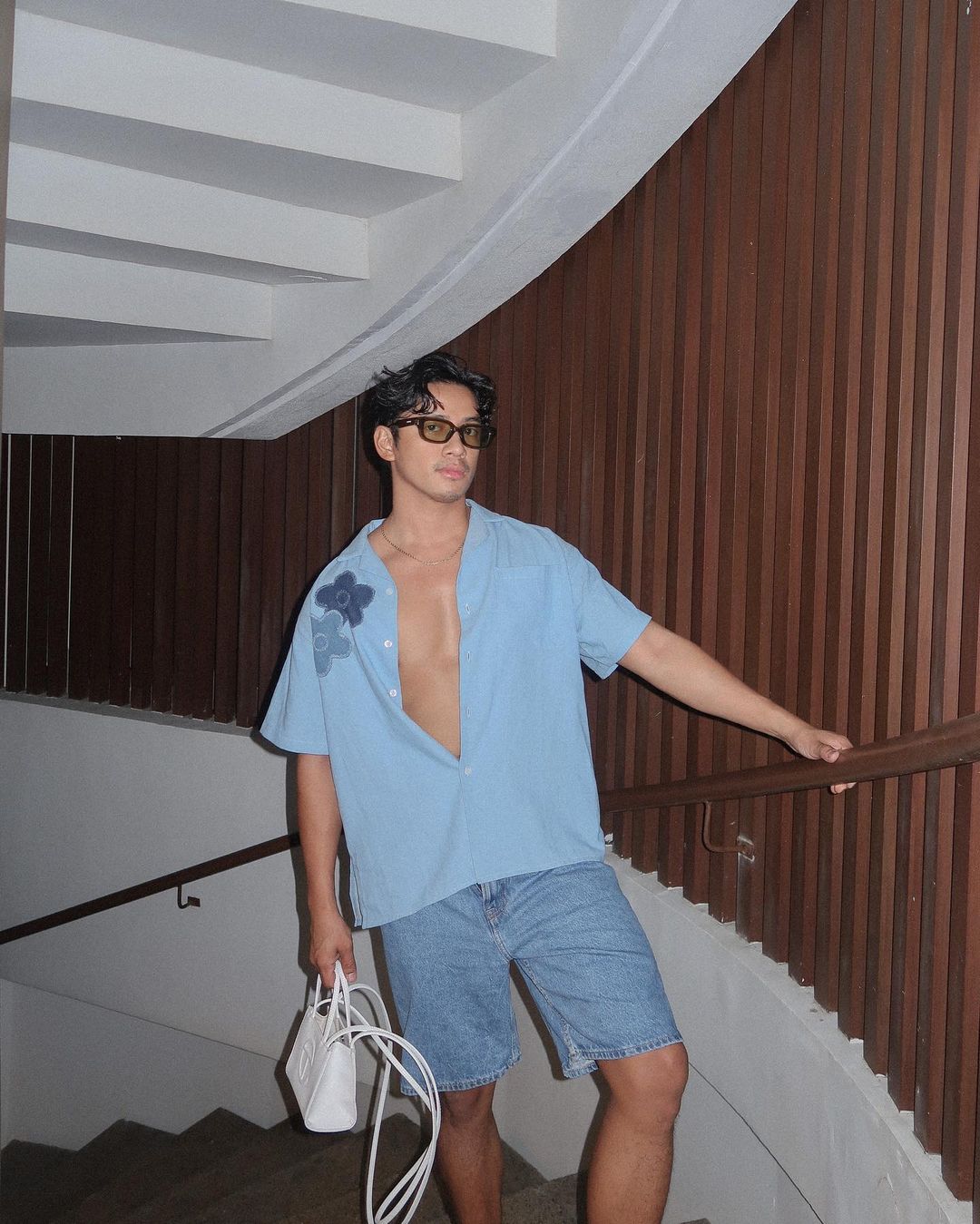 Photo: @davidguison (Instagram)
Is it really summer if you don't don a floral shirt at least once? If you're wary of looking a little too similar to a certain former Manila mayor, choose a button-down featuring monochromatic florals. You can also look for options with subtle or smaller floral prints.
Pair it with denim shorts to complete this men's summer outfit idea!
👕 Graphic Tee
Photo: @iamjeffong (Instagram)
Not really a fan of button-downs and slacks? If casual shirts are more your style, go for a graphic tee instead.
Add more interest to your look by choosing a print that features a summery punch of color. Put on your usual shorts and go-to sneakers, and you're good to go.
Wear this male summer outfit idea to casual dates, bros' nights out, or even quick errands.
Final Thoughts
We're in for another sizzling summer, so freshen up your look with these great summer outfits in the Philippines. Whether you're hitting the beach, heading to cooler climates, or spending lazy summer afternoons in your own backyard, do it looking cute and fashionable.
This may also be the perfect time to update your wardrobe for work wear. Yes, with the right mixing, matching, and accessorizing, your summer outfits can function as work clothes, too!

Source: [1] What is a capsule wardrobe? (The Good Trade)