Online shopping is undeniably one of the most life-changing conveniences that we have right now. In this regard, Lazada and Shopee are two of the most popular brands.
But between Lazada vs Shopee, which is the better e-commerce platform in the Philippines? This comparison review gives you a glimpse of how each company fares in terms of different aspects of e-commerce and customer service, so you can make an informed decision on where to shop online.
Lazada vs Shopee: Business Models
Before we begin comparing Lazada vs Shopee, it's important to first understand their business models, which affect pricing, user experience, delivery speed, and other features.
Both Lazada and Shopee use the B2B2C or business-to-business-to-consumer model. This e-commerce structure is the combination of B2B (business-to-business) and B2C (business-to-consumer) models.
Simply put, B2B2C is a model where a business sells its products through another business or platform. In this regard, the former is the merchant while the platform is either Lazada or Shopee.
🔷 Lazada Philippines Business Model

Lazada makes a profit through various channels. The most popular are Lazada Marketplace and LazMall. Lazada charges sellers a payment fee, which is the cost of payment processing.
For LazMall sellers, the platform charges a commission, which is based on an item's price and category. In addition to these charges, sellers have to pay fees when they offer promos.
🔶 Shopee Philippines Business Model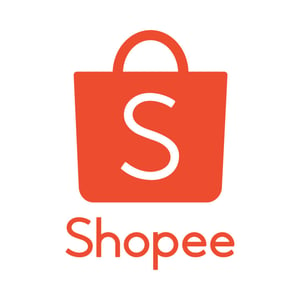 Shopee, on the other hand, charges seller fees, which are composed of three types: commission fee, transaction fee, and seller fee. A commission fee is a payment that sellers have to make to Shopee so they can enjoy the platform's benefits and services.
Shopee defines transaction fees as handling fees that cover the cost of payment transactions. The said payment also applies to orders tagged as lost by the platform. On the other hand, service fees are those charged by Shopee when orders under Coin Cashback (CCB) and Free Shipping (FSS) programs have been completed.
Lazada vs Shopee: Popularity
Lazada is among the pioneers that made online shopping big in the Philippines. Thanks to its wide assortment of products at cheap prices, many Filipinos find the platform a great place to find what they need and want.
While Lazada is one of the foremost players in the Philippine e-commerce industry, Shopee proves to be a formidable competitor, as illustrated by the latter's popularity. As of this writing, Shopee has more than 59 million monthly web visits. Lazada, on the other hand, has over 37 million visits per month.
Shopee ranks first on both the App Store and Google Play Store. Lazada, meanwhile, takes second place in the said application shops.[1]
Winner: Shopee
Lazada vs Shopee: Desktop and Mobile User Experience
User experience in e-commerce refers to how easy it is to navigate a website and perform transactions such as order placement, tracking, cancellation, and refund.
Let's compare Lazada and Shopee in terms of user experience using desktop and mobile devices.
💻 Which Website is Easier to Use on Desktop?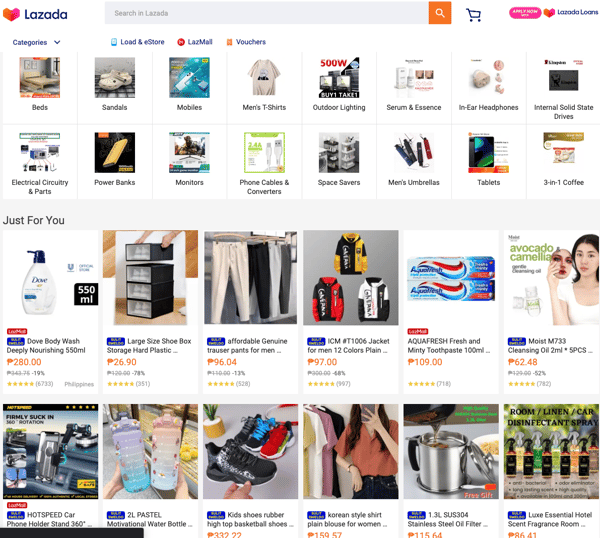 Lazada and Shopee online shopping websites are user-friendly, complete with easy-to-search and varied shopping categories and filters (based on price range, brand, color, rating, etc.) that help visitors find the exact product they need.
But the difference on the homepages of Lazada and Shopee is noticeable. Shopee's homepage is visually overwhelming. Lazada's homepage is full of details, too, but it's more tolerable and less busy.
Both of these e-commerce sites have a Help Center section (in question-and-answer format) that lets people easily find the information they need about transacting with the site. They also have their own built-in chat service that allows people to directly message sellers for inquiries.
Lazada takes it a step further with its Questions About this Product feature where prospective buyers can post questions and get responses from the seller. Others can read the questions and answers on the product page, which can help them make an informed buying decision.
Also, the whole transaction process—from browsing products and placing an order to paying for the purchase—is smooth on both Lazada and Shopee.
📱 Which Provides Better Mobile Experience?
The Lazada app loads faster and has a neater, more organized design than the Shopee app. Lazada's product pages have more detailed and easy-to-read product descriptions with more images than its competitor.
The Lazada app is easier to navigate, too. When you open a product page, you can quickly go to sections like Reviews and Recommendations without scrolling down, as the links can be tapped at the top of the screen. This makes it easy for mobile users to find great deals.
On the other hand, the Shopee app is quite cluttered. Its overall orange color makes the interface look packed and messy. Meanwhile, Lazada's overall colorful scheme, which includes white and other accents, is easy on the eyes. The color allows the user to easily read the text and ultimately find what they are looking for.
The Shopee app may be easy to browse, but it still needs improvement on its speed as its Home screen, search results, and images on product pages take quite a while to load.
Winner: Lazada
Lazada vs Shopee: Product Range

and Return Terms
The two e-commerce sites have the same range of products: men's and women's clothing, groceries, electronics, personal care, appliances, and more. Customers may even buy prepaid cellphone load from Lazada or Shopee.
Lazada has probably the widest range of products across different categories. As of this writing, the online shop claims that it carries 300 million stock-keeping units or SKUs.[2]
Shopee obviously has millions of products, but there's no specific number available. Looking at this comparison, it's likely that you'll find most of your preferred items on Lazada vs Shopee.
It's also important to note that both brands have a mall; Lazada has LazMall while Shopee has Shopee Mall. Both malls are actually separate categories that only list products from authoritative, reputable, and high-quality partner brands. As such, customers have the assurance that what they're buying is 100% authentic.
Both Lazada and Shopee offer a return program in case the buyer isn't satisfied with their purchase. In this area, Lazada has friendlier terms.
Lazada has a guaranteed return and refund period of up to 30 days (seven days for Lazada-wide and 30 days for LazMall). Shopee, on the other hand, only gives an allowance of seven days for returns.
Winner: Lazada
Lazada vs Shopee: Prices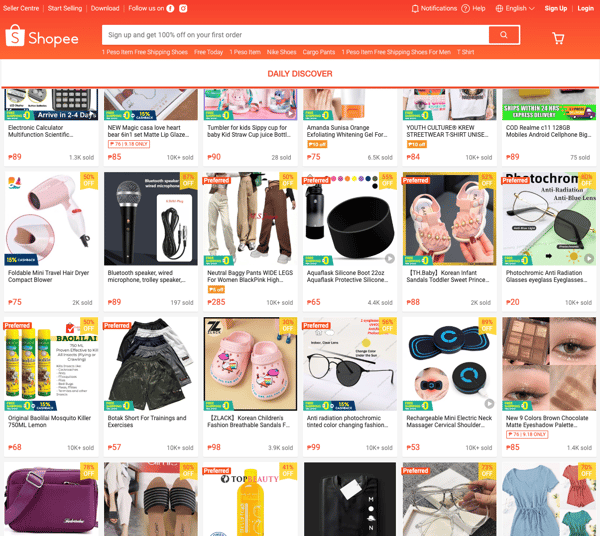 Who fares better when it comes to prices? Both online shopping platforms offer low prices for products that are otherwise expensive if offered by a physical shop. However, it appears that Shopee has a slight advantage over Lazada when it comes to this area.
Shopee has a Lowest Price Guaranteed (LPG) feature. This gives you 1.2x the value of the price difference via Shopee coins if they find the same product at a lower price from Shopee's list of approved competitors.
Winner: Shopee
Lazada vs Shopee: Sales and Promos
Both Lazada and Shopee tend to go all out when hosting big sales and promotions. Nonetheless, one of them has an edge over the other.
Check out the differences between Lazada and Shopee when it comes to promos and special offers:
🛍️ Lazada Sales
Just like other e-commerce platforms, Lazada is known for monthly double-digit sales (3.3, 4.4, 5.5 sales, etc.) Here are some of the promos that Lazada held or will hold this year:
Lazada 2.2 Sale
Lazada 3.3 Birthday Opening Sale
Lazada 4.4 Lowest Price Sale
Lazada 5.5 Sale
6.6 WOW Sulitipid Sale
Lazada 8.8 Grand Vouchers Sale
Lazada 9.9 Mega Brands Sale
Lazada 10.10 Budol Festival
🛍️ Shopee Sales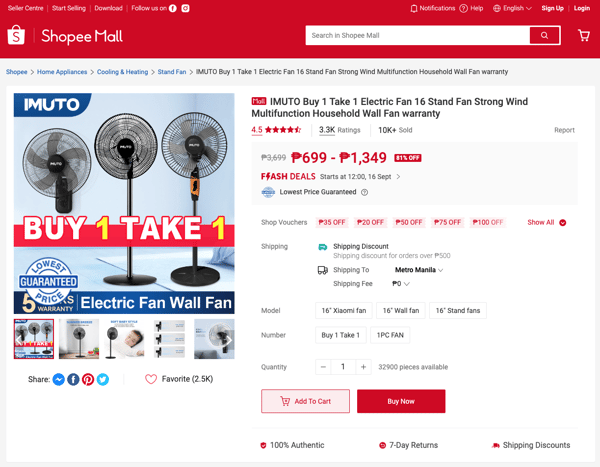 Shopee already implements double-digit sales. But on top of that, it generously gives away more vouchers and discounts. To put things in perspective, the Shopee sale schedule for 2023 includes the following deals, some of which are from September's payday sale:
Shipping discount of up to ₱80 off with zero minimum spend for new users
100% off with a minimum spend of ₱90 for new users. Discount is capped at ₱90.
Piso Deals (new user exclusive)
100% free shipping with zero minimum spend
70% off Livestream via Shopee Live
Flash discounts
SPayLater Grand Cyber Sale (0% interest all month)
₱99 and below for fashion and beauty items
Winner: Shopee
Read more:
Lazada vs Shopee: Payment Options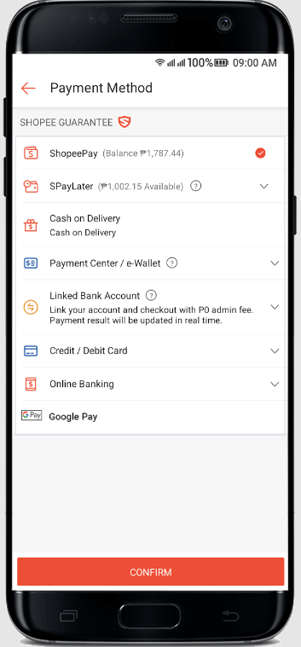 Both online shopping sites have a variety of payment options for their customers. But what is the difference between Lazada and Shopee in this area?
To give you an idea, take a look at this table:
Lazada Payment Options
Shopee Payment Options

Cash on Delivery (COD)
Lazada Wallet
GCash
Maya
Credit and debit cards

Mastercard
Visa
JCB
American Express

Credit card installments
Non-credit card installments

BillEase
TendoPay
Cashalo
Plentina
UnaCash
InvesTED

Cash on Delivery (COD)
ShopeePay
Google Pay (for Android users only)
Gcash
Maya
7-Eleven CliQQ
Credit and debit cards
Linked bank account
Online Banking

BPI
UnionBank
Metrobank
Landbank ATM Online
PNB Online
Robinsons Bank Online Banking
Chinabank Online
Maybank Online

SPayLater
Both websites accept cash on delivery (COD), as well as credit card, debit card, GCash, and Maya payments. They also have their own in-store digital wallet for purchase transactions and receiving and storing refunds.
But looking at the table above, Shopee is the clear winner in this area. Shopee customers have more options; they can even link their bank accounts to their Shopee account for easy fund access.
However, Lazada dominates the non-credit card installment category, thanks to its partnership with online lending platforms. Shopee, on the other hand, only has SPayLater to rely on.
Winner: Shopee
Lazada vs Shopee: Delivery
Lazada's delivery timeline is pretty detailed but confusing to understand. Shopee's delivery timeframe, on the other hand, is easier to absorb.
Check out the Lazada and Shopee comparison when it comes to delivery timelines:
Lazada Delivery Timeline
Shopee Delivery Timeline

For local orders (baseline of less than 11 days)

To Pack: Less than 48 hours

Packed: Less than 24 hours

Package pick-up: Less than 24 hours

Arrival at sort center: Less than 24 hours

Departure from sort center:

Greater Metro Manila Area: Less than 3 days
Luzon: Less than 5 days
Visayas: Less than 8 days
Mindanao: Less than 10 days

Arrival at logistics hub: Less than 48 hours

Out for delivery: Less than 24 hours

For international orders (baseline of less than 14 days)

Packed and ready to ship: Less than 24 hours

Departed from Overseas Sort Center: Less than 24 hours

Customs clearance: Average of less than 24 hours

Departure from origin country: Less than 24 hours

Left from customs: Average of less than 24 hours

En route to local sort center: Less than 24 hours

Arrival at sort center: Less than 24 hours

Departure from sort center:

Greater Metro Manila Area: Less than 3 days
Luzon: Less than 5 days
Visayas: Less than 8 days
Mindanao: Less than 10 days

Arrival at logistics hub: Less than 48 hours

Departure from logistics hub: Less than 24 hours

Out for delivery: Less than 24 hours

Within Metro Manila: 4 to 6 calendar days
Outside Metro Manila: 7 to 12 calendar days
From overseas: 9 to 18 calendar days
🚚 Which Delivers Faster?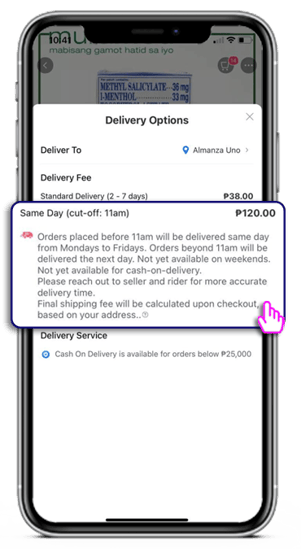 When it comes to actual deliveries, this is where Lazada beats its main competitor. Orders usually arrive within the given delivery time frame or earlier than expected. Some customers even receive their orders within 24 hours.
The standard delivery of Shopee is a hit or miss, depending on the logistics provider used for delivery. Deliveries via couriers, such as Ninja Van, are fast, according to feedback from Shopee customers posted online.
Both e-commerce sites offer express delivery options to customers who need their orders ASAP.
Lazada offers same-day delivery as long as the order is placed before 11 a.m. Orders made after the cut-off period will be delivered the next day. This service is currently only available for Metro Manila customers.
While Shopee has its own courier service called Shopee Xpress, it can only offer standard delivery times. The fastest is three days.[3]
🚚 Which Has Cheaper Shipping Fees?
Lazada's standard delivery fee is as low as ₱38. However, note that this may change, depending on the item that you buy. For instance, the shipping fee for a dressing table will be obviously higher than that of a t-shirt.
Shopee, on the other hand, gives sellers the liberty to set shipping fees. This means that shipping could be free, or there could be discounts for a minimum order if the seller is generous and considerate enough. On top of that, Shopee gives away free shipping vouchers regularly.
As such, customers tend to pay cheaper shipping fees on Shopee vs. Lazada.
Winner: Tie (Lazada for delivery speed; Shopee for shipping cost)
Read more: 7 Pabili Service Apps to Download So You Can Shop from Home
Lazada vs Shopee: Buyer's

and Seller's

Protection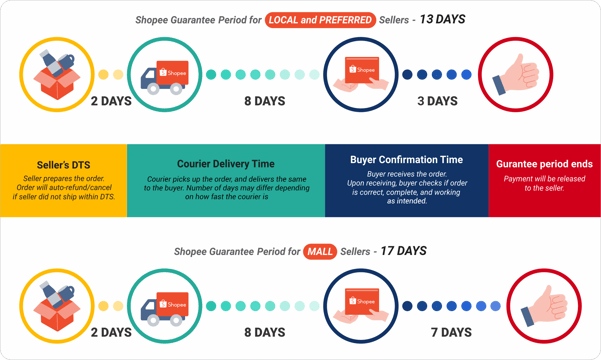 A noteworthy feature that gives Shopee an edge over Lazada is its Shopee Guarantee. It gives customers a sense of security over their purchases, protecting them against fraudulent sellers and fake or defective items.
Shopee Guarantee works by holding the payment to a seller and releasing it only when the buyer confirms receiving the order in good condition. Lazada doesn't have such a feature. The closest that this platform could get to what Shopee has to offer is its Money-Back Guarantee.
Winner: Shopee
Read more: Ask Moneymax: What are My Rights Under the Consumer Act of the Philippines?
Lazada vs Shopee: Order Tracking
Both Lazada and Shopee enable customers to track their orders online. On their respective sites, it's easy to view which orders are pending payment, being processed, shipped/ready for shipping, and delivered. Both Lazada and Shopee parcel tracker systems allow you to see the journey of your item via the partner couriers' websites.
But in this aspect, Lazada takes the cake as it allows you to check the delivery status of your item via a CLEO or Customer Lazada Engagement Officer. You can access this service via the app.
Lazada also has a system that consistently notifies customers through SMS and email when to expect their order and when the package is on its way. Sometimes, Lazada's delivery rider informs the customers via a call or text about the delivery of their parcel.
Winner: Lazada
Lazada vs Shopee: Customer Support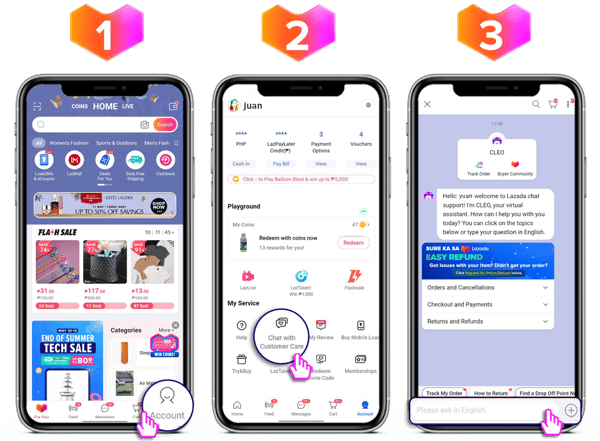 A good e-commerce retailer provides multiple ways for customers to reach the company for questions, feedback, and complaints. When it comes to this aspect, which is better, Shopee or Lazada?
Customers can chat with CLEO, which is available 24/7. Another option is connecting with a customer care specialist, available daily (except for holidays) from 6 a.m. to 12 a.m. You can also call Lazada from 8 a.m. to 8 p.m. (except for holidays).
Lazada also created a Facebook group called Lazada Peers PH where shoppers can get advice from their fellow customers. It's basically a support community.
On the other hand, Shopee customer service can be reached via phone (weekdays, from 7 a.m. to 7 p.m. and weekends, from 9 a.m. to 6 p.m. only) and chat (available from 7 a.m. to 1 a.m., in-app only). It's also quick to respond to messages sent via Facebook Messenger.
Winner: Lazada
Which is Better: Shopee or Lazada?
The similarities between Shopee and Lazada are obvious. But applying parameters will reveal which of them is objectively the better shopping platform.
Here's the deciding tally:
| | | |
| --- | --- | --- |
| Criteria | Lazada | Shopee |
| Popularity | | ✅ |
| Desktop and mobile user experience | ✅ | |
| Product range and return terms | ✅ | |
| Prices | | ✅ |
| Sales and promos | | ✅ |
| Payment options | | ✅ |
| Delivery | ✅ | ✅ |
| Buyer's and seller's protection | | ✅ |
| Order tracking | ✅ | |
| Customer support | ✅ | |
| Grand Total | 5 points | 6 points |
Shopee wins by a hair! All in all, this tally resonates with the fact that Shopee is the most popular online shopping platform in the Philippines, with the most number of visits.
Final Thoughts
What is the difference between Lazada and Shopee? Both have their own merits and downsides. At the end of the day, it will all boil down to your preferences and priorities as a shopper.
If you want to save more on your purchases (including shipping costs), Shopee is the better place to shop. If you prefer fast delivery, then go with Lazada.
We hope that this Lazada vs Shopee guide helps you decide which platform to use the next time you go shopping.
Once you're ready to check out, use a credit card to pay for your purchases and enjoy perks! Check out some of the best credit cards for online shopping:
Credit Card
Online Shopping Perks

3x rewards points when you shop and dine here and abroad
1 rewards point for every ₱30 spend

Metrobank Titanium Mastercard®

1 rewards point for every ₱20 spend
2x points for online, dining, and department store purchases
Convenient 0% installment plans for up to 24 months

HSBC Platinum Visa Rebate

5% rebate on shopping (including online) and travel transactions
1% rebate on insurance, 0.50% rebate on all other spend
6% rebate on the first Caltex transaction and 3% on Caltex fuel purchases for the whole year

HSBC Red Mastercard

4x points on online, shopping, dining, and overseas spend
1 rewards point for every ₱20 spend
0% interest installment plans for up to 36 months

Security Bank Gold Mastercard

1 rewards point for every ₱20 spend
eSecure feature for setting limits on online shopping
0% installment plans for up to 24 months

BPI Rewards Card

1 rewards point for every ₱35 spend
Up to 100% of your credit limit for your installment purchases with the Bonus Madness Limit
Special Installment Plan payments of up to 36 months at 0%

UnionBank Lazada Credit Card

6 Lazada credits for every ₱200 spend on Lazada
1 Lazada credit for every ₱200 spend elsewhere
₱50 free shipping voucher each month at Lazada
Free ₱500 discount vouchers for five Lazada sales in a year
Sources: