"Is it good to have a credit card?" You probably wonder as you've heard horror stories from family and friends about credit cards. Like how fees are so expensive, or how they never get approved for one, or how their credit card bills are piling up.
They might have also talked about credit card advantages and disadvantages at one point. But their credit card woes far outweigh credit card plus points.
Typically, Filipinos are afraid to get a credit card for three reasons: interest fees, the approval process, and lack of financial discipline.
But as long as you swipe responsibly and pay your bills on time, you can fully enjoy the benefits of having a credit card in the Philippines.
17 Credit Card Advantages and Disadvantages
Before you decide on whether or not you should get a credit card, carefully consider all its pros and cons in the Philippines. Keep reading to learn more.
What are the Benefits of a Credit Card?
It's good to know the pros. But to manage your expectations, it's good to know the cons as well. If you need help deciding, we've listed down 10 reasons why you should get a credit card, and why it's even better than cash and debit cards.
1. Credit Cards Teach You to Be a Responsible Cardholder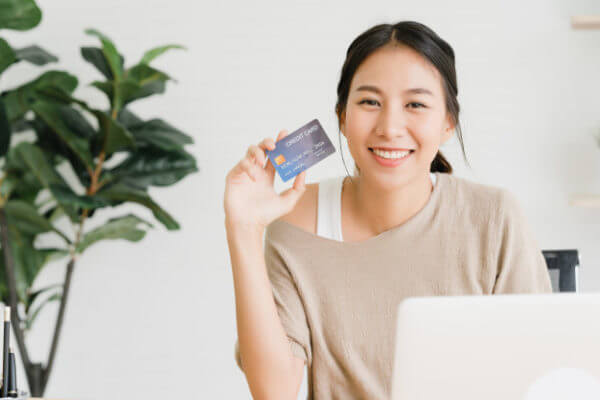 One of the benefits of having a credit card is that it teaches you to be a responsible credit cardholder. Other people's credit card horror stories don't need to be your own, too. At the end of the day, it really just boils down to how responsible you are with your credit card usage.
In short, one should not blame credit card debts on credit cards. After all, cards don't swipe themselves at malls or key in CVVs on their own, right?
If you often max out your card, pay your bills late, or just pay the minimum balance, then your credit card fees will definitely accumulate.
On the other hand, if you use your card responsibly, your monthly credit card payments will be manageable. And if you have no unpaid balance from the previous month, you won't even have to pay finance charges.
What does being a responsible credit cardholder mean?
Charging only the amount you can pay in full when the next credit card bill arrives
Being in control of your credit card spending, like not using it for making impulsive purchases and cash advances, as well as for covering daily living expenses
Keeping your monthly credit card spending below 30% of your credit limit
Paying your credit card bill in full before the due date
2. Credit Cards Help Monitor Your Monthly Spending
One of the perks of having a credit card is the ability to manage your spending. You can easily keep track of your credit card balance and transactions and make sure that you don't reach your credit limit. This way, there will be no bill shock when your credit card bill arrives.
3. You're Protected by Law as a Credit Cardholder
Did you know that the Philippines has a law that protects credit card owners against unfair collection practices? It's called the Philippine Credit Card Industry Regulation Law (Republic Act 10870).[1] That's one of the advantages of a credit card over other payment methods.
In May 2018, the Bangko Sentral ng Pilipinas (BSP) issued new rules[2] that credit card providers in the country must follow:
Full disclosure of finance charge computation and other credit card fees in an easy-to-understand manner
Computing finance charges based on the unpaid balance as of the billing statement cut-off date, excluding current and deferred charges
Notifying clients adequately before implementing any changes in the fees
Posting credit card payments via payment centers on the same day
Automatically moving due dates that fall on holidays and weekends to the next banking day
Observing fair, reasonable, and professional practices when collection agents deal with customers, including those with overdue accounts
4. Credit Cards are Safe for Online Shopping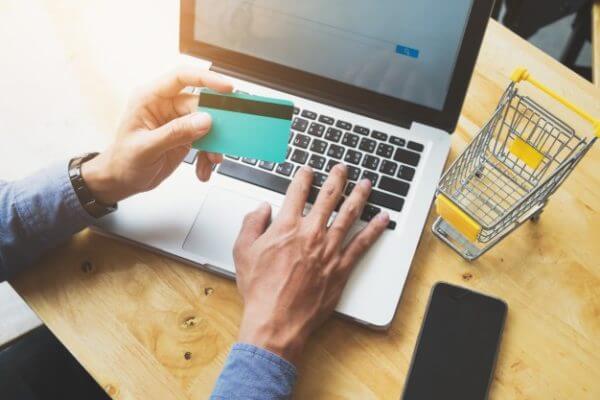 Worried about using a credit card for online transactions? One of the advantages of a credit card is fraud detection for a secure online shopping experience.
For example, if you get approved for a BPI or Metrobank credit card, you can avail of the issuer's virtual card (BPI eCredit or Metrobank ON Internet Mastercard). Using a separate card just for internet shopping protects you from online shopping scams, as it has a different card number from your regular card.
Online shopping is only as safe as the websites you visit and how careful you are against credit card fraud. Make sure to buy only from trusted websites with secure payment systems.
5. Credit Cards are More Secure Than Debit Cards
Debit cards provide the same convenience as credit cards do. You can use your debit card for transactions online and at stores that accept Visa or Mastercard.
But using a debit card has certain risks. Because debit cards are linked directly to the cardholder's savings or checking accounts, you'd be greatly inconvenienced if your card is lost or stolen.
Unauthorized transactions would deduct large sums of money from your account. As a result, you might not have enough cash to cover any automatic bill payments. Additionally, getting your cash back might take several months because the bank has to investigate the incident first.
If a hacker steals your card information, you're more likely to recover your money if it's taken from a credit card than a debit card.
6. It's Rewarding to Own a Credit Card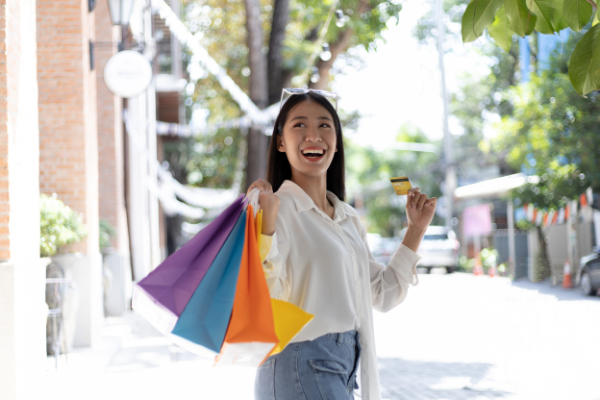 Perhaps among the best advantages of using a credit card are the perks that come with it. These include rewards, air miles, travel benefits (like free airport lounge access and travel insurance), and rebates.
Credit card rewards are something you can't always enjoy when paying with cash or a debit card. More importantly, rewards points generally don't expire, as long as your account is in good credit standing. You can redeem these points for items, annual fee waivers, and more.
Rewards can even be enjoyed as soon as you get approved for a credit card. Some major banks, for example, offer sign-up gifts to their new clients.
---
🎁

Free Welcome Gift:

No Annual Fee for Life Plus Maximum Rewards for U!

Eligible card: UnionBank Rewards Credit Card
Promo period: Until September 30, 2023
Say goodbye to annual fees forever and hello to leveled-up rewards with your new UnionBank Rewards Card! Just apply via Moneymax and get approved within the promo period, and then meet the ₱20,000 spend requirement within 60 days from your card approval date.
This Moneymax UnionBank Rewards Credit Card No Annual Fee Promo runs until September 30, 2023 only. Per DTI Fair Trade Permit No. FTEB-172472 Series of 2023. Click the banner above to apply now!
Note: The promo is exclusive to applicants who do not have an existing principal credit card issued by UnionBank and/or Citi.
---
7. Save Money on Grocery Shopping
Grocery shopping has become a sport in today's new normal. Gone are the days when you can leisurely shop for groceries whenever you want.
You need to schedule it (preferably once a week), prioritize the essentials, and shop faster to avoid the long lines. More importantly, you need to score the most savings if you want to keep up with the price hike on goods.
That's why you need to apply for a credit card now to enjoy rewards or cash back credit cards on groceries. Not only will you save money, but you'll also maximize your spending, courtesy of all the rewards points you can receive in a single grocery run. Buy essentials, save money, and earn rewards—all in one swipe.

Related articles:
8. Save Money on Fuel Purchases
Use a credit card the next time you fuel up. Because if there's a specific expense that could use more discounts and rewards, it's definitely fuel products and other car-related expenses.
Apply for a co-branded credit card that will give you plenty of discounts on gas stations. Aside from fuel discounts, these credit cards also have car-related perks like discounts on repairs and car accessory purchases, among others. If you don't own a car, get a credit card that offers discounts on P2P bus services and ride-hailing services.

9. Credit Cards Help Build Credit History
Another big advantage of credit cards in the Philippines is that they can establish your credit record and build your credit history.
One of the common myths about credit cards is that they can hurt your credit score. Not necessarily, because a credit card can actually boost your score over time. It raises your total available credit and reduces your credit utilization ratio,[3] which are among the factors used to compute a credit score.
Having a credit card for starters is great if you have no credit history yet as it can help you build one in the long term with responsible use. Without it, it will be more challenging to get approved for loans or lower car insurance rates.
10. Getting a Credit Card is Actually Easy
One of the common credit card myths in the Philippines: it's difficult to apply and get approved for one.
But these days, you can quickly and conveniently apply for a credit card online. No need to leave your homes—just file your credit card application online using your mobile device.
If you're anxious about getting declined for a credit card because of your low income, you'll be glad to know that there are credit cards with low minimum income requirements that you can qualify for.
If you're a long-time customer of a bank with a considerable amount in your bank account, you may qualify for a credit card, too. Your bank may contact you to offer a credit card without requiring you to submit income documents.
11. Get Protection for Your Purchases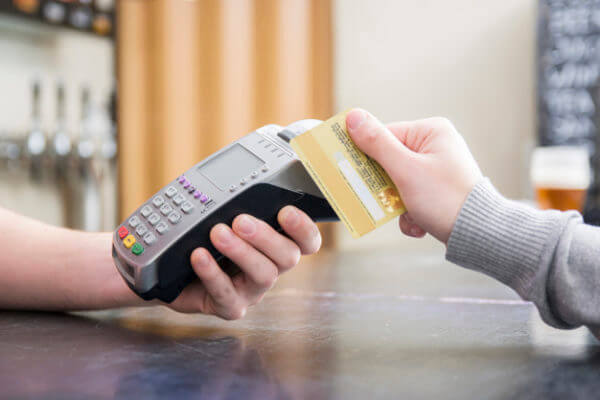 One of the least-known yet important benefits of credit cards to customers is purchase protection insurance. Some credit cards, such as RCBC Bankard Visa Platinum, BPI Platinum Rewards Mastercard, and PNB Classic Visa, offer this feature.
Purchase protection insurance covers lost items due to theft and physical and accidental damage to purchased items for a certain period, like 90 days from the purchase date. If a product charged to your credit card gets lost or damaged, you can reimburse the amount up to the maximum amount. You won't enjoy this protection when you pay with cash or a debit card.
12. You Won't Lose Money When Your Card is Lost
If your credit card gets lost or stolen, you can immediately contact the bank to block the card and prevent unauthorized use. File a dispute for any unauthorized transactions. The bank will then conduct an investigation and give refunds for purchases you did not make.
In contrast, when your cash gets lost or stolen, there's a very slim chance you'll get it back, if at all.
13. Enjoy the Convenience of Contactless Payments
Contactless payment is a good reason to apply for a credit card now. Imagine not carrying that much cash anymore. All you need is your credit card and some spare bills. No need to count change in front of the counter while everyone waits in line at your local coffee shop. Just swipe and done!
It's also good for your health because as it turns out, paper bills and coins can carry and transfer viruses and bacteria to your hands. And it's not like you clean your money, do you?
In a time when cleanliness is a must, minimize the risk by slowly eliminating the use of coins and bills. Practice contactless payment—start with getting a credit card.
What are the Disadvantages of a Credit Card?
Credit cards also have their fair share of drawbacks. If you lack discipline, credit cards will wreak havoc on your life by chaining you to a lifetime of debt.
After knowing the credit card benefits in the Philippines, keep these disadvantages in mind before you decide to get your own credit card.
1. Risk of Overspending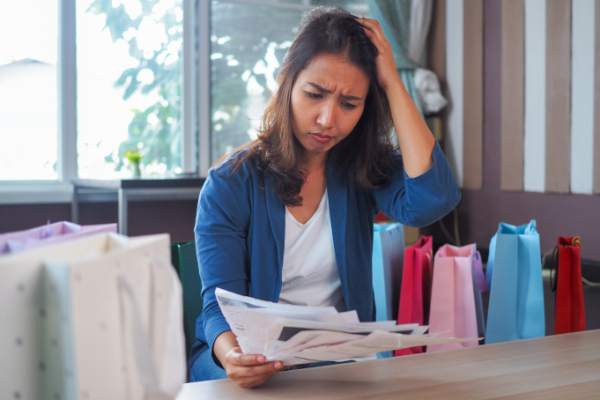 Since you're borrowing money you haven't earned yet, it can be tempting to spend more than you can afford. You might fall into a credit card debt trap if you don't control your spending.
If you can't control your shopping impulses, you'll end up maxing out your credit card limit and paying for the interest on top of your unpaid amounts.
Remember to always live within your means. And having a credit card doesn't mean you get to enjoy free money.
2. Higher Interest Rates Than Bank Loans
Compared to loans, credit cards have higher interest rates. If you miss just one payment or carry over a balance, your monthly payments will increase. Avoid paying interest by consistently paying off your monthly balances in full.
3. Penalty Fees
Late payments and exceeding your credit limit come with penalties. Aside from dealing with the interest, you'll pay more for a bunch of penalty fees. So always make sure to don't miss a payment and avoid maxing out your credit.
4. Risk of Fraud
If you are not careful when using your credit card, hackers might steal your personal information and use your card without you knowing it.
Should I Get a Credit Card in the Philippines?
If you think you're ready for the responsibility of owning one, then go ahead and apply. Aside from the advantages of a credit card to customers listed above, a credit card is good to have if you will finance a major purchase like household appliances, furniture, electronics, and other high-ticket items. Instead of saving up for months, you can already purchase the item on installment at zero interest.
Final Thoughts
Now that you know the many advantages of a credit card and the reasons not to shy away from them, are you ready to apply for one? If you're up for it, explore our platform for credit card comparison in the Philippines!
See also: 22 Best Credit Cards in the Philippines for 2022

Sources: