Credit card use grows exponentially every year as more people choose to go cashless. Bangko Sentral ng Pilipinas (BSP) Deputy Governor Chuchi Fonacier reported that credit card use grew by 41.4% year-on-year in June 2022—a big leap from last year's 29.5%.[1] This goes to show how popular credit cards have become over the years, thanks to their convenience.
If you're still on the fence about the whole cash vs. credit card debate, that's fine. After all, a credit card isn't a magical badge that grants you unlimited access to money—plus, cash isn't completely useless in the digital age. Both payment methods have their pros and cons, so it's best to weigh both options before stashing away your paper bills and switching to credit cards.
What is the Difference Between Cash vs. Credit Card?
There's a fundamental difference between spending cash vs. credit cards. Both are viable payment methods for almost all types of transactions. But apart from their physical difference—one jiggle-jiggles or folds, the other doesn't—there's another key distinction between them, and it all boils down to cash you do or don't have.
When you're using cash or a debit card to pay for your expenses, you're spending money you do have in your pocket or bank account. That means you're not borrowing from anyone. Instead, you're using your own hard-earned liquid asset—i.e., cash—to purchase goods or services. While you avoid incurring debt this way, you also miss out on maximizing your overall wealth.
On the other hand, when you use a credit card for your transactions, you don't use your own funds right away. Instead, you use the funds made available to you through your credit card. The amount is determined by your credit limit. This allows you to purchase goods and services without having to pay for them out of your own pocket.
Cash vs. Credit Cards: Pros and Cons
Now that you know the basic difference between cash and credit cards, it's time to weigh the pros and cons of each payment method. Is cash better than a credit card? Or is it better to go mostly cashless?
Pros and Cons of Using a Credit Card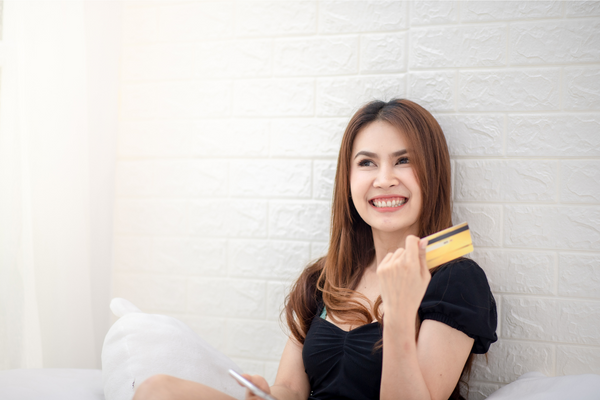 To settle the cash vs. credit card debate, let's first explore what makes using a credit card great, especially for those who spend daily.
👍 Pro: Enjoy Exclusive Perks
The most exciting reason to search for the best credit cards in the Philippines is the number of perks cardholders get with every swipe. You can choose a credit card that offers rewards in the form of air miles, gift certificates, cash credits, and other freebies.
You can also earn cash back if you choose a credit card with a rebate feature. Plus, since every bank in the country offers credit card promos and discounts, using a credit card for online shopping, buying groceries, bills payment, and other recurring expenses is a no-brainer.
Read more: Score Rewards for Flying: How Airline Customer Loyalty Programs Work
---
🎁

Free Welcome Gift:

No Annual Fee for Life Plus Maximum Rewards for U!

Eligible card: UnionBank Rewards Credit Card
Promo period: Until September 30, 2023
Say goodbye to annual fees forever and hello to leveled-up rewards with your new UnionBank Rewards Card! Just apply via Moneymax and get approved within the promo period, and then meet the ₱20,000 spend requirement within 60 days from your card approval date.
This Moneymax UnionBank Rewards Credit Card No Annual Fee Promo runs until September 30, 2023 only. Per DTI Fair Trade Permit No. FTEB-172472 Series of 2023. Click the banner above to apply now!
Note: The promo is exclusive to applicants who do not have an existing principal credit card issued by UnionBank and/or Citi.
---
👍 Pro: Enjoy Your Purchases Now and Pay Later
With a credit card, you also get access to flexible installment plans available only to credit cardholders. Many credit cards allow you to pay for up to 24 months with 0% interest. This is convenient, especially if you'd rather not carry loads of cash every time you make a big-ticket purchase.
If you have a steady source of income, take advantage of this credit card perk. Even if you have the funds to pay for an item, you can maximize your spending by dividing your payments monthly. You'll appreciate this when you're caught up in emergencies and other situations that require unexpected expenses.
👍 Pro: Safer Transactions
If you lose cash, it's gone forever. But a credit card gives you an extra layer of protection. If you lose your credit card, you can call your credit card provider to cancel your card so that no one can use it without your consent.
This also applies to online shopping. If you fall victim to identity theft online, you can dispute any unauthorized purchase and have it removed from your credit card bill. Because you're not directly using your actual money, your transactions are always protected.
👍 Pro: Improve Your Credit Score
Planning to apply for an auto, housing, or personal loan in the future? Getting a credit card is a good way to establish a good credit score. What better way to prove to banks and loan providers that you can pay back your loan other than by owning a credit card and maintaining good credit standing?
Now, this doesn't mean having a credit card is enough to build and improve your credit score. You need to make early or timely payments and avoid maxing your credit limit to fully demonstrate your financial responsibility.
👎 Con: Impulsive Spending
One disadvantage you can add to the cash vs. credit card conversation is the fact that owning a credit card makes it easier for impulsive buyers to cultivate bad spending habits. Stay away from credit cards if you tend to overspend and make unnecessary purchases beyond your means.
👎 Con: Gateway to Debt
If not managed properly, a credit card can be your one-way ticket to Debt Town. It requires a great deal of discipline and responsibility to use a credit card for your expenses, so make sure you're financially and emotionally ready to shoulder any consequences.
👎Con: Hidden Fees and Charges
With the BSP deliberating on whether or not to remove the 2% cap on credit card finance charges,[2] expect to see more hidden fees and charges in the near future. It's best to get credit cards with no annual fees or zero-interest credit cards to save on unnecessary fees.
Pros and Cons of Using Cash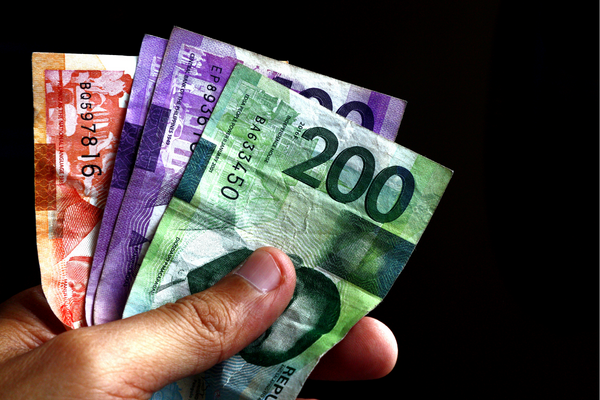 What are the pros and cons of using cash vs. credit card? Is it still practical to keep using cash while everyone moves towards a more digital way of life?
👍 Pro: Pay Anywhere
It's not a good idea to go completely cashless. After all, you can't use your credit card in sari-sari stores, karinderyas, and public markets, among others. It's best to keep some cash with you since cash is still the most widely accepted payment method in the Philippines.
👍 Pro: More Cost-Effective
When you're paying with cash or debit, you're not paying for finance charges, transaction fees, and other credit card-related costs. You're paying for the exact price of the product or service—nothing more, nothing less.
👍 Pro: Free from Debt
If you can help it, why not spend your own money instead of using credit you can't afford? If you don't have the capacity or control to pay your debts right away, then you should stay away from credit cards. Don't let convenience tempt you to borrow and spend money you can't afford to pay back.
👎 Con: Can't Be Recovered
Because cash is tangible, it's harder to recover it once you lose it. Unlike with credit cards, you can't just call your bank and cancel a fraudulent transaction made without your knowledge if your wallet gets stolen or an impulse purchase after you get buyer's remorse.[3]
👎 Con: Target for Theft
Have you ever walked around with huge stacks of cash in your purse? Probably not—because no one in their right mind would dare to flaunt their wealth in public lest they get mugged. If your money gets stolen, expect to never see it again.
👎 Con: Can't Take it Abroad
Needless to say, you can't bring your local currency abroad. You have to look for a money changer before you can shop for anything. If you're planning a trip overseas, it might be best to just get the best travel credit card in the Philippines and save yourself the headache of exchanging currency every now and again.
Cash vs. Credit Card: Which is Better?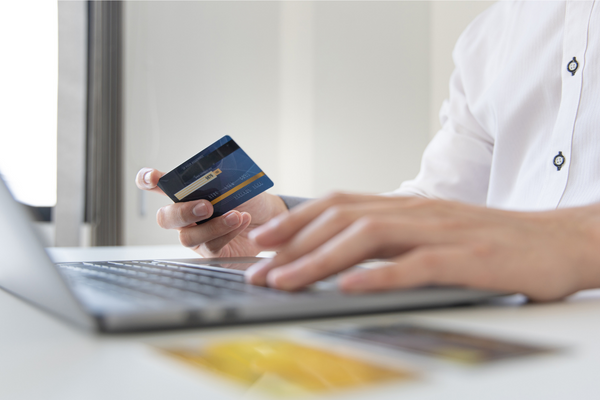 Based on our list of pros and cons, the better option between cash or credit card depends on the situation. Here are some scenarios in which using one is better than the other:
| Scenario | Cash | Credit Card |
| --- | --- | --- |
| Shopping online | | ✓ |
| Paying for online subscriptions | | ✓ |
| Shopping at the supermarket | | ✓ |
| Shopping at the public market | ✓ | |
| Shopping at the mall | ✓ | ✓ |
| Booking flights and hotels online | | ✓ |
| Traveling abroad | | ✓ |
| Building your credit score | | ✓ |
| Paying for a medical emergency | | ✓ |
| Following a strict budget | ✓ | |
| Buying gadgets or appliances | | ✓ |
| Paying bills on time | | ✓ |
| Limiting your spending | ✓ | |
| Earning rewards and cash back | | ✓ |
| Earning air miles and free flights | | ✓ |
| Automatically logging your spending | | ✓ |
Final Thoughts
In the end, there's no universal answer to whether you should use cash vs. credit card. Ultimately, your choice depends on your lifestyle and financial situation.
If you think you'll benefit more from using a credit card, then get one. If you feel safer with cash, that's fine. But if you can effectively use both, only then can you unlock an ideal financial setup that marries the best of both worlds.

Sources: