Planning to become a homeowner anytime soon? With the price index for construction materials hitting an all-time high at 8.3% in May 2022 versus 6.9% just a month prior,[1] you can forget about building your dream home from the ground up.
Alternatively, what you can do is look for properties for sale and just buy a house in the Philippines. The only question is—are you financially ready for this milestone?
Buying any kind of real estate requires a lot of time, effort, research, paperwork, and most importantly, money. Becoming a homeowner is potentially the biggest decision you'll ever make, so you should look at it from all angles.
To help you assess your readiness, we interviewed four young Filipino professionals who successfully bought a home in their twenties:
Roy, who used to work as a plant operator for a petroleum company, bought a property in Batangas. When asked about his motivation, he said he wanted to "provide a good shelter" for his family members, who are no strangers to financial struggles. He said his past experiences drive him "to aim for a better living condition."
Ben, a sales executive in the fast-moving consumer goods (FMCG) industry, bought a house in Pasig City. According to him, buying the property was a way to realize his "mid-term goals of owning a house…that can also be a potential investment."
Cathy, a former overseas Filipino worker (OFW) in the airline industry, bought two properties before turning 30 years old—one in Parañaque City and the other in Laguna. She bought the lot in Parañaque with the intention of building a home for her growing family while the lot in Laguna was meant to be an investment.
Ronald, an engineer for a telecom company, bought his property when he was 28 years old. Just like Roy and Cathy, his intention was simply to provide for his family.
Signs You're Ready to Buy a House in the Philippines
You might think you're all set to own a property, but it never hurts to double-check how ready you are. Here are the signs you can handle the highs and lows of owning a home:
1. You're Pumped Up About Settling Down
Settling down doesn't necessarily mean starting your own family. You can buy a house in the Philippines just for yourself—and that already counts as a step towards settling down. What's important is your attitude about taking on more responsibilities either as a lone homeowner or as the leader of a household.
Becoming a homeowner is a big milestone that entails a lot of preparation, especially if you're planning to buy a house at 30. Being financially prepared is extremely important, but just because you have money to spare doesn't mean you should spend it on things you're not mentally and emotionally ready for.
A house is a big purchase that you'll likely make only once in your life, so it's important to embrace the right mindset. Before you dive in, mentally condition and prepare yourself for any challenges.
2. You Have a Steady Income Stream
Once you're mentally and emotionally ready to settle down, consider if you actually have the money to make the purchase. With a steady income stream from a high-paying job, a booming business venture, or a successful freelance career, you should be able to save enough for a down payment and apply for housing loans in the Philippines.
Roy shared, "I allocated a portion of my salary for all necessary expenses and savings while putting into account that I wanted to meet my goal of buying a house. One thing I did was follow a savings chart I made for the down payment. This was to make sure I can afford to buy a new house with my salary."
Ronald also shared his two cents. He said, "I have a permanent job while I do some consulting and liaison work in my professional field during my rest days. For the original 20% down payment, we made a deal to make it just 10%. The remaining 10% was paid via one-year installment while the house was being constructed. It's a good deal for a tight budget."
3. You Can Afford Down Payment and Closing Costs
Loans like the BPI housing loan or the Pag-IBIG housing loan cover a significant portion of the cost of the house. Still, you need more to cover the down payment, equity, and closing costs when you buy a house in the Philippines.
Cathy attributes the funding of her home to housing loans. "I didn't use my savings and other investments to make a down payment. Instead, I applied for a bank loan and got approved overnight. In Hong Kong, where I used to work, you can get approval after 24 hours. The loans are what I used to make the down payment," she said.
If you're buying a condo unit, prepare at least 5% of the unit's cost as a down payment. For instance, a studio apartment costs around ₱1.5 million, so you must have around ₱75,000 for the down payment, which could be a one-time payment scheme or an installment plan.
On the other hand, homes for sale under Pag-IBIG financing will not require you to pay any down payment. However, there may be some processing fees. Also, take note that some housing units for sale may have been abandoned for a while or have not been fixed or renovated. You might need at least ₱100,000 to make one habitable or ready for occupancy.
4. You Can Set a Budget for Renovations
Your money troubles won't end the moment you get the keys to your dream home. The cost of home ownership will soon creep up on you if you fail to secure enough funds to cover other important expenses. As Cathy admitted in her interview, it's a challenge to keep up with the additional costs of repairing or renovating a home.
She claimed that "replacing broken tiles, re-varnishing wooden floors, changing the blinds, and checking for water leaks and faulty wires all add up to maintenance costs. In addition, homeowners' association fees and water bills can become more expensive due to inflation. To ready myself for these, I always made it a point to set a portion of my salary towards savings."
Before you start a home renovation project, make sure not to fall for the perils of lifestyle creep. In his interview, Roy warned that "most new homeowners are attracted to what they see in other locations such as seeing upscale houses that will make one want to keep up with them." He suggested, "Try to avoid this until such time that you are financially stable for house improvements."
5. You Have a Low Debt-to-Income Ratio
Unless you can pay for it in full, a newly purchased house is still a form of debt however you look at it. Buying a home in the Philippines generally means being tied to a bank or to Pag-IBIG financing. If you're still paying off a huge credit card balance or car loan, you might find it difficult to take on a new financial responsibility. Work on becoming debt-free first before signing up for another liability.
This is where your debt-to-income ratio,[2] or the percentage of your gross monthly income that goes to paying your monthly debt payments, comes in. Ideally, your debt each month should not be more than 40% of your income. So do the math first. If your debt is considerably lower than your monthly income, then you can start looking for a new place to call home.
6. You Have Enough Savings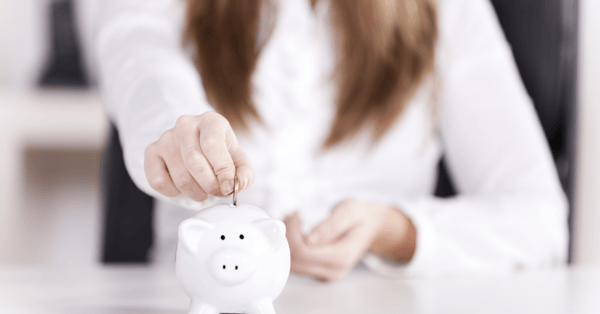 Another financial metric to consider before you buy a house in the Philippines is the amount of money you have in your savings account. After setting aside cash for the down payment and mortgage fees, make sure you still have enough left for emergencies. You should be able to confidently purchase a home without messing up your savings.
If buying a house means becoming flat broke, it's better to put off the purchase. Boost your income first to fully prepare yourself financially.
Take it from Ronald, who understands the importance of saving up. He said, "Losing a permanent job will surely tear you down. It's a good thing I have a secondary job. I would also advise saving the amount total to one year's installment. This can help you survive a job loss crisis when you have loans to pay."
7. You Can Still Live Comfortably Even With a Mortgage
Being financially stable means making sure not to compromise your lifestyle. What's the point of owning a house if it comes at the cost of enjoying a comfortable daily setup?
Committing to monthly payments is a big part of being a responsible homeowner. As Ben shared, "Be consistent with paying your monthly dues. Just miss one monthly payment, and you'll be paying more due to interest. Stick to your monthly payments to avoid extra fees."
Your finances are a huge factor when deciding to buy a house. Be careful not to share the fate of people who become "house poor," a term for when you don't have enough cash for living expenses because a huge chunk of your income goes to homeownership costs. This can happen when you fail to prepare yourself for the realities of owning a home.
When you're house poor, you end up depriving yourself of life's comforts because you have a house to pay for. Again, it's worth doing the math before getting a housing loan. Your mortgage shouldn't force you to compromise your budget for the essentials.
8. Renting Doesn't Work for You Anymore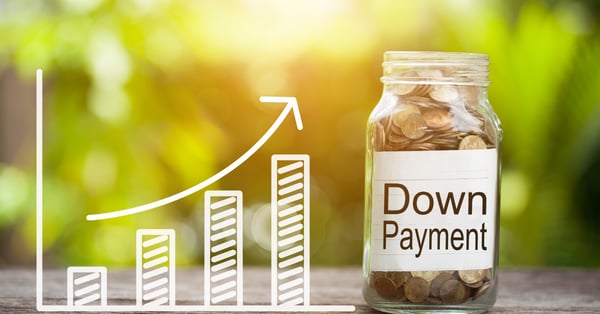 Since you're already looking for a
house for sale in the Philippines
, you've probably already figured out whether you prefer
buying or renting a house
.
Renting isn't for everyone. Many dislike the idea of paying monthly for a house that won't be theirs in the end. Unless it's a rent-to-own property, you should consider buying a house over renting.
Owning a home means having more space for yourself, your immediate family, or your future family, if you're planning to have one. If the downsides of renting are starting to get to you, then get ready to take the next big step: buying your own space and customizing it to your heart's content.
9. You're Well-Informed About Housing Market Trends
You know you're ready to become a homeowner when you've done all the research and familiarized yourself with housing market trends. If you know the answer to the question, "How much is a house in the Philippines?" and can confidently recite house price estimates across different parts of the country, then you're ready to start your homeowner journey.
Cathy knows the value of doing your own research and knowing a good housing deal when you see one. She said, "I believe in the saying that when the opportunity presents itself, you have to take it. The first property was a resale and the conditions made it a good deal or bargain."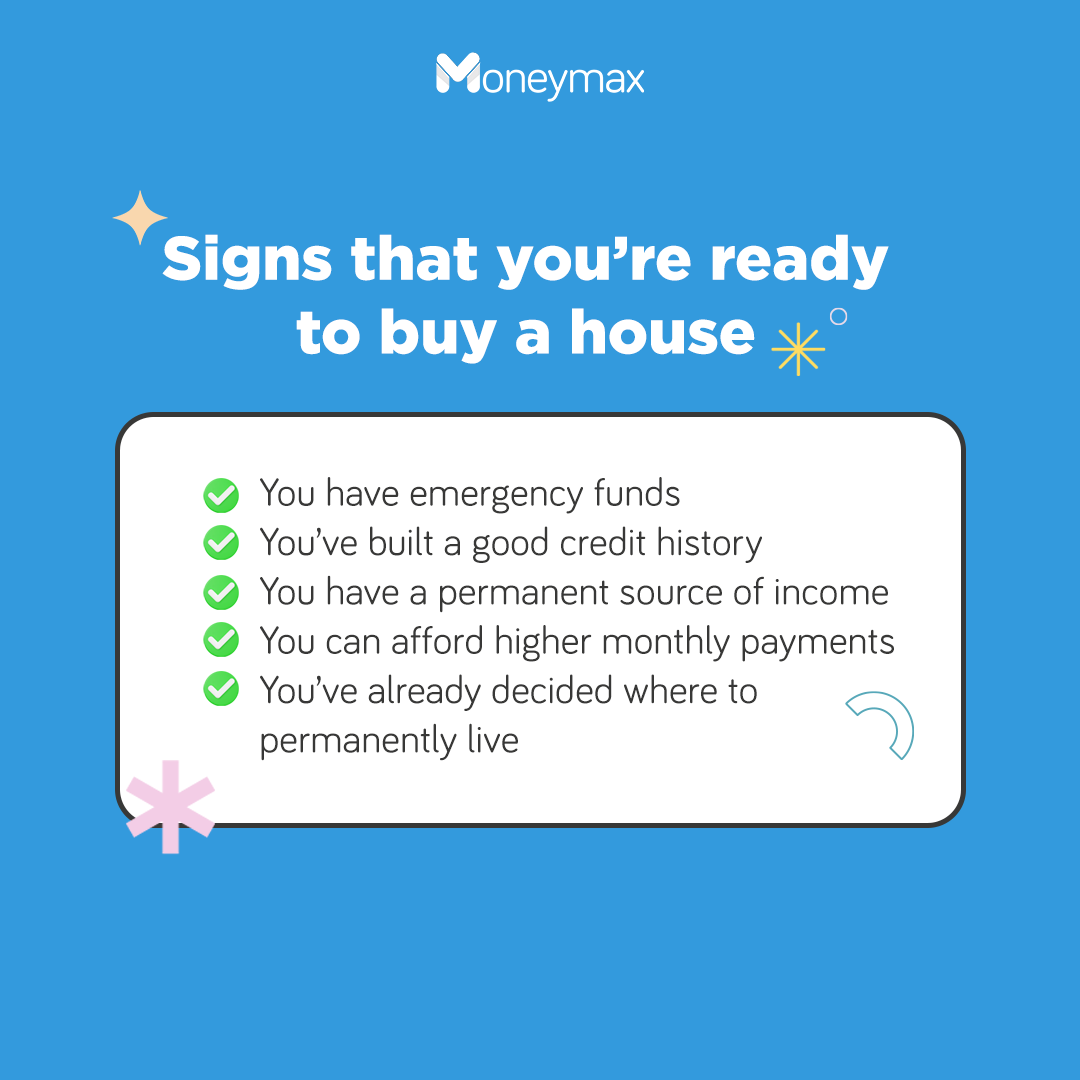 How Much Does a House in the Philippines Cost?
If you're ready to buy your first home, the next thing you should do is decide what type of house you want to buy. Note that the average cost of a house in the Philippines is determined by the following factors:
Location
Location is a big factor that affects housing prices. For instance, if you want to buy a house in Metro Manila while sticking to a strict budget, you should avoid Makati, Quezon City, and Manila, as they are among the top 15 most expensive cities to live in across Southeast Asia.[3]
If you want to buy a house in the Philippines where you can stay for good, check out this table of the top 15 livable cities in the Philippines. We also provided an overview of the cost of living and population size per city.[4]
| City | Livability Score (Out of 100) | Cost of Living (Monthly) | Cost of Living (Family of 4) | Population |
| --- | --- | --- | --- | --- |
| Manila | 65 | ~₱42,900 | ~₱118,500 | 1.85 million |
| Quezon City | 64 | ~₱41,300 | ~₱108,300 | 2.96 million |
| Makati | 63 | ~₱48,800 | ~₱174,300 | 630,000 |
| Davao | 59 | ~₱33,900 | ~₱83,100 | 1.78 million |
| Cebu | 58 | ~₱38,900 | ~₱93,400 | 964,000 |
| Angeles | 55 | ~₱36,100 | ~₱86,500 | 463,000 |
| Baguio | 52 | ~₱30,200 | ~₱77,200 | 366,000 |
| Marikina | 51 | ~₱25,100 | ~₱60,500 | 456,000 |
| Las Piñas | 49 | ~₱31,200 | ~₱84,200 | 606,000 |
| General Trias | 49 | ~₱32,200 | ~₱78,700 | 451,000 |
| Muntinlupa | 49 | ~₱34,200 | ~₱98,100 | 543,000 |
| Santa Rosa | 49 | ~₱42,200 | ~₱86,500 | 415,000 |
| Taguig | 49 | ~₱46,800 | ~₱122,700 | 887,000 |
| Pasig | 49 | ~₱45,900 | ~₱118,000 | 803,000 |
| Biñan | 48 | ~₱28,800 | ~₱76,500 | 407,000 |
Tempted to buy a property in the cities mentioned above? If you have the money, go for it. Living in relatively developed areas has its own perks, including getting better access to schools, employment opportunities, public transportation, and shopping and entertainment destinations.
Buying an apartment in a city like Makati or Taguig can roughly cost an average of ₱234,000 per square meter (sqm),[5] while getting one in areas outside the metro, like Santa Rosa or Calamba in Laguna, costs an average of ₱70,000 per square meter.
Type of House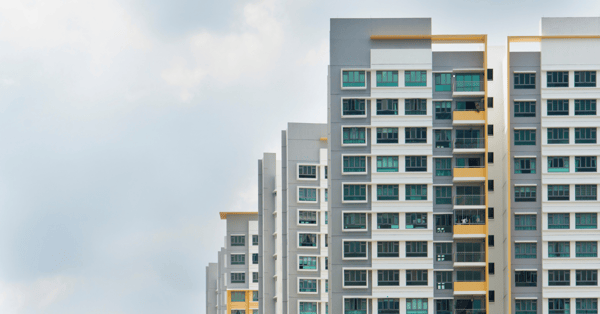 How much are houses in the Philippines? The answer depends on many factors. Whatever you're planning to buy—be it a condo unit, an apartment, a townhouse, or a detached property—consider the number of bedrooms and floors, as well as the overall aesthetic.
Based on the latest data from the Residential Real Estate Price Index,[6] property costs in the fourth quarter of 2021 increased by 5% within Metro Manila and 5.1% in areas outside the National Capital Region (NCR). The average appraised value per sqm of Metro Manila houses was ₱115,235, while for houses outside NCR, it was ₱49,905.
Plan accordingly when choosing a house for sale.
Environment, Community, and Security
Looking up house prices in the Philippines? Locations that offer security, exclusivity, and amenities like pools, basketball courts, parks, and cafes require higher monthly association dues.
Association dues are fees collected from tenants and homeowners to ensure the continuity of operations and provision of amenities within the subdivision, the building where the condo unit is located, or the entire gated village. You can also consider investing in the best home security systems in the Philippines to increase your peace of mind.
What are the Fees Involved When You Buy a House in the Philippines?
Aside from the cost of the unit itself, there are other charges associated with buying a home in the Philippines, which include the following:
Capital Gains Tax
The capital gains tax is a levy on the profit from an investment that's incurred when the investment is sold. Homeownership is a form of investment that entails a 6% capital gains tax on the property's zonal value, fair market value, or selling price. Usually, it's the seller who shoulders this tax. But there are also instances when the buyer pays for it.
Documentary Stamp Tax
The Documentary Stamp Tax (DST) is applied to the Deed of Absolute Sale between the buyer and the seller. It's equivalent to 1.5% of the zonal value, fair market value, or the current market price of the property. Paying the Documentary Stamp Tax is important in documenting an acceptance or sale of a property.
Transfer Tax
The Transfer Tax is charged when the title of the property is transferred from the buyer to the seller and is usually 0.5% to 0.75% of the property's value, depending on the location.
Title Registration Fee
The title registration fee is around 0.25% of the property's selling price and is charged during the final step of the home purchase when the title is under the name of the property's new owner.
Real Property Tax
The Real Property Tax is around 2% of the property's market value if located within Metro Manila, and 1% of the property's value if located outside of Metro Manila.
Can a Foreigner Buy a House in the Philippines?
Foreigners who wish to reside in the country for good can buy a house, but not the land upon which the house stands. Based on Republic Act 4726 or the Condominium Act, foreign nationals can purchase condominium units, but only up to 40% of the total number of units within a property.[7]
As a result, foreign nationals can opt for a long-term lease of property for up to 50 years, renewable for a period that will not exceed 25 years. The Investors' Lease Act[8] also allows foreign nationals to lease out a piece of land for the following purposes only:
Building of industrial estates, factories, and processing plants
Land development for tourism
Agro-industrial enterprises
Final Thoughts
If you're planning to buy a house in the Philippines, keep in mind it's a goal that needs time, research, and financial readiness. With a lot of factors to consider, you may want to solidify your home investment plan first to make sure that it's aligned with your long-term financial goals.
Do your research on homes for sale and shop around for the best home or personal loan options. If you think you're not yet financially ready to own a home, work for it. Invest to grow your money, or find other sources of income to save up for your down payment and renovation.

Sources: