For most Filipinos, buying a home is a milestone. Real estate property is a significant purchase you need to work for. Also, just fulfilling all the requirements and successfully completing the loan process are achievements enough.
Whether it's your first time buying a home or not, choosing a reliable and flexible financing company is a must.
The Bank of the Philippine Islands (BPI) fits the bill in this regard, as it offers one of the most competitive loans in the market through its BPI Housing Loan. Learn all you need to know about the BPI home loan in this guide.
What is the

BPI Housing Loan

?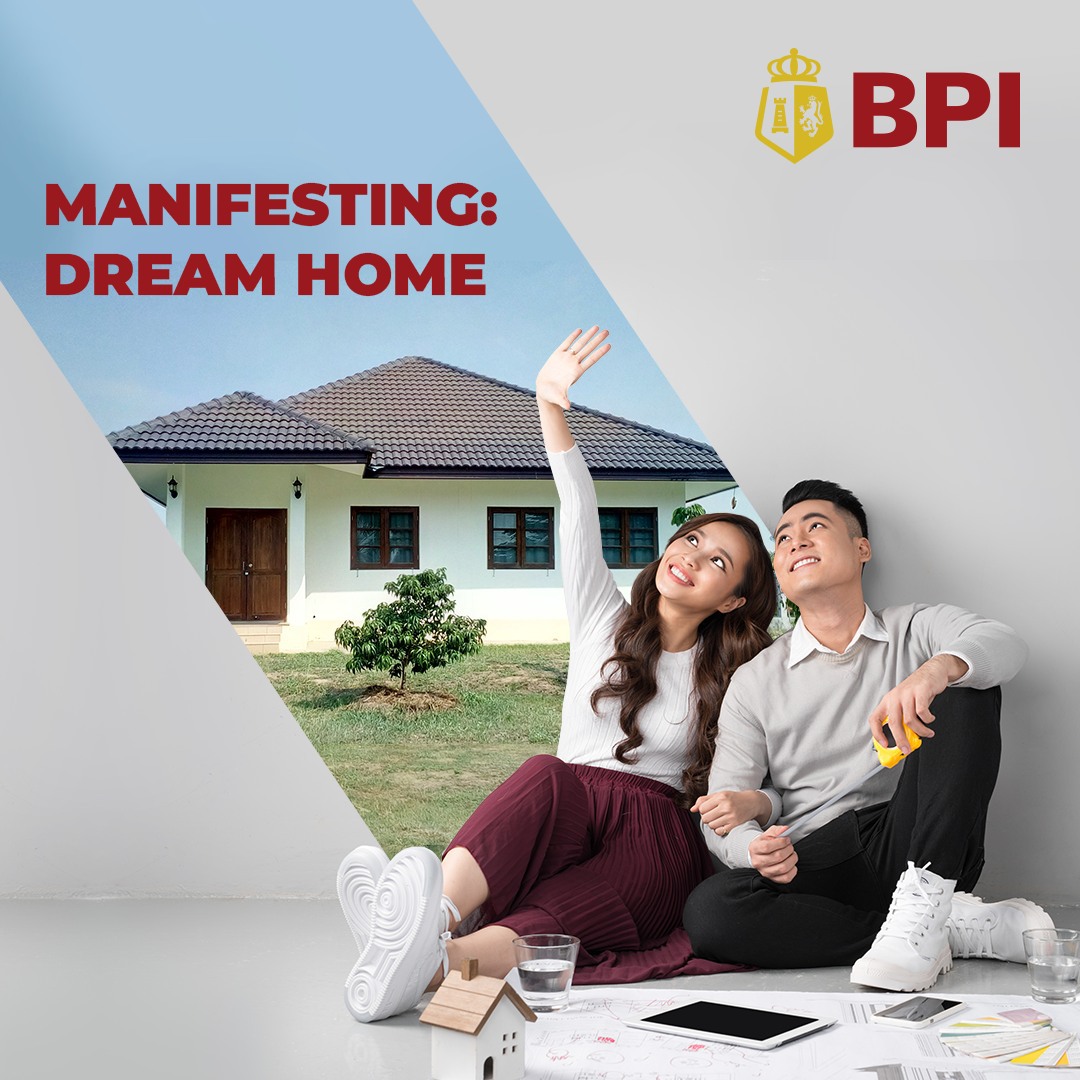 The BPI Housing Loan[1] can be used to buy a house and lot, a vacant lot, a townhouse, or a residential condominium. You can also use it to fund the construction or renovation of your home.
Moreover, you can use it as a Property Equity Loan[2] if you want to obtain additional funds using your existing real estate property as collateral.
It's an ideal loan option for Filipinos with conservative buying patterns. You can customize it based on your needs and financial capacity.
Related reading: Home Equity Loan: What to Use It For and How to Choose One
Why Should I Apply for a BPI Housing Loan?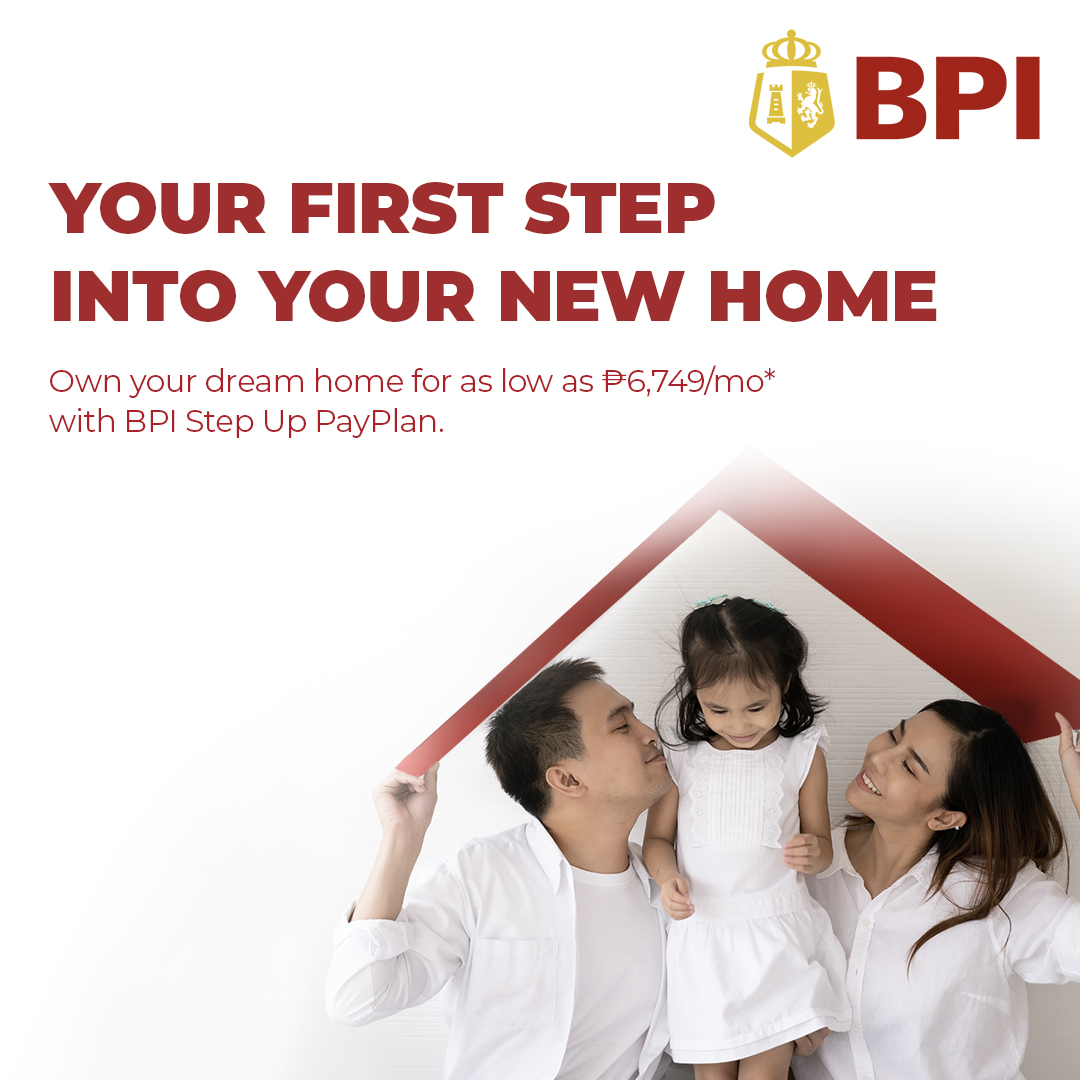 Affordable payments - Purchase your dream home with BPI Housing Loan's low rates and down payment options (as low as 10%).
Flexible payment terms - Pay off your BPI Housing Loan for up to 20 years. With its All-In Financing,[3] you can enjoy zero upfront fees. Meanwhile, use the Step Up PayPlan to control your loan payments every year, starting with the lowest value in your first year and increasing slowly in the succeeding years.
Easy application process - Apply at any BPI branch in the Philippines or through any BPI-accredited brokers and developers. If you don't have the time to go out, you can fill out the BPI Housing Loan Application Form online.
Reliable and trusted name - Since it's backed by one of the oldest and most prominent banks in the Philippines, you're guaranteed that your real estate investment is in excellent and capable hands.
Read more: No Upfront Fees, No Worries: Security Bank Home Loan All-In Financing
BPI Housing Loan Requirements
To become eligible for a BPI Housing Loan, you must be at least 21 years old but not older than 65 upon loan maturity. You should also have a minimum household income of ₱40,000.
Here's a list of BPI home loan requirements[4] you need to submit:
If locally employed:
Authorization letter to verify employment
Latest Certificate of Employment (Must state commissions received in the prior year and commissions receivable for commission-based housing loan applicants)
Latest Income Tax Return
Pay slips (latest three months)
Bank statements of payroll account or where commissions are credited (with an authorization letter to verify)
If self-employed:
Latest Income Tax Return with Audited Financial Statements
Valid Mayor's Permit or DTI Registration
Working account with an authorization letter to verify
Trade references (with complete contact information)
Trade verification authorization letter
If an OFW:
Latest contract (with an authorization letter to verify)
Proof of bank remittance (with an authorization letter to verify)
For seafarers: Details of the crewing manager
Complete contact information of loan administrator/Attorney-in-Fact
If applying for the Property Equity Loan:
A copy of your duplicate copy of TCT or CCT
A photocopy of updated tax declaration /tax receipts/tax clearance
Signed authorization letter for Tax Mapping/Inspection of Property
Photocopy of notarized Contract to Sell/Offer to Sell
Photocopy of an endorsement letter/official computation sheet/Contract to Sell from developers (for accredited developers or projects)
Appraisal fee
For refinancing: Photocopy of the latest Statement of Account with the mortgagor
For construction loan: Bill of Materials, Building Plan, Scope of Work/Cost Estimates
BPI Housing Loan Amount and Terms
Loan amounts start at ₱400,000. You can borrow up to 90% of the property value. Loan terms range from one to 20 years.
Meanwhile, with the Property Equity Loan, you can borrow up to 80% of the property value and pay in one to five years.
BPI Housing Loan Rates
Check out the BPI loan interest rates for home acquisition below:
| Fixing Period (Years) | Interest Rate |
| --- | --- |
| 1 | 7.00% |
| 2 | 7.25% |
| 3 | 7.75% |
| 4 | 8.00% |
| 5 | 8.25% |
| 10 | 10.25% |
| 15 | 10.50% |
| 20 | 12.00% |
Note: Rates are as of November 10, 2022. According to the bank, the rates above are for new BPI Housing Loan applications. However, repriced interest rates will apply to existing borrowers.
Here are the BPI Housing Loan interest rates for the Property Equity Loan:
| | |
| --- | --- |
| 1 | 8.00% |
| 2 | 8.25% |
| 3 | 8.75 |
| 4 | 9.00% |
| 5 | 9.25% |
Note: Rates are as of November 10, 2022.
Read more: Easy Steps for an Online Security Bank Home Loan Application
BPI Housing Loan Fees and Other Charges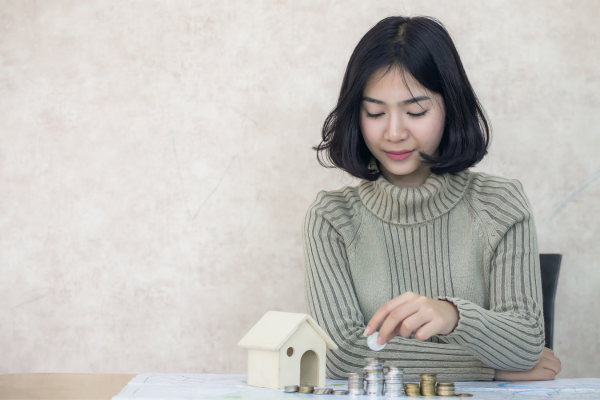 Here are other charges you need to note when taking out a housing loan from BPI:
💸 Mortgage Redemption Insurance (MRI)
Mortgage Redemption Insurance, which BPI also refers to as Group Financial Security Plan (GFSP), is a form of life insurance that will cover a part or the entirety of the mortgage balance in case the borrower passes away or becomes disabled. It's standard among banks offering housing loans.
The coverage of your MRI must be equal to the value of your loan. Conversely, the fee will largely depend on your loan amount, age, term, and other factors. A BPI account officer will discuss this with you when you apply for a home loan.
💸 Appraisal Fee
If you're getting a secured loan, professionals must appraise the property you'll use as collateral. For this service, BPI charges an appraisal fee.
You should also consider other miscellaneous fees, such as documentary fees and penalties. For the latter, it may cost 3% of the monthly amortization or short payment, whichever is applicable.
You can always ask the BPI loan officer in charge of your application about the other expenses you must cover.
BPI Housing Loan Calculator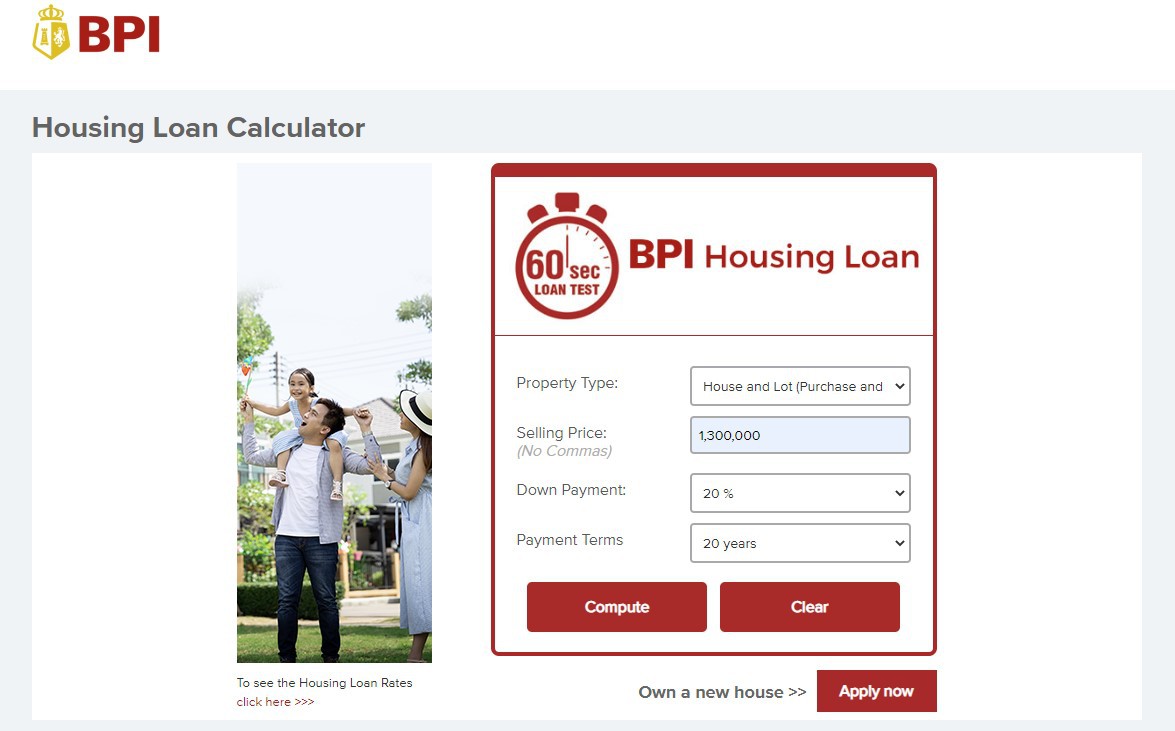 To help you gauge your capacity for this loan, we recommend using the BPI home loan calculator.[5] But note that the amount you'll get is just an estimate, as you need to factor in other expenses, such as miscellaneous fees and insurance contributions.
For example, if you plan to buy a house and lot worth ₱1.3 million, with a down payment of 20% and a payment term of 20 years, your monthly amortization will be ₱7,907.79 (based on a one-year fixed rate). The amount financed will be ₱1,040,000.
How to Apply for a BPI Home Loan
If you want to apply at a BPI branch, follow the steps below:
Proceed to your preferred BPI branch and accomplish the housing loan application form.
Submit the complete loan requirements, after which your application will be processed.
If approved, you'll be notified via SMS. Visit the branch or a Loans Business Center to sign documents.
For online housing loan applications, follow these steps:
Fill out the BPI Housing Loan Application Form.[6]
Submit your loan requirements for review and processing.
If your housing loan application is approved, you'll receive an SMS. Go to the branch or a Loans Business Center to sign the loan documents.
Make sure to submit complete requirements for faster approval. The processing for a BPI Housing loan usually takes around five working days.
How to Get Your BPI Housing Loan Approved
To get your application approved, learn what the loan officers are looking for:
A steady and stable source of income - Banks and lending institutions consider applicants with no regular jobs as red flags. A few years' employment at a company should help you improve your chances. But remember that some banks may require a specific minimum amount of income.
A bigger down payment - The goal is to lower the amount you'll need to borrow. The lower the amount, the higher the chances your application will be approved. Furthermore, a larger down payment may reflect your good financial management skills and help you gain the lender's trust.
Proof that you're trustworthy and financially responsible - Improve your credit history, which details how you deal with your debts and bills. You can do so by never missing a due date!
Read more:
Final Thoughts
Buying a home is a big step. Thankfully, there are financial institutions such as BPI to help in your home ownership journey.
Explore the BPI Housing Loan today and see if it's the right home loan for you. Weigh its pros and cons and speak with a BPI representative to learn about ongoing BPI Housing Loan promos. Always make an informed decision so there won't be any unpleasant or costly surprises down the road.
Compare Loans for Free at Moneymax!
Looking for other loan options for buying or renovating your dream home? Compare personal loans and apply easily via Moneymax:
Personal Loan Provider

Minimum Loan Amount

Maximum Loan Amount

Minimum Annual Income

Approval Time

Metrobank

₱20,000

₱1 million

₱350,000

7 days

BPI



₱

20,000

₱2 million

₱

300,000

5 to 7 banking days

EasyRFC

₱

10,000

₱150,000

₱

120,000

As fast as 24 hours

Maybank



₱

50,000

₱1 million

₱

300,000

Apply online in just a few clicks

RCBC



₱

50,000

₱1 million

₱

360,000

5 to 7 banking days

SB Finance




₱30,000

₱2 million

₱180,000

5 banking days

CIMB



₱

30,000

₱1 million

₱

180,000

24 hours

HSBC



₱

30,000

₱500,000 or 3x gross monthly salary, whichever is lower

₱

168,000

5 to 7 banking days

CTBC



₱2

0,000

₱1 million

₱

180,000

3 to 5 banking days
Sources: