Owning a home is a milestone that anyone will be proud of. For some, it's a sign of financial independence. For others, it's a status symbol. Despite the financial challenges due to the pandemic in the past few years, more Filipinos sought opportunities to own a house last year, which resulted in the Pag-IBIG Fund releasing a record-high ₱117.85 billion worth of home loans in 2022.[1]
Real estate is a significant investment that costs a lot of money. Also, the acquisition process can be complicated. But did you know that owning a home can be easier through a Pag-IBIG housing loan?
With interest rates that go as low as 3% and repayment terms of up to 30 years, this housing loan is one of the more affordable and flexible home financing schemes in the Philippines.
If you're planning to apply for this home loan, we've come up with a simple primer that covers the program's basics, plus tips to increase your chances of getting approved.
How Pag-IBIG Housing Loan Works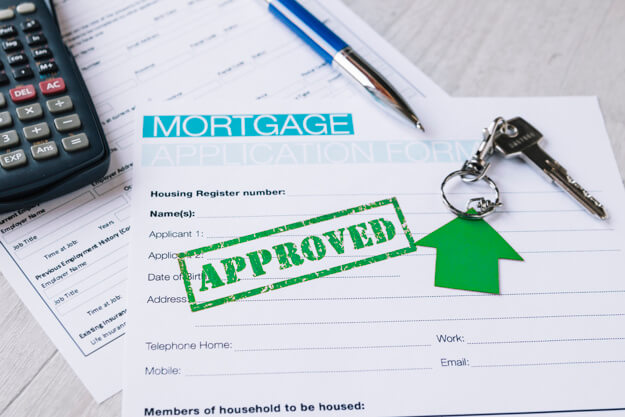 According to the Pag-IBIG Fund, the housing loan allows you to borrow up to PHP 6 million for any of the following purposes:[2]
Residential lot purchase
House and lot purchase
Condominium unit purchase
Residential lot or unit purchase (including the cost of transfer of title)
Home construction or improvement
Home loan refinancing
Combined loan purposes
A Pag-IBIG housing loan application isn't as easy as it sounds, though. Neither is getting approval for the loan. It will take so much of your time, energy, and even money, to comply with all the eligibility and documentary requirements.
If you plan to finance your new home through Pag-IBIG, you have to understand its basis for making its lending decisions. An approval, as well as the amount to be loaned, will depend on a borrower's capacity to pay, the requested loan amount, actual need, and the loan-to-value ratio.[3] To evaluate them, Pag-IBIG conducts background, employment, and credit investigation.
How Long Does the Housing Loan Processing Take?
According to Pag-IBIG Citizens Charter 2022,[4] the processing of a housing loan application takes around 20 working days.
When you submit your complete housing loan documents, your loan will be processed within 17 days. If Pag-IBIG approves your housing loan, it will release the loan proceeds three days after you submit the required post-approval documents.
12 Pag-IBIG Housing Loan Tips: How to Raise Your Chance of Approval
Here are the other important things to do to increase your chance of getting approved for a Pag-IBIG housing loan.
1. Settle Any Overdue Pag-IBIG Loan Payment
Do you have an outstanding loan with Pag-IBIG? Any missed payment can ruin your chance of getting approved for a new loan. Specifically, Pag-IBIG declines housing loan applications from borrowers with unpaid multi-purpose loans or foreclosed/canceled housing loan accounts with the agency.
So check your existing Pag-IBIG loan accounts, if any, to know if you've missed a payment. Make sure to pay off any outstanding loan before you apply for a new housing loan with Pag-IBIG.
2. Keep a Stable Source of Income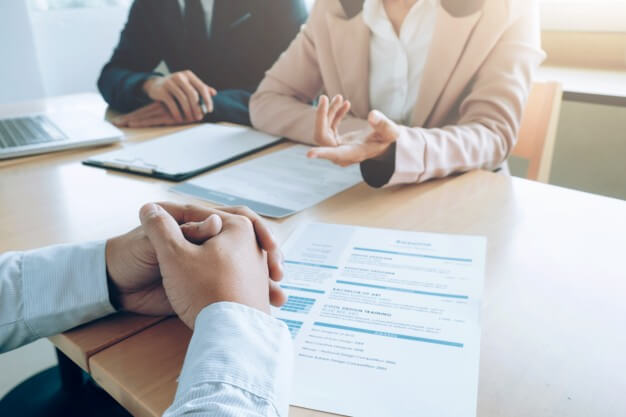 Thinking of quitting your job? Consider the impact of resignation on your housing loan application. Job hopping will only hurt your chance of getting approved for a housing loan—more so if you switch to a lower-paying job or a career with irregular income.
Pag-IBIG will check your employment history to assess if you're financially stable enough to handle all your monthly mortgages. Your employment tenure proves your income stability.
Ideally, you have a steady income source for at least two years. The longer you stay with your employer, the better. So you're better off sticking with your current job if you'll apply for a loan with Pag-IBIG soon.
3. Check Your Credit Report and Improve Your Credit Score
Not everyone is aware of the importance of their credit score until they actually need it. If this is a new concept to you, think of the credit score as a representation of your trustworthiness and responsibility when handling loans and other financial obligations.
Any delinquency in your credit card and loan payments, as reflected on your credit report, is a red flag to lenders. If you have a bad track record of repayments and a low credit score, you're less likely to get approved for any loan.
Review your credit report at least a year before applying for a housing loan with the Pag-IBIG Fund. This will give you enough time to correct any errors and improve your credit score. You can access your credit report through the Credit Information Corporation[4] or one of its accredited credit bureaus.
4. Apply for an Amount You Can Actually Pay Back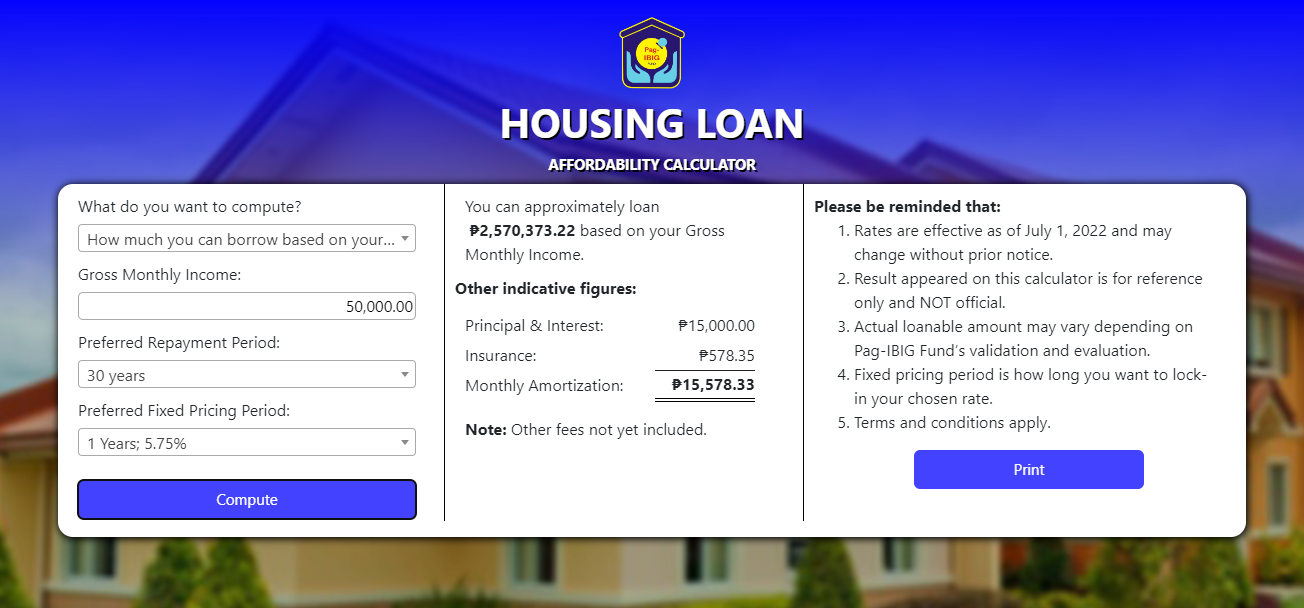 Qualified Pag-IBIG members can borrow up to ₱6 million for financing a home. But that doesn't mean you should go for the maximum loan amount. After all, the agency will still evaluate if you're actually qualified for it. The same level of verification and evaluation will also apply even if you're borrowing money that's less than ₱6 million.
Carefully plan the amount you're going to borrow. Be realistic. Consider your financial situation and capacity to repay a loan. Can you pay the principal and interest with your monthly income?
Pag-IBIG has a housing loan affordability calculator[5] that quickly computes how much you can borrow and pay in monthly amortization. The calculation is based on your income, your chosen loan term and fixed pricing period, and the estimated value of the property you want to buy.
The Pag-IBIG housing loan calculator is also useful if you want to know the required gross monthly income for the amount you want to borrow.
5. Make a Higher Down Payment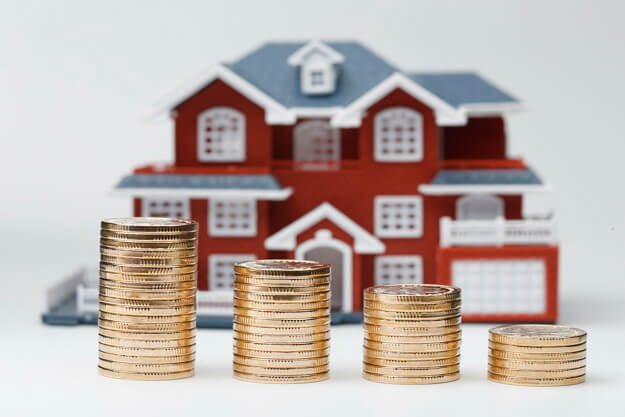 If you can afford it, pay a higher down payment. Why? Other than a stable income, making a huge down payment proves your financial stability. It's also a win for you since you'll be borrowing a lower amount from the Pag-IBIG Fund, which in turn may mean lower monthly amortizations.
Ideally, pay at least 20% of the property's value. If you can pay more, much better. Now, if you're determined to raise a higher down payment and are willing to delay your purchase, consider creating another stream of income, such as side gigs or a small business. If you have a windfall, such as an unexpected inheritance, commission, or bonus, use it to fund your down payment.

6. Ensure Your Income Document Reflects All Your Earnings
Your Certificate of Employment and Compensation (CEC) can make or break your housing loan application. This income document, which shows your gross monthly income and other monetary benefits, proves your capacity to repay your loan.
Your CEC must contain accurate and updated information. For instance, if you've recently got a raise, it should indicate your latest monthly salary. If you're receiving de minimis benefits[6] or non-taxable allowances, request your HR manager to include such details as well.
7. Consider Applying for Affordable Housing Loan Program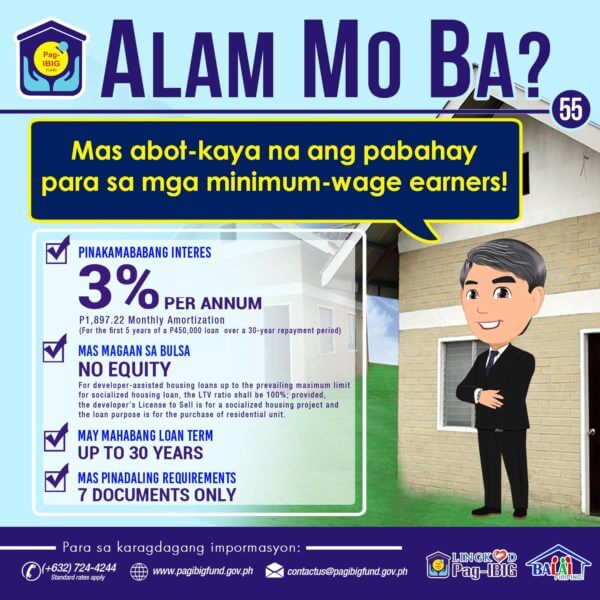 If your income is low, it's hard to qualify for most home loans in the Philippines, even the regular housing loan from the Pag-IBIG Fund.
But fortunately, you may qualify for Pag-IBIG's Affordable Housing Loan Program (AHP),[7] which caters to low-income and minimum-wage earners.
For those earning ₱15,000 monthly in Metro Manila and ₱12,000 monthly in the provinces, the maximum loanable amount is ₱750,000. The interest rates for this housing loan are 3% and 6.5%, depending on the borrower's gross monthly income. Monthly repayments are easy on the budget, as they can go for as low as ₱2,445.30.
8. Make a Checklist of the Requirements to Submit
Ready to apply for a loan? You'll need to prepare numerous documents for your application. So you won't lose track of which documents you've already secured and those you still need to work on, create a checklist of all housing loan requirements and their corresponding status on a spreadsheet.
Also, compile your documents in one folder or envelope to ensure everything's in place when you submit the housing loan requirements to Pag-IBIG.
Pag-IBIG Housing Loan Requirements
Housing Loan Application Form
Vicinity map of the property
Additional requirement by loan purpose. For example, if you're applying for a home renovation or house construction loan, you need to submit the Bill of Materials or Construction Cost duly signed by a registered engineer or architect.
Proof of income
Updated Tax Declaration or Tax Receipt
Valid IDs
Updated land title
9. Bid Wisely on Properties Under Negotiated Sale
Borrowers who want to purchase properties under negotiated sale[8] are required to make a bid by submitting an Offer to Purchase in a sealed envelope. The borrower with the highest bid gets the chance to purchase the property. Pag-IBIG provides a list of homes under this category with a specified bidding period you need to comply with.
Making a bid can be very exciting, but this should be done with much thought. It's recommended that you visit the showcased property first because most of the houses under negotiated sale are fully constructed but are either abandoned or may need renovation before you can actually move in.
Here are a few things to remember before making the offer:
Properties are sold on an "as is, where is" basis, which means you accept the current physical condition of the property.
Offers should not fall below the property market value set by Pag-IBIG.
Homes under negotiated sale can also be purchased with a discount depending on your chosen mode of payment which you'll also indicate when bidding.
30% discount for cash purchases payable within 30 days
20% discount for short-term availment payable in equal monthly installments for 12 months
10% discount for long-term availment
Read more: Pag-IBIG Acquired Assets: Homebuyer's Guide to Availing Foreclosed Properties
Disapproved Pag-IBIG Housing Loan? Here's What You Can Do Next
Got your housing loan application rejected? It can be stressful, not to mention painful, but that doesn't mean your dream of owning a home is entirely shattered.
It's okay to feel sad for a while, but you'll need to get back on track. Here's another set of tips for dealing with a denied application.
1. Get a Co-Borrower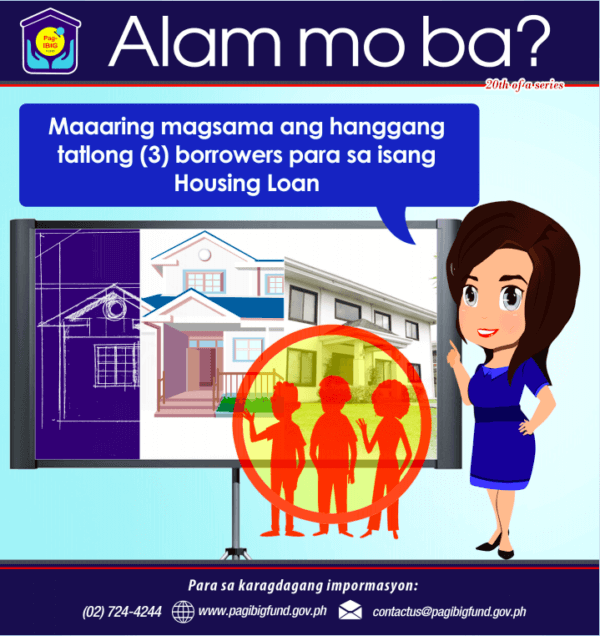 If you're not earning enough money, Pag-IBIG won't approve you for a housing loan. Don't fret, as the agency allows you to apply with a co-maker or co-borrower with a good credit history and a stable source of income.
Pag-IBIG allows you to apply with a family member or two for a single home loan. However, only relatives up to the second degree will be accepted. This means you can apply with your spouse, parent, sibling, in-law, and even your cousin. Their income will be added to yours, so the application has a better chance of getting approved.
However, be careful when asking someone to co-sign a loan with you. Not everyone in the family will agree to be responsible for any unpaid debts you make. It's best to get a co-borrower with whom you'll share the new home and who's genuinely willing to help you out. Also, get one who can fulfill all the co-borrower requirements.
2. Buy a Lower-Priced Home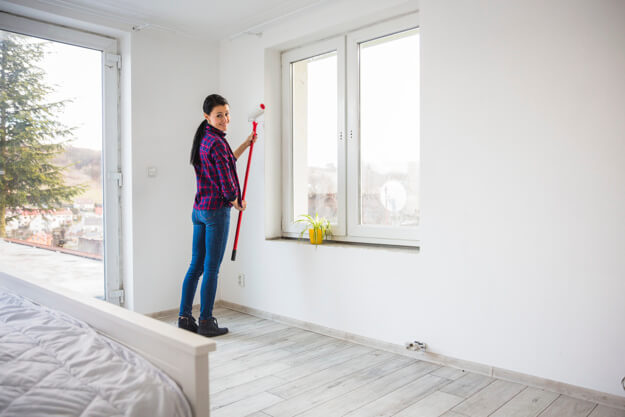 While you're scouting for a new home, you might have stumbled upon a house that's not only beautiful but also convenient location-wise. Can you actually pay the monthly amortization without any struggle?
Be practical. If you want your application to be approved without any problem, buy a home that you can afford. Even if you purchase a property that doesn't fit your idea of a dream home, you'll sleep better at night knowing that you have a roof over your head and still can afford to pay your monthly amortizations.
Keep on exploring, and you'll find thriving locations and communities with cheaper properties. If you're not in a rush to move into a new home, consider buying a pre-selling property.
3. Consider Alternative Housing Loans
While the housing loan from Pag-IBIG is the top-of-mind choice of Filipino homebuyers, it's not the only option. There are other ways to finance your dream home.
Bank financing is another viable way to borrow money for a home purchase. Home loans from banks offer competitive rates (mostly 5% to 6%). But like the Pag-IBIG Fund, banks have strict requirements and credit evaluations for borrowers.
The easiest way to finance a home is through in-house financing. Instead of going through a third-party lender, a homebuyer directly deals with the seller or property developer to avail of a home loan.
The requirements are minimal, and the process is simple and straightforward. However, in-house financing has higher interest rates and shorter payment terms than other housing loan providers.
Pag-IBIG Housing Loan Application FAQs
1. How much monthly income do I need to be approved?
Pag-IBIG sees to it that your monthly repayment will not exceed 35% of your monthly income. If your monthly installment for the housing loan is ₱7,000, then your salary should be higher than ₱20,000.
Find out how much you can afford for the monthly amortizations. This way, your budget will not be significantly affected.
2. What can I do if my salary isn't enough?
Try having other sources of income. Pag-IBIG considers all other types of income sources including freelance gigs. Just submit all proofs of regular remittances from your freelance employers for the last 12 months.
Below are the documents you can submit if you don't have a Certificate of Employment, or if you have a low income:
Commission vouchers with the issuer's names
Certified True Copy of Transport Franchise from LGU for tricycle drivers and LTFRB for drivers of other public utility vehicles
Copy of contract of lease and tax declaration for those who own a rental property
Barangay certificate and notarized Certificate of Engagement for owners of sari-sari stores, on-call maintenance personnel, technicians, and owners of mini groceries
3. I have other loans from banks. Will this affect my Pag-IBIG home loan application?
Pag-IBIG conducts a credit investigation to see if you have loan delinquencies. Having outstanding debts from banks or other lenders will not affect your loan application, as long as all your total loan repayments can still be covered by your regular income and you've paid your dues on time.
4. I don't have a total of 24 months' savings or contributions. What can I do to qualify for a housing loan?
Pag-IBIG allows a lump sum payment of contributions and savings. So, if you have enough cash on hand, then you can make a one-time payment to comply with this requirement.
Related articles:
Final Thoughts
Owning a real estate property seems elusive—but not anymore, especially because you have the Pag-IBIG Fund to back you up financially. The application process can be complicated and demanding, but remember the benefits that you'll reap in the end: a lower interest rate and a convenient payment term.
If you want to fast-track your application process and get it approved easily, keep the above-mentioned Pag-IBIG housing loan tips in mind. You may also get in touch with Pag-IBIG personnel for other details, such as additional documentary requirements.
If you got rejected, don't lose hope. There are other home financing options in the Philippines, such as housing loans from banks, that you can avail of at competitive rates.
Personal Loan Providers
Minimum Loan Amount
Minimum Annual Income
Approval Time

Citibank Personal Loan
(This product is sold by Union Bank of the Philippines, using certain trademarks temporarily under license from Citigroup Inc. and related group entities.)

₱

100,000

₱

250,000

Fast approval time in as fast as 24 hours

Maybank Personal Loan



₱

50,000

₱

300,000

Apply for a loan online in just a few clicks

RCBC Bank Personal Loan



₱

50,000

₱

360,000

Get approved within 5 to 7 banking days

PBCOM Personal Loan



₱10,000

N/A

Get approved within 1 to 2 days
SB Finance Personal Loan




₱30,000

₱180,000

Get approved within 5 banking days

CIMB Bank Personal Loan



₱

30,000

₱

180,000

Apply within 10 minutes and get approved in 24 hours

HSBC Personal Loan



₱

30,000

₱

168,000

Get approved within 5 to 7 banking days

EastWest Bank Personal Loan



₱25,000

₱180,000

Get approved within five to seven banking days

BPI Personal Loan



₱

20,000

₱

300,000

Get approved within 5-7 banking days

CTBC Bank Personal Loan



₱2

0,000

₱

180,000

Get approved within 3 to 5 banking days

EasyRFC Multi-Purpose Loan




₱

10,000

₱

120,000

Fast approval time in as fast as 24 hours
Sources: