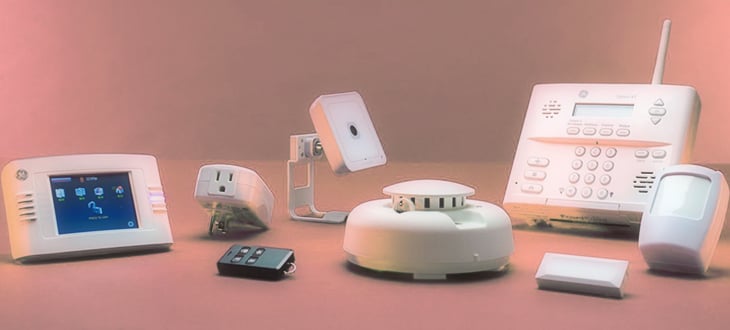 In the first five months of 2014, more than 5,000 cases of robbery and more than 9 thousand cases of theft were recorded all around the Philippines. Unexpected occurrences like these can take our belongings in an instant, and can be especially devastating if we are caught unprepared.
The good news is that these can be prevented. If you live in a neighborhood with a reputation for crime, investing in security equipment can save you money that would have been spent buying a replacement for stolen property.
Security Products
CCTV
Closed-circuit TVs (CCTVs) or security cameras are now available for Filipino homes. Having one or two guarding your house is one of the cheapest investments you can make to reinforce security.
CCTV footage has been used by police all over the world to solve crimes that would have been harder in the past due to a lack of witnesses. Having extra eyes watching over you will definitely make you sleep better at night.
Cost:
P6,000.00 – P 80,000.00
Value for Money:
Saves you time and money you would've spent looking for the culprits
Burglar Alarm System
We are so used to just seeing motion detectors on espionage films. Today, they are widely available in real life. House or office intrusions may be deterred once the alarms go off from this item set. Some of these devices even combine features of fire detectors, keeping you safe in case a fire breaks out.
Cost:
P1,000.00 – P10,000.00
Value for Money:
Deters robbers and prevents you from losing your valuables
Smoke Detectors, Sprinklers and Fire Extinguishers
Safety of life and health is number one priority in fire prevention. But of course, not losing your assets to fire is also important. Installing automatic sprinkler system is one way to protect your home or business against fire. It is on the pricey side though. But considering how much more you'll be saving by not having your stuff turned to ashes, sprinklers could actually be a bargain. If you're really on abudget, fire extinguishers paired with smoke detectors or alarms are sufficient.
Of course, this set is made to avert growth of fire that has already started. It is better to prevent fires from ever starting. Have your electrical wirings regularly checked by a certified electrician. Keep combustible materials away from fire sources. And always keep batteries, LPG tanks and other possible fire starters in check.
Cost:
(Fire Extinguisher) P1,500.00 to P3,000.00
(Smoke Detectors) P600.00 – P5,000.00
(Sprinkler system) P20,000.00 – depends on area size
(Water Damage) – Depends the things that wouldn't didn't burn but inadvertently got wet
Key Benefit:
You won't have to buy a new home or spend a fortune in rebuilding one that burned down.
Defensive Gadgets
Retractable batons, portable tasers and pepper sprays are common defensive tools we can use to gain leverage against attackers, robbers or hold uppers. These things may seem to be easy to use, but it is not advisable to just confidently carry them around. They are proven effective but only when they hit their target. So if you're not poised on engaging a potentially armed criminal, then giving up your belongings may be the best first option you should consider. Otherwise, these things could help you launch a surprise offensive that could just save your stuff or even your life.
Cost:
P300.00 – P1,000.00
Value for Money:
It saves you from probable hospital bills, the hassle and costs of reapplying for new ID's and of course losing your iPhone.
GPS Tracking Devices
New safety devices for cars and even for kids and pets incorporate GPS tracking systems. These devices include features that let you monitor the exact location of the device in real time. Put this on your pet's collar and you may never lose another puppy or kitten again.
Similarly, a car equipped with the system can be tracked by will. In addition, some more advanced GPS devices include features that could stop a stolen car even in movement and prevent it from restarting the engine. This is a very useful feature for recovering stolen vehicles and even possibly arresting the car thieves.
Cost:
P2,000.00 – P9,000.00
Value for Money:
Gives you the option to give up your car in case of a carjacking incident then have your sweet revenge hours after.
Comprehensive Insurance
Insurance is not something new. But it is always the best choice in investing in security. Because in cases where crimes, accidents or whatever disaster is inevitable, insurance will have your back.
Naturally, not all insurance is made the same, the prices of premiums limit for reimbursement are different across various providers. But the idea, in general, is the same; it helps you get back on your feet. Insurance is designed to bring you back to the same financial state as if the incident never happened. That means it will reimburse the insured the value of losses after depreciation is computed.
Comprehensive home insurance will help you recover losses in case of burglary, vandalism, and similar acts stated on the policy. The same goes for comprehensive vehicle insurance. Losing your car to theft and never having the chance to recover it may be overwhelming, but not if you have it covered.
Cost:
It depends on your risk factor and the value of the possession to be insured.
Key Benefit:
You get peace of mind that no matter what happens financial help will go your way.