For many Filipinos, a motorcycle is an ideal mode of transportation. It's significantly more affordable than cars, much easier to maintain, and it can navigate even the trickiest traffic jams. More importantly, it can also be a source of livelihood; a lot of motorcycle owners double as couriers or food delivery riders.
Just this year, the production of motorcycles and scooters has gone up by 62%, from 209,670 units last year to 339,395 units this 2021.[1] This only shows how highly dependent on motorcycles Filipinos are.
Are you planning to buy a motorcycle soon? If you haven't saved enough or just don't want to scoop some money from your bank account, consider getting a motorcycle loan. If this is your first time applying for such a loan, here's a comprehensive guide to help you out.
What is a Motorcycle Loan?
A motorcycle loan is a type of loan that helps you finance your motorcycle purchase. It's usually offered by banks and lenders and can be a secured or unsecured loan, depending on the lender. Just keep in mind that unsecured motorcycle loans may have much higher interest rates since you're not using your motorcycle as collateral.
Furthermore, you can use your motorcycle loan to buy either a brand-new or secondhand unit. If the loan proceeds have an excess, you can use the remaining amount to buy motorcycle accessories.
Why Should You Get a Motorcycle Loan?
There are many reasons that may convince you to apply for a motorcycle loan. Here are some of them:
1. The Application Process is Usually Quick and Effortless
Depending on the lender you're going to work with, the loan application process can be quick. This is because some lenders have easy and light requirements. More importantly, you can file your application online, which is much safer and more efficient, especially during these times.
2. You Won't Have to Touch Your Savings or Emergency Fund
Yes, you may afford a two-wheeler with the money you have in the bank. But paying for it in cash may create a dent in your savings. There are lenders who offer easy and flexible payment terms, so you won't have to touch your personal savings.
3. You May Get a Low Interest Rate
If you do your research, you'll find that a lot of banks have friendly interest rates. Getting a loan with a low interest rate will make repayments much easier to manage.
Read more: How Fast Cash Loans Work
Where to Get a Motorcycle Loan in the Philippines
To help you get the right motorcycle loan, here's a list of the top motorcycle financing companies and lenders together with their interest rates, loan amount, and payment terms:
BPI

Minimum loan amount: PHP 200,000
Maximum loan amount: Up to 70% of the purchase price
Payment terms: 12 to 36 months
Interest rates:

12 months: 8.83%
18 months: 12.57%
24 months: 17.54%
36 months: 27.84%
Security Bank

Minimum loan amount: PHP 300,000
Maximum loan amount: Up to 70% of the purchase price
Payment terms: 12 to 36 months
Interest rate:

12 months: 8%
18 months: 12.01%
24 months: 16.96%
36 months: 26.05%
AUB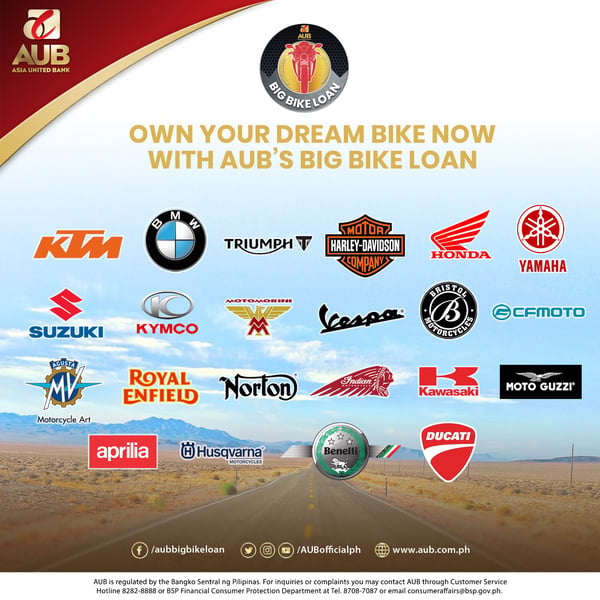 Minimum loan amount: PHP 200,000
Payment terms: 12 to 36 months
Interest rate:

0.54% for MV Agusta motorcycles
0% interest for 12-24 months (until September 30, 2021 only)[2]
Robinsons Bank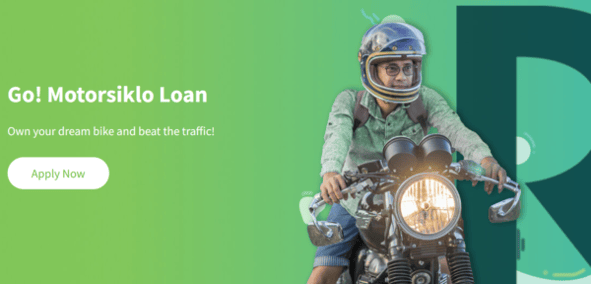 Loan amount:

Regular Bike: Minimum of 10% based on SRP
Big Bike: Minimum of 30% based on SRP
Secondhand Unit: 8% based on SRP

Payment terms: Six to 36 months
Interest rate: Will depend on the selling price, down payment, and amount financed
Read more: Compare the Best Motorcycle Insurance in the Philippines!
City Savings Bank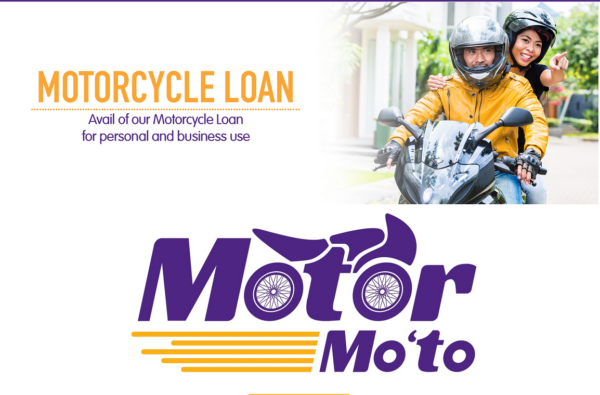 Minimum loan amount: PHP 20,000
Maximum loan amount: PHP 300,000
Payment terms: 12 to 48 months
Interest rate: Will depend on the selling price, down payment, and amount financed
Sumisho Motor Finance Corporation
Minimum loan amount: PHP 20,000
Maximum loan amount: PHP 1.8 million
Payment terms: 12 to 48 months
Interest rate: Depends on the selling price, down payment, and amount financed
Note: This motorcycle loan is a joint venture of PSBank and Sumitomo Corporation.
What are the Requirements for a Motorcycle Loan?
Different motorcycle banking companies may ask borrowers to provide the same set of requirements, such as the ones below. However, you can get in touch with your preferred bank or lender to know the specific requirements.
Duly accomplished application form
Photocopy of government-issued IDs
Payslips
Proof of Billing
Income Tax Return (ITR)
Certificate of Business Registration (DTI)
Latest Financial Statements (for businesses)
Audited Financial Statements or AFS (for businesses)
Proof of Remittance (OFWs)
Read more: 7 Costly Mistakes You Make When Getting a Personal Loan
How to Apply for a Motorcycle Loan
The loan application process will depend on your lender, but companies usually follow a general framework. Here's what you may be asked to do:
1. Know If You're Eligible
First, find out if you'll be able to satisfy your lender's eligibility requirements. Typically, banks accept borrowers who are at least 21 years old but not more than 65 years old upon loan maturity. Applicants should also be employed, or they must have a regular stream of income through a legitimate business.
2. Collate and Double-Check Your Requirements
Create a checklist of documents that your lender requires. Once you have collated all the documents, keep them in a folder or envelope. Make sure that the information in the documentary requirements is accurate. Otherwise, your application may get delayed. Don't forget to create scanned copies just in case you're allowed to submit your requirements online.
3. File Your Application
Head to your lender's office to personally file your application. If the lender has a website that facilitates online applications, go for this route so you won't have to leave home and expose yourself to unnecessary risks.
4. Wait for the Approval
Depending on the volume of applications, your application may be processed within three to seven days. But you always have the liberty to follow up on your application status, especially if the lender reminds you about it in the first place.
Read more: Smart Tips to Improve Your Personal Loan Application
Additional Tips When Applying for a Motorcycle Loan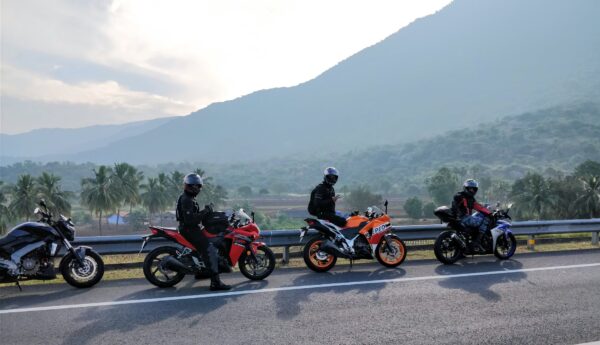 If you want to land the right motorcycle loan or save money, here are a few things to keep in mind.
1. Pay the Down Payment Using Your Own Money
Some banks only cover about 70% of the bike's price, especially if it's high-end. This means that you'll need to pay the 30% down payment. But if your budget permits, go beyond it. Pay at least 40% or 50% so that you'll only borrow the remaining 50%. You won't have to shoulder the loan and its interest for a long time. To help you decide, use the bank's loan calculator.[3]
2. Compare Your Options
Don't just go for the first bank or lender that comes your way. Create a shortlist to compare the pros and cons of each motorcycle loan package. You can start creating your shortlist by referring to the list of banks above.
3. Ask Questions
More often than not, the fine print is difficult to understand because of the jargon used. Be honest when you're confused. The loan officer will explain things to you. Knowing the details of your contract, even the minute ones, spells the difference between customer satisfaction and buyer's remorse.
4. Ask Your Family and Friends For Recommendations
Got a family member or a friend who recently bought a motorcycle? Ask them if they have availed of a motorcycle loan. If so, they may recommend a bank or lender which offers loan packages with friendly terms.
Read more: Personal Loan Myths in the Philippines You Should Stop Believing
Final Thoughts
While motorcycles are significantly cheaper than cars, some people may still find it difficult to buy one. Thankfully, banks and lenders offer motorcycle loans. To get the loan that suits your repayment capacity, do your due diligence and compare the offers of different lending companies.

Sources: