UnionBank is primarily known for its credit cards that complement a wide range of lifestyles and needs. But did you know that UnionBank also offers a personal loan product?
The UnionBank Personal Loan has a lot of exciting features and unique selling points that make it a better choice over other loan products in the market.
Interested? We've pulled together a comprehensive guide for you, from this loan's uses to interest rates. We've also included a quick guide on how to apply for a personal loan from UnionBank.
What is a UnionBank Personal Loan?
Does UnionBank offer personal loans? Yes! The UnionBank Personal Loan is a financial product that borrowers can use for funding major goals in life.
It's an unsecured loan, meaning that you don't have to pledge an asset as a form of repayment to the bank.
What Can I Use the UnionBank Personal Loan For?
A personal loan from UnionBank can be used for a wide range of purposes, including the ones below:
✔️ Business Expansion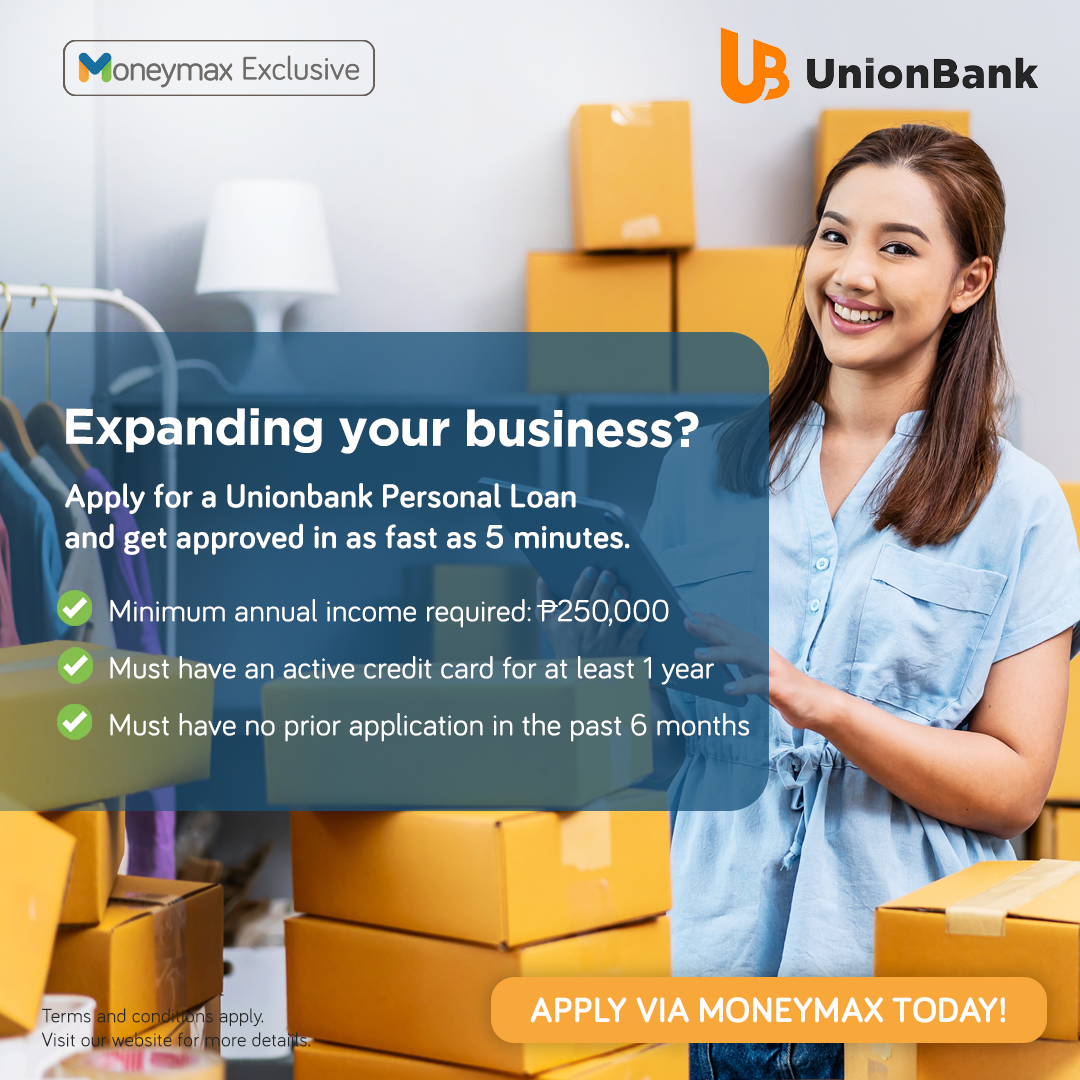 The UnionBank Personal Loan can help you get funding for growing your small business. You may use the proceeds of your loan to expand your inventory, purchase new equipment, open a new location, hire additional employees, or develop new products.
✔️ Home Renovation
Want to increase the resale value of your home? Does your growing family need a bigger home? Or do you need to repair your house after a typhoon or natural disaster? With a UnionBank Personal Loan, you can get access to funds for renovating your property.
✔️ Kids' Education
If payday doesn't coincide with your children's tuition payment schedule, you can borrow money from UnionBank to cover such expenses. The surpluses of your loan can be used to buy a laptop, school supplies, books, and learning materials.
✔️ Personal Growth
Planning to enroll in a baking class for your future patisserie or take a post-grad course? Use the UnionBank Personal Loan to pay for your tuition or fund your other career growth endeavors.
---
🎅 Win a Samsung Galaxy S23, an iPhone 15 Pro Max, or a Trip to Japan for Two!
This holiday, treat yourself and get a chance to win a smartphone or a trip to Japan for two via Moneymax's raffle promo! Join Festive Rewards Countdown: Moneymax Gift Galore from December 1 to December 21, 2023. To earn a raffle entry, apply and get approved for any of the participating credit card or personal loan products via Moneymax.
Each prize has a corresponding sign-up period:
Samsung Galaxy S23 FE 256GB worth ₱43,990 - December 1 to 7, 2023
Apple iPhone 15 Pro Max 256GB worth ₱91,990 - December 8 to 14, 2023
Trip to Japan for two via Journeyfied Travel and Tours worth ₱185,020 - December 15 to 21, 2023
The draw date for this Moneymax raffle promo is on March 1, 2024. Per DTI Fair Trade Permit No. FTEB-181165 Series of 2023. Terms and conditions apply.
---
Why Should You Get a UnionBank Personal Loan?
There are many reasons you should go for a UnionBank Personal Loan application. Here are some of the loan product's features that may convince you to apply:
👍 Fast Loan Approval
UnionBank approves personal loan applications in as fast as 5 minutes. In contrast, other banks take at least five to seven banking days or even longer to approve a personal loan.
With the UnionBank Personal Loan, borrowers can get approved without the need for collateral or a guarantor. Fast approval, of course, depends on the borrower's eligibility and submission of complete requirements.
👍 High Loan Amount
Borrowers can avail of a UnionBank Personal Loan up to ₱2 million, which can be used for a wide array of purposes. Just keep in mind, though, that the actual loan amount is subject to the bank's approval.
👍 Flexible Loan Terms
Another advantage of the UnionBank Personal Loan is its flexible repayment terms of up to five years, the longest in the Philippines. Borrowers can choose to repay their personal loan in 12, 24, 36, 48, or 60 months, depending on how much they can afford to repay monthly.
👍 Low Interest Rate
UnionBank has one of the lowest personal loan interest rates in the market. Its monthly add-on rate is only 1.29%, and its annual contractual rate is 26.9%. This makes borrowing money more affordable.
How Do I Qualify for a UnionBank Personal Loan?
To be eligible for a personal loan with UnionBank, a borrower must meet all these criteria:
21 to 65 years old
Filipino or foreign resident with a valid Philippine billing address
Employee or self-employed professional/entrepreneur with a minimum gross annual income of ₱250,000
Principal credit cardholder for at least three months
With a taxpayer identification number (TIN)
What are the UnionBank Personal Loan Requirements?
UnionBank requires borrowers to submit a photocopy of the following documents (except for the personal loan application form, which should be an original copy):
📋 Requirements for Filipinos
Completed online UnionBank Personal Loan application form
Valid government-issued ID with photo and signature
For employed borrowers: Latest one-month full payslip issued within the last two months / Certificate of Employment issued within the last two months / Latest income tax return (ITR) or BIR Form 2316
For self-employed borrowers: Latest ITR or BIR Form 1701 and audited financial statements with independent auditor's report and balance sheets and tax receipt
📋 Requirements for Foreigners
Alien Certificate of Registration (ACR) or valid passport
Any proof of residency in the Philippines:

Immigrant Certificate of Residency (ICR)
Visa and work permit or Alien Employment Permit (AEP) with a validity of more than one year
ACR I-Card with a permanent visa status or validity of more than one year
Special Resident Retirement Visa (SRRV)
Special Resident Investors Visa (SRIV)

For expats employed in the top 2,000 companies: Employment contract or letter from the company HR printed on company letterhead with name, job title or position, and confirmation of term
How to Apply for a Personal Loan From UnionBank in the Philippines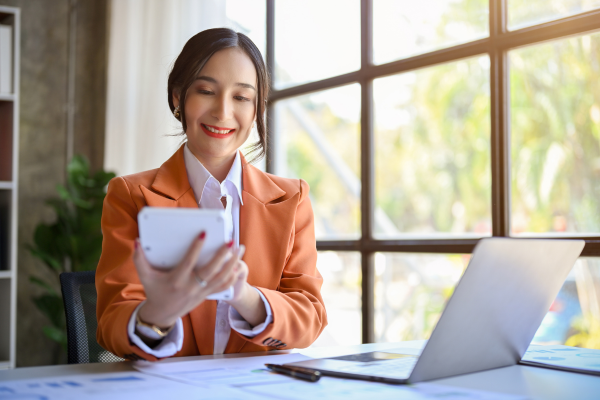 Once you've confirmed that you're qualified for a personal loan from UnionBank, have all the necessary requirements, and can afford the monthly repayments, you can proceed with your application.
So how can you get a personal loan from UnionBank? The process is simple. Here's a step-by-step guide to help you complete your UnionBank personal loan online application.
👉 How to Apply for a UnionBank Personal Loan Online
The UnionBank Personal Loan application process is simpler and faster online—it's as easy as 1-2-3:
Access and fill out the UnionBank Personal Loan Online Application form at www.unionbankph.com.[1]
Wait for a phone call from a UnionBank sales officer to verify your application.
Email the required documents to the provided e-mail address.
You can also apply easily via Moneymax. Click the button below to proceed!

UnionBank Personal Loan Application FAQs
1. The UnionBank Personal Loan Online Application system is not working. What should I do?
If you always get a system error message when applying for a UnionBank loan online, clear the cache on your browser and device and try submitting your application again. You may also try using a different browser or device.
2. How can I get approved fast for a UB Personal Loan?
While UnionBank approves certain loan applications within minutes, not all borrowers can get approved that fast. It still depends on whether the documents you submitted are complete or not and the result of the bank's credit evaluation, among other factors.
Here's what you need to do before and during your UnionBank Personal Loan application to raise your chance of getting approved fast:
Check your credit score and report. This means more work and time spent prior to submitting your UnionBank Personal Loan application. But checking your credit score and report is a lot better than wasting your time and effort applying for a loan that would end up getting rejected because of a poor credit score.
Double-check your UnionBank Personal Loan application form to avoid incomplete and inconsistent entries. All mandatory fields should be filled out.
Make sure your documents are complete.
Submit your documents to UnionBank by 5 p.m. from Monday to Thursday (except for the day before a holiday). Documents sent on a Friday or a day before a holiday will be processed on the next business day.
3. How can I check my UnionBank Personal Loan application status?
If you don't hear from UnionBank several days after you applied, call the bank's 24/7 customer service hotline at (+632) 8841-8600 or 1-800-1888-2277 (toll-free).
4. How will I receive my loan proceeds?
Once UnionBank approves your personal loan application, you'll receive another phone call to finalize the details of releasing the loan amount.
Here are your options for claiming your loan proceeds:
Funds transferred to your nominated bank account
Manager's check sent to your billing address
Next, review and sign the Loan Disclosure Statement (DS) and agree to an Auto-Debit Agreement (ADA) with your UnionBank deposit account. Your loan proceeds will be released afterward.
5. Can someone else receive the UnionBank Personal Loan proceeds on my behalf?
You may be thinking of issuing a special power of attorney (SPA) or employing similar means to have someone else receive the loan proceeds. Unfortunately, UnionBank doesn't allow this arrangement. For your security, the money will be released only to you, the loan applicant.
6. What are the UnionBank Personal Loan fees?
Here are the fees[2] that come with a personal loan from UnionBank:
| | |
| --- | --- |
| UnionBank Personal Loan Fee | Cost |
| Disbursement fee | ₱1,750 per disbursement |
| Documentary Stamp Tax (DST) | ₱1.50 per ₱200 of the loan amount |
| Monthly late charge | ₱500 or 6% of the overdue amount, whichever is higher |
| Closure handling fee | 4% of the unbilled principal component of the loan that is prepaid |
| Returned check fee | ₱1,500 per check that has bounced or has been returned due to insufficiency of funds, uncollected deposits, stop payment orders, and alterations or erasures on the check |
| Attorney's fees and other judicial fees | The cost of collection and/or attorney's fees and the litigation and judicial expenses, as applicable, in case of payment default and on top f late and interest charges |
7. How to pay for a UnionBank Personal Loan?
The ADA automatically deducts payments from your UnionBank account. Make sure your account contains enough funds for payment.

8. When will my loan payments start?
Your first estimated monthly installment (EMI) will start from the second succeeding month after you get your personal loan. For instance, the EMI for a loan approved in January will begin by March. Always take note of the due date to avoid penalty fees.
Related reading:
Final Thoughts
If you're looking for a reliable lender for financing your big goals, make sure to include UnionBank in your list. The UnionBank Personal Loan is among the best loan products on the market, as it offers low interest rates, fast approval, and flexible terms.
Furthermore, its high loan amounts mean that you can use the money for a wide array of purposes, such as home improvement, business growth, education, and more.
We hope this guide on how to apply for a personal loan from UnionBank helps improve your chances of approval. Good luck with your application!
💸 Compare Other Personal Loan Options via Moneymax
Looking for more options? Below is a list of other personal loan companies and their product features. Compare them and apply through Moneymax!
| Personal Loan | Loan Amount | Monthly Add-on Rate | Minimum Annual Income | Approval Time |
| --- | --- | --- | --- | --- |
| UnionBank Personal Loan | | | | |
| UNO Digital Bank Personal Loan | | | | As fast as 7 banking days |
| Metrobank Personal Loan | | | | |
| BPI Personal Loan | | | | |
| RFC Loan | | | | |
| Tonik Flex Loan | | | | |
| Tonik Quick Loan | | | | As fast as 1 hour |
| Tonik Big Loan | | | | 7 days |
| Tala Loan | | | | 24 hours |
| HSBC Personal Loan | | | | |
| CIMB Personal Loan | | | | |
| Maybank Personal Loan | | | | |
| RCBC Bank Personal Loan | | | | |
| SB Finance Personal Loan | | | | |
| CTBC Bank Personal Loan | | | | |
| PSBank Personal Loan | | | | |
Sources:
[1] Personal Loan - Apply Now | UnionBank of the Philippines