About eight in every 10 Filipinos want a "simple and comfortable life," found the latest National Economic Development Authority (NEDA) survey. For 62% of those respondents, a simple and comfortable life means owning at least one car.[1]
Purchasing a car of your own, whether brand-new or second-hand, is a good investment. However, not all Filipinos can afford to buy a car. Aside from daily expenses, the car's monthly amortization, fuel, and maintenance costs all add up— and they're not exactly cheap!
When buying a car, get a financing option that's easy, convenient, practical, and affordable. Which leads us to the question: should you go for a personal loan or a car loan? Here are the factors to consider when making a personal loan vs car loan comparison.
Personal Loan vs Car Loan: What are the Differences?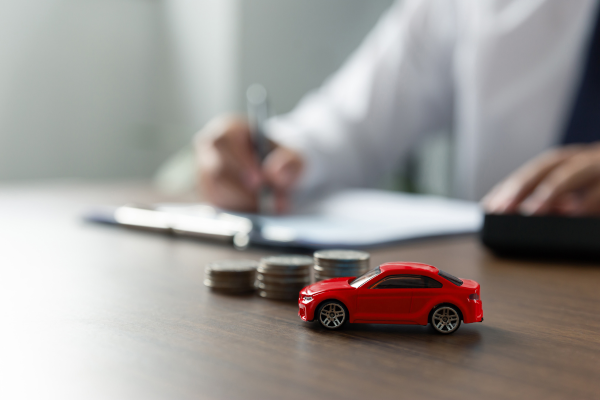 A personal loan is typically an unsecured type of financial product that doesn't require collateral such as vehicles and properties. Approval is based on the borrower's creditworthiness or the financial capacity to repay the loan.
A car loan, on the other hand, is a secured loan that's backed by collateral―the financed vehicle itself. Car loans often require you to make a sizable downpayment early into the term―the bigger your deposit, the lower your succeeding monthly payments.
At a glance, these two loan options seem similar because they both come with interest rates, monthly amortizations, processing fees, and required income documents. However, personal loans and car loans are different in terms of costs, payment terms, and conditions, just to name a few.
Personal Loan vs Car Loan: Pros and Cons
Before deciding whether to take out a personal loan or a car loan, compare the personal loan vs car loan interest rates and other advantages and disadvantages.
Here's what you need to know about car loans:
| Car Loan Pros | Car Loan Cons |
| --- | --- |
| Lower interest rates. Since car loans are secured loans with the purchased vehicle as collateral, they typically offer lower rates. | Options for car model and type may be limited. You can purchase only a model based on the loan amount you qualify for. |
| Easier and quicker application process. Most car retailers have representatives and in-house bank agents to assist in processing your application. | Limited loan tenor option. Most car loans should be fully paid off in 60 months. |
| Freebies like car accessories. You may not get a discounted price for the car. But when you negotiate with the car dealer, you can get free car window tinting, fuel, PMS, and seat covers, among other freebies. | May require a down payment. Some car dealers offer a very low down payment, but most banks require a down payment of at least 20% of the vehicle cost. |
Meanwhile, if you're planning to take out a personal loan to purchase a car, here are some things to take note of:
| Personal Loan Pros | Personal Loan Cons |
| --- | --- |
| Freedom to choose the car model and brand. Choose the car model and brand that matches your approved loan amount. | Higher interest rates. Most personal loans are unsecured, which means higher interest rates compared to secured loans like car loans. |
| No down payment required. Because you're paying for the car in cash, you don't need to make any down payment. | Tedious application process. Applying for a personal loan may take longer. You may need to wait for up to 14 days to get your personal loan application approved. |
| Bigger discounts. Buying a car with a personal loan is similar to paying in cash. Most car retailers offer discounts and freebies to those who pay in cash. | You need a good credit score to get approved for a higher loan amount and the best interest rates. If you have bad credit, you won't get approved. |
| Flexible loan term. Most personal loans can be paid off in 12 to 60 months or more, depending on the lender. | More stringent eligibility requirements apply to most personal loans. |
Which is Better: a Car Loan or a Personal Loan? 5 Factors to Consider
When choosing between personal loan vs car loan, take these five considerations into account.
👉 Payment Terms
You may be tempted to go for a longer loan tenor for lower monthly payments. But a longer loan term means you pay more interest over time.
This is true for both car loans and personal loans. Repayment periods for personal loans usually last up to 60 months, while some car loans can go up to 72 months.
Do you want to pay the same amount for the same vehicle for five years even when the "new car high" has long worn off? Or would you rather go for a higher monthly amortization to pay off the loan at the quickest possible time?
To help you decide, check out this sample computation using BPI's auto loan calculator for a three-year and five-year car loan.[2]
Sample Computation for Three Years (36 months)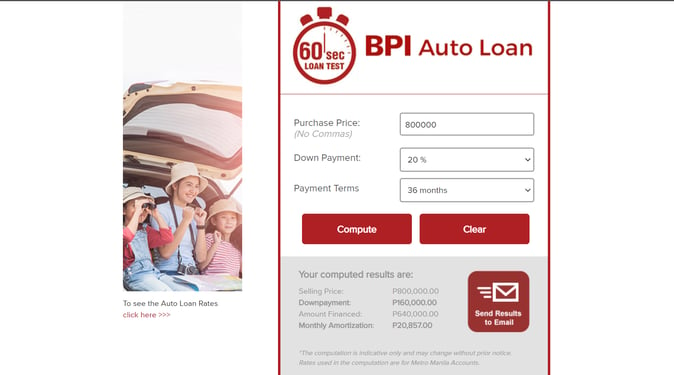 Sample Computation for Five Years (60 months)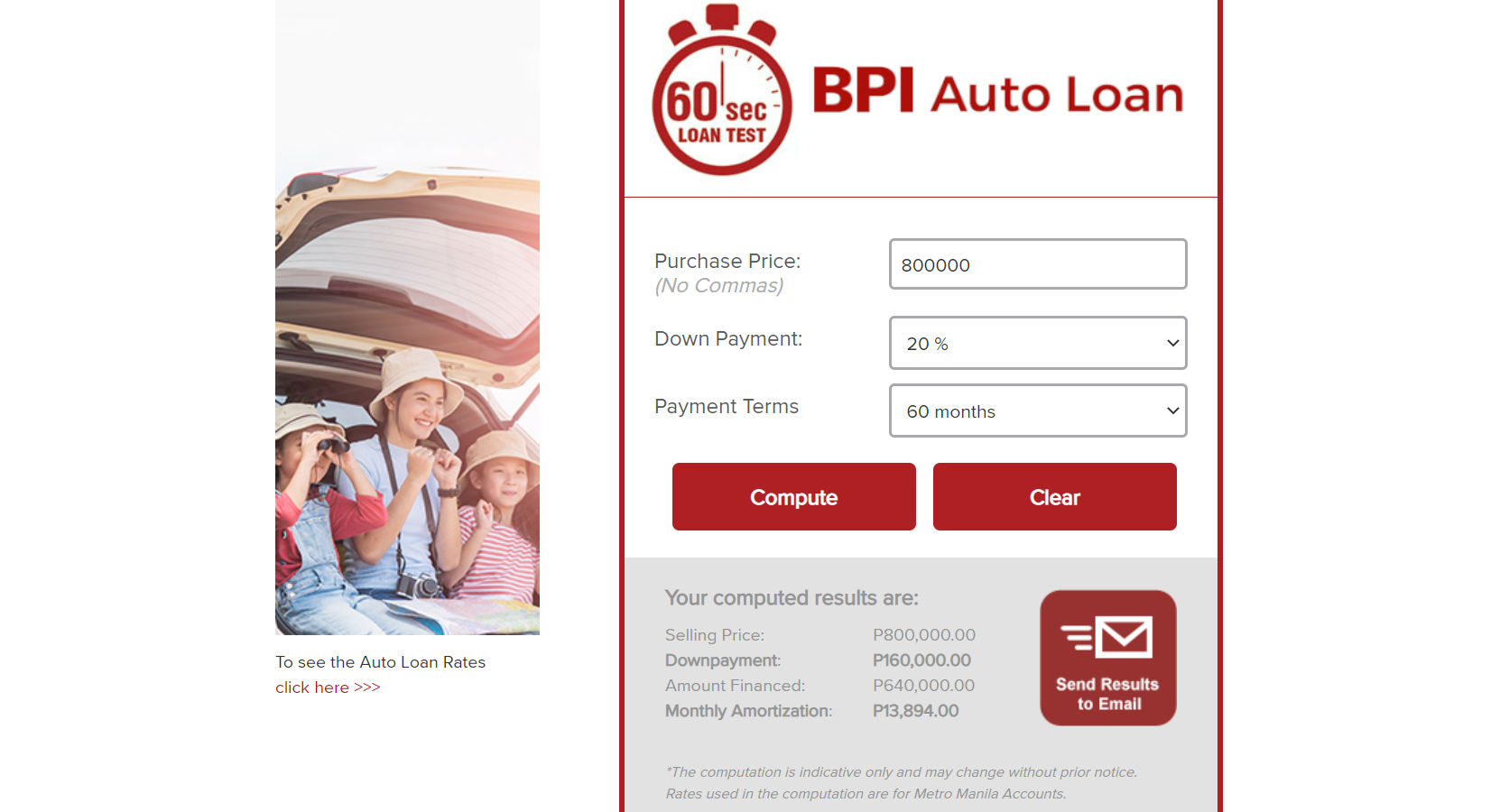 You can see the difference in the monthly amortization and the total cost of the car loan as affected by the chosen payment term. For a 36-month payment term with a 20% down payment, the monthly amortization will be ₱20,857.
The other computation is for a longer payment term of 60 months with the same 20% down payment. The monthly amortization will be ₱13,894. It's lower, yes. But if you multiply the monthly amortization by 60 months, you'll find that you'll pay a total of ₱833,640 for a vehicle that costs ₱800,000.
Read more:
👉 Interest Rates
Interest is what you pay your lender in exchange for letting them finance your car. Interest rates are calculated based on the car's list price and your current financial situation.
Personal loans tend to have higher interest rates than car loans. But these rates can be reduced, as in the case of secured loans. Whenever you can, opt for a loan with a simple interest scheme over compound interest.
Car loan interest rates also cover both add-on rates and effective rates. Add-on rate refers to the gross interest rate per year which is multiplied by the number of years covering your entire loan tenure.[3]
The effective interest rate is the true interest rate you're paying based on the outstanding loan amount calculated after each principal repayment is deducted from your outstanding loan.[4]
Below are the BPI Auto Loan Interest Rates[5] you can use as a reference to compare add-on and effective interest rates.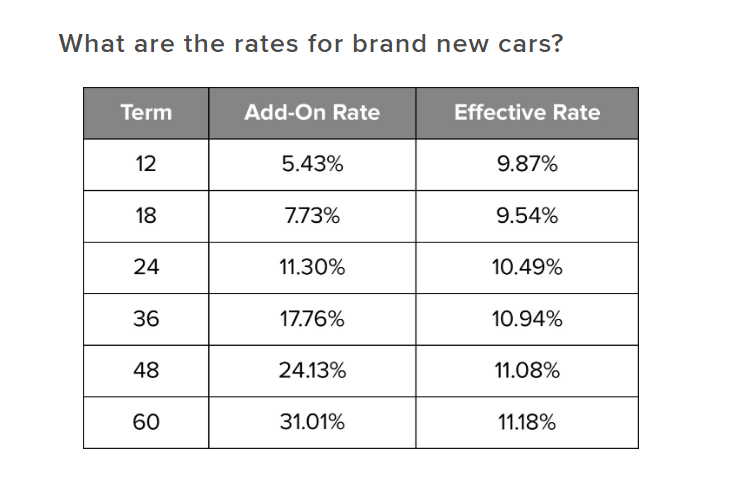 👉 New vs. Used Car
Most car loans are packaged especially for brand-new or Certified Pre-Owned (CPO) vehicles. When researching the car you wish to buy, always check which car loan alternatives are most applicable.
When buying secondhand, work closely with the original owner to see if car loans are an option for your transaction. If you're planning to buy an older vehicle or if no dedicated car loan options are available, consider getting a personal loan.
👉 Credit Score
If you choose to apply for a personal loan, lenders will likely look into your credit score rating. This is their assurance that you have the ability to make your payments on time.
Should you have a less-than-ideal credit score, you have better chances of getting a car loan than you would a personal loan. But either way, poor credit means you get saddled with a much higher interest rate. Ideally, you should settle as much of your outstanding credit debt as you can before you begin applying for any kind of loan.
👉 The Repossession Question
You want to minimize the likelihood of defaulting on your loan. If you're unable to make full loan repayments on time, what happens after will depend on the type of loan you got.
For example, when you default on a car loan, the lender will repossess or seize your vehicle.
No matter what kind of loan you apply for, it's important to shop around for lenders with rates or terms that work with your current income. A car may be a huge commitment, but your wallet doesn't have to suffer for it.
Read more: 5 Reasons Why Your Car Loan Gets Rejected
Personal Loan vs Car Loan: 5 Important Questions to Ask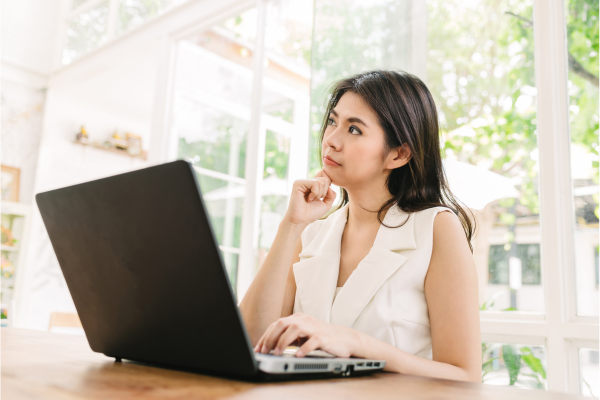 🤔 What Kind of Car Do I Want to Buy?
Are you planning on getting a hatchback or sedan? Or is it an SUV for the family? The type of car you want to purchase is a factor when deciding between a personal loan vs car loan. Car loans can limit your options because banks will approve only a loan amount based on the down payment amount, your credit score, and your current financial status.
🤔 Can I Afford the Down Payment?
The down payment to purchase a car usually costs 20% of the total selling price. Depending on how much the car is, your down payment can range from ₱100,000 or higher. If you have enough funds to cover this amount, pay off the down payment in cash to get more affordable car loan payments every month.
🤔 Can I Afford the Monthly Amortization?
The more expensive the car, the higher the monthly amortization. Before you get a car loan or a personal loan for your car purchase, make sure your income or salary can cover the monthly payments for the next three or five years.
🤔 What Other Fees Do I Need to Pay?
When you buy a car, you also need to pay the following:
Comprehensive Third Party Liability Insurance, which is around ₱800 per year
Motor Insurance Premium, which is computed based on the purchase price, type of vehicle, and the duration of coverage
Chattel Mortgage, which can be up to 3% of your loan amount
🤔 Do I Have a Parking Space?
Before you even start comparing auto loans vs personal loans, make sure you have parking space at home. If you live in a condo and don't have a parking slot, renting a parking space in the metro can cost around ₱700 up to ₱2,000 per month, sometimes even higher. This is a significant amount to add to your monthly car ownership costs.
Final Thoughts
Personal loan vs car loan―what's the verdict? Well, this depends on your credit score, your income, and how long you want to pay off your car. Remember that a car purchase is a major financial responsibility that needs planning and preparation. Make sure that you can afford to pay it off before you get one.
Before parting with your hard-earned money, compare loans to get the best deal. You can find the best personal loan or car loan in the Philippines through Moneymax's free online comparison tool.
Personal Loan Provider

Minimum Loan Amount

Maximum Loan Amount

Minimum Annual Income

Approval Time

Metrobank

₱20,000

₱1 million

₱350,000

7 days

BPI



₱

20,000

₱2 million

₱

300,000

5 to 7 banking days

EasyRFC

₱

10,000

₱150,000

₱

120,000

As fast as 24 hours

Maybank



₱

50,000

₱1 million

₱

300,000

Apply online in just a few clicks

RCBC



₱

50,000

₱1 million

₱

360,000

5 to 7 banking days

SB Finance




₱30,000

₱2 million

₱180,000

5 banking days

CIMB



₱

30,000

₱1 million

₱

180,000

24 hours

HSBC



₱

30,000

₱500,000 or 3x gross monthly salary, whichever is lower

₱

168,000

5 to 7 banking days

CTBC



₱2

0,000

₱1 million

₱

180,000

3 to 5 banking days
Sources: