For many millennials, buying a car is something to cross off their bucket list. Having that first set of wheels means you're on the right track to becoming a full-fledged adult. But you need money—lots of it—for your biggest investment ever.
As a young professional, you aren't making enough money to drive your dream car out of the showroom and into your garage. The cheapest sedan in the market today costs over half a million pesos. Even if you have that amount in the bank, you won't dare spend it all on a whim. Because yes, you're a responsible adult who's got bills to pay and maybe even mouths to feed.
Good thing, there are different car financing schemes in the Philippines that allow buyers to get their dream car without having to fully pay for it in cash.
4 Car Financing Options in the Philippines
Did you know that there's more than one source of car financing in the country? Here are your options for when you need money to buy a car in the Philippines.
Bank Financing
In this car financing scheme, the bank or a lending company lends you a specific amount, so you can buy a car. You'll then be paying the borrowed amount in a series of monthly payments over the tenure or period of the loan, normally between 12 and 60 months. But other than repaying the loan amount, you'll be also paying the interest.
Bank financing is also known as direct lending because the car buyer gets a loan directly from a bank instead of going through the dealership. Financing a car purchase through this type of loan is ideal if you have established a good credit standing with the bank.
Pros:
Ability to compare loans from different banks
4% to 5% lower interest rates than dealer financing
Cons:
Requires a higher down payment than dealer financing
Loan application takes time and effort
Dealership Financing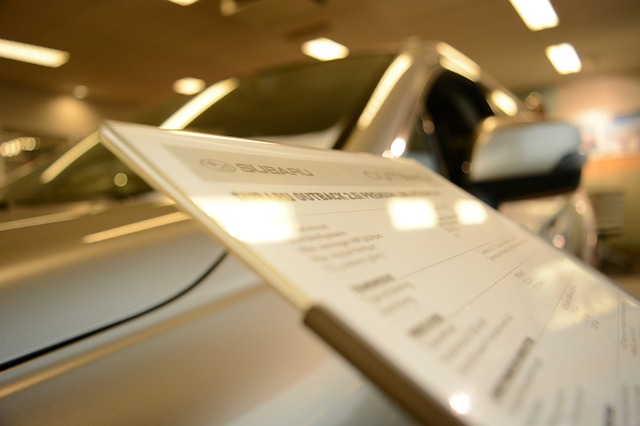 Another way to pay for a vehicle purchase is to avail of car financing through the dealer. It's the best option if you prefer the convenience of buying and funding your car in just one place.
Essentially, there's a contract where you agree to pay your dealer the loan amount plus interest. The dealer has a partner bank or lender that processes the loan and collects your payments.
Pros:
Vehicle purchase and financing done in one location and transaction
Variety of car financing options from multiple partner banks and lending companies
Lower down payment than bank financing
Easy loan application process, fast approval, and freebies
Cons: Higher interest rates and hidden charges
Credit Card
Using a credit card to buy a car is possible only if your credit limit is high enough to cover the cost. On top of that, there are many fees that you may need to cover.
This type of transaction can be arranged by the dealer and requires the issuing bank's approval. Just remember, though, that not all dealerships accept this car financing scheme via credit card.
Home Equity Loan
This car financing option in the Philippines enables you to borrow money against the equity or the appraised value of your home. The cash you'll get from a home equity loan may be used to buy a car.
How to Get Car Financing in the Philippines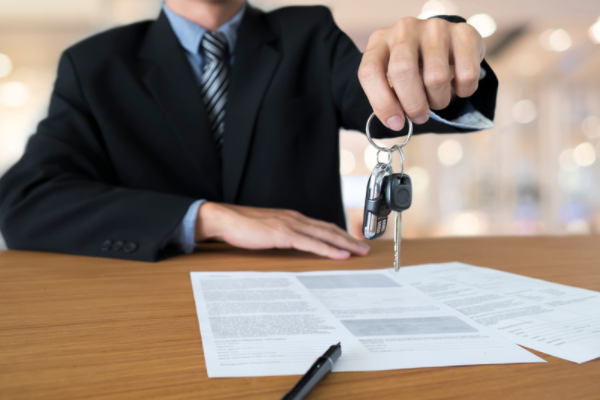 Step 1: Check If You're Qualified for an Auto Loan
Be a responsible borrower—start off by making sure you meet the bank's requirements, have a good credit score, and get pre-qualified for a loan.
Car Loan Eligibility Requirements
Generally, banks in the Philippines accept auto loan applications from borrowers with these minimum qualifications:
Age: 21 years old (not older than 65 when the auto loan matures)
Citizenship:
a. Filipino citizens living in the Philippines and abroad (including OFWs)
b. Foreign residents in the Philippines with qualified Filipino co-borrowers
Minimum monthly salary or household income: PHP 30,000 to PHP 50,000
Employment/Business status: Two years of employment or profitable business operation
Good Credit Score
As a first-time borrower, you may not realize how your credit score matters in your loan application. Banks use the credit score to evaluate a borrower's ability to pay back a loan. If your credit score is high, you're likely to get approved for a loan with a low interest rate.
It helps to check your credit score—and repair or correct it if necessary—before you apply for an auto loan.
Auto Loan Pre-Qualification
Getting pre-qualified lets you know if you're ready to apply for a loan and how much you can afford to borrow. It involves answering an online pre-qualification test if you'll apply for an auto loan in BPI, Metrobank, or Security Bank.
BPI Family Auto Loan Online Pre-qualification[1]
Metrobank Car Loan Pre-Screening Checklist[2]
Security Bank Auto Loan Pre-Approval Quiz[3]
Step 2: Compute How Much You Can Borrow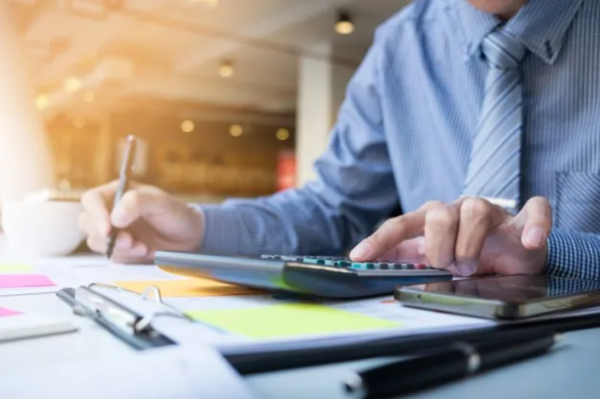 How much can you afford to pay on a loan every month without living paycheck to paycheck?
It's extremely important to figure that out because monthly loan payments will take a portion of your budget for the next three to six years. If you fail to repay your loan for a long time, the bank will take your car away. You don't want things to end up in vehicle repossession, so be sure that the amount you're going to borrow matches your budget.
Factors That Affect the Cost of a Loan for Car Financing
Decide on these crucial factors to know the amount you can realistically afford to loan:
Vehicle type and price: Will you buy a brand-new or used car? What car make and model are you considering? Make sure your choices are well within your budget.
Down payment: Banks charge a down payment of 20% to 50% of a vehicle's selling price. Your chosen down payment will affect the amount of your monthly amortization. The higher it is, the less you'll borrow from the bank. You'll save more on interest payments if you choose a higher down payment.
Length of the loan: Auto loans in the Philippines have repayment terms ranging from one to six years. A shorter-term raises your monthly amortization, but you'll be paying less interest over time. On the other hand, a longer-term leads to lower amortization, but you'll be paying more interest.
Consider also the other costs of owning a car such as insurance, fuel, maintenance, and repairs. Although they aren't included in your loan repayments, car ownership costs are unavoidable expenses that comprise part of your budget. If you overlook them, you might struggle with making full and timely monthly payments for your loan.
Read more: Car Loan Negotiation Tips to Help You Save on Monthly Payments
How to Compute an Auto Loan in the Philippines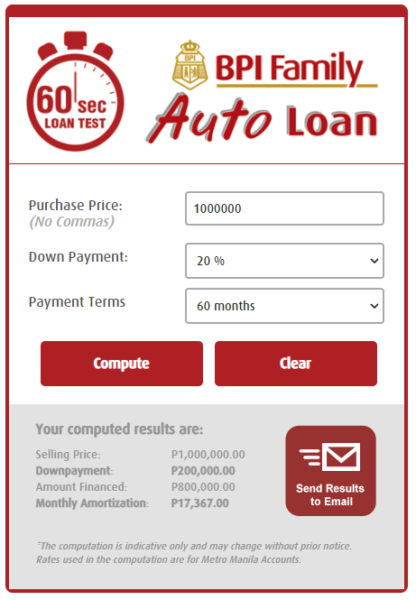 Most banks in the Philippines have a loan calculator on their respective websites that you can use to estimate the cost of borrowing money for your car purchase.
BPI Family Auto Loan Calculator[4]
Metrobank Car Loan Calculator[5]
PSBank Auto Loan Calculator[6]
Security Bank Car Loan Calculator[7]
How to Use a Loan Calculator for Financing a Car
Using an online loan calculator to compute the cost of financing a car is pretty simple. Just choose your preferred vehicle type, down payment, and repayment term. The loan calculator may also ask you to enter the vehicle's selling price and other related information.
The results will show you the loan amount (usually 50% to 80% of a car's selling price), down payment amount, and monthly amortization. You can re-compute to see how these amounts will change if, let's say, you select a higher or lower down payment and a longer or shorter term.
Step 3: Compare Loans
Researching and comparing auto loans in the Philippines allow you to find out which loan is best for you based on your budget. Specifically, check the interest rate, loan amount, down payment, and repayment terms of different lenders.
Consider also the type of vehicle you can loan in a bank. BPI, EastWest Bank, PSBank, and Security Bank offer loans for both brand-new and second-hand vehicles for personal or business use. Banks set different maximum age limits for used cars, too. For example, BPI provides financing for vehicles not older than five years old, while Security Bank accommodates cars up to 11 years old.
On the other hand, Metrobank doesn't accept second-hand cars as collateral for a vehicle loan. Neither does it allow borrowers to use loaned cars as taxis or ride-hailing services.
Too busy to study your car financing options? Use a comparison website to save time and effort. In just a few clicks, you'll find a loan that suits your specific needs and budget. The online service is free to use anytime and anywhere.
Read more: Which Banks Offer the Best Car Loan Deals in the Philippines?

Step 4: Complete the Car Loan Requirements
One last thing you need to do before you file a loan application: prepare all the documents needed to prove your identity and income.
Car Loan Requirements in the Philippines
Most banks require these supporting documents from borrowers:
Valid government-issued IDs (passport, driver's license, SSS ID/UMID, OFW ID, Alien Certificate of Registration, etc.)
Certificate of employment, payslip, or income tax return (ITR) for local employees
Business registration certificate, business permit, bank statements, ITR, and audited financial statements for self-employed individuals
Proof of remittance, payslips, or certificate of employment for OFWs
Step 5: Submit Your Loan Application
Most banks that offer loans for vehicle purchase accept both walk-in and online applications. You can submit your accomplished application form and supporting documents at the nearest branch.
A more convenient option is using the bank's online facility for a loan application. If you'll apply online, you'll have to scan or take photos of your documents and upload the images on the bank's website.
Step 6: Wait for the Loan Approval and Release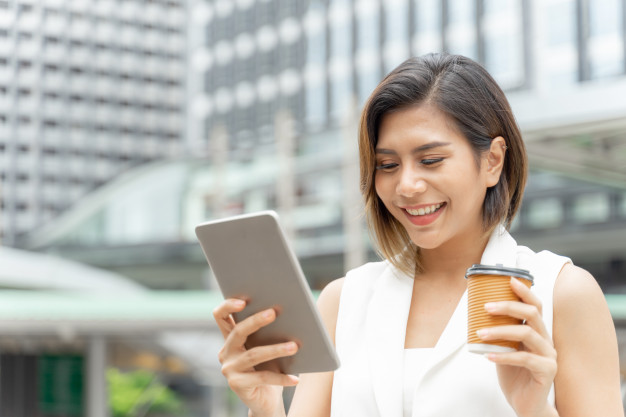 Banks in the Philippines take as fast as one banking day to process and decide on an auto loan application. If your loan is approved, the bank will require you to do the following before it's released:
Sign your loan documents
Submit any additional requirements
Pay the down payment and other loan-related fees such as chattel mortgage fee, handling fee, and one-month advance payment (if applicable)
Get a comprehensive car insurance policy
You have two choices when getting car insurance: through the bank or an online broker. Although the bank offers convenience, an online broker like Moneymax can help you find the best car insurance quotes and deals.
After you've done all these post-approval steps, you can finally drive home your new four-wheeled baby!
FAQs on Car Financing in the Philippines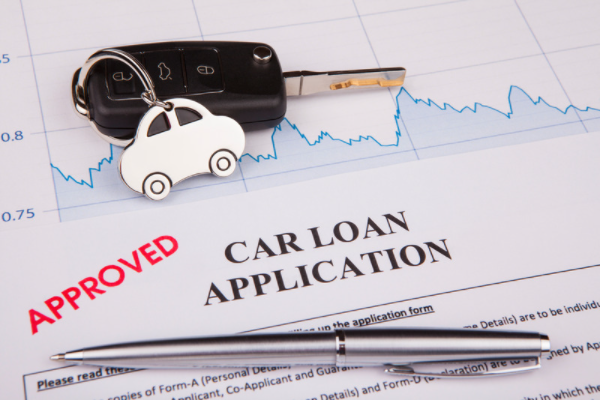 1. Is getting a loan to finance an auto a good idea?
Yes! The biggest benefit of a loan is that you get to own a car without having to pay the full price upfront. While paying in cash easily means getting big discounts or not having to pay the interest since you don't have to borrow money, not everyone has the means to afford this mode of payment. And an auto loan comes in as an ideal solution.
Read more: Car Loan vs. Personal Loan: Which is Better for You?
2. Who becomes the owner of the car financed through a loan?
When you finance a car purchase through an auto loan, the bank or the lending company becomes the owner of the car since they've paid the majority of the unit's selling price.
You'll become the legal owner of the car once you've settled all your dues and obligations with the bank.
Just remember, though, that within the life of the loan agreement or contract, you must take proper care of the car, from maintenance to insurance.
With this in mind, it's important that you're diligent and responsible enough over car care and loan payments. Otherwise, you'll run the risk of getting your car repossessed (or "hatak") by the bank.
Related: Fully Paid Car Loan? Here's What You Should Do Next
3. What is chattel fee?
The chattel fee, also called chattel mortgage fee, is one of the charges you have to pay to the bank for acquiring the auto loan. Banks in the Philippines typically charge 2% to 3% of the loan amount as the chattel mortgage fee.
4. Can I finance a second-hand car through a loan?
Yes! A lot of banks allow borrowers to use the loaned money for the purchase of a secondhand vehicle. Similarly, you may use your loan for reimbursing your purchase or refinancing a secondhand car.
5. My loan application was rejected. What should I do?
Rejection happens, but it's not the end of the world! If your auto loan application got denied, know that you may still re-apply, granted that your documents are complete and accurate.
If not, there are other options to go for. Take the following tips into account.
Check the Car Loan Requirements Again
Before you panic and claim that things will go awry from here, check all the documents that you've submitted. There may be some details that you've overlooked, and some pieces of information are not updated or consistent with other documents. Mistakes that are as seemingly trivial as a wrong address can actually delay your application. Don't worry, as the bank normally tells applicants that they have lacking documents or inaccurate details.
Fix Your Credit Score
Your credit score determines your credibility as a borrower. It shows the lenders how trustworthy you are. As such, there's a chance that the reason for the rejected application is your low credit score. If it's okay for you to delay your car purchase for at least a few months or a year, use the time to fix your credit score as soon as possible.
Check first if the credit records are updated. If you've updated them, try applying again. Otherwise, settle all your existing debts and pay financial obligations on time to improve your credit standing.
Check the Amount You're Borrowing
The amount you're borrowing may be another issue. While some banks may be able to lend borrowers up to PHP 1 million and above, that doesn't mean you can easily qualify for it. It will still depend on your income.
If the amount you're borrowing is not proportional to your income, your application may be denied. Remember, banks always determine if the borrower can actually afford to repay the loan.
Final Thoughts
Car financing takes plenty of planning, research, computations, and saving up. If you're able to do that, the bank will less likely decline your loan application. You don't have to worry about repossession, too.
Lastly, a quick reminder: While your car is on loan, get your car insured, maintain it regularly, and always drive safely to avoid any hassle.
Get a Free Car Insurance Quote!
Looking for car insurance? Below is a list of top car insurance companies and their features. Compare your options and get a free quote from Moneymax!
Car Insurance Company
Features
MAPFRE Insular



10 years of casa eligibility
366 accredited repair shops
PHP 5,000,000 maximum total sum insured
Overnight accommodation - Yes, up to PHP 3,000
Towing - Yes, up to PHP 5,000
Vehicle removal crane services - Yes, up to PHP 10,000

Malayan Insurance



3 years of casa eligibility
58 casa repair shops
PHP 7,500,000 maximum total sum insured
Overnight accommodation - Yes, up to PHP 1,000
Towing - Yes, up to PHP 4,000
Vehicle removal crane services - Yes, up to PHP 8,000

Prudential Guarantee



10 years of casa eligibility
PHP 3,000,000 maximum total sum insured
Overnight accommodation - Yes, up to PHP 2,000
Towing - Yes, up to PHP 5,500
Vehicle removal crane services - Yes, up to PHP 15,000

SGI Philippines



5 years of casa eligibility
36 accredited repair shops
PHP 5,000,000 maximum total sum insured
Overnight accommodation - Yes, up to PHP 2,000
Towing amount - Yes, up to PHP 5,000
Vehicle removal crane services - PHP 10,000

Stronghold Insurance



10 years of casa eligibility
167 accredited repair shops
PHP 3,000,000 maximum total sum insured

The Mercantile Insurance Corporation



10 years of casa eligibility
77 accredited repair shops
PHP 5,000,000 maximum total sum insured
Overnight accommodation - Yes, up to PHP 2,000
Towing - Yes, up to PHP 5,000
Vehicle removal crane services - Yes, up to PHP 10,000
Sources: