Expenses never end, and sometimes, you may find yourself in a bind. It's either your business requires additional funding or one of your parents needs financial assistance for their surgery.
Sourcing quick cash can be difficult, especially if you've already exhausted government loan options and your relatives or friends are also short on money. Thankfully, private lenders like Asialink Finance Corporation offer solutions through its various loans.
Want to find out more? Check out this comprehensive guide to various Asialink financing options.
What is Asialink Finance Corporation?

Also known as Asialink, Asialink Finance Corporation is a lending company established in 1997. It prides itself on offering competitive interest rates coupled with fast processing times.[1] The company is also known for being inclusive, serving both businesses and individuals.
Currently, this loan and financing company employs over seven hundred personnel and thousands of independent consultants. There are also more than 80 Asialink Finance Corporation branches across the country.[2]
👉 Is Asialink Finance Corporation Legit?
Yes. Asialink Finance Corporation is listed with the Securities and Exchange Commission (SEC). Its registration number is A199711768, CA No. 570.
What is an Asialink Loan?
An Asialink loan refers to the money qualified applicants receive from Asialink Finance Corporation to finance their needs. There are various loan products to choose from, depending on your situation:
💸 Sangla OR/CR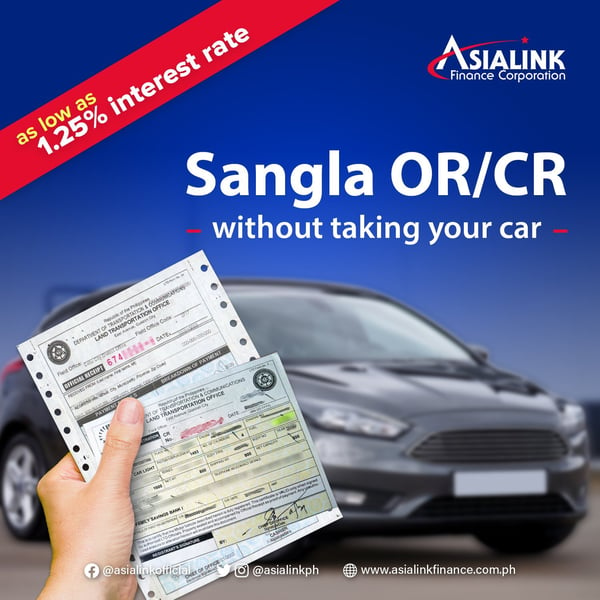 If you own a vehicle, you can apply for Asialink's Sangla OR/CR loan. With this product, you'll get cash by pawning your vehicle title (also called Official Receipt/Certificate of Registration or OR/CR). You'll get your vehicle title back once you pay back the loan in full.
This loan comes with a maximum repayment term of 48 months.
💸 Vehicle Financing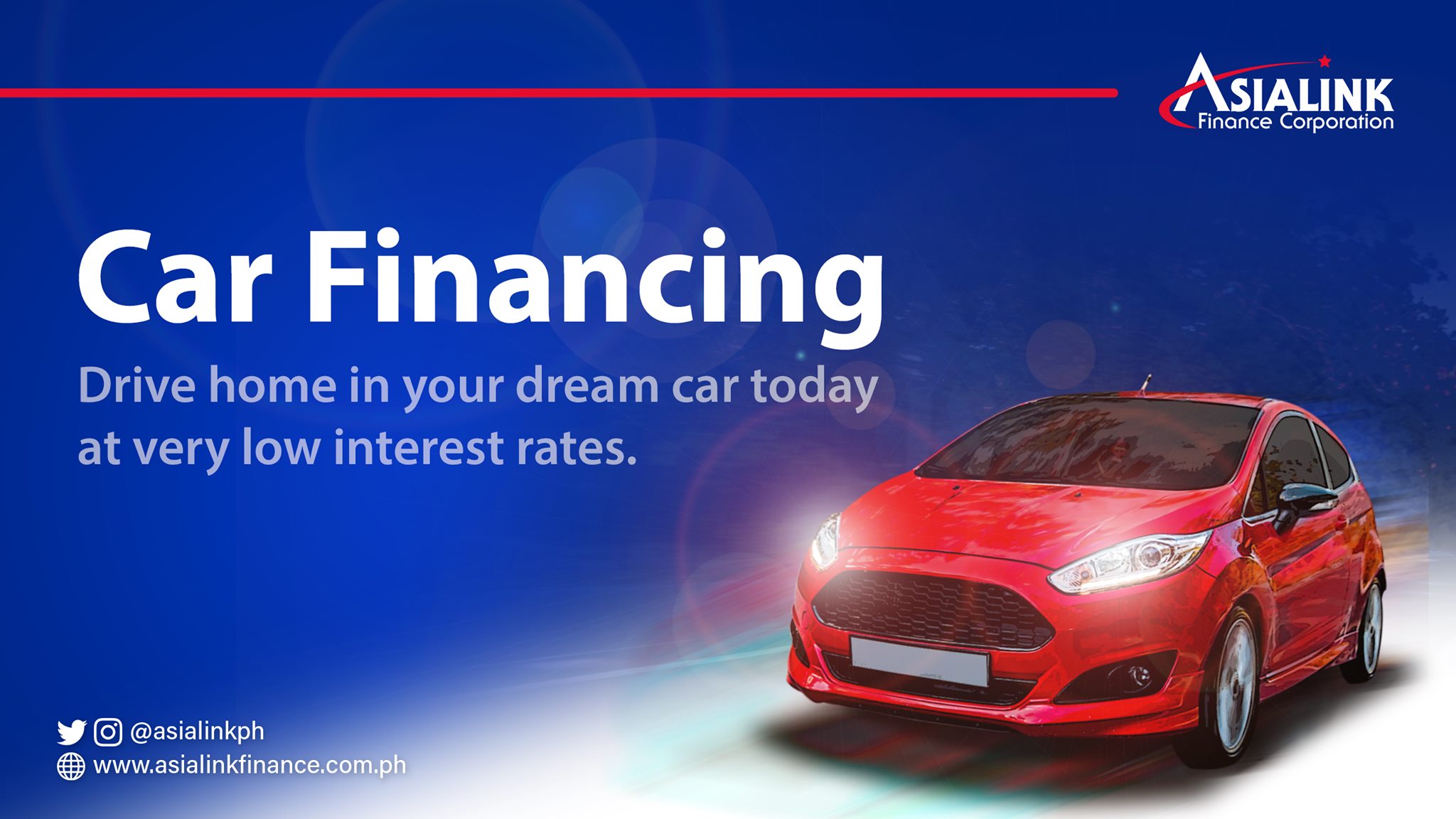 Looking to buy a car or a truck? Get funds by applying for Asialink financing. You can use the company's auto loan to buy a brand-new or second-hand vehicle.
This product also comes with a maximum repayment term of up to 48 months.
💸 Doctor's Loan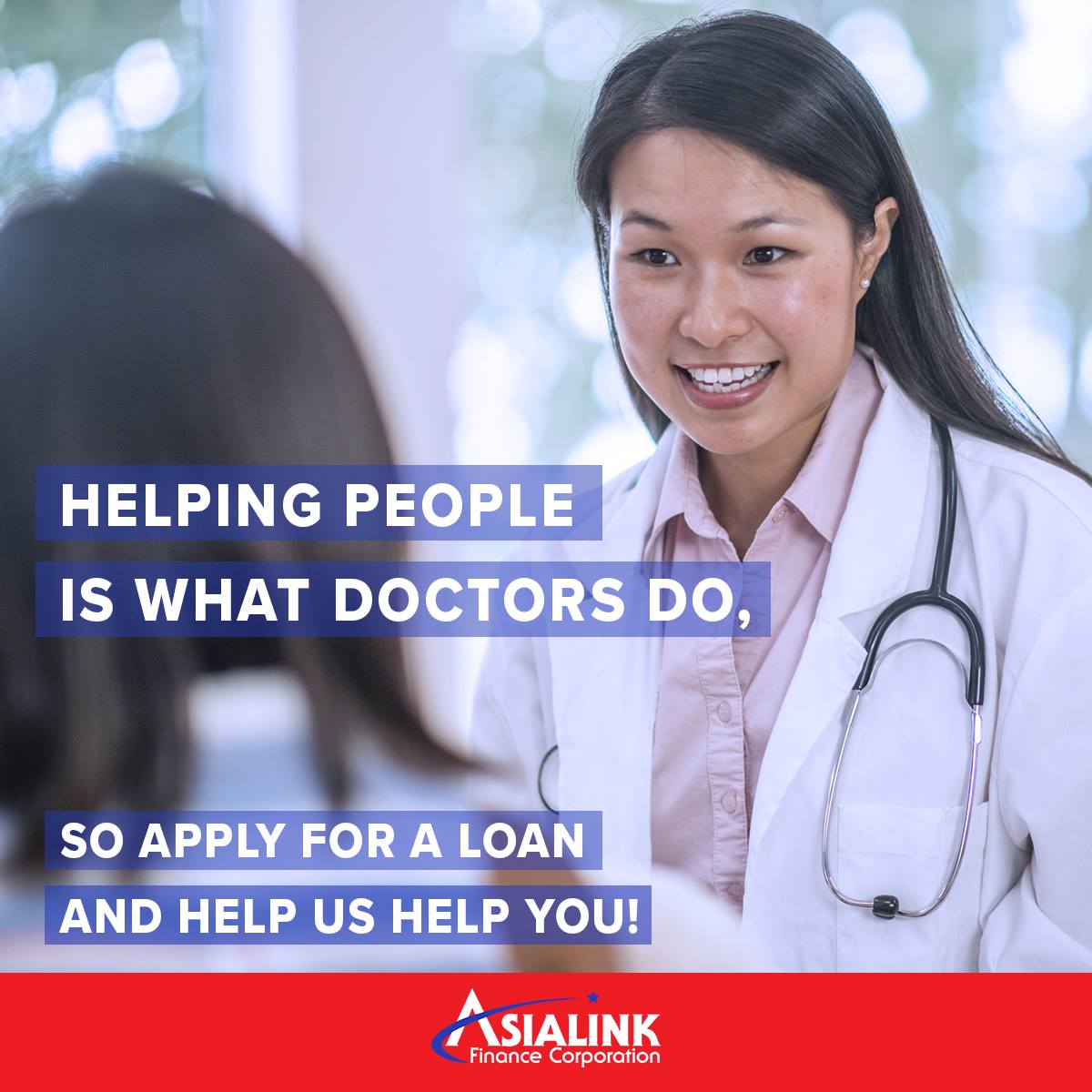 This is a personal loan only offered to general practitioners, ophthalmologists, and dentists. If you apply for this loan, you have a maximum repayment term of up to 12 months.
Related reading: 20 Legit Online Loan Providers in the Philippines to Consider
How Much is the Loan Amount at Asialink?
Asialink primarily focuses on collateral lending. This means that your loan amount will depend on the appraised value of your asset, which is a vehicle in this case.
You can apply for a loan amounting to as much as 70% of a vehicle's appraised value, However, keep in mind that only units made from 2005 to the present are qualified for Asialink financing.
What is the Asialink Interest Rate?
This will depend on the type of loan you're applying for. For Sangla OR/CR loan and secondhand car loan, you may get as low as a 1.5% interest rate.
If you're applying for a doctor's loan, the interest rate is 1.75%. On top of that, you'll need to cover the 5% Asialink processing fee.
Why Should I Apply for Asialink Financing?
Asialink financing schemes have appealing features that may convince you to apply:
✔️ It Offers a Variety of Loans
You can apply for an Asialink car loan, Asialink Sangla OR/CR loan, and even a doctor's loan. With such a range, you can find the lending product that fits your specific needs and repayment capacity.
✔️ The

Collateral

Stays With You
While some car title loan companies require borrowers to surrender their cars, Asialink does not. You'll only be required to turn in your OR/CR. With that, you can still use your car—helpful for those who use their vehicles as a source of income.
✔️ The Company Accepts a Wide Range of Vehicles
For its Sangla OR/CR loan, Asialink Finance Corporation accepts different kinds of vehicles. These include cars, trucks, taxis or public utility vehicles (PUVs), multicabs, tricycles, and motorcycles.
✔️ The Company Accepts Old Car Models
If your car is 16 years old or so, you'll be glad to know that Asialink accepts 2005 car year models and above. On the other hand, if you're using a truck as collateral, any make and year model will be accepted.
✔️ It's an Established Company
Asialink Finance Corporation has been operating in the country for 26 years. This is a clear testament to its capability as a lender. With its reputation, you know that you can rely on this company when the going gets tough.
Asialink Loan Review

With almost three decades in the industry, Asialink Finance Corporation has proven itself as a reliable financing company for the common folk. One of its most striking attributes is its commitment to providing loans to unbanked and underserved Filipinos. After all, a lot of Asialink's clients won't qualify for bank loans.
Asialink's business shone the brightest when the pandemic hit the country in 2020. At the time, Asialink exemplified its flexibility by restructuring its loans, helping individual borrowers follow through on their obligations and simultaneously keep their businesses afloat.[2]
Asialink's credibility received a boost through the endorsement of Chinkee Tan, one of the leading financial influencers in the country. Tan puts emphasis on the lender's low interest rates and high appraisal of collaterals.
What are the Asialink Loan Requirements?
The requirements will depend on the type of loan you're applying for.
🖊️ General Qualifications
You're eligible for a loan if you meet these qualifications:
A Filipino citizen
Between 21 and 60 years old
Must have a stable source of income
Must have a valid contact number
Must have a vehicle (for OR/CR loan)
🖊️ Sangla OR/CR Loan Requirements
Those pawning their vehicles should prepare the following Asialink loan requirements:
Two primary IDs

Proof of billing (copy of latest water or electric bill)

Copy of OR/CR (Official Receipt and Certificate of Registration)

Proof of TIN

Documented proof of income

Latest picture or stencil of the vehicle (for truck loans)
For proof of income:
If employed –

Certificate of Employment, Company ID, latest three months payslips and payroll bank account statement

If self-employed with business (proprietor) –

Mayor's Permit, DTI registration, three months bank statement
Note that additional requirements may be needed upon credit evaluation.
🖊️ Used Car Loan Requirements
Buying a used car? Here are the Asialink loan requirements you need to submit:
Borrower's valid IDs
Used car seller's valid IDs
OR/CR of the vehicle
Offer to Sell/Purchase Agreement
Proof of income (Certificate of Employment, payslips, ITR, and DTI registration for business owners, among others)
Proof of TIN
Proof of credit score
Latest picture of the used vehicle
🖊️ Doctor's Loan Requirements
General practitioners, ophthalmologists, and dentists should submit the following Asialink loan requirements:
Professional Regulation Commission (PRC) ID
Proof of billing
Three months' bank statement
How to Apply for an Asialink Loan?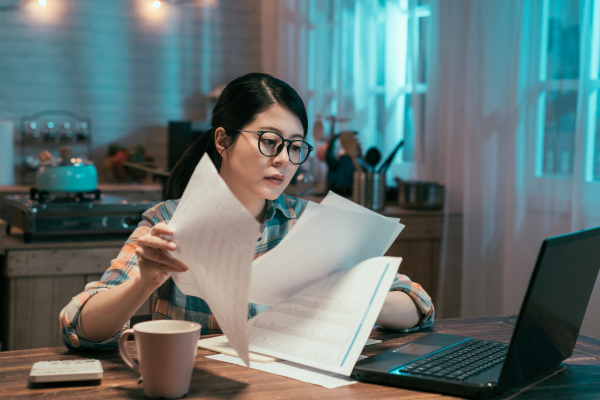 Applying for an Asialink loan is easy. Here are the steps that you need to take:
Step 1 – Check your eligibility. Refer to the General Qualifications above for details.
Step 2 – Fill out your application form. You'll be required to provide your name, email address, type of loan, source of income, and more. Make sure the details are updated and accurate.
Step 3 – Collate all the required documents. Don't forget to double-check them.
Step 4 – Submit your application to the nearest Asialink branch. If you choose to file an online application, just fill out the online form on Asialink's website. You'll receive an email containing further instructions regarding your application. Note that application is free, so be wary of agents asking you to pay a fee.
For questions and concerns regarding your loan application, get in touch with Asialink via these channels:
Loan consultants – Asialink has accredited loan consultants equipped with knowledge and experience across the country. Again, keep in mind that they don't charge any fees for their assistance, so be wary of agents who collect payments.
Telephone – Contact Asialink via these telephone numbers:

Loans department – (02) 8631-4380 / 09178628657
Customer service – 09178473639 (Globe) / 09088868780 (Smart)
Email – customerservice@asialinkfinance.com.ph
Related reading:
Asialink Loan FAQs
Done reading the Asialink loan review above? It's time to answer some of your questions. Check out the following:
1. How will I know if my loan application has been approved?
Asialink Finance Corporation's personnel will give you a call to inform you that your application has been approved. They will also give you instructions on how to claim your loan proceeds.
2. How do I get the loan proceeds?
Asialink will disburse the loan proceeds via checks, direct deposit, or cash card.
3. Can I still apply for a loan even if I don't have an existing checking account?
Yes. But if the company requires you to have a checking account, Asialink will endorse you to its partner bank.
4. How can I pay my loan?
You can pay your loan via post-dated checks or PDCs. You can also settle your dues through Asialink's partner payment centers nationwide:
M Lhuillier
Cebuana Lhuillier
Bayad
Robinsons Bank
Rizal Commercial Banking Corporation (RCBC)
Asia United Bank (AUB)
UnionBank
GCash
Maya
ECPay
TrueMoney
7-Eleven
To pay at any of Asialink's partner payment centers, just follow these steps:
Go to the nearest Asialink payment center.
Fill out the bill payment application form. Provide the following details:

Asialink Finance Corporation as the payee
16-digit PN Reference Number
Payment amount

Pay at the cashier.
Keep the validated bills payment form for future reference.
5. I have an outstanding balance. Can I renew my loan?
Yes. According to Asialink Finance Corporation, you may apply for a loan renewal if you've already paid at least 50% of your original loan. The company, however, will deduct the outstanding balance from the proceeds of your new loan application.
To renew your loan, just contact Asialink's Renewal Department or visit the nearest branch. You may also get assistance from an Asialink Loan Consultant.
6. What's the Asialink Finance Corporation address?
If you want to pay Asialink's head office a visit, its Metro Manila address is Suite 210, AIC Gold Towe, Emerald Avenue cor. Garnet Road, Ortigas Center, Pasig City.
Final Thoughts
Without a doubt, Asialink is one of the leading non-bank lenders in the Philippines. Its 26-year heritage is proof of that. But what makes it the ideal lender is its commitment to serve unbanked and underserved Filipinos.
Other than reading this Asialink loan review, reaching out to family and friends who borrowed money from this lender will help. You'll get to hear about their experience of how the company aided them in overcoming their financial hardships.
If you want to explore other loan options, you can compare your options and apply easily through Moneymax:
| Personal Loan | Minimum Loan Amount | Maximum Loan Amount | Monthly Add-on Rate | Minimum Annual Income | Approval Time |
| --- | --- | --- | --- | --- | --- |
| UNO Digital Bank Personal Loan | | | | | |
| Metrobank Personal Loan | | | | | |
| UnionBank Personal Loan | | | | | |
| BPI Personal Loan | | | | | |
| RFC Loan | | | | | |
| Tonik Flex Loan | | | | | |
| Tonik Quick Loan | | | | | As fast as 1 hour |
| Tonik Big Loan | | | | | 7 days |
| Tala Loan | | | | | 24 hours |
| HSBC Personal Loan | | | | | |
| CIMB Personal Loan | | | | | |
| Maybank Personal Loan | | | | | |
| RCBC Bank Personal Loan | | | | | |
| SB Finance Personal Loan | | | | | |
| CTBC Bank Personal Loan | | | | | |
| PSBank Personal Loan | | | | | |
Sources: