Before the Philippine Identification System Act (Republic Act 11055)[1] was signed into law by President Duterte in 2018, the Philippines was just one of the few countries that didn't have a national ID system in place.
Since the PhilSys national ID registration was opened to the public in 2020, more than 50 million Filipinos have completed the Step 2 biometrics procedure–fingerprints, iris scan, and photographs.[2] And according to the Philippine Statistics Authority, over 8 million Filipinos nationwide have already received their PhilSys national ID cards.[3]
If you're planning to get one or just waiting for your national ID to be delivered, let this article give you a quick walkthrough of the national ID registration process and some important updates regarding national ID tracking.
What is PhilSys?
The Philippine Identification System (PhilSys), also called the national ID system, is the central identification platform of the government for all citizens and foreign residents in the Philippines. It's established under the Philippine Identification System Act or Republic Act 11055.
The concept behind PhilSys is simple: "It will only answer 'Who are you?' and 'Are you who you really say you are?'" This is according to the Philippine Statistics Authority (PSA), the national ID system's chief implementor.
What is a PhilSys National ID?
The PhilSys National ID is a nontransferable identification card that serves as a valid proof of identity for people registered under the PhilSys.
While the national ID is considered an official government-issued ID in the Philippines, the Phil ID isn't meant to replace other existing valid IDs used for a purpose other than identity verification. These government IDs include passports (for travel), UMID (for SSS/GSIS transactions), PRC ID (for practicing a profession), and driver's license (for driving).
Is National ID Registration Mandatory?
As stated in the law, national ID registration isn't mandatory for everyone. If you refuse to get a Phil ID, you won't be penalized under the Philippine Identification System Act.
But PhilSys strongly recommends that you register, since the PhilSys platform will eventually be used for the issuance of government services.
Who is Eligible for a PhilSys National ID?
You should register in PhilSys and get a national ID if you're one of the following:
Filipino citizens, including those with dual or multiple citizenships
OFWs and other citizens living abroad
Foreign nationals living in the Philippines for over six months
Is There a Minimum Age Requirement for PhilSys National ID Registration?
According to PhilSys, registration is open to all ages, including newborn children. For kids below five years old, only their demographic information and front-facing photograph will be collected. Their PhilSys Number (more on it later) will be linked to their parent or legal guardian.
However, when the kid turns 15, they'll have to update their information and have their biometrics recaptured.
PhilSys National ID Features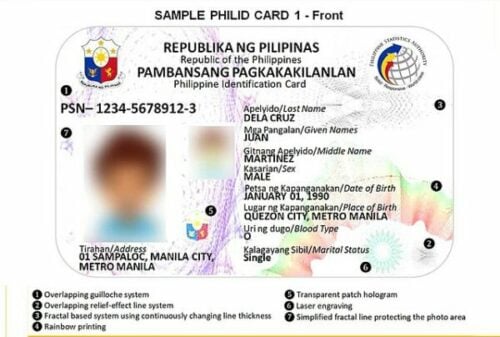 PhilSys Number
The Phil ID contains a 12-digit number called the PhilSys Number (PSN). This unique and lifetime identification number is assigned to each eligible cardholder either upon birth or registration in the PhilSys.
In addition to the printed PhilSys Number, the national ID also features a QR code that also contains the cardholder's PSN and two fingerprint data.
Personal Information Collected Under PhilSys
Required:
Last name, first name, and middle name
Gender
Date of birth
Place of birth
Blood type
Address
Citizenship (Filipino or Resident Alien)
Optional:
Marital status
Mobile number
Email address
Biometric Data Captured Under PhilSys
Front-facing photo
Full set of fingerprints
Iris scan
Security Features
When the PhilSys Act was signed into law in 2018, the main concern was the privacy and security breaches that might arise when sensitive information is collected and stored in a database.
The PSA has assured the public that it would adopt the latest technologies and innovations to ensure the security and privacy of the PhilSys.
All transactions and data recorded under the national ID system are encrypted and digitally signed. Another notable PhilSys security feature is the use of multiple databases that store only specific information from an individual. This will prevent hackers from gaining access to the cardholder's entire profile.
PhilSys also adopts a process called tokenization. Through this, sensitive data, such as your PSN, is replaced with a non-sensitive equivalent (which is the token) to make sure that your important data will not be revealed and compromised.
For your peace of mind, PhilSys doesn't collect data that isn't necessary for identifying individuals. You won't be required to provide information about your socio-economic status, political leaning, religious affiliation, educational qualifications, and criminal records, among others.
PhilSys National ID Validity
The PhilSys national ID has no expiry date. However, newborns (who are automatically issued a PhilSys identification card without fingerprint and iris scan) will be given a new ID card when they turn five to register their complete biometrics.
PhilSys National ID Fee
For Filipino citizens, the first-time PhilID application and renewal (replacement of ID card for recapturing or updating biometric info) are free of charge.
Foreigners living in the Philippines will have to pay a standard fee for the initial PhilID application, renewal, or replacement due to a lost or damaged card.

Benefits and Uses of a PhilSys National ID
Why Should You Get a PhilSys National ID?
While there are a lot of people who have countered the national ID system, having a national ID system actually comes with a lot of benefits. Other countries have been using it in countless ways.[4]
For instance, Thailand's national identity card or Smart ID is being used to determine the most suitable public health insurance for a citizen according to their age, civil status, and occupation.
MyKad, Malaysia's national ID, also doubles as a reloadable cash purse, which the citizens can use at government agencies, toll booths, gas stations, and public transport systems.
Once the national ID system's fully implemented in the Philippines, Filipinos can use their IDs as sole proof of identity when opening an account. The Bangko Sentral ng Pilipinas has released a memorandum telling financial institutions to recognize the national ID card when carrying out their Know-Your-Customer (KYC) process.[5] For citizens, opening an account will be much easier and more efficient.
President Duterte has also ordered government agencies and private institutions to start accepting the PhilSys national ID as sufficient proof of identification in a bid to improve the delivery of public services and promote ease of doing business.[6] The national ID will serve as the state's central identification platform for all citizens and resident aliens of the country, the President said in Executive Order No. 162 signed on February 14, 2022.[7]
Here are the other benefits of having a PhilSys national ID:
Simpler and faster access to government services
Easier transactions—no need to present other IDs as proof of identity to the government and private institutions
More efficient distribution of government financial assistance to poor and low-income households
Read more: National ID System in the Philippines: The Good and the Bad
What is the PhilSys National ID Used For?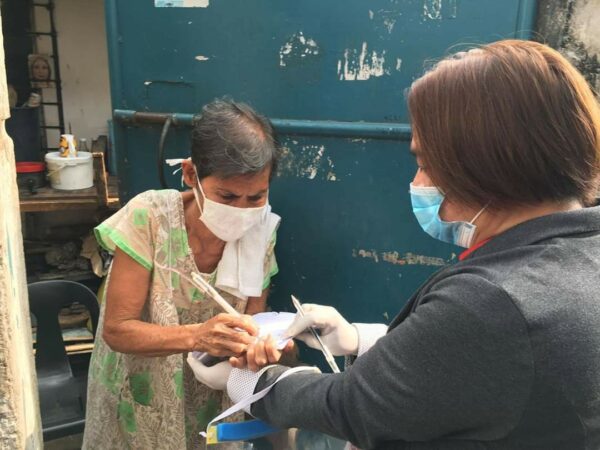 The national ID is accepted in a wide range of transactions in the public and private sectors, including the following:
Application for social welfare programs and benefits from the SSS, GSIS, PhilHealth, Pag-IBIG Fund, and other government agencies
Issuance of passport, driver's license, and other government-issued IDs
Bank account opening and other transactions with banks and other financial transactions
Tax-related transactions
Admission to schools or government hospitals
Transactions for employment purposes
National ID Registration Process: How to Get a National ID Card in the Philippines
Those who wish to get a PhilSys national ID will have to follow three steps.
Step 1: Register Online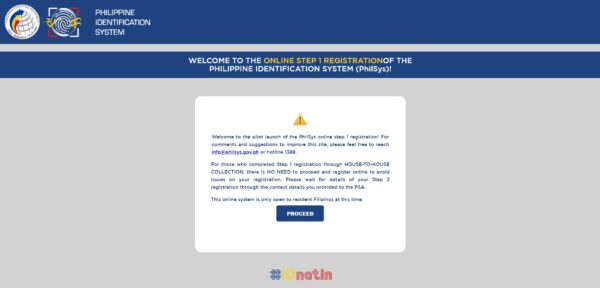 Log on to register.philsys.gov.ph. Then fill out the application form. You'll also be prompted to book your preferred appointment schedule for Step 2. You'll receive a copy of your Application Reference Number (ARN) or a QR code, which you'll need to present at the registration center.
Step 2: Proceed to Your Designated Registration Center
Head to your assigned registration center on the day of your appointment. Visit the PhilSys website[8] to see the list of provinces, cities, and municipalities open for online booking appointments. You may also get in touch with your local government unit to see if it has already established a registration center.
Currently, you can also proceed to malls in the Philippines for your national ID registration. SM, Ayala, Robinsons, and Megaworld malls have designated spots for the public to apply for their national ID. Although you need to have a valid schedule, these malls also accommodate walk-in registrants if there are available slots.
At this stage, your demographic data will be validated and your biometric information will be captured. Make sure to keep your PhilSys transaction slip.
PhilSys National ID Requirements
At the registration center, present your ARN or QR code. Also, make sure to bring the original copy of your supporting documents:
PSA-issued Birth Certificate and one government-issued identification document that bears your full name, front-facing photograph, and signature or thumbmark.
GSIS or SSS-issued Unified Multi-Purpose Identification Card (UMID)
LTO Student Permit or Non-Professional/Professional Driver's License
If you don't have any of the documents mentioned above, you can bring the original copy of any of the secondary documents below:
LCRO-issued Certificate of Live Birth
PSA-issued Report of Birth
PSA-issued Certificate of Foundling
Integrated Bar of the Philippines (IBP) Identification Card
Professional Regulatory Commission (PRC) ID
Seaman's Book
Overseas Workers Welfare Administration (OWWA) ID
Senior Citizen's ID
SSS ID
Pantawid Pamilyang Pilipino Program (4Ps) ID
License to Own or Possess Firearms (LTOPF) ID
Solo Parent's ID
Voter's ID
Taxpayer Identification Number (TIN) ID
PhilHealth ID
Philippine Retirement Authority (PRA)-issued Special Resident Retiree's Visa (SRRV)
National ID from other countries
Residence ID from other countries
The following documents will be accepted as secondary supporting documents as long as they bear a front-facing photograph, full name, permanent address, birthdate, and signature/thumbmark:
Employee ID
School ID
Barangay Clearance/Certificate
Barangay ID
City/Municipal ID
Step 3: Wait for the Delivery of Your PhilSys National ID Card
Once your national ID registration is done, all that's left to do is to wait for your PSN and PhilSys national ID to be delivered to your address. Make sure to present your transaction slip or any valid ID to the courier.
PhilSys National ID Tracking
You may now check the status of your PhilSys national ID delivery through the Philippine Postal Corporation website via PHLPost Tracking[9]. To use the PhilSys national ID tracker, follow the steps below:
Go to tracking.phlpost.gov.ph.
Enter your transaction number. You can find this on your PhilSys transaction slip provided to you during registration.
Click 'Track' to check the status of your national ID delivery.
Note: If you don't see any results, this indicates that your national ID is still being processed. Allow a waiting period of around six months for your ID to be delivered.
Final Thoughts
Filipinos can only hope that the national ID system will remedy or at least simplify the bureaucratic procedures in different transactions in the government and the private sector. Nevertheless, looking at the way other countries are using their national ID system, it's safe to say that the PhilSys national ID has so much potential.
We recommend that you follow the PSA Philippine Identification System page on Facebook to be updated on things concerning the national ID registration.

Sources: