Gone are the days when you needed to provide multiple IDs to complete government transactions. Enter the UMID card, perhaps one of the greatest innovations that the government has ever implemented. It contains all the details of multiple government IDs―from SSS to PhilHealth―thus functioning like a master key.
With the practicality that it offers, a lot of Filipinos flock to SSS and GSIS branches for their UMID application.
If you happen to be an SSS member who wants to apply for a UMID card, you've come to the right place. Here's everything you need to know about how to get a UMID card in the Philippines.
What is UMID?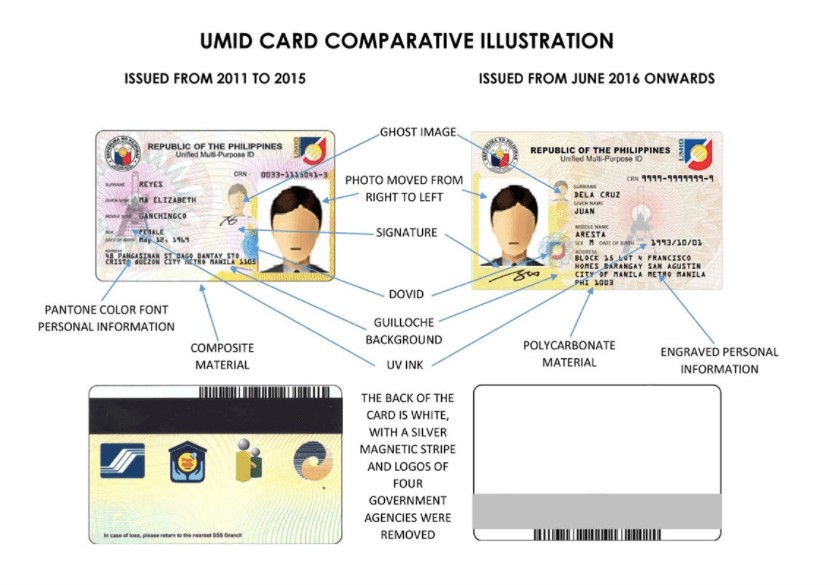 UMID means Unified Multi-Purpose Identification. The UMID is a four-in-one ID card that Filipinos can use to transact with government agencies such as the Social Security System (SSS), Government Service Insurance System (GSIS), PhilHealth, and Pag-IBIG Fund.
The UMID is also accepted as a valid ID in most transactions, making it one of the most powerful IDs in the Philippines. But unlike getting a passport, the UMID card application is simple and easy―even for fresh college graduates starting out with their first jobs.
Who Can Apply for a UMID Card?
Before you start your UMID application, find out if you're actually eligible for it. You can apply for the UMID only under any of the following conditions:
You're an SSS member with at least one posted contribution.
You've lost your UMID card.
You need to update your card due to a change of name and correction of personal details.
In case you applied for an SS number online from December 10, 2020 onward, take note of the following:
You don't have to fill out the UMID application form.[1]
You only have to schedule an appointment for biometric data capture through the My.SSS Appointment System. On your appointment day, you'll be required to present the printed SS Number application and the transaction number slip.
Note: Should you prefer a manual application at the branch, remember that the Branch Number Coding Scheme applies.[2]
What are the Requirements for a UMID Card in 2023?
One of the best things about the UMID card application is that the documents you need to submit aren't complicated at all. You just have to provide the following UMID requirements:
Duly accomplished UMID application form
Any of the following primary valid IDs:

Driver's License
Social Security 2D Barcode ID Card
Seaman's Book
Alien Certificate of Registration
Firearm Registration

In case you don't have any of the above-mentioned valid IDs for your UMID application: any two IDs/documents, both of which bear your signature, and one of which should bear your photo
Where Can I Apply for a UMID Card?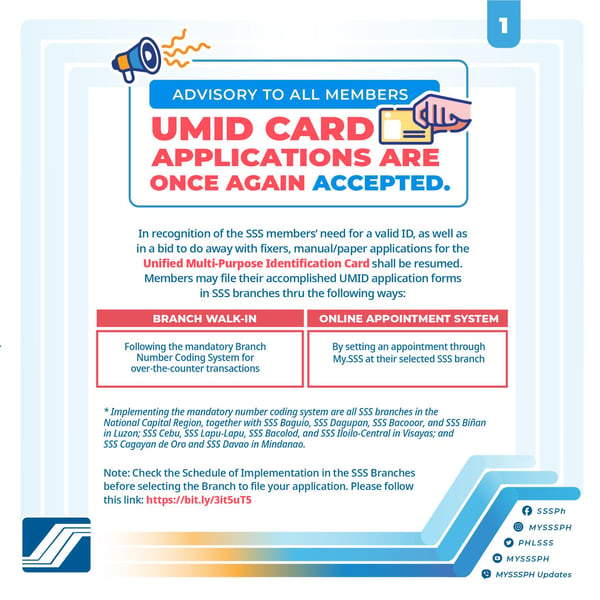 Wondering how to get a UMID card? You can file your UMID application through the following channels:
Online via your My.SSS account with an appointment date for biometric data capture at your preferred SSS branch
Offline via an SSS branch with a UMID enrollment facility
How to Get a UMID Card in 2023
Here are the steps that you need to take for your UMID card application.
Step 1: Schedule Your Appointment
There are two ways on how to get a UMID card. You can schedule your appointment via online and offline channels. For those who prefer online scheduling, you can use the My.SSS portal. If you want to do it offline, just head over to an SSS branch with a UMID enrollment facility.
👉 How to Apply for a UMID Appointment Online via My.SSS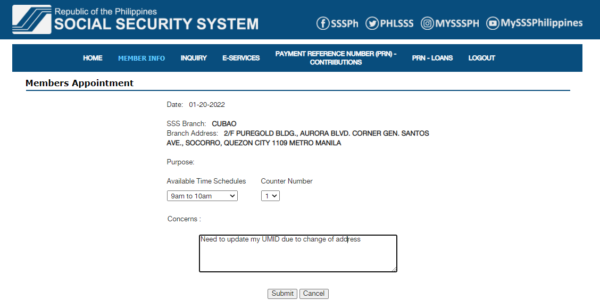 Visit the official SSS official website.[3]
On the right side of the page, click the Member tab.
You'll be directed to the log-in page. Input your User ID and password.
Click the Member Info tab. Choose Appointment System from the drop-down menu.
For the Purpose section, select UMID Card Application.
Pick your region, preferred SSS branch, and appointment date. Remember that the dates in red are unavailable, while the ones in green are still available.
Input your desired time schedule and the counter number that will process your application.
Once you're done with the application, print or take a screenshot of the appointment details for reference.
👉 How to Set a UMID Appointment via Branch Walk-In
If you don't have a My.SSS account and you want to schedule your UMID appointment, you can do so by visiting an SSS branch. However, remember that the SSS branch you're going to visit must have a UMID enrollment facility.[4]
Moreover, you can't just go to your chosen branch whenever you feel like it as SSS implements the Branch Number Coding system. The 10th digit of your SS or Employer (ER) ID number corresponds to a specific day you're only allowed to transact at SSS branches. Here are the schedules based on the said 10th digit.
| Your SS or Employer ID 10th Digit | Corresponding Transaction Day |
| --- | --- |
| 1 and 2 | Monday |
| 3 and 4 | Tuesday |
| 5 and 6 | Wednesday |
| 7 and 8 | Thursday |
| 9 and 0 | Friday |
Note: In case the transaction day falls on a public holiday, you can visit the branch the next day.
Step 2: Submit Your UMID Requirements at the SSS Branch
On the date of your appointment, go to your chosen SSS branch and submit your documentary requirements. You may be asked to present the original copies of your primary ID or secondary IDs, so make sure you have them with you. The SSS officer will then check your records and validate your documents.
Step 3: Pay for the UMID Fee (For Replacement Card Only)
If you're applying for a new card to replace a lost or damaged one, or to update your information, you'll have to pay a ₱200 replacement fee. You can pay for it at the nearest SSS-accredited collecting partner such as Bayad Center. Don't lose the receipt because you'll have to submit that to the SSS officer who's processing your application.
But if you're a first-timer, you won't have to pay for anything. The UMID is free for new applications.
Step 4: Have Your Biometrics Taken
Proceed to the biometrics capture booth. At this point, your photo, digital signature, and fingerprints will be taken. Before leaving the booth, double-check the personal details so errors will be corrected accordingly.
Step 5: Wait for Your UMID Card to be Issued
The staff may inform you about the estimated delivery or pick-up schedule of your UMID. How many days does it take to get the UMID? Normally, the UMID card is ready for issuance within 30 days after your application.
However, the SSS reminds members that there may be some delays in the issuance of the cards. Nevertheless, the agency assures members that notifications will be immediately sent to their mobile number or email address once the cards are available for pick-up.
Once you've received your card, you can activate it right away at a self-service kiosk of your chosen SSS branch.
UMID Card Application FAQs
Still got some questions? This section may provide answers to all your UMID-related questions.
1. Are the UMID and SSS ID the same?
No. Even though they're both issued by the SSS, these two ID cards are different. The ID that the SSS currently has been issuing to members since 2011 is the UMID card. Meanwhile, the SSS ID is the blue card that the agency issued before it launched the UMID.
Thus, the SSS is no longer releasing the blue SSS ID card.
2. Does the UMID card have an expiration date?
No, your UMID card doesn't have an expiry date. It's valid for life, so take care of it. If you lose or break it, you'll need to apply for a replacement card.
3. What is CRN in SSS?
The CRN or Common Reference Number links the ID numbers of SSS, GSIS, Pag-IBIG, and PhilHealth. You can find it in the upper right portion of your UMID card.
Is the CRN the same as my SSS number, you ask? Don't be confused. Your CRN is different from your SSS number. The CRN has 12 digits while the SSS number has 10.
4. If I don't have any primary documents, what should I submit?
As mentioned, in case you don't have a primary ID, such as a driver's license, passport, or seaman's card, you can submit any two secondary documents. For the complete list, check the UMID application form.[5]
5. How much does it cost to get a UMID card?
If you're getting your UMID card for the first time, you don't have to pay for anything. But if you're getting a replacement card, you'll need to pay ₱200 at the SSS branch on your respective appointment.
6. I need to replace my card to update my data and fingerprint. What should I do?
Just visit your designated branch and submit the previously issued SSS or UMID card.
7. How will I know the status of my application?
If you want to know the status of your UMID application, you can do it via email or My.SSS.
Email the following details to sss_id2@sss.gov.ph:
Your full name
Your SS Number
The details of your concern
Photo or scanned copy of the following:

Phil ID (national ID) or one primary ID
Two valid ID cards, both bearing signatures or with one bearing your picture

Photo or selfie of you holding the ID cards/documents that you've sent.
Note: The email attachment should not be larger than 30 MB.

Alternatively, you can view the status of your UMID application through your online SSS account. Here's how:
Log in to your My.SSS account.
On the menu, hover your mouse over Member Info.
Click on UMID/SSS ID Details.
The system will show the information about your UMID application. Check its status under the Transaction Status column.
8. Someone offered to apply for my UMID for me. Is this legit?
Avoid these people at all costs! The SSS reminds the public to avoid fixers who offer to make a UMID card in exchange for a transaction fee. Only the SSS is authorized to make UMID cards.
UMID cards made by these fixers are not legitimate and can't be used to process official transactions. If you use this card, your benefit claim or loan application may be rejected. You may also face legal charges.
As such, the SSS encourages the public to report Facebook and Instagram pages that offer this service. You can reach out to the agency's Special Investigation Department via the following contact details:
Telephone number: 8709-7198 locals 5313 to 5316
Email address: fid@sss.gov.ph
9. What is a UMID ATM Pay Card?
In 2022, SSS partnered with local banks UnionBank and RCBC to issue the UMID ATM Pay Card. With this card that functions as a regular UMID card and an ATM card, members can receive their SSS benefits, claim SSS loan proceeds and refunds, pay at online and offline retail outlets, transfer money, withdraw cash, and more.
RCBC is currently in the process of rolling out the upgrade. Meanwhile, to upgrade to the UnionBank UMID ATM Pay Card, update your contact information via the My.SSS portal or at the nearest SSS branch. Next, download UnionBank's mobile app, open a UMID ATM Pay Card account, and fill out the required information.
Lastly, wait for your UMID ATM Pay Card, which will be delivered within 15 to 20 banking days.
4 Tips Every UMID Applicant Should Remember
Whether you're filling out your online application form or heading to the SSS branch, you need to keep the following things in mind:
✔️ Complete the UMID Application Form Before Going to the SSS Branch
By doing this step before your UMID application, you'll reduce the time you'll have to spend at the SSS branch. It's so important that even SSS President and Chief Executive Officer Aurora Ignacio herself issued this reminder to members.[6]
✔️ Double-Check the Information You Provided
Delays and problems may arise if you provide the SSS with inaccurate data. Before you turn in your application form and the requirements, see to it that all the details are correct and consistent. Double-check the details shown to you at the biometrics capture booth too.
✔️ Wear Appropriate Clothes
Treat your UMID appointment the way you would a passport appointment. This means that you need to dress appropriately. Refrain from wearing a tank top or a sleeveless shirt as this is not allowed at the photo booth.
Similarly, you'll have to remove items and accessories that may interfere with your appearance in the photo. These include colored contact lenses, large earrings, and eyeglasses.
✔️ Observe Health and Safety Protocols at the Application Site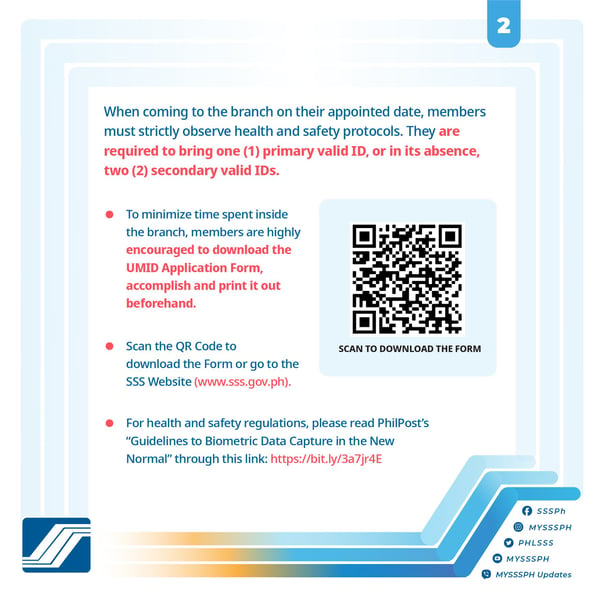 The pandemic isn't over yet. Even if the face mask mandate has been lifted, wear one just to be on the safe side. Sanitize your hands, especially after the biometrics capture. Don't forget to bring your own pen.
Final Thoughts
A UMID card comes with a lot of benefits. For one, you don't have to carry multiple government IDs in your wallet. You can also conveniently access your government benefits from different agencies just by using one card.
Now that you know how to get a UMID card easily, it's time to set your appointment. Fast-track the entire application process by submitting complete documents and double-checking all the details that you provide to avoid mistakes and confusion.

Sources: