Voter registration is the first step to exercising your right to vote for the next leaders who will shape our country's economy, international relations, public health, and other critical national policies.
If you wish to vote in the upcoming elections, you have to know the requirements and process of COMELEC registration in the Philippines first. And once you're registered as a voter, it's equally important to know how to validate your registration records and how to find your precinct information.
Here's a comprehensive guide to walk you through COMELEC registration, voter status verification, and other crucial information you need to know before participating in the next Barangay and Sangguniang Kabataan (SK) elections scheduled on December 5, 2022.
What is Voter's Registration?
Voter registration is the process in which a qualified voter files a sworn application before the election officer of the city or municipality where the applicant lives. Upon approval by the Election Registration Board, the applicant's record is included in the book of voters.
It's a requirement for any Filipino who wishes to join in choosing the next public officials in the Philippine elections, as well as those who plan to run for public office.
Who Can Register as a Voter in the Philippines?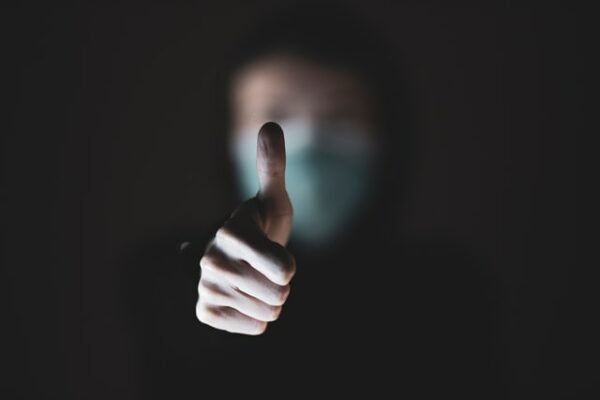 You're qualified to register as a voter in the Philippines if you meet all the eligibility requirements.
Eligibility Requirements for Regular Voters
Filipino citizen who has never registered with the Commission on Elections (COMELEC)
At least 18 years old on or before the upcoming elections
Living in the Philippines for at least one year
For barangay elections: Living in the barangay where they intend to vote for not less than six months by December 5, 2022
Eligibility Requirements for Sangguniang Kabataan Voters
Filipino citizen who has never registered with the COMELEC
At least 15 but not older than 30 years old on or before the SK Elections on December 5, 2022
Living in the barangay for not less than six months by December 5, 2022
When is the COMELEC Registration for the 2022 Elections?
All COMELEC registration services, including reactivation and transfer of voter's records, are processed during the voter registration period. Voter's registration runs only for a limited period before an election. So be aware of the COMELEC registration schedule to avoid missing the deadline.
When is the Voter's Registration 2022?
Voter's registration in the Philippines for the 2022 Barangay and SK elections[1] runs from July 4 to 23, 2022, Mondays to Saturdays, including holidays, from 8 a.m. to 5 p.m.
This schedule for first-time voters also applies to other types of applications, including the following:
Transfer of registration records
Reactivation of registration records (walk-in only)
Change/corrections of entries in the registration records
Inclusion of registration records and reinstatement of name on the list of voters
Transfer of registration records from overseas voting to local
Meanwhile, online reactivation of voter's registration is scheduled from July 4 to 19, 2022 only.
Since the COMELEC registration 2022 is scheduled for only three weeks, it's best to register as early as possible, so you avoid the long lines during the last few days of the voter registration period.
What to Do Before Your Voter's Registration
With the coronavirus risk still around, it's very important to complete the voter's registration as quickly as possible. Doing this helps you avoid long lines and crowds, lowering your risk of getting COVID-19.
To do that, make sure to accomplish these three things before heading to the COMELEC office for registration.
1. Prepare the COMELEC Registration Requirements
What are the requirements for voter's registration, you might ask? For first-time voters, COMELEC registration requirements include at least one of the following valid IDs and a photocopy:
Driver's license
SSS ID/GSIS ID/UMID
IBP ID
Passport
Postal ID
PRC ID
Barangay ID/Certification with photo
Senior Citizen ID
Company ID or Employee ID
Student ID or library card signed by the school authority
Certificate of Confirmation from the National Commission on Indigenous Peoples (NCIP)
Any other valid ID with your photo and signature (except for cedula and police clearance)
Additional requirements for COMELEC registration: Original and photocopy of birth certificate (for applicants turning 18 years old on the upcoming election day)
Related article: PSA Online Application Guide: How to Apply for a CENOMAR or Birth, Marriage, or Death Certificate Online
Tips:
Bring more than one valid ID. It's best to bring as many valid IDs as you have even if you only need one. If the ID you present turns out to be unacceptable, you have back-ups.
Present only a valid ID that shows your current address. If the address on your ID is in a different location than the city or municipality where you're applying, the officer will ask for another ID that indicates your updated address. If you don't have one, your application will be denied.
2. Download and Accomplish the Voter's Registration Form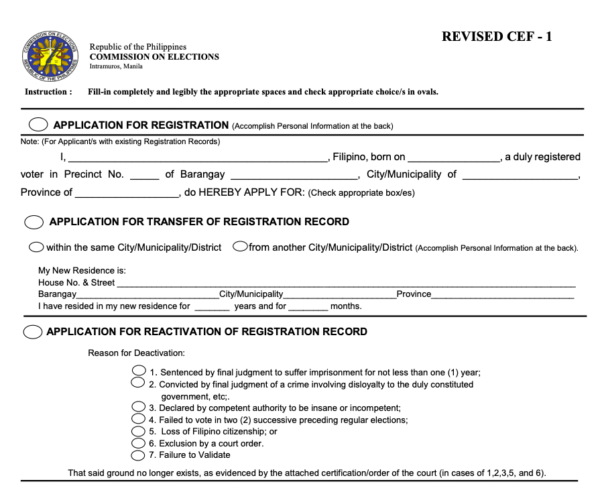 The COMELEC recommends downloading the application forms from its website,[2] printing them, and filling them out manually at home before your registration.
However, don't put your signature and thumb marks in advance. The COMELEC requires doing this only in front of the election officer during voter's registration.
COMELEC Registration Form Guidelines
Click the CEF-1 link to download the voter's registration form. Print it on a long bond paper (8.5″ x 13″). A4 or legal size paper is not allowed.
Annex B (Supplementary Data Form) is for PWDs, senior citizens with disabilities, indigenous people, applicants who can't read or write, or those who will assist such voters. Download this form only if it's applicable to you.
Completing the Coronavirus Self Declaration Form is also a requirement for COMELEC registration. It's best to download and fill it out before you register.
If you can't access the voter's registration forms when the COMELEC website is down, you can download them from the website of COMELEC Spokesperson James Jimenez. Alternatively, COMELEC registration forms can be downloaded through the #MagpaRehistroKa website.[3]
3. Know the COVID-19 Safety Protocols in COMELEC Offices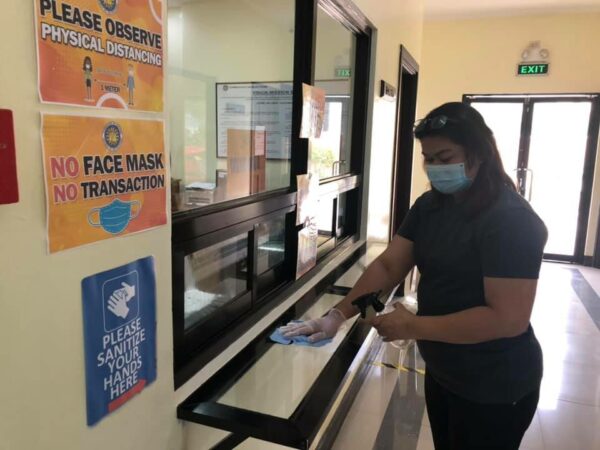 The COMELEC registration 2022 is quite different from those done in the past years. Applicants have to follow additional steps to prevent COVID-19 transmission in COMELEC offices.
So that you'll come fully prepared, here are some tips on what to do and bring to the COMELEC registration center:
Don't proceed if you have flu-like symptoms. Applicants with possible COVID-19 symptoms cannot enter COMELEC premises. Go to the COMELEC once you are well and have self-isolated for at least 14 days.
Bring your own pen (black or blue ink).
No face mask and face shield, no registration. Wearing a face mask and face shield at all times (except during photo-taking) inside the premises is a requirement for COMELEC registration. It allows different types of face masks such as surgical masks, reusable masks, DIY cloth masks, and those made of indigenous fabric.
Use the foot bath and hand sanitizer at the entrance. Sanitizing your hands with alcohol is also a requirement for COMELEC registration before and after your biometrics capture.
Use the express lane if you're a senior citizen, PWD, pregnant woman, or 18 to 20 years old.
Ensure physical distancing at all times. Observe at least a 2-meter distance from other people. Leave the COMELEC premises immediately after your registration.
The COMELEC Registration Process: How to Register as a Voter in the Philippines
Now that you know what you should do before you register, it's equally important to learn what to do during your voter's registration.
1. Go to the Local COMELEC Office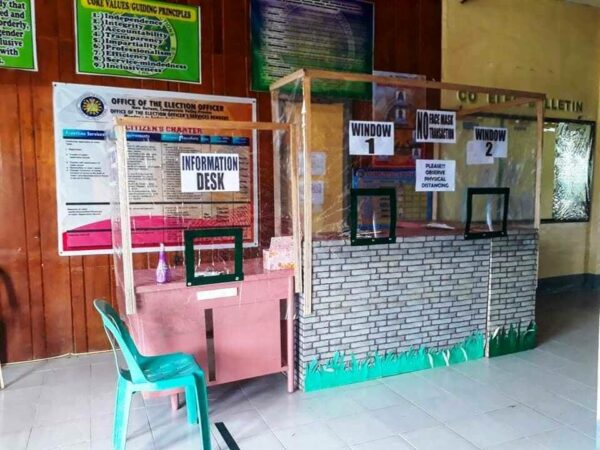 The COMELEC requires Filipinos to personally file their application for voter's registration at the Office of the Election Officer or local COMELEC office in the district, city, or municipality where they currently live. Typically, the office is located within or near your city or municipal hall.
2. Present the Requirements for Voter's Registration
At the COMELEC office, find the queue for submitting the requirements for voter's registration. The election officer will check your ID to verify your identity, place of residence, and registration status on the government agency's database.
Also, submit your accomplished voter's registration application forms to the designated officer who will check them for completeness of the information.
3. Have Your Biometrics Captured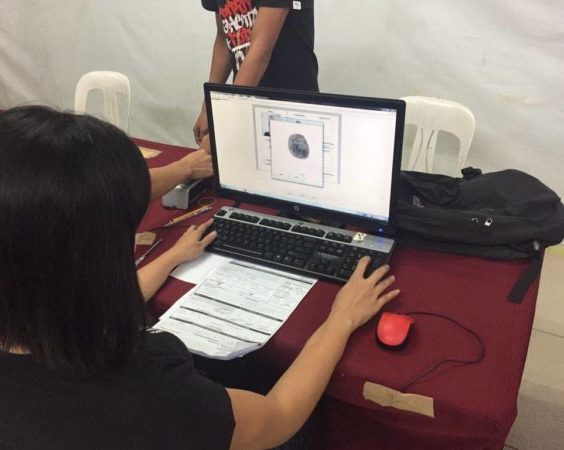 If your application form is good to go, you'll be asked to proceed to the biometrics capture area. Line up at the first queue to have your photo taken. Just look straight at the webcam until the flash appears. You may ask the operator to show you your picture, so you can check if it's captured correctly.
Next, go to the fingerprints capture. On the fingerprint scanner, place your right and left thumbs and index fingers one at a time. The operator will guide you on how to do it properly.
Lastly, go to the queue for the signature capture. Simply sign on the signature pad, similar to how you sign on paper. Check the computer monitor to see if you've signed correctly. You may repeat this step if your signature was not captured right the first time.
4. Receive Your Acknowledgment Receipt
When you're done with your biometrics capture, you'll be requested to write down your name and sign on a logbook. You'll then be issued an acknowledgment receipt.
At this point, you're not a registered voter yet. Your application will undergo approval by the Election Registration Board (ERB) during its scheduled quarterly hearing. After the ERB hearing, your information will be recorded in the book of voters of your district, city, or municipality. Only then can you be considered a registered voter.

COMELEC Precinct Finder Guide for 2022 Elections in the Philippines
Registered and ready to vote? Before you head to the polling center, make sure to verify your voter status first. This will save you from the stress of not finding your precinct (or worse, finding out you're deactivated and not allowed to vote) on the election day.
Here's what you must know about COMELEC's online precinct finder and how to use it for your voter status verification.
What is the COMELEC Precinct Finder?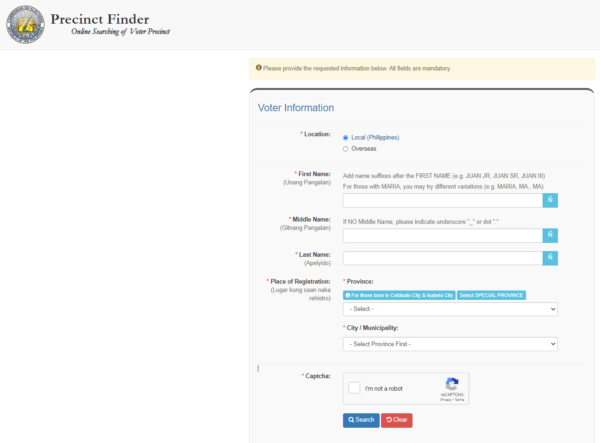 The Precinct Finder is an online service on the COMELEC website that you can use to verify your voter registration status. It allows you to access information on your registration records, such as the following:
Whether you're already registered or not
Whether your registration record is active or deactivated
If your record has biometrics data
Your precinct number and polling center
If your voter status is "active," the COMELEC Precinct Finder lets you know your assigned polling place and precinct number.
How to Check Your COMELEC Registration Status Using the Precinct Finder
You can verify the status of your voter's registration online through the COMELEC website's Precinct Finder facility or Post Finder for overseas voters.
Here's how to use the COMELEC precinct finder in the Philippines to validate your voter status for the 2022 elections:
Go to the Precinct Finder online at voterverifier.comelec.gov.ph.
Read the Disclaimer and hit the Continue button.
Select your Location (Local or Overseas).
Enter your first name, middle name, and last name. If you don't have a middle name, don't leave the field blank. Enter either an underscore (_) or a dot (.).
Select the province and city or municipality where you're registered as a voter. Note that your current residence may be different from your place of COMELEC registration.
Complete the Captcha field.
Click the Search button.
View the results.

If your registration status is "active," you should be able to see your assigned polling location and precinct number.
If your status is "deactivated," that means you failed to vote in the last two regular elections (including the barangay elections). In such a case, you'll have to reactivate your registration records.
Tip: Write down your polling center and precinct number or take a screenshot of your COMELEC Precinct Finder results. This will be your quick reference for when you vote on the election day.
COMELEC Registration FAQs
1. Can I apply for COMELEC registration online?
As of this writing, the COMELEC is not yet implementing a full online registration system for the elections. The poll body requires voters to register personally at the Office of the Election Officer.
2. How often should I register as a voter?
Voter's registration application is permanent and done only once. If you're already a registered voter, you don't have to register again each time there's an upcoming election.
However, you need to apply for reactivation of your COMELEC registration record if you failed to vote in two consecutive regular elections (which puts you in a deactivated voter's registration application status). In the COMELEC registration form, select "Application for Reactivation of Registration Record."
3. What is COMELEC satellite registration?
Satellite registration is a set of voter's registration activities conducted at special satellite registration offices in every barangay in the Philippines. The special satellite office for COMELEC registration could be a barangay hall, commercial establishment, school, university, covered court, gymnasium, or a public place within the city or town. As such, COMELEC satellite registration ensures that more Filipinos will register as voters.
The complete list of malls will be posted on the COMELEC's official Facebook page and Twitter account, so make sure to check it for announcements.
4. Does COMELEC accept police clearance or cedula as a voter registration requirement?
No. Police clearance and cedula (or community tax certificate) are not honored as valid IDs for COMELEC registration.
If you don't have any other available valid IDs, you can secure an ID that is easy and quick to get, such as the Postal ID. You may refer to this Postal ID application guide.
5. How do I check my registration status if the COMELEC Precinct Finder is not working?
Can't verify your voter's registration status online? Is your voter status on the Precinct Finder incorrect?
You'll have to do your voter status verification in-person or via email. Contact or visit your local COMELEC office or the Office for Overseas Voting (for OFWs and other Filipinos based abroad) via overseasvoting@comelec.gov.ph. Present a valid ID and tell the COMELEC officer that you want to verify your voter status.
Alternatively, you may call COMELEC's Information Technology Department at (02) 8527-9365 or 8526-7769 to verify your voter registration status.
6. How to transfer my COMELEC registration?
When you move to a different location, you should apply for the transfer of your registration record at the local COMELEC office in your new place of residence. In doing so, you won't have to travel far to get to your former city or town every election period.
The requirements for transfer of voters registration records are the same as those for new voter's registration. Just be sure that the valid ID you present indicates your new address. Otherwise, a COMELEC representative will ask you to provide other supporting documents that prove your current residence.
7. How to update my COMELEC registration?
To request a correction or an update of your voter's information, you have to submit certain documents as proof.
Here are the requirements for registration in COMELEC if you need to update your registration information:
For correction of name, date, and place of birth – Original and photocopy of birth certificate
For changing civil status and change of name due to marriage/annulment – Any original or certified true copy of the following:
Marriage contract
Certification by the solemnizing officer
Court order with a certificate of finality (in case of annulment)
Order by the Civil Registrar or Consul General
On the voter's registration form, select the Application for Change of Name/Correction of Entries in the Voter's Registration Record.
The application procedure for updating voter's records is the same as that of new registration.
For transfer of voter's registration - Original and photocopy of valid ID with proof of residence in your new address
8. How can deactivated voters reactivate their status online?
Deactivated voters, or those who have failed to vote in two consecutive elections, especially senior citizens and individuals with special needs, can apply for COMELEC reactivation online.
To apply for reactivation of your voter registration, send your application to the official email address of the local COMELEC office in your locality.
Note: Online reactivation is available only to individuals who already have existing biometrics records with the COMELEC. Those who still do not have them need to personally appear before a COMELEC office to have their biometrics taken.[4]
Alternatively, you can request your voter registration reactivation at the local COMELEC office. Simply submit the following COMELEC reactivation requirements:
Original and photocopy of at least one valid ID (with signature and valid address)
Accomplished Health Declaration Form[3]
Three copies of accomplished CEF-1 form[3] (When filling out this COMELEC form, make sure to tick "Application for Reactivation of Registration Record.")
9. How to get a voter's ID in the Philippines this 2022?
Don't expect the voter's ID to be issued when you're done with your COMELEC registration procedure, as had been the practice in the past. The COMELEC has stopped printing and issuing this ID since 2012 to give way to the national ID system.
If you registered from 2012 to 2021, you won't be given a voter's ID. Instead, you can apply for a Voter's Certification that certifies your being a registered voter in the Philippines. This document is accepted in lieu of the voter's ID for transactions that require a valid ID, such as passport application.
However, if you registered before 2012, you can claim your voter's ID at the local COMELEC office or Office of the Election Officer where you registered.
10. How to get a voter's certification in the Philippines?
You're qualified to apply for a voter's certification only when your COMELEC registration application has been approved by the Election Registration Board. If you're not a registered voter yet or you've just filed your registration to the COMELEC, you'll have to wait until you're registered before you secure a voter's certification.
You may request a voter's certification at the local COMELEC office where you're registered or the COMELEC Main Office in Intramuros, Manila (National Central File Division in FEMII Building, Extension Cabildo St. corner A. Soriano Ave.).
Simply present a valid ID, submit a photocopy of it, and pay the ₱75 fee.
The voter's certification fee is free of charge if you belong to any of the following groups:
Senior citizens
Solo parents
Persons with disability (PWDs)
Members of indigenous peoples (IPs) and Indigenous Cultural Communities (ICCs)
Note that personal appearance at the COMELEC office is a requirement for voter's certification applications. There is no way to get this document online.
If you can't personally apply for a voter's certification, you may have your authorized representative do it on your behalf. The voter's certification requirements for authorized representatives are authorization letter and original and photocopy of the valid ID of both the voter and representative.
11. Do I need to present a voter's ID or voter's certification to vote?
There's no need for a voter's ID, voter's certification, or any valid ID to vote, according to COMELEC.[5] But it's still advisable to bring at least one government-issued ID in case the election officer needs to verify your identity.
Final Thoughts
Register as early as you can so you can vote in the upcoming elections. Too often, we overlook COMELEC registration because we're too busy to make time for it. But it's actually a simple process. Just avoid doing it on the last day of registration when local COMELEC offices get jam-packed with last-minute applicants.
To ask questions and learn more about voter's registration, you may join the Ask COMELEC Facebook group at www.facebook.com/groups/AskCOMELEC. Register and vote wisely!

Sources: