Are you a Philippine Social Security System (SSS) member but don't have a My.SSS account yet? Better do it now to reap the benefits of this online service facility.
Know all about My.SSS and how to register as an SSS member online in this comprehensive guide.
What is a My.SSS account?
A My.SSS account allows you to use the My.SSS or SSS Member Portal,[1] the government agency's main online channel that enables registered members to conveniently and safely access SSS services and their social security records.
Is SSS registration free? Yes, My.SSS account registration and use of the SSS online portal are both free of charge.
To use this SSS online facility, all you need is a smartphone, laptop, or any device with an internet connection. That means you can transact with the SSS Portal anytime and anywhere without the hassle of going to a branch, standing in long lines, and waiting for hours on end.
Why Do I Need to Register for an SSS Online Account?
The SSS portal member registration is mainly for your convenience. Completing the SSS online registration process can save you a lot of time, energy, and stress because you can complete an SSS transaction in the comfort and safety of your home, even beyond office hours.
Also, the SSS is "gradually implementing mandatory online transactions," according to SSS President and Chief Executive Officer Michael Regino.[2] This makes it all the more important for members to know how to make an SSS online account.
Who Can Register for an Online Account?
The SSS encourages all members to complete their SSS online registration through the My.SSS Portal. You can sign up if you belong to any of the following member categories:
Employees with SSS coverage
Self-employed or voluntary members
Overseas Filipino workers (OFWs)
Unemployed spouses with at least one-month posted SSS contribution
Employers
How to Register as an SSS Member Online: A Step-by-Step Guide
Before you start the My.SSS online account registration process, make sure you're already an SSS member—you'll need your SSS number and at least one posted SSS contribution.
What if you aren't a member yet? How to register as a new SSS member? The first step is to fill out the Personal Record/ Unified Multi-Purpose ID (UMID) Card Application Form (E-1/E-6)[3] online.
Once you're done, here's how to create or open an SSS online account.
Step 1: Go to the SSS Online Registration Page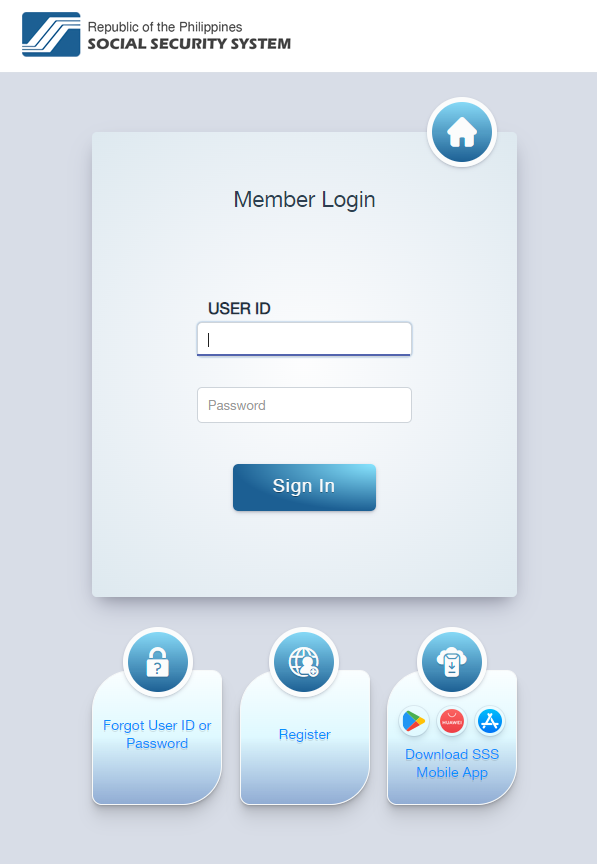 Access the Member Portal (member.sss.gov.ph) and click Register below the SSS Member Login.
This will take you to the Online Member User ID Registration page that shows you eight options. Choose one piece of information you've previously registered in SSS.
Savings account number / UBP Quick Card / UMID – ATM savings account number registered in SSS
Mobile number registered in SSS
UMID card
Employer ID number / Household employer ID number
Paid payment reference number / SBR No. / Payment receipt transaction number
Date of the last loan
Transaction number in your Personal Record/Unified Multi-Purpose ID (UMID) Application (E-1/E-6) (only for online SS Number applicants from December 10, 2020 onward)
Check number of any SSS monthly pension
Step 2: Provide the Required Information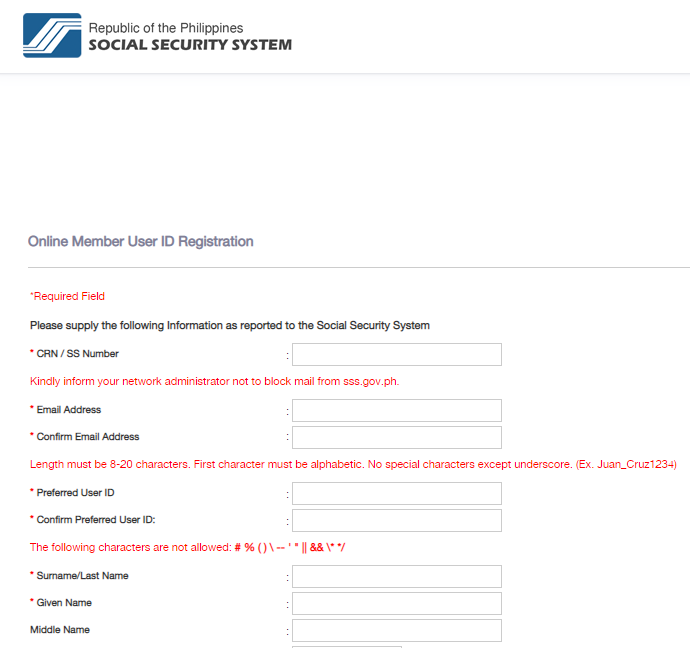 Make sure to leave no required field blank or incorrectly filled out on the SSS registration form.
Next, choose your registration preference. Here's a guide if you're not sure which one to pick:
For pensioner-members:

Savings Account Number (where you receive your monthly pension)
Check Number (of any monthly pension)

For employed members: Employer ID Number (minus spaces and dashes between the numbers)
For voluntary members: Payment Reference Number or SBR
For those with existing loans: Date of Loan
For those who just applied for their SS number: Transaction Number
You can also complete your SSS online registration using your mobile number or UMID details.
Wondering how to register on SSS online without registration preference? Unfortunately, you need to complete this step to open an SSS account. Contact your employer or SSS if you're not sure how to proceed.
Some tips to keep in mind:
If your last name and/or given name exceeds the character limit, just use the format of your name on your SSS ID or UMID card. You may contact the SSS hotline (920-6446 to 55) if you don't have your ID card right now.
You can leave the Middle Name field blank if you don't have a middle name.
To input your date of birth, use the drop-down calendar to prevent an error in your SSS online registration.
If you've chosen UMID CARD in Step 1, the online form will ask for your UMID card pin code.
Don't have the pin code yet? You have to activate your UMID card first in the SSS information terminal at select SSS branches.
Don't forget to tick the CAPTCHA box at the bottom of the page and the small box next to I accept the Terms of Service.
When you're done, double-check all information. Click the Submit button. A short message will appear to confirm the successful submission of your enrollment for SSS online registration. Click OK.
Step 3: Check Your Email
After you submit your online membership application, the SSS will validate your info against its records. If they match, you'll receive an email from web.notifications@sss.gov.ph after around half an hour. The message contains an activation link and your user ID.
Can't find the SSS email in your main inbox? If the email address you provided is not Yahoo Mail (e.g., Gmail, Hotmail, etc.), check your Spam folder for a message from the SSS.
Step 4: Activate Your My.SSS Account
Done with all the steps on how to register as an SSS member online? Now you have to activate your SSS online account.
Once you receive the email from the SSS, click on the My.SSS account activation link. You need to activate your SSS account immediately or for up to five working days. Otherwise, the activation link will expire and you'll have to go through the whole SSS online account registration process again.
Click on the link, which will direct you to a page where you'll be required to create a password and re-type it to confirm it.
Be sure your password meets these requirements:
Eight to 20 alphanumeric numbers
The first character is an alphabet
No special characters
Must be different from your user ID
When you're done, click the Submit button. If the two passwords match, you'll be taken immediately to your activated account.
What Can Members Do on the My.SSS Portal?
After successfully logging in at the My.SSS portal login page, you'll be taken to the homepage with links to five main pages:
Member Info
Inquiry
E-Services
Payment Reference Number (PRN)
Real-Time Processing of Loans (RTPL) PRN
From there, you can access a wide range of online services, including the following.
📌 Check and Update Your SSS Membership Information
The Member Info page enables you to perform any of the following:
View your membership records, including SSS number, address, coverage date and status, etc.
Change your My.SSS account password
Update your other SSS information like contact details
Under the Member Info page, you can also see your Employment History and view a table listing of your current and past employers, along with their Employer ID Number and your reporting dates and employment dates.
📌 Check Your SSS Contributions
The portal's most useful feature is the Inquiry page that shows your Benefits, Contributions, Eligibility, and Loans Info.
To view your total number and amount of posted SSS contributions, click on Contributions. This section shows your monthly contributions table with all premium payments you've made since you started as an SSS member. Through the contributions table, you can also check the specific months that your employer failed to remit your SSS contributions.
📌 Access SSS Online Services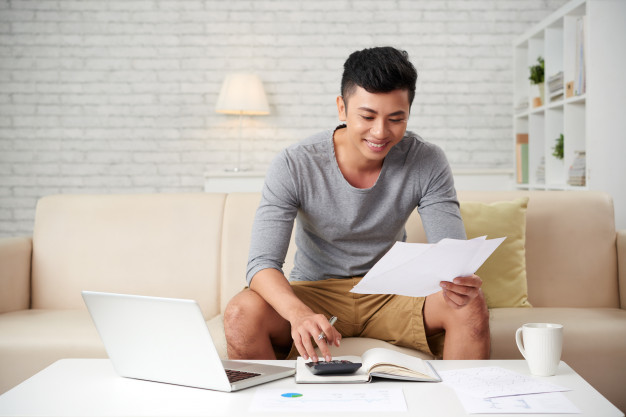 The E-Services page allows access to various SSS services such as the following:
Member Data Change Request
You can request to update and make an online correction on your mailing address, foreign address, telephone number, mobile phone number, and/or email address.
Loan Application
Simply click on the loan you want to avail of, fill out the form, and submit it. Under this feature, you can apply for an SSS salary loan, calamity loan, unemployment benefit, or pension loan.

Maternity Notification
Only self-employed and voluntary SSS members who are pregnant can submit a maternity notification through the My.SSS portal. If you're an employee, file your maternity notification through your employer's authorized signatory.
Disability Claim Application
Are you eligible for a Disability Benefit claim? You can apply directly via the SSS portal.
Note that applications are subject to medical evaluation. Before you get approved, you may be required to undergo an examination at a medical evaluation center within 20 days from the date of the e-mail notification.
Retirement Claim Application
Are you already qualified to make a claim for SSS retirement benefits? You can apply for retirement online through the SSS portal as well.
Funeral Claim Application
You can also submit funeral claim applications through the My.SSS portal. Key in all the required information and the application will be validated by the SSS. After that, you'll need to upload the required documents and then receive an email regarding your Funeral Benefit Claim Application status.
Branch Appointment
Other SSS transactions that can't be done online are instead scheduled through the My.SSS portal's Appointment System. This feature allows you to set an appointment with your SSS servicing branch for UMID card enrollment, SSS member data change, salary loan application, calamity loan application, and filing a complaint, among many others.
📌 Generate Your Payment Reference Number
The Payment Reference Number (PRN) is a key feature of the My.SSS portal that allows voluntary and OFW members to generate a PRN for SSS contribution payments through any payment channels and facilitate the real-time posting of payments.
📌 Get SSS Contact Details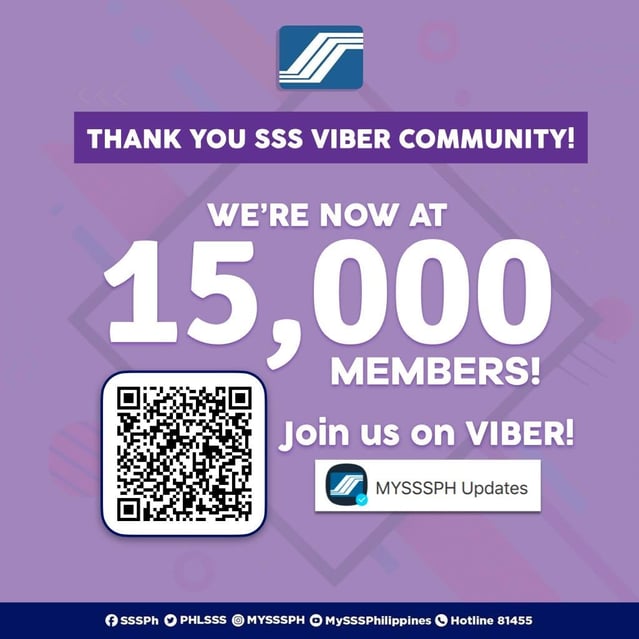 Having a hard time learning how to use the SSS portal? You can quickly refer to crms.sss.gov.ph for any questions, concerns, and comments. If you're abroad, you can call the SSS through its international toll-free numbers, which you can also find on the same page.
The SSS has a Viber community that you may join to stay updated on all the news and announcements. Just scan the SSS QR code or type SSS in the Viber search box.
Related reading:
How to Register as an SSS Member Online: FAQs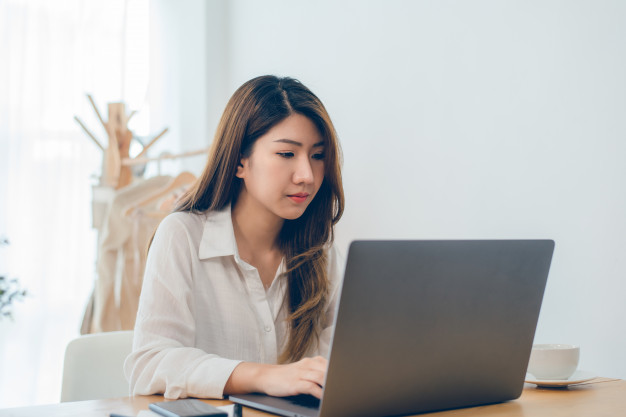 1. How to register my mobile number with the SSS?
If you plan to register your mobile number with the SSS for the first time, visit any SSS branch and then fill out and submit a Member Data Change Request Form. You can either set a branch appointment through your My.SSS account or do a walk-in transaction for your mobile number registration with the SSS.
2. How to do an SSS online registration using my mobile number?
Simply go to member.sss.gov.ph, click Register, and select Mobile number registered in SSS from among the given options. Then proceed with filling out the online form and completing the registration process.
3. How to log in to my SSS online account?
To access your My.SSS account, go to member.sss.gov.ph, enter your user ID and password, and click the Sign In button.
4. How to get my SSS online registration user ID and password?
Forgot your My.SSS user ID or password? Is your online SSS account locked? Here's how to recover your account and reset your password.
Go to member.sss.gov.ph/members/forgotPW.action.
Choose from two methods to retrieve your user ID or password: by registered email address or security questions.
If you choose email, key in your CRN/SSS number and input the code that you see on the screen. Click Submit.
Next, click the link in the email to reset your password. Key in your preferred password. Click Submit and then OK to continue.
If you want to reset your account using security questions, enter your CRN/SS number and then click Search.
Answer the security questions, and then tick the box that says I'm not a robot. Click Submit.
Type your preferred password twice. Click Submit and then click OK.
You can now log in using your new user ID and password.
Remember to protect your My.SSS login details. Never ask or allow anyone to log in to your account to reset your password, apply for a loan, or file a claim for you. They might use your credentials in fraudulent transactions—besides, availing of the services of fixers is illegal.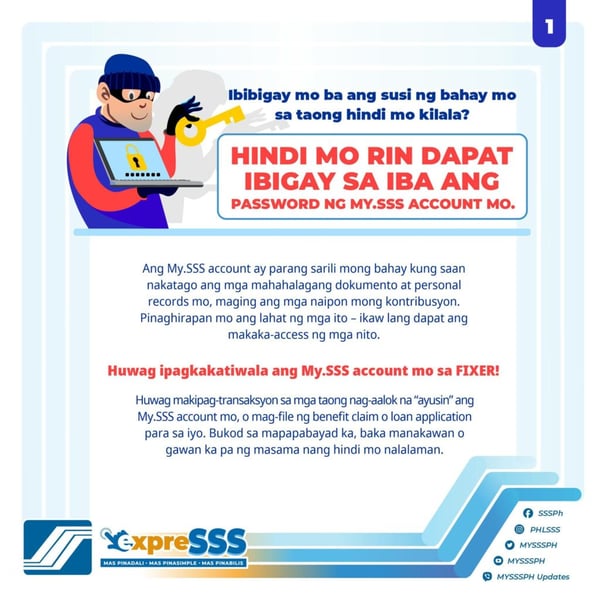 5. How to get my SSS number?
Need to provide your SSS number but forgot your card? Or maybe you lost it? Don't stress yourself out. Here are four ways to get your SSS number.
👉 Call the SSS Hotline
The SSS call center hotline is open 24 hours, Monday to Friday (except during holidays). You may call the SSS at (02) 8920-6446 to 55. If this hotline is unavailable, you may try calling the SSS hotline number 81455 (if you're calling through a landline phone) or 1455 (if you're calling through a mobile phone).
An SSS representative will accommodate you and will ask a couple of verification questions before helping you retrieve your SSS number.
👉 Get Your SSS Number Online
You can view your SSS number after successfully creating a My.SSS account. Just go to the Member Info tab and click on Member Details.
If you're not yet an SSS member and are applying for your Social Security number, you can do so by using the enhanced online application for an SSS number. Instead of visiting an SSS office and submitting your documents via the drop box system, you can simply upload your documents, such as your PSA birth or marriage certificate.
Aside from applying for your SSS number, you'll also be emailed instructions on registering for My.SSS.
How to Get an SSS Number Online
Accomplish the online Registrant Record Verification form,[4] tick the security boxes, and click Submit.
Click the link in your registered email to continue with your SS number application (the link is only valid for 5 days).
Enter all the required information and click Generate SS Number. You'll be able to view your SS number and print the form. But there will be PDF copies emailed to you as well.
Check your email for the My.SSS activation link and the list of supporting documents for your Social Security number.
How to Get Your SSS Number via the SSS Mobile App
Download and install the SSS mobile app from the Google Play Store, Apple App Store, or Huawei AppGallery.[5]
Launch the app and then tap No SSS number yet? Apply Now!
Read the guidelines and then tap Start to proceed with your SS number application.
Key in the required information and then tap Next.
You'll receive a six-character code in your assigned email address (also check your spam folder). This code is valid only for five days. Once it expires you need to submit another application. Key in the code and then tap Verify Code.
Continue with the SSS mobile registration process and supply all the required personal information.
Choose the purpose of your application. You also have the option to include additional beneficiaries (just tap Add Other Beneficiary and then key in the required information).
Review all the information that you've entered and then tap Generate SS Number.
You'll see a system notice that uploading required documents is temporarily unavailable. Tap Next.
Your SSS number and other information regarding your SS number application will be generated once the application is successfully completed. But a PDF copy of the Personal Record (E-/E-6), Transaction Number slip, and SS number slip will be made available for filing or printing out for future reference.
You'll then receive two emails: a confirmation email of your online SS number application and another containing your password set-up for your My.SSS account.
To activate your My.SSS account, click on the link in the email, then key in the last six digits of your CRN/SSS number.
Click Submit, and then enter your preferred password.
Confirm your password and then click Submit.
Congratulations! You've now created your My.SSS account. You can now start uploading your supporting documents.
👉 Email the SSS Helpdesk
If the first two options didn't work, don't lose hope. You may send an email to member_relations@sss.gov.ph or onlineserviceassistance@sss.gov.ph.
State that you'd like to know your SSS number and provide the following information and document/s.
Full name
Birth date
One primary ID (passport, driver's license, birth certificate, etc.) or two secondary IDs (Postal ID, company ID, etc.)
👉 Visit the Nearest SSS Branch
You may also go to the nearest SSS branch. Of course, this might take more of your time and effort, but you'll be sure that someone from the SSS will attend to your request and that you'll get your SSS number immediately.
6. How can I update my mobile number on the SSS Member Portal?
You can change not just your mobile number but also other contact details (such as landline number, mailing address, and email address) through your SSS online account.[6] Here's how to do it:
Log in to your My.SSS account.
Under the Member Info menu, select Update Contact Info.
Update and submit your mobile number and any other outdated or incorrect details.
Check your email and SMS inboxes for a notification message from the SSS. Click on the link in the message to confirm your request to update your contact information.
Wait for a notification from the SSS on the successful updating of your contact details. The updated info will take effect after two days after you've confirmed your request.
Note: The confirmation link will expire after three days, so you have to confirm your request as soon as possible to avoid having to update your mobile number online all over again.
Final Thoughts
Now that you know how to register as an SSS member online and use the SSS online portal, you can easily check your contributions, apply for loans, update your contact information, and perform other transactions.
Sometimes, SSS members who tried to register from the My.SSS Portal would receive an email message about their registration failure. It happens when the system finds inconsistencies in the submitted information versus the SSS records. It could also be that the required format isn't followed.
When your SSS online registration is unsuccessful, you may try doing it again using another registration option (refer to Step 1) or you can email SSS at onlineserviceassistance@sss.gov.ph for assistance.

Sources: